We all know that gardening is the gift that keeps on giving, so doesn't it make sense to get your children involved at an early age? There is a long list of benefits that come from gardening, and it truly is a way to develop the body, mind, and soul in a positive way, so if you're not already teaching kids gardening, you are missing out on the chance to teach some essential life skills, and I recommend getting them started as soon as possible.
Children love learning while doing, and there are few better pastimes to take advantage of this than gardening, moreover, the best thing is, you don't even have to go anywhere; just open the door and step into the back garden. What's more, it doesn't have to cost you much either. There are tons of gardening lessons and activities that you can do with your kids for free, or at least for very little expense.
In this article you will learn about the skills that can be developed through gardening, ways to get them started, ways to keep them interested, and some great ideas to focus on. By the time you finish reading, you'll be fully prepared to take the reins on your kid's gardening experience and guide them to a brighter future.
What are the benefits of teaching kid's gardening?
Apart from the obvious things like spending quality time with their parents and siblings, and getting some fresh air and time away from the sofa, your children will gain or improve upon essential skills that will help guide them throughout their lives. Here are just a few of the attributes that are developed when you teach kids gardening: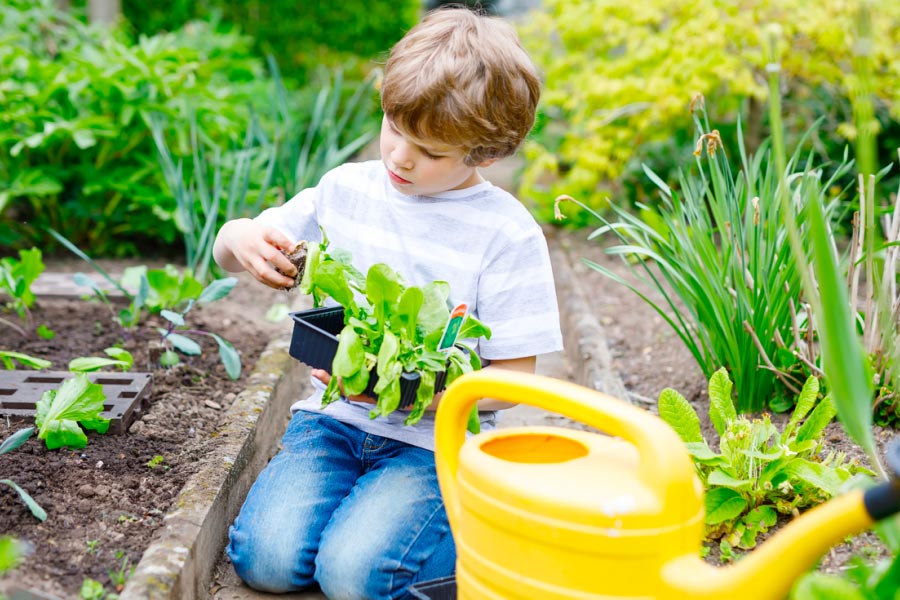 Responsibility
Probably one of the most essential life skills learned through gardening is a sense of responsibility. Allowing your kids to take the responsibility of caring for another living thing can inspire them with confidence and promote a sense of maturity. Kids who are given responsibilities at young ages often develop a strong sense of right and wrong, and also consequences for their actions. Just the simple action of remembering to water a specific plant regularly can increase your child's awareness of being responsible, and the positive things that come from it.
Co-operation and communication
By working alongside yourself, other members of the family, and friends; the power of teamwork can start to be understood by your children. Learning to work well with others is actually a combination of essential skills, with the main ones being good communication skills and control of your emotions. There are tons of activities that can be done in the garden to promote co-operation and communication, as we will show you later in this article.
Patience
In essence, gardening is all about patience, as there is no rushing nature. Teaching your kids gardening is a subtle way to help them understand that not everything is done in the here and now, and that sometimes, the best things really do come to those who wait. Learning patience leads to all sorts of other life skills, such as better handling of situations where a cool hand is necessary, and giving yourself time to think and plan things out rather than act on urges or instinct.
Understanding of the world around them
Through gardening, your kids will get the chance to learn about the world around them in a way that will really open their eyes. You can teach them about life cycles, seasons of the year, cause and effect, where food comes from, and much, much, more. By gaining more insight into all of these things, your children are more likely to grow up as lovers of nature, and develop a very curious mind that will carry on into their school studies in other subjects.
---
Teaching other school subjects through gardening
If your kids are anything like mine, getting them to pay attention long enough to teach them some basic sums, or to help with their spelling, can be quite the challenge. However, there are more than a few fun activities that you can incorporate into their gardening experience that can help them with their school subjects without them realising it. Here are a few examples to get you thinking in the right direction: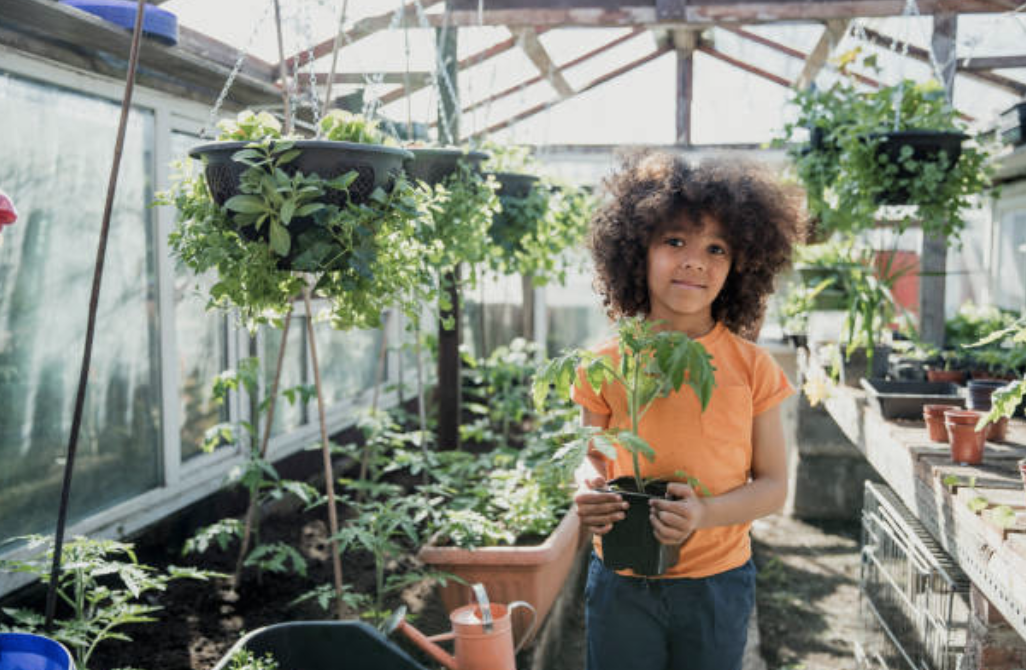 Maths


Such an easy one to add in while teaching kid's gardening. It could be something as simple as asking them to bring a certain number of pots, or sow a given number of seeds in a specific area. If they are older, you could practice percentages or fractions such as instructing them to pour one third of a bag of soil over a one square metre area or something similar. I always get them to help measure out when I take on projects like fitting shed doors or garden gates. It's amazing what they can learn from positioning a tee hinge or shed lock for you with a tape measure. That's how I started.

Science


Well, this one should be a no-brainer. Just by participating in gardening they are learning about biology, physics, and chemistry, and you can help out by explaining things in a little more detail if they show interest. Be careful not to overdo the explanations though, or you might lose their interest. They can understand good old NPK and you can let them spread the lawn weed and feed with a lawn spreader for you. I would teach them about weed killers but wouldn't let them touch it as it's too dangerous, let them watch at a long distance to understand not all plants are wanted.

English


Getting your children to write in a 'gardening diary' each time they have finished in the garden can be a great way to get them writing. You can make this something they look forward to by giving them a snack or a treat while they are writing down what they did on that day in their diaries, and then help them with their spelling of new words by playing fun games such as hangman.

Art


There are lots of opportunities to let your child's artistic side run free while gardening. Decorating plant pots with paints, drawing pictures of the plants and flowers that they have seen or will grow, or using things found in the garden for various arts and crafts projects, are all great ways to connect gardening with art. Let them help you paint the fence. If you use a water based low toxic paint then no harm at all. 
As you can see, teaching kids gardening can be so much more than just good exercise and some fresh air, and what we've shown is only just scratching the surface. With a little imagination from you, or by doing a bit of research on google and YouTube, you will be able to find all kinds of activities that will improve their knowledge and understanding of the core subjects that they'll study in school.
---
Teaching kids gardening: how to get them interested
All kids are different, and while some are naturally curious and will take to gardening like a duck to water, others might need a little persuading or subtle coaxing to get them into gardening to begin with. Also, depending on the age of your kids, your methods of getting them interested in gardening will obviously have to differ, so we thought we'd share a few ideas here that should get your kids off the sofa and into the garden.
Playing in the dirt
Who didn't love playing in the dirt as a kid? Digging into soft soil with your hands and piling it up was some of the simplest, yet enthralling, bits of fun you could have as a young child. Sitting down in the mud with your child, armed with a toy spade, or even just your hands, can be a great way to introduce your young ones into gardening, as it can so easily be evolved into planting seeds.
Encourage playing in the garden too
Cricket sets, badminton, golf nets, football nets, basketball hoops, trampolines, playhouses, swings, and many more like garden swimming pools really help kids stay in the garden. With all the computer and tech gadgets I sometimes find it hard to get them out there. Normally when we have a bbq and I put on the bbq smoker with a beer and play with them is how we keep them in the garden for extended periods of time.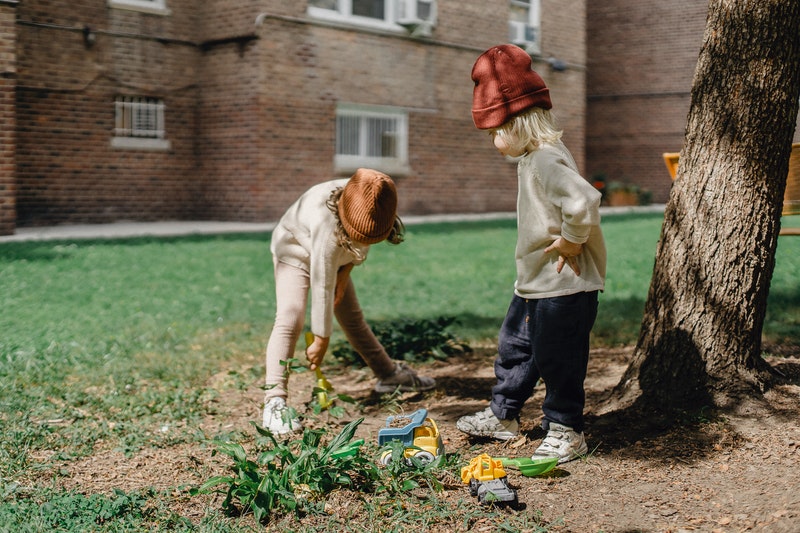 Buy your child their very own gardening equipment
There are some excellent kid's gardening tools available these days, some from well known brands, so there's never been a better time to kit your child up with their very own set of miniature tools. Having their own tool kit, as well as some wellingtons, gardening hat, apron, etc. will turn the gardening experience into more of a dress up and play game for them, and is sure to get them really involved.
Allot one area of the garden to them
Giving your kids their very own part of the garden in which to grow what they like can certainly stir up interest. This is also an excellent way to develop responsibility. Start off with a small area, with maybe a promise to let them expand if they prove that they can successfully grow something. A challenge like this, with a potential reward, can help to keep your kids motivated. As a child it was tough as I lost interest so grow things that will produce quickly like lettuce and teach them about slugs and snails.
Go on gardening themed trips
Taking your children to the local park, garden centre, farmers markets, and botanical gardens to look at different types of plants and crops, and get some inspiration can be a good idea. You could always stop off to buy ice-cream for them on your way home, just to make it an extra great day.
Start off with something that will grow quickly
Patience is something that is developed over time, so choosing plants that grow fairly quickly is probably the best idea if it is the first time for your kids. If you can plant some vegetables that can be grown quickly and then eaten, so much the better. For kids who aren't big veggie lovers, growing tomatoes or similar and then putting them on a pizza is a good option.
Use their tech addictions
If your children are a bit older and have developed a bit of addiction to their phones or tablets, you can actually take advantage of this by asking them to search for certain plants for you online, find out the prices, or whether or not a certain crop can be grown in a greenhouse, for example. Getting them to help 'techno idiot' parents is a sneaky way to start getting them involved, and don't be surprised if they start taking more interest in how the seeds that they helped you find are doing in the garden.
Make them part of the planning process
An excellent way to get all the family involved in gardening, is to let everyone have a say in the planning of the garden you are going to build. This can be things like what plants or crops to plant and where, or what ornaments or features you will have in the garden. Allowing your children to have a say in the look of your garden gives them a personal investment, and will make it easier to get them out and help.
---
Great first activities for teaching your kids gardening
Here are some specific activities that you might want to try as your first, or first few, in the garden. These are all tried and tested by yours truly, and I've found them to work wonders when it comes to getting kids interested in gardening.
Because sunflowers are used in so many cartoons and kid's book's illustrations, these colourful giants should be recognisable even to young kids, and if not, a quick show of a video on YouTube or a trip to go and see some is sure to get them excited about growing their very own.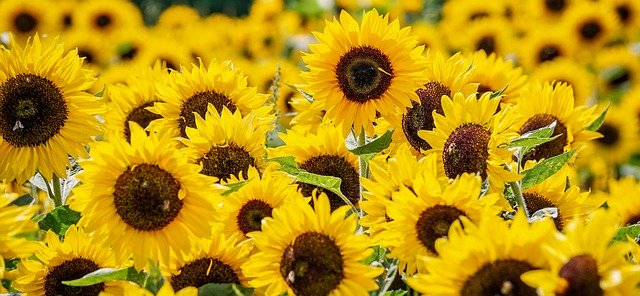 Sunflowers are a great choice as a first gardening project as they can be planted in early spring, sprout into seedlings fairly quickly, and will be seen flowering by around August. They are quite hardy flowers, and can resist a little drought, so if your child forgets to water them for a day or two it won't end in disaster and destroy their confidence as a gardener. Sunflowers will attract birds and pollinators into your garden, so this will be a great opportunity to study nature with your children too. And to top it all, sunflower seeds are a really healthy snack, full of nutrients, for you and your kids to enjoy.
Planting vegetables
Growing vegetables from a seed, to something you can actually eat, is always a winner with kids, but for a first-time veggie growing project you should keep a few things in mind. First of all, you'll want to plant something that grows fairly quickly so your children don't lose interest, you'll also want veggies that are easy to plant and grow just to keep things as simple as possible, and to ensure good results; you really don't want to see your child crying over their dead veggie plant now, do you? It definitely helps if the vegetable is something that your children like to eat, or at least something you can add to a recipe that they like. As I mentioned earlier; growing tomatoes you can put on a pizza, or even herbs to add to spaghetti are good ideas, but there are so many more you can try.
Some good first veggies to grow with kids are beans, carrots, lettuce, and radishes, but my personal favourite is to grow pumpkins. Once they are grown you can carve them for fun, or make delicious American style pumpkin pies with them. If like many in the UK, you've never tried American pumpkin pie, you should definitely give it a go, your kids will love it with a bit of whipped cream on top.
Exploring the wildlife that lives or visits your garden
Your children might be really surprised to learn just how many different species of insects and animals actually visit their very own back garden on a daily basis. Taking them on a little bug search, lifting up stones and checking under the leaves of plants, can lead to follow up activities like what we mentioned early; drawings, paintings, and writing about what they saw. If you are lucky enough to get visits from a variety of birds or other larger wildlife such as foxes or hedgehogs, you can set up a wildlife camera or bird box camera to try to capture some footage of them and watch it back with your kids. You could also try some wildlife binoculars too. You can also have family projects, working together to build things like a bird feeder, squirrel assault course, or a shelter for hedgehogs. These don't have to be overly complicated; you can just keep things simple like making a 'ladybird hotel' and enjoy the bonding process with your children.
Learning about natural cycle and processes
Children are by nature very inquisitive, and any parent of any young child in the world will have lost count of how many times they've been asked 'what's that?' or 'why do…'
Teaching your kids about things like photosynthesis, weather cycles that come with the seasons, pollination, and other naturally occurring processes can be done both in the garden while you point things out, or at home with pictures, books, the internet, and more. There are some great animated explanations on YouTube that cover subjects like these, and the videos can act as a great launchpad to get your children interested before going into the garden to do some experiments, or to observe these things happening naturally.
Start growing seeds in a propagator and mini greenhouse
If the winter weather is looking bleak outside, it might be hard to get your kids thinking about gardening. However, by using a propagator you can start growing seeds inside, and have them ready to be transferred into the garden when the weather improves. A mini greenhouse will help you keep the interest going as you can grow all year round. Propagators are relatively inexpensive, very easy to set up and use, and show results pretty quickly if you plant the right kind of seeds. The small seed boxes are much easier for your children to keep an eye on than a lager patch of soil outside, so they are perfect for starting out on their gardening journeys.
Unfortunately, that brings this article to a close for now, but as you can see, there are so many things you can do with your children to get them interested in gardening, and this only just scratches the surface. So, do yourself, and your children a favour and start teaching them about gardening and nature. They will thank you for it one day, believe me.