Garden Tool Box » 6 Best automatic garden hose reels: rated on price and quality for Summer 2021
6 Best automatic garden hose reels: rated on price and quality for Summer 2021
What better time than this lockdown to take advantage of water management in the garden. An automatic garden hose reel is the first step toward streamlining your efficiency and overall comfort in the garden. You wouldn't believe how much these things have changed things for me. I have two GARDENA Wall-Mounted Hose Reels on a rig and I have not spent a single minute in the last couple of years arduously coiling hose pipe. It's not just watering plants either, even things like cleaning, I hook this thing up to my cordless pressure washer. Life hasn't ever been this comfortable in the garden. In fact, I decided to update this article today because they've progressed a fair bit with more selection than ever (which is great for us gardeners)!
The bottom line is: if you've got a garden, you need a garden hose, and that used to mean spending a fair bit of time taking it out of the shed or garage, untying it, reeling it out, and trying to get rid of all the kinks and twists before even starting. Then after you've finished, you have to go through it all again in reverse! Certainly not ideal.
 With modern innovations, there are some solutions available to the modern consumer, such as expanding hoses that can work pretty well if you pay for a good one and also have good water pressure at home.
6 Best automatic garden hose reels: rated on price and quality for Summer 2021

Images
Make & Model
Manufacturer Features/Specifications
Rating
Price

Wall-mounted hose reel with self-layering design automatically rewinds the hose without any kinks...
A 180-degree pivot allows you to reach every area of the garden...
Can easily be removed from the wall bracket allowing the unit to be stored away during winter...
There are two side compartments
Child lock to prevent misuseComplete with all necessary fittings to connect to your tap...

GARDENA Wall-Mounted Hose Box 35 roll-up automatic: Swiveling hose reel

Long-lasting winding technology: Automatic
Space-saving, flexible storage: The box can be swivelled by 180° and suitable for wall-mounting...
Convenient pulling out and transport: Made possible by short locking stop of nor more than 50 cm...
Frost-resistant: Thanks to innovative GARDENA frost protection technology
Scope of delivery includes: 1x complete set with hose box

VonHaus Hose Reel - 20M Auto Rewind Wall-Mounted Reel for Garden 

Speed up watering with this auto rewind hose reel
Distinctive grey and orange casing with an extra-long 20m green hose
Smoothly unwinds and automatically locks into place
Mount directly onto your wall
Manufacturer 2 Year Warranty Included

AmazonBasics Auto-Rewindable Wall-Mounted Reel with Hose, 35 m

Hose reel with automatic roll-up function and 35-meter hose; ideal for small gardens and terraces...
Space-saving wall-mountable design; no more bending
Simple to use—tangle-free and easy to access; anti-drip design prevents water from spilling out...
Weather-proof for long-lasting performance
Includes wall mount, wall-mountable 15-meter-long hose

KAER5 Kärcher Lose M-Box 218.0 Compact Reel CR 7.220 Automatic

With automatic and Geordnetem hose return
Smooth hose outlet
Flat, space-saving wall-mount
Swivel: 0 – ° – 180 °, the adjustable swivel stop prevents damage to walls...
Includes 20 m plus 2 m Hose
Other than that, you could go with an automatic garden hose reel. These are hoses that are contained in box that you usually fix to your garden wall. They are designed to unreel smoothly without too much hassle, and to retract themselves when you're finished with them.
When it comes automatic garden hose reels, you need to make sure you get a quality product that has been tried and tested, as buying an inferior one will cause you even more headaches than having a bog standard hose. 
Here, we have tested, chosen, and reviewed the best automatic garden hose reels for you that are available to buy in the UK. We hope you find both informative and helpful.
1. Hozelock Auto Reel with 40m Hose
( 2013 customer reviews )
Hozelock are a trusted name when it comes down to garden watering tools and have top selling products in categories from hose nozzles and spray guns to connectors and various hose types. So, it should come as no surprise that their auto reel is also a best seller and our first review.
For this article we chose the 40m hose version but this products available in 10m, 20m, and 30m versions too, each one costing about £20 more than the size smaller than it.
When the Hozelock auto reel arrived I was a little surprised at how big the reel housing was, but I guess I should have expected it because it was the 40m version and I'd expect the other versions to be more compact.
The housing itself is nicely designed, with a modern, round aesthetic, coloured grey with the odd yellow part such as the front where the hose reels in and out of. It's not the most striking thing I've ever seen, but personally, I liked the understated look.
The casing is made of polypropylene which is a strong and hardwearing plastic that is used in a large percentage of modern gardening tools due to its lightweight and durability.
To ensure the long working life of the hose inside, Hozelock have ensured that the casing for this automatic garden hose reel is UV protected, and also added a child lock so your kids can't play 'yank the hose to death' when you're not looking.
The Hozelock auto reel comes with the wall bracket and screws to attach it to your garden wall. The bracket seems fine to me, but with any of these products, I always prefer to invest in my own, higher quality fittings just to be on the safe side.
I would also change the standard plastic connectors for metal ones for the same reasons. Brass hose connectors are relatively inexpensive and are much more durable than plastic hose connectors, not matter how high quality the plastic is.
Once the reel is mounted onto the wall, it can pivot through a 180 degree arc. I found this particularly useful as my garden has a less than standard shape and I didn't feel like I was stressing the hose into unnatural angles.
The main box is detachable from the bracket so that you can remove it and store it inside for winter to prevent unnecessary damage, yet it is also possible to padlock the box in place so that it doesn't go walkabout during the summer evenings.
This automatic garden hose reel's unwinding action is nice and smooth, and what I really liked about it is that it is not constantly pulling back and putting tension on the hose. The mechanism inside the housing automatically gives you more hose as you pull and then locks it in place. Then, when you want it to reel back in, you simply give the hose a little tug and the Hozelock auto reel will take care of the rest.
I have to say, I often find Hozelock products a bit hit and miss, or at least a little over rated, but this automatic garden hose reel impressed me. Yes, there was a little bit of water dripping out, but it wasn't anything that would bother me too much, and even if it got worse, there is a 5 year guarantee that I could call upon.
 All in all, this is a good product worthy of consideration.
2. VonHaus Hose Reel - 20M Auto Rewind Wall-Mounted Reel for Garden
This Von Haus automatic garden hose reel is making a lot of customers very happy with the right combination of functionality, durability, and low price.
 When compared to the Hozelock auto reel of the same size (20 metres), the Von Haus is quite a bit cheaper, yet has all the same features and a build quality that is on par, if not superior to the Hozelock.
Design-wise, this automatic garden hose reel is very similar to Hozelock's product. They both have a grey plastic housing and round shape, and they both fit onto a 180 degree pivoting wall bracket.
Again, the screws that come with the product are not something I would personally trust, so do yourself a favour and go spend 20p on some better ones. They're readily available from any DIY shop.
The anti-kink hose itself actually feels good quality and didn't give me any immediate cause for concern over its durability. I also like the fact that Vonhaus had placed an extra design feature into the hole where the hose feeds in and out that guides it and keeps it reeling and unreeling in a uniform manner.
The connectors provided with this automatic garden hose reel are plastic but good quality and I didn't have any leaks. I would still suggest changing them though, as I would with any plastic hose connectors because in my experience, they simply don't last and if you use a booster pump to up your pressure then they really won't last five minutes.
As for the actually automatic reeling mechanism, I have no complaints. It works in much the same way as the Hozelock, and will automatically lock into place when you stop pulling but will retract with a sharp tug. The whole thing is very smooth, if a little stiff pulling out at first, and I had absolutely no problems with it the whole time I was testing it, so well done Von Haus.
This product comes with a 2 year manufacturer's warranty, but from my initial impressions, it should last you longer than that without any major issues. Most of the problems you get with these types of products can be solved with a few fitting/connector change, so if you do have leaks, try replacing these first before considering replacing the whole product as it will undoubtedly save you time and hassle in the long run.
The Von Haus automatic garden hose reel is a quality product at a very reasonable price. With proper use and a little care, you should get years of good use of it.
3. GARDENA Wall-Mounted Hose Box 35 roll-up automatic: Swiveling hose reel
Gardena is almost synonymous with premium quality, but for premium quality you also have to pay a premium price. The 35m version of this product actually costs almost 3 times as much as the Von Haus automatic garden reel hose, but is it worth it?
Well, that is all a matter of opinion. Is the build quality of the Gardena better than our two previous products? My answer would be a definite yes. In fact, it is of the highest quality of any of the products reviewed on this page. Everything just feels solid and built to last, even down to the connectors and fittings, which are usually sub-par at best on most models, are of a good quality.
The auto-reeling mechanism on the Gardena is by far the smoothest we tested, however you have to make sure you pull it slowly and it does take a little strength to do so at first. When the garden hose retracts, it actually has quite a bit of pull which speaks volumes about the quality of the spring, and it almost caught me off guard the first time.
There is also an integrated hose guide, much like the Von Haus, that makes sure the hose reels in evenly and doesn't get tangled.
Like both the Hozelock and Van Haus automatic garden hose reels, this one can pivot 180 degrees so you can reach the harder to get to parts of your garden, and it also has the same auto-locking mechanism (every 50cm or so) so the hose isn't constantly trying to retract, making the whole situation less taxing and your arm muscles.
None of these products should ever be left out during winter as it is sure to ruin them, and so all decent models can be detached from the wall bracket for storage. This particular model has a very handy handle moulded into the top of casing which makes it much easier to carry around. I was thankful of this, because these automatic garden hose reels can be pretty bulky, and the common rounded design can make them a little awkward to handle. Not so with the Gardena and the handle, like the rest of the product, feels very sturdy and durable.
There is also an anti-drip device that you can insert when transporting the hose reel to stop it leaking and dripping. It's only a small thing, but it is nice that Gardena thought about this annoying problem and offered up a solution.
At the end of the day, you get what you pay for. The Gardena is more expensive, but you get a higher quality product for the extra pounds you spend.
4. KAER5 Kärcher Lose M-Box 218.0 Compact Reel CR 7.220 Automatic
As you'll remember I pointed out that I have a couple of GARDENA Wall-Mounted Hose Reels earlier on. This little offering from Karcher was the reason I decided to update this post. With pretty stiff ratings from customers, I can tell you that is no reflection of this automatic hose reel whatsoever. People are rating this based on value for money. Now fine, everyone wants a bargain. But personally, after using the spring mechanism on this hose reel I can tell you that it is the real deal and built to last. When my automatic reels inevitably fail, I am almost certainly going to switch up to Karcher unless something comes along in the next few years which I very much doubt.
How can you be this confident ahead of time you might ask? The answers pretty simple. The hose is practically bullet proof. The swivel mechanism feels and looks industrial. The automatic return system also feels bullet proof. If you're like me and want a product to last, then I feel this is the one to watch. Granted, there is the upfront cost.
There's no frills here, it's simply an extremely well built product that will last a very long time. The wall mount is solid, the installation is pretty easy and the instructions make it a doddle. It comes with everything you need. No additional purchases are necessary. You have a spray gun and nozzle, hose connectors, and hose coupling connections. Check those links out. These items aren't cheap and they are included. That sweetens things considerably. You can't go wrong when you buy quality.
5. TACKLIFE Auto Hose Reel 20+2m, Wall-Mounted Hose Reel with Wall Bracket and Spray Nozzle
As you've probably noticed, most of the best automatic garden hose reels are very similar in design and function with only a few slight differences. Well, the Tacklife auto hose reel follows that trend for the most part, having the familiar round, plastic casing, 180 degree pivoting feature, and a PVC hose pipe.
Where it differs from some of the others though, is in the auto lock mechanism when unreeling the hose. While some models lock out at various intervals of length, in the case of the Gardena it is around every 50cm for example, this Tacklife product works differently.
When you pull the hose to unreel it, it will auto-lock in place no matter what length the hose is at. Then, when you want it to retract, you give it not one, but two short pulls and the rewind mechanism kicks in.
The retracting speed and power of the Tacklife is like night and day when compared to the Gardena. While Gardena's model had a lot of pulling power and was good for packing away quickly, this one is much slower and easier to handle and would be a good choice for more elderly or smaller framed people. The actual main unit also seemed more compact and easier to carry, and has a handle on top like the Gardena model.
Tacklife products are known for being compatible with attachments and connectors from other makers, and this automatic hose reel is no different. The spray nozzle that comes with the hose isn't terrible and will be adequate for most things you need it for, but it is good to know that you can buy a better one and change it without worrying about it fitting properly. This model also comes with a selection of fittings so you can connect to various tap types such as garden taps or faucets.
Tacklife have also made it so you can replace the hose when it gets worn down with age and have included clear instructions on how to do it. I didn't test this myself, but at a glance, it seemed straightforward enough so that anyone could do it.
The hose itself is the weakest link here and it felt like it would get crushed or twisted easily if stepped on, which is why I guess Tacklife have made it replaceable. Apart from this and a few other minor flaws, this is another decent product worthy of a second glance.
6. AmazonBasics Auto-Rewindable Wall-Mounted Reel with Hose, 35 m
You can't deny that Amazon has got the online shopping market all but tied up for the most part, so it should come as no surprise that they have started producing their own products to compete with the most popular brands.
Amazon basics is their line of products that aim to offer the consumer a cheaper alternative to the top brands and models of certain items, and this is their offering in the automatic garden hose reel category.
While it has the word 'basic' in its name, this product is certainly not substandard by any stretch of the imagination. The reel's casing and winding mechanism's build quality is only second to the far more expensive Gardena model and it's a close second at that.
Functions and features are what you'd expect from the best automatic garden hose reels. There is the pivoting through 180 degrees, a 35 metre long hose that should be enough for most gardens, brackets and fittings to mount it the wall, a carry handle, connectors, and adjustable spray nozzle.
The main function of auto reeling works really well and we had no bother with it getting tangled or stuck during our time testing it. Water output was also as good as the Hozelock and Von Haus.
The colour scheme might not be to everyone's liking, and the housing itself is a little bulky, but no more than many of its competitors. The connectors that come with the product aren't bad, however the one that connected to the tap on the model we tested did leak a little bit. It was an easy fix with a change of rubber washer though.
There isn't a lot I can say about this automatic garden hose reel that I haven't already said in our other reviews, and I think that sums up this product quite well. While it doesn't blow my socks off with innovative features, and none of the products reviewed here do to be honest, it does tick all the boxes it needs to and offers you a quality product at a very good price. It is certainly not one to be overlooked.
Automatic Garden Hose Reel Buyer's Guide
Not sure what to look for in a good automatic garden hose reel? 
Well, we are here to help with this short guide that'll highlight a few things to keep an eye out for.
Housing / casing
One of the most important things is the quality of the housing of your hose reel. You want one to be able to protect the contents from weather conditions, particularly UV, which can damage your hose. You should look for one that is built from polyethylene or similar strong plastic and also read reviews to see what people say about the build quality.
Hose length
many of these products come in different sizes so be sure to get one that matches the size of your garden. It's always nice to have a bit extra just in case you need it, but if 15 metres is sufficient, there's really no point in shelling out a lot more money for a 30m hose that'll you'll never get to use in its entirety.
Hose quality
The quality of the hoses that come with these reels can vary a lot, and opting for a budget model might end up being more of a pain in the backside than it's worth if you have to deal with a sub-par hose that gets misshapen easily. This will no doubt cause it to get tangles and not reel back in properly, so you're better paying a bit extra for something that's going to last.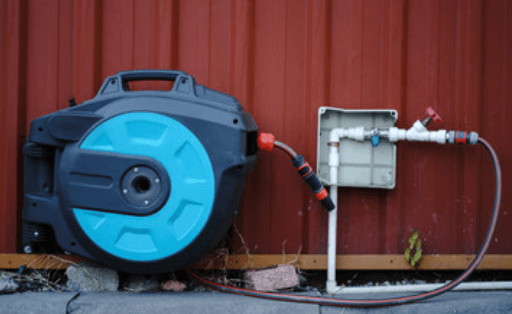 Winding mechanism
It's important to not only find a winding mechanism that does what it's intended to do and not snag or get tangled, but also to find one that matches your preferences.
 Some of these products will wind back in quickly and with a bit of force while others are far more subtle and slow. It's all down to preference which is better, but just be aware that they are not all the same. Again, reading reviews and watching Youtube videos can help you decide what's best for you.
Connectors
There's nothing more annoying than cheap, low quality connectors leaking everywhere as soon as you turn the water on. Most top models should have connectors that are sufficient but it is still something to check out before you buy. I always replace any plastic connections with better quality brass ones anyway, but this might seem like a hassle for some.
Hose stoppers and hose guides
These are two features that can make your automatic garden hose reel function better so they are something to keep an eye out for.
A hose stopper will prevent the hose from being pulled all the way into the casing, which can be a major pain. They are often shaped like a ball that the hose runs through but there are other designs. 
Hose guides are there to help the hose reel in and out smoothly and to wind around the reel without getting tangled up. Of course this is very important if you don't want to spend half your day trying to sort out a mangled mess of hose inside a box.
Automatic hose reels and a game changer for pressure washers in the garden and home
I take advantage of my rig. I hookup my cordless pressure washer but I can tell you there's plenty of flow rate to a point that you can use heavier equipment. An electric pressure washer, or even a petrol pressure washer would have absolutely no problem with flow rate. You can blast down patios and conservatories in minutes. Then popping the reel back requires little more than a tug on the hose and everything goes away without hassle. But the biggest advantage is selecting how much hose you need. Leave the rest in the reel and you won't find yourself tripping up over yourself or dragging your pressure washer over hosepipe trying to get around anymore. In short, an automatic garden hose reel is the new must have for gardens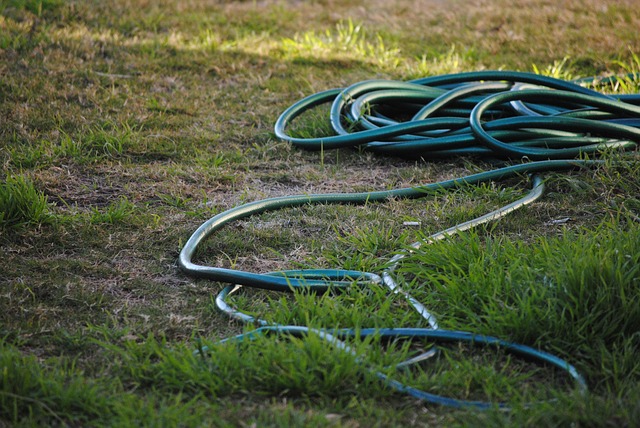 My garden used to look a lot like the picture below. A tangled mess of hosepipe where the kids have pulled it out and played with it. Not anymore thanks to automatic hose reels 🙂