Written by Terry Smith
Our site is reader supported so when you click a link to Amazon we may earn an affiliate commission.
UK's best automatic garden hose reels TESTED on price and quality
This article was last updated on April 23rd, 2022 at 6:50 am
I've just moved to my new house last year and what an opportunity for me to test and bring you the new best automatic garden hose reel. I'm sorting a lawn from scratch – nothing fancy as I plan to do something with a structure on the area later this year or next, but an automatic garden hose reel is an absolute must if you want to keep the garden tidy whilst watering your grass seed every day. Naturally I am using it in conjunction with my favourite water sprinkler. I have to say it was extremely easy to setup and install – the components are so straight forward you don't even need the instructions but there were a few pitfalls on testing and I came up with a much better idea than joining two GARDENA reels to save money this time. Here's a look at my favourite automatic garden hose reel in action: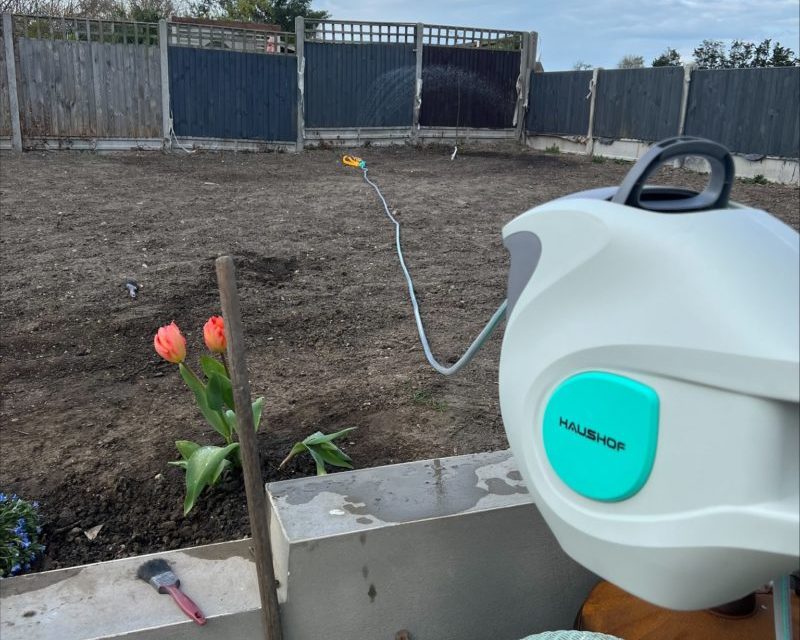 SERIOUSLY HANDY TIP FROM YEARS OF USING AND TESTING: You will need a drill and SDS bit the right size as well as a large slotted screw driver bit or preferably a hexagonal bit with an impact driver to send the anchors in. These are serious bolts that anchor these automatic garden hose reels to your wall – thank me later on that one be sure! When mine rocked up I was fuming I didn't have the right kit all those years ago – lesson learned! 😀
I'm going to show you, how to fit one, how to use one, and what connections you may need – this is as a result of many years using them myself and I have a few decent tricks up my sleeve for you. But you still might be struggling to come to terms with what an automatic garden hose reel is – the next paragraph with a video demo should give you a clear guide as to the benefits of one and if you want even more detailed info (especially useful in terms of hose connectors and setup ideas). However, if you already know please just skip to my best automatic garden hose reel line up:
What is an automatic garden hose reel?
An automatic garden hose reel is the evolved version of your standard hose reel or garden hose. When compared a standard hose reel that needs to be manually retracted, these newer, better automatic garden hose reels retract 'automatically' saving you time and effort which results in a tidier garden, every time! And whilst expandable garden hoses offer some automation retracting to a degree, they are not used in the same way – you always have that pressure pulling you backward with an expanding hose as they work like a stretch rubber coming back to their normal size. An automatic garden hose reel works in Lehmans terms just like a simple tape measure on a coil.
Best automatic garden hose reels list below – personally tested:
Best automatic garden hose reel overall: HAUSHOF Hose Reel, Wall Mounted Retractable Garden Hose Reel [tested and proven see my review] Swivels, nicely, the break works great, the hose is decent quality, and comes with most fittings you need. Stunning bargain and so pleased I tested it.
Previous best when I initially wrote article a couple of years ago and still worth considering: Hozelock Auto Reel with 40m Hose – very well built, heavy duty and easily suitable in commercial setups.
Large automatic garden hose reel that's heavy duty: GARDENA Wall-Mounted Hose Box 35 roll-up automatic: Swiveling hose reel best of the best: I used to own two of these in my old house it's just a case of do you spend the money?
Budget pick: AmazonBasics Auto-Rewindable Wall-Mounted Reel with Hose, 35 m best value automatic garden hose reel
Worth considering:
KAER5 Kärcher Lose M-Box 218.0 Compact Reel CR 7.220 Automatic
VonHaus Hose Reel – 20M Auto Rewind Wall-Mounted Reel for Garden
When it comes automatic garden hose reels, you need to make sure you get a quality product that has been tried and tested, as buying an inferior one will cause you even more headaches than having a bog standard hose – I know, I've used loads of. these since I first wrote my article – I've had to remove one famous brand as it totally failed on me!
Automatic garden hose reel buyers guide
Not sure what to look for in a good automatic garden hose reel? 
Well, we are here to help with this short guide that'll highlight a few things to keep an eye out for. From housing and casing issues, to broken winding mechanisms, to length, to hose quality, and even the connectors that are included I run through what you need to make this happen from start to finish. I even show you an install and what components are needed in my HAUSHOF review.
Housing / casing compared
One of the most important things is the quality of the housing of your hose reel like the GARDENA Wall-Mounted Hose Box 35 roll-up automatic: Swiveling hose reel which is really well built and designed to put up with a real beating from both weather and rough use alike. You want one to be able to protect the contents from weather conditions, particularly UV, which can damage your hose as well as the case itself not fading – from many years of personal testing and ownership I can tell you the Garden is good quality plastic. Here's a look at the more budget HAUSHOF casing which looks right up to the job from the time I've had it: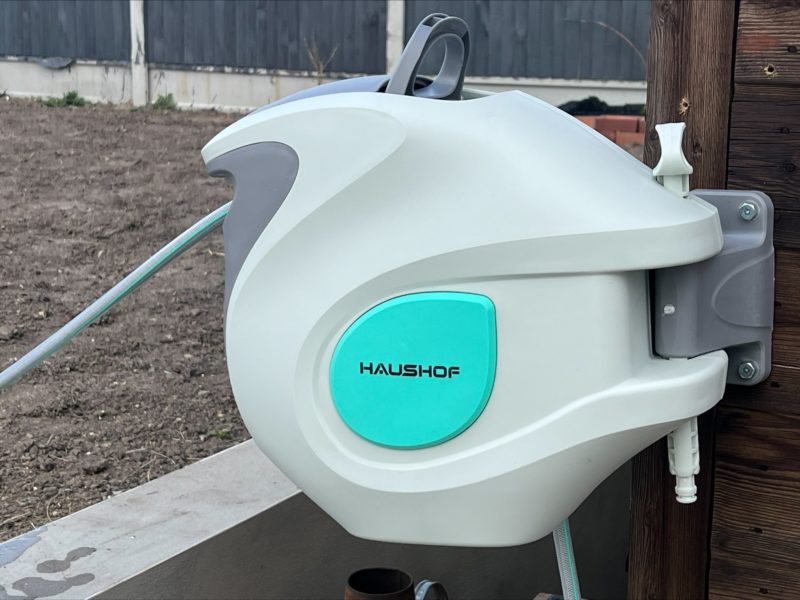 Hose length and your garden setup
Many of these products come in different sizes so be sure to get one that matches the size of your garden. It's always nice to have a bit extra just in case you need it so in which case you go for the longest Hozelock Auto Reel with 40m Hose, but if 15 metres is sufficient, there's really no point in shelling out a lot more money for a 30m hose that'll you'll never get to use in its entirety and you might as well go with the VonHaus Hose Reel – 20M Auto Rewind Wall-Mounted Reel for Garden or the AmazonBasics Auto-Rewindable Wall-Mounted Reel with Hose as they are cheaper. I happened to pick the 20m HAUSHOF and extended the hose off my garden shed to get to all points comfortably in my garden on a budget: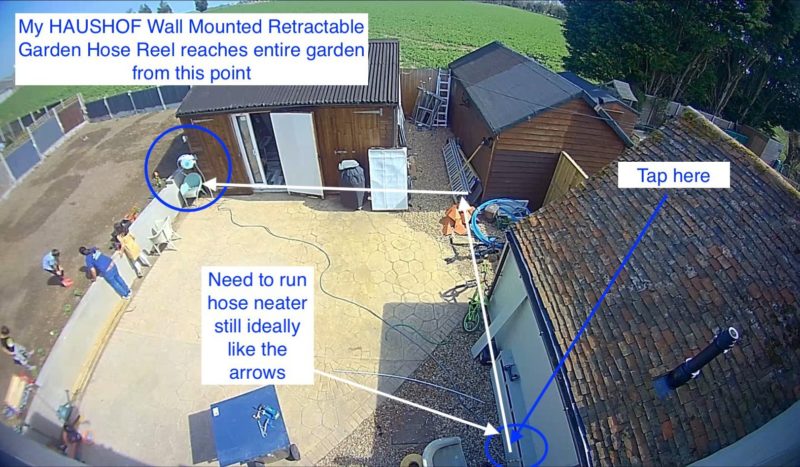 Hose quality
The quality of the hoses that come with these reels can vary a lot, and opting for a budget model might end up being more of a pain in the backside than it's worth if you have to deal with a sub-par hose that gets misshapen easily. This will no doubt cause it to get tangles and not reel back in properly, so you're better paying a bit extra for something that's going to last so this lends itself to the Hozelock Auto Reel with 40m Hose.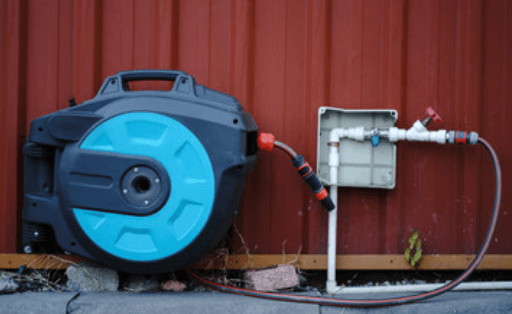 Winding mechanism
Some automatic wind mechanisms are sluggish and lose their power over time, don't worry, that is why I have picked models that I know to be absolutely reliable and engage / disengage reliably, and don't just randomly pull your hose back through your vegetable patch 😀
Connectors
There's nothing more annoying than cheap, low quality connectors leaking everywhere as soon as you turn the water on. Most top models should have connectors that are sufficient but it is still something to check out before you buy. I always replace any plastic connections with better quality brass ones anyway, but this might seem like a hassle for some. – edit this – I have recently been using the cheaper hose connectors if I am honest as even with severe water pressure the advanced design seems to be far more water proof with no leaks: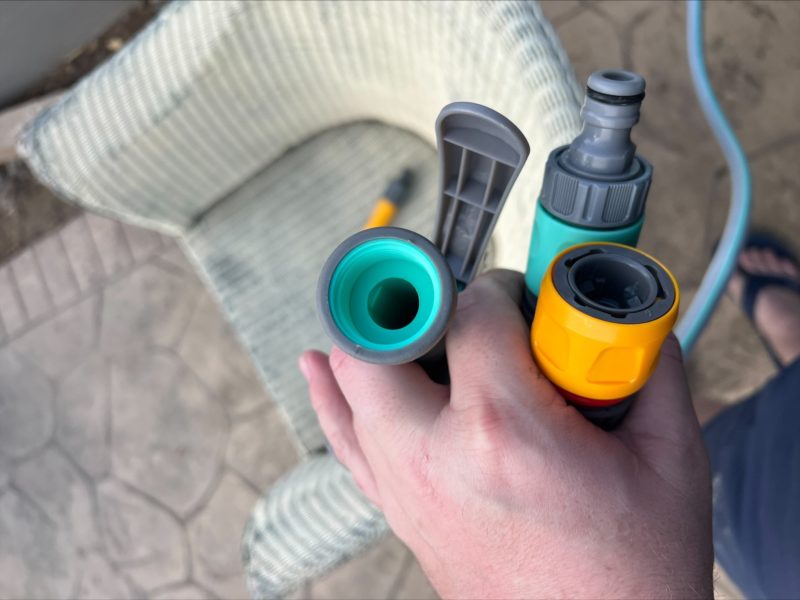 Hose stoppers and hose guides
These are two features that can make your automatic garden hose reel function better so they are something to keep an eye out for.
A hose stopper will prevent the hose from being pulled all the way into the casing, which can be a major pain. They are often shaped like a ball that the hose runs through but there are other designs. 
Hose guides are there to help the hose reel in and out smoothly and to wind around the reel without getting tangled up. Of course this is very important if you don't want to spend half your day trying to sort out a mangled mess of hose inside a box.
Automatic hose reels and a game changer for pressure washers in the garden and home
I take advantage of my rig. I hookup my cordless pressure washer but I can tell you there's plenty of flow rate to a point that you can use heavier equipment. An electric pressure washer, or even a petrol pressure washer would have absolutely no problem with flow rate. At the same time delicate work with a garden sprinkler as I tested is absolutely fine too. You can blast down patios and conservatories in minutes. Then popping the reel back requires little more than a tug on the hose and everything goes away without hassle. But the biggest advantage is selecting how much hose you need. Leave the rest in the reel and you won't find yourself tripping up over yourself or dragging your pressure washer over hosepipe trying to get around anymore. In short, an automatic garden hose reel is the new must have for gardens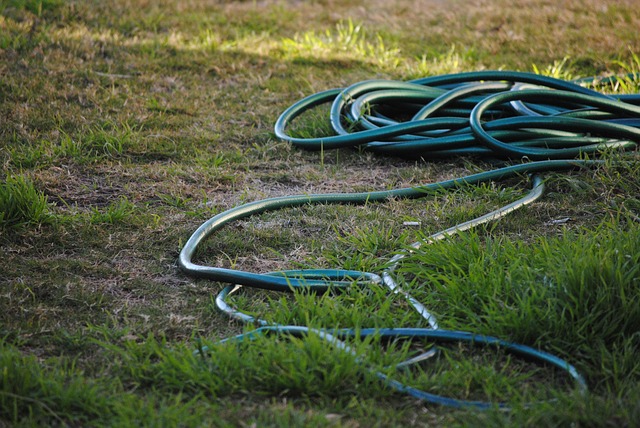 My garden used to look a lot like the picture below. A tangled mess of hosepipe where the kids have pulled it out and played with it. Not anymore thanks to automatic hose reels 🙂
So I have tested, chosen, and reviewed and compared the best automatic garden hose reels for you that are available to buy in the UK:
Conclusion
When I first wrote this article it was lockdown and the aim was to take advantage of water management in the garden. An automatic garden hose reel is the first step toward streamlining your efficiency and overall comfort in the garden. You wouldn't believe how much these things have changed things for me. I have two GARDENA Wall-Mounted Hose Reels on a rig and I have not spent a single minute in the last couple of years arduously coiling hose pipe. It's not just watering plants either, even things like cleaning, I hook this thing up to my cordless pressure washer. Life hasn't ever been this comfortable in the garden. In fact, I decided to update this article today because they've progressed a fair bit with more selection than ever (which is great for us gardeners)!
The bottom line is: if you've got a garden, you need a garden hose, and that used to mean spending a fair bit of time taking it out of the shed or garage, untying it, reeling it out, and trying to get rid of all the kinks and twists before even starting. Then after you've finished, you have to go through it all again in reverse! Certainly not ideal.
 With modern innovations, there are some solutions available to the modern consumer, such as expanding hoses that can work pretty well if you pay for a good one and also have good water pressure at home.
Other than that, you could go with an automatic garden hose reel. These are hoses that are contained in box that you usually fix to your garden wall. They are designed to unreel smoothly without too much hassle, and to retract themselves when you're finished with them.
---