Garden Tool Box » Best tripod ladders [UK]: Hendon, Henchman, and Nawaki compared and tested
Best tripod ladders [UK]: Hendon, Henchman, and Nawaki compared and tested
This article was last updated on July 31st, 2021 at 9:04 am
What is a tripod ladder and what is it used for?
There are many types and sub-types of ladder, and using the wrong one for the job at hand can not only make life difficult but also actually increase the likelihood of an accidental fall.
A surprisingly large number of injuries caused by people falling off ladders while gardening are down to using the wrong type of ladder.
You see, a lot of people will see those high branches in their garden that need pruning, pop into the shed and bring out their A-frame ladder, pop it open and then rush up it without thinking twice. The reason this is a bad idea is that most gardens are not perfectly flat, or even close, nor is the ground usually that solid, and A-frame ladders are not designed to be used on such surfaces. And whilst I love my tall step ladders, they just do not compare to tripod ladders for the job of cutting down tall hedges or for any arborist job for that matter.
The best type of ladder for gardening tasks such as pruning, picking apples from your tree, or any other thing that requires you to work at a height, is a tripod ladder.
As you probably guessed, tripod ladders are so called because they have three legs rather than the four you get on an A-frame ladder or multi-purpose ladder. Despite having less legs to stand on, tripod ladders are actually more stable on uneven terrain due to the legs having a wider base. Some modern tripod ladders even have adjustable legs so you decide how wide or narrow you would like the base to be.
Best tripod ladder
Another part of the best tripod ladder designs is the platform which might be placed a few feet from the top of the ladder, which means there are still bars in the frame to grab hold of to secure your position if you feel a little unsteady. When you shop around and compare, not all tripod ladders have this but most have a space to slip your legs through so you can sit comfortably and still feel safe.
With most A-frame ladders the platform is right at the top and there isn't anything to help you keep your balance above you or even at upper body height.
Basically, if you want a ladder for a variety of gardening tasks, you should go with a tripod ladder. If you would like to know about what kinds of features make a good ladder, you can read our best tripod ladder buyer's guide at the bottom of this page. Otherwise, please enjoy our reviews of the best tripod ladders available in the UK (at the time of writing).
Comparison table: Best tripod ladders [UK]: Hendon, Henchman, and Nawaki compared and tested

Product
What We Think
Price

Tripod Garden Ladders with Built-in Platform by Henchman 2.4m

Tripod Garden Ladders with built-in Platform by Henchman 8'
Uniquely, all Henchman Tripods include the 7" deep "Platform" rung for safety and comfort...
Wide, clawed feet are designed to "grab" soft ground and so prevent slipping or sudden sinking...
HFTRI-8 Tripod - 3 Legs Adjustable
Max Weight Load - 100kg

Henrys Tripod Garden Ladders with built-in Platform by Henchman - 3.00m -3.6m. 10' Ladder. All 3 Legs Fully Adjustable.

Tripod Garden Ladders with built-in Platform by Henchman 10'
Uniquely, all Henchman Tripods include the 7" deep "Platform" rung for safety and comfort...
Wide, clawed feet are designed to "grab" soft ground and so prevent slipping or sudden sinking...
HFTRI-10 Tripod - 3 Legs Adjustable
Max Weight Load - 100kg
1. Hendon Standard Tripod Ladder GMF240, 2.4m (7.9ft), 8 Tread, Aluminium Lightweight Frame, 1 x Adjustable Leg, Tested to EN131 Energy Class A
Out of all of the tripod ladders tested and compared, this one from Hendon was my favourite and my pick for the best tripod ladder. Mind you, it wasn't like it was a clearly superior product, and in many ways is very similar to our other reviews here on this page, but overall it just struck me as being the best value for money out of a very good bunch.

The main difference between this tripod ladder and the estate to garden model is that with the Hendon, you actually stand on the rung a few steps down from the top. Now, this has its pros and cons. For example, it means that before you purchase this kind of ladder you need to work out the height that you will need if you are not standing directly at the top of the ladder. On the other hand, having more frame higher up is good for keeping balance in an emergency and just gives you a more secure feeling while working up at heights.

There is a flat top platform/step but I think the designers meant this to be for sitting your tools down on or a basket if you were picking fruit and not to be climbed on while working.

I also like the double rung treads on this model. It left me feeling sure footed and even if there was a bit of rain while working, I think I'd still feel like the grip was more than enough to keep me from slipping.

The welded aluminium structure of this tripod ladder is very high quality work and the whole ladder has a solid feel to it. However, it is still very easy to carry around due to the lightweight of the main material.

Don't let its lack of weight fool you into thinking this ladder can't bear loads, it has been designed to be able to handle up to 100kg with no trouble.

Like the estate to garden tripod ladder, this one has an adjustable leg so you can find your balance 'sweet spot' on slopes and bumpy lawns. It also helps to get you closer to the spot you need to be to work.

The Hendon's broad feet do an excellent job of gripping soft ground and you really feel dug in and stable. On top of that, there are rubber caps for the feet that will allow you to use this ladder on harder surfaces without slipping or being off balance.
This tripod ladder is available in 5 different sizes, but like we mentioned, please take into account that the last working step is a few rungs down from the top so you might need to go up one size.

In conclusion, the Hendon standard tripod ladder is as good a product as you are going to get for the price. It is strong, sturdy, and has some nice design features that are all functional.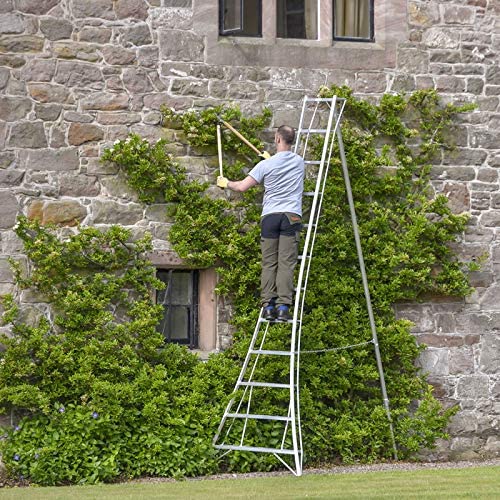 2. Estate to Garden Tripod Ladder Aluminium Arborist, 1 leg Adjustable 2.4m and 3m available (1.8m)
Estate to Garden's tripod ladder comes in five different sizes ranging from 1.8m to 3.6m, all following the same, customer pleasing design and when compared in terms of price and build quality it's up to the mark. Well up there with Henchman and Hendon.

This tripod ladder ticks all the boxes we are looking for in one these products. It is lightweight, steady and stable, well made, and durable when comparing to the Hendon and Henrys tripod ladders

Let's start with how light this ladder is. We tested the 2.4m version and I was able to carry it about easily in one hand while holding my hedge trimmer in the other. The manufacturers say that the weight of the 2.6m tripod tower is only 8kg and I for one certainly believe them. In fact, it felt lighter than that to me but that's probably because this was the first of this product group we reviewed and I've been using a steel ladder to paint the inside of the house recently. Still, it is very easy to manoeuvre around your garden and certainly a quality alternative to a long reach hedge trimmer.

The reason this tripod ladder, and most other top tripod ladder models, are so lightweight is the same reason why they are so durable- they are made of aluminium. Aluminium isn't just a very lightweight metal, it is also rust and corrosion proof so you can be sure of getting your money's worth over the years to come.

Strength is also an attribute of good quality aluminium, especially aluminium alloy, and that is why it is used to build so many different products these days, from ladders like these to bicycle frames and golf clubs. This material, combined with the superb build quality of this particular tripod ladder, have made it a best seller and also a five star rated product on Amazon.

Now, the main reason to invest in a tripod ladder for your garden is for increased stability, and thus decreasing the chance of having an accident. The three legs of the estate to garden tripod ladder have a nice wide spread to them and each leg has feet shaped like upside down crescents. These feet dig deeper into soft ground like grass and dirt and really help to keep the ladder stable, even on slopes.

Of course this also has a downside as you won't be able to use this ladder on any hard surface because the curved feet would actually cause you to be off balanced and in danger. However, if used the way that it was intended, on soft ground, this tripod ladder works incredibly well.

While some tripod ladders have the ability to have all 3 legs adjusted, this model only has one leg that can be changed to alter the overall spread of the weight, but to be honest, I never felt that I needed to have any more than that. The weight seemed perfectly balanced between the legs at all times and I felt very secure up there, even at the top.

I have to say, that this is an excellent tripod ladder that I would be very happy handing over my hard earned cash for, and the build quality inspires confidence in a long working life.
3. Tripod Garden Ladders with Built-in Platform by Henchman 2.4m
I really like the Henchman tripod ladder. Not all tripod ladders are equal as we've already compared and established. Some tripod ladders have a rear adjustable leg height but the Henchman here adjusts entirely which easily makes this right up there as far as solid picks for best tripod ladder go.
The only real quantifiable difference between this and the next pick is the overall height and reach. Both have excellent stability and mae from a high grade aluminium, perfect if you're looking for a last product, or one to use professionally. You really need a wide base for maximum sturdiness – the Henchman gives that and will give you the confidence to reach that little bit further – something that is always well receive with regards to tripod ladders.
4. Henrys Tripod Garden Ladders with built-in Platform by Henchman - 3.00m -3.6m. 10' Ladder. All 3 Legs Fully Adjustable.
I know I said the Hendon standard tripod ladder was my favourite, but I didn't say it was the best. To be honest, this one, the Henrys tripod ladder from Henchman, has the best overall features.

So, why isn't it my favourite? Well, it all comes down to price. This model is much more expensive than the Hendon model and I personally wouldn't see the point in paying that much. However if I had deeper pockets, I would be very, very tempted by Henrys tripod ladder.

For the extra money, you do get 3.6 metres of beautifully made, high grade, aluminium frame that has some design features I think we should mention.

First of all, this model has not one, but three adjustable legs, meaning it is so easy to find the right set up on uneven ground, slopes and soft surfaces. Even some particularly steep slopes can become a workable base if you play with the adjustments on all three legs.
In addition to this, the wide stance of this ladder when fully adjusted to the maximum gives you a feeling of sturdiness that is hard to beat.

The feet are also wide and act like claws as they dig into the ground for extra support much like our other reviews, and like the Hendon this model can be used on harder surfaces like tarmac as long has you fit the rubber caps on the feet first.

The steps on the ladder are wide and deep and give you good support for your feet. There is a large working platform to stand on that has been designed so that you don't hit your shins on the rung above while working, so you can lean into the ladder more.

There is another flat platform on the top rung of the ladder, and a bar/rail at the very top to hold onto or lean on. This comes in handy when you ned to use both hands to operate a power tool like a hedge trimmer or chainsaw and gives your back a much needed break from time to time.

All in all, this is a top class tripod ladder, and if you don't mind spending that bit extra, it is definitely the one to go for.
5. Niwaki 10' Tripod Ladder
Hailing all the way from Japan, the Niwaki tripod ladder from Hasegawa is yet another very good product that is worthy of some serious consideration.

While it doesn't bring anything particularly new to the table, it is certainly not lacking in any department either and has a reasonable price.

Being a top tripod ladder choice, it is of course constructed of high quality aluminium that has been welded to a very high standard, ensuring that it will last for an extremely long time.

The double rung steps offer a lot of grip all the way to the 10th and top step which is a flat working platform for you rest things on, whether it be a basket, tool, or just your elbows.

The double curved bars that run up the sides of this tripod ladder, not only look stylish but also act as hand rails while you climb up and down.

The rear leg of the Niwaki is adjustable for getting stable on bumpy and sloped surfaces and the curved feet work in the same way as our other reviewed products. You can even insert the back leg into a hedge so that you can really get up close and personal with those overgrown branches.

The Niwaki however, is like Estate and garden's model and doesn't have rubber caps for use on solid surfaces and is only to be used on softer ground.

In summary, this Japanese tripod ladder is an excellent product that does nothing wrong or special. It has excellent build quality and a nice, aesthetically pleasing design, I just think that the Hendon or Henrys models are just that little bit better.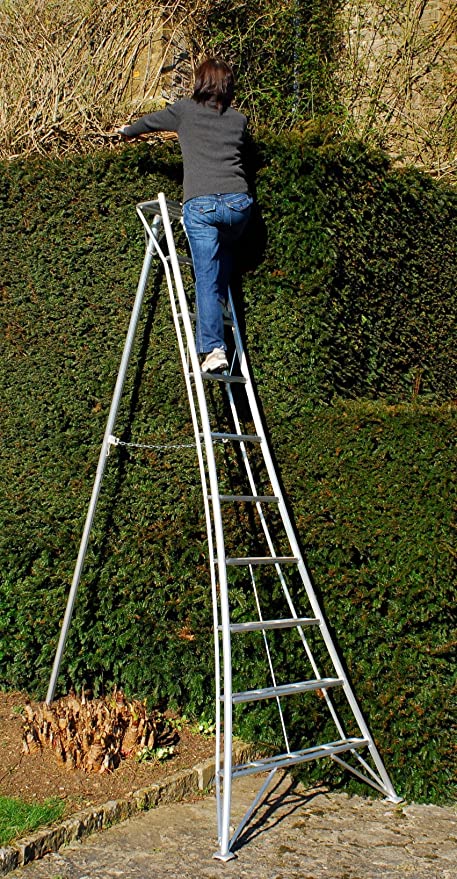 Tripod Ladder Buyer's Guide
In the market for a new tripod ladder but are a little unsure about what constitutes as a good model to choose? Here we have put a short list of features that all top tripod ladders should have.
Safety
Tripod ladders. are not for the feint hearted if you are not into heights. Luckily there are some pretty decent tripod ladder safety guides to follow. Be sensible, always make sure the ground beneath you is sturdy and hard. Be it sinking or slipping, this is the easiest way to come a cropper.
Material

Tripod ladders aren't the smallest of things, so they need to be made from lightweight materials so you don't break your back moving them. They also need to be weather resistant so they don't corrode or rust, and very strong to support a person's weight. This is why high quality aluminium is the best material for these ladders and I wouldn't think of buying one that wasn't made from it.
Adjustable legs

Nobody's garden is perfectly flat. There are bumps and slopes that can make balancing a ladder a bit tricky. This is where adjustable legs come in. Some ladders have just the rear leg being adjustable, while others have all three, but this is definitely something you want to have as a feature on any tripod ladder you buy.
Wide clawed feet

Wide and clawed feet are a common feature on good tripod ladders. They will dig into soft ground and help with the overall stability of the ladder. Some models also come with optional rubber caps for the feet so you can use the ladder on harder surfaces and this is an extra bonus if you can find it.
Standing platform and ladder height

Make sure you know about the standing platform, the actual rung you will be standing on to work. How high is it? How far from the top of the ladder? It is important to know because if you buy a 3 metre ladder to reach 3 metre high hedges but the platform is half a metre down from the top, you still won't reach. Working this out may cause you to realise that you need to buy a taller ladder so that your working height suits the job at hand.
So, that just about wraps up our reviews and buyer's guide for tripod ladders. The products featured our top picks for the time at which this article was being written and we will continue to keep an eye on the market and edit this page or include any new products that stand out from the crowd in the future.
---