Best electric log splitters that make log splitting easy in 2021
This article was last updated on August 7th, 2021 at 2:48 am
Best electric log splitters
When it comes to the crunch, you've got two good options for log splitting both manual and powered. Manual log splitters are great if you're tough and love your exercise. For me though, an electric log splitter is the preference all day long. Are electric log splitters any good? The answer is a definite "YES". Not only are they quieter than petrol log splitters and remarkably produce just as much cutting grunt they are considerably cheaper as well as save my shoulders from hefty axe swinging.
And let's face it electric is far more convenient than petrol. If you really need the flexibility to move around then a portable generator plus an electric log splitter is still cheaper than a petrol version.
I think my points well made, electric is the way forward as far as log splitters are concerned so now it's just a case of deciding which is the best electric log splitter; I've based on price, safety, ability to chop logs, speed of operation, build quality, and the raw power.
Not all log splitters are equal. Some have a guard, some have a 4 way head cutter (this means logs get split 4 ways in one – superb), and some are just built to rip down monster logs. Finding the right one for your home also needs to factor the amount of wood you use as well as how knotty and tough to cut. I've got you covered on all fronts in this article so it'll help you make the right decision for maximum comfort and minimum spend!

Comparison table: Best electric log splitters that make log splitting easy in 2021

Product
What We Think
Price

Forest Master Fast Lightweight 5 Ton 2200 Watt Electric Hydraulic Log Splitter

Ideal for beginners or a small to medium wood burner
Quick cycle time 9 seconds
2200 watt motor produces a genuine 5 TONS of force.
Lightweight (32kg) and compact making it easy to move around and store....
Includes a stand (requires assembly)

Massive ram pressure force of 6 tons
30mm hydraulic ram
Splits green & hardwood logs easily
Wheels for easy transportation
2200w Motor

Heavy Duty Electric Log Splitter Hydraulic Wood Cutter 7 TON

The blades split the log from both ends unlike a conventional splitter...
Splits Logs With A Diameter Of Up To 400mm
For any further information please contact our UK customer helpline on 0191 2966966
Powerful 2200 watt motor
Filled with oil ready to use

Forest Master FM10 electric duocut log splitter complete with duocut blade
Duocut blade optimises splitting capacity by using two splitting blades rather than one producing similar results to a 10...
Powerful 2200 watt motor
Fully adjustable cycle (with ramstop) to match log lengths for quick log splitting...
Produces 5T force that splits logs with a Max Log Diameter of 500mm with Duocut blade...
The best electric log splitters for sale UK
1. Forest Master Fast Lightweight 5 Ton 2200 Watt Electric Hydraulic Log Splitter
For your average home with a wood burner and open fire, the Forest Master Fast Lightweight 5 Ton 2200 Watt Electric Hydraulic Log Splitter is the best electric log splitter. It ticks all the boxes:
Lightweight: yes
Powerful: yes
Cuts decent length logs: 12 inches so yes
Easy to move about: yes
Honestly it's hard not to sound like a salesman pitching their product 😀 Look at the power to weight ratio. It's insane. Compare the Mitox petrol log splitter. This bad boy weighs in at 135kg and costs £999. It's a hard thing to move about too. Meanwhile the Forest Master is 32kg and costs £300. It gives up a bit on the log length but that's about it, everything else it wins hands down in my mind. So you're talking petrol power for electric money.
It's pretty rare I get excited but this thing is the real deal and at sub £300 worth every penny. I assume you value your shoulders over £300? This thing cuts logs effortlessly and even logs in excess of 30cm in circumference too.
One thing to be careful of is the power rating. This model is so easy to manoeuvre that you'll find yourself moving it everywhere but at 2200 Watts you want to be close to your socket. It's not ideal to put this thing on a power cable (you'll heat it up with that much power continuous). If I could fault it the assembly takes a fair while and it's a two handed machine to operate.
Bigger wheels would have been a plus too but then that goes back to the distance from the socket…
It's really hard to pick fault and if you buy it and find one, be sure to let me know as I'd love to throw a bit more balance into the review 😀
2. Forest Master's FM10 electric duocut log splitter
This is another electric log splitter from Forest Master but is more powerful than the previous model. It can handle 50cm logs (diameter) and is built for power. Interestingly it has a 'duocut' as they call it. To you and I that is essentially an axe head both ends. This definitely helps with the speed of cutting and a very nice idea. It's also capable of handling 45cm long logs, more than the 30cm of the model above.
Really the only reason you get this model in my mind is because the first model isn't big enough. Otherwise they are both superb products, just with a different price point. Also I would say the blades at both end make it a bit trickier cutting logs. You need a nice square cut so it doesn't slip and then move off centre. This isn't so much a problem on the single blade model but on this model the out of alignment cut splits the log in different places, and can even cause the table to warp a bit.
It's a lovely bit of kit but overall if you can get away with the smaller and cheaper model then I would say do so.
3. The Handy 6 Ton Log Splitter with Guard
The Handy 6 Ton Log Splitter with Guard is a nice comparable to the Forest Master Fast Lightweight 5 Ton 2200 Watt Electric Hydraulic Log Splitter with the same motor size and similar ram power. This model handles logs 25cm in diameter but 50cm in length. This makes it better for longer logs though then can't handle so much diameter. Much depends then on how you personally cut your logs and how thick the trees are.
The power cable is a tad under 2m which makes working from an extension avoidable and being a two handed operation it's certainly safer than single. handed otherwise would be. The instructions for initial setup need work but you'll get there with a little perseverance.
It's much heavier than the Forest Master though still moves on the wheels reasonably well. With a one year warranty it's not a bad shout considering the price points all line up.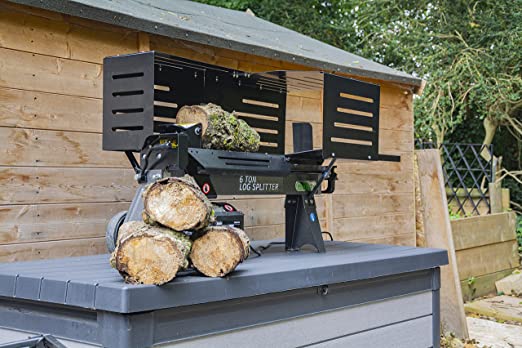 Heavy duty electric log splitter
4. Heavy Duty Electric Log Splitter Hydraulic Wood Cutter 7 TON
If you're looking for something a bit heavier and harder using then I would again go for a Forest Master but this time the Forest Master heavy duty 7 ton version. I like almost everything about this log splitter. It's essentially a beefed up version of the other reviews. It costs slightly more but the split is effortless and quick.
You want to make yourself, or get a decent stand for this splitter. Ideally you'll wedge it in one end to keep it steady and lock the wheels. This will give you the much needed stability it needs. Most of the issues with this splitter is the base, the machine itself is superb for tackling even the gnarliest of knotty wood. Have a cutter at each end practically guarantees a quick cut; a complete cycle is 15 seconds but the Ram stop means you don't need to do so and can expedite the process some too.
One cool thing I like about this log splitter is the angle of the blades. One aims downward and it's obvious the idea is to pin the log into position and stop it jumping out the table and I have to say it works nicely.
Weighing in at 47kg it's a bit heavier than the 32kg Fast Lightweight 5 Ton Electric Log Splitter model I am always raving about. If you need the power to cut wider logs 400mm or so then that's that. If however you get small logs then this isn't necessary and I'd opt for saving the money. Talking money, make sure you fill out the warranty card so you get an extra year. That said, these things very rarely break down. A hydraulic ram and good welding will last much much longer than this.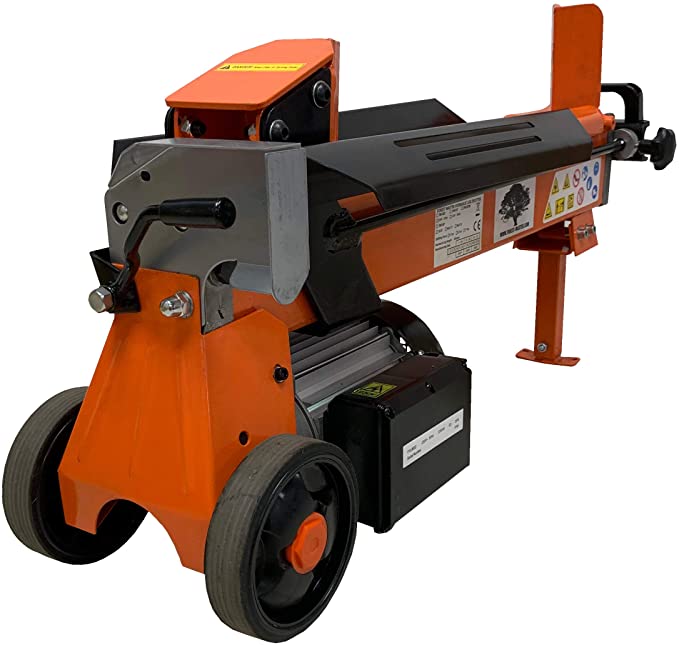 ---