Written by Terry Smith
Our site is reader supported so when you click a link to Amazon we may earn an affiliate commission.
UK's best electric log splitters: Heavy duty Forest Master and Handy splitters compared for value
This article was last updated on January 18th, 2023 at 3:28 am
Best electric log splitters
Since I last wrote this article I have had the absolute pleasure of seeing Handy bring out a vertical electric log splitter, and whilst I still prefer the Forest Master heavy duty 7 Ton Electric Log Splitter for heavy duty pick, The Handy THPLS8TE Vertical Electric Log Splitter which is a super alternative option. And pretty well priced considering the split force of 8 tonne! I would still always back this for reliability though when it comes to long term heavy duty log splitting: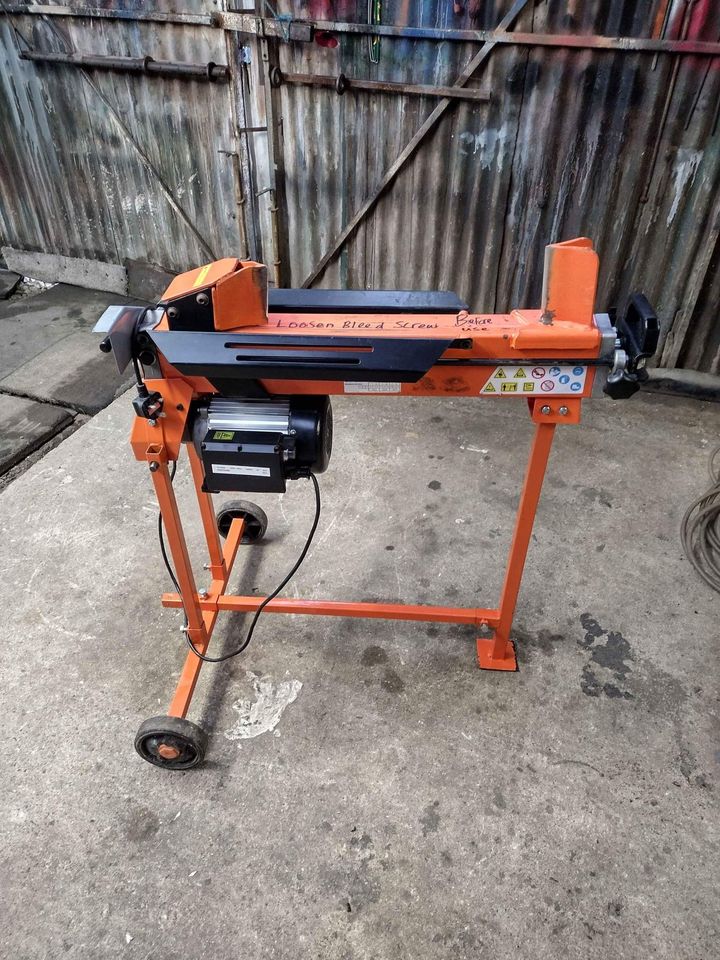 When it comes to the crunch, you've got two good options for log splitting both manual and powered. Manual log splitters are great if you're tough and love your exercise. For me though, an electric log splitter is the preference all day long. Are electric log splitters any good? The answer is a definite "YES". Not only are they quieter than petrol log splitters and remarkably produce just as much cutting grunt they are considerably cheaper as well as save my shoulders from hefty axe swinging.
And let's face it electric is far more convenient than petrol. If you really need the flexibility to move around then a portable generator plus an electric log splitter is still cheaper than a petrol version.
I think my points well made, electric is the way forward as far as log splitters are concerned so now it's just a case of deciding which is the best electric log splitter; I've based on price, safety, ability to chop logs, speed of operation, build quality, and the raw power.
Not all log splitters are equal. Some have a guard, some have a 4 way head cutter (this means logs get split 4 ways in one – superb), and some are just built to rip down monster logs. Finding the right one for your home also needs to factor the amount of wood you use as well as how knotty and tough to cut. I've got you covered on all fronts in this article so it'll help you make the right decision for maximum comfort and minimum spend!
My picks for the best electric log splitters:
Best electric log splitter: Forest Master Fast Lightweight 5 Ton 2200 Watt Electric Hydraulic Log Splitter [personally known and used this log splitter for years – bullet proof]
Quality alternative to the top pick: Sealey LS520H Horizontal Log Splitter, 5 Tonne (Electric) [can't go wrong with Sealey if other models go out of stock]
Best budget pick: The Handy 6 Ton Log Splitter with Guard [Quite a fan of the Handy Range – nice old boy sells these and he's just got an 8 tonne vertical in that looks super]
Heavy duty electric log splitter: – Forest Master heavy duty 7 Ton Electric Log Splitter [My mate has this and he's been using it hard for years with no trouble – only grief he has after using this to power his home and workshop: has to open the bleed valve before use sometimes – amazing really]
Best vertical electric log splitter: The Handy THPLS8TE Vertical Electric Log Splitter
Why choose an electric log splitter over a manual or petrol and what to look for when buying
It goes without saying a manual log splitter is equally comfortable at home as an electric one, and a petrol log splitter gives far more grunt so why pick an electric log splitter? Well from my perspective electric log splitters bring much value to the table:
Firstly the operation is quiet. the big petrols are pumping out the kind of decibels that are on par with noisy throaty motorcycles. The electrics by contrast make a super alternative as they are very quiet. With the door closed in your shed your neighbours would be hard pressed to know what you're up to!
And they have the edge over manual splitters too in my mind. The reason being, whilst I love a manual log splitter, there are days I just can't be asked. And that's fine if you're the kind of bloke with storage shelters ranging from green logs 18 months old to the stuff well seasoned, but we don't all have the time for that 🙂
But most of all, when compared to the manual and petrols, they are light and can blitz massive logs, even with a 5 tonne rating like the Sealey and the Forest Master Fast Lightweight 5 Ton: 
The best electric log splitters for sale UK
Here's a look at the best picks for electric log splitters in the UK. We've compared Forest Master, Handy, and Sealey to bring you the best professional and heavy duty electric log splitters in the UK.
Heavy duty electric log splitter
---