Written by Terry Smith
Our site is reader supported so when you click a link to Amazon we may earn an affiliate commission.
UK's best barbecues: Understand differences between charcoal, gas, and grills
This article was last updated on May 9th, 2022 at 10:07 am
In recent years, we've been lucky enough to have some fantastic spring and summer sunny spells here in the UK, and what better way to make the most of those precious rays than having a good old-fashioned barbecue? And who knows? With the roll out COVID-19 vaccines underway, you could be inviting friends and family around to enjoy those flame-grilled burgers, hot dogs, and steaks, with you pretty soon. What a way to celebrate the end of lockdown that would be.
One of the most important factors involved in throwing the greatest possible barbecue (apart from plenty of 'liquid refreshments' that is), is using an excellent BBQ grill. The best barbecues can make things so much easier for you, and play a big part in making sure your food turns out just the way you, and your guests, want it to. The thing is, how do you know what model to spend your pennies on? For a start, there are more than a few different types of barbecue, such as electric, gas, charcoal, smoker and grill combos, portable barbecue grills, to name a few; and this can lead to a lot of confusion for most people. Then there is knowing which models are the best barbecues for each type, taking into consideration things like price, functionality, build quality, and much more.
Understanding that most people are too busy to go researching all of this for themselves, we created this article for the distinct purpose of making things a lot clearer when it comes to finding the best barbecues out there, no matter what type you are interested in. So, let us be your guides as we walk you through everything you need to know when it comes to choosing the best barbecue for you and your family.
Comparison table: UK's best barbecues: Understand differences between charcoal, gas, and grills

Product
What We Think
Price

Effective grilling results from rare to well-done; automatic thickness measurement adapts the cooking for efficient results...
LED cooking level indicator accurately indicates the level of cooking from rare to well-done; 800 sq...
Nine automatic cooking programmes (burger
Manual control, featuring four adjustable temperature settings to cook all sorts of food...
Removable, non-stick plates and drip tray are dishwasher safe

2-IN-1 CHARCOAL GRILL & WOOD SMOKER – cook up delicious grilled meat...
PORCELAIN-COATED CAST IRON COOKING SURFACE – the premium quality cooking surface is resistant to scratching...
FRONT ACCESS DOOR – load the BBQ with coal or wood depending on your cooking style...
LOTS OF CLEVER FEATURES – with folding side tables
MANUFACTURER 2 YEAR WARRANTY INCLUDED

PORTABLE BBQ ✓ With its convenient dimensions
HIGH-QUALITY ✓ Made of heat- resistant stainless steel
EASY TO USE ✓ Spontaneous barbecue
WEATHERPROOF ✓ The grill lid can be removed to protect the food from wind and rain and ensure optimal...
SAFETY FIRST ✓ The delivery includes a cover

40,800 BTU gas grill with 438 square inches of main grilling area
192 square inch warming rack
Durable steel construction; side shelf for handy workspace
Electronic ignition; porcelain-coated cast-iron grates; utensil hooks
Measures 48 x 28 x 48 inch

【MULTIFUNCTIONAL】: 3-in-1 multi-function charcoal barbecue can be used for roasting
【GREAT QUALITY】: Double layer barbecue
【TEMPERATURE CONTROL】: Equipped with a thermometer that allows you to control the temperature inside the oven...
【SIMPLE AND SAFE OPERATION】: Easy to install and disassemble
【LONGEVITY AND WARRANTY】: Due to the iron structure

Cooks up to 15 portions of food
Non-stick easy clean removable plates
Angled cooking plates drain away fat and grease from foods Into integrated drip tray...
Variable temperature control and gauge to view cooking temperature
When the grill reaches the required temperature

Note: Customers that are ordering from outside of the UK are required to pay custom charges/import fees upon delivery....

[Excellent Material] The charcoal grill is made of high quality 430 stainless steel and its anti-rust and anti-deformation properties...
[Engineering Design] With ventilation holes on both ends of the grill
[Easy to install and clean] With easy to follow instructions
[Outdoor BBQ for 5 to 10 people] This charcoal barbecue design allows your meat to retain the most original...
[BBQ Tools Included] In addition to the stainless steel grill

CosmoGrill 4 Main Burner Gas Barbecue
Large cooking area with the following dimensions: 61 x 32 cm along with a very Sturdy & Strong barbecue...
Strong Double Walled Hood keeping temperatures stored inside
Highly mobile Barbecue, easy to move around with two castor wheels
Barbecue arrives Flat-packed with self assembly required

Handy table-top gas barbecue with single burner
Operates on either butane or propane with suitable regulator (regulator not supplied)...
Comes with lava rock for an authentic barbecue smoky flavour
Cooking Area: 42cm x 27cm
Pack Size: 48cm x 29.5cm x 28.5cm

TRU-Infrared Cooking System - cooks food evenly
Stainless Steel Burner - strong
Electronic Igniter - lights up your grill at the push of a button....
Stainless Steel Cooking Grate
Lid-Mounted Temperature Gauge - monitor the inside temperature of your grill.
Different types of BBQ Grill
Flames kicking up from charcoal is probably the first image that springs to the majority of folk's minds when they hear the word 'barbecue', but charcoal barbecues are just one of many different types that you can buy these days. Not only are there BBQs fuelled by gas, and electric, but then there are subtypes of these too.
Here we will list the three main types of barbecue (we will cover smokers in their own section later in the article), and highlight the advantages and disadvantages of each, giving you all the vital information that you require, and pointing you and your wallet in the right direction.
Charcoal barbecues
The classic type of BBQ grill, and still one of the most popular, charcoal barbecues deliver that flame-grilled, smoky flavour that is just so mouthwatering, and very hard to beat. Charcoal barbecues are comparatively cheaper than both gas and electric grills, at least for the initial lay out, but you do have to factor in the cost of charcoal, paraffin lighter cubes, wood for kindling, etc. on top of that. Still, generally speaking, they do work out cheaper as there are less parts to go wrong, and this makes the best charcoal BBQs very durable. Another good thing about charcoal grills, is that their fuel source makes them very portable, so you can take your BBQ party down to the park, lake, or campsite for a change of scenery, In fact, I love nothing more than a portable charcoal bbq for a family day out.
The downsides of having charcoal as the fuel source are that, because of the smoke they produce, they must be used outside and require adequate space to be used safely. Your guests won't be too happy if you sit them virtually on top of the BQQ and a cinder or two blows off and onto their clothes or hair! I won't tell you how I know this for sure, you'll just have to take my word for it…
Another thing that can put people off using a charcoal barbecue is that they can take a while to clean after use, and you will probably have to roll up those sleeves and use a good old bit of elbow grease too, or cheat and blast it with a pressure washer like I did :). Then of course, there is the fact that you have to be 'on the ball' when it comes to monitoring the flames and heat produced. You can't just turn down the heat and walk away for a while, so you'll need another person who knows what they are doing to take over once in a while, or you'll spend most of the time standing in front of the grill. For some people though, that sounds like heaven.
Pros
Comparatively cheaper than gas and electric models
Gives your food that awesome flame grilled flavour and aroma
Charcoal fuel source makes these BBQs very portable
The traditional BBQ process can be fun and enjoyable
Cons
You need an open and ventilated space to use them in
They can take a while to clean after each use
It can take time to master how to use a charcoal grill
Gas barbecues
Gas barbecues offer you a more convenient way to cook outside than charcoal grills, while still letting you use an open flame. There are some fantastic portable gas bbq options too. What's more, these flames can be instantly and accurately controlled at the turn of a dial, so if you need to take a quick toilet break, you can just switch off the heat and then come back to it later. They are very easy to start, and heat up much faster than charcoal and electric barbecues, making them a perfect choice for all you more 'laid back' chefs out there. Like with any type of barbecue, you will have cleaning duties afterwards, but gas BBQ grills are usually much cleaner.
So what are the negative aspects of gas barbecues? One of the main ones is that you need a source of gas, and unless you're going to set up some kind of connection to your mains (highly inadvisable) you will have to buy propane tanks or similar, and this only adds to the already higher cost of gas grills. You also have to remember to keep your gas bottles refilled, or you could be looking at the sad faces of your guests when the flames die out halfway through cooking their steaks.
For me though, the main drawback of gas barbecues is that it is very difficult to get that smoky barbecue taste. There are some accessories that can help to mimic this flavour, but in my experience, they are no match for the real thing. However, not everyone is a fan of the smokiness and prefers a cleaner taste, and the ease of use and convenience are what draws them to these products.
Pros
Quick to start and heat up
Heat is easily controlled
Less mess than with a charcoal barbecue
Easy and safe to use
Cons
Can be quite expensive when compared to other types of BBQ
Very difficult to get that smoky taste
You must always keep gas bottles filled and ready
Electric barbecues
Many buyers opt for an electric barbecue over charcoal and gas because of the safety factor; with no open flames, no gas, and no potentially harmful fumes, there isn't a lot left to worry about. Moreover, the absence of these risks means that when autumn and winter roll around and your neighbours are packing their barbecue away, you can simply bring your inside and continue grilling all through the rest of the year.
Most electric models are far more compact than other types of barbecue, making them ideal for those who don't have the luxury of a large garden; they can even be used on a balcony, or simply in the kitchen. However, this compact nature doesn't make them ideal if you're cooking for a large number of people.
If you're new to grilling, they can be a great choice, with the majority of electric barbecues being very straightforward and easy to operate, and most having clearly labelled buttons and functions. They are easy to start, and control. Generally speaking, you don't get 'cold spots' with electric barbecues either, as the heat plates tend to give you a good all round heat distribution. The flip side to this, is that the cooking surfaces tend to stay hot for a while even after switching off, so don't leave things sitting on there, unattended, unless you want them to burn.
As you've probably guessed, you won't get that chargrilled taste with an electric barbecue, at least not without some 'trickery' on your part, and it can be hard to sear your meat on them as the temperatures don't usually get as high as with charcoal and gas. When it comes to cleaning up, these electric models tend to be the easiest to deal with; you just wait until they are cold and then wipe with a wet cloth. Just make sure that the model you buy has non-stick plates or you'll be scrubbing away long after the party has finished. As with any electrical products, there are things that can go wrong that will stop the product working properly such as loose wires and faulty fuses, so spending a little bit more money on a trusted brand, or a product that has a good warranty, is a good idea.
Pros
Usually smaller and more compact than other types of barbecue
Can be used all year round
Very safe, and can be used both indoors and outside
Easy to use and clean. Especially if non-stick
Cons
You don't get the chargrilled flavour, like with charcoal BBQs
Some models won't produce enough heat to sear your meat
Usually not the best for larger gatherings, but there are exceptions
So, these are the three main types of barbecue that are on offer, and as you can see; while all of them offer something the others don't, none are perfect, and ultimately it comes down to personal choice. Later in this article, we will take a closer look at other kinds of BBQ, like portable models, and smokers, but first, here are our reviews of the best barbecues in the charcoal, gas, and electric categories.
Best Charcoal Barbecue Reviews
Can you really say you deserve to wear that 'King of the Grill' cooking apron if you're not dealing with a charcoal barbecue?? Purists would say not. There's something extremely satisfying about mastering a charcoal barbecue, and with a little practice (and watching a few YouTube tutorials) you'll soon have perfectly seared meaty delights to hand over to your guests.
So, without further delay, here are our top 3 charcoal barbecues that you can get your hands on right now.
1. CosmoGrill Outdoor XL Smoker Barbecue
We chose the ComoGrill XL smoker grill as our number 1 charcoal barbecue for the simple fact that it offers everything you need to have a great garden cook-out, while still staying in a price range that is affordable to the masses. Once assembled, which took us about an hour or so, it has dimensions of 124 x 66 x 113cm, and stands at a very comfortable height for the average person to use without having to stoop too much. The main grill area measures an impressive 57x42cm, giving you plenty of space to cook up a feast and a half.
On either side of the main grill, you'll find two good-sized shelves that come in really handy when you're plating up, or simply to sit your sauces and such on so that they're close at hand. If not needed, these shelves can be quickly folded down and this is a great space saving feature for storage purposes.
To help you keep control of the cooking process, ComsoGrill have designed this charcoal barbecue with an adjustable coal tray that can be raised or lowered using the large, metal, crank handle located right at the front of the grill, just where you need it.
Thanks to well placed air vents, it doesn't take long for the CosmoGrill charcoal barbecue to get up to a good cooking temperature, and if you grab the large metal handle and close the heavy duty hood, you will see from the built in thermometer that this thing can get very hot, very quickly. You'll have no problem searing steaks and chicken on this grill, that's for sure. I'm often disappointed when I try to use lower priced charcoal barbecues as smokers, but I was really happy with this one. With the lid closed, there was still enough space between the wring rack and main grill to smoke decent sized pieces of meat, and if you want to smoke something larger, it only takes minutes to remove a couple of screws and the rack itself.
The CosmoGrill XL and smoker is definitely one of the most solidly built charcoal barbecues I've ever seen for the price. Simply outstanding for under 200 pounds, and definitely worth investing in, the CosmoGrill XL deserves its place in our best charcoal barbecues list.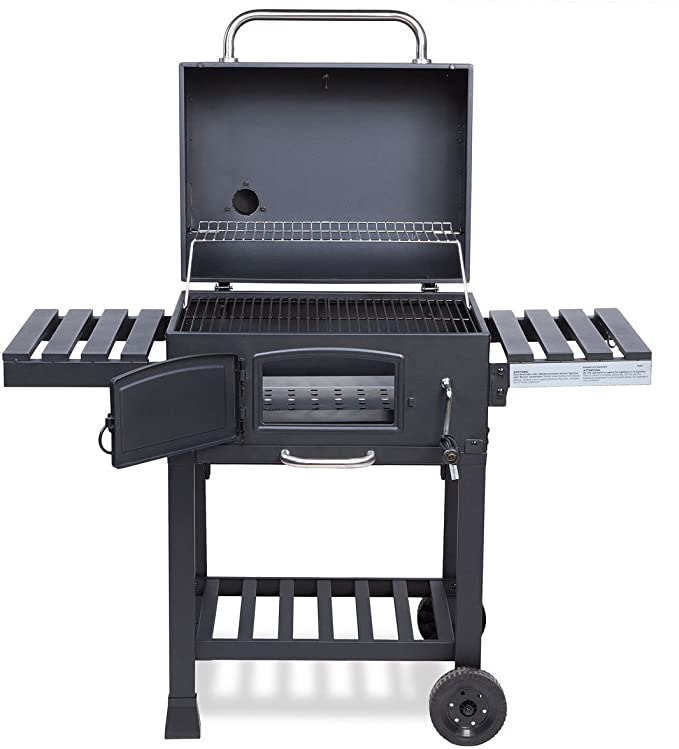 Another feature packed product, that is priced very fairly, is the VonHaus charcoal barbecue, on sale for around 30 pounds less than the CosmoGrill XL, which this model has obviously taken more than a few ideas from. The first thing I noticed is that although the basic shape and layout of the VonHaus charcoal barbecue is similar to the CosmoGrill, it has a more contemporary aesthetic, with a few extra shiny pieces of metal, and angular edges. Personally, I have to say that I did prefer this to the more traditional look of its competitor.
There are other differences too, such as the handle for raising or lowering the coal tray. Instead of using a crank handle that you turn, the VonHaus charcoal barbecue uses a mechanism that resembles a car gearbox, and you simply slot it into or out of one of the presets as you wish. It's very simple, and I liked it.
Access to the coal tray is gained through a large handled hatch on the front of the barbecue, and this makes refilling it, and removing it for cleaning, very easy indeed.
The main grill comes in two pieces that you just slide in next to each other, in addition to this, the cast iron cooking grates have been porcelain coated to prevent food sticking to them, and to fight rust and corrosion. The cooking area is large, and you will be able to cook enough for a large group of people without having to worry about space on the grill, and if it does get too crowded there, you can always pop a few things on the warming rack.
There is no chimney on the hood of the Vonn Haus, but there are extra vents in the side of it to go with the one on the side of the main grill, and a clearly visible, built-in thermometer. The vents can be closed off for when you want to use the barbecue as a smoker, and in that respect, it works quite well, especially when used with wood chips as a fuel source.
Other cool little features are the bottle opener on the front, a lower rack for storing plates and such on, and a pair of plastic wheels to get about on. The wheels won't get you over muddy hills or anything like that, but they're fine for moving the barbecue from the garage to the patio for your party.
Best Gas Barbecue Reviews
Moving on to gas barbecues now, a good choice if you're the type that likes to be able to switch off the heat and rest for a while during the party. Easy to ignite, and to control, here are the best gas barbecues for you to choose from.
3. Char-Griller E3001 Grillin Pro 40,800-BTU Gas Grill
With its durable, heavy steel construction, porcelain coated, cast iron cooking grates, and top-class powder coated paint finish, this Char-griller gas barbecue is something that is built to last. It has a 438 square inch cooking surface cooking surface with two powerful burners providing the heat. The main three burner tubes burner kick out a whopping 40,800 BTU, while the smaller side burner produces 12,000. That's much higher than your average gas barbecue.
Ignition is electric and instantaneous, and the grill gets up to a nice cooking heat really quickly. On top of that, I found that the heat was spread really evenly over the cooking surface, with no real cold spots to be found. In my experience, that's a good sign of quality.
That quality is easy to see in every aspect of the Char-griller E3001 model; the dials for controlling the burners feel very durable, the side shelves and base of the grill are really stable, and the hood is robust. Even the small chimneys in the lid feel like they'll last for years to come.
What I found really surprising about this gas barbecue is that even though it is extremely solid and well made, the manufacturers have somehow managed to keep the weight down to only 100lbs. This makes wheeling it around a much easier task than I thought it would be, and that was a nice surprise.
Durable, reliable, mobile, and with an even distribution of heat from the excellent burners, this gas barbecue is definitely worth the slightly higher than average price tag attached to it. You pay for what you get, and this is real quality.

4. CosmoGrill 4+1 Gas Burner Garden Grill BBQ
CosmoGrill are here again with yet another affordable barbecue that ticks all the boxes. Featuring four main burners that can be ignited individually, this grill gives you excellent control over the heat distribution along the large, main cooking surface, and the fact that they are ignited by a piezo lighter means that they spark up first time, every time.
In addition to the four main burners, there is a side burner that you can use for cooking up sources and side dishes to go with your mains. All of the burners are powerful, and heat up nice and quickly.
To keep all this heat trapped inside when you need it, CosmoGrill have given this gas barbecue a double walled metal hood, complete with an integrated thermometer so you can keep track of what's going on inside.
Made from a combination of enamelled and stainless steel, this is no cheap piece of junk. It may be a bit fiddly to assemble, but once you've got past that part, the CosmoGrill 4+1 gas barbecue is solid as a rock, and as durable as they come. If you're looking to wow your neighbours, this is a good choice of gas barbecue. The dark black finish and sleek lines make it one of the best-looking models out there, and the little touches of stainless steel are just the icing on the cake.
Again, this is a very capable barbecue with great build quality and features. I knocked it down a point for taking a while to assemble, but to be honest I was just being picky, and it could have been done much quicker with a bit of help.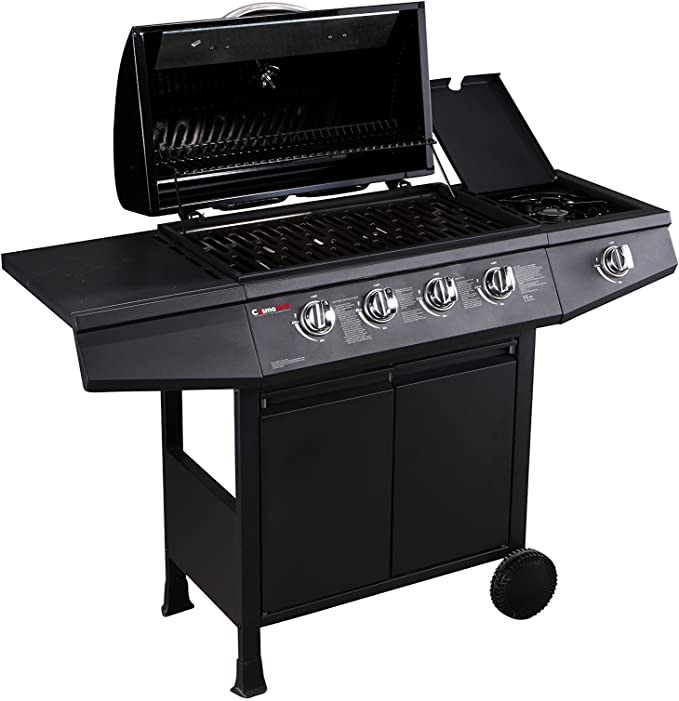 Best Electric Barbecue Reviews
With the ability to be used just about anywhere there is a power source, electric barbecues offer the buyer a grill that is relatively safe and easy to operate. What's more, the very best electric barbecues are usually packed with cool features like set cooking programs and temperature control.
Here our picks for the top products available right now.
5. Tefal OptiGrill+ XL GC722D40 Intelligent Health Grill
To say the Tefal Optigrill XL is packed with features is a bit of an understatement. Using technological advances, this electric barbecue completely eradicates the guesswork involved when trying to cook the perfect steak, chicken breast, or pork chop. There are nine preset cooking modes to choose from, and the buttons for these are clearly marked on the machine with images depicting the type of food that that particular preset is best used for. You just pop your food in, press the button, and wait for the machine to do the rest.
Tefals 'automatic sensor cooking technology' is very clever stuff. It will not only automatically detect how many pieces of meat are on the grill, but also a built-in thickness sensor will figure out how chunky your pieces of meat are and adjust the cooking times to suit.
If you want to take things into your own hands, no problem. Manual mode will allow you to choose from four different temperature modes that are, again, clearly marked and easy to understand. It doesn't matter if you're cooking meat, fish, or grilling a panini, the Tefal Optigrill XL will do it all, and do it extremely well. And if that wasn't enough, you can monitor how well cooked the things on the grill are getting using the colour coded cooking level indicator. Rare, medium, or well done, it's up to you, and has never been easier. I tried out all three, and I was impressed with the accuracy.
With an 800 sq.cm cooking surface to play with, you're never lacking space, and cleaning is made as simple as the cooking process thanks to removable, and dishwasher safe, cooking plates. Priced very fairly at the time of writing, this solidly built bit of kit is a must buy for anyone looking for the best electric barbecue. Top-notch, effortless cooking.
6. George Foreman Indoor Outdoor BBQ Grill
This is one of the few electric barbecues that actually resemble a classic barbecue shape and not a countertop grill. Having said that, the George Foreman indoor outdoor BBQ grill does give you the option of separating the top section and using it that way. I tried out both ways and I found that I preferred having standing up while cooking, but it was very convenient just to take the whole grill section and place it on the table when the food was done.
Getting different kinds of food just right on this excellent electric barbecue was a piece of cake, and I made good use of the variable temperature controls to produce some mouthwatering grilled seafood for the missus and neighbours, and then some cracking burgers for the kids.
The George Foreman indoor outdoor electric barbecue gives you 1500 square centimetres of cooking surface to play with, and this makes it a good choice for buyers with more than one child, or those who entertain regularly. You don't have to be a tech whizz kid to operate this model. In fact, you only have to know how to plug in the thermostat and turn the dial to adjust the heat, and you'll be cooking away.
I am always impressed with the cooking plates on George Foreman branded grills, and this one didn't disappoint me either. They are high quality, easy to remove, and thankfully a doddle to wipe clean using a bit of soap and water. The plates are angled nicely, and this allows the grease from the meat to run down and be collected in the integrated drip tray. This tray can be removed and cleaned too, of course.
At one point during testing this cracking (not so) little electric BBQ out, the wind starting kicking up in the garden and my delicious looking fish fillets were in danger of getting covered in dust and other debris, so I just popped on the lid and kept an eye on the temperature using the built-in thermometer.
This electric barbecue would suit people who are looking for convenience, but still want that classic barbecue look. With minimal controls, a large cooking area, and a design that makes cleaning and maintenance as straightforward as can be, it'll make many a busy parent very happy, I'm sure.
Best Portable Barbecue Reviews
While both of the electric barbecues featured above are certainly versatile, their weight, and reliance on a mains power source, don't really make them what I would call "portable barbecues'. However, the products featured below certainly are, and are the perfect way to turn any camping trip or beach barbecue into one to remember.
As there are quite a few products all good enough to warrant a place on our best portable barbecues list, we have decided to keep the reviews as brief as possible while still giving you the info you need to know. Enjoy.
Best portable charcoal barbecues
Femor's BBQ grill is the product to go for if you go camping in larger groups, whether it is you and the kids, or just friends, as the 73cm x 33cm grill will enable all you tent dwelling super chefs more than enough space to feed everyone. I loved the way that the folding legs can make this portable barbecue go from standing 72cm tall, to being almost flat and ready to slip into the car boot, in seconds.
Made from high quality 430 stainless steel, it is built to fight off rust, and stands surprisingly stable on its long legs. I must say, I really did prefer to be standing upright while cooking on our lake district camping trip than having to crouch down like last year. The old knees are certainly grateful.
Featuring a good sized mesh grill, a non-stick pan, storage basket and plate, and coming with a set of tongs, the Femor portable grill is excellent value at the current price.
For all you solo campers, backpackers, and fishermen out there, the Fennek portable picnic grill is here for you. It might seem a little on the pricey side for such a compact charcoal grill, but it has a build quality that is second to none in its class, and will see you get plenty of use out of it over the years to come.
Have no doubt, this is an amazing piece of engineering. When fully folded up, it resembles a small laptop computer, with dimensions of 11.6" wide by 7.6" deep and being only 0.98" tall. However, in no time at all, it can be popped up into a decent sized portable barbecue, with easily enough space to cook for two people.
There are other products out there that have a similar folding design and are on sale for a fraction of the price, but I have tested a lot of them out and I can honestly say that the build quality of this product is by far superior to all of them. The heat resistant stainless steel will not only stop your portable barbecue from warping, but it will also fight off rust too.
One of my favourite features of this product is also one of the simplest. It has a removable lid which comes in handy when the weather inevitably changes for the worse, and will stop your burgers from getting a good soaking.
If you go fishing a lot, or just go camping as a couple or even alone, I would say this is the perfect portable barbecue for you. Very durable, not too heavy, and folds up so small, you can slip it into your backpack and forget about it.
Best portable gas barbecues
9. Char-Broil X200 Grill2Go - Portable Barbecue Grill
One of the most durable portable gas barbecues out there, the Char-Broil X200 is something you don't have to be overly careful with, which is good for a clumsy you-know-what like myself.
Powered by 16.4 ounce propane canisters, and using Char-Broils 'TRU-infrared cooking system, this portable gas barbecue delivers a great cooking performance with a nice even distribution of heat and prevents any flare-ups from occurring. This all adds up to evenly cooked food that remains juicy and succulent, instead of feeling dried out like a 10 year old boot.
The push button ignition system is a god send when trying to start the barbecue up outdoors in windy weather. Just a push of the button and the stainless-steel burners burst into life. If it starts to rain, you can rely on the heavy duty hood to keep everything on the grill bone dry, and you don't have to worry about things burning as long as you keep an eye on the thermometer.
Through my tests with this portable barbecue, I can confirm that the fuel consumption is very good, and you won't have to swap tanks over too frequently. Please be aware that there are no gas tanks included with this barbecue, so you'll have to buy them separately, but they are easy to come by and not expensive.
An incredibly solid, and hard wearing portable barbecue, with top class cooking performance, the Char-Broil X200 is well worth shelling out for if you're going to be getting a lot of use out of it.
10. Crusader Table Top Gas BBQ Inc Lava Rock
Just looking for something simple, inexpensive, but does what you need it to reliably? Then the crusader table top gas barbecue might be a thing for you.
Priced at around 35 pounds at the time of writing this article, it is one of the cheapest portable gas barbecues out there, and as such you shouldn't expect the same build quality as with the Char-Broil X200. However, for the price it is decent, and certainly not flimsy. You will need to pay a bit more and purchase a regulator and either a propane or butane bottle or tank to connect to this model, but once set up it does its job admirably.
It comes with some free 'lava rocks' that will give you the same smoky taste of a charcoal barbecue, and help to keep the heat up and more evenly spread once the rocks themselves have got up to temperature. There aren't that many of these rocks included, but you can buy more, quite cheaply, and it's something I'd recommend.
The 42 x 27cm cooking area is big enough to cook 4-5 burgers on at a time, and you'll find that as the fat drips through the cooking grate and onto the lava rocks, it burns up, adding more flavour and reducing the cleaning needed afterwards in one swoop.
The Crusader portable gas barbecue isn't the most fancy product out there, and I wouldn't expect to hand it down to my kids after I'm gone, but for the price it is definitely worth considering for your next camping trip.
Best BBQ Smokers Reviewed
It is quite common for the best barbecues to double up as smokers these days, but the results are not always the best. Even the best barbecues can't really hold a torch to a proper smoker when it comes to getting that authentic, BBQ, smokey, flavour.
Please be aware that the best BBQ smokers aren't going cheap, and you should expect to pay at least 200-300 pounds for a really good one. For this price though you'll have your hands on a product that will stand the test of time, and deliver excellent results.
Here are the top picks in the best BBQ smokers category:
11. Weber 711001 Smokey Mountain Cooker 14-Inch Charcoal Smoker
When it comes to barbecue products, Weber is right up there at the top of the heap, continually producing the best barbecues and smokers out there. Anyone who has owned a Weber barbecue, and that long list includes myself, knows how durable these products are. I recently bought a new Weber barbecue and handed my old one down to a friend and it looked almost as good as the day I bought it; that was 5 years ago! This smoker is cut from the same cloth and is sure to keep you happy for years to come.
It's not just the build quality that people appreciate about weber smokers; it is how well they do what they are made for. In the time I spent testing this smoker out, I used it to produce the most delicious smoked ribs, brisket, and ham, and all of them turned out fantastically.
The temperature control is excellent, and just by adjusting a couple of vents, you can really dial it in and get the heat just as you want it. Once you're happy, you can walk away and be sure that the temperature won't deviate. I even left it overnight, and was rewarded with the most tender, slow cooked pork I'd ever had the pleasure of feasting on.
Without a doubt, this is a smoker that will put a smile on your face every time you see the results, and for that alone, I think it is worth every penny.

Ok, so I know I said you should expect to pay 200-300 pounds for a great smoker, and I still stand by that statement, however that doesn't mean that you can't get a decent one for quite a bit less than that, as long as you don't mind putting up with a few 'quirks'.
The Femor smoker barbecue is a 3-in-1 product that can be used for grilling, roasting or smoking, making it very versatile, and for the low price tag, I would have to say it does a pretty good job of all three.
However, let me be clear, this can't match up to dedicated smokers like the Weber product, there is some leaking of smoke from the chamber, and also the temperature won't stay as stable, so you are required to stand over the machine while you're using it and make adjustments with the vents as necessary.
The way I found worked best with this BBQ smoker combo, was to low cook for a while and get the smoky flavour into the meat, then remove it, and the top of the smoker, and finish cooking on the grill. It was a little bit of messing around, but it only took minutes to change over, and it produced the best results.
It isn't as durable as the more expensive products either, but that is to be expected and if you follow the instructions from the manufacturer about spraying oil in the right places, you should be able to keep the rust at bay for quite a while.
If you're just looking for a product to get your feet wet when it comes to smoking meat, or you just don't have the money for the best BBQ smokers, this isn't too bad a choice. Experienced barbecue chefs will probably do better to look somewhere else, perhaps a little further up the price range.
---