Written by Terry Smith
Our site is reader supported so when you click a link to Amazon we may earn an affiliate commission.
Best cordless pole hedge trimmer rated on price and performance [Summer 2021]
This article was last updated on August 7th, 2021 at 6:36 am
Best cordless pole hedge trimmer tested and reviewed for Summer 2020
There's nothing quite like a perfectly trimmed hedge to give your garden that polished, inviting look. If you've only got a small hedge and you don't mind a bit of manual labour, a set of garden shears will see you right taking your time in this Summer of 2020 lockdown. However, larger gardens will more than likely require the use of a power trimmer to speed things up.
A pole hedge trimmer is basically just a hedge trimmer attached to a pole with the controls in a comfortable gripping position, essentially a long reach hedge trimmer, but they do vary in quality and performance (one destroys the field in this review).
Should you have particularly tall hedges or ones that are hard to get to because of the orientation of your house, garage, shed, or something, you've got two choices- either 1: risk life and limb doing a balancing act on a step or tripod ladder – I've attached the best of them if you're brave enough :), or 2: be smart and buy a cordless pole hedge trimmer, or maybe both are needed?
Perhaps your hedges are super tall and you need option 1 and 2. Obviously the lightest, most nimble model makes sense, which would be the Ryobi Cordless Pole Hedge Trimmer in my opinion. Well, my opinion on the nimble, the weight is a fact at just 3.6kg but it's not the best cordless pole hedge trimmer in this review.
Here's the table of performance, but please read the full review to be sure you know what model is right for you.
Comparison table: Best cordless pole hedge trimmer rated on price and performance [Summer 2021]

Product
What We Think
Price

Easily cuts through hedges and branches
45cm diamond ground blades for clean cutting
Capable of cutting large branches with 18mm blade gap
115 degrees articulating cutting head with 4 positions for versatile trimming
Removable extension shaft for full length of 2.9m for extended reach tasks...

Environmentally conscious and 25.4 cc four-stroke engine; low noise and clean exhaust emission; low running...
Multi-position engine lubrication system enables the engine to be inclined to any angle even during continuous operation...
Recoil starter with automatic decompression
Primer pump and diaphragm carburettor
Short-shaft provides greater manoeuvrability

The Universal tools from Bosch
Ideal for tall and wide hedges
Work without interruption and achieve clean cuts thanks to the electronic anti-blocking system...
Power for all: One battery pack and one charger for the entire home and garden range of tools...
Items included: UniversalHedgePole 18

Performance enhancing transmission:More blade power
22mm cutting capacity,45cm cutting length:Cut through branches like a lumberjack...
robust:Aluminium shaft for lightweight stregth
long-reach:Over 2 meters length to reach everywhere
adjustable angle:From the top to the face
A cordless pole hedge trimmer should be powerful enough to cut through with little resistance, balanced, light weight enough as to not tire you continually lifting upward, safe and comfortable to operate with value for money in mind always. We have reviewed the best cordless hedge trimmers on these criteria strictly.
The Makita Cordless Pole Hedge Trimmer blows everything else in this review away, but it's a petrol, commercial grade bit of kit designed to make light work of practically any hedge. The other models are battery electric cordless hedge pole trimmers and more suitable for home use and well worth a read with plenty of grunt for medium sized gardens. I just thought I'd drop it in if you're in a rush and wanted to skip to the best cordless pole hedge trimmer full stop, otherwise keep reading, it's a pretty balanced read in my mind (or at least, I tried to make it that 🙂 !
There are corded models, cordless ones that run on lithium ion batteries, and also the most powerful (and expensive) petrol models .
With a large selection of these tools on the UK market to choose from, we thought it would lend a little hand by reviewing the models we think offer the best value and performance.
1. Makita EN4951SH 25.4cc 4-Stroke Pole Hedge Trimmer
If you are looking for something to use commercially, or you have a very large property surrounded by high hedges, you might consider shelling out a bit more and going for a petrol powered pole hedge trimmer. There's no question this is a cut above the rest (no pun intended). There are 13 angles you can set your pole hedge trimmer at so whatever the angle you're looking for, you can get at it comfortably.
The settings are a precision 11.25 degrees too. This is why I consider this to be the best by country miles. It only weighs 6.6kg and the thing is teeming with power.
Everything has been thought of though if you do decide to hold it at odd angles. This Makita is fitted with a multiple position lubrication system so that the engine can run at inclined positions with no trouble at all.
It grips nicely too, very comfortable in the hands, there's no question you get what you pay for. For more control and comfort there are 2 separate hand grips and at 6.6 kilograms it is lightweight for a petrol powered trimmer.
Each angle is secured by a fully safe and easy to use locking pin, user safety has been thought of at every step in designing this master bit of kit. It's not surprising really, their cordless brush cutter I reviewed the other day is a marvel too.
It has a built in clutch that acts as a safety stop to restrict the blade from moving when folding the blade for storage even if the throttle is accidentally touched. You feel safe and secure using this tool.
This 25cc petrol trimmer from Makita has a specially designed engine to reduce the level of noise and emissions coming from it while under operation. Don't be fooled, petrol is still noisy, but Makita have significantly softened the blow with this model as it's 4-Stroke, a far superior lasting engine to the 2-Strokes.
If you have a large amount of work or want to cut your work time, it's a necessary sacrifice. You only need store a jerry can of petrol in the shed with an alarm on it and you have no trouble and peace of mind.
We haven't even talked about performance yet.
When it comes to cutting performance and power, the electric models simply can't compare with this Makita, and that would go for electric corded models too, not just the cordless. Its 49cm blades will cut through any branches that get in its way with zero effort. It'll do all the heavy lifting for you.
The Makita has a 0.6 litre fuel tank that runs on normal unleaded petrol so there's no need to mess around mixing fuel, and a full tank should last you a fair while. You'll go all the way round a large garden no problem.
Key features:
Powerful 25cc petrol engine and 49cm blades give excellent cutting performance
Multi-position lubrication system allows the engine to be used in inclined positions
13 angles to choose from spaced at 11.25 degrees
Built in clutch acts as safety stop
Foldable shaft for storage
No fuel mix, runs on unleaded petrol as its 4-Stroke
Reduced noise and emissions
Overall, if you have the money, simply want the best, or have a large garden, this is the pick for Summer 2020
2. Ryobi ONE+ 18V OPT1845 Cordless Pole Hedge Trimmer
We begin our best pole hedge trimmer reviews with the Ryobi ONE+ pole hedge trimmer. If you already own a product from the ONE+ range you can purchase this model at a reduced price without the battery or charger and use your existing one instead.
Being cordless is a great advantage for this type of tool because it gives you a freedom of movement that you can't get with corded models.
Reaching the very tops of even your highest hedges is achievable, as once fully extended this tool can reach 2.3 metres. When it comes time to store this tool away, you can remove the pole to make things easier.
Clean cuts are guaranteed thanks to Ryobi's 45cm diamond ground blades that slice through whatever you point them at, and an 18mm blade gap means you can tackle thicker branches, and that's not just a gimmick, it will cut a half inch branch with minimal fuss. Being only 3.6kg makes this the best electric cordless pole hedge trimmer if you need to extend, especially with a ladder as well.
The blade can be angled in 4 different positions through a 135 degree arc so it's easy to find just the right one to make your trimming easier.
Also included is a 50cm hedge sweep to help remove debris and make tidying up less of a chore.
Useful points:
Cordless tool that gives freedom of movement
Fully extended it reaches 2.3 metres
Pole can be removed for easy storage
45cm diamond ground blades
18mm blade gap for thicker branches
4 different positions through a 135 degree arc
3. Bosch 06008B3070 Universal Hedge Pole
The Bosch universal hedge pole offers 430cm blade length, 2200 rpm blade speed, and 16mm blade spacing. All this combined with a 4m/s chain speed makes this a high performing pole hedge cutter. It genuinely will lop half inch branches, just as you would expect from a brand name.
A nice feature is the anti-blocking system that prevents the tool jamming on thicker or tougher branches. This is particularly useful given it'll chomp half inch branch.
The Bosch hedge pole is fairly lightweight at 3.6kg and the makers have done a good job of keeping it well balanced and making the user feel in control but it does take some arm muscle to do so, and a little time to get used to it. That's not a bad thing, it's simply loaded with power. You'll be shocked how good it is.
Like most of these types of products these days, the cutting head angle is adjustable so you can trim the top of your hedges flat.
Cordless trimmer with good battery life
43cm blade length with 16mm spacing
2200 spm blade speed and 4m/s chain speed
Anti-blocking system stops the tool jamming
Adjustable cutting head angles
Well balanced once you get used to it
It is a cordless model that runs off an 18V lithium ion battery that gives a good amount of run time on a full charge. The relatively new lithium ion batteries have changed cordless power tools in general. They've given them so much edge, and the more we buy them, the cheaper battery manufacture becomes. It's a circle of success that'll see almost everyone except those with the lowest incomes make the switch over the next five years as our corded tools in the shed begin to end their usable life.
4. Swift 40V EB918D2 Cordless Long Reach Pole Hedge Trimmer
Swift 40V EB918D2 Cordless Long Reach Pole Hedge Trimmer
Our second review is another cordless model, this time from the 'Swift" brand.
This product has been designed and manufactured in the UK and has excellent build quality.
The shaft has been made from aluminium to keep the weight of the tool down, and the ergonomic design gives you forearm support. Together they make this a very comfortable tool to use.
The shaft is unfortunately not telescopic or adjustable but it does give you some good reach at 220cm long. The cutting head swivels so you can use it to cut across the top of your hedges and the blades cut branches cleanly. This works well from ground given less manoeuvrability.
The battery life for this product is pretty good and on a full charge you can expect to get roughly an hour's worth of work out of it. Ideal for a smaller garden this offering.
The Swift cordless pole hedge trimmer comes with a 2 year warranty on the machine, and a 1 year warranty on the battery which is a nice touch.
Cordless pole hedge trimmer
Aluminium shaft makes it lightweight
220cm long shaft so you can reach the highest branches
Tilting cutting head allows you to trim the tops of the hedges easier
Good battery life- roughly one hour's usage on a full charge
2 year warranty on machine, 1 year on battery
high quality and made in UK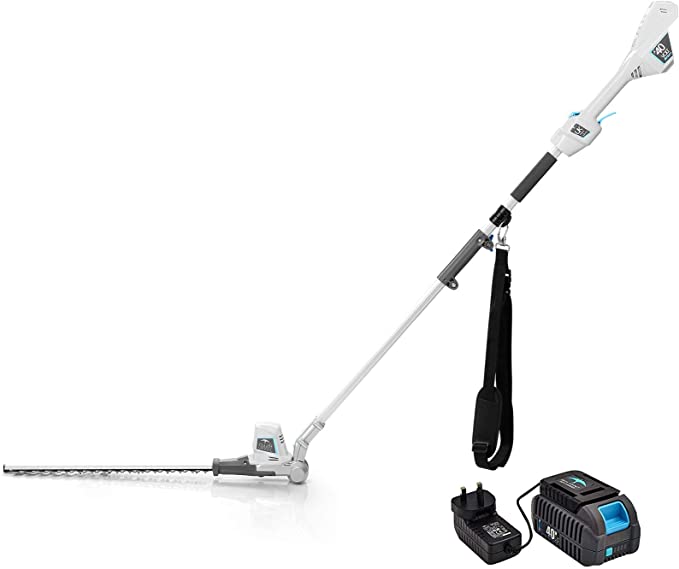 Cordless pole hedge trimmer buyers guide
There's no question in my mind. If you buy any of the products reviewed here you'll be at least satisfied. If you buy the Makita, you'll be blown away, if you buy the Bosch, well, you expect that level of performance from a household name. All of these will make life that much easier. But before you do buy, here's some key points to consider.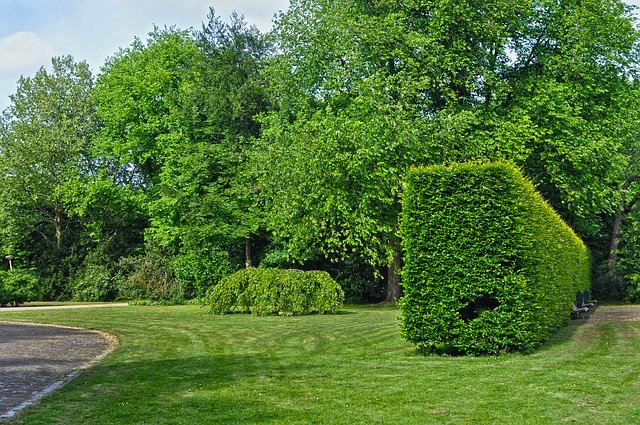 Cordless tools don't always come with batteries
Don't make the mistake. Check the model you buy has batteries or you have it factored into the price. I do my best where possible to list complete packages so that you get a rounded idea of the overall cost. Buying a bare unit as it's called is fine if you already have the batteries and know what you're doing. If you don't you'll be in for a nasty shock as batteries can be an additional fifty quid each. What you probably want to do is decide on a brand, buy one with a couple of batteries, and then in future purchase all bare units to follow. That's what I do, I have practically every single cordless Makita tool from gardening to carpentry and run them on half a dozen batteries making it an absolute bargain because it's my opinion ( one of 20 years using tools ) that Makita are miles ahead with their battery tech based on price.
Safety first
Using a cordless pole hedge trimmer, with blade above head height is no joke. A full head protective unit, gloves, long sleeve shirt, and jeans with solid boots isn't going over the top. Read the manufactures requirements and follow them please, it's really not too much to protect yourself. Any time you are reaching or leaning, you exponentially increase the chance of an accident. That's why I feel the Makita with so many angles is such a good bet. It helps keep you balance. Here's a look at a guy operating a Makita safely.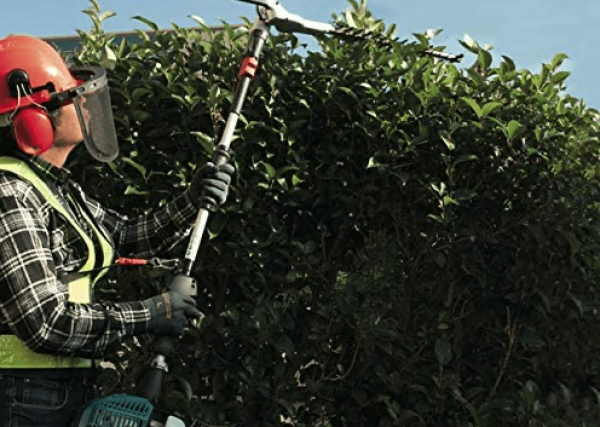 If you want to take Health and safety with hedge trimmers to the next level visit HSE.GOV. This is the most comprehensive resource on hedge trimmer safety in the UK.
Lubricate the blades
Check with the manufacture always, but in my years I have never hurt a tool spraying on a bit of WD-40. Probably the most used item in my home over a lifetime. It fixes absolutely everything :). A quick spray does two things. It'll free up the mechanism making less resistance therefore a smoother functionality. This is marginal in terms of improvement. But the game changer is it'll keep the rust off if you're like me and don't clean your tools down after use. To tell you the truth I am too busy so WD-40 is a pretty good shout.
A final word on Summer 2020
It's going to be a long slow year. We all know that. Take full advantage, don't get stuck in a rut, get out there and take the bull by the horns and get those jobs done whilst there are limited options. With the lockdown advice still in place, it's a brilliant way to maximise your time.
---