Written by Terry Smith
Our site is reader supported so when you click a link to Amazon we may earn an affiliate commission.
The best garden rakes can make life much easier in the garden
This article was last updated on August 7th, 2021 at 10:09 am
The Best Garden Rakes To Make Your Gardening Hassle-Free
I wouldn't be able to get by in my garden without a rake. It doesn't matter if I'm using it to scrape chicken waste out of the coup, scarifying the lawn, or generally raking up bits and pieces to shove in the compost bin, every task is less fuss with a garden rake. A garden rake should reduce fatigue whilst still being agile enough to get in between plants in a flower bed, ideally be rust free, and have a comfortable handle to hold, well designed on the basis of wearing gardeners gloves too. With those simple but important criteria in mind I have reviewed the best garden rakes to save you time.
Comparison table: The best garden rakes can make life much easier in the garden

Product
What We Think
Price

Extra wide head
Flat, rigid and curved plastic tines
Head Width: 65cm
Length: 173cm

Lightweight non-corrosive aluminium tines
Washable soft-grip
Ideal for raking bark
Invert the rake to flatten a surface
Ideal for preparing soil for planting or laying turf

All Steel Heavy Duty 12 Tooth Garden Soil Rake From Defender Tools:

14 Tooth
Carbon Steel Head
1.3m Length
33cm Width
3cm Diameter

FAIESSGRE Essentials Garden Rake from Faithfull Tools:

12 strong metal tines
For loosening soil, levelling earth and gravel
Powder coated finish
Polypropylene coated, tubular steel handle

25 strong but flexible tines
Extra wide head covers a greater area helping to save time and effort when tidying the lawn...
Extra long handle reduces the need to bend avoiding unnecessary back strain...

TIME SAVER - Garden hand rake with 5 tines reduces gardening times.
WEED REMOVER - A tough garden claw effective at ripping up unsightly weeds...
BRIGHT HANDLE - Gardening tool with durable 5.3 inch green wooden handle seen in dark soil...
NO SPLINTERS - Smooth handle finish prevents painful splinters unlike other garden hand rakes...
ADDED ITEM - Garden cultivator comes with one seed dispenser plant dial for precise sowing and spacing....
1. Garden Leaf Rake 15 Tooth 63 Inch Adjustable Lawn Rake From Docamor:
The rake head in this product from Docamor expands from 7.5 to 23.2" in width. This extension feature will help when you will have to deal with big piles of leaves or when you will have to reach small spaces like between shrubs.
The telescopic handle permits the rake to extend from 31.5 to 63 inches in length to ensure lesser fatigue when using and for longer reach.
Even though this product is designed as a lightweight rake for easy handling, it has a sturdy construction and a stainless steel handle.
The galvanised steel tines in this rake ensure rust-resistance.
All parts in this unit are strongly secured for making it stand the daily use without breakage.
The leaf rake that comes along with this unit has 15 springy round tines. They can withstand pressure and can adapt to different surfaces as compared to rigid tines.
Further, the leaf rake has rounded tips to prevent damage to the plants.
You can use the expandable rake all-round the year to efficiently clean up dead grass, debris and leaves from gardens, lawns and flower beds. Even, it will help with getting rid of debris between bushes, shrubs and perennials.
As all parts in this set of rake are corrosion-resistant, they need a little maintenance from your end. When you are not using the rakes, you can store them compactly as the rakes can collapse.
2. All Steel Heavy Duty 12 Tooth Garden Soil Rake From Defender Tools:
This 12-tooth Heavy Duty garden soil rake from Defender Tools is an all-steel tool that is offered with a long metal steel handle.
With 3cm diameter and 33cm width, this rake will help you with easily digging the soil with a garden fork before you plant any new plant or seed in your garden. So, you are relieved of using your hands for digging the soil.
The 1.3 cm length will help you keep the tool away from your body when digging. You will feel that it is designed with the ideal length for soil digging.
The carbon steel head ensures that this tool will stay against rust, thereby ensuring long-term use
5-star customer rating
3. FAIESSGRE Essentials Garden Rake from Faithfull Tools:
Faithfull tools has got a five-star rating for this product due to different factors
The 12 strong metal tines make gardening hassle-free with this unit
The handle in this unit is a tubular steel handle to ensure comfortable use
The handle is polypropylene coated to achieve improved resistance to alkaline in the soil, humidity, scratches and rust.
Further, the unit has a powder-coated finish that gives an attractive shine.
It will be of great help in levelling earth and gravel, for loosening soil and many other applications in a garden.
The head in this unit was manufactured from heat-treated hardened carbon steel. This has been done for durability and strength.
All non-electrical tools from Faithfull are covered for five years against workmanship and faulty materials.
5-star user rating
4. Small Hand Rake For Gardening Projects From Inshoo:
To make sure that you will get a clear view even at night, this product from Inshoo comes with a green wooden handle.
The size of the handle is 5.3 inch and it is designed with durability in mind as well.
This rake comes with a tough garden claw. It will help with getting rid of unsightly weeds.
Most users of this product have stated that it helps them save a lot of time in their gardening tasks.
To prevent painful splinters, this unit comes with a smooth handle finish. Further, there will not be any need for additional topcoats, which you cannot assure in other garden rakes available in the market.
In addition to the rake itself, this product comes with an added advantage. Yes, it comes with a garden cultivator with a single-seed dispensing function. It will help with meticulous sowing and spacing.
5-star customer rating
5. Plastic Leaf Rake Ergowide From Spear & Jackson:
The excellent thing that is hard to find in other garden rakes is that this product has 25 tines.
The tines are designed with the flexibility to make sure that your work will be easier in the garden.
Even though they are flexible, they will endure tough handling as well.
When you are tidying the lawn, this product will help you complete your job with a quickness because the head of this rake is extra wide with 25 tines.
Further, to avoid unnecessary back strain, this product comes with an extra-long handle.
5-star user rating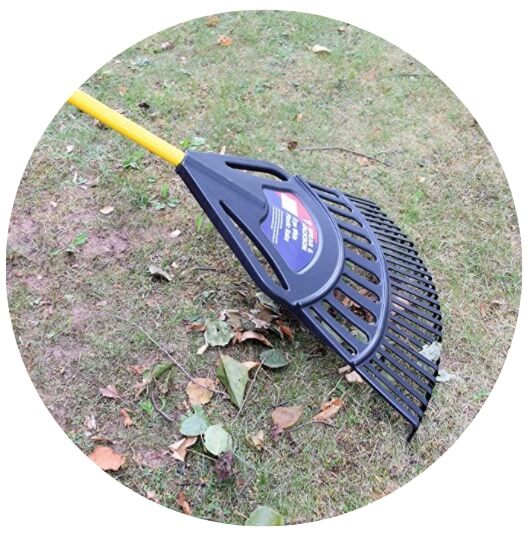 6. Standard XL Leaf Rake from Fiskars:
The extra-wide head in this product from Fiskars make it friendly for gardening tasks.
To prevent the leaves from moving up and obstructing the head, this take has curved, rigid and flat tines.
The width of the rake head is 650mm.
The length of this unit is 173 cm
Only individuals with more than 18 years can shop for this product
Five-star customer rating
7. 36-inch Aluminium Landscape Rake from Roughneck:
As the name implies, this product is made out of aluminium material
It has been designed in such a way that you can easily landscape when you are engaged in tasks related to your garden
The fibreglass handle ensures better grip when you are engaged in tidying up your garden and the handle length is 170 cm.
Wide head will ensure that you can quickly complete your tasks
Users can invert this tool with a 5-star rating for flattening
It can be used for leaf mulching, raking bark, lightweight gravel, etc.
The overall width of the rake is 91.5 cm
8. Japanese SS Garden Claw Cultivator and Rake from Nisaku:
This rake, which can also act as a cultivator with its claw-type head comes with 5 sharpened steel tines
To ensure long-term heavy-duty use, the product has been individually handcrafted
Six inches comfortable and rugged hardwood handle
Made out of high-quality SS material as the name indicates
5-star user rating
It is a professional-grade DIY gardening tool without any doubt.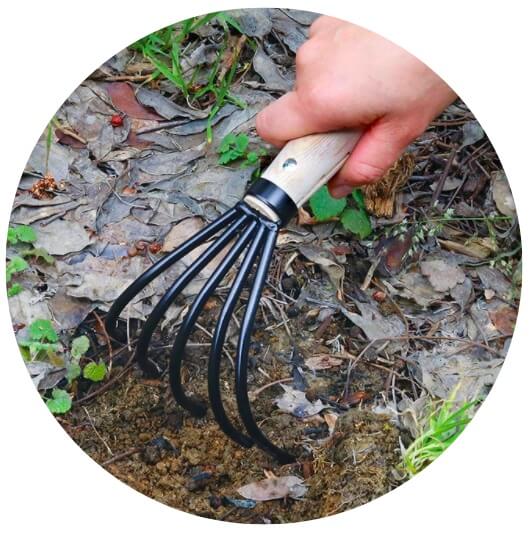 ---