Garden Tool Box » Best lawn weed and feed guide for lush green grass [Summer 2021 Review]
Best lawn weed and feed guide for lush green grass [Summer 2021 Review]
You can actually damage your lawn feeding it at the wrong time with the wrong treatment. Grass lawns are one of the British wonders. We all like to look at a beautiful lush green whilst sitting in our back garden with an afternoon G & T. So how is it that some of us are left scratching our heads at the health of the neighbours lawn? It looks perfect, they even added a lawn stripe to show off…never fear, by the time you reach the end of this article, you will fully understand how and when to use a lawn weed and feed strategy to make your lawn absolutely perfect.
First we will look at the best lawn weed and feed packages as you'll use them right now, if you haven't started already a month or so back!
Comparison table: Best lawn weed and feed guide for lush green grass [Summer 2021 Review]

Product
What We Think
Price

Sika FastFix All Weather Self-Setting Paving Jointing Compound, Buff, 15 kg - 20 sq.m

Feeds lawns, kills weeds
Watersmart formula helps the lawn to resist heat

Elixir Gardens | COMPLETE LAWN | Weed, Feed and Moss Killer/Lawn Green Up | Treats up to 625m² | 20kg

Here at Elixir Gardens we supply to many professional growers as well as a range of garden centres...
Elixir Complete Lawn is tough on weeds
A granular moss control product
Made in co-operation with the one of the UK's leading fertiliser manufacturers...
Elixir Complete Lawn, Feed Weed and Moss Killer is effective against: Common Dandelion...

For green and healthy lawns
Rapidly greens-up the lawn
Kills common lawn weeds and encourages growth to cover bare areas left by dead weeds...
Apply from April to September
Pack size 1litre

Creates a thicker, greener and healthier lawn whilst killing weeds and moss...
WaterSmart formula helps absorb water and nutrients more effectively
For ideal results, apply using an EverGreen or Scotts spreader to ensure even coverage...
After applying this product in accordance with the label instructions keep children and pets away from treated areas until...
Use from April to September

Westland Aftercut 500sq m All in One Lawn Feed Weed Moss Killer

Balanced lawn fertiliser with added moss control
High level of nitrogen for controlled growth
Stimulates growth, kills moss & eriadicates weeds
1. EverGreen 400sqm Complete 4-in-1 Lawn Care, Lawn Food, Weed and Moss Killer Bag
Evergreen 4-in-1 lawn feed and weed is probably my favourite choice right now. There's loads of good reasons but the main one is how quickly it handles moss and it marginally edges better than Miracle-Gro's offering on quantity, which is the next review.
You will start to see moss turn brown or even black in a matter of days. My personal experience was two days and that's rapid! Weeds did seem to take a little longer but not much more than a week from the point of spreading.
It uses SmartWater technology that'll help your grass absorb and hold onto as much of the available water as possible. Naturally, in a drought or hot summer cycle, this will considerably improve your chances of holding a lush green grass.
From a price point, you treat 400m2 with this product and that's not stretching it thin. I had no problem at all treating a medium sized garden with one box. If you have a big garden then of course it'll mean more packs but overall, it lasts well and works out super value based on the resulting lawn.
My personal preference is to use a spreader but not before I use a scarifier/aerator. This is the best way to get great results quickly if your lawn is looking a little worse for wear. A spreader really makes sense for an even and through application. The old method of tossing by hand is primitive at best when you can buy a spreader for £20.
There's a couple of things to watch out for. Once you've spread the mix and watered in. I would highly recommend taking a close look to ensure all granule has dissolved in. The product itself contains Iron Sulphate. This can give your pets a rash or itchy skin as well as being linked to gastrointestinal problems but these are extremely rare and on the whole a safe product. This study shows Iron Sulphate is an irritant for the eyes, skin, and respiratory tract and not linked to anything major so you should have no fear if you follow the instructions as I have mentioned here.
Needless to say keep the kids away as well until all compound is dissolved in and gone. I normally treat the lawn lightly twice myself with a gap of around 10-14 days. I find this is ample time if watering regularly to dissolve the formula.
Try not to be overzealous if you apply by hand or similar. You'll end up with brown patches if you over apply the mix. This is why I prefer a spreader so much more so it's bulletproof.
The other thing to watch for is timing. You want to get this in the ground now. It's May and ready for you to start looking after the lawn. There's no excuse given the free time most of us have right now…
2. Miracle-Gro EverGreen Complete 4in1 12.6kg - 360m2
This is practically the same product as my top choice but lost due to my top pick having ten percent free. There's not really any difference between them and this is a cracking product too. If my top pick was out of stock then I would go for this.
I am a bit of a contrarian though as this is actually the top seller. My opinion is this is selling better because there are more package size options. So for example, if you only need 200m2 then Miracle-Gro caters for this. That's the only logical reason to not bag the additional extra value for money in my mind.
I just prefer extra value for money. There's no other loopholes here and the same application applies. I would say one extra thing. It would be a thing of beauty if you could time application with rain following after for a couple of days. That would get the mix into your grass roots and away from your pets paws.
I would say expect to see solid results within a month if you follow the right lawn care tips as set out in the linked segment of this article. The sales says seven days but my experience is a quality lawn takes time and effort. If you do things in the right order then you can come good.
3. Westland Aftercut 500sq m All in One Lawn Feed Weed Moss Killer
Westland's all in one feed, weed, and moss killer is a brilliant product. It's only not my top pick down to price. The cost of the two offerings above work out to be as much as 25% better value for money. It claims to be high in Nitrogen content to control growth. Unless things have changed in the last batch, it's 10%. By contrast, the EverGreen Complete 4-in-1 Lawn Care is 14% so actually, EverGreen has this product edged and it's cheaper.
There's not much to choose between this and the top product though. It operates in exactly the same way. It has the same warnings and the same instructions. There's no point in repeating myself so simply read the EverGreen 400sqm Complete 4-in-1 Lawn Care to understand the benefits and pitfalls of this product. They all work on the same chemicals. If you treated your lawn with any of these three products you'll be more than happy with the results.
One thing worth thinking about, if you have a large garden, getting a couple of these delivered is a super win. Lugging these out the garden centre isn't the best of jobs, especially when they weigh 17kg! Thank goodness for home delivery these days.
4. Vitax 1L Green Up Liquid Lawn Feed and Weed
Using a liquid weed and feed is certainly a quicker way to get things done. The Vitax is super simple. Add about 10ml per litre and use a decent watering can with a fine rose. Don't overdo it, 5 litres a time is easy to handle and will help you cover about 10m2 of lawn. It won't take long to get round a 200m2 lawn this way. If you're feeling stronger maybe up it to 10 litres which will give you 20m2 of coverage. You want to add 100ml of Vitax to 10 litres just in case that helps.
To get this liquid weed and feed to do its job well, give it a few days at least since you've just your grass, and then once applied, give it a couple of days before you cut again. That'll give the maximum chance of absorption.
You'll get the best results from scarifying a few days before but otherwise this will give you great looking lawn improvements in two weeks. A lot of people won't use any other product after using liquid Vitax. That says plenty about this handy liquid version.
To give a balanced argument though, there's been a few reports of this not working out as well as it should. With that said, it's a great product and a shame the price has shot up recently. This scored big when it was half the price it is currently.
5. Elixir Gardens | COMPLETE LAWN | Weed, Feed and Moss Killer/Lawn Green Up | Treats up to 625m² | 20kg
I thought I would add Elix Gardens Complete Lawn into the mix because this is a great comparison to the Westland product. It also has 10% Nitrogen content and given the value for money factor it appears to be a great pick. The Phosphorus pentoxide content is the same at 2% too so this is a very similar lawn weed and feed.
The active weed killer ingredients include Dicamba and Mecoprop which are pretty common in agriculture and shouldn't be too much of a concern, especially if you follow the instructions properly.
If you have a large garden the 20kg bag is a great buy and on par with EverGreen 400sqm Complete 4-in-1 Lawn Care for value. I still prefer the Evergreen though.
In terms of application, for every kilo you load into your spreader, you should expect to cover around 30m2. This will be plenty to produce a beautiful lawn though be patient, results can take up to a couple of months. One trick I think works very well is to actually half feed then a couple of weeks later top up. I feel far more nutrient makes it into the grass this way.
Like any lawn weed and feed, get your doses right as you can damage your lawn as you'll find out in our guide that's coming right up!
The correct method to achieve a beautiful lawn
Getting your lawn in tip top condition that matches some of the sports pitches you see is down to hard work and careful planning. Anyone can achieve a stunning lush green lawn following a guide and sticking to it.
To achieve a quality lawn you'll need about two months and the lawn itself will need to be established. A lawn over a year old is optimal but six months is worth working at too. So let's go through this stage by stage.
Cut, scarify, and aerate the lawn
Prior to any lawn weed and feed, or any fertiliser of any kind you need to put in the ground work. Cut the lawn first so you can expose the moss. Any lawn mower will do but you want a clean cut. I achieve this with a cordless lawn mower. My personal preference has always been the Makita cordless mower and it's one of my best bits of kit in the shed. Grass collection is important, you want to be as clean and clear as possible to get the best results. Each part of the puzzle put together will give you the best shot at a perfect lawn.
With the lawn cut take out your scarifier. I like to use a scarifier and lawn raker. My preference is the Bosch lawn raker and scarifier. Some prefer to go with a lawn scarifier and aerator in one. In that situation I would use the Einhell scarifier and aerator as it's my favourite choice at the moment.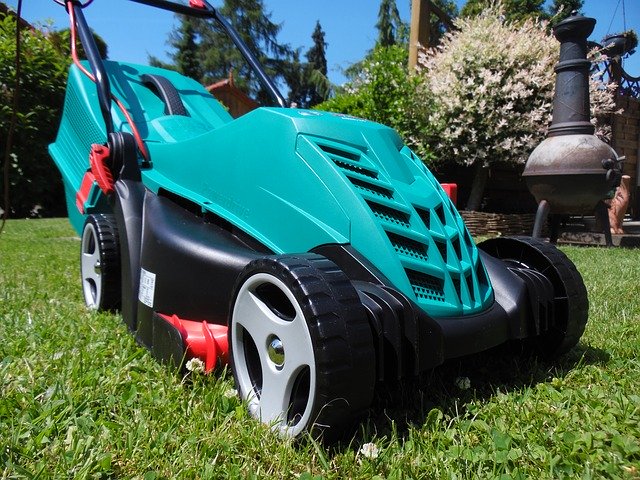 Get as much of the weed and moss up as you possibly can. This is absolutely essential because where people go wrong is assuming they can throw a load of treatment on the lawn, watch the moss go black in a few days and think 'job done'. I am afraid not quite that easy my friend. You'll still need to remove all the dead moss with a rake or scarifier, otherwise the lawn can't grow side shoots over into the space previously occupied by the moss. You'll find anyone missing these valuable steps will be the ones rating weed and feed products 1 star ironically!
How and when to apply the lawn feed
In terms of actual timing, you want to complete the cut and clear process a few days, maybe four, before you want to spread the lawn weed and feed. The best month to take this on is April or May. My pro tip is to half feed the lawn twice rather than go all in the first time.
Make sure the lawn isn't dried out and tired. Applying weed killer at this point could actually do more harm than good. Again, this will be your team of 1 star reviewers missing the correct plan. Ensure the lawn is not dry prior to spreading. Hopefully you'll get a lovely steady bit of rain and you can time this, otherwise, you can use a garden sprinkler if you don't have a hosepipe ban. I certainly hope not in May anyway!!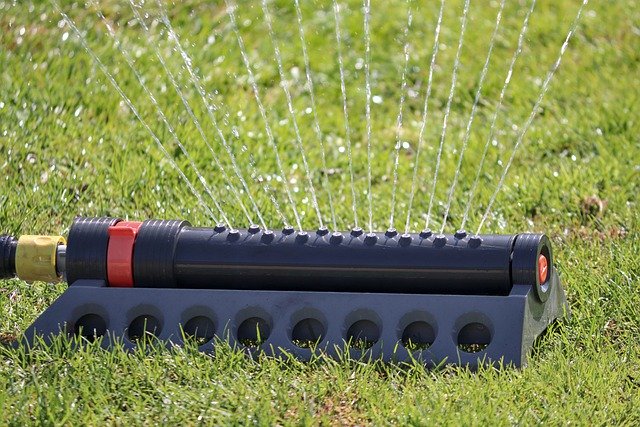 Use a spreader and do a test patch to get even spread. This is key. If you have large clumps of mix then you will kill your lawn in patches. Absolutely get this straight off your patio and block paving. You'll need to clean off the stains and then reseal your patio if you don't heed this advice! I know from personal experience to my misfortune!
In a few days you'll want to rake out any black moss and whatever weeds come with it. You'll find weeds will need longer than moss to wilt away. A week after this, cut your lawn, scarify again as the weeds may get a boost from the feed, and lay the other half of your weed and feed mix.
At this point, it isn't a bad time to introduce grass seed if you have patches of bare lawn. Any multipurpose filler grass will do the trick nicely. Your weeds will start to wilt and die off. This probably took 3 minutes to read but will take two months to execute so be patient and the result will come.
Now your lawn is lush green follow this care calendar
Once you've got the lawn in top nick, it's way easier to keep it that way. Once your lawn is thick and full, it'll stop moss and weeds growing as they'll be competing in a far more cramped environment and will be strangled so to speak. Keeping things in tip top condition with this handy calendar schedule will ensure the very best chance.
November, December, January
Leave alone, you could aerate in November if you wanted but I would be looking to sow up the lawn (no pun intended) by October.
February, March
February is pretty quiet but March would be my first cut and scarify session. Don't be scared of scarifying. If you have a super cool scarifier/aerator like the one linked in the guide here again for convenience, it's no more effort than mowing the lawn…
April/May
Now is the time to step into the plan above. Get the lawn cut, scarified, and aerated so you can add your lawn weed and feed.
June/July/August
These months are easy. It's a simple case of cutting the lawn, adding lawn feed, and watering to keep things healthy.
September/October
This is a busy time. Autumn is the time to go for a different weed and feed designed to help the lawn through the winter months. I'll go into this Autumn weed and feed in way more detail in this section but using an autumn weed and feed here will harden your grass. As a final step aerate before packing the tools up on the lawn until February again.
Repeating these simple steps will keep your lawn in the kind of condition that'll have your neighbours jealous.
What are the pet friendly lawn weed and feed options
In short, no lawn weed and feed mixes are particularly bad for your pets but you must follow the instructions. All of the feeds in this article contain Iron Sulphate and therefore it'll irritate the skin, eyes, and respiratory system if it's allowed to contact. The simple solution is to make sure the granules are broken down well over a couple of watering sessions and then allowed to dry very thoroughly. This ensures you'll keep your pets completely safe.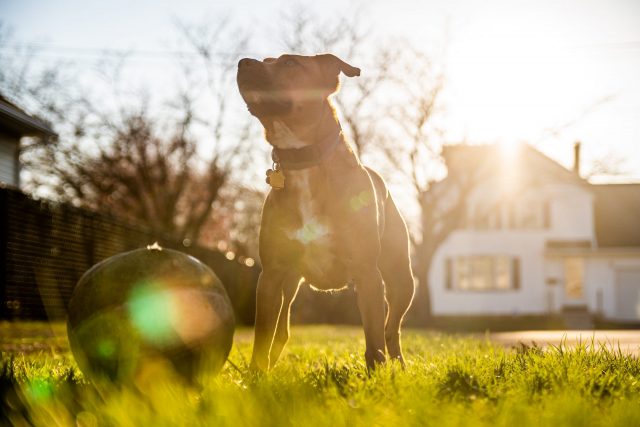 To speed this process, you could opt for a liquid feed and weed but the downside is cost, reliability, and efficiency isn't quite as good as the old fashioned granular mix.
The best lawn feed and weed for Autumn
Using a specific feed and weed for Autumn is really important. The right feed will harden and strengthen your grass which is vital for the winter months. If you keep the lawn in thick and lush health, moss and weed will find it difficult to compete and in this situation, success breeds success, in a happy cycle.
I like the Miracle-Gro EverGreen Autumn Lawn Care for this job. They suggest you can use it into November but that's cutting it fine in my eyes. The optimal time to go with this is October. You could go September but I feel like it's a bit early. You won't be able to feed the lawn till March/April, so leaving it as late as possible will give your lawn as much opportunity for a feed as frequently as possible. Again, that'll all add up to a healthier lawn.
---