Written by Terry Smith
Our site is reader supported so when you click a link to Amazon we may earn an affiliate commission.
Best lawn weed and feed[UK] – kill lawn moss without harming your pets
This article was last updated on April 23rd, 2022 at 5:02 am
You can actually damage your lawn feeding it at the wrong time with the wrong treatment. Grass lawns are one of the British wonders. We all like to look at a beautiful lush green whilst sitting in our back garden with an afternoon G & T. So how is it that some of us are left scratching our heads at the health of the neighbours lawn? It looks perfect, they even added a lawn stripe to show off…never fear, by the time you reach the end of this article, you will fully understand how and when to use a lawn weed and feed strategy to make your lawn absolutely perfect. 🙂
First we will look at the best lawn weed and feed packages as you'll use them right now, if you haven't started already a month or so back!
Our picks for the best lawn weed and feed:
Best lawn weed and feed: EverGreen 400sqm Complete 4-in-1 Lawn Care, Lawn Food, Weed and Moss Killer Bag
Best lawn weed and feed for pet owners but please follow instructions: Miracle-Gro EverGreen Complete 4in1 12.6kg – 360m2
Nice alternative if evergreen isn't available: Westland Aftercut 500sqm All in One Lawn Feed Weed Moss Killer
If you prefer to mix into water: Vitax 1L Green Up Liquid Lawn Feed and Weed
Best lawn weed and feed to kill moss: Elixir Gardens | COMPLETE LAWN | Weed, Feed and Moss Killer/Lawn Green Up | Treats up to 625m² | 20kg
Value pick: Greenforce G21086 Green Force Lawn Feed Weed Moss Killer
Important weed and feed information:
The correct method to achieve a beautiful lawn
Cut, scarify and aerate the lawn
How and when to apply the lawn feed
Now your lawn is lush green follow this care calendar
What are the pet friendly lawn weed and feed options
The best lawn feed and weed for Autumn
The correct method to achieve a beautiful lawn through weed and feed
Getting your lawn in tip top condition that matches some of the sports pitches you see is down to hard work and careful planning. Anyone can achieve a stunning lush green lawn following a guide and sticking to it even a lawn knackered like mine was: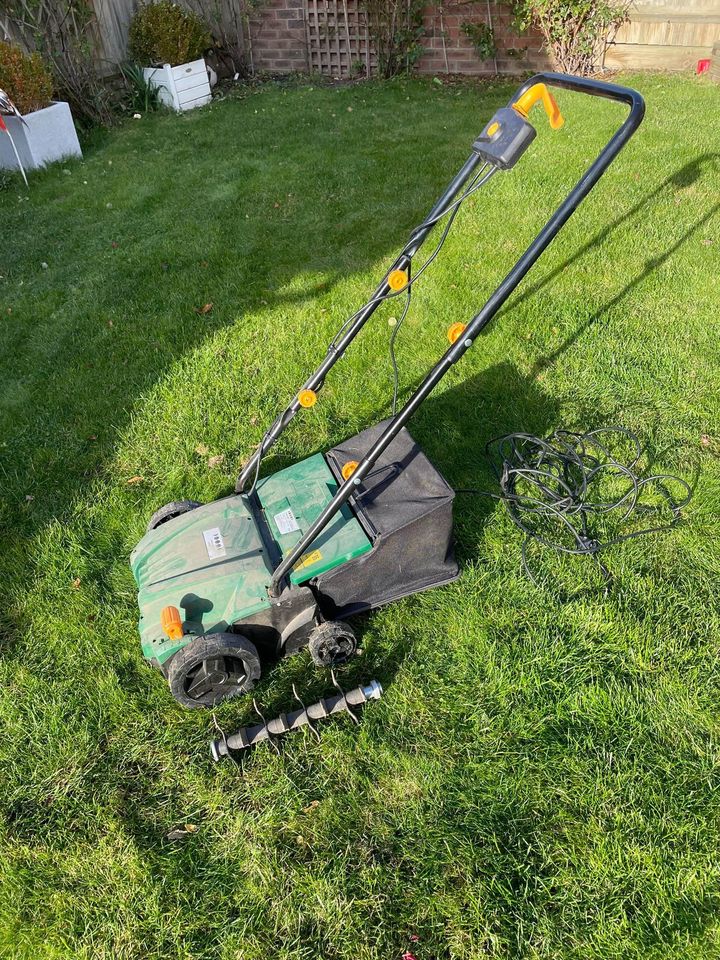 To achieve a quality lawn you'll need about two months and the lawn itself will need to be established. A lawn over a year old is optimal but six months is worth working at too. So let's go through this stage by stage.
Cut, scarify, and aerate the lawn
Prior to any lawn weed and feed, or any fertiliser of any kind you need to put in the ground work. Cut the lawn first so you can expose the moss. Any lawn mower will do but you want a clean cut. I achieve this with a cordless lawn mower. My personal preference has always been the Makita cordless mower and it's one of my best bits of kit in the shed. Grass collection is important, you want to be as clean and clear as possible to get the best results. Each part of the puzzle put together will give you the best shot at a perfect lawn.
With the lawn cut take out your scarifier. I like to use a scarifier and lawn raker. My preference is the Bosch lawn raker and scarifier. Some prefer to go with a lawn scarifier and aerator in one. In that situation I would use the Einhell scarifier and aerator as it's my favourite choice at the moment.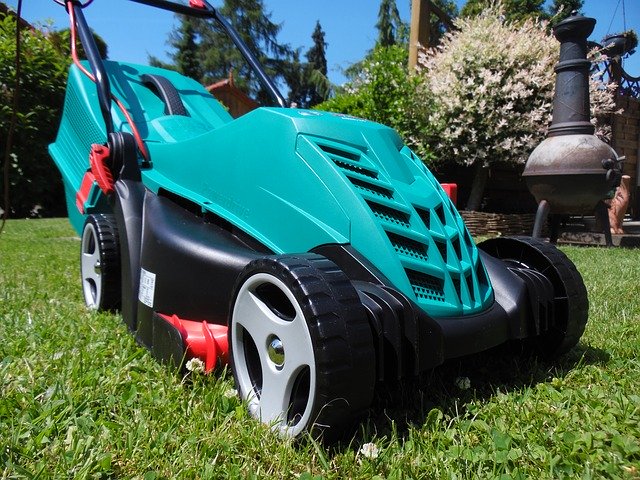 Get as much of the weed and moss up as you possibly can. This is absolutely essential because where people go wrong is assuming they can throw a load of treatment on the lawn, watch the moss go black in a few days and think 'job done'. I am afraid not quite that easy my friend. You'll still need to remove all the dead moss with a rake or scarifier, otherwise the lawn can't grow side shoots over into the space previously occupied by the moss. You'll find anyone missing these valuable steps will be the ones rating weed and feed products 1 star ironically!
How and when to apply the lawn feed
In terms of actual timing, you want to complete the cut and clear process a few days, maybe four, before you want to spread the lawn weed and feed. The best month to take this on is April or May. My pro tip is to half feed the lawn twice rather than go all in the first time.
Make sure the lawn isn't dried out and tired. Applying weed killer at this point could actually do more harm than good. Again, this will be your team of 1 star reviewers missing the correct plan. Ensure the lawn is not dry prior to spreading. Hopefully you'll get a lovely steady bit of rain and you can time this, otherwise, you can use a garden sprinkler if you don't have a hosepipe ban. I certainly hope not in May anyway!!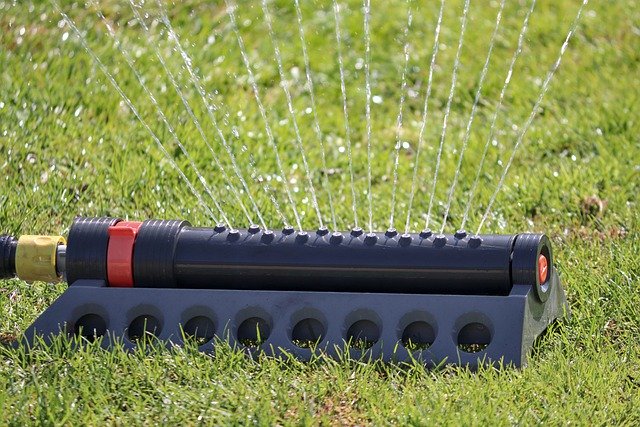 Use a spreader and do a test patch to get even spread. This is key. If you have large clumps of mix then you will kill your lawn in patches. Absolutely get this straight off your patio and block paving. You'll need to clean off the stains and then reseal your patio if you don't heed this advice! I know from personal experience to my misfortune!
In a few days you'll want to rake out any black moss and whatever weeds come with it. You'll find weeds will need longer than moss to wilt away. A week after this, cut your lawn, scarify again as the weeds may get a boost from the feed, and lay the other half of your weed and feed mix.
At this point, it isn't a bad time to introduce grass seed if you have patches of bare lawn. Any multipurpose filler grass will do the trick nicely. Your weeds will start to wilt and die off. This probably took 3 minutes to read but will take two months to execute so be patient and the result will come.
Now your lawn is lush green follow this care calendar
Once you've got the lawn in top nick, it's way easier to keep it that way. Once your lawn is thick and full, it'll stop moss and weeds growing as they'll be competing in a far more cramped environment and will be strangled so to speak. Keeping things in tip top condition with this handy calendar schedule will ensure the very best chance.
November, December, January
Leave alone, you could aerate in November if you wanted but I would be looking to sow up the lawn (no pun intended) by October.
February, March
February is pretty quiet but March would be my first cut and scarify session. Don't be scared of scarifying. If you have a super cool scarifier/aerator like the one linked in the guide here again for convenience, it's no more effort than mowing the lawn…
April/May
Now is the time to step into the plan above. Get the lawn cut, scarified, and aerated so you can add your lawn weed and feed.
June/July/August
These months are easy. It's a simple case of cutting the lawn, adding lawn feed, and watering to keep things healthy.
September/October
This is a busy time. Autumn is the time to go for a different weed and feed designed to help the lawn through the winter months. I'll go into this Autumn weed and feed in way more detail in this section but using an autumn weed and feed here will harden your grass. As a final step aerate before packing the tools up on the lawn until February again.
Repeating these simple steps will keep your lawn in the kind of condition that'll have your neighbours jealous.
What are the pet friendly lawn weed and feed options
In short, no lawn weed and feed mixes are particularly bad for your pets but you must follow the instructions. All of the feeds in this article contain Iron Sulphate and therefore it'll irritate the skin, eyes, and respiratory system if it's allowed to contact. The simple solution is to make sure the granules are broken down well over a couple of watering sessions and then allowed to dry very thoroughly. This ensures you'll keep your pets completely safe.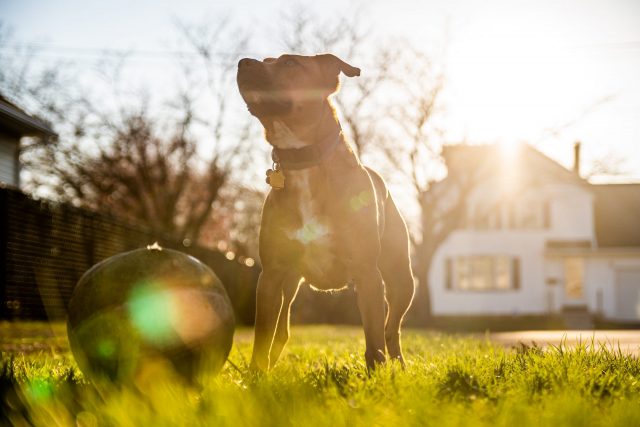 To speed this process, you could opt for a liquid feed and weed but the downside is cost, reliability, and efficiency isn't quite as good as the old fashioned granular mix.
The best lawn feed and weed for Autumn
Using a specific feed and weed for Autumn is really important. The right feed will harden and strengthen your grass which is vital for the winter months. If you keep the lawn in thick and lush health, moss and weed will find it difficult to compete and in this situation, success breeds success, in a happy cycle.
I like the Miracle-Gro EverGreen Autumn Lawn Care for this job.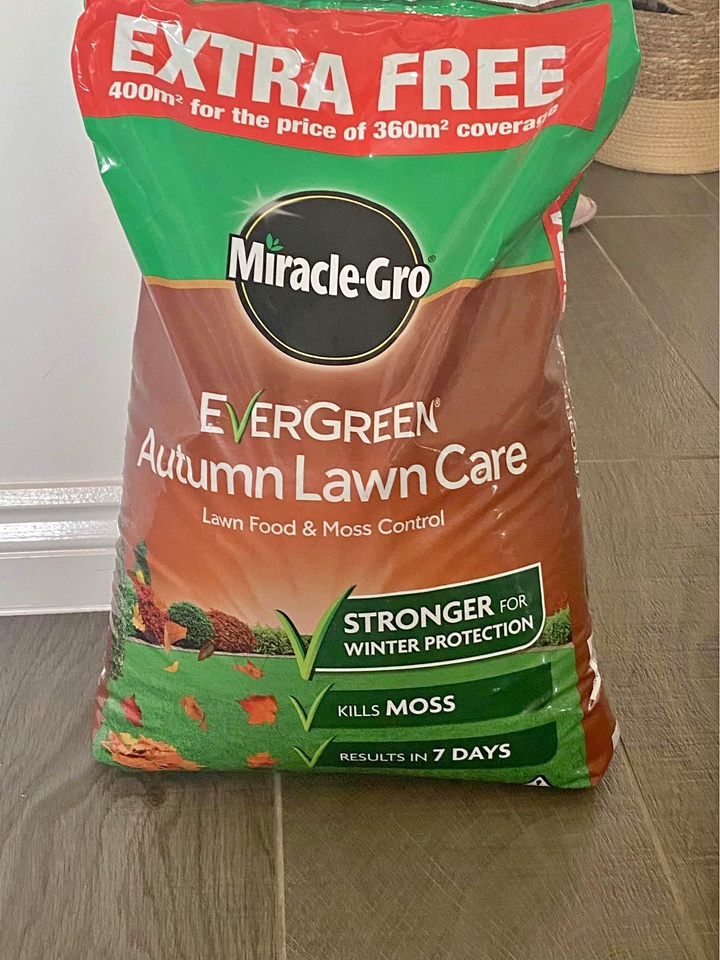 They suggest you can use it into November but that's cutting it fine in my eyes. The optimal time to go with this is October. You could go September but I feel like it's a bit early. You won't be able to feed the lawn till March/April, so leaving it as late as possible will give your lawn as much opportunity for a feed as frequently as possible. Again, that'll all add up to a healthier lawn.
---