Garden Tool Box » Best decking oil [UK]: Top decking treatment like Liberon, Cuprinol, Ronseal, and Sadolin compared
Written by Terry Smith
Our site is reader supported so when you click a link to Amazon we may earn an affiliate commission.
Best decking oil [UK]: Top decking treatment like Liberon, Cuprinol, Ronseal, and Sadolin compared
This article was last updated on April 23rd, 2022 at 5:57 am
Following on from the best decking cleaner and the best decking stain, it occurred to me – not everyone wants a painted look (hence so many opting for my teak oil page). Many are still opting for a more traditional oiled finish. Interestingly its worth knowing that oiling wood is an age old method of protection and the best decking oil is every bit as good as the best decking stain for protection and waterproofing. In fact, if you prefer the natural look of timber as I do, then this is a cracking way of bringing your deck back to life and considerably cheaper too!

Before we get started looking at the best decking oil though, I wanted to share an absolute golden tip for any decking oil worth its weight in gold: You want to make sure your timber is bone dry before applying decking oil and DO A TEST PATCH FIRST. If you've read my comments about treatment absorption on my best shed preserver article, you'll know that timber that's dried right out, and in directly sunlight that is literally warm will suck up so so much more treatment. I can honestly tell you that I double the times between my maintenance schedule when compared to treating damp wood using this tip – I wouldn't dream of sealing in damp conditions – you literally trap in the moisture 😀 The other golden tip is that I often use Creocote for decking – it's an oil based alternative to the old bullet proof creosote – it's slightly darker but saves a fortune: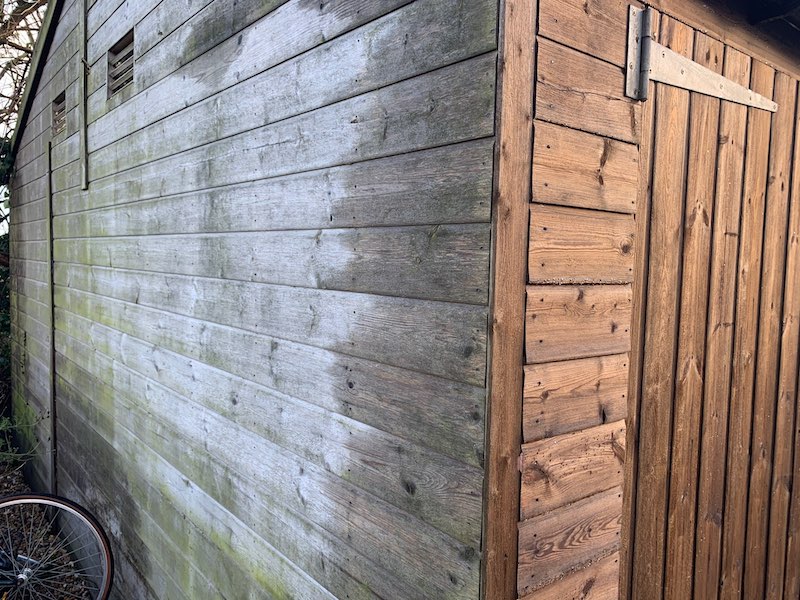 Don't panic, it's a bit lively looking for the first week or two and then it'll settle down to the colour you can see above 🙂
You really want the timber to have dried right out for a few days (hopefully absolute scorchers) first. Yes, you will use more oil for this treatment process but it's realistic to think you won't need to do this for four or five years following this advice. The best decking oil SHOULD be penetrating timber as deep as possible. Don't underestimate the importance of this advice – I've had literally dozens of thanks emails from the shed preserver article. Decking oil is no different – you're welcome 🙂
PRO TIP related to decking oil: Another tip, not quite as hot as the last one but still important; mix your oil together if you have multiple containers. I have actually had difference colour from the same brand which wasn't amusing. Solve the problem by mixing all together. A bit like if you need many tins of paint to ensure the same colour, or not as the case was at my last house and I was left wondering why I had different shades on the exterior – for a long time I thought it was patchy until the annoying but painful truth dawned on me 😀 Anyhow, let's take a look at the best decking oils:
Our top picks for best decking oil in the UK
Best best decking oil in the UK overall: Ronseal Ultimate Protection Decking Oil Natural 5L and Liberon DOCL5L Decking Oil.
Best value for money deck oil: Decking Oil 25 Litre 25l Clear Softwood Treatment or Creosote Creocote Substitute – absolute bargain and I personally use it on my sheds too!
Large quantity: Decking Oil 25 Litre 25l Clear Softwood Treatment
Best lasting decking oil and treatment: Cuprinol 5122415 Uv Guard Decking Oil
What you get in this article:
What is decking oil and how to pick the best one for your deck?
Decking oil is either an oil based, or very surprisingly water based treatment designed with a singular main focus of protecting your decking from organic growth, dirt and grime for as long as possible. From there the focus then switches to aesthetics, or how easily it can be applied.
You must have been surprised to see oil decking is actually water based in some cases! If you look at the Cuprinol 5122415 Uv Guard Decking Oil you'll be shocked but it is the case. About ten years ago EU ruling stopped the use of solvents and in that same breadth changed my beloved Cuprinol 5 star, as well as almost all solvent based treatments to water based 🙁 Now I know that is for the good of the environment but how were these products to keep up?
Well with decking it's simple, having an actual oil based deck oil will absorb deep into the timber, like the old days of painting on linseed oil everywhere. Now the biggest advantage beyond the treatment is the aesthetics, as you'll see from a few pictures I've borrowed and credited, the look you'll achieve can be quite exceptional so with this guide you'll be able to find the best decking oil in the UK for you!
Prepare my deck for decking oil with a petrol pressure washer?
So in reality if you've already used a decking paint or decking stain (or a paint) then you're going to need something powerful enough to strip that off. I highly recommend using a petrol pressure washer. My Wilks 750 tears stain off wood leaving it completely exposed. You can use scrubbers and sanders but if you take a look at the couple of really short clips, you'll see just how fast that tears it up 🙂 After cleaning off the shed I hit the decking!
Give it a goo while to dry – you can't just rush in. I left my timber to dry for nearly a week as it had been thoroughly soaked and was damp for a fair while in places the sun doesn't reach much. Obviously if you're directly exposed to sunlight your timber will be ready to go much faster. I do warn though, don't get too close or you risk ripping the grain and making it furry!
The pressure washer route takes about an hour on anything up to 10m2 if you keep at it. The result though is wood back to new, like the day it was installed.
What you should know when buying decking oil
After reading this review to find decking oil might actually be made of water you're probably not surprised to learn there's a fair few confused people out there asking the same questions. So I've picked the most common to try to help people make the most informed decision on their oil.
How much coverage can I expect?
Coverage varies wildly but as a rule the water based decking oils give far more coverage. The highest coverage per m2 is the Osmo Decking Oil Anti-Slip-Clear 2.5 Litre 430D. You can get a staggering 24m2 our of one litre no less. By contrast, the top picks Ronseal Decking Oil and Liberon Decking Oil will give you significantly less, around 6-8m2 per litre. However you have to factor in the price per m2 overall before you start comparing these just on coverage alone. The Omso is vastly more expensive and in my humble opinion no where near as good as the likes of Liberon, a company renowned for making wood oil for over a hundred years!
And remember what we discussed about bone dry timber. This will absorb huge amounts more than timber that has a higher moisture content. So if you're timber is indeed bone dry throw the manufacturer guide lines out the window and probably halve them! I always but more than I need and can always find a good use for it.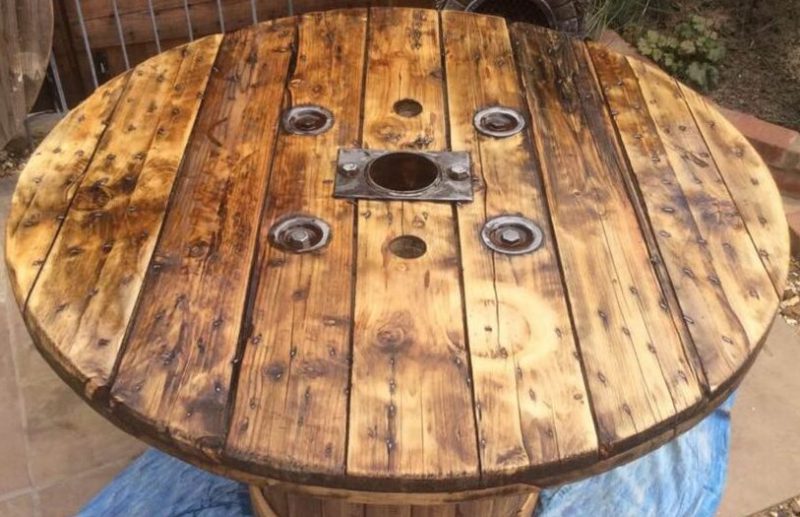 How long does it take to dry?
Touch dry on decking oil ranges from 15 minutes up to 6 hours. This huge range is down to the heat of the timber treated, how much sunlight, and the ambient temperature. On a cloudy day they'll al take nearly two to three times as long to dry as a sunny one. If you're looking for the quickest process then you're going to choose the Liberon Decking Oil or the Cuprinol 5122415 Uv Guard Decking Oil as these can be recoated as soon as the treatment absorbs allowing for a much quicker job. However, you still need to et these dry over night and a few days beyond for best and most hard wearing results.
What is the best for protection long term?
There are two types of decking oil beyond water based and oil based. Some have a biocide while others don't. The Cuprinol 5122415 Uv Guard Decking Oil has the best one to my knowledge and therefore should give the longest results on average but you still need to factor in the potential issues you'll face with sunlight breaking down and forcing your oil to seep out the timber.
Assuming you've read your way through this review, you'll be in a much better place to pick which oil is best for your decking!
I hope you've enjoyed our review of the best decking treatment. We have also highlighted a fair few quality product that'll help you along the way with your decking maintenance and should leave your decking in tip top condition for years to come. Remember maintenance is always much cheaper than replacement long term!
Here's my review of the best decking oil treatments
Lets take a look at the features of the top decking treatments available in the UK:
---