Written by Terry Smith
Our site is reader supported so when you click a link to Amazon we may earn an affiliate commission.
UK's best fire pits both large and small tested for heat and design April 2021
This article was last updated on August 21st, 2021 at 7:13 am
What are fire pits and how do you use them?
Generally made from steel or cast iron, a fire pit essentially bridges the gap between a heat source like a patio heater, wall mounted heater, or table top heater to keep us warm in the garden but also was primarily designed to cook food in a similar way to a charcoal bbq, or bbq food smoker. They also have uses outdoors beyond your garden. Portable fire pits offer warmth and the ability to cook when camping or on days out.
Using a fire pit is easy. You'll essentially be making a charcoal bbq. You get your fire started and enjoy it. Be that cooking meat or a stick with a marshmallow. So to get you started with fire pits we've put together a list of the best ones for you to enjoy your garden safely.
Best garden fire pits reviewed and compared
Square Garden Fire Pit best fire pit in the UK based on price, performance, and aesthetics
Harbour Housewares Cast Iron Fire Pit best fire pit with no budget to consider
Femor Large 3 in 1 Fire Pit with BBQ Grill Shelf,Outdoor Metal Brazier Square Table best large fire pit bbq combo with safety in mind
There's something primal, buried deep in our subconscious, that makes us feel safe and protected when we are sat around an open fire.
Watching the flames dance around while our bodies are warmed by the heat is such a relaxing feeling that it's so easy to fall asleep on your garden furniture.
Open fires are also a fun way to cook lunch or dinner, and can give the food a special smoky taste that's absolutely delicious on chicken and other meats. Some fire pits even come with their own grilling racks, essentially transforming them into a charcoal barbecue with the added benefit of stylish design and enhancing your garden aesthetics.
The only way to have a decent fire going in your garden, without destroying your lawn, is to use the best fire pit you can find, and with so many great products on the UK market, you are truly spilt for choice.
Fire pits come in a wide range of shapes, sizes, and prices, so we're sure that you can find one that is right for you. To make this search all that much easier, we took some of the best fire pits you can buy here in the UK and reviewed them for you buy you should also really checkout the what you need to know about the best fire pits section.
Below you will find our thoughts on the best fire pits for sale at the moment. We tried to select the ones we think offer the best value for money, and tried to keep the price range within affordable levels.
So, without further delay these are our best garden fire pits reviewed.
Comparison table: UK's best fire pits both large and small tested for heat and design April 2021

Product
What We Think
Price

Keep the evening chill at bay with this classic black geometric fire pit...
Made from strong, durable steel
Suitable for burning logs or charcoal
Measuring D66.5 X H64.5cm and weighing just 9.5kg
Manufacturer 2 Year Warranty Included

The Square Garden Fire Pit is ticking all the boxes for me this Summer as long as you know this won't last forever. Cheaply priced it looks good and will hold enough heat to serve well as a fire pit and then bbq as your logs burn down. Fully loaded you'll get a good hour before needing to add more logs so it's not too much hassle to own. The design speaks for itself and would fit in almost any garden with the added benefit that the grill is pretty decent for a little snack as you're having a beer late into the evening. A real nice bit of kit for this Summer.

Fire Pit DAYTONA Steel, Fire Bowl, Round Fire Pit, Brazier for Garden, Patio and Outdoor

The Fire Pit DAYTONA Steel, Fire Bowl, Round Fire Pit, Brazier for Garden, Patio and Outdoor is probably one of my favourites because if you like the current look then you're in business. Being untreated steel the look barely changes which cannot be said when compared to milder steel versions like my top pick the Square Fire Pit. Its a simple and strong design. This is very much buy once, buy right mentality at play here.

RayGar 3 in 1 Round Fire Pit BBQ Ice Pit Patio Heater Stove Brazier

The RayGar 3 in 1 Round Fire Pit BBQ Ice Pit Patio Heater Stove Brazier is an interesting piece because when compared it serves as a fire pit, bbq, and ice bucket. Talk about contrast. I think it's at it's best on a patio heating around a few chairs with a nice stock of logs though. It looks nice and you won't be buying again in a hurry if you do pick this one.
The best thing about the Bestfire SALTILLO BBQ FIRE PIT FOR GARDEN WITH GRILL KIT is just how great it looks. The grate is an oddball that only allows about 75% of the bbq to be functional. Apart from that the design will give you many happy years as this is properly built to last. That comes from the way it can be taken apart to clean. They've allowed easy maintenance so full marks on that.

Femor Large 3 in 1 Fire Pit with BBQ Grill Shelf,Outdoor Metal Brazier Square Table

My favourite large fire pit is the Femor Large 3 in 1 Fire Pit with BBQ Grill Shelf,Outdoor Metal Brazier Square Table. This is built to think about the user. Just look at it. You can sit around it comfortably. The legs are long enough that the heat transfer won't burn heavily so coasters under the feet are plenty, the design looks great and there's loads of room if you want to sit around and have a bbq or low and slow fire pit smokey meat fest - after all that is exactly what a fire pit is designed for in my mind!
If you don't have a budget to worry about the Harbour Housewares Cast Iron Fire Pit is the one to go for. Simple design, looks elegant in any setting. The legs generally don't get too hot and the design just lends itself to throwing a griddle over the top once your logs burn down and cooking off some yummy chicken thighs 🙂
Specification: Material: Alloy Steel, L x W x H: 34 x 45 x 45 cm, Weight: 44.7 kg
There's a new fire pit king in town! The Square Garden Fire Pit takes my top spot for best fire pit in the UK from the VonHaus Geo Fire Pit Bowl with Spark Guard & Poker for the rest of the Summer. Why? Basically I love the simplistic design. It fits far more modern garden settings and ticks all the usual boxes when compared to our other fire pit friends. Firstly, it's nice and safe to mount of a table so long as you have a slab to stop heat transfer – it will obviously burn on wood given the sheer heat involved. But with that amount of heat, it can easily replace a gas table top heater which is a big deal for me as I much prefer charcoal and log burning. It feels far more natural and much nicer on an evening.
The ash collection tray works pretty well too, with most ash funnelling it's way down ready for collection and removal the next day. But actually it doesn't end there. The grill is pretty decent for a little charcoal bbq too. You could certainly argue it's useable as a portable charcoal bbq when compared closely. The guard is well shaped and allows you to build logs when you're not using it for cooking.
Essentially the two corner stones of the fire pit have been really well considered. The first being heating, and secondly cooking.
Assembly isn't a problem either, this flat pack will be up and working in fifteen minutes.
To add some balance I note there are some complaining about paint peeling and subsequently some rusting. This is completely expected and totally normal if you've ever bought a charcoal bbq and not spent out for something top end like a Kamado Joe. The warnings from reviewers online that it is not safe for kids actually terrifies me though. ANY flame around a table is not safe for kids. If you're kids are that young that they may touch or go near this inadvertently then slap yourself in the head and remember what you're dealing with!
The fact that it looks sleek and modern for a few burns at this price is just the cherry on top for me. That's why I've decided this is my top pick for fire pits in the UK this Summer
2. VonHaus Geo Fire Pit Bowl with Spark Guard & Poker
Specification: Material: Alloy Steel, L x W x H: 67 x 67 x 65 cm, Weight: 9.48 kg
The first thing you notice about this fire pit is the wonderful geometric pattern that decorates it, and where this model gets its 'Geo' name. In addition to this, the overall shape of the VonHaus Geo fire pit is quite eye catching, with the round main body sitting atop three thick, rounded legs, resembling something like a beautifully decorated wizard's cauldron from a fairy tale.
This fire pit has good dimensions, standing 64.5cm tall and 66.5cm in diameter, giving you the option of using either charcoal or small logs as a fuel source. The large size of the VonHaus fire pit makes it more than adequate when it comes to heating up an area large enough for 4-6 people to sit around.
Von Haus have chosen to go with steel as the main material for their Geo fire pit, creating a very strong and sturdy 9.5kg frame for your evening bonfires. However, this isn't stainless steel and so is more likely to rust if you don't top up the heat proof paint coating sometime in the future. If you can keep on top of this little bit of maintenance though, you'll have a fire pit that will last for years and VonHaus are offering a 2 year warranty anyway.
Included in the box are a heat proof fire poker for stoking up those flames, and a mesh cover for making sure stray sparks don't get blown onto you or your guests by those sudden Autumn gusts.
One thing I did notice the absence of, was a grill for cooking on. Yes, I know this is a fire pit and not a barbecue, but many of todays fire pits come with a cooking grate and I was surprised VonHaus neglected to include one. Then again, it shouldn't be too hard to make or buy one to fit on top if you really want to.
When it comes to assembling the VonHaus Geo fire pit, I have to say it was child's play. You only need to screw in the legs in, and that's about it really. There's no messing around and you can have this out of the box and housing a decent fire in no time.
This is a good sized, lovely looking fire pit that is priced lower than I would have guessed at under 85 pounds. A serious contender for best low cost fire pit.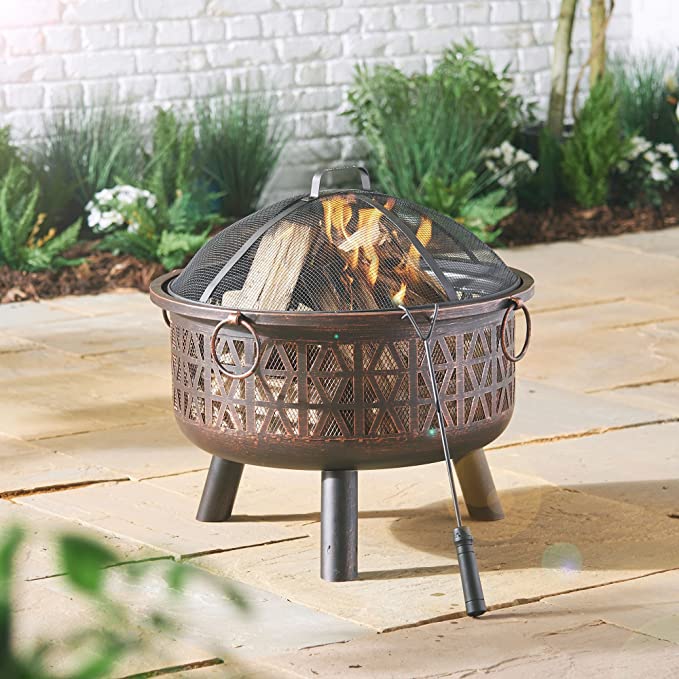 3. Harbour Housewares Cast Iron Fire Pit
Specification: Material: Cast Iron, L x W x H: 18 x 77 x 77 cm, Weight: 15 kg
Harbour Housewares fire pit resembles a very large wok standing on a tripod of rectangular legs. It has a certain charm that comes from its simplicity and gives you a kind of traditional, rustic feel.
This bowl design comes with some advantages. This shape helps with getting oxygen into the fire pit, and this in turn makes both lighting the fire, and keeping it burning well, much easier.
At 75cm in diameter and standing 38.5cm off the floor, you shouldn't be pressed for space when it comes to filling this fire pit with fuel, whether that be wood or charcoal, and it won't scorch your grass as long as the legs are placed on paving stones or something similar.
The makers of this fire pit claim it is made from cast iron, but I would have to doubt that. The material is just too thin, and at 15kg, too light for something this size to be made from true cast iron. If I was to hazard a guess, I'd say it is some kind of high carbon, steel alloy that has been made to resemble cast iron both in look and in properties, so you still get that classic aesthetic, along with the rust resistance of cast iron, but with the strength of steel. Not bad at all for £79.99.
Putting this fore pit together was easy enough. All the screws and fittings are included with the product as well as a hex key, and you can have it fully assembled in no time. I personally used my own fittings in place of the free ones, but that's more out of habit for me, and I didn't really see anything wrong with the ones provided other than them being cheap, as you would expect.
You can get a really great fire burning in this Harbour Housewares pit, and the heat that is radiated out from it is really welcoming. As already mentioned, the open bowl shape really helps to keep the logs or charcoal burning without the need for you to go poking at it.
This product comes with a 2-year warranty, but no other extras. There's no cover, poker, or grilling grate, but what do you expect for a lower budget fire pit? Overall though, it's a cracking little product.
4. Femor Large 3 in 1 Fire Pit with BBQ Grill Shelf,Outdoor Metal Brazier Square Table
Specification: Material: Alloy Steel, L x W x H: 81 x 81 x 36 cm, Weight: 12.5 kg
Femor have created a top-selling, great looking, product with this 3-in-1 garden fire pit.
Crafted from high quality, heat proof steel, it is resistant to rust and also extremely robust. Once fully assembled it stands very solid, with the 12.5-kilogram weight keeping it stable in even the strongest winds.
Even if you do require more stability, say for placing the fire pit on a sloped surface, you can use ground nails to fix it down through the pre-drilled holes in the legs.
This fire pit is a looker. The faux stone line design combined with the sharp, modern lines give this product an elegant aesthetic that is only amplified once the angled mesh cover is placed on top.
One of the Femor fire pits greatest strengths is its versatility. Not only can it be used as source of heat on colder evenings, it can also be used a barbecue and even comes with a good quality stainless steel grill cover to cook those sausages and burgers on.
In addition to that, by inserting a plastic bag to act as lining, the fire pit can be turned into a great looking ice bucket in summertime, keeping your drinks nice and cold, just how you like them.
The table top is 81 x 81cm with the fire pit itself a decent 57x57cm. This gives you space to place your drinks on when the pit is used as an ice bucket, but will et too hot to put anything on it when the fire is burning.
A free fire poker is included in the price and this comes in handy for removing the mesh cover and stoking the flames. The poker is well made, like the rest of the product and should last a fair old while and to help stop any damage from the elements, Femor have thrown in a free waterproof protection cover.
Assembly is fairly minimal, there are about 10 different parts to put together but it's really easy to see what is what and where it all goes. The instructions are clear and easy to understand but to be honest, you probably won't need them.
Femor have done a great job with this fire pit / BBQ/ ice bucket combo. It's well made, practical, and versatile. What's more, it won't break the bank to buy it either.
5. FBestfire SALTILLO BBQ FIRE PIT FOR GARDEN WITH GRILL KIT
Specification: Material: Alloy Steel, L x W x H: 75 x 75 x 42 cm, Weight: 28 kg
The award for best looking fire pit has to go to Bestfire's Saltillo. Honesty, this product would not look out of place in the garden of some fancy restaurant or round the side of a pool in an upmarket hotel.
The round table top features a mosaic design in concentric circles with a large five-pointed star as the centrepiece. The effect is just wonderful, and really elegant. The curved design of the tables legs only adds to beauty of this marvellously crafted piece of work.
Just remove the circular central section of the table and you will find a good sized fire pit (around 52cm in diameter resting underneath, ready to be filled with wood or charcoal and set ablaze.
Feel like cooking up a storm? Well, Bestfire have thrown in a BBQ grate as part of the deal. The grate only covers three quarters of the fire pit though, which is a design decision I don't quite understand. Nevertheless, there's enough space on the grate to cook a few kebab skewers or sausages.
Also included with the fire pit are a poker, rainproof cover and mesh spark cover. Everything is solid and has a high-quality feel to it.
Assembly is best tackled with two people to get it done quickly, and the instructions provided could have been better. Once the legs are on though, and the product is fully assembled, the four legs do an excellent job of keeping the fire pit stable.
Bestfire have done a great job at making this garden fire pit as durable as possible. It has been coated with heatproof paint to keep rust away, and will not be damaged by frost if left out in the cold.
One feature I always look for with the best fire pits is how easy they are to clean, and the Saltillo comes up trumps here. Each part of the product that needs to be cleaned ca be removed and replaced easily and quickly, and washed separately.
Priced at around 180 pounds with free delivery, this isn't the cheapest fire pit in our list of reviewed products, but for the quality I think it's reasonably priced and you get a stunning looking piece of furniture to make your friends and neighbours jealous with.
6. RayGar 3 in 1 Round Fire Pit BBQ Ice Pit Patio Heater Stove Brazier
Specification: Material: Metal, L x W x H: 81 x 81 x 45 cm, Weight: 10 kg
Raygar's firepit is another 3-in-one offering that can be used as a firepit, BBQ, or turned into an ice pit in hotter weather.
it might not be quite up to the level of Saltillo pit when it comes to looks, but it is still really eye-catching and beautiful design in its own right.
Standing 45cm tall and having a 81cm diameter, this round fire pit has been given a 'bronze age' style theme and look, with intricate patterns carve into the edges of the table top.
This product works well as a BBQ and a stainless steel cooking grate is included in the package, along with tongs and a poker, and to keep all those wayward sparks at bay on windy nights, you can use the rounded, mesh, protective cover.
As part of the deal, Raygar are giving away a free storm cover to keep the fire pit clean between uses, but after feeling the material I don't see how it could be 100% waterproof and I think would be best used as a dust cover only.
The cooking grate is large enough to grill up around a dozen normal sized burgers all at once, making it ideal for folks with kids. It's simple things like cooking your own food over an open fire with your children that are always the memories that last.
I'll be completely honest, I'm not exactly sure what this fire pit is made out of, but my best guess would be either aluminium or tin, as it's quite lightweight for its size at only 10 kilograms. I suppose it could be some kind of mild steel too.
Whatever it is made from, this fire pit is fairly well engineered for the low price, and once you've spent 30 minutes or so putting the pieces together, you're left with a sturdy enough construction. I will say that there were quite a few small screws to deal with during assembly, and one or two holes were slightly off alignment on our model, but it wasn't difficult to get things into place.
All being said, this is a lovely looking fire pit that would be a great addition to anyone's garden, the metal is a little thin for my liking but you would probably have to pay a lot more for the same style made from cast iron or stainless steel.
7. Fire Pit DAYTONA Steel, Fire Bowl, Round Fire Pit, Brazier for Garden, Patio and Outdoor
Specification: Material: Alloy Steel, L x W x H: 80 x 80 x 23 cm, Weight: 15.8 kg
The Daytona fire bowl is a straight up, no-frills, fire pit. There are no extras such as a free spark cover, BBQ grill grate, weather cover, etc.
No. The Daytona knows what it is, and that is one of the reasons it is a very popular product with impressive sales figures and excellent customer feedback for the most part.
Where this fore pit shines is in its build quality and robustness. With most fire pits, they require you to fix together the different parts, especially the legs, and while many of these are very stable after you've finished, they can't match this product's welded on legs and handles.
The untreated steel used for its construction is thick and very, very strong. You could drop this thing over and over again and hardly make a dent in it. However, the fact that it is untreated means that it is vulnerable when it comes to rust if left out in the rain, so you have to make sure to store it away properly after you use it.
The Daytona fire pit is available in three different sizes: 60x60cm, 70x70cm, and 80x80cm. All of these stand 23cm tall, which isn't that high, and the heat from the bowl will damage your lawn or decking if you don't put something underneath when you use it.
The fire bowl design creates great air flow, which in turn helps to keep the wood or coals burning for longer. The bowl is quite deep too, so you can fit a good old pile of stuff in there to burn through, and burn through it will, creating a great deal of heat to warm everyone sat around it.
As we said, there is no grilling grate included with this product but you could very easily buy one and place it over the top, or even use a swivel grill with it.
Solidly made and being able to house a large fire, this fire pit is one to use again and again as long as you keep it out of the rain. It might not come with a ton of accessories but its build quality is top notch for the price.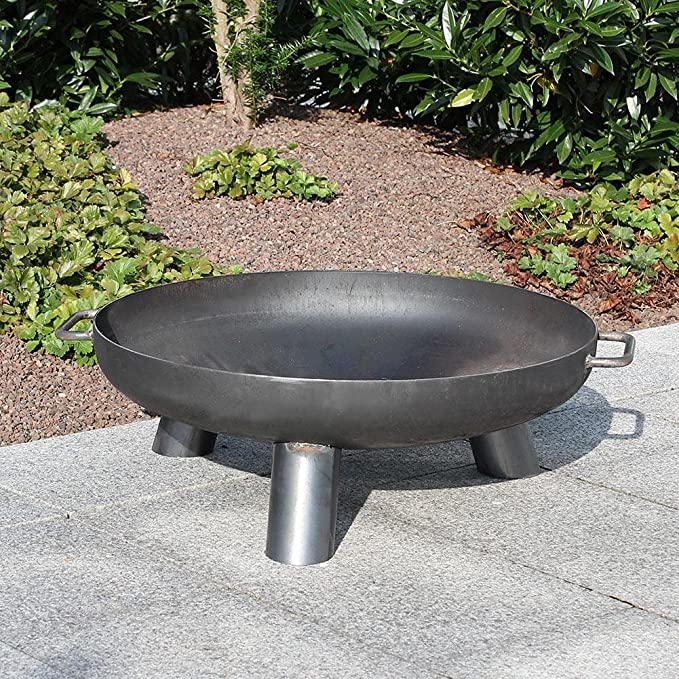 What you need to know about the best fire pits
Who would have thought there were so many different designs when it comes to fire pits?
And it's not only the looks of these products that vary. The main materials used, the main purpose, the accessories, and more, make choosing the best fire pit harder than you thought it would be.
here we have provided some extra things to consider when looking for the best fire pit. We hope it helps.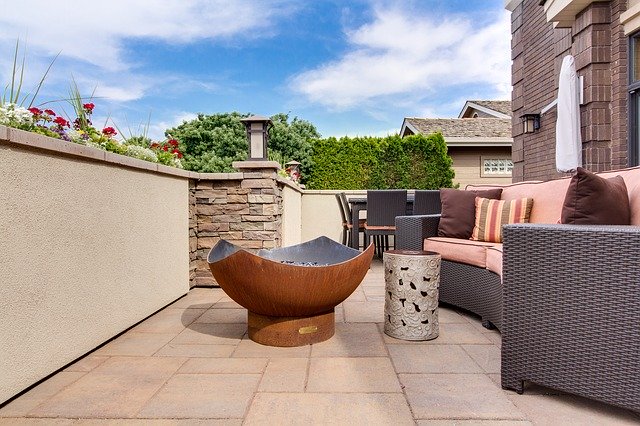 Materials compared
The type of material the fire pit is made from should be very high up on the things you need to know about a product before considering it an option. Heavy duty materials like cast iron are much better a mild steel which will result in serious lifespan increase if you do payout the money for a nice quality off the bat. Here is a short breakdown of the most common materials used for fire pits:
Cast iron
Cast iron has been used for centuries for all sorts of things, and fire pits is one of them. This material is quite heavy but has a great thermal properties, and is also very resistant to rust, and this makes it an ideal choice for a fire pit and the best fire pits like the Harbour Housewares Cast Iron Fire Pit are made from this material.
Cast iron fire pits are usually more expensive than some other materials, but they do tend to last a long time.
Steel
Steel is a very popular metal used for all kinds of applications due to its strength and ability to be easily shaped in factories.
Not all steel is the same though. For example, untreated steel is more prone to rusting than stainless steel, and some of the cheaper steels are not as durable. An example of superb steel quality in this review would be the Fire Pit DAYTONA Steel, Fire Bowl, Round Fire Pit, Brazier for Garden, Patio and Outdoor.
Aluminium
Aluminium is very resistant to rust and corrosion and it is also very lightweight. This light weighted nature can be a pro or a con depending on the product that it is made from, and with fire pits, you usually want a bit of weight to them to keep them steady in strong winds.
There are heavier aluminium fire pits out there though, so just make sure you check the weight before buying.
Other materials
Some of the more decorative fire pits like the stunning Saltillo model may be a combination of materials, and many of them will feature ceramic tiles or stonework.
Of course, this increases the price tag attached such fire pits, but they are durable, practical, and look incredible.
---