Written by Terry Smith
Our site is reader supported so when you click a link to Amazon we may earn an affiliate commission.
UK's best fire pits both large and small tested for heat and design
This article was last updated on April 23rd, 2022 at 5:06 am
It's been cold this year – and a fire pit is in my opinion after testing, the ultimate way to enjoy the garden, a camping trip, or an outdoor adventure in the evening. And fine, outdoor patio heaters pretty much do the same thing, and you could even argue a portable charcoal bbq or standard charcoal bbq do similar (in fact my top fire pit is a super little combo portable charcoal bbq – more on that as we progress). There's just something lovely about siting around a fire looking at an open flame from logs when when it's chilly and you want to be outside.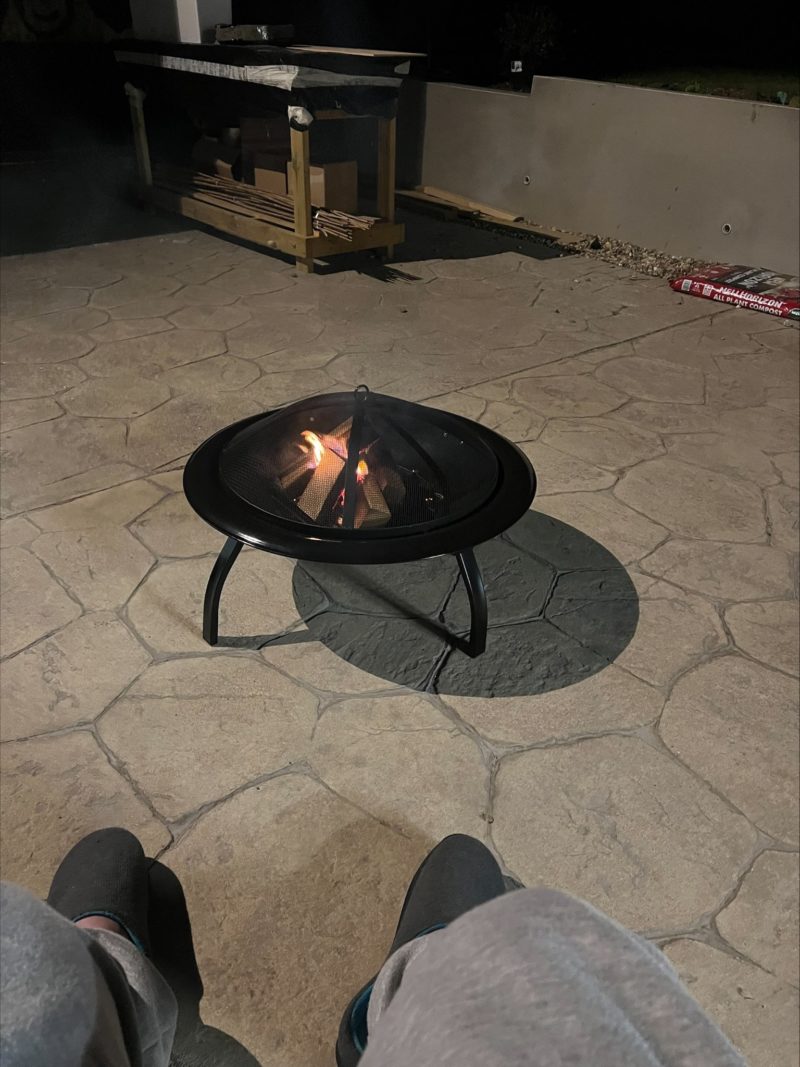 After writing this article a few years ago I decided to update it and test some of the latest best fire pit choices available in the UK. And I am sure glad I did! I found an absolute bargain that it practical for so many occasions 🙂 You might even classify it as a portable fire pit given it is foldable! My kids absolutely love it, I love it. And I have to say, testing has never been so much fun 🙂
UK's Best fire pits – my top picks after testing:
Testing fire pits
A product review isn't a product review without a test these days. Research is a waste of time, it's just a rehashed version of something you might find elsewhere on the internet. So here's what I learned from my personal testing experiences of fire pits. Firstly. I learned that you don't have to spend a fortune to get something pretty cool looking that does the job lovely. And lasts! Let's take a look at the whole process starting at assembly
Safety
One of the first things I considered when testing and finding you the best fire pit is safety. So it had to be a fire pit that comes with a mesh fire guard. This presents a few problems in itself funnily enough. Firstly the mesh gets hot – secondly metal mesh is known to twist under extreme heat, and also the mesh grill needs to be fine to stop any spitting wood getting out. This will eventually rust but that will happen to all fire pits – the fire pit itself stayed rust free for ages! Here's a close up look at how the Amazon Basics Portable Folding Fire Pit managed to catch spitting wood very well: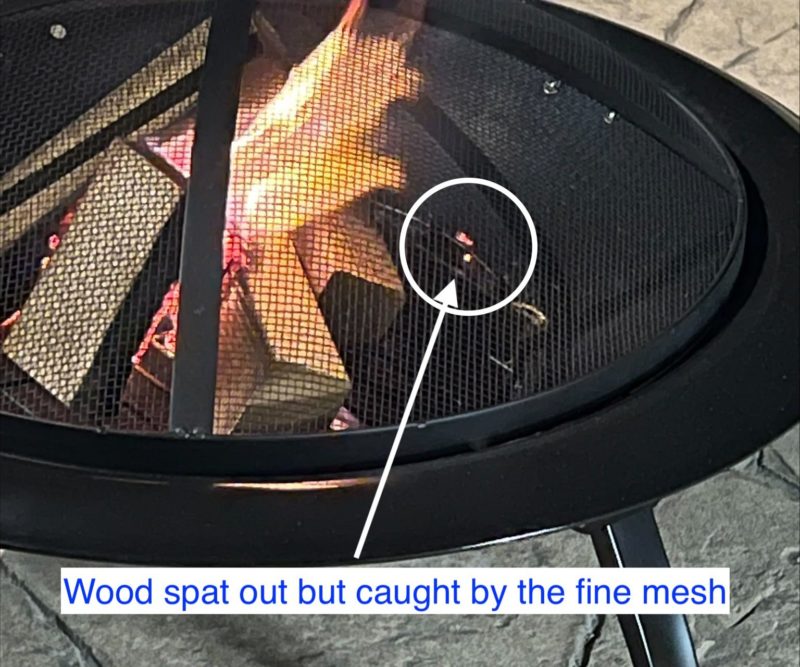 Build Quality
You want a decent quality powder coat steel that can take a bit of heat without melting – as soon as this happens your fire pit will begin to rust. That's basically the beginning of the end! What I found with one or two that I tested this was a real problem, hence they have no made the cut. The top pick however looks as good as new after a long hard and hot burn!
How easy is it to setup
To my amazement some units required all manner of setup with tools. My top pick was a shocker – it was ALREADY SETUP! WOW, honestly, what an absolutely bonus. All that was required was I pull out the pins to open and lock the legs – here's a video of that at the right point for you:
As you can see that was a cracking setup – the easiest and just incredibly sturdy!
So let's take a look at this a bit closer in a full review:
What you need to know about the best fire pits
Who would have thought there were so many different designs when it comes to fire pits? Well once you own one you need to know how to make a fire pit fire without it smoking, and if you haven't bought one, here's how to actually make a fire pit rather than spend. 
And it's not only the looks of these products that vary. The main materials used, the main purpose, the accessories, and more, make choosing the best fire pit harder than you thought it would be.
here we have provided some extra things to consider when looking for the best fire pit. We hope it helps.
Material
The type of material the fire pit is made from should be very high up on the things you need to know about a product before considering it an option. Here is a short breakdown of the most common materials used for fire pits:
Cast iron
Cast iron has been used for centuries for all sorts of things, and fire pits are one of them. This material is quite heavy but has excellent thermal properties, and is also very resistant to rust, and this makes it an ideal choice for a fire pit.
Cast iron fire pits are usually more expensive than some other materials, but they do tend to last a long time. There are some products out there, like the Harbour Housewares fire pit, that claim to be cast iron, but are actually some other materials posing as it. However, this doesn't mean that these products and materials aren't good in their own right, and are often cheaper than pure cast iron.
Steel
Steel is a very popular metal used for all kinds of applications due to its strength and ability to be easily shaped in factories.
Not all steel is the same though. For example, untreated steel, like that found on the Daytona fire pit, is more prone to rusting than stainless steel, and some of the cheaper steels are not as durable. 
Aluminium
Aluminium is very resistant to rust and corrosion and it is also very lightweight. This light weighted nature can be a pro or a con depending on the product that it is made from, and with fire pits, you usually want a bit of weight to them, to keep them steady in strong winds.
There are heavier aluminium fire pits out there though, so just make sure you check the weight before buying.
Other materials
Some of the more decorative fire pits may be a combination of materials, and many of them will feature ceramic tiles or stonework.
Of course, this increases the price tag attached to such fire pits, but they are durable, practical, and look incredible.
Can I cook on a fire pit?
You certainly can and many products, like the DAWOO fire pit come with a cooking grill and poker for just that purpose. Even if your fire pit doesn't have its own grill, it shouldn't be hard to find one to fit over it, and you can always cook things on sticks such as marshmallows and sausages.
Wood or gas burning fire pit?
The two main types of fire pit are ones that use wood as fuel, and ones that use a gas, usually propane. I really can't advise you to buy one over the other as it really does come down to personal preference, taste, and what you place value on.
Wood burning fire pits are the thing to buy if you want that authentic, traditional feeling that you only get from a log fire. They produce a good deal of heat and light, especially larger ones like the VonHaus, HArbour Housewares, and DAWOO models, and they tend to be cheaper than their gas counterparts.
The downsides are that you often get ash and such blowing off the fire, and you have to keep a supply of chopped wood handy. If you are going to buy a wood burning fire pit, you might want to look into buying a log splitter as it will make things easier.
Gas fire pits are all about convenience. There's no waiting for the fire to build up, you just push a button and you have flames dancing away in front of you. What's more is on fire pits like the one from Real Glow, you can control the size of the flames with a turn of a dial, and don't have to worry about ash and cinders either.
Sounds great, doesn't it? The thing is, you have to pay more for all that convenience and that's just the initial outlay to buy the fire pit. When you add on the cost of gas bottles to run the fire pit, they work out much more expensive than most wood burning pits.
What are some alternatives to fire pits?
There are actually quite a few options available to you if you're just looking for a source of heat to keep you feeling snug on the patio.
For a start there are all kinds of patio heaters out there, from electric infra-red wall mounted heaters and gas-powered freestanding models, to small tabletop heaters. The power output of these can vary massively, but the most powerful can do a very good job of keeping you warm while generally being safer than a log fire.
If you prefer to keep things traditional, a chiminea can be a good alternative to a fire pit. They don't produce quite as much heat as your average fire pit, and it isn't as easy to cook a lot of food, but they do look fantastic and the smoke produced is funneled away from you, which is definitely an advantage over a standard fire pit.
What are fire pits and how do you use them?
Generally made from steel or cast iron, a fire pit essentially bridges the gap between a heat source like a patio heater, wall mounted heater, or table top heater to keep us warm in the garden but also was primarily designed to cook food in a similar way to a charcoal bbq, or bbq food smoker. They also have uses outdoors beyond your garden. Portable fire pits offer warmth and the ability to cook when camping or on days out.
Using a fire pit is easy. You'll essentially be making a charcoal bbq. You get your fire started and enjoy it. Be that cooking meat or a stick with a marshmallow. So to get you started with fire pits we've put together a list of the best ones for you to enjoy your garden safely.
There's something primal, buried deep in our subconscious, that makes us feel safe and protected when we are sat around an open fire.
Watching the flames dance around while our bodies are warmed by the heat is such a relaxing feeling that it's so easy to fall asleep on your garden furniture.
Open fires are also a fun way to cook lunch or dinner, and can give the food a special smoky taste that's absolutely delicious on chicken and other meats. Some fire pits even come with their own grilling racks, essentially transforming them into a charcoal barbecue with the added benefit of stylish design and enhancing your garden aesthetics.
The only way to have a decent fire going in your garden, without destroying your lawn, is to use the best fire pit you can find, and with so many great products on the UK market, you are truly spilt for choice.
Fire pits come in a wide range of shapes, sizes, and prices, so we're sure that you can find one that is right for you. To make this search all that much easier, we took some of the best fire pits you can buy here in the UK and reviewed them for you buy you should also really checkout the what you need to know about the best fire pits section.
Below you will find our thoughts on the best fire pits for sale at the moment. We tried to select the ones we think offer the best value for money, and tried to keep the price range within affordable levels.
So, without further delay these are our best garden fire pits reviewed.
---