Written by Terry Smith
Our site is reader supported so when you click a link to Amazon we may earn an affiliate commission.
UK's best woodworm treatment for roof timbers, furniture, and sheds
This article was last updated on April 23rd, 2022 at 5:56 am
For those of us with a keen eye for older furniture or period properties with wooden beams and joists, we are used to people questioning our sanity when we explain that we spend endless hours in our shed, garage, or workshop, crafting furniture and tackling other projects in the home. The thing is, we don't need them to understand why we do it, because we do. There's just something incredibly satisfying about creating something with your own hands that is hard to explain to those that don't feel the same way, and would rather pop to IKEA blissfully unaware of woodworm problems.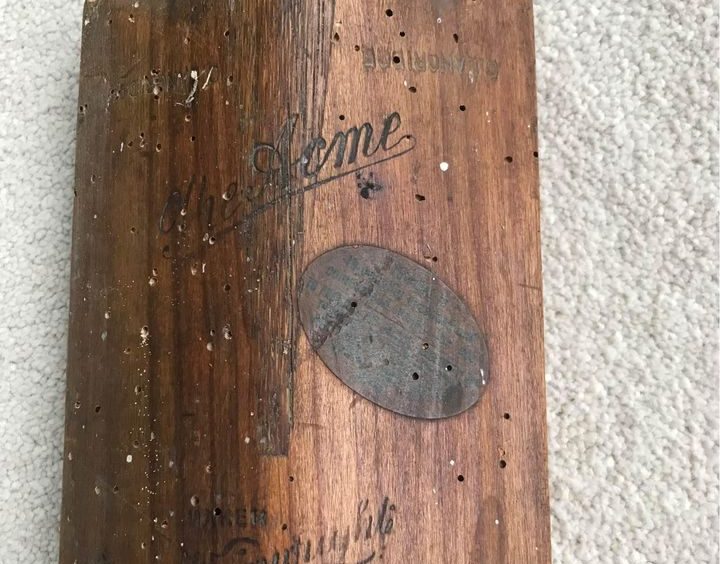 Those folks will also never understand the deep hatred we have for woodworm, and the damage it can cause to our beloved projects, and why we spend so much time trying to prevent it. To them woodworm conjures up some cute cartoon image of a smiling little creature, whereas to us, it's an unseen monster that slowly devours our wooden wonders – worse still our roof trusses, or joists 😨 To keep your timber safe from this dreaded scourge, you really need to get your hands on the best woodworm treatments. Just a few sprays with one of these products and you can rest easier at night knowing your new table, bench, etc. is safely protected as it sits in your shed.
Below you will see our choices for the best woodworm treatments currently available for the UK's DIY practitioners, and you just have to click on the one you are interested in to see our full review of that product.
Best woodworm treatment – editor picks:
Best overall woodworm treatment UK: Safe Guard Soluguard woodworm treatment
Best for roof timbers: Everbuild woodworm killer – thanks to a deep penetration
Best for sheds: Cuprinol woodworm killer – the odour isn't too strong
Sensible alternative pick: Barretine woodworm control
Budget pick: Nourish and Protect woodworm killer
However, if you're new to the war on woodworm, then we have some information coming up that you might just be interested in…
What is woodworm?
Woodworm is the umbrella term used for the larvae of various beetles, most commonly furniture beetles or boring beetles, that are born in, and feast on, wood. The term is also often spoken to refer to the infestation itself, and you might hear someone say 'We've got woodworm'. This doesn't mean that the poor so-and-so has an unfortunate parasite inside him or her personally, but rather an infestation in their house, or some kind of woodwork project.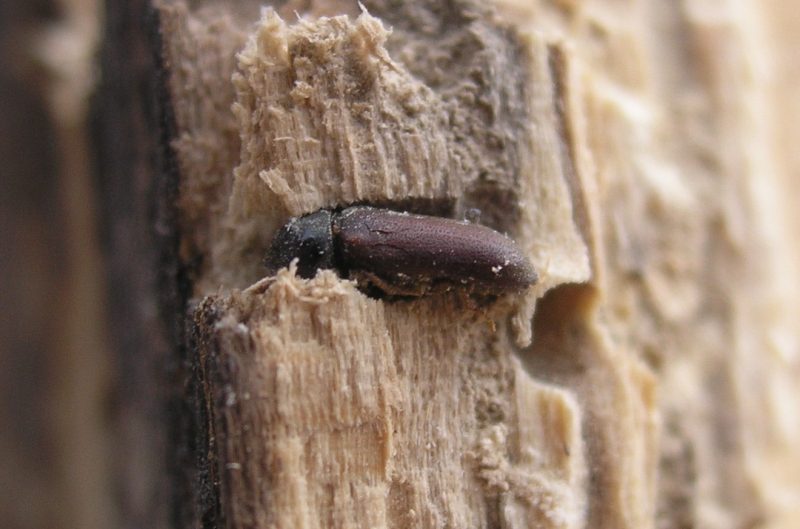 The entire cycle of the beetle laying the eggs, the eggs hatching into grubs, then turning into pupa, and then beetle to start the cycle over again, can take years, and all that time your lovely wood is acting as the fuel for the process.
Signs you've got a woodworm problem
The first rule of woodworm club is, you don't see woodworm. Actually, that's not completely true, I've just always wanted to quote the movie fight club, but it is sort of truthful.
You see, the beetles that are the cause of woodworm infestations don't lay their eggs on the surface of the wood, they lay them just under it, and so you have no idea that they are there. Even when the eggs hatch, you rarely see the grubs themselves, but they are in there alright, munching away on your prized woodwork, wooden flooring, ceiling beams, and just about anywhere else. You'll start to see holes in your wood first: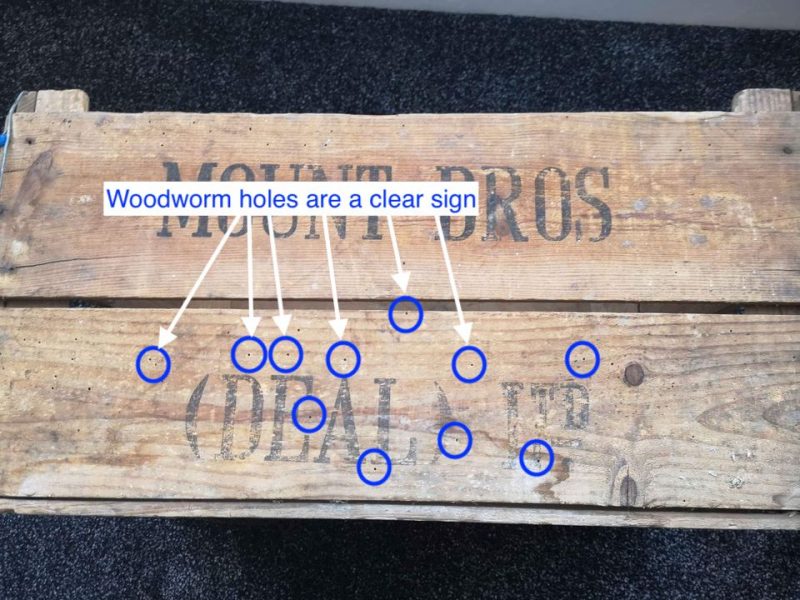 Usually, the first signs that we see of a woodworm problem are lots of tiny holes, usually around 1mm-1.5mm in diameter but sometimes larger for some kinds of beetle larvae, spread across the piece of wood. There is sometimes the grub's fecal matter, called frass, that resembles powder around the holes, and this lets you know that this is a current infestation and not the remnants of an old one.
Another sign of having a woodworm problem is finding the dead bodies of beetles on your window sills, or near other sources of light. This is because once the woodworm has grown into beetles, they often fly straight towards whatever light they see, but they don't have a very long life span, and so you often see their corpses lying around.
Will my woodworm problem spread to other parts of the house?
Once woodworms have matured into fully grown beetles, they will often head towards a window or some other form of light as mentioned above. However, they will also annoyingly lay more eggs of their own, sometimes in the same piece of wood that they were born in, but sometimes in other pieces of wood nearby.
So, yes, it is possible that woodworm can spread to other parts of the house, and so you should definitely protect your timber from it.
How can I prevent woodworm in the first place?
There's an ancient form of Morris dancing that is well known for preventing….
Sorry, couldn't help myself. No, there's no bell ringing, funny sock-wearing magic that will prevent woodworm, but understanding what leads to the problem in the first place could help you.
The overwhelming majority of woodworm cases in the UK are caused by the aptly named furniture beetle, who mostly enjoy infesting and feeding on hardwoods with a high moisture content of over 28%, but aren't that picky and will enjoy softwoods given the chance.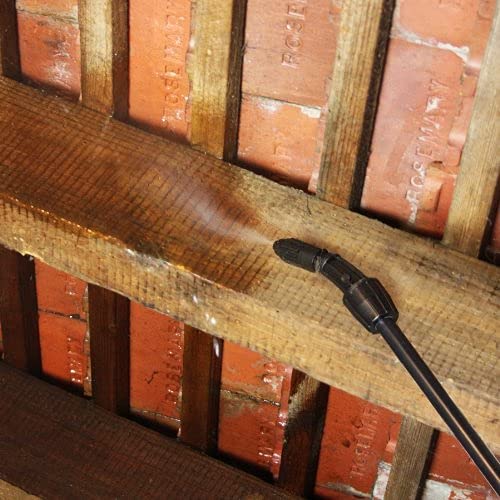 Other types of beetles might have a preference for specific kinds of wood, but one thing is fairly universal- like stuff that is soft, and therefore easy to chew on. This is why woodworm infestations are most common in damp wood.
So, a good way to prevent woodworm settling in, other than using a chemical treatment, is to make sure that your home or working space has good ventilation, and maybe add a space heater or similar to ward off damp, if needed.
How effective are over-the -counter woodworm treatments?
We mentioned earlier that most woodworm problems are caused by the common furniture beetle, and any of the woodworm treatments we have reviewed below will do a cracking job of getting rid of them, or protesting against future infestations.
However, in some rare cases the problem is caused by deathwatch beetles which bury their eggs much deeper into the wood, and so, spray and brush on treatments won't do much against them.
If you use a spray on treatment and it has no effect, it would be a good idea to get a specialist in to have a look and to tell you exactly what kind of woodworm problem you have. It will mean that it costs you more, but for some kinds of beetles, there aren't any other options I'm afraid.
Having a specialist come take a look will set you back around 100-300 quid, which is already steep enough, but the expense can get much higher if you need to fumigate your home, which can run up to 500-1000 pounds in some cases.
Like we said though, this is in rare cases, and most woodworm problems are easily dealt with using spray on or brush on products like the ones featured in our reviews section below.
Best woodworm treatments reviewed UK
We're just about to start our very popular reviews section of this article, where we will take a brief, but close look at the best woodworm treatments on the market at the current time. Don't worry about these reviews being sugar coated, as we'll point out flaws if we see them as well as highlight the good points, for a balanced and fair review.
---