Written by Terry Smith
Our site is reader supported so when you click a link to Amazon we may earn an affiliate commission.
UK's best robot lawn mower brands: Mculloch, Flymo, Landmaster, Worx, LANDXCAPE
This article was last updated on April 23rd, 2022 at 6:37 am
Although the possibility of robots replacing us in many of our jobs is a scary prospect, I think we can all agree that having one of our future mechanical overlords trimming the lawn for us while we sit back on our comfy garden furniture, or relax in a hammock, isn't too bad a thing at all. Although the idea of a robot cutting your grass for you sounds very futuristic, it is actually one that has been around for a very long time. In fact, the first patented robot lawnmower was named the Mowbot and was introduced to the world all the way back in 1969.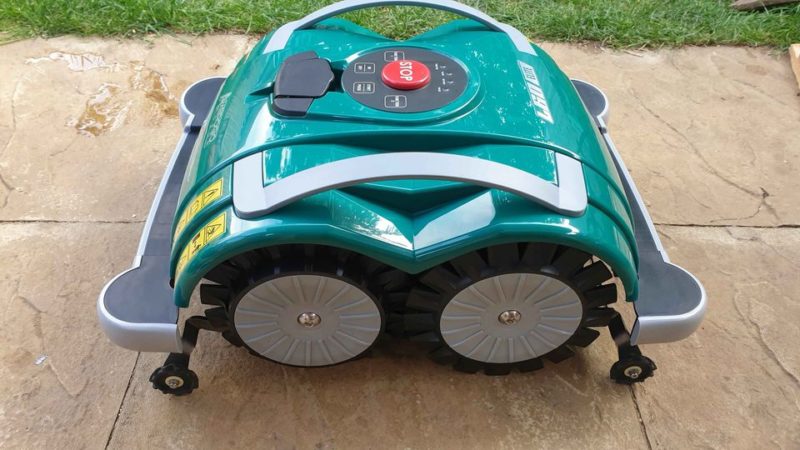 Of course, technology has advanced a lot since the end of the 60s, but you'd probably be surprised at how many of the original concepts have survived and are still incorporated into the modern robot mowers we see on sale today. Speaking of which, in this article you will find a ton of information regarding the robot lawnmowers on the market in the modern age, a handy buyer's guide, and reviews of the best of the best. Which ones did we pick out as the cream of the crop? Take a look below:
Best robot lawn mowers – editor picks:
Best robot lawnmower: Mculloch ROB S600– Best robot lawnmower overall for its outstanding array of features paired with excellent cutting performance
Landmaster L10 – Best robot lawnmower for slopes and uneven ground. Will traverse gradients of 35%.
WORX WR090S S300 Landroid Robotic Mower. Best robot lawnmower for large gardens. The larger versions can easy handle 2000 square metres
Flymo Easilife 500 -Best robot lawnmower for a small garden. Compact, Lightweight, and highly programable make it perfect for small gardens.
LANDXCAPE LX799 -Best budget robot lawnmower. Offering very good value for money and simple operation.
Flymo 1200R Lithium-Ion Robotic Lawnmower– an excellent all rounder with a good selection of features
Robot lawnmower buyers guide
A big part of buying a product that you're happy with, is to have the best possible idea of what you are actually looking for in the first place, and this informative buyer's guide has been designed to help you with that. We're sure that after reading through this, and then our reviews, you'll feel confident in your buying decision.
Understand how the guide wire works and set it up properly
While I don't use a robot lawnmower personally, a couple of years ago, both my brother-in-law and my neighbour bought one around the same time.
Being gardening obsessed, and naturally a bit of a nosey old so-and-so, I naturally spent more than a little time talking to them about their machines, the specs, and how they were getting along with them.
It turned out that they had both bought the same machine (a Flymo 1200R, which you can see our review of further down this page) but were getting different results. While my brother-in-law was loving his new mechanical helper, my neighbour wasn't so pleased.
After giving it some thought, and visiting each of their homes, I figured out the problem. It was all to do with the shape of their lawns, and how they had set up their guide wire perimeter.
My brother-in-law had a lawn that was almost rectangular in shape but with curved corners, and he had pretty much just followed the shape of the lawn, whereas my neighbour had a very decorative and oddly shaped lawn with lots of curves and small areas that were quite narrow. He too had just followed the shape of his lawn, and this is where he had made his mistake.
You see, in order for your robot mower to work optimally, the perimeter you set up should be as connected as possible, and what I mean by that is to have the wire curve around corners instead of being sharp right angles. My neighbour had tons of these sharp angles set up with his wire and it was causing problems.
Anyway, with my help, he reinstalled the wire from scratch, only this time keeping the wire uninterrupted. Keeping in mind how the robot moves, we made sure that it would have space to turn around and manoeuvre too. The results were night and day.
So, if you are going to buy a robot lawn mower that uses a guide line, do a bit of research into how best to set up that perimeter. There are a few tricks that might not be immediately obvious to you, but they make a huge difference in how the machine will perform.
How to set up a robot lawnmower
The way most robot lawn mowers function is actually quite simple. You, the gardener, need to spend a bit of time setting up a guide wire to mark off the perimeter of your lawn, or the area you want mowing.
Next, you need to 'program' the robot to do what you want it to, but these days this is usually nothing more than pressing a button or two and certainly not anything complicated. In fact, the latest models usually have an app and Bluetooth connectivity, allowing you to do it all from your phone, but some budget models like the Landmaster L10 don't use one and prefer simple push button controls on the machine itself
Once everything is set up, the sensors onboard the robot mower will keep it within the boundaries you have set up with the wire, and the built-in computer will guide it through a cutting program, leaving you nothing else to do apart from sit back with a cold one and watch your robot worker do its job.
Wireless robot lawnmowers and other modern features
In the last few years there have been some innovations in robot mowers, and there are now products available that don't require you to set up the guide wire first. These machines either use vision-based navigation, where the robot will analyze what it can see and make decisions, or they are guided by satellite navigation and are very accurate.
These machines are evolving all the time, and features such as solar panels to help with battery life, rain sensors that trigger the robot to return to its sheltered docking station as can be seen on the Flymo Easilife 500; automatic self-charging, and more, are making robot lawnmowers evermore enticing to people who hate cutting the grass.
Battery size and life
The first thing you need to be aware of is battery life. These machines are cordless and run off lithium-ion batteries, just like a cordless strimmer or cordless chainsaw. Even with battery running times improving all the time, there will still be a moment when it runs out and will need charging. Obviously, if you have a large yard, there is a good chance that your robot mower will have to go back to its docking station to recharge before the job is complete.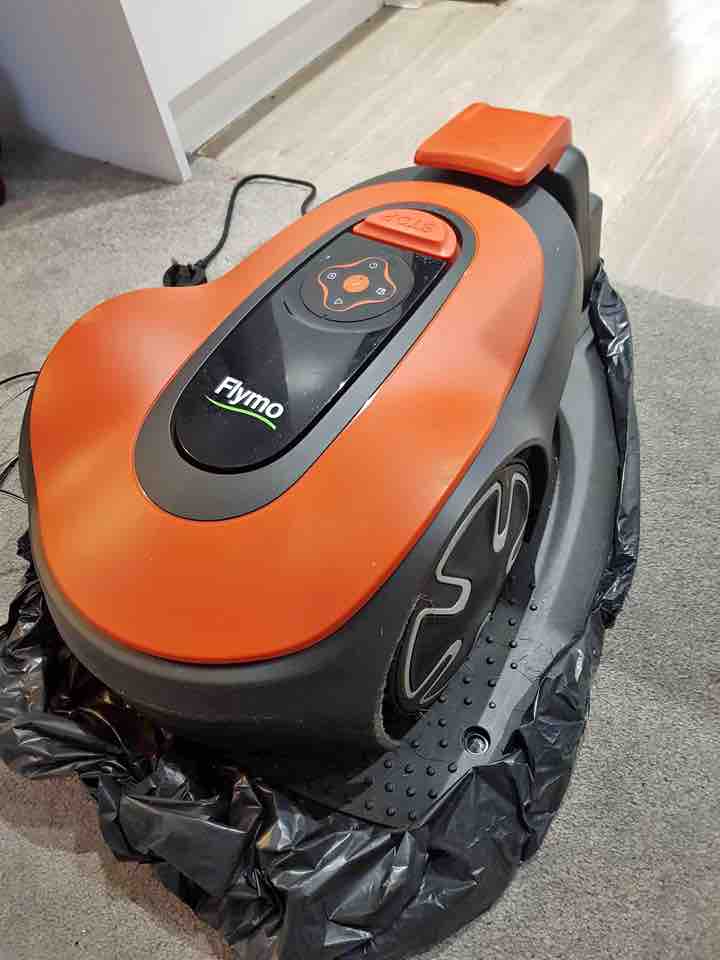 Now, there are some robot lawn mowers that have been designed with larger batteries, and the Flymo 1200R is a good example of this, but even with solar cells on top of them to help with charging you will still only get a maximum of 1 hour running time. So, this is something you should look into before buying if you have a large lawn, and pick your product carefully.
Robot lawn mower prices
Probably the most off-putting thing about robot mowers at the present time is the price. As this is all new technology, the price of a robot mower is still quite high, with most being around the 500-1000 pounds mark and some being quite a bit higher than that. In the last couple of years though I have seen the odd lesser-known brand offering up robot mowers for between 400-500 quid such as the LANDXCAPE LX799, Landmaster L10 and smaller versions of the Worx Landriod, and I think it is inevitable that prices will drop on products from more famous brands in the future.
Speed
One thing that puts some people off is that it is very time consuming to set up the guide wire around your lawn, and then you usually have to make some adjustments to it and to the programming of the robot before you get the results you want.
When compared to a traditional electric, cordless, or petrol lawnmower, a lot of robot mowers cut quite slowly, so don't expect instant results. Instead of cutting down to the desired length in one pass, they make multiple passes, trimming the grass bit by bit, and this can actually annoy people who don't have much patience, even if they aren't the ones doing all the work!
Cutting width and height
The speed at which your robot mower will complete its task is affected by a few factors, but one of the most important is the cutting width. Basically, the wider this is, the larger the area that can be cut at the same time.
This width varies from product to product too. For example, the Mculloch ROB has a cutting width of 16cm, the Worx robot can cut 18cm, and some of the larger products out there can be over 30cm. For small to medium sized gardens, you will be fine with anything that has a cutting width over 15cm.
Variable cutting height is pretty much standard with robot lawnmowers and although there are some models out there that deviate from the norm, most popular products will have a range of 20mm – 50mm.
Slope angle
Every robot lawnmower will have a maximum angle that it can handle when it comes to slopes. This angle is usually shown in degrees but some products have this displayed in a percentage in their advertising.
Please be aware that the percentage is not necessarily the same as the angle, and will actually be a higher number. For example, the Landscape robot has its max slope angle shown as 25% but the actual angle is 15 degrees.
Obviously, if you have a sloped or uneven lawn, you're going to want to shop for a robot lawn mower that can handle that terrain, and so this particular statistic should be very important to you.
Best robot lawnmower reviews
This is the part of the article where we go in depth with the robot lawnmowers that we selected as the best out of all the ones we tested. They are all great products in their own right, but each offers their own benefits and also has the odd flaw that we've also pointed out for you, just to be fair. That being said, we're sure you'll be happy with any of these quality robot lawnmowers.
---