Written by Terry Smith
Our site is reader supported so when you click a link to Amazon we may earn an affiliate commission.
Best snow shovels for a bad back [UK]: Snow shovels for senior citizens with wheels reviewed with plastic options.
This article was last updated on April 23rd, 2022 at 1:40 am
A snow shovel is one of those tools you rarely buy but always miss when the time comes. Unpredictable weather in the UK last year saw snow in Summer no less, so buying a snow shovel and putting it in the garage for safe keeping isn't a bad idea. You could also just buy a shovel, the normal kind as it'll have plenty more uses. A snow shovel should be pretty sturdy and light weight to move large volume. It needs to be constructed well to withstand a blunt strike (we never know what we are digging in the snow) and should be comfortable to hold and grip, so I have reviewed the best snow shovels based on these ideas to save you time.
You need a snow shovel because random weather in the UK is a real thing and only getting worse. Whether you believe it's a natural occurrence or because of human interaction with the environment, you can't deny that the UK's weather patterns have changed over the last few years. We are seeing summer weather in the spring, quickly followed by torrential rain and even snow!
 The thing is we really can't be sure about seasonal weather anymore and it seems like the storms we that come along are getting more and more extreme. Although the UK doesn't usually get as much snow as some other European countries, we can still get freak snow storms that have quite an impact on our daily lives.
 Having to clear your doorstep/driveway of snow isn't most peoples idea of fun but it is something we should all be best prepared for, and that's why I would suggest having a decent snow shovel handy just in case.
My picks for the best snow shovels:
How to pick the best snow shovel for you?
The first thing you need to consider is how much snow you think you'll need to shift and how much effort you want to put in. If you have a bad cack then you're almost certainly going to want to get a snow shovel with wheels that you can push. Not only will that keep you balanced, it'll also give you something to lean on and reduce the pressure on your back a little. By contrast if you've only a small drive to clear and you're in good shape you may just want a middle of the range plastic snow shovel to get you out of trouble rather than relying on a heavy metal builder shovel when the snow event comes.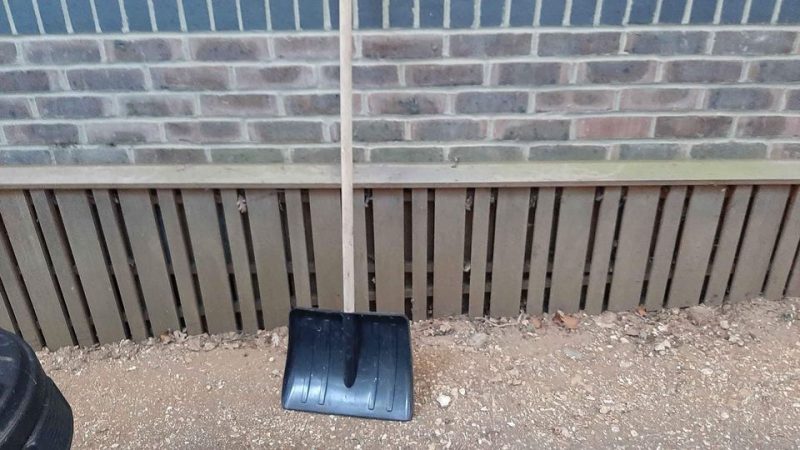 One of thing to consider is the storage factor. Consider the UK will only get a few snow showers a year tops. Do you really want to store a snow shovel, taking up significant space in your shed for a rare event? Just asking! Of course now I've put you off it'll lay 12 inches and you'll be emailing in telling me I've put my foot in it! 😀
How to use a snow shovel effectively and clear a drive fast without hurting yourself
So you'll be surprised to learn most of the reasons behind a snow shovel are the sheer weight of using a standard builders shovel and potential damage it would do to a path laid with mosaic, or a patio with sandstone. So effectively in this case also means avoiding damage to your property whilst clearing snow. And most importantly avoiding injury when doing so. Somehow we just don't seem to do well in the snow. So I always prefer British videos (nothing personal just generally more relevant for us) but this chap has far more experience than us and he has a pretty handy hack with a rope attached as well as a few other good ideas worth considering. Not a wasted 3 minutes of life watching his video for sure:
Read on below to see our reviews of the best snow shovels for sale in the UK.
Why buy a snow shovel?
Have you ever had an emergency but been unable to use the car? This is essentially what happens if you're blocked on your drive. Equally, have you ever trodden in snow on the path and then the next day it's been covered with fresh snow, only to fall over, or worse watch someone else fall over as a result? These are good reasons to be looking for a snow shovel.
They are so light weight too! The one in this picture weighs less than half a kilo, or half a bag of sugar if that's easier for you to envisage: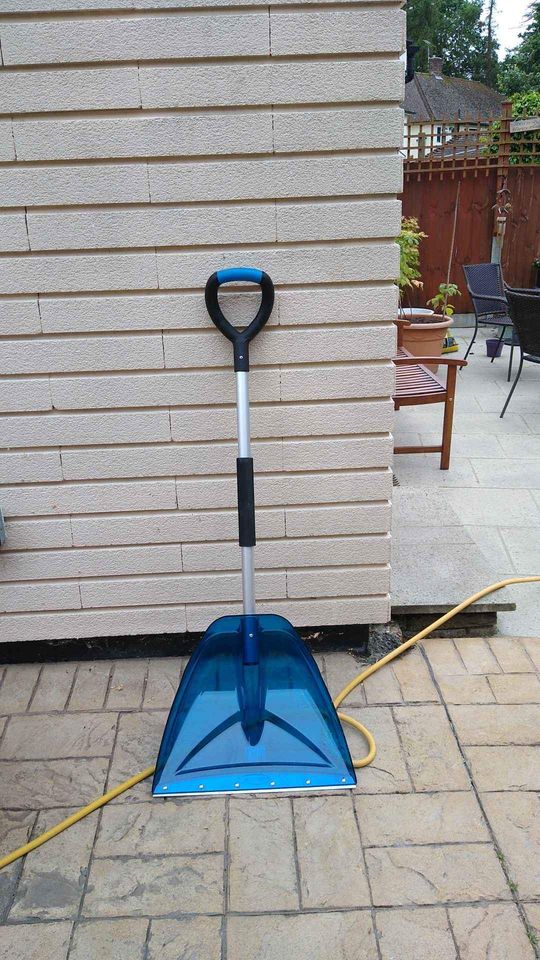 A snow shovel is really one of those things you put away for a long time and then they become absolutely gold dust when you haven't got one. You have to ask yourself. Are you one of those organised people or not? A top snow shovel will make things much easier when the time comes!
---