Written by Terry Smith
Our site is reader supported so when you click a link to Amazon we may earn an affiliate commission.
UK's best garden brooms: heavy duty stiff and soft headed yard brooms tested for sweeping up leaves and finer substrate
This article was last updated on April 23rd, 2022 at 5:29 am
How annoying is it when you need to sweep up some heavy nasty muck and all you have is a soft bristled broom? Don't worry, each and every one of my picks will clearly tell you what you're buying – be it stiff, medium, or soft bristles. They both have their uses by the way – The stiff broom does much better on tarmac and concrete, pulling up stuck down leaves and other bits if crud. The soft broom works especially well when the problem is finer and dry (like sand) – you can't use a stiff broom for this expecting to leave your area completely clean and so the best garden brooms work in totally different ways from each other.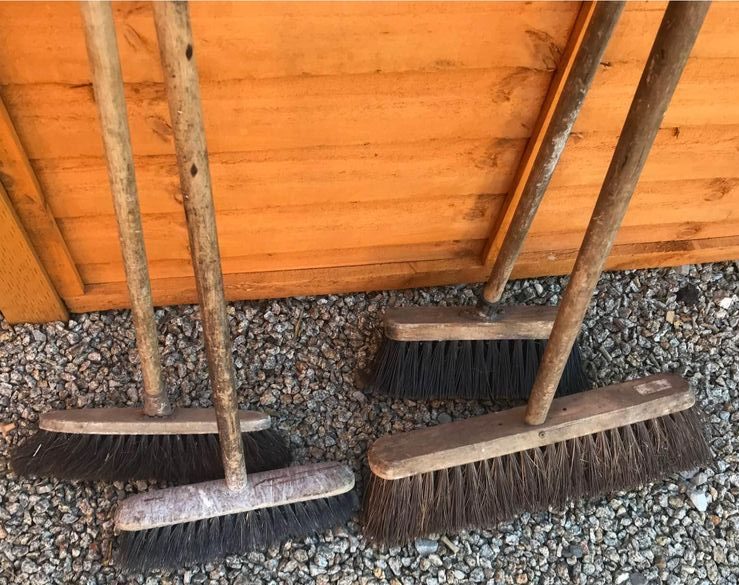 You'd think writing an article about broom heads and handles would be boring. If that's the case, Trig from Only Fools & Horses is a genius 😀 I hope to find you the best broom for you in this article without too much boredom! Seriously though, as I allude to in the first paragraph, no two brooms are the same 😀
Back on track 😀 What makes the best garden broom aside from bristles? Certainly the quality of handle (that needs to be rigid), how well built the head is – nothing worse than a head that wears quickly, or worse the bristles fall out easily and the connection between the two and without trying to insult anyones intelligence, heres what to look for when buying the best brooms. From there we want the best value possible so let's take a look at the best brooms:
Best garden brooms in the UK – stiff and soft headed brushes rated: Editor picks
Best garden broom: Newman and Cole 12 inch Wooden Broom Head with Stiff Bassine Natural Hard Bristle
Best stiff broom (easily most heavy duty): Garden Brush Heavy Duty Outdoor Yard Broom with Stiff PVC Bristles best of the best for a stiff broom but if you don't like PVC bristles take a look at the Newman and Cole
Best soft broom: Newman and Cole 10 inch Wooden Broom Head with Soft Natural Coco Bristle
Best workshop broom: Bulldozer
Best wire broom: COTTAM Heavy Duty Steel Wire Broom Head
Professional pick: Bulldozer soft and stiff bristle mix
Budget pick: Twin Pack of Traditional Wooden Sweeping Brushes
What to look for when buying a garden broom
There's a few important thing to understand and that is mainly you'll be buying either a broom head of full broom, soft bristles, stiff bristles, PVC bristles, and brooms designed for both wet and dry conditions. So let's clear these up quickly:
Soft bristles
Soft bristles are almost always what you find indoors but occasionally you need one outside. It might be that you've painted the garage floor, or your patio and pathways are smooth. In these situations you almost certainly want to have a soft broom at the ready. I'd recommend the Newman Soft Natural Coco Bristle but would be quick to point out that you'll almost certainly want a stiff broom too. So a great option on a budget is to look at the Twin Pack of Traditional Wooden Sweeping Brushes which has both soft and stiff brooms.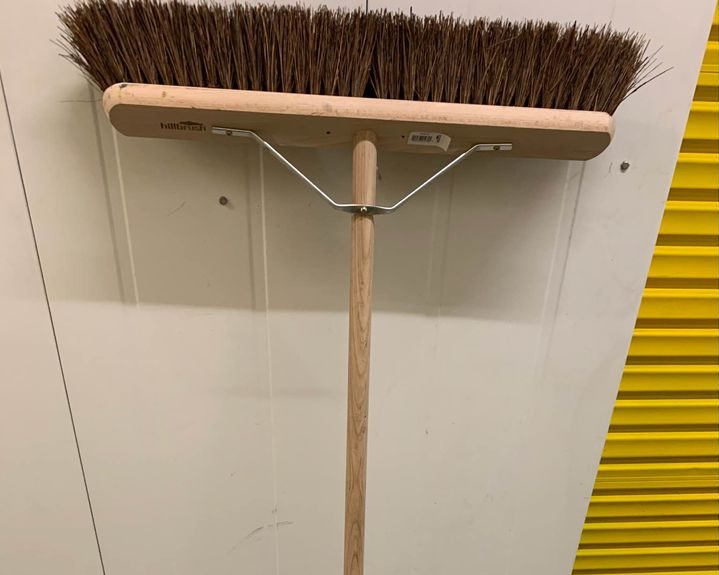 Stiff bristle
Stiff brooms come in two main formats. You've got the natural Bassine which can be found on picks like the Newman and Cole or the Silverline. These are pretty stiff and great for getting leaves up. Being organic material they are not the most ideal to get wet because they'll fail quicker but I've never had a problem. By contrast you could take aim at the PVC Bristle – these are absolutely superb for the wet. You will have to accept the balance though – they are rubbish for finer cleaning – this is exactly why having more than one broom is handy – they all do a different job well but the Bassine are more of an all rounder like the Bulldozer as opposed to specialist.
Head only or broom handle included
I'm not trying to insult your intelligence – please keep your eye open for whether they are supplied with a broom handle or not. Many of the listings here like the Newman or the COTTAM are head only. It's so annoying to buy the wrong thing or have to wait because we only partially ordered!
Broom material – PVC vs Natural
You've essentially got this battle between synthetic nylon bristles and natural bristles. I prefer the natural bristles but I have to say for the softer brooms they are really getting to the point there ain't much in it. also the PVC stiff bristles are by far more sturdy than the natural variety – it's just they don't pickup all debris then they sweep – their focus is wet leaves on concrete etc which they do very well.
---