Garden Tool Box » Garden Wood Care » UK's best exterior varnish for woodwork: Ronseal, Rustins, and Everbuild compared on price, clear glaze, and protection from water
Written by Terry Smith
Our site is reader supported so when you click a link to Amazon we may earn an affiliate commission.
UK's best exterior varnish for woodwork: Ronseal, Rustins, and Everbuild compared on price, clear glaze, and protection from water
This article was last updated on April 23rd, 2022 at 1:18 am
Exterior varnish is an excellent method of protecting your fence, shed, garden furniture, and almost any wood work outside without detracting too much from your natural wood look, unlike a stain which is essentially a painted finish. Teak oil is comparable to varnish but not quite as vibrant, normally more matt. If you head to my my decking oil page you can see the difference between the finish there, and really a really vibrant varnish finish: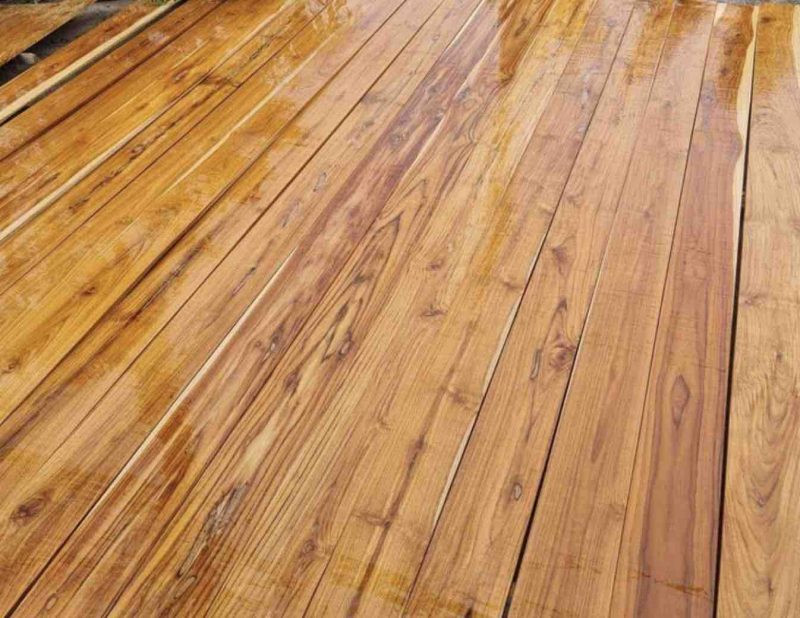 If you like a good light wood colour like pine and really want that natural timber look and feel to come through then you've come to the right place – however not all wood is quite as shiny as the pictured example above. In this article I've looked at the normal exterior varnish finishes including gloss and satin (matt is better for interior varnish) to give you the best overall understanding as to which exterior varnish is going to suit you and your woodwork. We've rated the best exterior outdoor varnish based on overall protection (does rain water form beads and run away), discolouration of timber, the quality of the finish and how it looks (bubbles?), ease of application, as well as the price. And just before you dive in, please feel free to take a look at how to get the most from your exterior varnish and some of the best methods and practises.
Best varnish: editor picks for wood exterior:
Best exterior varnish: Ronseal YVS500 500ml Exterior Yacht Varnish Satin – Designed to repel salty sea water: totally over engineered for your average garden furniture making it the best pick by far.
Alternative satin finish if you want a better price than Ronseals: Rustins EAVS500 500ml Outdoor Varnish Satin
Best gloss varnish finish: Everbuild EVBWVARCLG07 Quick Dry Wood Varnish Gloss
Alternative to the Everbuild gloss: Rustins EAVG250 250ml Outdoor Varnish Gloss – Rustins is the name in varnish and very trustable.
Quality for decking on a boat/yacht: Johnstone's 309309 Woodcare Outdoor Yacht Varnish
How to get superb exterior varnish results
Don't try to use a mini roller for perfect finishes. The trick is a really nice quality brush and let the stroke marks fade together as the varnish levels itself. From my personal experience of corner cutting with a roller it'll always tend to bubble and try to 'lift up'. The smart way is a brush and go steady. If you really need to go faster you can try paint pads which make a reasonably good job of this.
Most varnishes are ready to coat again in about six hours. Make sure you pay attention to the specific re-coating times, the last thing you want is to pull and flake or smudge the first layer. It basically then will need to set rock had and be sanded off to come back to a nice finish.
Talking of sanding. A little 240/320 grit, I don't mind using an orbital sander here, it's ideal with a fine grit pad. Over each layer of varnish, put a key on so the subsequent layers to bond too is always good practise (key means a light light sand). From years of experience I can tell you the application of vanish is just as much about the prep as it is the quality of material used to get a cracking finish.
Lastly plan well. This is a fair weather job and almost all formulas will rely on good warm weather and no rain.
Dark and light varnish examples (Gloss and Satin)
There are two types of varnish – dark and light. The I would break them down as gloss is the lighter (but still slightly darkens your timber) and satin which will darken your timber. Here's a look at furniture with a satin/matt finish: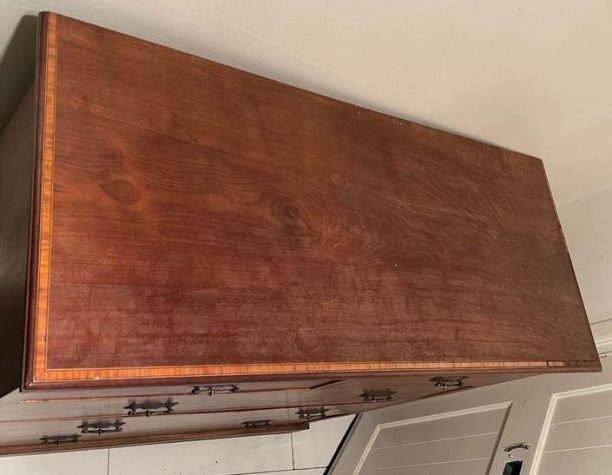 A lighter varnish is normally glossy but will still send it a bit darker – obviously much depends on the grain and colour but here's a lighter timber with a gloss varnish: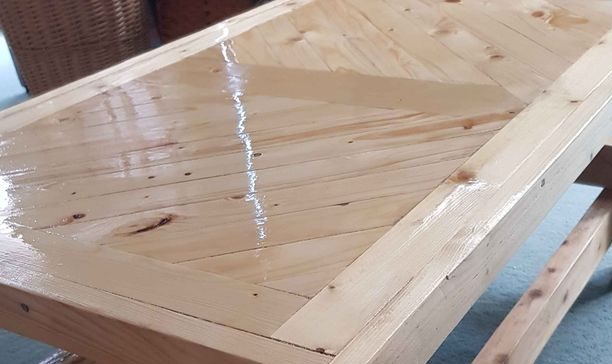 Can I varnish over paint?
In some cases yes, but not the varnish in this article – you'll want to strip paint before varnishing (and sand heavily to get the natural wood back). An alternative is to blast your furniture with a powerful pressure washer like my petrol version and strip off the treatment/stain/paint first. Please note going to close with so much power can tear the grain a bit so please be careful:
Don't varnish over wax
One thing you just flat out can't do is varnish over wax. The reason being, wax repels almost everything! And that includes your varnish too – it'll literally stop it seeping into the grain so will just wash off, look bubbly, and patchy as well – you will pull your hair out. I highly recommend sanding and blasting off with a pressure washer – note the sanding discs will clog quickly with wax and you've also got to consider – do you mind getting your timber wet if using a pressure washer?
Best ways to remove varnish
There are a few sensible ways to remove varnish. My personal preference is a heat gun and then sand, it'll basically melt the vanish out – this is the way to go without chemicals. The easiest is a varnish stripper – some use a blasting pot (sand pot blasted at timber) which is fine but it can be a bit aggressive on the timber. This is how we do it commercially.
---