Written by Terry Smith
Our site is reader supported so when you click a link to Amazon we may earn an affiliate commission.
UK's best petrol augers for price and power in 2021
This article was last updated on August 7th, 2021 at 2:43 am
5 best petrol augers available in the UK and online
One of the most labour intensive parts of putting up a new fence, is digging the post holes. Even when using a manual post digging tool, it can still be a long hard day with certain types of soil.
Without doubt, the most efficient way of digging post holes is with a petrol auger, or more specifically, a petrol earth auger.
These tools are made up of a large, corkscrew shaped, drill bit connected to a petrol engine that is mounted in a frame to provide you with something to grip onto while you work.
The amount of time and effort that the best petrol augers can save you can not be overstated, so if you're planning on digging out some post holes, do yourself a favour and read our best petrol auger reviews below, and don't forget to check out our buyer's guide too.
Petrol augers should be powerful enough to bore solid earth, comfortable to hold, safe to use with spinning parts so close to the body, ideally not too noisy (a touch one as most are two stroke), quality built, and well priced. That's how I've rated the best petrol augers.
Are petrol augers actually any good?
YES, I've used one to drill out for over 100 posts once in a day. Try doing that by hand! Not only that, it's such a uniform sized hole you create that you can accurately calculate how much concrete you'll need for posts over a long run of holes so a real advantage all round.
Comparison table: UK's best petrol augers for price and power in 2021

Product
What We Think
Price

Proven 52cc Two Stroke Engine
2.2KW @ 7500RPM
3 Auger Pieces & Extension Bar
Includes Two Stroke Oil & Tool Kit
Easy Starter Mechanism & Easy to Grip Design

52cc petrol earth auger with 1.2 litre tank capacity
Perfect for individual projects with 3 drills in diameters 4 & and 8 inch and a 58 cm extension...
Using 2 Stroke Oil Mix
Includes FREE 12 month warranty and full instruction manual.
FREE next working day UK mainland delivery when ordered by 2pm (excluding Scottish Highlands)...

Standard/Certification: CE, GS * Maximum power: 2.2 KW at 7
Great functionality: Product provided with 3 different drill bits to suit all kinds of surface * Easy to use:...
Handy and light: Powerful 2.2
Product provided with gloves and handy tool kit for more protection and practicality * Easy to maintain: Made of...
Tank capacity: 1.2 L * Power source: Fuel * Accessories: (3x) Drill bits (1x) Pair of protection gloves (1x)...

ECO LLC 52cc 2.4HP Gas Powered Post Hole Digger with TWO Earth Auger Drill Bit

☛【52CC GASLINE ENGINE】The auger is ideal for quickly drilling into the earth in order to set into the ground:...
☛【MULTIPLE SIZE DRILL BITS】Supplied with bits of 6" & 10" meet your different hole dig requirements...
☛【MAIN PARAMTER】Engine: Single Cylinder
☛【PERFECT DIRT DIGGING】Lightweight & Easy to start
☎【ACCESSORIES】2 bits: 6" and 10"; Fuel Mixing Bottle; Tool kit for assembly.Tip: If your item is shipped by Amazon...
1. Parker Brand 52cc Petrol Earth Auger
With the covid-19 pandemic limiting supplies of most top brand products at the moment, it is good to know that there are still some high-quality garden tools from lesser-known manufacturers, available at affordable prices.
This petrol auger from Parker brand is a great example of this, giving you not only a great boring tool, but also throwing a selection of handy extras in with the price at the same time.
Fitted with a 52cc, 2 stroke, petrol engine producing 2.2KW (2.9HP) at 17000rpm, you will have no problems digging through even clay soil, and it will do so very quickly if you go at it on full power. However, I wouldn't recommend this, as if you hit a good-sized stone on your way down, you're probably be going to go for a spin yourself! Make no mistake, it is a very powerful petrol auger.
To help you handle all the torque, there are decent 'bull horn' handle bars attached to the motor, with the right handle housing the controls. This handlebar set up works well, and allows the user to have a nice, firm, grip while working.
When it comes to the weight of this machine, I'd say it's a little less than average. My wife didn't have too many problems holding it in place on the slowest speed, but she's an experienced gardener herself. Still, I don't think it'll cause anyone to break their back. At least no more so than any other petrol auger.
Easy to set up and start, thanks to a built-in easy start mechanism, you will be up and running, or should that be digging, in no time at all. Just mix the supplied 2 stroke oil in with your fuel to the recommended ratios, attach one of the auger bits, and you're ready to roll.
You may have noticed that I just said 'one of' the auger bits, and that was because there are three that come with the Parker petrol auger, with the smallest being a 4-inch bit. In addition to these three auger bits, there is an extension that will give you the ability to add another 12 inches to the maximum depth of your post holes. Not too shabby at all, and will definitely come in handy.
Also thrown in for the price is a small tool kit, which basically comprises of a couple of Allen keys and a multi-tool for general maintenance. These aren't amazing quality, nor are some of the plastic parts on the main unit, but for the low price, I don't get many of my customers complaining about small details like this, especially after they've seen it in action, well customers will be customers 😀
If power is your thing, then the T-mech earth auger drill should be just your cup off tea. Backed up by a 3HP, 9000rpm, 52cc engine, this is the most powerful of our featured petrol augers.
To see what it was like in action before we decided add it to the stock in our shop, we helped out a friend replacing fencing on a large piece of land in Nottinghamshire. There were a ton of holes that needed digging, and over a large area, so the soil conditions changed constantly, but we were pleased with the T-Mech petrol auger's ability to deal with it all, and the time it took us to finish the whole job was significantly reduced.
Like with the Parker model, this auger comes with an extension pole that gives you an extra 58cm of digging depth, and in addition to this you can choose to use either a 4inch, 6 inch, or 8 inch auger bit too use, as the job at hand requires.
As part of the package, T-Mech have included some safety gear such as goggles, gloves, and ear protectors, as well as a few maintenance tools, and a bottle for measuring out the fuel/oil mix. Again, none of these extras are mind blowing quality, but they are functional, and more importantly; free with the auger.
Changing bits on this auger is fairly straight forward, but you do have to keep the pin that is used for this process safe. If it goes walkies, you're going to have a headache finding another one to fit.
The handles on the T-mech petrol auger are large and do what they are supposed to well, but I just found the ones on the Parker product more comfortable to use for long periods of time. However, I was happy that these seemed easier to let go of when I hit some thick roots and the auger span and jerked me suddenly. This incident was mainly my fault, I was rushing along and using the auger at full speed and pushing down hard into the soil. You'd think I'd know better by now huh?
With the ability to dig down to a metre and a half deep, some very impressive power, and a shed load of free goodies, I think the sub 200 pounds price tag is very reasonable. There were a couple of things I wasn't keen on, such as the quality of the exhaust and its position, but over all this is a good petrol auger for the money.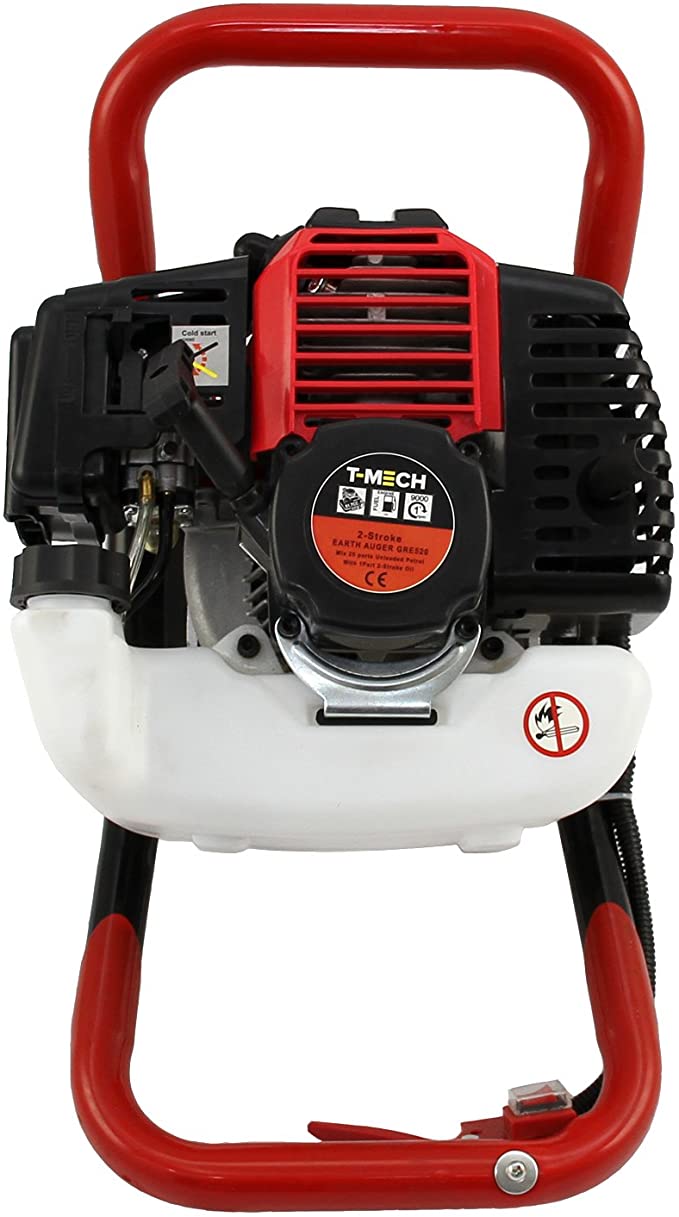 The first thing you notice about Todeco's petrol auger is the way you supposed to hold it while in use. Instead of the more common 'bull horn' type handle bars, or variations of, this model has something quite different, with your hands being perpendicular to each other.
At first this felt a little strange, I have to admit, but after using it for a while, I really got to like it, and found that when compared to other models we tested, it jarred me much less when the tool jolted after hitting the inevitable hard object or two.
The 52cc motor on the Todeco has the same displacement as our previous two reviews, but is slightly less powerful at 2.2kw and 7,500rpm. Don't get me wrong, it isn't really noticeable, and this tool still has enough grunt to cut through difficult terrain.
The usual extras come with the auger; three different sized drill bits, an extension shaft, basic tool kit, fuel measurement bottle, and some safety gloves. The drill sizes are 100mm, 150mm, and 200mm in diameter, and all are of good quality and unlikely to get damaged easily.
In fact, for the very low price of 175 pounds or so, I was really surprised at how good the overall quality of this petrol auger was. Sometimes with low-cost power tools there's a general feeling that corners have been cut somewhere, even if you can't quite put your finger on it, but with this one I didn't really get that. Although, I did have to tighten up all the bolts before using for the first time, but this is a habit of mine anyway.
The only thing I can really say I wasn't over the moon about was that the connection between the auger and the shaft didn't quite seem up to the same standard as the rest of the tool, but looking back, I think I was just being picky and you have to expect a few quirks when buying low-cost power tools. If you want perfection, you have to be prepared to pay big for it, and most people are not queuing up to do so.
This is yet another great choice for a first time petrol auger user, and more than holds its own when compared with the Parker and T-Mech machines.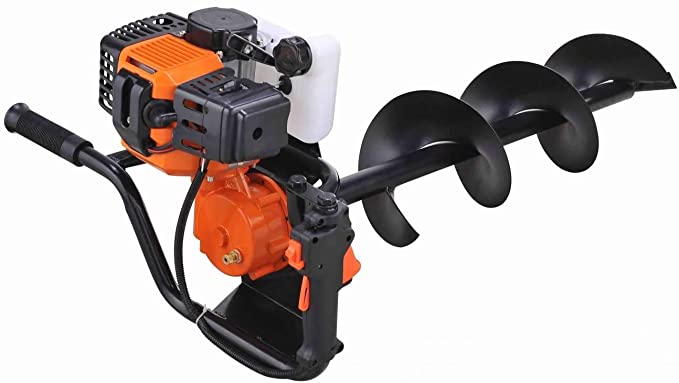 The VidaXL auger ground drill has been designed with the users comfort in mind, and has the same perpendicular handle set up as the Todeco auger. In addition to this, the handles are supposed to reduce the level of vibration felt in the hands while the machine is drilling, and I'd say that it does a pretty good job of that.
However, just because you feel less vibration, doesn't mean that there isn't plenty of it, and the evidence of such was obvious to me after testing this petrol auger out for a while. To be clearer, I found that I had to stop and retighten some of the screws every now and again, as the vibration had worked them loose. This could just have been an issue with that particular model, and although annoying, it is fixable.
Apart from that one issue, I found nothing else to complain about really. The 52cc, 2-stroke engine has more than enough power to get the job done, although like most augers of this size, it'll struggle in wet clay and that's to be expected.
The three drill bits that come with the tool are good quality and give you a choice of 100, 150, and 200mm boring, and each are 72cm long. After testing the previous products, I was surprised that there wasn't an extension included in the set like the others, but you do get a fuel mixing bottle and a small tool set.
I'm not sure of the exact weight of the VidaXL petrol auger, but from using it back-to-back with some similar products, it did feel a bit lighter to me, and very easy to handle, so it might be a good choice for those of you who are smaller in stature.
The recoil start system worked really well, and after a little pumping of the primer it tugged into life without any issues. I have to say that the plastic around the recoil cord didn't inspire me with the most confidence though, and I don't think it would survive too many heavy knocks, but that is usually the case with petrol augers in this price range.
At the end of the day, this isn't a bad product. It's comfortable to use and digs holes just as it should, it's just that for the price, I think there are better options out there.
5. ECO LLC 52cc 2.4HP Gas Powered Post Hole Digger with TWO Earth Auger Drill Bit
At first glance, the ECO LLC petro auger is very similar to the majority of models in its price range. It features the same 52cc, 2-stroke engine, kicks out the same sort of power at 2.5HP, and looks very alike. But there are a few minor differences.
For instance, this was definitely the lightest feeling petrol auger of all the ones we tested and reviewed, and therefore the easiest to use for extended periods. The two drill bits (6inches and 10 inches) that come with the ECO LLC model also seem a little bit stronger, as they are made of alloy steel and not iron.
Apart from those few things though, this is a very similar product to a lot of its competitors, and thus shares both their pros and cons.
On the plus side, there is plenty of power from the engine to dig into tough or frozen soil, and the machine is easy to start once you get the hang of the priming procedure. The hands are large and give you a good grip, and the throttle response is good.
Unfortunately, this model suffers from the same thing as the VidaXL, and that thing is the loosening of screws and bolts through vibration. Again, you can fix this problem easily by using locktite or similar products and carrying a few tools with you to adjust them after an hour or so of use, but it is a little annoying that this wasn't sorted out before the product was shipped.
This model has some good features like the alloy steel drill bits, a centrifugal clutch, and steel bearings in the connector. But it is let down slightly by a few things that could have easily been rectified by the company if they'd just cared enough to test the tool properly.
Best Petrol Augers Buyer's Guide
Let's take a few minutes to go over the important factors when to comes to choosing the best petrol augers. Here we have broken down things for you to think about when you are on the lookout for your very own post digger.
Type of engine
Although all of our featured products are 2-stroke engines, there are petrol augers out there fitted with four stroke engines. Four stroke engines are more convenient, as they don't need a fuel/oil mix. They are quieter and produce less fumes than 2-sttroke engines too, but generally speaking, they are more expensive and tend to be heavier. They are also less commonly found in products like these.
Power
You will have noticed that we mention things like 3HP when talking about engines, and this just refers to amount of power the engine can produce. The higher the number, the more power the engine has. Sometimes this is written in kilowatts, such as 2.2KW, but it equates to the same thing.
How deep do you need to dig?
Some of these petrol augers come with extensions that allow you to drill down to depths of 1.5 metres or more, while others can't go down that far. Be sure to work out how deep you need to drill before deciding on any product.
How big do you need the hole to be?
The drill bits that come with petrol augers are not always a standard size. Some will have bits that are 4,6, or 8 inches, while others will be 100mmm, 150mm, and so on. It is not the end of the world if your drill bit is larger than the hole you want to make as you can always fill the hole in after the post or tree in planted in there, but getting one that fits your needs will certainly save you a lot of time.
Handles and vibration
These tools all give off vibrations, but some are equipped to handle that better than others. Read up on the products in our reviews section to learn more about this before buying, as it can be very annoying if you have to constantly retighten things that have shaken loose.
---