Garden Tool Box » UK's best log splitters: Heavy duty electric, petrol, and manual log splitters reviewed for home and commercial use
Written by Terry Smith
Our site is reader supported so when you click a link to Amazon we may earn an affiliate commission.
UK's best log splitters: Heavy duty electric, petrol, and manual log splitters reviewed for home and commercial use
This article was last updated on January 18th, 2023 at 2:09 am
If you use timber as the main way to heat your home, say with an open fireplace or wood burner then the best log splitter is a given, it's just working out which makes the most sense for your personal situation. I personally use an electric log splitter because they easily handle all the logs I cut with my trusty Makita cordless chainsaw. With the recent energy price spikes since I last updated this article a year ago, if you read it then, I was previously complaining like mad about a full load of seasoned Cherry and Ash – even testing was getting expensive! 😀 You wouldn't believe how many logs I've split over the years updating this article 🙂 But you know what, wood burning with a log splitter has become value again as a result of the market prices on electric and gas right now. Us log burner cult are sitting pretty. I mean it's still £70 a bag or £150 for a level load on the back of a transit tipper, but that's hasn't changed much in the last couple of years where we had a big jump. Anyway back on track, I'm a fan of electric log splitters: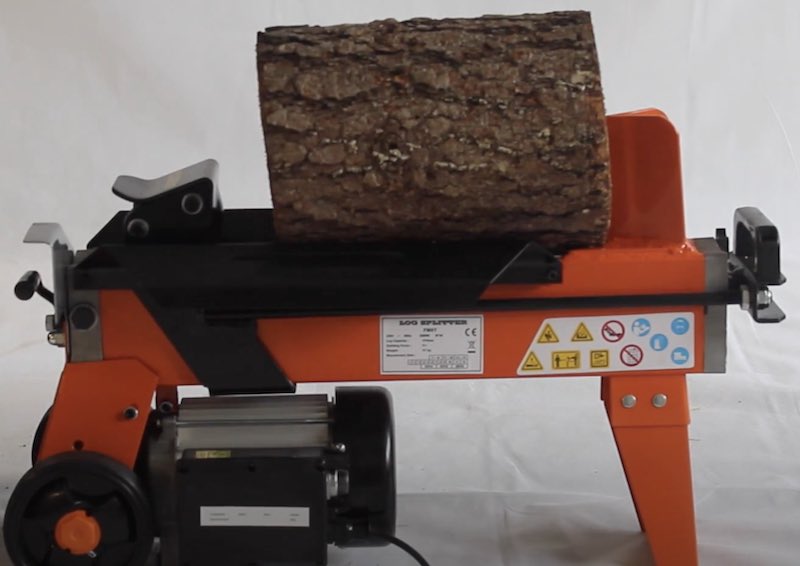 So it's really just a case of working how much power you need – most will go with electric log splitters ( I've become a bit of a fan with regards to the Forest Master brand (most notably their Heavy Duty Electric Log Splitter 3HP 7 TON, as they offer a decent balance of power and price, or perhaps even manual log splitters at home when factoring log splitting ability and price. Whilst remote or difficult access will probably want a petrol log splitter – these are by far the most heavy duty. Oh, and of course petrol log splitters can push through massive depth and length logs too as you'll find out in this review of the best overall log splitters available in the UK – take a look at my log splitter buyers guide to workout size of logs you can split and power ratings. Actually whilst I'm at it, if you're only looking for occasional use you can get manual log splitting wedges for a few quid.
Best log splitter UK choices: picked for the average home
Best electric log splitter: Forest master Lightweight 5 Ton Fast Electric Hydraulic FM5 Log Splitter 2200 Watt Wood Axe
Alternative to the Forest master range: The Handy THLS-6G Electric Log Splitter [Currently out of stock but they offer the more powerful heavy duty 8kW log splitter if you need it]
Powerful electric log splitter: Heavy Duty Electric Log Splitter 3HP 7 TON Axe Wood Maul with Stand
Best manual log splitter: Forest master Manual Heavy Duty Log Splitter Fast 10 Ton splitting force DUO10T [Definitely become my heavy duty pick for manual log splitter]
Best petrol log splitter for big logs: Petrol Log Splitter | 9 Ton Vertical Logsplitter from Titan Pro [Currently out of stock on Amazon but available in branch ]
Cool alternative if you've just got little logs you want to kindle: AGMA Swedish Log Splitter
Budget option: definitely go to my log splitting wedges page for bargains.
Log splitter buyers guide
There's probably a handful of important things to consider when choose a log splitter. Convenience is one, are you headed to the forest or just comfortable at home in the shed (so you'll almost certainly go for a manual or electric log splitter. If the location is remote, you'll want a petrol most likely.
Also don't forget moving the thing about. A decent log splitter often comes on wheels making them easy to shove about the shed or workshop. So let's just run through the most important things.
What can I actually split with each type of splitter
You're going to be absolutely shocked (assuming you're new to this) that the manual log splitters can actually be more powerful than electric log splitters! I'm not saying I'd be putting the elbow grease in but they exist. Here's a look at what a manual log splitter can do:
Now I'm not suggesting for one minute that it is quick or efficient. However, look at the size of the unit, it is by far more portable than a lumpy 10 Ton petrol so well worth considering if you're really remote. Also note, the size of the log you can deal with isn't magical.
With that said, an electric log splitter seems to have the best of both worlds at the moment – quick with most have automatic retract and loads of power 5-10 tonne is common. They can easily deal with 30cm diameter (ideal if you're using a small cordless chainsaw as I do – you'll know if you could cut the log, you'll be able to split it). No need to be thinking much. Here's a look at how easy an electric log splitter cuts logs:
On the more powerful electric models you can cut 35-40cm diameter pretty easily. Electric is about as effortless as it gets. If you think you need petrol or are looking for a tow option then best to look at my petrol log splitter page as that's commercial rating
Don't do it without a stand or bench is my advice after all these years
If buying a model without a stand I would be looking to safely bench mount it. No chance I'm leaning over all that time. This guy demos how to do it with a little 5 ton log splitter on the bench. I can't show you that as mine is on a stand. So here's a look at what he's done and it looks plenty safe enough to me. It also makes the engage switch easier to access:
Most of these models are 5 tonne – 25cm diameter logs are no problem for them, and lifting them a little 20cm log on a bench is definitely less effort than being bent down through the entire cut process. However, I just prefer a model on a stand: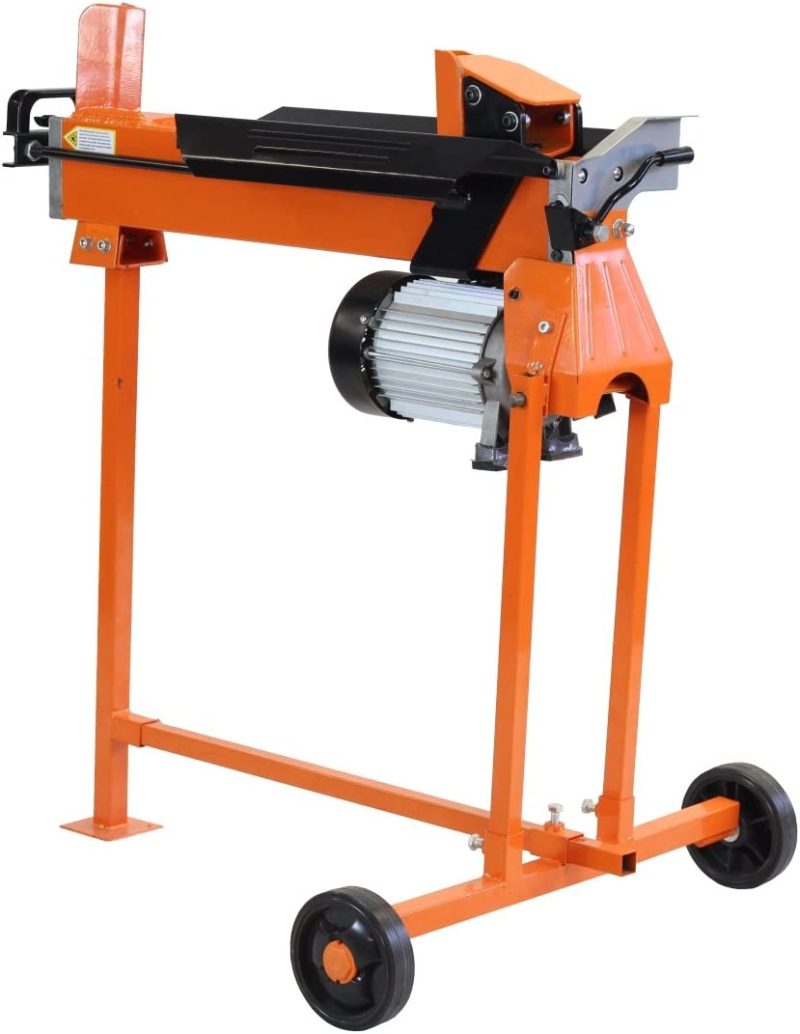 Portability and width – the best log splitters all have wheels but some are easier to move
Yep, easy to forget, doesn't matter if it's vertical or horizontal cutters the best always have wheels. What you want to consider though is machine width and accessibility too. If you've a narrow path the vertical machines I find easier to shift. The wide rear wheels that you can see above on the FM10 are a bit prohibitive in tight spaces, especially when comparing to the narrow setup on a vertical log splitter.
There's not much more to it than that
Now we are going to review a selection of best log splitters available in the UK:
What you might want to know about each type or log splitter
If you just like to sit around a campfire or fire pit and have a beer or two with some friends, then it might not be worth investing in a log splitter. Perhaps a super cool log splitting drill bit that is a relatively new addition to the log splitting arsenal.
Splitting wood with an axe is very time consuming and most of us lead very busy lives these days and just don't have those hours to spare but for small time use you could get away with one and some log spitting wedges.
Types of Log Splitters
There are three main types of log splitters- manual, electric, and petrol. I'll quickly go over each one now to give you an idea of the differences between them.
Manual Log Splitters
These log splitters rely on manual labour rather than a power source. There are different designs of manual splitters, some are hand operated, and others are foot powered, some require a fair bit of man power, and others have hydraulics to make this easier.
Manual log splitters are the cheapest type and lightest of the three varieties but they are also the most labour intensive. If you have to split timber on a regular basis and/or in large quantities you'd probably be better off paying the extra for an electric or petrol powered log splitter, but if you only occasionally require one, a manual log splitter may be the one for you.
Electric Log Splitters
Electric log splitters are powered by an electric motor which, in turn, powers the hydraulics that splits the wood. They are very popular for a number of reasons. First, they don't produce fumes or emissions so they are better for the environment and can also be used indoors. A god send in cold, rainy weather.
They also require a lot less maintenance than petrol powered splitters, are generally lighter and more compact and don't require you to fill them up with a fuel source, an everyday wall socket is all you need. 
Electric log splitters are usually not as powerful as petrol ones, so if you need particularly thick wood splitting, they might not be the best choice.
Also you have to cut your wood near to the power socket, and are held back in range by your power cord.
Petrol Log Splitters
The most powerful and most expensive types of log splitters are the petrol kind.
These splitters can deal with larger logs that electric log splitters can't. 
They also give more freedom of movement because they don't need to be connected to a power source by a cable. However, as I already mentioned, petrol log splitters can't safely be used indoors because of the fumes.
There is also the cost factor. Apart from the generally higher asking price, you also need to pay for petrol to run them and there are also maintenance costs. 
That being said, if you have to split a lot of wood in a hurry or deal with some large diameter logs, you can't beat a petrol machine.
Conclusion
It's a good time to touch on the obvious. Swinging an axe over and over again really isn't good for your back and shoulders. It can quite easily cause injuries or stiffness, especially as we get older and the cold sets in. Unless you're fully prepped for Winter its a gnarly job in the shed or outbuilding when it's bitterly cold or pouring down.
 Don't get me wrong, I'd rather exercise in the garden than waste money on paid exercise, but a manual log splitter will give you a working over and be far more effective if that's what you want!
If you use timber as the main way to heat your home, say with an open fireplace then it's never been a better time to buy a log splitter, what with the price of renting a serious log splitter going up and up, you might as well own an electric petrol one for the added hassle. I just bought a full load of hardwood for £180. Never known such insane pricing. Time to take matters into our own hands methinks…
---