Written by Terry Smith
Our site is reader supported so when you click a link to Amazon we may earn an affiliate commission.
6 best electric scooters for kids [UK] compared and rated on price and quality
This article was last updated on November 3rd, 2021 at 9:08 pm
What could be better than one of those cool folding manual scooters to play on? Well an electric bike for kids compares well, or perhaps a go-kart but I still prefer the scooter options mainly on price and build quality. They are becoming excellent value for money due to the sheer numbers sold. I thought I'd update the article because there's been a great development on price. The electriQ is super priced with no thrills but the price tag is sure to help many households this year on a budget looking for a scooter that'll keep the kids happy!
Best electric scooters for kids top picks
How about a scooter fitted with an electric motor that requires absolutely no pushing and will give your kids memories that'll last a lifetime? I know my kids absolutely love theirs so I thought I would put together a list of great options for next year. Here's one my neighbours messing around with my son's scooter. They are really great:
If you're on Google amp you can view the link here.
Electric scooters are becoming more and more popular and so there are more brands bringing products onto the UK market. And while there are a lot more electric scooters aimed at adult commuters, the number of kid's electric scooters is growing all the time.
This has led to a drop in the average price of electric scooters for kids, making them far more affordable and attainable for the average family, so why not take advantage of this? The one pictured here is less than £300 now with a top speed of 17km and a good 8 mile range!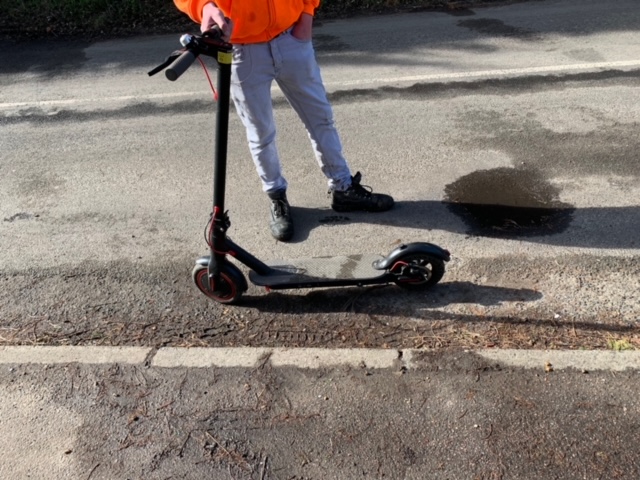 Best electric scooter for kids
I'm sure any child over the age of eight would love to show up at school riding their new electric scooter and be the envy of their friends. And with most having folding designs, plus the overall weight of these scooters is getting lighter all the time, they can be stored away in a locker, cloakroom, or under a desk, until it's time for your kid to ride it home again.
To help you out when it comes to make a decision about which electric scooter you will buy for your kids, we have wrote up a short buyer's guide that you can find at the bottom of this article.
But first, we have tested, compared, and reviewed the most popular electric scooters for kids based on safety, ease of use, instructions for setup, build quality, and price that we found online and shared our thoughts about each one with you. Enjoy our read and if you want to know more then there's the Best Electric Scooters for Kids Buyer's Guide too.
Comparison table: 6 best electric scooters for kids [UK] compared and rated on price and quality

Product
What We Think
Price

Ripsar R100 Kids electric scooter fitted with air tyre with top speeds of up to 16 km/h...
3 position adjustable handlebar height
Heavy duty footplate with moulded grip for better performance
Quality chain driven motor
High specification excellent quality

New Power Core Technology and Design with increased ride time (2X longer than the E90)...
Speeds up to 16 km/h
Up to 80 minutes of continuous use
Kick start, high
Age: 8+, Max Rider Weight: 54 kg

Speeds up to 24 km/h
Up to 40 minutes of continuous use
Super ,sized deck and frame
High torque, chain driven motor
Age: 13+, Max Rider Weight: 100 kg

FOLDABLE E-SCOOTER: with collapsible handlebars folds to a compact size for transport and storage...
REACH FAST SPEEDS OF UP TO 8KM/H: with the powerful 70W belt driven motor (improved 2019 version)...
RECHARGEABLE HIGH CAPACITY 12 V BATTERY: lets you ride up 10 km in a single charge...
PUT ON A LIGHT SHOW: with the light up Led front wheel made from super-smooth PU material...
USE AS A PUSH SCOOTER: even if you run out of battery thanks to no motor resistance...

✅SMOOTH RIDE: Battery operated electric scooter made from heavy duty steel frame with PP parts for durability and stability....
✅POWERFUL & SPEEDY: Equipped with 2 rechargeable 12V batteries
✅EASY CONTROL: Easy and quick stop with front brake
✅OVERLOAD PROTECTOR: When the scooter detects a issue like overload or overcurrent(the scooter is working in continuous high current...
✅DIMENSION: Overall Dimension: 74Lx36Wx73-91H (cm)
1. Ripsar 24v Kids Electric Scooter
Specification: Speeds : 16 km/h, Handle height: 85/90/95 cm, Handlebar type: 3 position Adjustable, Wheel size: 6 Inches, Age: 8+ years, Max Rider Weight: 54 kg
If you want your kid to be the leader of the pack, then the Ripsar R100 kid's electric scooter is the model to buy them when compared to all other models because of the design and how cool it looks but you'll like it because of safety (brakes and balance). This electric scooter has been getting rave reviews from the majority of customers and comes in at a very competitive price point.
There are a few things that make the Ripsar R100 stand out from the crowd, not least the high quality 120W, chain driven electric motor that can propel this electric scooter up to top speeds of 13-16mph, depending on the weight of the rider and other factors such as wind. The speed can be controlled by using the twist throttle on the right handlebar just like a motorcycle.
Chain driven motors can sometimes be quite noisy but I'm happy to report that the R100 runs very quietly, and a benefit of having a chain drive compared to a belt drive is, with a little maintenance, they generally last longer.
With a 24V battery, this electric scooter for kids can run continuously for a couple of hours or more on a full charge. The Initial charge is around 14 hours, but then after that charging times reduce substantially to around half of that. In the unlikely event that the battery runs out, it is possible to use this as a manual push scooter.
Another advantage the Ripsar R100 has over many of its competitors in the kid's electric scooter category, is that the front tyre is pneumatic instead of solid rubber or plastic. This not only gives better traction, it makes for a much smoother and more comfortable ride. On the other hand, you might have to fix the odd puncture from time to time, but I think it's worth the tradeoff. You can go around corners practically flat out on this thing and it just sticks to the ground.
To address complaints about earlier versions of this model, Ripsar have now made the handlebars height adjustable through three positions- Position 1 = 85cm, 2 = 90cm, 3 = 95cm. The handlebars of course fold down neatly for easy transportation and storage too.
The only thing I think the R100 electric kids scooter could do better is to make the foot deck a little wider. It's not small by any means, and can take loads of 54kg, but I just think a nice wide deck would have really put this model at the top of the pile.
Still, as it stands this is an excellent electric scooter for kids over eight years old. It has a great motor, very long battery life, and a robust metal frame, all for a good price. What more could you want?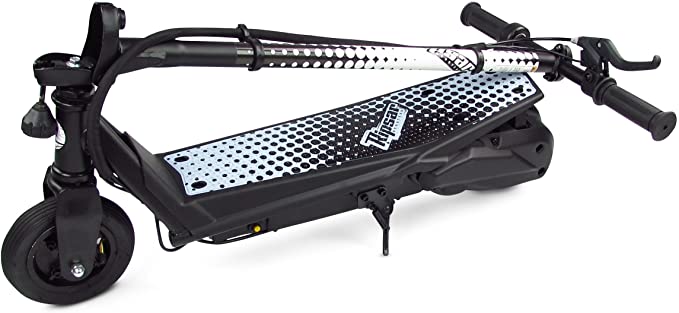 2. Razor E90 Electric Scooter Power Core
Specification: Speeds : 16 km/h, Handle height: 61 cm, Handlebar type: Fixed, Wheel size: 15 cm, Age: 8+ years Max Rider Weight: 54 kg
One of the best-selling kid's electric scooters is the razor Power Core E90, a scooter that has the cool looks and long battery life to put a big smile on your any child's face.
The E90 runs off a 12V rechargeable battery that powers a hub motor will a fair bit of torque. Initial charging takes around 12 hours, and that should give you at least an hour of running time, probably a little more. Both the battery and recharger are included in the price as standard.
As a safety feature, Razor have included a 'kick to start' feature which doesn't allow the motor to start from a dead stop. Instead, you must push off with your feet like a manual scooter until you hit 3mph then the electric motor can be started by pressing a button.
Although it would be nice to be able to just get on this electric scooter and go, I understand why razor have done it this way. The Power Core E90 only has one speed, and so it will accelerate up to the 10mph maximum as soon as the motor starts, so obviously this could startle some people if they weren't already moving.
Although there is no twist throttle, and the press button throttle only has one speed setting, it can be controlled by using the lever on the handlebars to activate the front brake caliper to slow the scooter down when needed, or simple release the throttle button to stop the power. While not exactly ideal, it does work well and doesn't take your kids long to get the hang of it.
The Razor power core E90 delivers a nice, smooth ride thanks to a TPU back tire that grips the road well and makes you feel planted and balanced. The front wheel is thinner, made from urethane, and has been designed to absorb any impacts. I have to say it did a good job of this even though the person testing this electric scooter was a little over the 54 kilogram weight limit. The ride quality is also improved by the fact that the deck is wider than the norm so both of your feet can be placed comfortable on it without feeling cramped.
A good thing about this particular model, is that it is low maintenance. There is no chain so you don't have to keep lubricating it or adjusting the tension, and really, the only thing you need to keep an eye on is the spring in the retractable kickstand, and a squirt of WD40 every now and again will suffice.
Razor say this electric scooter is for kids over the age of eight, and I would agree with them. The motor actually produces decent torque and it kicks in as soon as the motor starts, so I wouldn't recommend this for anyone younger, or you might end up pulling your child out of the neighbours hedge.
For older kids, this is a lot of fun. It looks great, has good acceleration, and a long battery life. And once they get the hang of the kick to start, they'll be whizzing off in seconds.
3. electriQ Active Kids Electric Scooter
Specification: Speeds : 6 km/h, Handle height: 86 cm, Handlebar type: Fixed, Wheel size: 5 Inches, Age: 5+ years, Max Rider Weight: 50 kg
I'm going to state the obvious. You pay less, you get less. You get less speed, less design intricacy. But what you don't get crucially, is less safety or enjoyment. Most kids will be happy to go along at 6km, about 4mph a reasonable jog pace. Not only is the slower speed safer, the scooter is almost ideal for a 5 year old and up to around 11.
What is more, you'll get a whole hour of riding from an hour charge. This is pretty good going. I saw someone online commented their battery only lasts 15 mins. They are dong something wrong or the scooter is faulty. I would be sending that straight back knowing what I know and it has a one year warranty. The charger is 1.5 amp
You'll like the stand area. The foot plate as it's know is rough in feel and very good at stopping the odd slip. You'll like the fact the tyre is a hard rubber. No worries about the thing going flat or having to change inner tubes. You brake from the rear which is the best way to stop to avoid accidents.
It's pretty easy to put together too. When you open up you'll have to fight your way through the usual foam but that's not a bad thing, it's definitely well packaged and reduces any chance of damage in shipping. Important if this is an Xmas present! Also on that note, if you need to transport for whatever reason, the vertical section folds down nicely and ends up about 90cm long folded so you need that much boot length to get it in: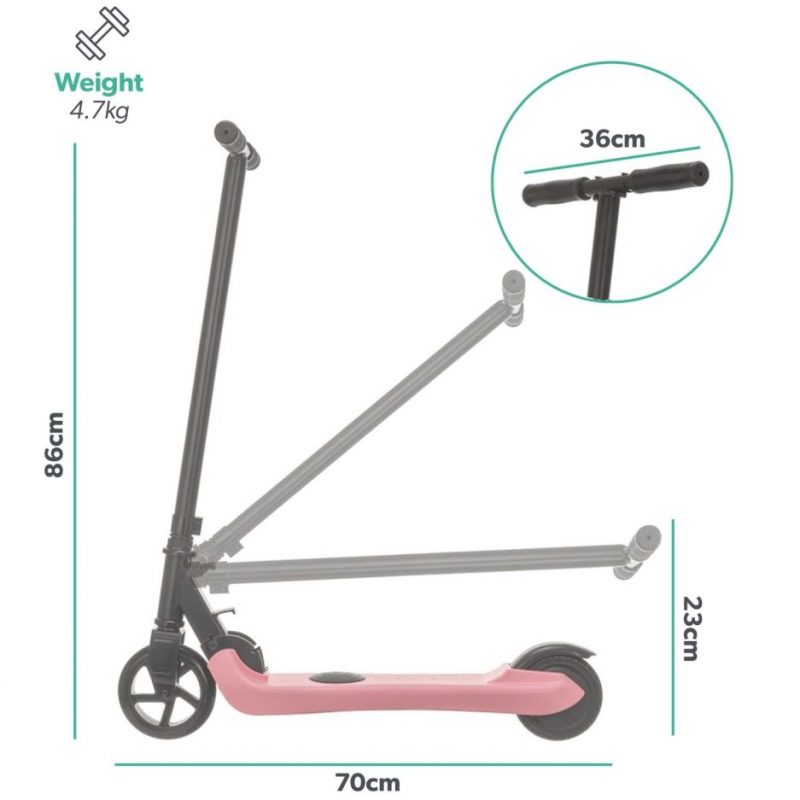 Overall it's a great unit for the money. If you're on a budget then you're not going to be disappointed!
pros:
very well priced on a budget
good safety on the braking
nice anti slip stand area
Design for 5 year olds and up.
cons:
Ripsar better
Not the fastest
Not the best build quality
Specification: Speeds : 8 km/h, Handle height: 70 cm, Handlebar type: Adjustable, Wheel size: 5 Inches, Age: 6+ years ,Max Rider Weight: 50 kg
Our next review is off the Xootz kid's electric scooter, another low cost model that is very popular in the UK.
While I couldn't really recommend the Razor E90 for kids under eight years old, with this Xootz kids electric scooter I feel that I can, and I think it would be fine for ages six and up.
The reason for this is that even though they both have the same type of push button throttle, the power from the 70 watt belt driven motor on this kid's electric scooter doesn't kick in as fast and is therefore easier to control.
This scooter is no slouch though and will still hit a maximum speed of 8kph and on a fully charged battery will give you a range of around 10km, or to put it another way, over 1 hour of running time.
Once the battery runs out your kids have a choice. They can fold it up quickly and easily, thanks to the clever design and foldable handle bars, and carry it, or they can simply ride along like any push scooter as there is no motor resistance. I think this is a good design feature as it allows the fun to continue even after the battery dies.
There is no front brake on the Xootz kid's electric scooter. Instead the makers have decided to go with a back heel brake like what is found on a lot if modern push scooters. This back brake more than does the job satisfactorily, and I personally prefer this design over a front brake as when young kids grab the front brake in an emergency they tend to tense up, locking their arms up on the handlebars and this could stop them manoeuvring out of the way of an obstacle.
As an extra feature, designed to keep your kids entertained, the front wheel has LED lights that are activated when the scooter moves, and adding to the cool aesthetic of the product. The lights can be seen both during the day and at night.
The Xootz kid's electric scooter comes with a 12V rechargeable battery and charger included in the packaging, and will take about 12 hours for the initial charge, but more like 8 hours each time after that.
Despite only weighing around 5kg, this scooter can withstand loads of 50kg so it is a good buy for a 6-7 year old to ride and grow up with, as you will get a few years' worth of use out of it. It is fast enough to keep them happy while still allowing them to feel completely in control. A decent product for a decent price.
5. Razor E300S Electric Scooter
Specification: Speeds : 24 km/h, Handle height: 42 Inches, Handlebar type: Fixed, Wheel size: N/A, Age: 8+ years, Max Rider Weight: 54 kg
While the rest of our reviews are great choices for kids, we realise that many of you will be looking for something a bit larger, with more 'oomph', for children 10+ or a young teenager and this is where the Razor E300s comes in to our list of reviews. You could almost compare this kids electric scooter to a real petrol powered scooter for adults with the addition of the seat.
For a start, it is larger than any of our other reviewed electric scooters, and also more robust, being able to handle riders up to 100kg in weight. It also has an extra-large foot deck to accommodate even the biggest, clown footed teenager.
Long rides are all great fun but standing up for long periods of time can be a little tiring for the legs. With the Razor E300S, you don't have to worry about that as it comes with a detachable seat. The seat is well made and can easy handle a grown up's weight, and is nicely padded for comfort. The seat has to be attached by four screws though, and if it is fitted the scooter can't be folded away so you need to keep that in mind.
Of course, this kid's electric scooter works just fine without the seat too, and the powerful chain drive motor can have you flying along at speeds of around 15 mph. To keep debris out of the motor it is encased in plastic cover, but this is easily removed for maintenance purposes such as lubrication of the chain and adjusting tension.
The E300S has a twist throttle but there are no gears so it only has one speed setting. However it doesn't take much to get the hang of using the brake and coming off the throttle when you need to and you never feel out of control.
The battery life isn't quite as good as on some of the other electric scooters we reviewed here, but you will still get 40 minutes of continuous fun out of it before it needs charging again, and like the Ripsar R100 you can always use it like any other non-electric scooter if it runs out of power.
The E300S features excellent, wide, pneumatic tyres on both the front and back, giving it excellent traction and supplying you with an incredibly smooth ride. On some electric scooters you can really feel any little bumps in the road or pavement, but with this one it was noticeably more comfortable to ride.
As mentioned earlier, this scooter can be folded so long as the seat isn't attached, but it isn't the lightest thing in the world so you wouldn't want to be carrying it very far. It does make finding a spot for storage much simpler though.
The heaviness is really the only thing I can find fault with when it comes to the razor E300S. It is well built, has a nice wide deck, goes pretty fast, and has an optional comfy seat for the lazier among us. Not a bad buy at all.

Specification: Speeds : 12 km/h, Handle height: 91 cm, Handlebar type: Adjustable, Wheel size: 6 cm, Age: 7+ years ,Max Rider Weight: 50 kg
Our last review is of the Homcom kid's folding electric scooter available on Amazon at the moment for a good price. They represent excellent value for money over the entire range, this inludes their kids electric bikes too.
It features a very solid frame made of heavy duty steel and while there are some plastic components, they are made of polypropylene which is well known to be an extremely durable material in its own right and is often used for power tools and gardening equipment such as electric lawnmowers.
Even with a steel frame, the Homcom electric kid's scooter still manages to weigh under 10kg and easy to carry once folded. Folding is simple and only requires you to unclip a couple of catches.
This scooter features not just one 12V rechargeable battery, but two and this allows it to charge up in around 5-8 hours and then run for around 50 minutes to an hour, with a range of 8-10km.
A twist of the throttle will tell the 120W motor to do its job and before you know it you will be cruising along at speeds up to 12kph. Now while this isn't the fastest scooter you can find, it does make it a good choice for younger children as they will find it much easier to handle.
The handlebar height can be adjusted to suit the rider and sport nice non-slip handles for a better grip. The twist throttle is situated on the right hand side and the more than ample front brake is easily reachable with the left hand.
Both front and back wheels are made of PU and this makes them very durable and although not as good as absorbing shock as air filled tyres, they don't do a bad job of it and the ride is fairly smooth.
With overall dimensions of 74 long, 36cm wide, and 73-91cm high (depending on the adjustment of the handle bars), this electric scooter is best suited for children between the ages of 7 and ten and has a maximum load of 50kg.
While this isn't a bad product at all, in fact it is quite good, I just feel that at the current price it has to compete directly with models like the Ripsar R100 that just have better design features.
Best Electric Scooters for Kids Buyer's Guide
As promised, here is your guide to all things Electric scooter related when it comes to models designed for kids. We'll cover things like the different types of motors, wheels, etc. that you might come across and try our best to explain them in plain English so you can make a more informed decision when it comes to buying.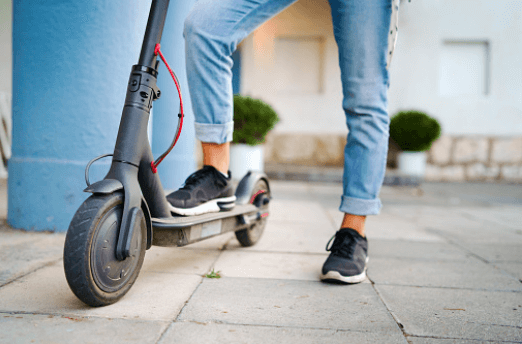 Comparing the different kinds of motors
Electric motors are not all the same. For a start there are different sizes, usually measured in watts, and this affects the performance of the scooter. A larger motor, with a higher number of watts, will be more powerful – it's really that simple and easy to compare, much like any electrical product for that matter. For example, a 120W motor will produce more power than a 70W one. However, bigger motors usually mean more weight too so it's kind of a tradeoff and it certainly means a bigger battery and more electricity.
Another thing to look for when choosing an electric scooter is the type of motor. There are belt drive, chain drive, and a hub motors. Generally speaking, a chain drive motor will last longer than a belt driven one but they do require some minor maintenance to keep them running efficiently. Hub motors are coupled directly to the wheels of the scooter and can produce a lot of torque, but can be more complicated to service and repair than the two other types.
Battery Life and charging time
Always check the type of battery and how much running time you will get out of a full charge. It is also good to know how long a full charge takes.
I would say around 5-10 hours of charging to get 1-2 hours of continuous use is about what you should aim for. When the scooter first arrives, the initial charge will be longer than that, but consequent charges should be in that range.
The type of battery is also important and if possible you should try to find a kid's electric scooter with a lithium ion battery as that is currently the best technology available.
Top speed and throttle type
You should pick an electric scooter that has a top speed appropriate for your child. The faster scooters that go 15+mph should only be for kids over 9 years old in my opinion, and the younger the child, the slower the scooter should be.
There are also different types of throttle. Some have a twist throttle like a motorcycle while others have a button that is pushed with the thumb. Personally, I prefer the twist throttle as it's what I'm used to, but I think that either of them are fine for kids.
Front or back brake
If you've read through our reviews you've seen that some models have front brakes while others have back brakes.
If you have younger kids, I would go with electric scooters that have back brakes because front brakes have a tendency to shift the weight of the rider forward quickly and this could cause little children to lose balance and fall. Older kids should be fine with either. Here's a look at an electric scooter for kids with a rear brake: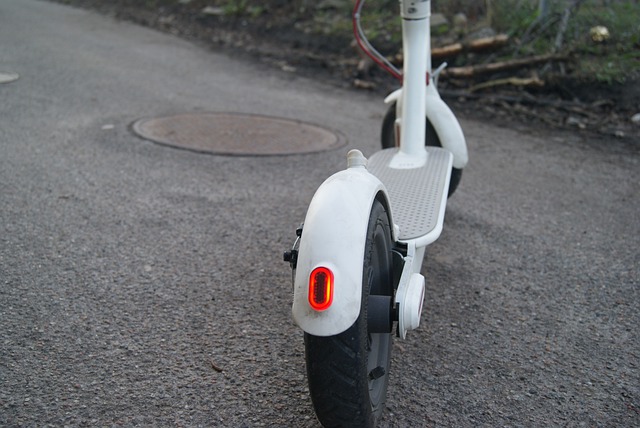 Most cheap models will have V-brakes, and they work just fine, but if you want the best stopping performance you should go for disc brakes even if they add a little extra weight to the scooter it won't really be noticeable.
Scooter Weight and Max load
The weight of the electric scooter you intend to buy is also important. There's no point buying a scooter that folds up nicely if it weighs half as much as the child riding it as they won't be able to carry it, and will probably have a hard time handling it while riding too.
The maximum load number is something you should definitely be aware of or you could end up breaking the scooter if your son or daughter is too big for it.
50kg max load is fine for ages 6-9, but I would go with a larger model with an 80-100kg max for any older children.
---