Written by Terry Smith
Our site is reader supported so when you click a link to Amazon we may earn an affiliate commission.
Best mitre saw stands [UK] reviewed on price and quality for 2020
This article was last updated on August 7th, 2021 at 4:41 am
Thinking about putting up a new fence? Or maybe a nice bit of decking to give your garden an extra bit of style?
If you are, then you're probably going to be using a mitre saw to cut all those lengths of wood down to size, and if you're using a mitre saw, you'll need a proper mitre saw stand.
Best mitre saw stand
The best mitre saw stands give you a stable station to work from which not only improves the accuracy of your cuts, but also drastically improves the level of safety when using a dangerous tool like a mitre saw.
Now, you might be thinking you'll save a few quid and just build your own table to work from, and there's nothing wrong with that, but have you thought of the advantages of buying a properly designed mitre saw stand instead?
For a start there is the portability factor. Where a good stand and a homemade table tend to differ is that the best mitre saw stands tend to be foldable and very lightweight, so you can carry them around to the job sire easily and conveniently.
Then there are other handy features like adjustable clamps, extendable parts, adjustable height and quick release brackets. These are things you don't often see on a standard homemade work table.
So, where can you find the best mitre saw stands in the UK?
Well, it just so happens that we have already done the leg work for you and tested the most popular stands found on Amazon UK. We have wrote up our findings in the form of product reviews that you can find below.
Also, don't forget to check out our mitre saw stand buyer's guide at the bottom of the page.
Comparison table: Best mitre saw stands [UK] reviewed on price and quality for 2020

Product
What We Think
Price

Compatible with virtually all makes of mitre saw such as Evolution
Quick release brackets for fast fitting and removal
Folding legs for easy storage/transportation and extendable support arms for long workpieces...
Capable of supporting 3 m long workpieces up to 150 kg
3 Years limited warranty (only valid if purchased in the UK)

High performance
Easy to use
Outstanding flexibility for Mitre Saw Cutting ; Integral folding legs avoids unnecessary assembly...
Lightweight aluminium construction provides portability in and around the jobsite only 14kgs...
1.12 metre beam extends to support up to 2.6 metres for use with large workpieces...

Fits all Bosch mitre saws
Tool-free removal of the tool to ensure easy transportation
Robust steel construction for high level of work safety and long lifetime...
Easy to assemble and dismantle with only one lever movement
Bosch GTA2600 Mitre Saw Leg Stand Universal Fit for Use with Multiple Saws...

Folding Legs with no tools required
Quick release mounting clamps
Universal stand which fits 99% of Mitre Saws
Width of rollers: 1000 to 1650mm
For any further information please contact our UK customer helpline on 0191 2966966
When you consider price, quality, and features, the Evolution Power Tools mitre saw stand is one best buys out there.
It is a universal stand, allowing you to use different brands of mitre saws with it, including Makita, Bosch, and other well-known names, and not just Evolution Power Tools own saws. In fact any mitre saw that has bolt holes in the base can be fitted onto this stand.
Attaching or removing a saw is incredibly easy and also very quick, thanks to the excellent design of the quick release locking handles on the brackets that only require you to pull them down into place.
To help with cutting multiple pieces at the same length, you can set up the end stops to speed things up, and if the standard length of the stand isn't enough for you, you can simply pull out the telescopic extensions on either side. This will allow you to work with pieces of wood up to 3 metres in length.
For a portable mitre saw bench with folding legs, and the fact that it only weighs 15.5 kilograms, it is super stable and everything feels solid, just as it should be. Evolution power tools have said that this mitre saw stand can take loads of up to 150 kilograms. I didn't test anywhere near that, but it wouldn't surprise me if that was the case as this is an excellent bit of kit for the average DIY enthusiast.
When I say 'average' I mean in height as this stand is not height adjustable and the 75cm might seem a little too short for taller people who will probably find themselves stooping down too much to use it.
What are height adjustable are the rollers, and this again can really lend a hand when you want to cut multiple pieces in a short time, and lends itself to more accurate cutting.
The best thing about the Evolution Power Tools mitre saw stand is the price. When you compare this product with others of around the same price, they just can't match it for quality, sturdiness, and the practical features.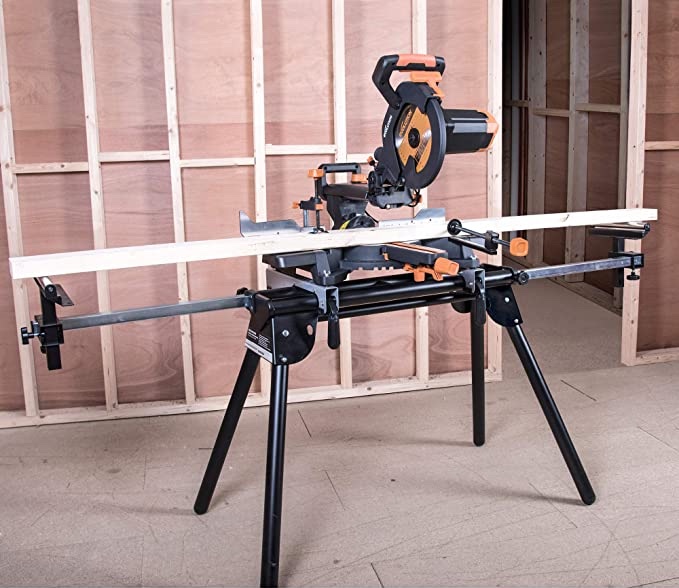 2. Bosch Professional GTA2600 Mitre Saw Leg Stand
The Bosch professional GTA2600 is a smart choice for DIY folks who will be working on a range of different terrains or on some uneven ground.
The reason I say this is because of a simple, but clever design feature of this mitre saw stand. I'm talking about the way that the rubber end caps on each individual leg can have its height adjusted through a 30mm range at the turn of a hand, and with the help of a spirit level, it is possible to get a nice flat working surface even on less than perfect floors or bumpy lawns.
With easy folding legs operated at the click of a button, the GTA 2600 mitre saw stand is fully portable and easy to store in the shed, garage, or van, and while at 19kg it isn't as light as some of the other stands we have featured, it is only a few kilograms heavier and not really enough to be all that noticeable.
In fact, the extra weight seems to add to the overall stability to the stand when it is fully stood up and it will take heavy loads without any issues.
Attaching and removing a mitre saw, no matter the brand, is a quick and easy affair. You just have to secure it down using the quick release clamps once the saw is fixed to the brackets.
If you want to work with longer pieces, no problem, the extending supports are easy to slide out and strong enough to handle whatever you want them to. The end stops are solid and, along with the rest of this mitre saw stand, up to the high quality and robustness that we expect from a product bearing the Bosch brand name.
This mitre saw stand comes with a two year Bosch warranty that can be extended up to three years if you take the time to register it, so you can be sure you will get your money's worth out of this durable product.
3. DeWalt Heavy Duty Short Beam Mitre Saw Leg Stand
It doesn't matter if you are talking about cars, furniture, food, or gardening equipment and tools, we all expect to pay a little more for the best brands. In the world of power tools, Dewalt are definitely one of those brands.
With a long and impressive track record that stretches back decades, Dewalt have built a reputation as a trusted name in the power tool industry by delivering products to us that are both innovative and extremely well built.
This mitre saw stand somehow manages to be super strong while remaining light enough to carry in one hand. This is due to the makers choosing to use high quality aluminium for the construction instead of steel which brings the benefits of keeping the weight of the stand down to a minimum, and also prevents the metal from rusting.
Now, don't think that aluminium mitre saw benches are lacking instrength and stability when compared to their steel cousins, as that is certainly not the case with this Dewalt stand. In fact, this bench has the highest maximum load of all of our featured products and can withstand up to 227 kilograms! That's incredibly impressive for a foldable bench that only weighs 14 kilograms.
Although originally designed to work with Dewalt's own mitre saw range, but it is compatible with other brands of saw if you purchase the Dewalt clip on brackets that are sold separately. If you are the owner of a Dewalt saw, there are two mounting brackets included in the box.
The main beam of the Dewalt mitre saw leg stand measures 1.12 metres as standard, but with the telescopic arms extended, it stretches to a maximum length of 2.6 metres allowing you to work with larger pieces of wood.
The extendable arms are as solid as the rest of the stand, as you would expect from Dewalt, and the whole product screams reliability and longevity. Yes, you have to pay a premium for it, but I think it's worth every penny.
If you're serious about your DIY and want to tackle some bigger projects, then this Dewalt mitre saw stand is the one to go for.
4. Arrow Universal Mitre Saw Stand
Moving on from a premium priced product in the Dewalt model to this bargain of mitre saw stand from Arrow, available for just over a third of the price.
But don't let that low price fool you into thinking this isn't a quality product. It still has all the best features you would expect from the best mitre saw stands out there.
For a start there is the fact that this is a universal stand and the sliding clamps, bolts, and quick release clamps make it easy to attach mitre saws from just about any brand you can you think of.
And it's not just mitre saws that you can use on this stand. It can also be used with wide range of other bench based tools, so it makes a good pick for an avid DIY fan who has a good selection of tools from different brands.
Cutting woods of various lengths at high speeds is achievable with the right setting up of the sliding clamps and extendable roller supports which allow you to increase the working length to two metres.
It has a comfortable working height at 85cm, but unfortunately there's no option to adjust the height for the taller of us. The height of the runners can be adjusted though, from 800-900mm.
Arrow have ensured better stability than a lot of other low priced mitre saw stands by making the legs thicker than usual, and their 38mm diameter certainly seems to do the trick. We used this stand with some fairly large pieces and heavy loads and it handled it all with zero problems arising.
The legs are of course foldable, there are no tools needed to do so, and once the saw is removed, the whole stand only weighs around 15 kilograms and so it is pretty easy to carry around.
There is very little assembly needed with the Arrow mitre saw bench. It comes pretty much ready to use and only requires you to fit the adjustable rollers in place which only takes minutes.
So, if you're looking for a low cost, versatile mitre saw stand for your home DIY projects, you certainly could do a lot worse than the Arrow Universal model. As an added bonus you get a one year warranty to boot.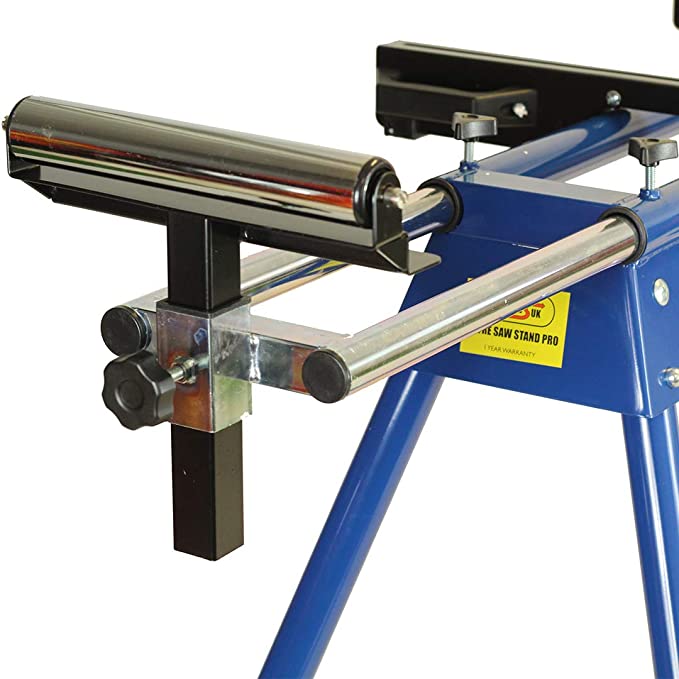 5. Berlan BKSG100 Cross-Saw Frame
If the Arrow universal mitre saw stand was a low cost bargain, then this one from Berlan is an absolute steal at just over 35 quid.
Still, for that low of a price you do have to expect to make some concessions. One of the main ones is the maximum load allowed on this mitre saw stand. The makers Berlan claim 100 kilograms but from what I saw, I don't think it would take quite that much unless it was spread out across the whole length. If you're only doing some small DIY jobs at home though, this shouldn't make much difference.
This model does have work supports that are both extendable and height adjustable, so it is a pretty versatile and flexible piece of kit. The height can be adjusted from 805mm to 915mm, and the length can be extended from 935mm to 1045mm.
when a stand of any kind is priced this low it always brings up questions in my mind about the stability and robustness of the product, but I'm happy to report that I was quite impressed by this one. The metal frame and legs kept the stand stable while we worked on it and there weren't any major wobbles, bending or anything like that to be seen.
The legs have rubber stops on the ends to provide some extra grip, and this can be a god send if you are working on a smooth surface like a tiled floor. They are also fully foldable for transportation and storage purposes.
At 11 kilograms, the Berlan mitre saw stand is one of the lightest models we tested and it can be carried around so easily once the legs are folded. I thought this would affect the stability and sturdiness once it was stood up but I was wrong.
For a bargain price, you can't expect the kind of quality of the Dewalt or Bosch, and this stand certainly isn't perfect. As I already mentioned, it is not suitable for use with heavy loads, but if you use it for what it was intended for, i.e. light DIY projects at home, it is more than up to the task. Anything more than that though and I would want to spend a fair bit more for a stronger mitre saw stand.
What you need to know when buying the best mitre saw stand
Looking for some direction when it comes to picking out a mitre saw bench that is suited to your purposes?
Then read on below as we point out certain factors that you might find informative and useful when it comes time to make your decision.
Price of the mitre saw stand
The price scale when it comes to these products stretches from under thirty pounds at the low end, all the way up to hundreds of pounds for a top end model.
Our advice is if you are quite an accomplished carpenter or DIY enthusiast who likes to tackle big projects, it's better to shell out the extra and get a model like the Dewalt. These mitre saw stands are far more likely to stand up to the loads and general wear and tear of a lot of use than cheaper stands.
For most people, a stand that is priced between 50 to 80 pounds should be more than sufficient for what they need it for, and if you only intend to do some light jobs, you can even get a decent model for under 40 quid that will do the trick.
Universal mitre stands
A lot of mitre saw stands are being made to be universal these days. This allows them to be used with mitre saws from other brands which is of course a very handy trait.
Some models might not be compatible with other saws as standard but can be altered using additional brackets that are usually sold separately as in the case with the Dewalt heavy duty model we reviewed above.
There are also stands that will allow you to mount various other types of bench top tools on them such as the Arrow mitre stand.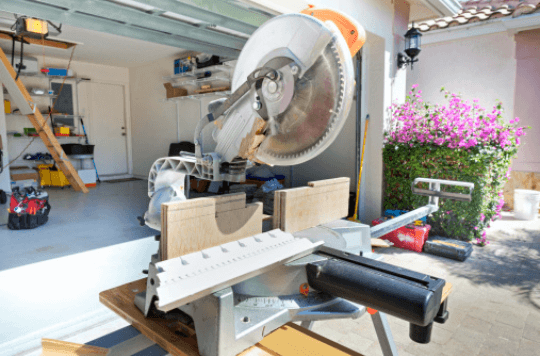 Storage and portability
All of the products we reviewed above were portable models that were relatively lightweight and had foldable legs for easy transportation and storage. Generally, anything under 20 kilograms is manageable.
Mitre saw stands with wheels are also available and these can be great for people who need something to take on job sites with them as they tend to be more heavy duty.
However, there are different types of mitre saw stands out there that aren't so portable or foldable, so have a good read of the product description to see if this is mentioned before you buy.
Maximum load
The maximum load of each individual mitre saws stand will vary quite significantly so it is definitely something you want to know before handing your cash over.
Generally speaking, the more expensive stands will have higher maximum load weights while the cheaper ones have lower maxes.
if you don't need a stand to hold too much weight due to the size of the jobs you have in mind, you could save yourself a lot of money by going for a less expensive model.
---