Garden Tool Box » Best lawn scarifiers and rakers for a perfect lawn this summer (November 2020 Updated Review)
Best lawn scarifiers and rakers for a perfect lawn this summer (November 2020 Updated Review)
This article was last updated on August 7th, 2021 at 6:59 am
Best Electric Scarifiers/Lawn Rakes Reviewed
If you have a lawn, and you want it to be healthy, then you really should be using a scarifier or lawn rake from time to time. 
Scarifiers, also known as de-thatchers, remove grass cuttings, moss and other garden debris, by cutting into the soil. This action also helps to keep the soil free of weeds and healthy by improving the circulation of air.
When scarifying is ignored, the debris known as 'thatch' can form and cause a variety of problems for your lawn, such as making it seem 'spongy' or not draining water properly. When it gets thick enough, it basically chokes your grass by restricting the things it needs to grow, namely water, sunlight and oxygen.
Thatch isn't the only thing you need to scarify, dead weeds and leaves can also sit down there in the soil and will cause similar issues if not removed.
Scarifying is essentially just deep raking and you can use a normal garden rake to do it but it will be rather labour and time intensive if you have even a small lawn let alone a medium to large one. 
Most people these days prefer to save time and energy by investing in an electric or petrol scarifier, or electric lawn rake which is a similar tool, instead.
Comparison table: Best lawn scarifiers and rakers for a perfect lawn this summer (November 2020 Updated Review)

Product
What We Think
Price

Fast verticutting without tool blockage
Fast and complete collection of moss and thatch
Comes with a 50 Litre collection box
Innovative drum with stainless steel blades and airflow inlets quickly and completely removes the layer of thatch consisting of...

Lawn scarifier rakes debris and moss from the lawn promoting healthier growth...
Aerator opens the ground allowing roots to penetrate deeper and grow stronger...
Single level height adjuster for simple adjustment from high to low
Folds to a compact size making it very easy to store in a garage or garden shed...
Weight: 11 Kg (package)

Easy, convenient and efficient
Made from durable plastic with a metal frame and distinctive grey
Two tools in one
Some simple assembly required – easy-to-follow instructions included
Manufacturer 2 Year Warranty Included

750 watt motor
34cm rake width
6 rake heights (-5mm to +8mm)
34 litre collection capacity
Ships in Certified Frustration-Free Packaging

3INONE function - Scarify
No battery or petrol is required as the scarifier is powered by a 1300 watt electrical motor...
In addition to regular mowing
2 year manufacturers warranty
Lightweight, electric scarifier with 38cm working width and 14 steel blades

Powerful 600 W motor
30 cm raking width suitable for medium garden
3 raking heights for year round maintenance
Large capacity front loading grass box for easy collection and disposal .Uses -sweeping...
Central height adjustment system for speed and ease of use
On this page we have picked out the best electric scarifiers/ lawn rakes for you and given them each a review. Let's get started…
For £109.99 you can buy this 2-in-1 scarifier and aerator from VonHaus.
Fitted with a dual purpose drum, this VonHaus product can be easily changed from aerator to scarifier by changing the rollers. 
The 1500W motor gives you plenty of power and removes great quantities of waste material from your lawn. Sometimes, extra power comes at a cost, such as extra weight, but this isn't the case here and this 2-in-1 tool is still relatively light, and weighs just 8.5kg.
You can choose from 4 different working depths for working at different times of the year, and also included is a simple, yet decent grass collection box.
This product comes with a 10 metre long power cord and should be long enough for most gardens.
2-in-1 aerator and scarifier
Powerful 1500 watt motor
Lightweight. Only 8.5 kilograms
4 different working depths
Grass collection box included
10 metre power cord
Height adjustable handle
2. Flymo Lawnrake Compact 3400
This product from Flymo is a lawn rake, not a scarifier or aerator. What's the difference? Well, lawn rakes tend to have thinner tines than scarifiers and don't turn over the soil.
This lawn rake has a 34cm rake width and 6 raking height settings to choose from, ranging from -5mm to +8mm.
It is powered by a 750W electric motor that does a good job of providing enough power to shift moss and thatch.
The waste is automatically compressed to save space, so the 34 litre capacity collection box can hold a fair amount. There is a handy window so that you can see how full the collection box is getting without the need to remove it.
The Flymo lawnrake has been designed to be compact and the foldable handles help make it easy to store away. It measures 66 x 46.6 x 39 cm and weighs 12.3 kilograms. 
The 12 metre cable length is longer than average and the extra few metres comes in handy.
750 watt motor
34cm rake width
6 rake height settings
Good waste system compresses moss and thatch
34 litre collection box with viewing window
Compact and has foldable handles
12 metre cable length
3. BLACK+DECKER 600W 30cm Lawn Raker
Black and Decker have been a trusted name for decades. As a child I thought that they were the only tool makers in the world, as everything we owned was Black and Decker.
This lawn rake is another fine product worthy of the name.
First of all, it has an extremely compact and light weight design with dimensions of 24 x 50 x 50 cm, and tipping the scales at only 7kg. 
Despite this, the raker feels robust and has a decent amount of power thanks to the 600W motor.
There are 3 rows of metal tine doing the raking at a width of 30cm and there are 3 raking heights to choose from, the lowest of which is the best for picking up moss and thatch. The higher settings would be good for raking dead leaves in autumn though.
The 30 litre collection box sits at the front of the lawn rake which makes it easy to monitor how full it is getting and also quick to remove and empty. The power cable is 10 metres long.
Compact and lightweight
Feels robust despite the lightness
600w electric motor
3 rows of metal tines
30cm raking width
3 height settings
Front loading 30 litre collection box
10 metre cable
4. AL-KO Combi-Care 38 E Electric Scarifier
Coming from makers AL-KO, the Combi-care 38E can be used for scarifying, raking and collecting garden debris.
Changing from raking to scarifying and vice versa is a synch thanks to the cassettes that can be swapped using just your hands, no need for tools.
The scarifier roller has 3 stage steel blades and does a good job of removing thatch and turning over soil thanks to the 1300W motor. The steel spring times on the lawn raker roller also work efficiently.
There are 5 working depths to select from, and you can also adjust the height of the handlebars for your comfort.
Having four wheels means that you get better traction and it makes the tool easier to handle.
The huge 55 litre collection box cuts down on the amount of times you have to stop and empty it.
1300W motor
38cm working width
Scarifying or raking functions
Tool free roller changes
55 litre collection box
12 metre power cord
5 working depths
Adjustable handlebars
5. Bosch AVR 1100 Verti Cutter Lawn Raker
Our next review is of a lawn rake from another reputable brand- 'Bosch'.
The Bosch AVR verti-cutter has a combination of BOR steel blades, a 1100 watt power drive motor and their innovative 'jet collect' system. These 3, working in unison, allow the verti-cutter to shift thatch and moss rapidly, efficiently and without leaving any behind.
With a working width if 32cm, 4 working heights from -10mm to +5mm, and a 50 litre collection box, not to mention the fact it can all be folded up to only 40cm for storage, it is easy to justify the already reasonable price tag.
1100W power drive motor
14 BOR steel blades
Working width of 32 cm
4 height settings
Jet collect air flow system
50 litre collection box
Folds away for easy storage
Weighs under 10kg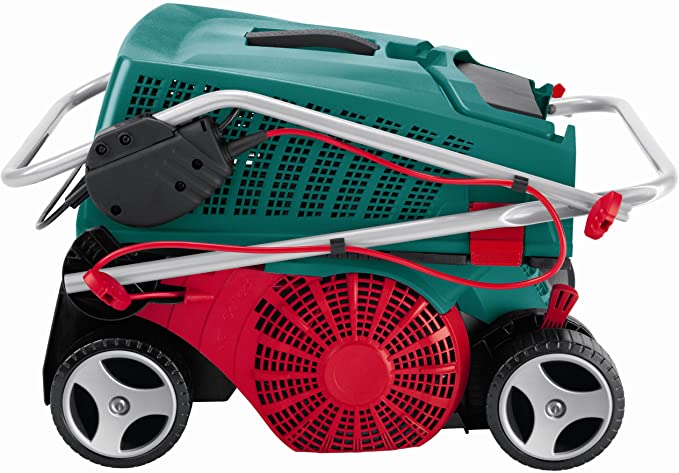 6. NETTA 2 in 1 Lawn Scarifier and Aerator
With a low price of £74.99, this 2-in-1 lawn scarifier and aerator is worth considering.
It has a decent amount of power thanks to its 1400W electric motor and removes garden debris such as moss and thatch without any hassle.
Assembly is simple and quick and the overall build quality is good, comprising of a metal frame and strong plastic.
The two separate scarifying and aerating drums can be changed over swiftly and both do their designed tasks to a good standard.
This NETTA product comes with a 30 litre collection box and a 10 metre power cord.
Low price
Well built
Powerful 1400 watt motor
Scarifier and aerator functions with quick change drums
30 litre collection box
10 metre power cable
7. BMC 2 in 1 Lawn Scarifier Aerator
Another excellent low priced option is this model from BMC.
It has a 1500 watt motor providing a high level of power and together with the 16 blade aerator bar, will make light work of moss and thatch.
The four working height settings are -15mm, -11mm, -7mm, and +1mm, and can be adjusted by lever with only one hand. The BMC scarifier/aerator also has a large working width if 32cm.
Accidental starts are very unlikely with this model thanks to a two stage safety operation switch.
A 35 litre, easily detachable collection bag should keep you from having to stop and empty too often and the 10 metre cable is more than enough for most average gardens.
1500W motor provides plenty of power
16 blade aerator bar and 20 tine rake
Four working height settings -15mm, -11mm, -7mm, and +1mm
32cm wide working range
Two stage safety switch prevents accidental starts
35 litre collection box
10 metre power cable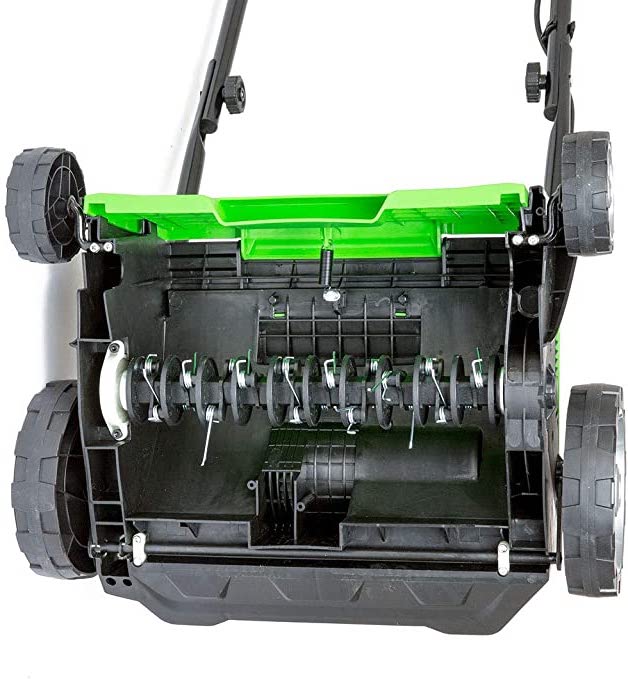 Those were our picks for the 7 best electric scarifiers/lawn rakes. If you are interested in any of the products shown and would like to go to another page with further information, photos and customer feedback, simply click on the links provided.
This site has lots of similar pages full of product reviews similar to this one so please feel free to browse them at your convenience.
---