Written by Terry Smith
Our site is reader supported so when you click a link to Amazon we may earn an affiliate commission.
UK's best pet friendly weed killer that is safe to use for Summer 2021
This article was last updated on September 18th, 2021 at 3:08 am
It doesn't matter what weed killer or chemicals we use. We could be trying to find a balance of the best patio cleaner or moss killer. Perhaps its weed killer for the block paving or driveway? What we rarely cover however is how to keep your pets safe or better yet, which weed killer is pet safe and friendly to use in the garden. So I decided to pop this review together to help those of us with pets.
Something else that seems never ending, is the eternal fight against the most common pest: weeds.
Dandelion, daisy, clover, cleavers, nightshade, bittercress, the list goes on and on. We have so many different types of weed to contend with in the UK that we always need a bottle or two of the best weed killer at hand but which ones that are safe for out pets.
Best pet friendly weed killers that are safe
Thing is, the really strong industrial style weed killers aren't the safest of chemicals to be spraying around if you have kids or pets, and that is why I thought it'd be a good idea to review the best pet friendly weed killers that are safe for the garden use.
These are either organic weed killer compounds that are safe immediately, or ones that dry quickly without leaving a harmful residue and allow your pets and children to play in the sprayed area soon after.
It should come as no surprise that most of the biggest names in the weed killer world are featured here, as each has their own pet friendly weed killers to offer. They've formulated their compounds to go inactive once they touch soil which exponentially makes them safer for your pets.
Our reviews are impartial, in-depth, and we will let you know exactly what we think of each product, good or bad. So, without further delay, let's get started on the best pet friendly weed killer reviews.
Comparison table: UK's best pet friendly weed killer that is safe to use for Summer 2021

Product
What We Think
Price

Roundup Naturals Glyphosate-Free Powerful Weed Killer - 3 Litre Power-Sprayer

100% natural active ingredient
Glyphosate free
Visible results in just 1 hour
Dead weeds within 24 hours
Rain fast in 3 hours

This Resolva ready to use formulation provides you with visible results after 24 hours...
Kills both the visible weed and its root system of annual and deep-rooted perennial garden weeds including grasses...
This formula is broken down naturally in soil leaving no residue
Suitable for targeted application with stream spray option ideal for bed and boarder application or wide angle spray for...
This pack will treat a 105 sq m area (equivalent to 10 car parking spaces)...

Use from March to September when weeds are small and actively growing...
Maximum of one treatment per year
Ideal for gravel paths
Spot treatment
4 x 3L

WeedKil Glyphosate Free Weed Killer 1 Litre - Child & Pet Friendly

✔️ GLYPHOSATE FREE FORMULA: If you've been looking for a weed killer that is organic...
✔️ READY TO USE
✔️ECO-FRIENDLY, NATURAL, ORGANIC WEED KILLER: Weedkil works in low temperatures and can be used all year round...
✔️ EFFECTIVE ALL YEAR ROUND: Our home & outdoors weed killer contains 60g/l aecetic acid...
✔️ HOW TO USE: Ideally spray in spring and repeat as necessary over the growing season | Apply on...

Scotts Miracle-Gro Roundup fast action weedkiller pump 'N go ready to use spray, 5 L

Fast action ready to use weed killer that kills the weeds and roots with visible results in 1-2 days...
Kills most garden weeds with a single application; up to 10 minutes of continuous spray when using 5 L...
Children and pets need not be excluded from treated areas (once dry)...
The Pump N Go pressure sprayer is easily refillable
Degraded in the soil by micro organisms
1. Scotts Miracle-Gro Roundup fast action weedkiller pump 'N go ready to use spray, 5 L
Specification: Active ingredient: Glyphosate , Results In: Within 24-48 hours , Replant In: In 7 days but recommended to wait 4-6 weeks.
If convenience and ease of use are high up on your list of important factors when it comes to the best pet friendly weed killers, the Pump n' go version of Roundup's fast action weed killer might be right up your alley. We reviewed Scotts Roundup in the best weed killer for block paving page too. A real bonus that it's pet friendly then! To be honest Roundup is a brand I trust, I recently reviewed their tree stump killer as well which is also a top quality product in the weed killing world.
This product comes complete with its own delivery system in the form of the free mini spray gun. All you need to do is attach it to the main container, extend the wand, give the pump on top of the bottle about 20 to 30 reps, and you're ready to spray all those annoying weeds non-stop for about 3 minutes. Once you run out of pressure, you simply pump and spray again.
Once you're done, you retract the wand, push the pump down and turn it anti-clockwise to release the pressure and lock it into place, then click the spray wand into its pace on the bottle and store it where you want to. It's so convenient, and I can see why this pet friendly weed killer is a best seller.
The spray wand has an adjustable nozzle which will change the spray pattern, and this is great for getting into those cracks without wasting weed killer when on the jet mode.
You should start too see results with Roundup fast action weed killer after a 2-3 days, but if it rains within 6 hours or so of you spraying, it might not work as well and you're probably best off respraying.
Once left to dry, it is completely safe for your pets to come and play in the sprayed area, and in won't damage your soil either. Roundup have designed this product to be degraded by micro-organisms in the soil and that will allow you to replant in the area in the future. I always take these claims with a inch of salt though, and I will wait for further testing before making my mind up on this matter.
You do, however, need to be careful it to spray it on your lawn or other plants that you wish to keep alive as it will damage them.
I personally think this is a great product, especially for busy people like me who just want something they can pickup and use, without the measuring and mixing you sometimes get with concentrates. It does what it claims, and you will start to see it working on those weeds within a few days. I'll also add this. Amazon have this as their best choice too based on the overall online consensus so it's not just me that thinks this is a top quality product.
The Roundup fast action pump 'n' spray has definitely earned its place in our list of best pest friendly weed killers and crucially can be used in confidence.
2. Resolva 24H Ready To Use Weed Killer, 3 Litre
Specification: Active ingredient: Glyphosate , Results In: Within 24-48 hours , Replant In: In 7 days but recommended to wait 4-6 weeks.
For weeds like dandelions, dock, and nettles, you need a pet friendly weed killer that will get right down to the deep roots, or you'll be having the same problem again in no time, and that's what this product from Resolva is designed to do.
Does it work? I would have to hold my hand up and say it definitely does. In fact, it seems to kill all weeds quite efficiently and that left me wondering if it was actually pet friendly, but we let our neighbour's dog run around our garden after it had all dried out without any effects on the wee lad.
This formula comes ready to use, so there's no need to dilute it before using, and like the Roundup pump 'n' spray, this bottle comes with its own spray gun that can be adjusted to change from wide spray to focused jet.
Where they differ though, is that you have to shake up the container with Resolva to create pressure for the spray gun rather than pump it. Personally, I preferred the pump feature on Roundup's product, and also like their telescopic spray wand better too. Funnily enough, the 5 litre version of Resolva has the same pump.
Now, I'm not saying the spray gun on this product isn't any good, it actually works quite well with a steady stream of the weed killer coming out at a comfortable rate. This spray gun is also more compact and makes holding and storing it easier.
Resolva 24 hour is called so because the makers claim that you'll see results in 24 hours. Well, I can't agree with that exactly, but it did start to have an effect after about 48 hours and within 4 days it was certainly noticeable. We tested this product about 3 weeks ago, and those weeds are still nowhere to be seen, so full marks there.
This pet friendly weed killer does contain glyphosate so watch where you spray it near your grass and flower beds or you'll case damage to them, but if it gets onto bare soil, it shouldn't adversely effect it in any way.
A 3litre container of Resolva 24 hour pet friendly weed killer will set you back about 20 pounds, and this should be enough to spray an area of 105 square metres, so unless you've got an enormous property, you should be fine with a single bottle. Smaller 1 litre bottles are also available as are 5 litre power pump versions.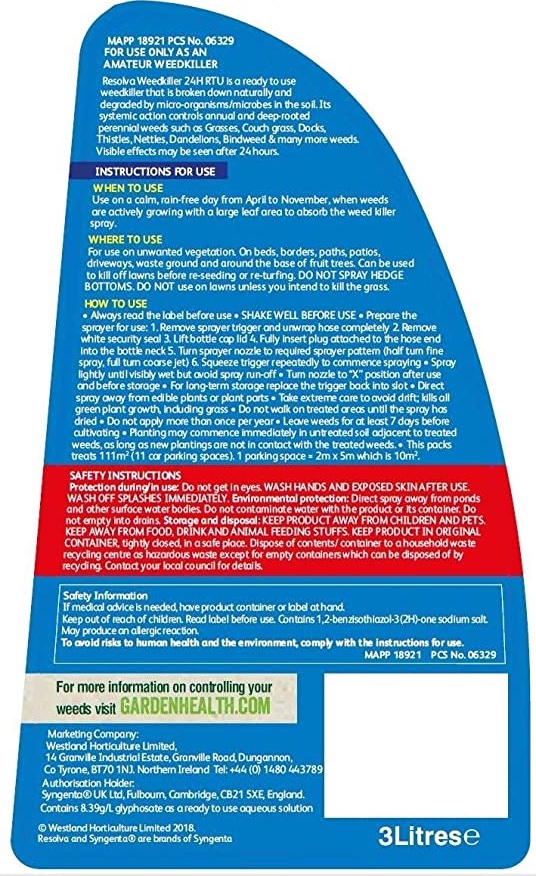 3. Weedol Pathclear Weedkiller Liquid Concentrate
Specification: Active ingredient: Glyphosate & Diflufenican , Results In: Within 48 hours or least 4 weeks depending on the weed
Weedol are a well-known name in the weed killing world, and they are offering great value for money with this 8 tubes for the price of six promotion for just 10 pounds.
Each tube contains a pre- measured amount of concentrate so there's no need to do any measuring. All you have to do is pop the top off and add it to a litre of water. The instructions state a couple of litres, but I always go a little stronger with concentrates to be on the safe side. After that grab your best sprayer or watering can and away you go.
The Weedol path clear formula is a good all-round pet friendly weed killer, exterminating not only the surface weeds but also their roots to prevent them growing back.
The company claim that it will prevent weed regrowth for 3 months, but we haven't had that long since we used it so I can't confirm that. I will say though, that after a month the paved drive way is still looking good.
This product works in much the same way as its nearest rivals, so the chemical is absorbed through the leaves of the weeds. This means that the optimal time to spray is during a dry patch in spring as rain will lessen the effects of the weed killer.
Also like most weed killers of this type, you won't see instant results and have to show a little patience. You should see the colour starting to change after 3-4 days, but it might take weeks before they are completely exterminated.
they will be gone though, and this weed killer might be pet friendly but still packs a punch and It even did a job on some light moss build up, which I was surprised about.
Weedol's Pathclear will be broken down in the soil and should allow for replanting n the area fairly soon after the weeds have gone, but it will harm your other plants so be careful with that sprayer.
this is a pet friendly weed killer, but only once completely dried out, so keep old Fido away from the area until you are completely sure.
For small to medium sized gardens, the 8 tubes will be sufficient, however for bigger properties you might want to order a second or third pack just in case.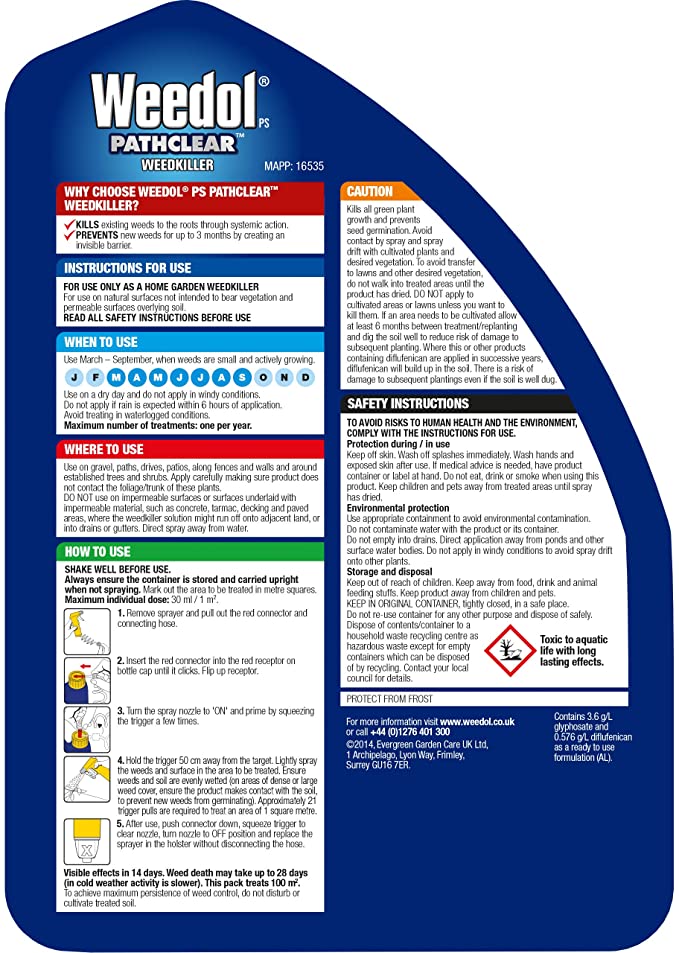 4. WeedKil Glyphosate Free Weed Killer 1 Litre - Child & Pet Friendly
Specification: Active ingredient: Organic (Glyphosate free) , Results In: Within 10-24 hours , Replant In: In 2-3 days
Weedkil's child and pet friendly formula is probably the most environmentally friendly of all the products we reviewed.
Unlike many, if not most of, the others it doesn't contain Glyphosate and instead uses completely natural ingredients in its formula, ensuring there is no danger to your pets or to any wildlife.
There is a trade of for the absence of glyphosate, and that is how powerful this stuff is. It also means that there's no need for you to wear gloves when using it.
Don't get me wrong, this is still very effective if used correctly but it is best for smaller weeds under 10cm tall. It does work quite well on moss though.
One thing I liked about Weedkil's product, other than the eco-friendly side of things, was that it dried out really quickly on moderately warm day. After we finished spraying, we returned to the first weeds that we had tackled about 20 minutes earlier and they were dry.
Something I wasn't so keen on was the odour of this weed killer. It wasn't horrendous, but you could never call it pleasant either, and it was quite strong.
This product arrives ready to use in its own spray bottle removing the need to mix and measure, however the bottle only contains 1 litre of pet friendly weed killer, so you'll probably need more than one to finish anything over 35 square metres.
The spray action on the bottle works well, and doesn't feel too flimsy like it can on some products, and the top of the bottle is quite ergonomic so it fits comfortably in the hand.
At 10 pounds or so a bottle, it's not the cheapest product out there, nor is it the most effective. However, for people who are very environmentally conscious it could be tempting.
5. Roundup Naturals Glyphosate-Free Powerful Weed Killer - 3 Litre Power-Sprayer
Specification: Active ingredient: 100% natural (Glyphosate free) , Results In: Within 3 hours , Replant In: In 3 days
If you're looking for a pet friendly weed killer that'll give you a fast turn around when it comes to being able to replant in the sprayed area, Roundup have got you covered with this cracking little product. Again, the name we can trust in the pet friendly weed killer category. In fact, of all the brands, when I compare them closely for trust, I feel Scotts edges it. You can't put a price on your pets health after all.
What sets this weed killer apart from other round-up formulas is that it is glyphosate free, just like the Weedkil product we just reviewed above. This makes it safe to use without wearing gloves, and also has all the other benefits we mentioned in the Weedkil review such as being quick drying, and non-toxic to wildlife.
This stuff works fast! With visible signs within a few hours and dead weeds after 48 hours. After which you are green to go with your replanting.
One of the biggest problems when using Glyphosate based weed killers, is that they are very susceptible to weather conditions and a bit of rain can seriously affect their effectiveness. In a place like the UK, where rain comes out of nowhere, and at a very frequent rate, that's not ideal.
That is not a problem with this pet friendly weed killer. It is completely waterproof after only 3 hours or so and a those all too frequent showers won't do it any harm.
The five litre version of this weed killer comes in a large container with a pump action handle on top and an attachable spray wand. Thirty pumps of the handle will get you somewhere around 10 minutes of continuous spraying, and the twist nozzle lets you choose between a concentrated blast or a wider and finer spray.
This is a general purpose weed killer that can handle a wide range of common, broad leaved garden weeds after a couple of applications. There are some hard to shift weeds that you might have problems with, but that is the same with any natural weed killer and is just something that you have to accept until someone brings out an all-natural wonder product.
Available in either a 1 litre, 3 litre, or 5 litre bottle, there is a size for everyone and with very reasonable prices, this is a pet friendly weed killer to keep under consideration.
What you should know about pet friendly weed killer
With some products being more pet and environmentally friendly than others, but then not quite having the weed killing performance of the more toxic products, it can be hard to decide on what makes the best pet friendly weed killers.
Here are one or two things to consider before parting ways with your money:
What has the weed killer got in it?
Just because a brand says their weed killer is pet safe doesn't mean it is organic, and it is often the case that they are not. A large number of weed killer products contain glyphosate and while this is thought to be harmless to pets once fully dried, there are still some questions about how much it affects the soil, and whether or not it is carcinogenic to humans, despite many companies' claims to the contrary.
If a weed killer is organic it will no doubt say so on the labelling and will probably have the words glyphosate free in there somewhere. These organic weed killers usually contain something like aecetic acid, which is a main component of white vinegar and is relatively harmless.
How long does it take to dry?
Pet safe weed killers are only really safe once they have dried out, so it's important to know how long that takes. Most top, glyphosate-based, pet friendly weed killers will take quite a few hours to dry out, whereas organic compounds can be dry within as little as 15 minutes.
How long before you can replant?
Once you've killed off those pesky weeds, you'll probably want to replant in that area, but you'll have to wait for the weed killer to be broken down by the soil first.
Different products breakdown at different rates and this affects the time to replant.
Again, organic weed killers are the best for this as they usually allow you to replant after just day or two.
Weed killer power
This is where organic weed killers come up short when compared to their glyphosate loaded siblings. Performance varies from product to product but when all has been said and done, I don't think there's an organic et friendly weed killer that can match a chemically based one.
So, if you have a big weed problem, you might be disappointed with the results from an organic compound. Having said that, they do seem to work well on moss.
Ready to use or concentrate?
if you're the type of person who just likes to 'pick up and play' you'll be better off buying a ready to use weed killer. Most larger bottles, like the 5 litre containers, come with their own spray wands or guns, making things even easier for you.
Some people prefer concentrates because they can control the strength of the weed killer themselves. However, this does require them to measure out and mix the liquid to exact ratios, and this takes more time and effort.
General purpose and specific weed killers
A lot of pet friendly weed killers are general purpose and will tackle pretty much any garden weeds. Then there are products that are designed to tackle specific weeds, like deep rooted ones, or certain weeds that are hard to shift. There are weed killers specifically designed for patios, others for muse on lawns, and many others.
Make sure you know what your weed problem is, and look up what they are on the internet, before you decide on a product for best results.
---