Written by Terry Smith
Our site is reader supported so when you click a link to Amazon we may earn an affiliate commission.
UK's best cordless chainsaws: Heavy duty Makita, Dewalt, Black and Decker, Ryobi, WORX, Cobra Tested
This article was last updated on March 6th, 2023 at 3:30 pm
Have you had enough of starting your petrol chainsaw, cutting out in between cuts; nothing puts me in a foul mood like getting a flooded 2 stroke chainsaw going and thank the lords at last cordless chainsaws, (the electrically powered kind that is) have stepped in to save me from insanity! 😀 And better yet, cordless chainsaws don't have that annoying tick over engine sound when you're between cuts!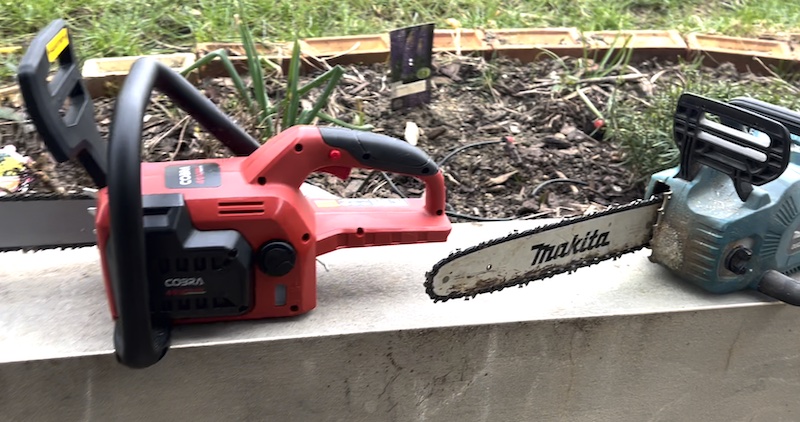 And what's even more impressive, the best chainsaws in the UK are not only easily capable of cutting through decent 12 inch diameter tree trunks, they are actually starting to come down in price as they are more widely adopted. I know it's hard to believe so here's a cut on a fresh tree below, right up to the dimensions the bar can handle 🙂 Look below at this video from my Makita DUC355Z Twin 18v 36v Cordless Chainsaw review:
Two years after writing this review and test I am still in love with the Makita by the way. The batteries are still in good nick which is huge. Though there was a surprising budget cordless chainsaw in my recent cordless chainsaw testing that whilst still not as good as the Makita, wasn't bad overall – here's how I tested the cordless chainsaw bringing down a huge tree directly testing the Makita against the Cobra cordless chainsaw.
They offer all the freedom of a petrol chainsaw whilst adopting the quieter benefits and power of electric chainsaws with a power cord these days. I will safely say we sell many many more cordless chainsaws now than electric corded and petrols versions and for very good reason, battery technology is coming on leaps and bounds.
Our picks for the best cordless chainsaws in the UK:
Best cordless chainsaw: Makita DUC355Z Twin 18v 36v Cordless Chainsaw 35cm Bar [Personally tested for two years and proven]
Runner up best cordless chainsaw: DEWALT DCM565N Cordless XR Brushless Chain Saw
Most powerful cordless chainsaw: Makita DUC405Z Twin 18v / 36v LXT Li-Ion Cordless Brushless Chainsaw 400mm [Personally tested for two years and proven]
Best value cordless chainsaw: WORX WG322E.9 18V (20V MAX) 25cm Cordless Compact Chainsaw or The Cobra cordless chainsaw [Personally tested and proven]
Largest cut on a cordless chainsaw: Makita DUC405Z Twin 18v / 36v LXT Li-Ion Cordless Brushless Chainsaw 400mm
Best alternative if you don't like the Dewalt: Ryobi OCS1830 18 V 30 cm Bar ONE+ Cordless Brushless Chain Saw
Alternative large cut cordless chainsaw: Greenworks Cordless Chainsaw GD40CS40 (Li-Ion 40 V 11 m/s Chain Speed 40 cm Sword Length
Great for DIY use: BLACK+DECKER 36 V Lithium-Ion Chainsaw, 30 cm
Best mini chainsaw: Bosch Home and Garden Cordless Chainsaw
Cordless tools are quieter, provide the power homeowners need for most mid weight jobs, and remove the need for dangerous power cables everywhere. I would predict in the next ten years cordless will have completely taken over as the prices will continue to drop on mass usage.
Cordless chainsaw safety first – boots, trousers, and a sharp chainsaw
With that said, before we really get moving into the review I would be grateful if we could take a look at the safety aspects of owning a cordless chainsaw. It's not an exaggeration to say that you can literally kill yourself, much worse someone else. So the first thing to mention is a look at some decent chainsaw boots. If you don't want to spend out on them I would highly recommend heavy footwear that would deflect one momentary lapse of concentration. Also, chainsaw trousers are incredible these days. you've got different ratings and whatnot but all is clear if you follow the link.
And one thing that's massively underrated is chainsaw sharpness. Using a chainsaw sharpener means your engine can cut more easily and you apply less force, resulting in less overbalancing / slipping. The alternative is to keep a spare blade in case you nick some wire or similar as I do with the Makita I absolutely love!
Testing the Makita cordless chainsaw directly agains the Cobra cordless chainsaw
So I am always taking heavy criticism for being a Makita fanboy. I have no affiliation with them whatsoever, they simply produce heavy duty quality cordless equipment at very affordable prices. Split testing the best cordless chainsaw in the UK with a budget model: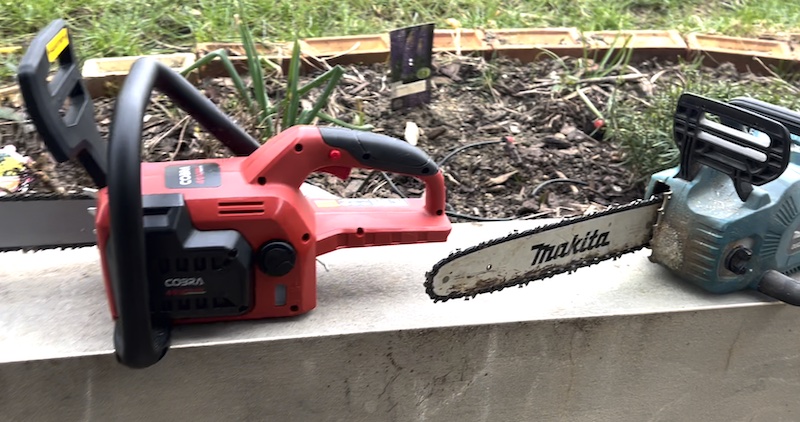 So before I get going I need to show you the difference in power between these two chainsaws. Cutting into a decent bit of treated and dry timber you can clearly see the power difference but a little bit later on in the video just how good the Cobra is for logging and how someone who has never used a chainsaw before got to grips with it easily:
So I've decided to go for a budget model up against it so you can see the difference – the CS35040VZ 40v Cordless Chainsaw. I brought down this serious tree using my trusty Makita and Cobra combined: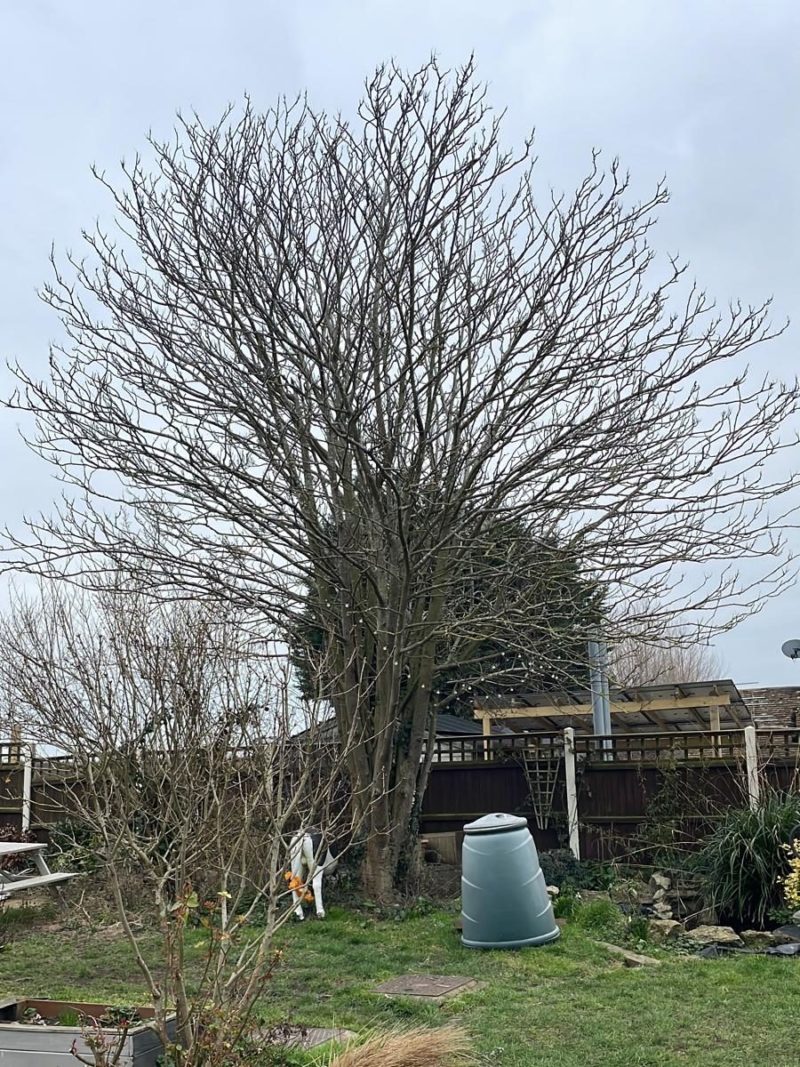 What I quickly discovered was that for the bigger, more serious cuts, the Makita was by far the better choice. For a start it kicked less into the tree trunk when piercing the surface. It is also far lighter and better balanced. But for simple logging the Cobra was brilliant and the battery really really lasted. I'm often skeptical about lesser brands and the battery quality but I can honestly say (although the Makita batteries are two years old now) that the Cobra battery genuinely lasted about 20 minutes of full run time. Very impressive.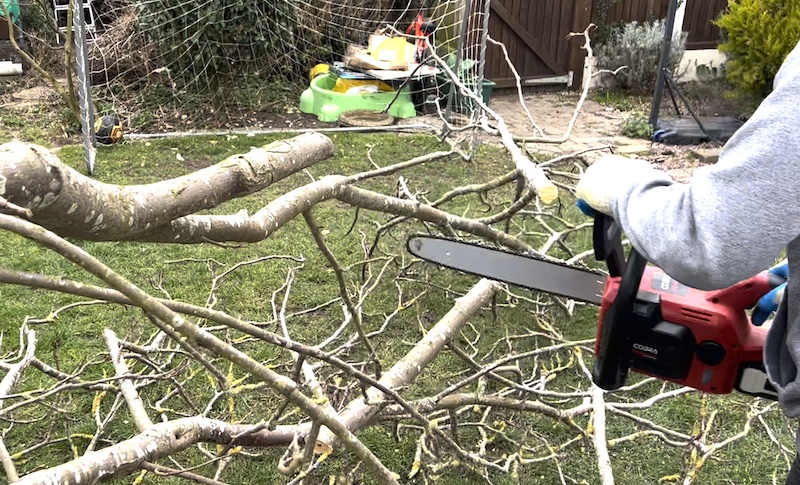 I decided to test the Cobra cordless chainsaw to the limit and cut the trunk lengthways. It struggled, but it did it and logging the entire tree was just two full charges of the battery (withstanding the Makita was used to fell the tree).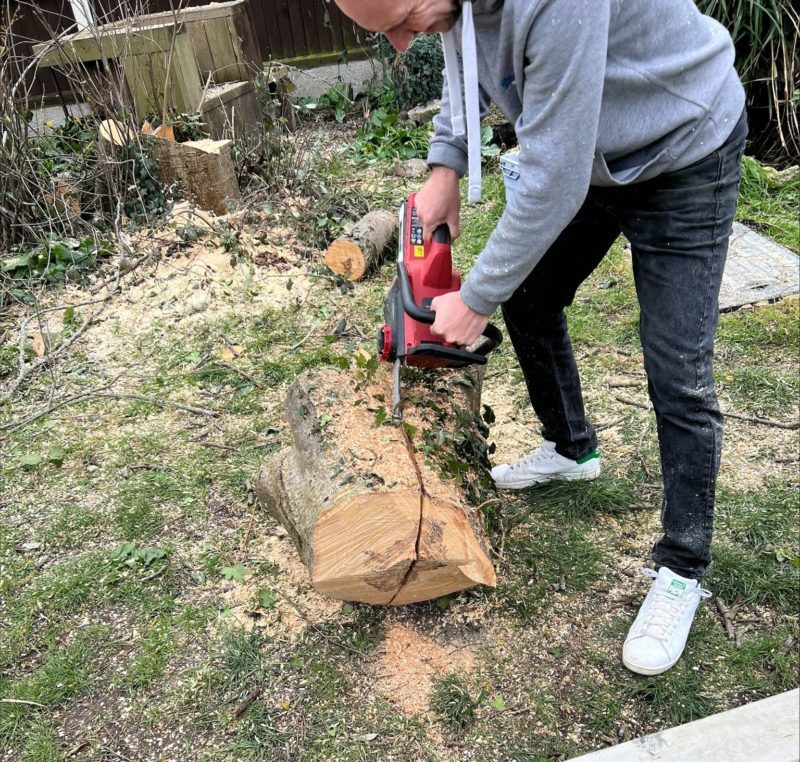 Where the Cobra wasn't so good, was the horizontal cuts. The weight of the machine (and the hefty battery) really did make the arms work hard, far harder than the lighter and more powerful Makita.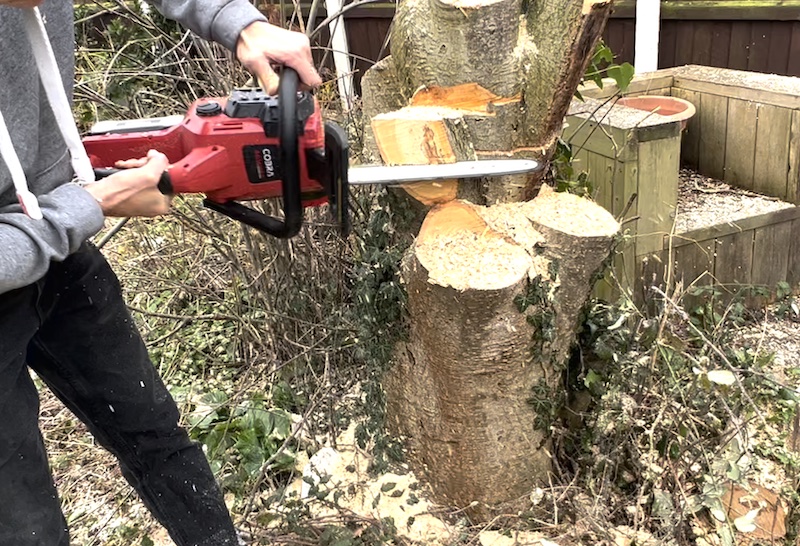 But with that said, for out and out logging this thing really performed so it's making it's way into my budget category.
Learn how to pick the best cordless chainsaw
Cordless chainsaws are a minefield and extremely dangerous in the wrong hands. You can get a bar length typically from 30-40cm and the voltage tends to range from 18V to 36V. The more powerful versions are 36V and generally carry the longer bar. The sweet spot seems to be around 35cm as they generally have the same power output at the 40cm with a smaller chain.
Don't forget safety equipment and user manuals, at a minimum make sure you have a good nose through the do's and do not's of the chainsaw you buy. You'l be surprised just how much time you save setting up as well. I remember my first cordless chainsaw arrives and I put the chain on the wrong way around. An easy mistake to make when it's your first chainsaw and don't know the ropes!
Remember cordless chainsaws come with batteries separately sold and that also includes chargers. Whilst some batteries are more expensive than others, it's always been my experience that the best battery value for money is found with Makita. I know plenty who like Ryobi too, but I don't think they match Makita who I would almost say fall into a commercial come home use slot. Many tradesman swear by Makita and have done so for years. I am one of them.
Best cordless chainsaws
I've rated all of the very best cordless chainsaws in this article on battery performance, price, cutting power, build quality, chain sharpness retention, and of course safety. It goes without saying quality chainsaw trousers as well as boots designed for chainsaw use go a long way to in helping improve safety, and so with all those factors in mind, the Makita DUC355Z Twin 18v 36v Cordless Chainsaw 35cm Bar is the best cordless chainsaw in the UK without question in my experienced and fully tested opinion.
---