UK's best cordless chainsaws are surprisingly powerful and affordable!
This article was last updated on August 7th, 2021 at 2:34 am
Have you had enough of starting your petrol chainsaw, cutting out in between cuts; nothing puts me in a foul mood like getting a flooded 2 stroke chainsaw going and thank the lords at last cordless chainsaws, (the electrically powered kind that is) have stepped in to save me from insanity! 😀
And what's even more amazing, the best chainsaws in the UK are not only easily capable of cutting through decent 12 inch diameter tree trunks, they are actually starting to come down in price as they are more widely adopted. They offer all the freedom of a petrol chainsaw whilst adopting the quieter benefits and power of electric chainsaws with a power cord these days. I will safely say we sell many many more cordless chainsaws now than electric corded and petrols versions and for very good reason, battery technology is coming on leaps and bounds.
Cordless tools are quieter, provide the power homeowners need for most mid weight jobs, and remove the need for dangerous power cables everywhere. I would predict in the next ten years cordless will have completely taken over as the prices will continue to drop on mass usage.
Comparison table: UK's best cordless chainsaws are surprisingly powerful and affordable!

Product
What We Think
Price

Makita DUC353Z cordless chainsaw

Variable speed control by trigger
Constant speed control
New adjustment lever for easier tool-less tension adjustment of saw chain
Electric chain brake
Kickback brake

Ryobi OCS1830 18 V 30 cm bar ONE+ cordless brushless chainsaw

High-performance 18V Brushless Motor Technology
30cm Oregon Bar and Chain with a chain speed of 10 m/s...
Automatic oiling system and tool-less chain tensioning
Mechanical chain brake for extra safety
Sold as a bare/zero tool; part of the ONE+ System of over 100 tools for the home and garden...

Makita DUC405Z Twin 18v / 36v LXT Li-Ion Cordless Brushless Chainsaw 400mm Bare

Captive bar nuts for solid bar retention
Variable speed trigger
18Vx2 Brushless motor provides chain Speed of 1
Adjustable chain oiling
Metal spike and kickback brake provide additional safety and control

Greenworks Cordless Chainsaw GD40CS40 (Li-Ion 40 V 11 m/s Chain Speed 40 cm Sword Length

Features an Electronic Chain brake for operator safety and low kickback chain with tool less tensioner for quick adjustment....
Automatic Chain Lubrication and a translucent tank to alert you when chain oil is low....
Run time on the G40B2 2ah Battery: 25mins (Battery not Included)...
Approved by the EPA and Energy Star Approved
Requires G40uc Charger and either G40B2 (2ah) or G40B4 (4ah) Battery (sold Separately)....

POWERFUL MOTORHigh performance, quiet and easy to maintain
LOW-KICKBACK CHAIN For smooth and fast cuts through dry wood and live logs...
Patented SDS TOOL-FREE BLADE TENSION Makes it easy to adjust chain for best cutting performance...
AUTO OILING SYSTEMKeeps chain and bar constantly LubricatedWith window to gauge oil level...
EFFICIENT CUT CAPACITYlarge in diameter logs
Learn how to pick the best cordless chainsaw
Cordless chainsaws are a minefield and extremely dangerous in the wrong hands. You can get a bar length typically from 30-40cm and the voltage tends to range from 18V to 36V. The more powerful versions are 36V and generally carry the longer bar. The sweet spot seems to be around 35cm as they generally have the same power output at the 40cm with a smaller chain.
Don't forget safety equipment and user manuals, at a minimum make sure you have a good nose through the do's and do not's of the chainsaw you buy. You'l be surprised just how much time you save setting up as well. I remember my first cordless chainsaw arrives and I put the chain on the wrong way around. An easy mistake to make when it's your first chainsaw and don't know the ropes!
Remember cordless chainsaws come with batteries separately sold and that also includes chargers. Whilst some batteries are more expensive than others, it's always been my experience that the best battery value for money is found with Makita. I know plenty who like Ryobi too, but I don't think they match Makita who I would almost say fall into a commercial come home use slot. Many tradesman swear by Makita and have done so for years. I am one of them.
Best cordless chainsaw
I've rated all of the very best cordless chainsaws in this article on battery performance, price, cutting power, build quality, chain sharpness retention, and of course safety. It goes without saying quality chainsaw trousers as well as boots designed for chainsaw use go a long way to in helping improve safety, and so with all those factors in mind, the Makita DUC355Z Twin 18v 36v Cordless Chainsaw 35cm Bar is the best cordless chainsaw in the UK without question in my experienced and fully tested opinion.
1. Makita DUC355Z Twin 18v 36v Cordless Chainsaw 35cm Bar
I cut a 28cm green tree trunk with this chainsaw with easily. You probably find that hard to believe on a 35cm bar? Well take a look at this video. It didn't lose power at any point, I didn't have to ease off, it was actually an enjoyable cut. Not something you would associate with a cordless chainsaw 🙂
Video of cutting the trunk with plenty of power
Now, here's a tape on that tree trunk, it can practically cut full bar and no this isn't a brand new chainsaw and chain making it's first ever perfect cut, I have been cutting down trees around the garden safely and we even used it to cut an opening for a shed window! It's been hammered for months! Here's the tape measure on that trunk and as you can see it's still green.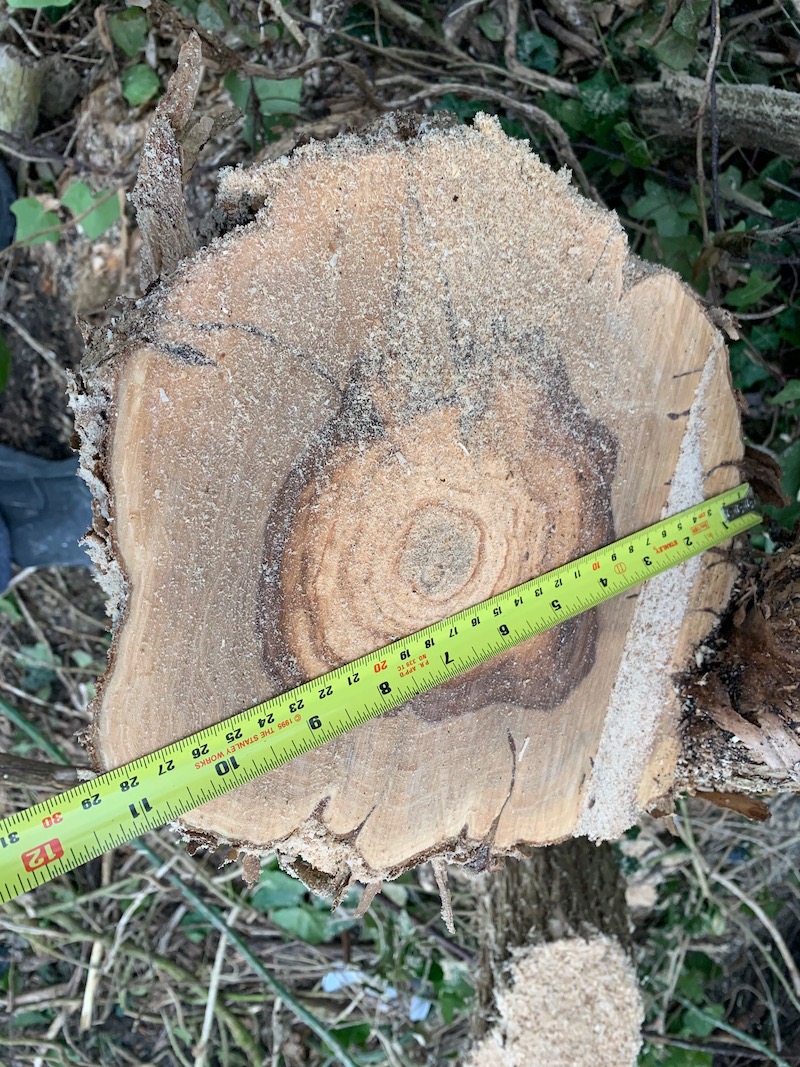 Needless to say poor little 8 inch logs don't stand a chance; this thing is absolutely superb at cutting, raw power isn't two words you would associate with a cordless chainsaw but Makita have made that possible. Their battery tech is miles ahead in my opinion for everyday use at home and I feel like I had a right bargain. Have a look at 8 inch logs being cut. Would I be mad for suggesting this was actually 'fun'? 😀
youtube video of 8 inch log cut effortlessly for my Google Amp readers.
Not only that, I liked the safety features too. The bar needs to be brought forward to engage the motor as well as turned on. It is very difficult to actually press the switch on by accident which goes without saying is a very good thing.
It's really quiet compared to petrol, I even like the sound :), comfortable to grip, and feels safer and sturdy under load. If you come off the power the blade stops fast which makes me think it has a braking mechanism. A nice and welcome touch for extra control. The oil filling position for the the chainsaw oil is very well placed for easy filling and it's self lubricating on the chain so just top up the oil and make sure you don't run dry.
The cap can get really stuck on and I don't know if that's because I've overtightened it or a minor blip in an otherwise faultless bit of kit. Talking of over tightening, getting the tension right on the blade is lovely, you simply do up the screw towards positive on the side and you'll visually watch extra tension on the chain. I will say if you cut branches and leaves you'll need to take the cover off and clear debris from the chain from time to time. Here's a picture of that: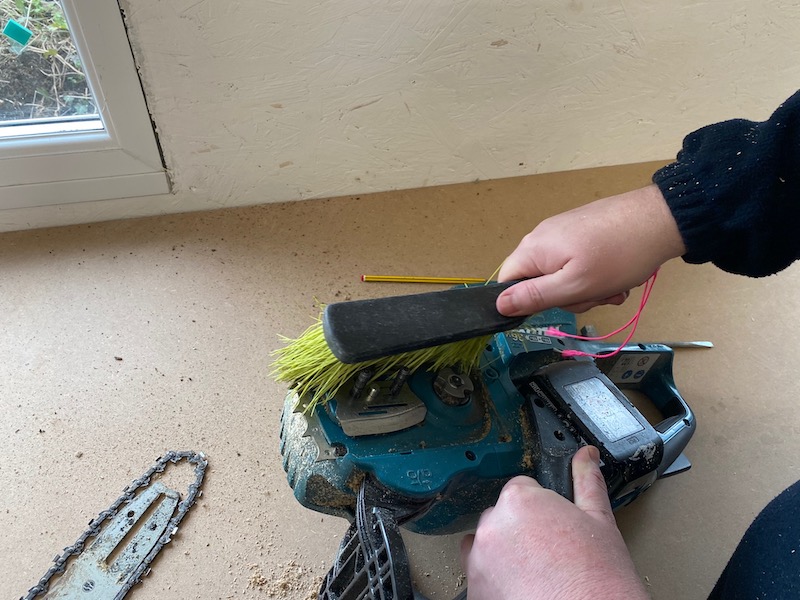 I remove the chain entirely it's that easy but you don't need to, removing the housing is enough but it will try to slip on you and fall off. I would personally recommend complete removal of the chain for an easy life even though it takes an extra couple of minutes to put back and re-tension.
The battery light indicator is a nice touch too. Pressing the batteries is awkward. So having the ready directly on the chainsaw makes for easy use. It's bright enough to see in the day too: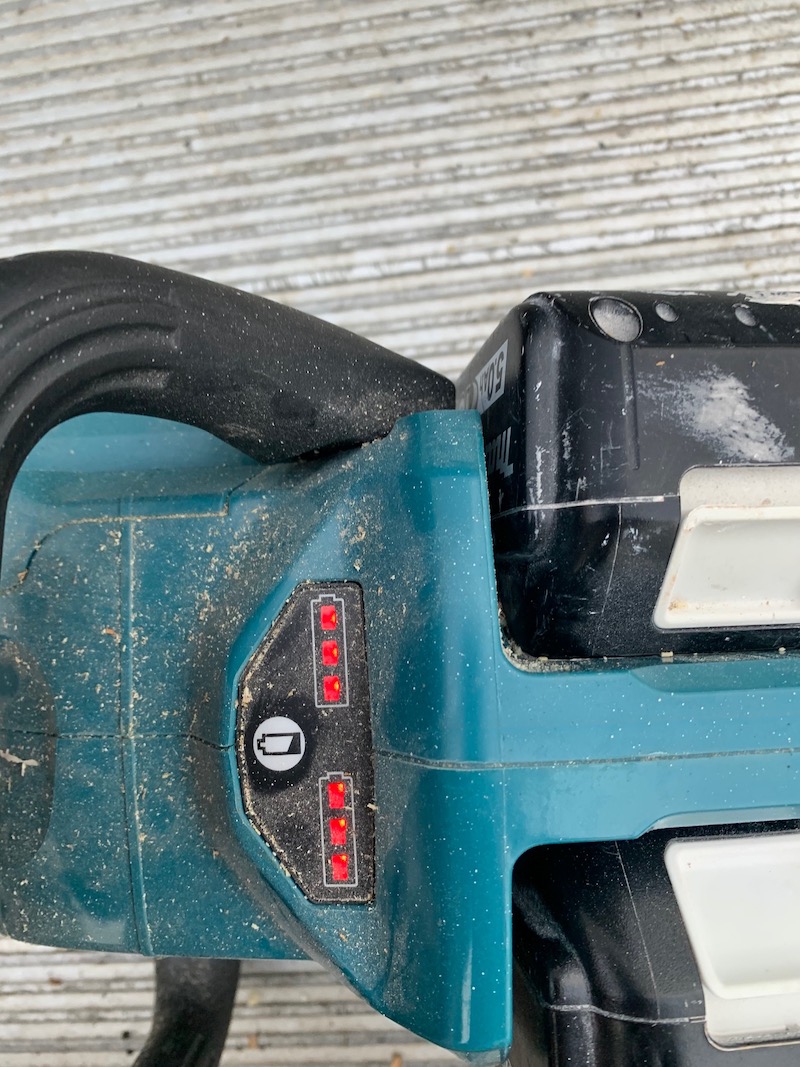 If I could try to talk this tool down it would be the need for two batteries. However, if you have the batteries already then what a fantastic piece of kit and I make this into excellent value for money by having the best cordless lawn mower too. 🙂 Without question the one thing I found annoying is making sure the chain goes on the right way round. I've put on many a chainsaw blade and I still managed to fall foul! I would in fairness say a lack of concentration on my behalf.
When you buy this on my recommendation and if by some miracle you are not happy with it, feel free to email in and call me some obscene names, however, more likely you'll be emailing to thank me for uncovering this bargain. A complete gem and the Makita DUC355Z easily is my pick for the best cordless chainsaw.

2. Ryobi OCS1830 18 V 30 cm Bar ONE+ Cordless Brushless Chain Saw
I won't try to dress this up, my heart has been completely stolen by the Makita DUC355Z but if you have Ryobi batteries already then this is a super bit of kit. It hasn't got the same cut size being a smaller 30cm bar and being powered by only one battery doesn't have the same volts or cut speed either but it'll cut logs in the garden shed with ease. If you're plans are simply cutting up logs for the wood burner then this is a super bit of kit. I reckon you can reasonably expect to cut 9 inch logs with this bar with not much fuss, making it ideal for 6-8 inch logs!
In some respects this has an advantage over the Makita too, the tensioning is a cog which can be turned without the need for tools. This is a nice touch I have to say. The switch and safety bar are also on point so this make it very difficult to fire up by accident! Further on the safety it is electrically braked so the blade stops quickly.
The rubberised handle is a nice touch for gripping, I like the feel in the hand and overall its a massive improvement in the ease of use when compared to the corded electrical versions. You'll be in the shed wondering why you put up with the power lead for so long!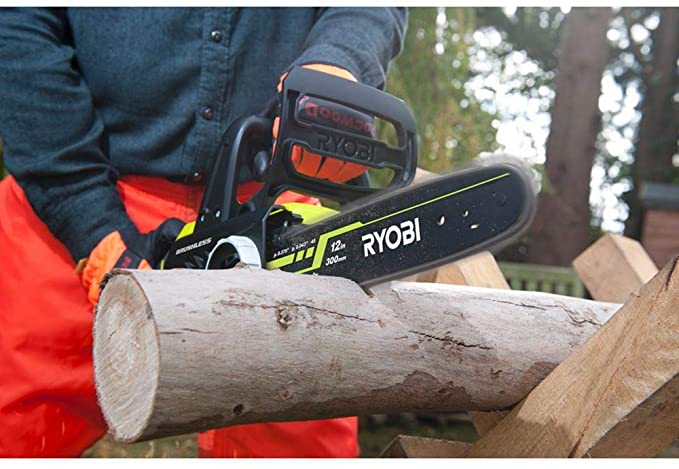 3. Greenworks Cordless Chainsaw GD40CS40 (Li-Ion 40 V 11 m/s Chain Speed 40 cm Sword Length
The Greenworks Cordless Chainsaw GD40CS40 has a nice all around performance. The batteries are pretty cheap, it's a big 16 inch bar with a 3/8 inch pit that will cut decent sized logs. There's no complaints on the cut power but I wouldn't put a 2 amp battery on this, it won't last ten minutes! So make sure if you're going to buy this model invest in a 4 amp battery to give a longer lasting cut and gives off similar vibes to the Makita DUC405Z
On a strict budget this tool may make sense, it performs similarly to the best cordless models and if you invest in Greenworks then make sure you take advantage of their other bare tools. This model is considerably lighter and quieter than a petrol and provides enough power for almost all cutting you would expect in an average garden. It's claimed you'll get 150 logs cut on a single charge. I'm not sure that's easy to quantify but in my opinion you can get a solid 75 6-8 logs cut with minimal fuss before you need a charge, certainly more than you'll burn in the next couple of days!
Much like the other top models it has quality braking and a good safety bar and switch to ensure maximum user safety. I really like the grip too. Some Greenworks cordless tools are hit and miss but this is without question one of their very best. In the same size category I easily prefer the Makita DUC405Z but then you have to pay that much more!
4. Makita DUC405Z Twin 18v / 36v LXT Li-Ion Cordless Brushless Chainsaw 400mm Bare
There's only one cordless chainsaw bigger and badder than my favourite Makita DUC355Z. It's another Makita pretty unsurprisingly. This does everything the Makita DUC355Z does but with a longer bar. Interestingly I'm not sure I would attempt much larger logs though but it can handle it. They appear to deliver exactly the same power and the only difference of note is the longer chain and bar.
It handles super and the power delivery feels pretty menacing, just like the Makita DUC355Z it fires up hard and you get minimal kickback. If you're doing work that involves a good deal of stop start I'd take this over a petrol chainsaw any day of the week. The way batteries are evolving is making jobs like topping a long run of wooden posts an absolute breeze.
So it delivers the same chain speed and it's beautifully quiet compared to nasty 2 stroke petrol just like it's smaller sibling, but it's heavier and given the bar and chain size that's pretty reasonable. I would say you buy this if you're going after big logs (12-13 inches), otherwise I would probably stick with the best pick but would pick this over the 16inch Greenworks any day but for anything heavy duty you would still have to favour a petrol chainsaw. However the fact I'm comparing the two says a lot about the quality of this kit!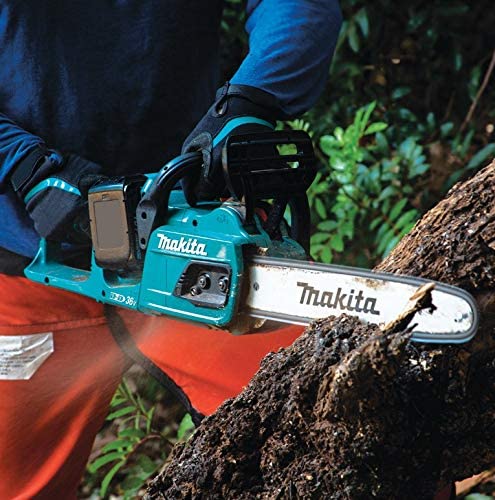 5. BLACK+DECKER 36 V Lithium-Ion Chainsaw, 30 cm
Good old BLACK+DECKER. I had to throw one into the review as almost everyone has owned or used one of their tools at some point in their life. Some have been shocking quite frankly but not their BLACK+DECKER 36 V Lithium-Ion Chainsaw, 30 cm. This is a nice bit of kit and every bit as competent as the Ryobi 30cm cordless chainsaw. I feel like it delivers a bit more power and that might be down to the fact its 36v as opposed to the 18v of Ryobi.
They both have similar power and deliver excellent cutting ability. I like the soft grip handles and it feels very safe to use. I have to feel and comment comparing the Ryobi as they are really similar. The tensioning works in the same way with a cog on the side next to the bar that does not require tools and they are both lovely and light weight, but a bit heavier than the Ryobi. If you need a tool to cut average logs for the home Black and Decker is a pretty trustable brand to put your money into.
You can expect safe and powerful cutting with a decent battery. There have been a few reports of fault chargers and batteries but with the sheer number of people that buy this trusted brand I think it's pretty reasonable to expect a few bad ones. They also offer excellent customer service and refunds on faulty products has never been a problem in all the time I have bought BLACK+DECKER. A nice cordless chainsaw to round off the reviews if I'm honest.
---