Garden Tool Box » UK's best greenhouse heaters: small and powerful electric, solar, and parrafin greenhouse heaters reviewed
Written by Terry Smith
Our site is reader supported so when you click a link to Amazon we may earn an affiliate commission.
UK's best greenhouse heaters: small and powerful electric, solar, and parrafin greenhouse heaters reviewed
This article was last updated on January 23rd, 2023 at 8:08 am
From years of using these greenhouse heaters I would separate them into two categories. The first greenhouse heater option is the type of heater that costs just pence to run, ideal in my case for hardy exotic plants like my Kaffir Lime tree in which case you want to look at the Sunhouse (Dimplex) tubular heater which I picked up on as a quality tool miles before it became a best seller online. The other option is probably the Ecoheater slimline 55W but the thermostat is irrelevant because at 55W it's always running I've found over the last Winter. Sure, the leaves have wilted, but it survives and gets through to a happy Summer the other side. The most amazing thing about this type of heater is that it's a trickle of electric and that is ULTRA important right now with the outrageous price of electric running you at 34p a kW (even with the energy price guarantee). These heaters run generally 30W to 90W ish and yes, if you seal in your greenhouse or polytunnel good, you stand a decent chance of knocking up the thermostat by a few degrees – I have tried tested and proven this – on a morning that is otherwise minus outside, and it is above 0 in the polytunnel even without direct sunlight to assist – don't use the more powerful versions in the polytunnel though – remember this is PLASTIC and will catch fire even in the UK weather 😀 ! For me though I'm active in the greenhouse so here's what I have been using to great effect keeping me warm:
The second type of greenhouse heater is for someone actively growing (like me again), like hydroponics for example, or are active in the greenhouse at this time of year. These are generally 2kW and up – the only question you have to ask yourself is do you want a heater you have to watch all the time, or one slightly more trustable – for trust you would need something like an oil filled radiator which can be found on my most efficient and cheapest to run heater page. I personally highly rate the gardeners corner Hydroponics 2kw Indoor Greenhouse Heater or the Light House if you want a retailer with a longer history online as a good alternative. The other option is to use my best garage heater review as some of those would be absolutely perfect for this application too, and since reviewing and testing these I can say all fan heaters be it named for a greenhouse or not will work as they don't come with any additional IP ratings that would make them waterproof.
UK's best greenhouse heaters after two Winter's of testing:
Best greenhouse heater overall: gardeners corner Hydroponics 2kw Indoor Greenhouse Heater – [personally tried and tested this heater]the Light House 2kw Electric Greenhouse Heater is almost the same unit but I prefer that they've been around longer – I hope they can level the price then I'd recommend them top spot for this heater next time round. 2kW and up is the right pick for large greenhouses. You can use half power setting for your smaller and mid sized greeenhouses
Best small greenhouse heater with thermostat: Sunhouse (Dimplex) tubular heater [personally tested this through 1 winter, coming into a second winter now]
Best greenhouse heater with thermostat: Bio Green Palma heater (must have if you are precise and want accuracy)
Cheapest greenhouse heater to run: Ecoheater slimline 55W
Best paraffin greenhouse heater: Crazy gadget paraffin heater
Best electric greenhouse heater if you're active or doing hydroponics: gardeners corner Hydroponics 2kw Indoor Greenhouse Heater (must have if you want it warm and to work inside your greenhouse over Winter)
Alternative powerful greenhouse heater for large greenhouses and working: Light House 2kw heater
What you need to know about the best greenhouse heaters
Before parting ways with your hard-earned pennies on one of the fantastic products featured in our reviews section, we recommend reading through the following paragraphs where we point out the things to keep an eye out for, or just to keep in mind, when choosing your greenhouse heater.
Do you really need a greenhouse heater?
Ok, I know it seems like a silly question seeing as though you are on this page actively looking for one, but I thought I'd cover this anyway.
Here's the thing, if your greenhouse contains only plants and crops that are very resistant to the cold and frost, and your greenhouse has excellent insulation, you would probably get away with not having a greenhouse heater. For everyone else, I would advise owning at least one.
If you're interested in insulating your greenhouse for very little cost, bubble wrap works like a charm: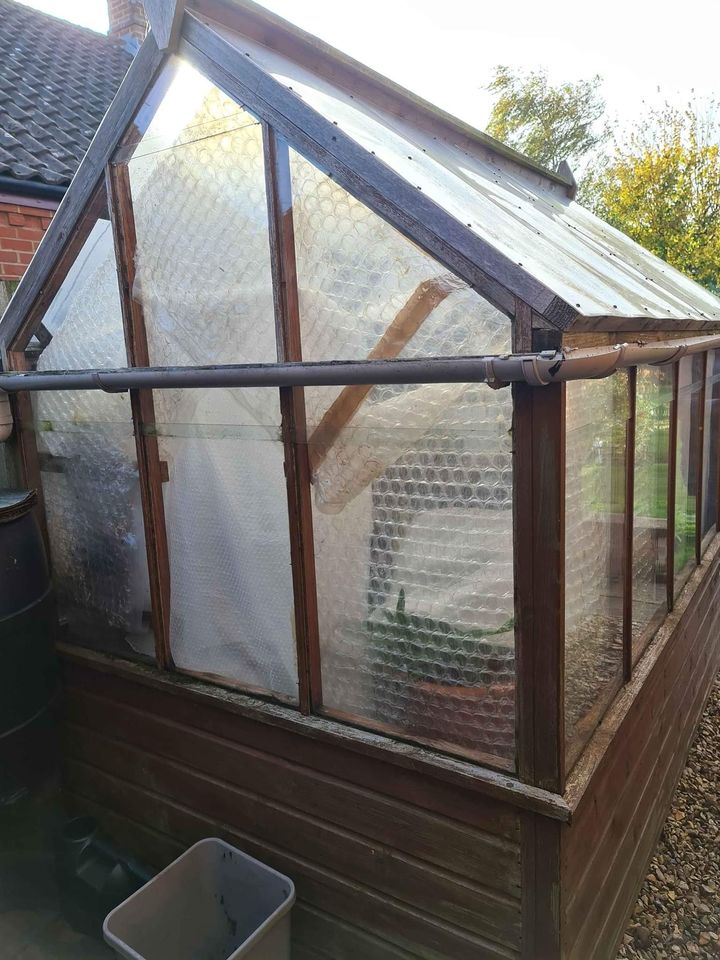 As you can see it might not look the best but through the winter months you can really save a huge amount of heat and almost totally guarantee a frost free environment when couple with even the smallest greenhouse heater.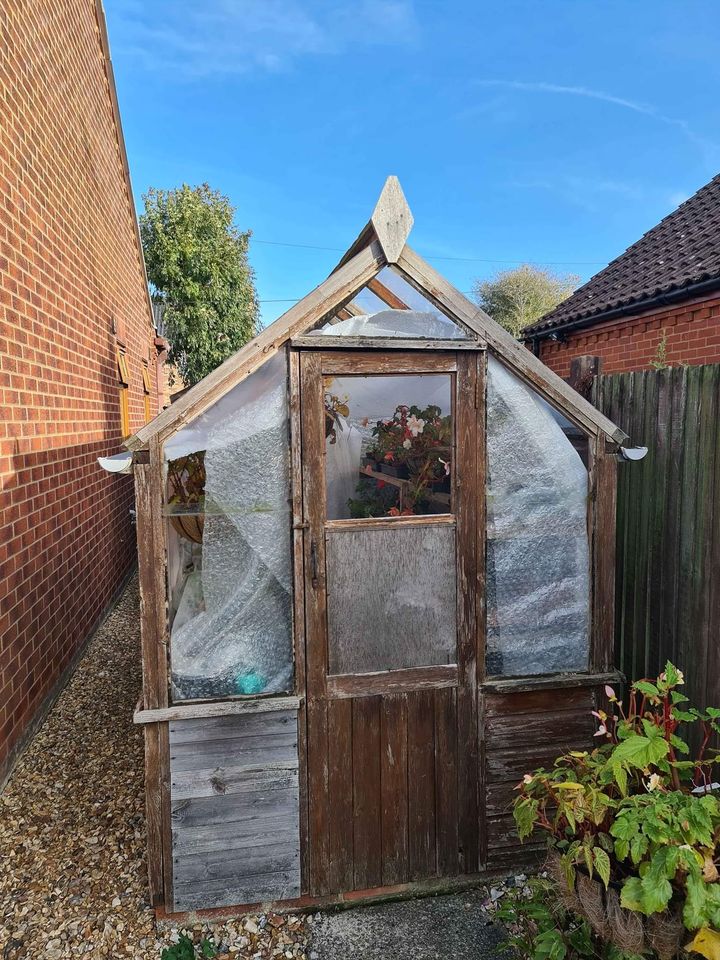 In fact it's amazing what you can do for free or cheaply to increase the warmth of your greenhouse and keep your greenhouse frost free.
Size of your greenhouse
It should be pretty obvious that the size of your greenhouse will have a large part to play in your greenhouse heater buying decision. Installing a small greenhouse heater in a cavernous greenhouse will do absolutely nothing, and having a powerful space heater blasting heat out in a compact space is equally no good, albeit for different reasons.
If you're having problems working out whether a heater is a good fit for your greenhouse, look at the product descriptions and it should let you know the size of the area that a product can heat. If the advertising or review talks about the air volume rather than the area, you can work that out by multiplying the length, width, and height of your greenhouse. But for a rule of thumb:
For a small greenhouse to keep the chill off you probably want to pick the Sunhouse (Dimplex) tubular heater 80w or the Ecoheater slimline but for larger greenhouses that you want to work in like this one below then I'd probably recommend something more powerful like the Bosmeer 2kw heater: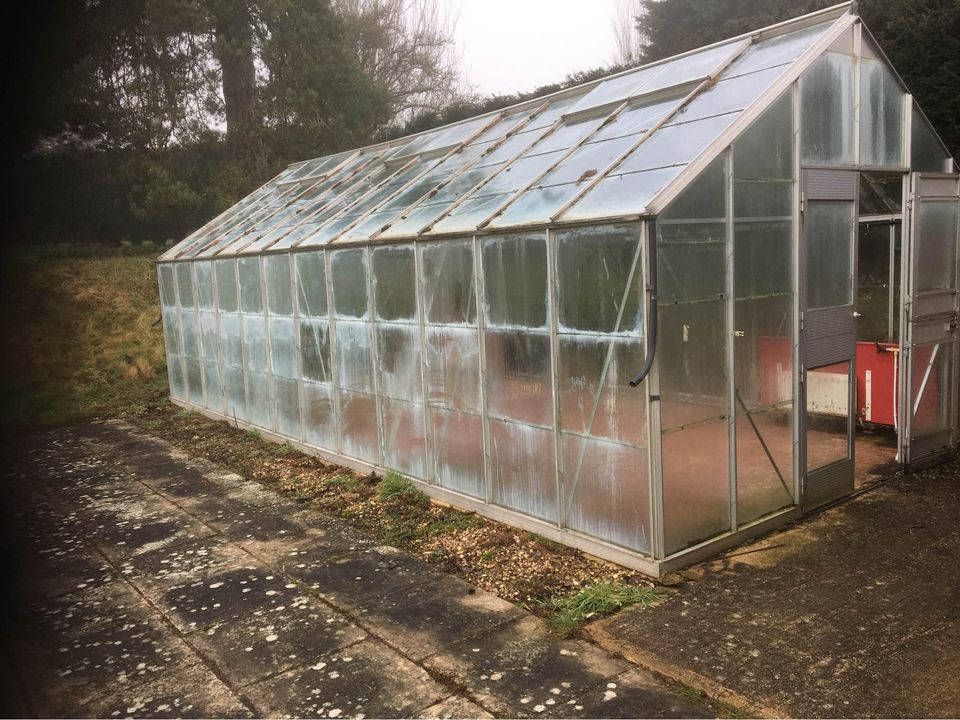 What do you need the greenhouse heater for?
Just like with the size of your greenhouse, the type of heater that will suit you has a lot to do with what you need it for.
Keep temperatures above freezing
For some people, a small tube heater or paraffin heater, that will keep the temperatures above freezing during the winter and stop frost damage, is all that they are looking for. Others have to keep their greenhouses within a certain temperature range, and so will go for a more expensive heater that has a built-in thermostat, as well as other features.
Then there are folks who completely clear and clean out their greenhouses in winter to get ready for spring, and usually want a powerful heater that will keep them feeling snug while they get on with their work.
There's a huge amount of choice when it comes to greenhouse heaters in the UK, and it shouldn't be too hard to fins something that is just right for you and your needs, so have a little think about it first. Who knows? You might even want more than one type of heater for different purposes.
Electric, paraffin, propane, solar. What type of greenhouse heater?
To give you my honest opinion, if you have outlets in your greenhouse or very nearby, then you can't really beat electric greenhouse heaters. Whether it's to power a large fan heater with a digital thermostat, or a small and simple tube heater, electric heaters are the thing to go for. Yes, they are the most expensive, but you get what you pay for.
If you do go for an electric greenhouse heater, make sure that it is durable and able to withstand moisture, water splashes, and dust. The best way to check this is to see if the heater has an IP rating of IPX4, IP65, etc.
Other options are available though, such as greenhouse heaters that run on various types of gas or other fuel sources. Propane heaters can be very good at producing heat, but you really need to think about ventilation due to the toxic fumes being harmful to you and your plants.
Paraffin and ethanol heaters are a safer way to keep a small greenhouse above freezing temperatures, but they won't produce enough heat for a larger space or to keep tropical plants happy, and you will have to keep topping them up with the required fuel. The other thing to consider is the fire hazard from the open flames that these heaters create.
Getting the most out of your greenhouse heater
To help your electric greenhouse heater be as efficient as possible, and to save yourself a few quid in the process, it would be a good idea to go around your greenhouse, cleaning the panels to let more light in, checking for drafts, cracks in panes, etc. and fixing them.
Basically, I'm advising that you make your greenhouse's insulation as good as it can be, and this doesn't have to be a huge DIY project. You'd be surprised at how simple it can be to repair a greenhouse and improve how well it traps heat. In fact, we have articles on that subject on this site, so go have a look for some helpful tips.
If you're using a paraffin heater or similar, you have to keep an eye on humidity or it can cause havoc with your plants and invite mould, disease, and pests. Good ventilation is key here, actually it's the right balance between insulation for the heat and ventilation for the moisture, and this is the same for gas heaters too.
How much time do you have to tend to your greenhouse?
Are you retired? Working part time or full time? The amount of time you have to tend to your greenhouse is another thing that is often overlooked when people buy a greenhouse heater.
Heaters that run off paraffin and ethanol will need you to keep an eye on them more than an electric heater, as their fuel source will run out. Propane heaters will usually last longer, but it depends on the size of the tank and heater.
For busy gardeners, an electric greenhouse heater with automated features such as a timer and thermostat are the best choices, as it takes away a lot of the time-consuming chores that you find with other types of heaters.
Again though, more features usually mean a much higher price tag, so it all comes back down to how much you need a heater, for what purposes, and how much you are willing to pay for one. Then again, you can find decent heaters like the one in this photo for around 50 quid-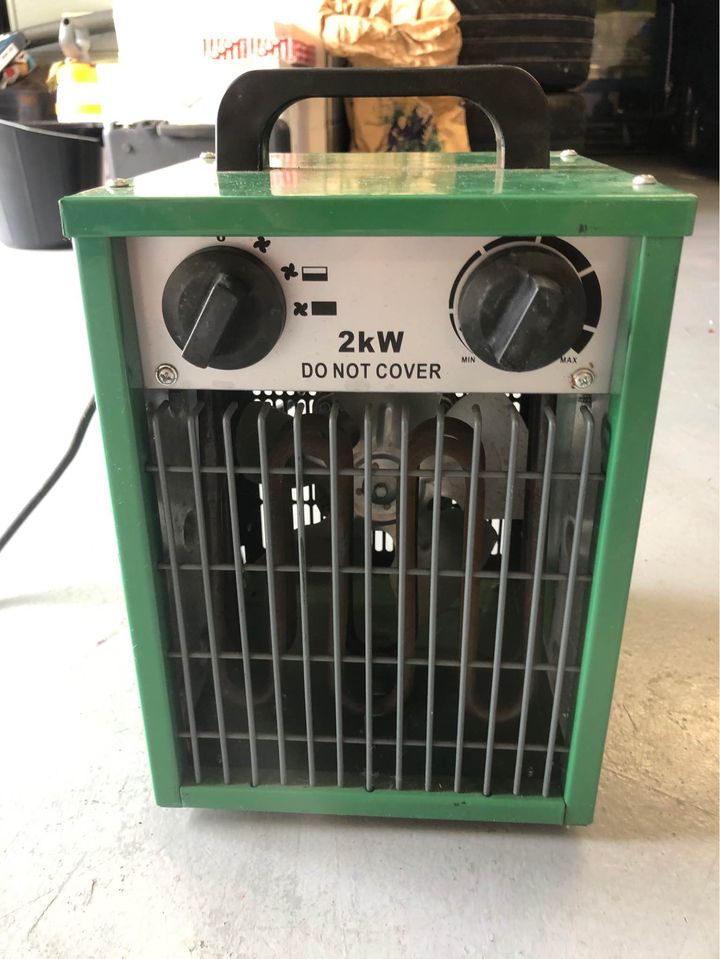 Noise levels
No matter what type of greenhouse heater you end up buying, it's going to be spending a fair bit of time switched on in order for it to be effective. That's obvious enough, but have you thought about how much noise certain heaters can produce?
Now, I have to say that it is mostly electric fan heaters such as space heaters that create a noticeable amount of noise, and gas and other fuel sourced heaters aren't really problematic, nor are small tube heaters.
The noise levels of electric fan heaters will vary from product to product, so look in the specifications section of product descriptions, or in reviews like ours, and see what kind of noise you're dealing with. As a point of reference, a normal conversation is around 60dB, while a lawnmower is somewhere between 80-90dB.
If you live in an isolated area and you don't mind the noise, then it doesn't really matter, but people with neighbours living close by should take this into consideration when they choose their greenhouse heater.
Alternatives to greenhouse heaters
Let me be clear first, if you need to keep your greenhouse temperature at specific levels, or you need a decent increase above freezing, you're going to need a greenhouse heater of some kind.
However, using tricks like thermal mass, where you use things like water-filled, black containers to absorb heat and light during the day that they will release later, can help to keep frost at bay if you have good insulation.
Bringing your compost pile into the greenhouse will also provide heat, but this might not be practical for people with smaller greenhouses that are already pushed for space.
We already have an article called 'how to keep my greenhouse frost free' where we discuss these things, and others, so feel free to check that out when you get a chance.
This next video features a very low-budget way of keeping the frost at bay in your greenhouse. I haven't tried this particular technique myself, but I could see it working:
What about a solar greenhouse heater?
At the moment your options are pretty limited but you can easily put something together with a solar panel directly connected to the smaller heaters in this review, the best for consistency would almost certainly be the Ecoheater slimline 55W but the big problem is this won't work though the night unless you go for some kind of battery storage which would need hold more than 600W (this means the battery needs to be 50 amp hours) – but a lead acid battery should not be run to 0 or will fail quickly and therefore in practicality a 100 amp car battery or marine grade even better, however factoring the battery life cycle, I am not sure you will ever save money – it's more about convenience – set and forget.
This is a problem as you're almost sure to be trying to keep the frost off so will want all of that 55W and it still may not be enough. At the moment the options to directly look after your home like this are limited but as technology improves we will certainly update this article accordingly.
What can I grow over winter in my greenhouse?
For the average person, who's greenhouse hasn't been particularly well insulated or improved since they bought it, and without any help from a greenhouse heater, growing things like Brussel sprouts, broccoli, cabbages, and root vegetables, should offer you no issues at all as they are very resistant to frost.
Flower lovers can keep themselves happy by growing Helleborus, pansies, and chrysanthemum, to name but a few winter-hardy options. These flowers will even bloom in the winter time, giving your greenhouse a touch of colour: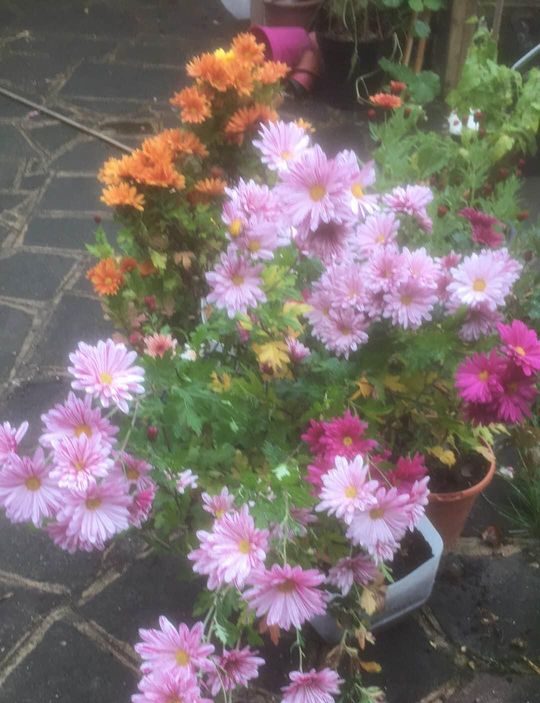 If your greenhouse is properly insulated and heated, then your winter growing options are too numerous to mention, and this is why the best greenhouse heaters are selling like hot cakes at this time of year.
Best greenhouse heaters reviewed
After reading all of the above, you should now feel confident that you know what to look for when it comes to the best greenhouse heaters for you. Below you will find our in-depth reviews of the most popular products currently on sale online, where we have put them through their paces and decided whether they live up to their hype or not.
Conclusion
Greenhouses are wonderful things. They give us the opportunity to continue growing well after the summer has been and gone, let us get a head start with seedlings that will be transplanted later, and sometimes just give us a place to escape to for a bit of quiet time away from the family.
As good as the best greenhouses are, they still struggle to withstand the harsh cold that comes with the UK's winter months, and that puts whatever you're growing in there at risk. Even if you're growing winter hardy crops in your greenhouse, it's not going to be the most comfortable time for you when you have to walk into somewhere that feels like a refrigerator.
The answer to these problems is actually quite simple: Just buy yourself a greenhouse heater or two. The extra warmth provided by even a small greenhouse heater can really make a difference to your plants, flowers, crops, etc. and a larger one will certainly help to take the edge off the chill for you while you work there.
To help guide you through the various options available when it comes to greenhouse heaters, and hopefully to leave you feeling a bit better informed about the subject as a whole, we've put together this page on the best greenhouse heaters in the UK.
---