Written by Terry Smith
Our site is reader supported so when you click a link to Amazon we may earn an affiliate commission.
Best wheelbarrows ranked for ease of use and durability
This article was last updated on August 7th, 2021 at 8:54 am
Gardening isn't gardening without a wheelbarrow. The numbers of times I use a wheelbarrow on my ventures around the garden, well I've lost count, it's dozens of times a week, wether its carrying my garden shredder to the top of the garden or sending green waste to the compost bin. My wheelbarrow is sturdy and well balanced, it distributes the load onto the front wheel nicely and makes for an easy lift. It has excellent handles that I can grip easily as well as a sturdy frame that doesn't twist or shift on heavy load. The best wheelbarrows all have these features in common and I've reviewed them to save you time.
Comparison table: Best wheelbarrows ranked for ease of use and durability

Product
What We Think
Price

Large capacity 78 litre wheelbarrow
With a sturdy black steel frame and robust plastic tray it's easy to transport compost...
Dual wheels add stability over rough ground and the soft grip handles offer a comfortable hold...
Wheelbarrow: L125 X W70 X H65cm
Manufacturer 2 Year Warranty Included

Main Gate Wheelbarrow County Clipper

Our range of ergonomically wheelbarrows is designed with the user in mind....
Frames are galvanised to help avoid scratching
Frames are seam welded improving the strengthen of the product over spot welding...
Pneumatic inner tubes facilitate easy DIY repairs
These solid steel skids greatly prolong the life of the steel tubing and hence the barrow as a whole....

Effortlessly carries loads up to 200kg
This cart makes light work of moving heavy gardening material
Perfect for use by domestic and professional gardeners

Marko Tools Green 65L Metal Heavy Duty Galvanised Wheelbarrow

65L Capacity
100KG Weight Capacity
12" Pneumatic Tyre (4.00
Weighs Approx 9KG
Galvanised Tray with Green Frame

Capacity: 85 Litres / 125 Kgs
Ideal for all jobs in the garden and around the home
30 mm tubular steel frame.
Heavy duty pressed steel pan.
Wheel position makes for easier manoeuvrability.

90 Litre Capacity
180Kg Weight Capacity
All Steel - with under pan support
With 14" Pneumatic Tyres
Over Wheelbarrow dimension: 58cm (W) x 122(l) x 58cm(H)

CrazyGadget Wheelbarrow Garden Wheel Barrow Galvanised Heavy Duty Pneumatic Tyre Professional DIY 65 Litre...
65 Litre capacity Wheelbarrow
The item is self assembly but just bolts together
The handles have plastic grips on the end to make it easier to move around...
Weight Capacity of 60kgs

Deuba wheelbarrow with pneumatic tyre
Powder coated metal frame and deep Polypropylene tub
Heavy duty barrow, with 80L / 150Kg (330 lbs) load capacity
Dimensions tub: 98 x 60 x 42 cm (LxWxH)
Pneumatic wheel with 40cm (16") diameter with smooth running ball bearings
If you love gardening, then you will surely need a wheelbarrow. A wheelbarrow will help you transport weeds and plants from one place to another conveniently. If your yard is big, a wheelbarrow will efficiently transport your tools and other objects around it without you putting much effort into the process. However, the type of yard also affects the choice of a wheelbarrow and thus it is important to consider it. There are many different types of best wheelbarrows on the market and if you want to choose the best, you'll have to consider some options.
How to choose the best wheelbarrow?
Wheelbarrows are very handy things and they allow you to work easily outside your homes. There are many varieties of wheelbarrows and it is imperative to get the right specification that suits your requirements. In older days, wheelbarrows had only one wheel and had long angles. Modern wheel barrows have changed and they have two wheels that increase stability. Following are some important factors to consider before buying a wheelbarrow:
Materials:
The material of a wheelbarrow plays an important role in its performance. There are poly wheelbarrows and steel wheelbarrows. The poly wheelbarrow is actually made up of polyethylene which is a plastic. The plastic wheelbarrows are very affordable and are durable and strong too. Steel is harder and stronger than plastic and thus steel wheelbarrows are the most durable ones. The steel wheelbarrows are more expensive and are mostly used in building constructions and production because of their durability.
Wheels:
The wheels of a wheelbarrow make sure that the whole thing is manoeuvrable enough. The wheels of wheelbarrows are either made up of solid rubber or are air filled. Large wheels are easy to move on rough terrains and are more durable too. Also, you must consider the diameter, width, number, and tread of the wheels. The wheels make transportation easier and thus the more the wheels in a wheelbarrow, the better it is. Normally there are two wheels, but there are some wheelbarrows featuring four wheels too.
Size:
You must get a wheelbarrow according to your preferred size because having a smaller or larger one won't be as useful. You should also consider the volume of a wheelbarrow so that you know how much things you can carry inside. The volume of a wheelbarrow is measured in cubic feet so if you want a large one, you'll have to go for the one with more cubic feet. Smaller sized wheelbarrows are good for small jobs and they are very lightweight and portable too.
Price:
You shouldn't ignore the price of the wheelbarrows as considering your budget is important. The prices of wheelbarrows vary greatly according to their features such as materials, brands, and more. However, you can get a wheelbarrow for as less as £50 and if you want a high-end one of a big brand, you can buy it for £300. Choosing one will all depend on your budget and usage of the wheelbarrow.
Wheelbarrows for sale
If you're searching for an affordable option, you must try the wheelbarrows for sale on Amazon. You can get wheelbarrows at a very affordable price on sale. Following are the three best wheelbarrows for sale:
A wheelbarrow doesn't have to be necessarily large, in fact you can get a small and compact wheelbarrow too as it helps in transportation. This wheelbarrow consists of one wheel and it is very lightweight and compact. If you have a small yard where you don't need to load the wheelbarrow frequently, this one is a great choice. The wheelbarrow has a capacity of 65 litre and it can easily carry a load of 65 kg.
The tray and frame of the wheelbarrow are made up of galvanised steel and it is quite durable. The good thing about galvanised steel is that it resists rust. This is a great feature as wheelbarrows get rusted easily because they are kept outside. The handles have plastic grips that make it easier for the user to move it. The wheelbarrow weighs only 9 kg and is perfect for you if mobility is your main concern. The wheelbarrow will cost you only £24.99.
Pros:
It is very affordable.
It is made up of rust resistant material.
It has an ergonomic design.
It is very lightweight.
It is easy to assemble.
Cons:
It is not suitable for even light building work.
The steel is thin.
If working in your yard seems tiring to you, you must try the Walsall wheelbarrow which has a good capacity of carrying things around. The wheelbarrow has a puncture proof wheel which is very handy for transporting goods around if the terrain is rough and there are bumps on the land. The frame is made up of heavy duty steel and is sturdy enough to carry things around. It has a capacity of 85 litres and is ideal for performing various jobs in the yard or any outdoor setting. There is only a single wheel and its position makes manoeuvrability much easier.
The wheelbarrow is available for only £46.49 and delivers excellent value for this money. The wheelbarrow has been designed in the UK and is extremely durable and is perfect for transporting goods around the yard. The wheelbarrow holds up well and the best thing about it is that it has a large capacity. The wheelbarrow isn't hard to assemble, and you'll just need help tightening up the bolts. The wheelbarrow is strong and sturdy and has good manoeuvring features too.
Pros:
The pneumatic tires are sturdy and durable.
The straps are strong.
There are resistance free countersunk holes in pan.
Cons:
3. Monzana Wheelbarrow with pneumatic inflatable tyre
The Monzana wheelbarrow is another cheap one which you can get for only £43.95. The wheelbarrow has a good capacity and looks stylish too. It has a powder coated steel tube frame and has a heavy duty design. The Monzana Wheelbarrow has a ball bearing mounted pneumatic tyre with a powder coated steel rim. The wheelbarrow is suitable for mud too and there is all-terrain lug tread. The wheelbarrow also features a low-odour tire unlike others that have a strong plastic smell which can be irritating to the people nearby.
The wheelbarrow comes disassembled and the screw and drill holes can be moved slightly to adjust. The bolts have to be tightened gently and then fully tightened. The material of the tub is polypropylene and it has a capacity of 100 litres. The maximum carry load is 150 kg which is quite impressive. The wheelbarrow offers smooth manoeuvrability and makes it easier to move around the yard without taking too much rounds.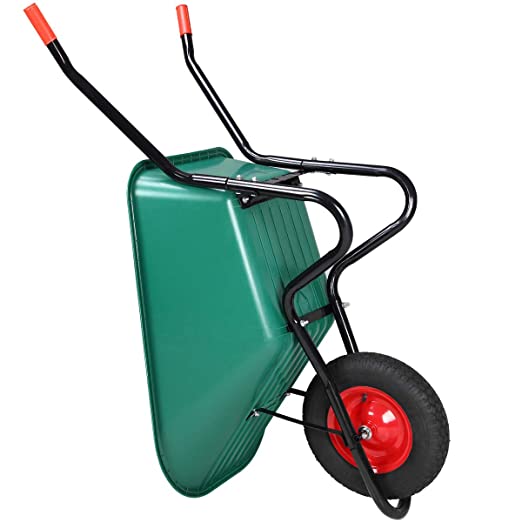 Plastic Wheelbarrows
Plastic wheelbarrows are lightweight and easy to manoeuvre. The plastic wheelbarrows are used for transporting light things around the yard such as empty pots, weeds, soil, gardening tools, and mulches. These wheelbarrows are also fancy in design and they look stylish as compared to their steel counterparts. All of the kid's wheelbarrows are made up of plastic as they are light enough for them to manoeuvre. Following are some of the best plastic wheelbarrows available on Amazon UK:
1. Gorilla Carts Poly Garden Dump Cart
The Gorilla Carts Poly Garden Dump Cart is equipped with 4 pneumatic tires which makes mobility much easier. The wheelbarrow is equipped with lots of features such as quick loading and unloading that can be very handy for the user. There is a patented quick-release dump that offers fast unloading and offers a fast transportation method. The bed is a rust proof poly-bed and is overall very lightweight and easy to manoeuvre. The handle is padded and it makes it easier to pull even when the load is too heavy. The wheelbarrow can easily pull 600 lbs.
The tires of this wheelbarrow are 10-inch and are very durable and they offer a smooth transportation even when the terrain is rough. There is a 1 year limited warranty on the wheelbarrow but the manufacturer's warranty doesn't apply. The overall design is very decent and the black colour also makes sure that the wheelbarrow doesn't look dirty and messed up in the yard. It complements the yard or garden very well and will give a good look to a beautiful setting. The wheelbarrow is available for £80.26 and is a good choice for those who want a stylish and durable product.
Pros:
There is a quick release dump feature.
The tires are sturdy and manoeuvrable.
The handle has an ergonomic design and thus is easy to pull.
The main body is rust proof.
Cons:
The capacity of carrying load is not too much.
2. Marathon Dual-Wheel Residential Yard Rover Wheelbarrow
The Marathon Dual-wheelbarrow is another one in our plastic wheelbarrows category. This one is very lightweight and easy to manoeuvre and if you have a small garden, this is a perfect little cute thing. The wheelbarrow consists of two wheels which make sure that you easily move things around the yard or garden. The handles of the wheelbarrow are cushioned and have an ergonomic design. This prevents soreness of hands and also makes sure there are no blisters.
The Marathon wheelbarrow has been designed for residential users and is equipped with a rust-resistant tray too. The plastic wheelbarrow is not recommended to be used for lifting and carrying the heavier loads around such as bricks, rocks, tiles, and large amounts of woods. The wheelbarrow is overall very durable and can be a good addition for your small garden.
Pros:
It is very lightweight and compact.
It is durable and easy to move.
It is very well balanced.
The cushion handles are easy to grip.
Cons:
The tires deflate often.
It is a bit shallow.
3. Main Gate Wheelbarrow County Clipper
The Main Gate Wheelbarrow has a simple design and is made up of high quality components. The Main Gate wheelbarrow is available at a very affordable price and in spite of being this cheap, it is durable and quite sturdy too. The wheelbarrow is built to last and is equipped with all the features that are needed in a good quality wheelbarrow. The wheelbarrow's tray is of bright green colour and is made up of propylene. Propylene is a lightweight yet strong plastic and it has a load capacity of 90 to 110 litres.
The main gate wheelbarrow county clipper is ergonomically designed and is quite easy to manoeuvre. The frames are galvanised and they are designed in such a way as to avoid scratching and rusting. The frames are also seam welded and they improve the strength of the wheelbarrow. There are pneumatic inner tubes and solid steel skids that are welded at the bottom of the legs. The solid steel kids are made to increase the lifespan of the wheelbarrow by strengthening it.
Pros:
It has a sturdy design.
It is very ergonomic.
It is scratch and dust resistant.
It is lightweight and compact.
Cons:
It is a bit difficult to assemble.
Garden Wheelbarrows
If you have a garden then you'll definitely need a wheelbarrow according to your requirements. A wheelbarrow is an important garden tool that can save your effort and time by allowing an easy transportation method for your garden tools and other things. If you have a small or mid-sized garden then any type of standard wheelbarrow will be ideal for your tasks. However, if you have a large garden then you'll need a wheelbarrow that is versatile and can easily go through uneven surfaces, bumps, or steep slopes. Following are the best garden wheel barrows reviewed:
1. New DJM Heavy Duty Galvanised Steel Garden Wheelbarrow
The New DJM Heavy Duty galvanised steel garden wheelbarrow is a sturdy and well-designed one. DJM is a popular manufacturer of garden tools and their products are considered durable and long lasting. The wheelbarrow has a capacity of 90 litres and can carry around 180 kg of load. The wheelbarrow is big and bulky and perfect for your garden if you often need to move a lot of things from one place to another. The wheelbarrow is uni-wheeled which is pneumatic and has a 30 psi pressure. The wheel makes sure that the whole unit moves smoothly and easily.
The wheelbarrow is made up of all steel and has a heavy duty look. The handles and stud are orange coloured and the contrast of colours look cute. The handles of the wheelbarrow have rubber grips and an ergonomic design to make it easier for the holder. If you're looking for a good quality wheelbarrow for your garden, then this one is an ideal choice for you.
Pros:
It is sturdy and long lasting.
It is made up of good quality materials.
It has a large load carrying capacity.
Cons:
Sometimes handling gets a bit hard.
2. Draper Garden Tipper Cart
The Draper Garden Tripper Cart is a unique and beautiful wheelbarrow. It has four wheels which increase stability and allow smooth manoeuvring. Draper is another big name in the gardening tool and equipment industry and their products are trusted by many people around the world. The wheelbarrow has pneumatic tires and a steel frame. The bucket is a large rectangular one that has a huge capacity and can carry loads up to 200 kg. If you're a professional gardener, this garden wheelbarrow will make your task much easier and interesting.
The handle of the wheelbarrow is a tubular steel one and the bucket has a capacity of 75 litres. The wheels are heavy duty and are tough and durable enough to be manoeuvre on the rough terrains. The draper wheelbarrow is very easy to use because of its ergonomic design. The good thing is that the bucket is made up of plastic and it doesn't rust even if put outside for long periods. The wheelbarrow is delivered in kits form and some tools are needed to put it together. Some people find it hard to assemble, but once it is ready to use, it is quite simple and comfortable.
Pros:
It is equipped with a tipping action.
It has a large capacity of carrying goods.
The handle is long and has a swivel attachment.
It doesn't rust.
Cons:
The VonHaus wheelbarrow is a good quality one and is affordable too. It has a double wheel design and is good for those who find a hard time using the single wheeled carts. The VonHaus wheelbarrow is very stable and is easy to move around. The wheelbarrow distributes the weight of the load quite evenly so that it gets easier to push and manoeuvre around the garden. The wheelbarrow is perfect for those who want something ergonomically designed and easy to move.
The VonHaus Wheelbarrow has a 78 Litre capacity which is good enough for carrying small loads. The handles are comfortable to hold because of the soft grips that prevent blisters and soreness in the hands. This wheelbarrow can easily carry loads of around 100 kg which is enough for transporting goods such as gravel, debris, gardening tools, soil and for routine garden maintenance. The bucket is made up of plastic and is sturdy and durable. The assembly is simple and there are easy to follow instructions provided. It is a versatile wheelbarrow which includes a 2 year manufacturer warranty too.
Pros:
It is lightweight and easy to manoeuvre.
The handle has soft grips.
The bucket is sturdy and durable.
It is stable and well-balanced.
Cons:
There are no drain holes.
It is a bit flimsy.
Cheap Wheelbarrows
Wheelbarrows can be bought for a very reasonable price too, and the good thing is that there won't be any big compromise in quality. We already discussed the wheelbarrows for sale in our first section of product reviews but if you want to go through some more cheap wheelbarrows, check the following items:
1. Marko Tools Green 65L Metal Heavy Duty Galvanised Wheelbarrow
The Marko Tools Red Metal Heavy Duty wheelbarrow is a very affordable one as it is available for only £29.99. The wheelbarrow has a 100 kg weight capacity which is quite good for moderate garden maintenance tasks. It weighs only 9kg and is very compact and easy to manoeuvre. The tray is a galvanised one with a red frame and has 12'' pneumatic tires. There is some assembly required which includes attaching the frame, wheel, and barrow pan together.
Pros:
It is very affordable.
It is robust.
It is easy to assemble.
It is compact and lightweight.
Cons:
There are no instructions provided.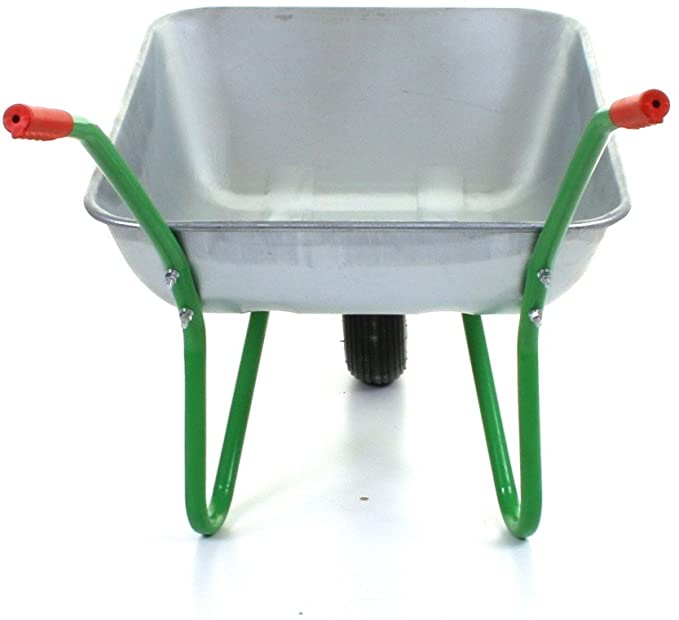 2. Kingfisher 65L Galvanised Metal Wheelbarrow
The Kingfisher 65L Galvanised metal wheelbarrow is a tough one with a galvanised steel body and a pneumatic tire for easy manoeuvrability. The maximum weight capacity is of 60 kg and is good for light use. The bucket is made up of galvanised steel and though it is tough, it looks a bit flimsy and thin. The tire has to be inflated and but overall it's easy to pump and start working on it, you probably don't need an air compressor. The wheelbarrow is very lightweight and you can use it in your small garden for small transportation tasks only. This wheelbarrow is a good option for those who don't need any particular garden maintenance and don't require any frequent transportation of tools or things within the garden. It is available for and if we look at the price, it delivers an excellent value for money.
Pros:
It is easy to use and move around.
It is lightweight.
It is very affordable.
It is good for light uses.
It is very compact and won't take much space.
Cons:
---