Garden Tool Box » Protect your home with the best electric fly killer this 2020 Summer
Protect your home with the best electric fly killer this 2020 Summer
This article was last updated on August 7th, 2021 at 6:41 am
6 of the best electric fly killers on Amazon
With lockdown in place I decided to update this article because I was in need of an electric fly killer for my office. The weather's been nice these last few days and I've had the window open. The great news is I've moved the fresh air and smell of the garden, the bad news is the constant buzzing and flies all around…
You wouldn't believe how worked up I get sat in the office or garden conservatory listening to a big bottle fly buzzing around disturbing my peace. Fortunately there are plenty of low energy an safe solutions to get rid of these pests without the need too run around the room squatting them with a roll of paper, or even worse, the sticky red top fly traps with dead flies hanging to it (yuck). Oh and not to mention they don't smell nice at all. So after owning a good few of these electric fly killers I have come to the conclusion the ASPECTEK Professional Electronic Indoor Insect killer is the best for Summer 2020.
So I have reviewed the best electric fly killers based on safety, ability to keep your space clear, cost, ease of emptying, energy consumption. The best electric fly killers are totally non toxic unlike bait for mice or rat poison, relatively quiet in operation, and designed with child and pet safety in mind. The ideal fly killer has a neat tray that gathers all debris so that you can easily clear any flies and keep things clean.
There's probably nothing more annoying than flies buzzing around, or landing on or near your food at dinner time or even whilst preparing in the kitchen, perhaps it could be your barbecue they are attacking. Fly killers should work unnoticed in any setting so based on these criteria I have reviewed the best electric fly killers to save you time.
Comparison table: Protect your home with the best electric fly killer this 2020 Summer

Product
What We Think
Price

ASPECTEK Professional Electronic Indoor Insect killer - 30 Watt version

Amazon most powerful: two UV bulbs emit powerful attractant ultraviolet rays that attract flies...
Chemical-free: no more pesticides or potentially harmful sprays
Effective: mosquito killer, fly killer
Easy-to-use: no maintenance required and nothing to change
Safe: despite the powerful electrical grid

Finest quality single layer racket for most efficient zapping.
Strong robust design made to last with long reach handle with an overall height of 51cm giving you that...
Super tuned electronics that have been tested to over 100
Ideal for Indoor & Outdoor uses Barbeques Camping Holidays
The Executioner range is widely regarded as the ultimate quality zapper.

Material: aluminum alloy & plastic & copper wire
Approx. Size: 50cm x 11cm x 33cm(W&D&H)...
30 watts High efficiency
Easy to clean, Innovative collection drawer enables easy collection and cleaning of insect bodies....
Specially designed light tube-do no harm to human bodies & pets No chemicals...

Powerful insect control: two UV bulbs emit powerful attractant ultraviolet rays that attract flies...
Chemical & odour free: no more pesticides or potentially harmful sprays
Effective & large area coverage: mosquito killer
Easy-to-use: easy to use and maintenance free; Simply plug in the bug zapper and watch the device eliminate all...
Safe: despite the powerful electric grid

Uv light: The light tubes emit light source with UV wavelength (360390nm)the powerful attractant ultraviolet rays that attract flies...
Replaceable UV bulbs: The bulbs life is about 8000-10000hrs
More powerful and kills insects instantly: The voltage of other sellers is about 2000V...
Best design: the bottom detachable tray well collects the Dead mosquitoes for easier disposal...
Safe to use: despite the powerful electrical grid

▶ 【MOSQUITO EFFECTIVE CONTROL】 The Electronic Mosquito Killer uses 4 watt high-frequency bulbs that can deliver violet UV light...
▶ 【POWERFUL & LARGE SURFACE COVER】 360 degree mosquito trap design
▶ 【SAFE & NO CHEMICAL】 Physical methods and quiet operation make it ideal for keeping insects out...
▶ 【Easy to clean】 The removable tray on the bottom of the insect killer comes with an additional cleaning...
▶ 【DURABLE & HIGH QUALITY】 The shell is made of high quality ABS material...
Here is a review of 6 electric fly killers telling us what makes them best sellers on Amazon.
1. ASPECTEK Professional Electronic Indoor Insect killer - 30 Watt version
I wanted to throw in the ASPECTEK Professional Electronic Indoor Insect killer because it is a better comparable to the other 30 Watt fly control measure in this article. For me, this is a great choice because the grid is well designed and safe. I would still keep out of the reach of children though.
It has an easy empty tray which for me is important. I want to be able to rid myself of those dead bugs easily with minimal fuss. The tray simply slots out and is kind of a U-shape so you can funnel the insects straight down the bin without them falling everywhere.
This product is legit. It has the CE stamp so it is EEC approved. It works really well, maybe even too well, it gives off a good 800 volt zap which you clearly hear. It'll take your pets a little while to adjust to the sudden buzz but between having insects buzzing around in the office or conservatory sends me insane, literally. I don't want to sound sadistic as I hear the zap but as it goes off I can't help but feel I've gotten rid of another annoyance.
I'd like the power cord to be a little longer, you might want to invest in a power cable extension if you need more than a metre from your plug socket. Apart from that I don't really have much to say by the way of negative on this item. It's definitely one of the better quality and value for money units available. I've also got the 20 Watt version which is why it's in the review currently but I can tell you this is far more capable, far less flies get away, and a much cleaner way to dispatch these insect humanely.
You can buy with confidence, turn this thing on for a couple of hours, or whenever uninvited guests arrive and be sure it'll get the job done cleanly for you.
One of the most powerful means of insect control, the Aspectek Fly and Insect
Killer has an effectiveness range of up to 5000 sq feet.
It has 2 UV bulbs that emit powerful UV rays that attract mosquitoes, flies and other insects.
The insects are zapped to death by a powerful shock of 2, 800 volt.
It is a great means of removing insects from an area without sticky and / or messy poisonous sprays.
It is ideal for places where spraying cannot be done, like kitchens or hospitals.
It does not emit any sound, works quietly.
It can be used easily and is absolutely maintenance free.
The dead insects are deposited in a removable tray which can be washed and refitted at convenience.
It is very safe to use both indoors and outdoors (in dry areas).
The device is also CE certified and RoHS compliant.
The grid is self cleaned, while the protective net can be removed and cleaned, just like the insect tray.
This machine can stand on its own or hung from a wall with the wire chain provided. This makes it convenient for use in bedrooms / basements / offices etc
3. The Executioner Fly Swatter
Made with long lasting ABS Plastic, the Executioner fly swatter by Sourcing4U is the best model of fly swatters yet.
With its superb build quality, this genuine brand Executioner is ideal for home, office, camping, barbecues and any other outdoor activity.
Unlike old models, the Executioner boasts of a single zap layer of 1.2 mm zinc steel, guaranteeing death to bugs at first zap.
Its usage is very simple – just push the on button and swing the racquet at the offending insect.
It comes with a LED warning light that turns on when the button is pushed and off when it is released.
The Executioner is given to you only after passing rigorous tests to make sure it meets the standards you expect.
It is fully CE approved and passes all trading standards.
It is backed with a 1 year full warranty.
Along with the handheld zapper you are provided with two branded alkaline batteries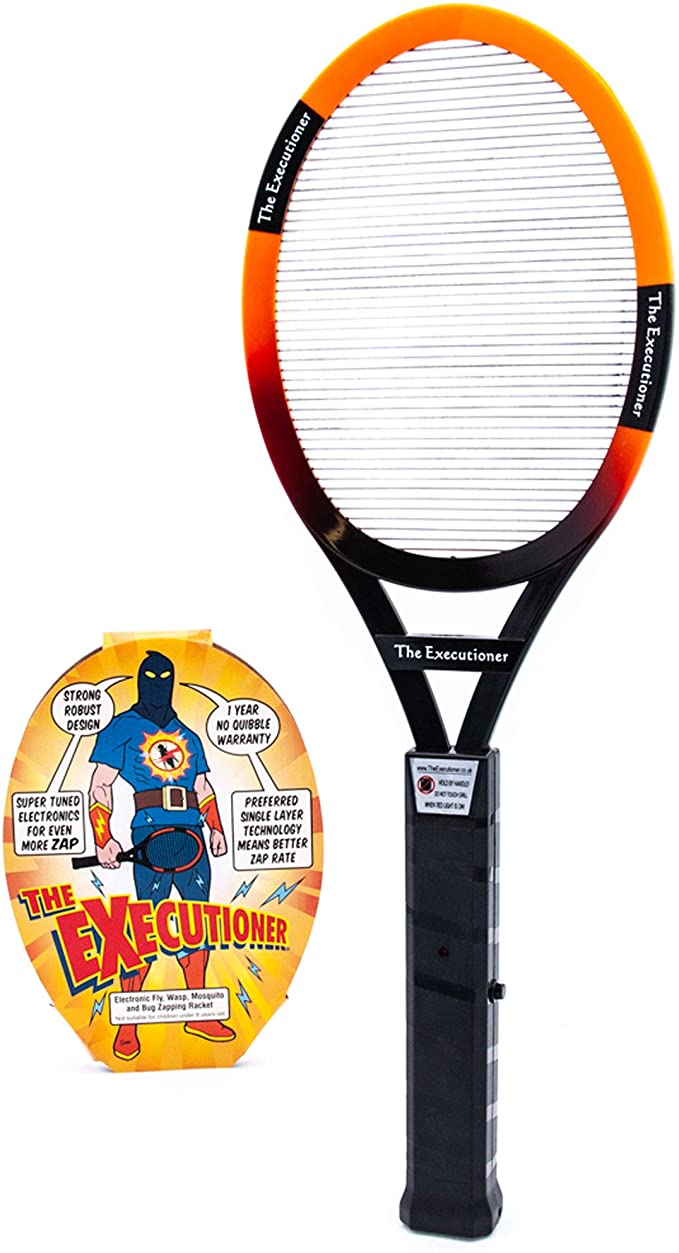 This Electric Mosquito Killer uses 4 high frequency UV bulbs that send out waves of 365nm in the surrounding area.
This effectively lures mosquitoes towards and into the lamp where the 900V electric grid zaps and kills them.
The shell is made of the highest quality ABS plastic that is both strong and durable.
Its award winning 360 degree mosquito trap design lures in mosquitoes from all directions.
It is effective for large areas inside the home / office / other indoor places.
The lamp's delicate design makes it look like an aesthetic home decoration, and is quite pleasant to look at.
It works swiftly and in complete silence.
It is non – toxic, odourless and 100 % eco friendly.
It is ideal for indoors use and is safe even in spaces used by children / pets.
It is incredibly easy to use and is very low maintenance. Just plug it in a socket and let it do its work.
5. Yaheetech 30w Industrial Electric Insect Killer
Made of aluminium alloy, plastic and copper wire, the Yaheetech Industrial Insect
Killer is ideal for use in the bedroom / office / restaurant / balcony.
It is designed for efficiency with 30 Watts power – it is pollution free and 30 % more effective in attracting insects and bugs.
It has specially designed UV light tubes that attract mosquitoes, bugs, wasps and other insects from a distance.
Without spraying any kind of chemical, or releasing any odour or sound, the device zaps insects that come near it.
It is surrounded by a protective grid to prevent harm to humans or animals.
The insects are attracted to the light within the device and go through the protective grid to the electric mesh beneath.
It is very easy to clean with a cloth or a brush.
The Yaheetech Industrial Insect Killer comes with replaceable tubes and a metal chain which allows it to mounted 1 m above the floor for better effect.
It is certified by CE and is compliant with RoHS.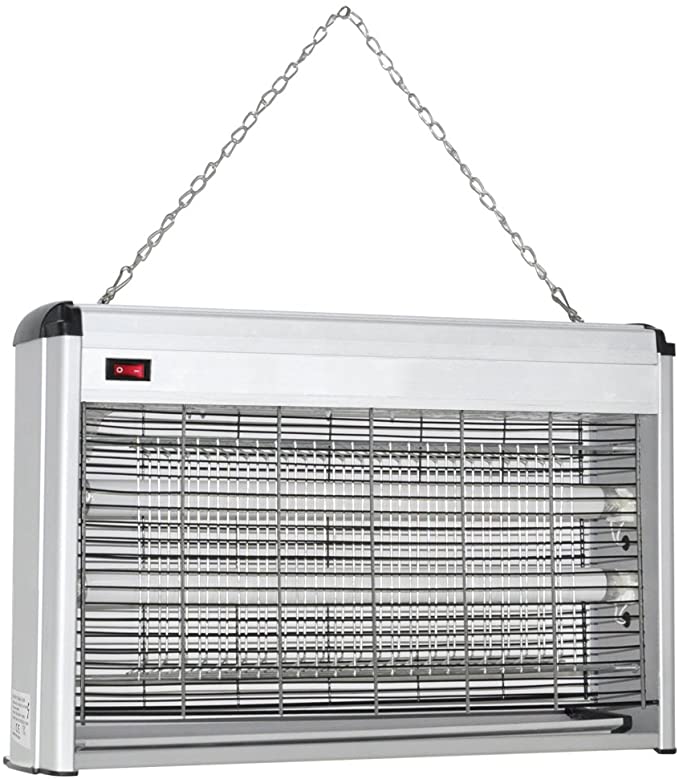 6. Seekavan Electric Insect Killer 20W
The Seekavan Electric Insect Killer emits light of UV wavelength (360~390nm).
These rays, from 100 feet away can attract mosquitoes, flies and other flying insects.
When the flies are attracted to the high-voltage grid, they are zapped.
The UV bulbs have a running life of about 8,000 – 10,000 hours.
The company also provides free replacement of the UV bulbs, which is definitely an added bonus.
After extensive research and testing, this model has been developed with a voltage of 3000V, for easy extermination of all flying pests and insects.
It has been developed with powerful technology which is reflected through its outstanding heat dissipation performance.
The device has a detachable tray that collects all the dead insect bodies for disposal. It can be easily removed and cleaned when full.
Despite of having an electrical grid which is very powerful, the insect killer is absolutely safe for indoor use in homes, offices, and hospitals.
The mosquito killer is featured with full protection grille that prevents any accidental contact by humans or animals with the electric grilles.
Further, this device has CE and RoHS certification making it even more secure for use.
I hope you've enjoyed my rundown of the best electric fly killers. If you have other pests such as
mice you want to remove humanely
, or you need
rat traps with some humane options
or poison, please feel free to take a look at my other pages for guidance.
With stay at home set to be the theme for Summer 2020 investing in a fly killer now will save that 'I wish I bought one earlier' feeling.
---