Written by Terry Smith
Our site is reader supported so when you click a link to Amazon we may earn an affiliate commission.
UK's best electric fence sprayer [TESTED] for Cuprinol and Ronseal
This article was last updated on March 6th, 2023 at 11:11 am
Electric fence sprayers make light work of a tedious job, I wish I bought one sooner – if you're looking for a manual garden sprayer though, please follow the link provided as they are equally useful for thinner stains and treatments, probably better, but if you want to spray paint, read on! I tested the best fence sprayers and found I can spray a 5ft panel in about 2 minutes, maybe a bit less, and I can spray a 4ft panel in about a minute without pushing myself IF I thin the paint right down so it requires multiple coats – on the other hand the Wagner Fence & Decking Paint Sprayer takes about 4-5 mins a panel but only needs two coats even on bare wood! That's not watered down and wishy washy either, this is Ronseal one coat fence life and in my test today, the Cuprinol ducks back fence paint which is like tar 🙂 ! Hard to believe I know, I was shocked by the commercial performance with a low price tag myself. I never get tired of using these sprayers 😀 Here's a look at the top three best electric fence sprayers that made it to my tests in the UK but by miles the Wagner wins and is almost untouchable: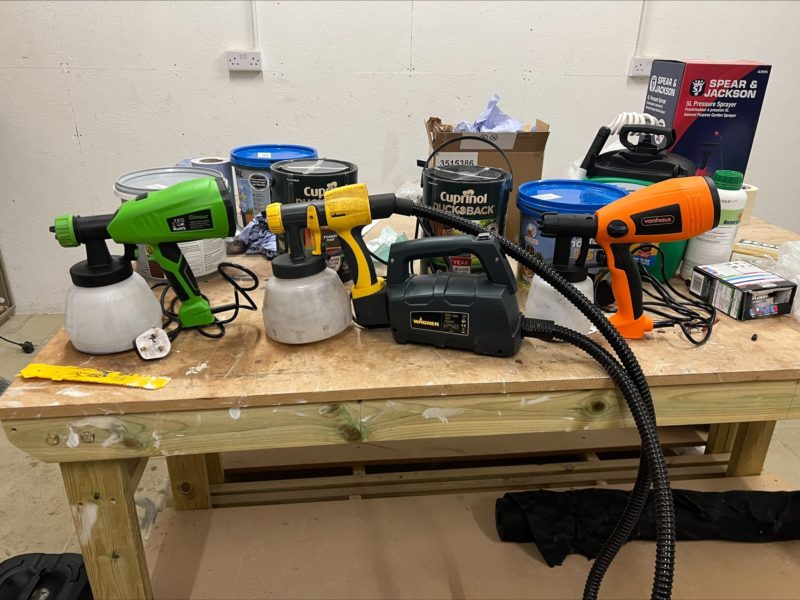 As you'll see though, electric fence sprayers aren't all even and the Wagner was the real standout:
PRO TIP: Please, please before buying an electric fence sprayer ensure that you have a good mask and read the spraying safety instructions carefully. Your lungs will not thank you for breathing in fence paints, paint and wood preservatives in particular. These electric fence sprayers will allow a fine mist so be careful which I avoid if you check my videos. Here's a look at my mask after spraying a couple of panels so you can see what I kept out: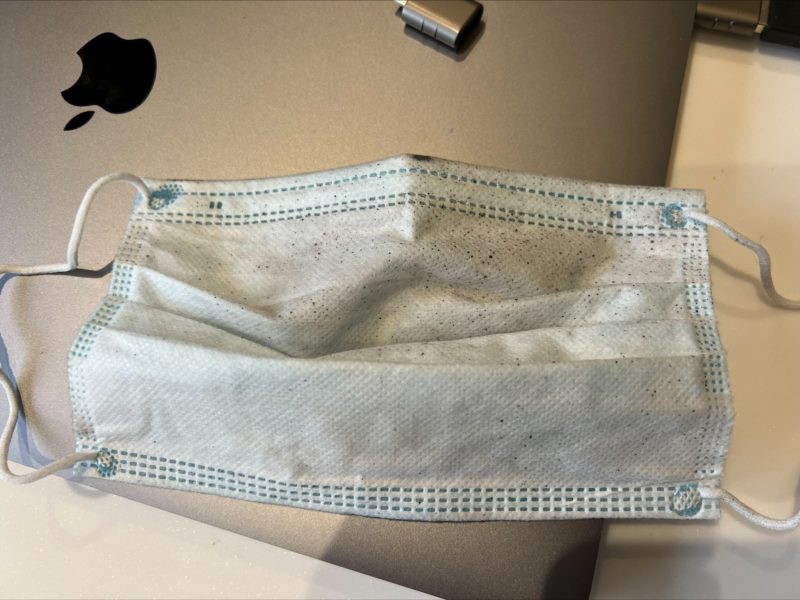 I found out something interesting too as I tested multiple electric fence sprayers – all the research and reviews you read online is anecdotal based on just one test. If those reviewers or researchers had a few in their hand like I did, they would be able to draw genuine conclusions. The real answers are in the testing. For example. The paint sprayers Ginour and VonHaus are decent enough in their own right, but as a fence sprayer they are no where near the capability or comfort compared to the Wagner fence sprayer. You're probably thinking that's a bold statement to be making about products online. Well, after testing, I can definitely make that assertion and here's a look how I genuinely rate them after personally testing extensively:
Best fence sprayer in the UK: my top picks after full testing:
Best fence sprayer: Wagner Fence & Decking Paint Sprayer – fully tested and easily the best of the best in the UK, indisputable but feel free in the comments below 🙂
Most powerful: Wagner – tested and proven
Best budget: VonHaus Electric Paint Sprayer for Fences – if you really need to save twenty quid take a look at the Vonhaus – and was better in terms of less overspray
Best for a large area or shed: Wagner Fence & Decking Paint Sprayer
Best you can use on multiple surfaces: Ginour – if you want a tool for multipurpose use and don't mind being slower than the Wagner (or heavier on your back) this will be good all around the home.
What you should consider when buying an electric fence sprayer
From extensive testing I noted a few potential benefits and pitfalls well worth discussing with you before you take the plunge. The biggest things for me are to do with the capabilities and ease of use. Some are capable of blasting fence paint with no thinning, just fill and go, while others are so clear about their ability to spray/viscosity that they have a funnel test timer to make sure it's runny enough. However, the most powerful blast paint so hard it might be described as Artex 😀 This means not so good if you fancy cleaning up your electric sprayer and using it on door frames and walls etc.
Paint viscosity requirements
So when you research online you'll see that the Cuprinol Ducksback, and Ronseal fence paints want a bit of thinning. And to be fair if you pick anything except the Wagner then this is definitely the case. Those sprayers come with a paint viscosity tester – you'll notice the Wagner doesn't have this which at first threw me, but soon became clear. Basically the Wagner can push through anything paint wise that is produced for fences and could also be called commercial – pretty shocking given the low price tag.
On the other hand the Ginour and Vonhaus spend a fair bit of time in their manuals showing you how to test if the paint will spray – I decided to see if they were better than advertised but no, they couldn't push the same thickness paint as the Wagner. Here's a look at that paint tester: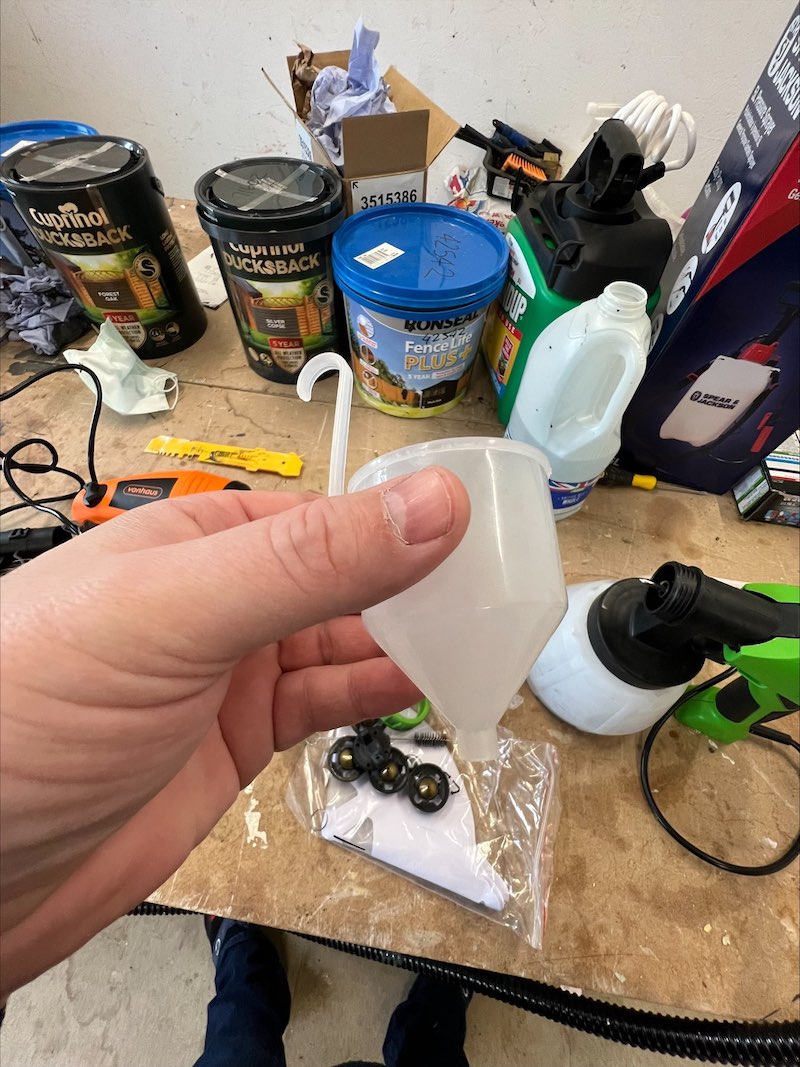 And here's a look at the bore size – amazingly Cuprinol Ducksback and Ronseal life plus do not flow through this! Talk about non drip for real: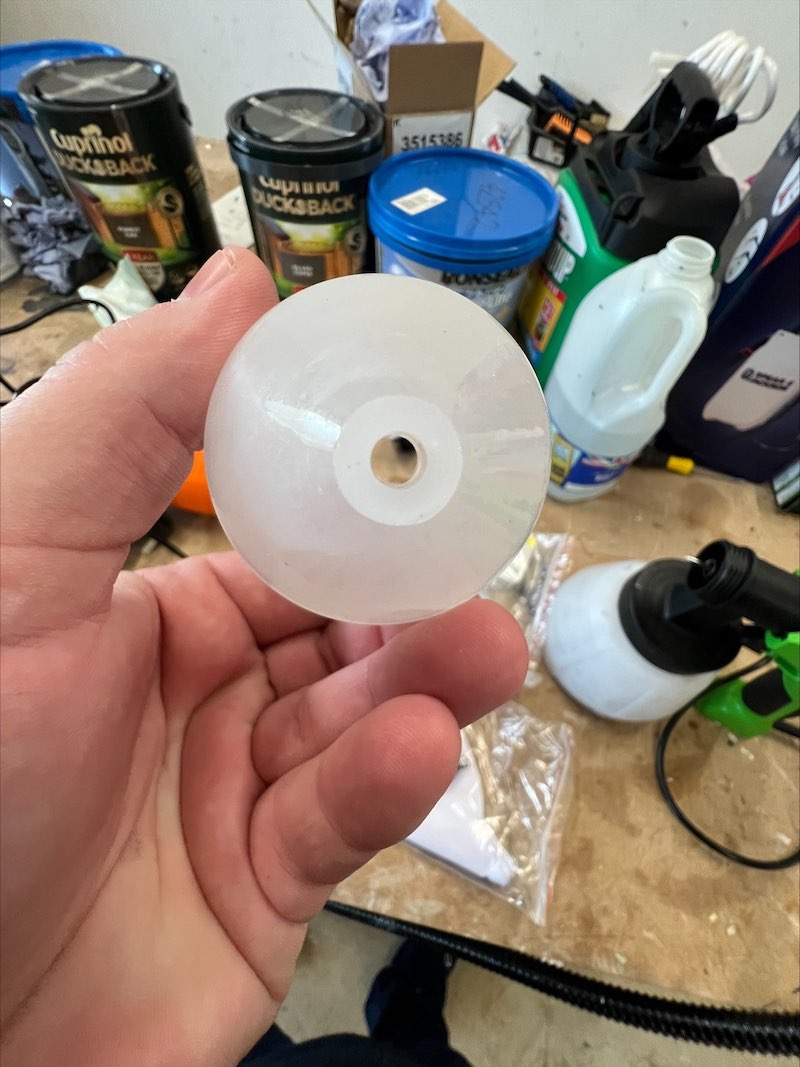 Assembly
The one thing that these sprayers all have in common is just how easily they assemble. If you take a look at the Wagner, Ginour, or VonHaus then you can see I've put you a really short clip showing assembly. The Ginour even comes with a bit of vaseline or grease around the connection to make it slide together easily. We are talking a maximum of 10 seconds! The Vonhaus is exactly the same method with a lock to stop it coming apart but they've missed the grease and therefore requires far more force, something that will bug you even if you didn't know the Ginour is so much better! Here's a look at what I mean about greasing the slide together sections: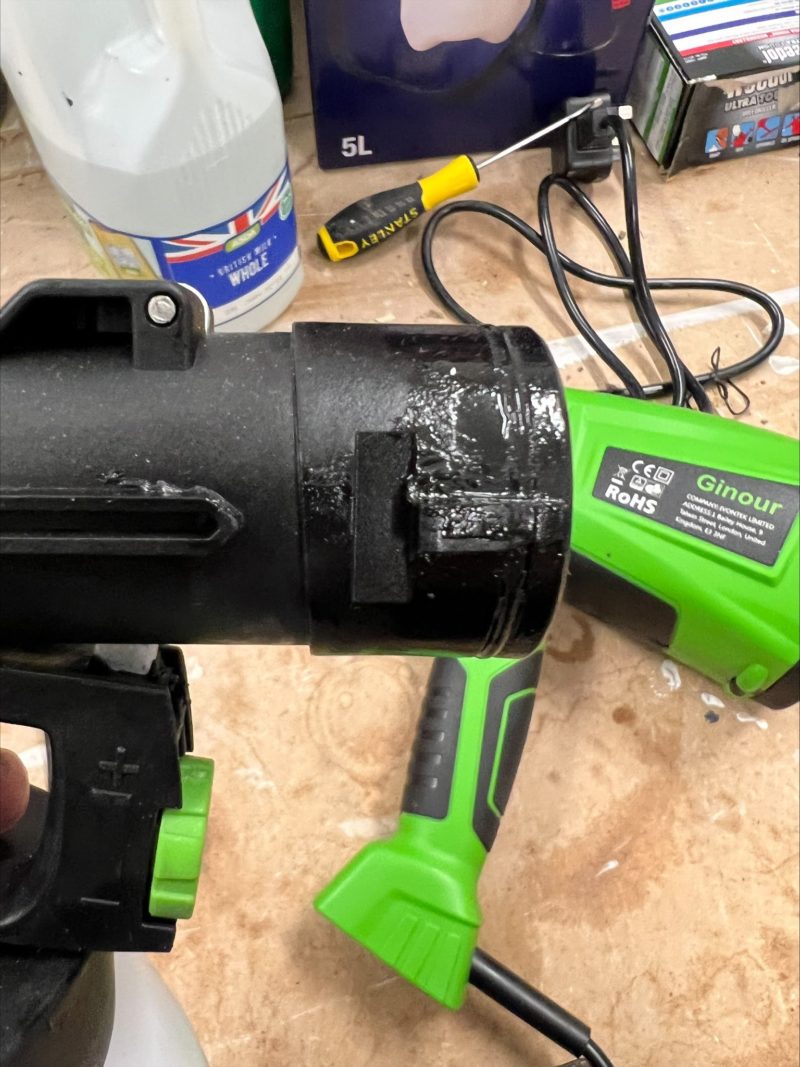 Here's a look at comparing the assembly on all three units:
Some electric fence sprayers will hurt your back on a long run
So something I learn't from testing very quickly was the weight on your back. When you factor 1.4 litres of fluid on top of the weight of the Ginour, which weighs 1.7kg it really does begin to pull on the back. While the Vonhaus has a smaller paint pot and weighs less, it still becomes arduous. Meanwhile the Wagner which is a mile ahead of the curve on this has the engine detached with a long air feed (see more about that in the full review) and so actually despite being the heaviest overall, is the easiest to use. They really nailed that for people with a bad back, trust me on that from hours of testing!
How quickly will it spray fence paint
They are all pretty good, it just so happens that the Wagner is warp speed compared to the other sprayers. Even laying on what you might call two coats takes less than a minute for a short fence panel with the Wagner. In case you didn't watch the clip, here it is again:
To check the performance of the other guns please take a look at their reviews, you may like me realise they are not as good, but prefer them over the Wagner noting you'll be able to find other uses for them (walls, ceilings, skirtings, etc)
Do they clean up easily
I have to say it was very surprising and enjoyable to clean up – being all water based (except the Creocote which I've decided is much better applied with a standard manual garden sprayer. For the most part, if you don't let the paint dry you'll simply disassemble the unit and turn on the hot tap. A couple of minutes and you'll be good to go next time – don't get lazy on this or you'll have a real job on your hands if you ever want to use that sprayer pot again:
I know from the past where I've had a beer, I can often completely forget what I should be maintaining 😀 But an electric fence sprayer is seriously unforgiving if you don't clean it up straight away!
Overspray and masking up
One thing to watch out for is overspray. Definitely as my picture above shows this kicks paint up in the air and you don't want to breathe it in. Now imagine how much worse that would be with wood preserver or Creocote so if you intend to do so, make sure you have proper masked protection for poisons – literally. This short video clip highlights just how much overspray we are talking about:
With the paint itself though, on a practical level you really want to mask up and tape any areas that are vulnerable. The only thing I didn't enjoy about the whole process was the overspray. Here's a look at me tapping up and trying to protect the fence posts and gravel boards: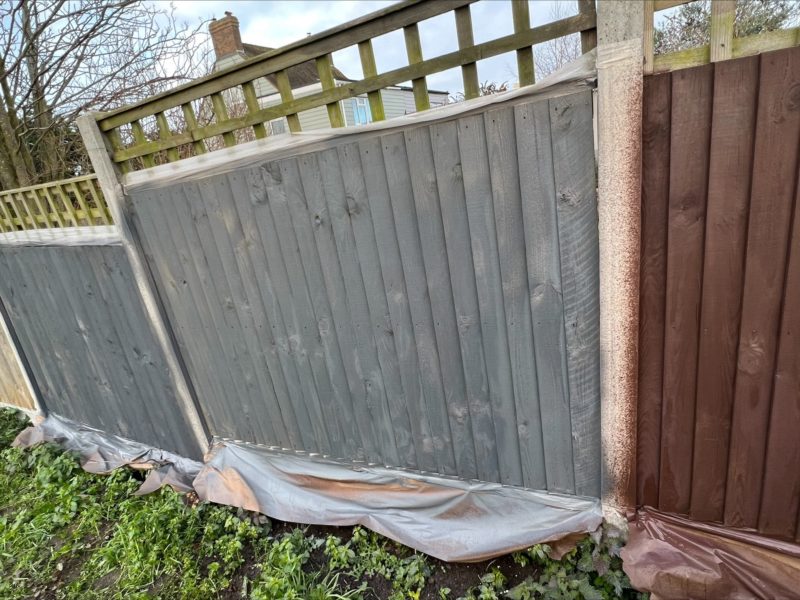 Now obviously try not to spray over the neighbours fence – I was careful near the top and gave myself 4 inches with two lines of duct tape – if your sprayer is clean and firing properly then that is manageable, even with the more powerful Wagner.
Conclusion:
If you were to paint the fence (or stain the fence) by hand with a roller or paintbrush it would take an age and be extremely dull indeed. An electric garden sprayers is completely the opposite, it rips along a fence and you can have a panel sorted in no time at all, even garden sprayers are way quicker than the old fashioned paint rollers and paint brush. Electric fence sprayers should apply stain or paint evenly, be easy to clean and operate as well as manoeuvrable given the speed you can move along a fence panel. I have reviewed a list of the best electric fence sprayers based on these important factors.
Maintenance is a boring job let's be honest. An electric fence sprayer, or conventional fence sprayer makes light work of a dull job. It doesn't have to be a fence either, I use a garden sprayer on my shed, or when fitting garden gates. I'm judging my electric fence sprayers based on application, how much waste, the ability to change from mist to spurts, ease of cleaning, price, and build quality. A nice coat of paint can completely transform a fence or shed. And with all these easy tools there's not a lot of excuses now :). And besides, the last thing we want (aside from a dull fence) is a rotten fence!
---