Garden Tool Box » UK's best garden swimming pools tested that are cheap, rectangular, and deep for children and adults
Written by Terry Smith
Our site is reader supported so when you click a link to Amazon we may earn an affiliate commission.
UK's best garden swimming pools tested that are cheap, rectangular, and deep for children and adults
This article was last updated on June 16th, 2022 at 4:06 am
I've been testing garden swimming pools now for years in the UK. Our kids and my sisters absolutely love their time in the garden swimming pool together and there is one thing that I can categorically tell you from testing all of these pools with our kids. And I can tell you my best garden swimming pool pick is actually also the budget! Yes, quite a rarity and that comes from five years testing and playing in one! The size and price doesn't matter. They had as much fun in the cheap Easy Set Up 10 Foot x 30 Inch Pool as they did the far more expensive rectangular Bestway Power Steel above ground pool, with filter and ladder or the Bestway MAX Steel Pro Round Frame Swimming Pool.
The enjoyment you can get from a garden swimming pool pound for pound is incredible. Some of the best memories are made playing with friends and family. Take a look at our kids (and my sisters) in a cheap garden swimming pool – they had just as much fun in this those years ago: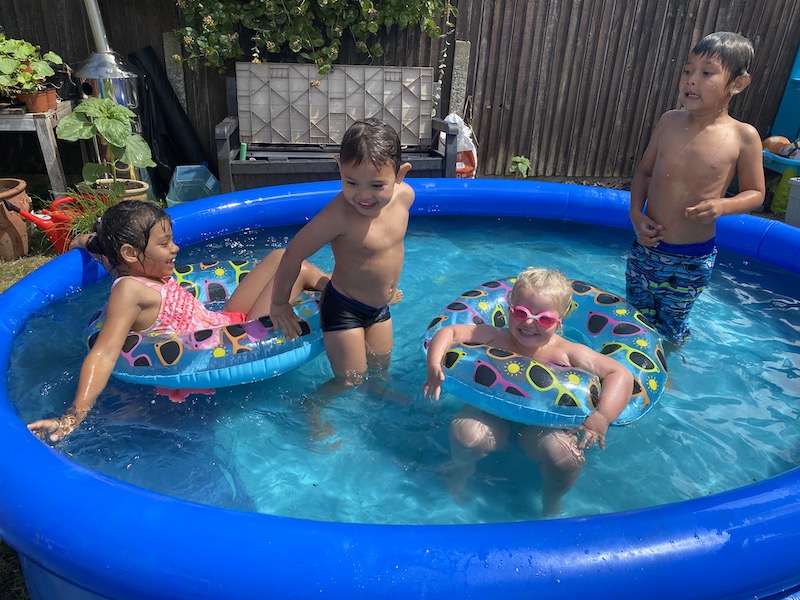 And now they have the same amount of fun in their bigger pools – I often get a phone call from my niece Saturday morning trying to get me to bring their cousins over for a fun time in the new pool: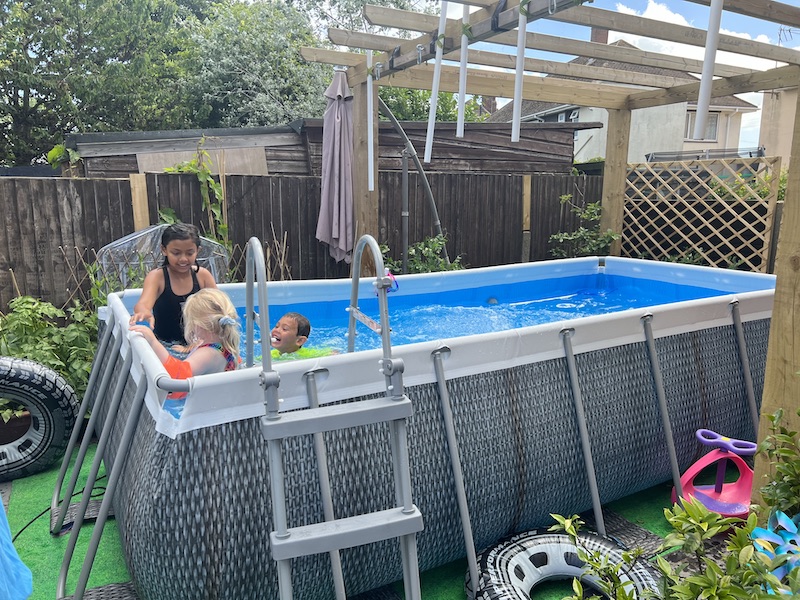 One of the best value for money garden pools on testing was the Bestway MAX Steel Pro Round Frame Swimming Pool. Not only is it a fraction of the price of the above ground pool, it turns out the pump was pretty efficient at keeping the water clear when I compared the two. And given it is much cheaper, I favour it myself, but I tell you what, for such a simple setup the instructions really ticked me off. I would loved to have used a stronger word than that! Be sure to checkout my installation guide for this garden pool to save you half an hour reading two whacking great encyclopedia sized install and maintenance books for what in reality can be described in two pages.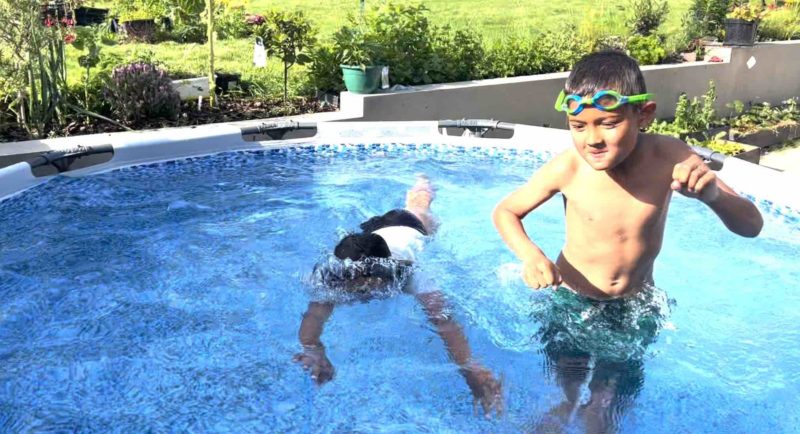 The great news is some of these amazing pools are still in stock for Summer 2022 or will be back early June too! And before we really get into this review. Could I please, please, please alert you to health and safety – arm bands are a must in deeper garden swimming pools and don't let your kids out of sight for even a minute. Now that we've got that out the way, I've got a much more light hearted and happy tip for garden swimming pool owners.
PRO TIP: Testing these pools from cheap to expensive, deep to rectangular, and even some that are suitable for adults, I can absolutely guarantee you the kids do not give a monkeys if you spend fifty quid on the ever reliable Easy Set Up Pool or the Bestway Power Steel above ground pool. They were just happy to be in the water! So with that in mind, here's a look at my top picks for everybody:
Best garden swimming pools from five years of testing experience:
Best overall garden swimming pool: Easy Set Up 10 Foot x 30 Inch Pool [personally tested and proven]
Alternative if you want something well priced, reasonably deep, and quick to assemble: Bestway MAX Steel Pro Round Frame Swimming Pool [personally tested and proven]
Best rectangular pool: Bestway Power Steel above ground pool [personally tested and proven]
Best pool for adults: Intex Rectangular Ultra XTR Metal Frame Swimming Pool
Best deep pool: Bestway Power Steel above ground pool [personally tested and proven]
Best budget: Intex Easy Set Up 10 Foot x 30 Inch Pool [personally tested and proven]
Best idea that is safe for toddlers: Paochocky Kids Splash Pad Sprinkler Play Mat
New update on the best garden pool
As you can see the grounds uneven and this pool just handles it so well only slightly bulging to the uneven side – the setup is literally seconds, not even minutes, and this time I got smart to keep the water clear, I bought the bestway swimming pool filter system too. You can thank me in an email later for saving hours emptying, wasting water, Milton tablets, chlorine, you name it! Best buy ever, just watch the electric near the pool. I filter once the kids finish and are indoors! If you look in the pic to the left you can just make out the pipework – I'll get a better picture of this soon enough but the link above to Amazon tells the same story.
With the summer pelting down in some areas across the United Kingdom, it is not surprising that more and more people are looking for ways to relax and just catch a break. If you have a big back garden in your home, installing a garden swimming pool can actually be an amazing option to not just break the impact of the heatwave but even catch a break from the constant hustle that you are indulging.
Finding the best one in the market that would last you for a long period of time can definitely be a challenge which is why it is best suggested that you get an idea about the best available options around and then look into the same all over again.
To help you out with the best ones available, we are going to sort you out with the best available options.
When it comes to the summer garden swimming pools, there is an abundant number of options available. The only thing that you need to ensure is to look out for the best ones around. It will help you get a quick escape from the scorching heat and even provide with the best experience like no other. It is important that you keep certain standard requirements sorted and then plan things accordingly.
Conclusion
You're laying on an inflatable sun lounger with a fresh cocktail in your garden swimming pool, life doesn't get any better. Well, the best garden swimming pools are always filled with inflatable pool toys for the kids and full of laughter and happiness, the reliable one is on the barbecue, cooking up something pretty special. The best garden swimming pools should be large enough for your family, strong enough to take a knock, we all like to play in the pool! With that in mind we bought the Intex Easy Set Up 10 Foot x 30 Inch Pool because on top of meeting all the criteria for the best garden swimming pool, it was shocking robust and lasted all Summer so I will be using it again this year until it fails! I'll update you if any different but I expect another great year of service.
A garden swimming pool should be easily maintained with cleaning solution, and have a convenient drain point. I've reviewed the best garden swimming pools taking those factors in consideration to help you enjoy this summer with your family and friends.
---