Garden Tool Box » Best garden swimming pools for outdoor fun updated for Summer 2021
Best garden swimming pools for outdoor fun updated for Summer 2021
This article was last updated on July 31st, 2021 at 3:48 am
8 Best garden swimming pools for the outdoor fun
You're laying on an inflatable sun lounger with a fresh cocktail in your garden swimming pool, life doesn't get any better. Well, the best garden swimming pools are always filled with inflatable pool toys for the kids and full of laughter and happiness, the reliable one is on the barbecue, cooking up something pretty special. The best garden swimming pools should be large enough for your family, strong enough to take a knock, we all like to play in the pool! With that in mind we bought the Intex Easy Set Up 10 Foot x 30 Inch Pool because on top of meeting all the criteria for the best garden swimming pool, it was shocking robust and lasted all Summer so I will be using it again this year until it fails! I'll update you if any different but I expect another great year of service.
A garden swimming pool should be easily maintained with cleaning solution, and have a convenient drain point. I've reviewed the best garden swimming pools taking those factors in consideration to help you enjoy this summer with your family and friends. The enjoyment you can get from a garden swimming pool pound for pound is incredible. Some of the best memories are made playing with friends and family. Take a look at our kids (and my sisters) in a cheap garden swimming pool: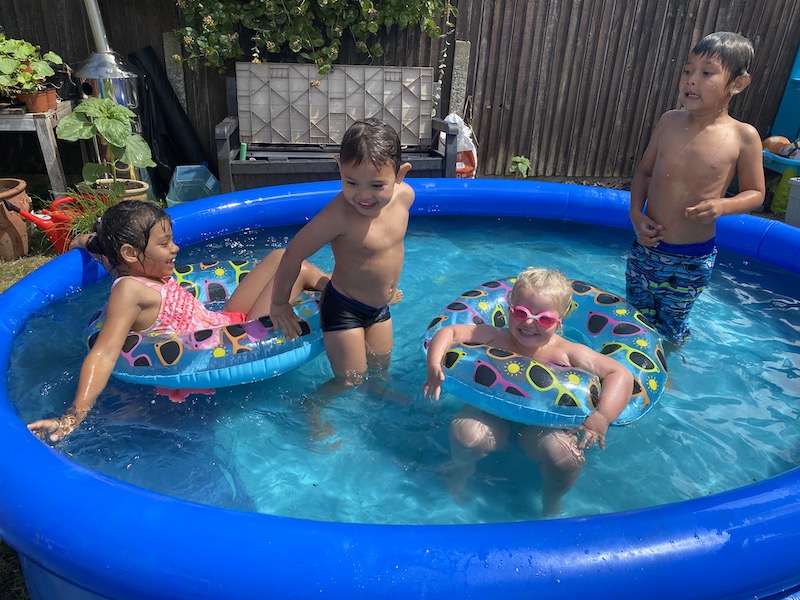 The great news is some of these amazing pools are still in stock for Summer 2021 or will be back early June too!!!
Update on my garden swimming pool / paddling pool June 2nd 2021!
The pool finally failed. It was holed by the maniac kids but the service it gave us for such cheap money I just straight up bought another one. They gave the last one a really good working over so I am expecting the replacement Easy Set Up 10 Foot x 30 Inch Pool to be the same grade, if not, you'll see an update here: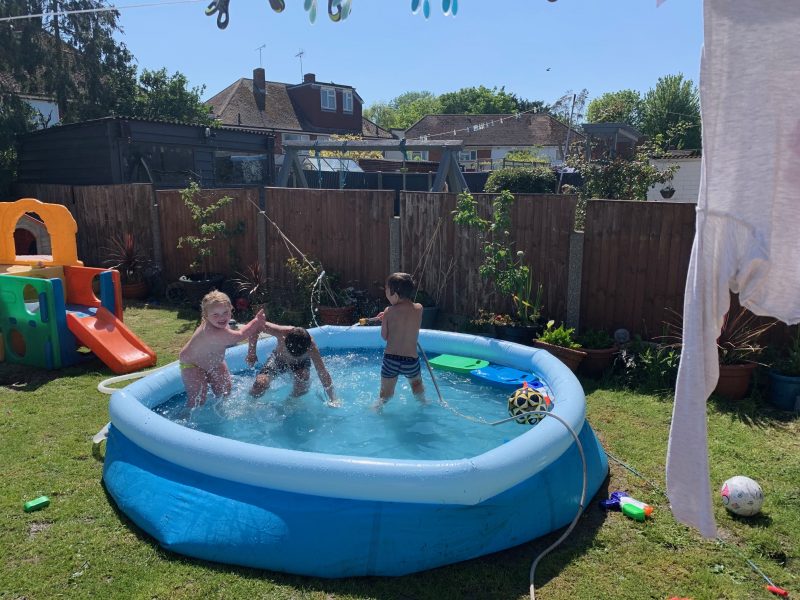 As you can see the grounds uneven and this pool just handles it so well only slightly bulging to the uneven side – the setup is literally seconds, not even minutes, and this time I got smart to keep the water clear, I bought the bestway swimming pool filter system too. You can thank me in an email later for saving hours emptying, wasting water, Milton tablets, chlorine, you name it! Best buy ever, just watch the electric near the pool. I filter once the kids finish and are indoors! If you look in the pic to the left you can just make out the pipework – I'll get a better picture of this soon enough but the link above to Amazon tells the same story.
Comparison table: Best garden swimming pools for outdoor fun updated for Summer 2021

Product
What We Think
Rating
Price

Steel pro pools are easy to assemble (tool free) with a large water capacity and durable design for a...
Strong and Durable Build: Pool is made from heavy duty three ply TriTech material for increased rigidity and strength...
Anti-Corrosion Steel Frame: The pool has undergone an anti-corrosion painting process for added protection and long lasting durability...
Built-In Drain Valve: Flow control drain valve attaches to a garden hose with included adapter to drain away water...
Dimensions: 3.00 m x 2.01 m x 66 cm (9.10 ft x 6.7 ft x 26 Inch); capacity (90...

The Easy Set Pool is the perfect and convenient product to have fun on the bright sunny days...
The Easy Set Pool is the perfect starter pool
The Easy Set Pool Water capacity: 3
Easy Set Pool dimensions: 305 cm x 76 cm
The Easy Set Pool builds itself as it fills and comes with a drain plug for easy emptying for...

Steel pro max series pools have an extremely rigid oval shape for durability and are easy to assemble (tool...
Strong and durable build: Pool is made with heavy duty PVC with three ply tritech walls and wall support...
Anti-corrosion superior steel frame: The pool has undergone an anti-corrosion painting process for added protection and long lasting durability...
Filter pump system and built-in drain valve: Keep your water clean and filter out dirt and debris; handy built-in...
Seal and lock system: Distinctive system prevents friction between metal parts and stops rust formation for maximum durability and...

18ft x 9ft x 52inch (5.49m x 2.74m x 1.32m) rectangular pool using the latest in swimming pool design...
Supplied with Krystal clear sand filter pump with Hydro aeration technology
Safety ladder included with easily removable steps (Max load 136kg)
Water content at 90% fill: 17203 litres
Please read the product description to see the remarkable benefits of Intex XTR system....

Pool Made from puncture resistant 3-ply material
Zinc-plated and powder-coated frame design
Water capacity 439gals/1662L
Four corner seats each hold up to 70 kg weight
Measures 86. 5in (L) x 59in (W) x 23

Syolee Splash Pad 68" Sprinkler Play Mat Inflatable Water Toys

✔ 68" super diameter splash pad
✔ BEST WATER TOYS -- Children and pets will be excited to play in the sprinkle and spray...
✔ REALLY EASY TO USE
✔ DURABLE QUALITY SPLASH PLAY MAT -- This sprinkler mat is constructed from HEAVY-DUTY and environmental PVC material...
✔ 100% SATISFACTION GUARANTEE -- We promise the premium quality and the best service...

Family-Size Pool: Designed with the outer size of 300 x 184 x 50cm for your family to a enjoy...
Safe & Durable: Sable inflatable swimming pool is made with BPA-free PVC...
Play Indoors: Turn the outdoor pool into a ball pit for your child to play in indoors...
Long Waiting Be Gone: Inflate each air chamber in only 1 minute by electric pump (not included); 2 water...
Compartmentalized Air Chambers: 3 individual air chambers ensure no water or air leakage for a fully inflated and stable...

Summer waves Quick Set Ring Pool + Water Filter Pump + Cover

Water Level: Approx. 55 cm
Measures 10 ft (3.05 m) in diameter
Please note that we are unable to ship to the Channel Islands...
Pool: 100% PVC + Pump: 100% Polyproplylene + Pump Filter: 10% Polyproplylene
With the summer pelting down in some areas across the United Kingdom, it is not surprising that more and more people are looking for ways to relax and just catch a break. If you have a big back garden in your home, installing a garden swimming pool can actually be an amazing option to not just break the impact of the heatwave but even catch a break from the constant hustle that you are indulging.
Finding the best one in the market that would last you for a long period of time can definitely be a challenge which is why it is best suggested that you get an idea about the best available options around and then look into the same all over again.
To help you out with the best ones available, we are going to sort you out with the best available options.
1. Bestway Rectangular Frame Swimming Pool, Steel Pro, 9.1 ft
It's been a tough year to get a quality swimming pool for your back garden. Many of the factories around the world are closed but there's still one brand with some stock. Best Way is reliable and generally their pools last well. I have all too often been the guy that buys a pool only to find it has a tear or split from brand new. This is pretty unusual for Best Way and they are my favourite brand now for a paddle in the back garden with the kids.
Right now, the Bestway Round Frame Swimming Pool with Filter Pump which is 9ft and holds about 3300 litres of water is still in stock. It's big enough to let the kids have space to play and will take a fair bit of a beating. The most important part is the filtration pump – get one. This will help you keep the water in top nick through the whole summer. How many times have you bought a pool to find it full of green algae just a few days later?
Then you get tired of the process and the whole idea gets shelved, until a super hot day comes along and you need to tirelessly get it all setup as fast as possible. Only to watch the water level agonisingly rise :). Yeah we've all been there. A pump is a must if you want this to be an all Summer long deal. Plus, 2020 is the year of being at home. A decent pool will pay itself ten times over this year I am willing to bet.
Another great thing about the Best Way is the instructions. They are crystal clear, they even have a DVD and you will not be left scratching your head. Even the least able DIYer will have no trouble setting the kit up. Not only that, they have a UK support team. You are not buying in the dark on a hope. This is the deal clincher for me. Especially given how sturdy and reliable Best Way pools are known to be. Having supporting and a warranty you can rely on is a big deal. A lot can go wrong when holding three tonnes of water!
You'll get this pool quite quickly, grab some chlorine tablets too. Get a net and mop. Ten minutes maintenance a day will be more than enough to keep your pool in tip top condition for all the family to enjoy. This is essential to keep crystal clear water each day.
It's a decent offering and will be sold out within weeks of the Summer 2020 start, if not before. So grab your Best Way today. This will provide drama free fun all Summer long.
2. Bestway Round Frame Swimming Pool with Filter Pump
If you have a big family and need to indulge in a bigger pool, the Bestway Round Frame Swimming Pool with Filter Pump is one of the best options available around. It is a bit costlier in comparison to the other available variants of the garden swimming pool; it isn't the worst option available around. It is 12 ft which is pretty similar to a mini actual swimming pool that you can spend on. The rigid oval shape of these pools further makes it a good option to invest in furthermore.
Additionally, they come with a very easy to assembled function, so you don't have to bang your head with it. Also, it is manufactured with heavy-duty PVC along with three-ply Tritech walls which ensure to keep the structure standing tall and strong and that without any kind of punctures or issues in terms of the quality. It has a wall support band which further helps in keeping the structure in place and doesn't impose negative impacts. It also has the built-in drain valve so you don't necessarily have to worry about draining of the water once you are done with the pool.
Integrated with features that prevent rusting
Manufactured with heavy-duty PVC
Comes with three-ply Tritech for better stability
12 ft in height making it perfect for big families
3. Intex Rectangular Ultra XTR Metal Frame Swimming Pool
GREAT NEWS – this amazing garden swimming pool looks like it'll be in stock all Summer of 2020. This is mainly due to the price tag so you'll need deeper pockets, but what an investment for a summer we will almost certainly still be in lockdown for.
If budget isn't an issue and you want to go all out with an actual garden swimming pool to keep around in your back garden for good, the Intex Rectangular Ultra XTR Metal Frame Swimming Pool is possibly the best option available around. The dimensions of 18ft x 9ft x 52inch are perfectly manufactured with the latest swimming pool technology which ensures the maximum safety and fun all packed into one.
The best part of this is the fact that it is also provided with the Krystal clear sand filter pump that is integrated with the hydro aeration technology like no other. Additionally, the removable steps along with the safety ladder further include as some of the important additions to this altogether. It has a capacity of 17203 litres which is pretty huge when you come to think of it. It is perfect for the ones with a big family.
Dimensions of 18ft x 9ft x 52inch
Integrated with the latest swimming pool technology
Comes with krystal clear sand filter pump
Integrated with hydro aeration technology
Has 17203 litres of capacity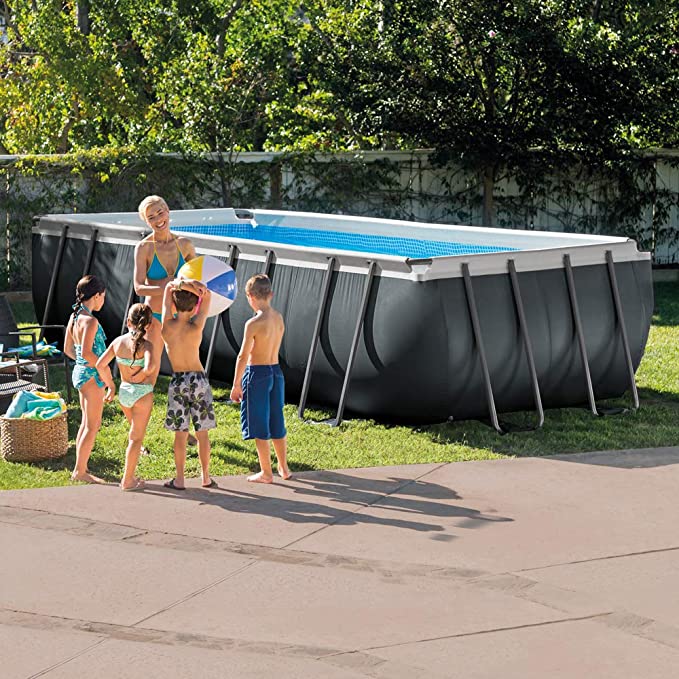 4. Intex Easy Set Up 10 Foot x 30 Inch Pool
( 19237 customer reviews )
This is the garden pool I settled on!
The Intex Easy Set Up 10 Foot x 30 Inch Pool which is perfect if you have a big family with toddlers and need a pool in your back garden that comes with a very decent price point for how sturdy it is.
It can hold up 3800 litres of water in it so won't take long to fill with a standard garden hose, which is nothing short of a small mini pool around that you play around you. It is 3 ft deep, so ensure that you always keep an eye out on the children or have tubes and life jackets wrapped around them to prevent any kind of mishaps from happening. That said, I am sure you'll exercise caution, I felt confident that this was both safe and fun for our families. A super little pool for fifty quid or so. The side walls are all triple bound making it extra stronger than before. It is manufactured with 3 different layers of material to make it extra durable and sustain heavy pressure. You will be genuinely surprised by just how well this stands up. You look at it and it doesn't make any sense 🙂 but honestly it was very sturdy and super value for money.
You'll need to clean the water. Mine went green and I used Milton tablets then gave it a good scrub. I think we changed the water twice in the Summer so not bad all in all. The kids absolutely loved it. I put mine away. Easier said than done but it will save me fifty quid as I doubt it would take a beating out in the wet and cold all Winter. That applies for any pool though which is standard advice.
Huge water holding capacity
Extra layering for better support
3 ft tall for a better experience
Perfect for families
Really well priced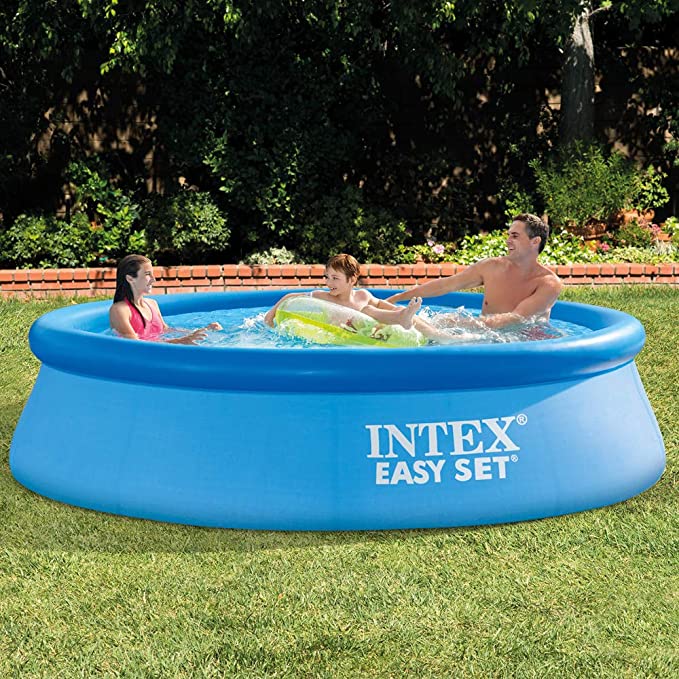 5. Hillington Jumbo Deluxe Rectangular Inflatable Family Swimming Pool
The very first in the list definitely has to be the Hillington Jumbo Deluxe Rectangular Inflatable Family Swimming Pool which is quite a public pleaser. If you have been on the lookout for an inflatable swimming pool that you can keep around as per your requirements as ease, this is one of the best options. Apart from the normal features, it also ensures safety and security with the multiple L-beam chambers as well as the 2 ring outer walls.
The best part of this inflatable swimming pool for the garden is the fact that the valve is quite adjustable with the majority of the electric inflaters that are available in the market. What this does is make it quite easier for you to inflate the product without imposing excess pressure or efforts. It comes with the dimensions of 3.05 m x 1.83 m x 50 cm which is pretty standard and adjustable.
Easy to inflate
Comes with safety features
Durable material
Sturdy
Compact and easy to store
6. Intex 28270 Rectangular Pool
If you wish to have a similar experience of like that of a swimming pool right in your back garden, the Intex 28270 Rectangular Pool is most definitely the best available option around. It mimics the experience you get sitting in an actual pool which is pretty amazing and thus makes it one of the best sellers right now. The best part of this specific garden swimming pool is the fact that it is manufactured with the puncture-proof 3-ply material which ensures long-lasting durability like no other.
Additionally, it comes with the zinc and powder coated design which further makes it a sturdy option to hold through a lot of weight, especially if you are having a pool day with the family. It has a total water capacity of 1662 liters which is pretty amazing. It also comes with 4 corner seats which have the capacity of holding up to 70 kg of people and gives you the feeling of being in a real pool.
Puncture-proof material
Manufactured with zinc and powder coated design
Perfect for families
Comes with four corner seats too
7. Sable Rectangular Inflatable Family Paddling Swimming Pool
Yet another one of the rectangular inflatable pools best for the families include the Sable Rectangular Inflatable Family Paddling Swimming Pool. It is a lot similar to the one we mentioned by the Hillington brand. The best part of this product most definitely has to be the fact that it is made out of one of the best quality material that ensures long-lasting of this. It has a dimension of 300x184x50 cm which makes it perfect for the families to play and splash some water around.
It is manufactured with BPA free PVC which is 50% thicker as well as amazing in terms of safety and stability. It will last you for an extended period of time so the one-time investment isn't the worst option at all. Takes about 1 minute or so to get inflated which is pretty impressive as well. Additionally, it comes with 3 individual air chambers which further ensure to prevent any kind of leakages as such.
Perfect for families to splash around
Made with BPA free PVC
50% stronger than normal PVC
Takes a minute to get inflated
Has 3 individual chambers that prevent leakage
8. Syolee Splash Pad 68" Sprinkler Play Mat Inflatable Water Toys
The Syolee Splash Pad 68" Sprinkler Play Mat Inflatable Water Toys might not be the typical garden swimming pool that you expect it to be, but if you want something out of the box, this is the one. The addition of the splash pad is what makes this a people pleaser and you will note that the majority of the children do love indulging in this from time to time.
It is very easy to use because all you need to do is plug in the sprinkler and inflate the water toy and it takes care of the rest of the things involved around in this. It is manufactured from heavy-duty and durable PVC which is completely non-toxic as well as BPA free which is definitely an added bonus. It stands up to all the requirements that you have and thus makes it a very favourable option among the massed.
Amazing for water parties
Easy to use
Manufactured from non-toxic and BPA free PVC
Checks off all the requirements
9. Summer waves Quick Set Ring Pool + Water Filter Pump + Cover
If you want a budget-friendly and good to use garden swimming pool, the Summer waves Quick Set Ring Pool + Water Filter Pump + Cover is most definitely one of the very best options available around in the market right now. It is completely a transparent ring-shaped pool which looks amazing and quite different than the majority of the pools that are currently available in the market. The best factor of this brand and the swimming pool is the fact that it comes with its own water filter pump as well as the cover to keep it protected for a longer period of time.
It is 10 ft in diameter, thus making it a suitable option for big families who need an outdoor pool to keep them cool during the hot summers. It also comes with the quick drainage plug which further helps ensure that you wouldn't have to worry about discarding the water and such issues that many tend to experience.
10 ft in diameter; perfect for families
Made with sturdy material
Transparent material looks better
Comes with quick drainage plug
When it comes to the summer garden swimming pools, there is an abundant number of options available. The only thing that you need to ensure is to look out for the best ones around. It will help you get a quick escape from the scorching heat and even provide with the best experience like no other. It is important that you keep certain standard requirements sorted and then plan things accordingly.
---