Garden Tool Box » UK's best decking cleaner for wooden deck restoration, algae, and black spot removal
Written by Terry Smith
Our site is reader supported so when you click a link to Amazon we may earn an affiliate commission.
UK's best decking cleaner for wooden deck restoration, algae, and black spot removal
This article was last updated on April 23rd, 2022 at 5:54 am
Offering both functionality and practical value, the garden decking area is one of the best places to be in most homes, I know it is in ours – with a pop up gazebo overhead and a wall mounted heater we keep the party going into the night, during the day it's the sun loungers, charcoal bbq (this can be a problem so use a mat to stop any wood that spits out damaging your deck) area, and soon to be hot tub area all rolled into one – so after the wooden deck gave in, I did a how to build a deck from scratch. I thought going for a recycled plastic look alike deck mean't I fixed the daily hassles, and I was right to an extent, it still needs blasting off with my cordless pressure washer every so often. It has improved things from my old wooden deck though for sure – I used to need the best deck cleaner money could buy in an attempt to remove Algae, lichen, and a nasty green film that became slippery – basically purge everything!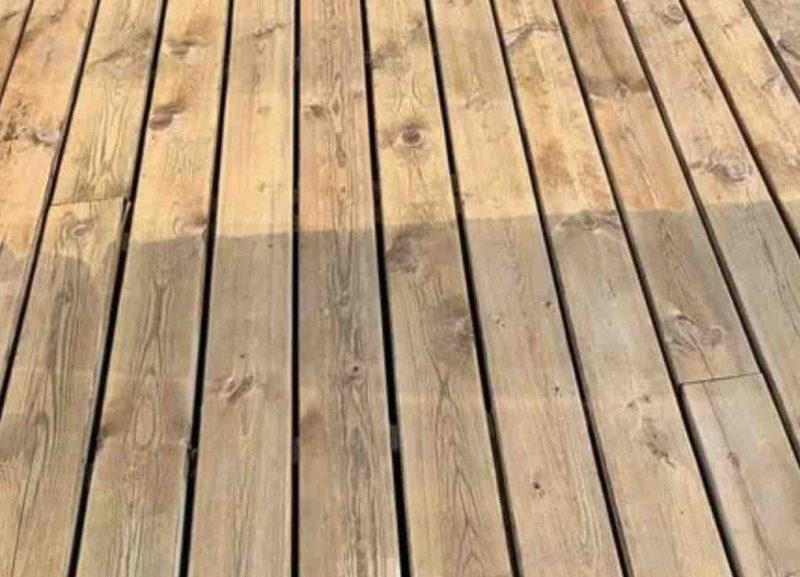 I think my patio is in one of those spots where the sun misses it for a large chunk of the day, and therefore stays damp longer – hence the quick build up. There were no half measures, the strongest deck cleaner I could find, and blasting it with my petrol pressure washer was the only way to clean it properly, and then of course it looked dry and tired so needed – nourishing with decking oil to bring the colour back – you could also use teak oil or Creocote as I do when I clean my shed exterior the same way. It stood up well for about 15 years – considering how quickly Algae and growth built up, I was happy with that but enough was enough, and I swapped over to plastic. If this sounds similar to your story but you've not quite decided to make the change, then read on, I have literally a decade of experience using decking cleaners, and subsequently bringing a dry, unhealthy looking deck back to life once cleaned – I'll show you the best products in the UK – I'm in the South but I'm absolutely confident my knowledge applies up North too, no problem on that 🙂
The best deck cleaner will break down dirt and grime, should remove Algae, help remove black spot and any green slippery bio layer and take a good chunk of the elbow grease out of cleaning. Ideally you find an all rounder but in case you need something stronger biologically, or for stuck in grease we will cover that too. Needless to say my review factors the price and safe to use around the home with kids and pets – so let's get stuck in and have a looking at the best decking cleaner picks:
Best decking cleaner: editor picks:
Best best decking cleaner in the UK overall: SmartSeal Deck Cleaner
Alternatives picks to SmartSeal: Ronseal DC decking cleaner or CUPRNOL 5083456 Decking Cleaner
Best value for money deck cleaner: Everbuild EVBFUN5 404 Fast Powerful Fungicidal Wash – superb value for money as usual
Strongest deck cleaner in the UK: CUPRNOL 5083456 Decking Cleaner
Large quantity for commercial use: Jarder Spray & Leave
Best deck cleaner that doesn't need a pressure washer: SmartSeal Deck Cleaner – used with a pressure washer will enhance results though
What you get in this article:
What is decking cleaner and how to pick the best one for your deck?
FAQs when buying decking cleaner
What is decking cleaner and how to pick the best one for your deck?
Deck cleaner, or decking cleaner is pretty similar to patio cleaner that can remove grime and oily stains and works the same way as an algae remover or moss killer does. Some in fact cover all three like the Smartseal Deck Cleaner which is very effective and doesn't need a pressure washer (though experience tells me from testing you get much better results with a washer):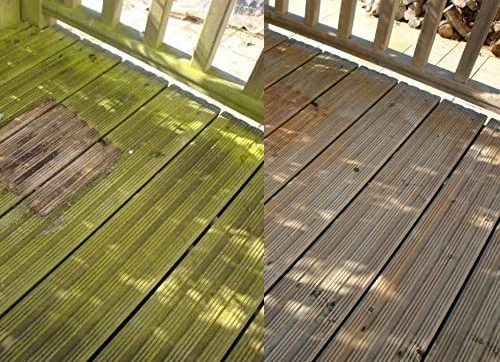 However, there are specific chemical mixes specifically designed for wooden decking which I will be focussing on in this review. Most decking is made from softwood or hardwood. However with that said, I recently made a composite wood decking (recycled plastic) that looked really similar to the real thing, but it's a safe enough bet you have wood of some kind so let's stick to that.
Is deck cleaner harmful?
Most deck cleaner is now water based but it's generally very harmful in to all ponds and children so picking a dry day so it doesn't run into ponds or rivers is a must. Given the changing rules on health and safety, the formulas have now had to be brought inline with strict regulation. This is a story of two halves though, from an environmental and health perspective it's much safer, from an actual cleaning perspective it's much less effective, a bit like the substitute Creocote for Creosote if you've ever used a stain on your wood shed 😀
How does deck cleaner work
The idea behind deck cleaner is to remove and kill Algae, penetrating the timber to that point, removing dirt and grease, as well as lifting off any mould and killing that too. This leaves your deck ready to be treated, nourished, or oiled – some even use teak oil over decking oil.
Now here's where it gets a little more complicated. Some deck cleaners are designed to remove dirt, Algae, and black spot like the quality Smartseal Deck Cleaner whereas the Everbuild EVBFUN5 404 Fast Powerful Fungicidal Wash is more aimed at the biological problem. So when you're selecting a decking cleaner be sure to know what you're trying to remove and then check it's suitable to do so. Most of the negative reviews I see are a case of misunderstanding the ability of the deck cleaner they've purchased.
Picking the right deck cleaner for you will come down to how bad your Algae and moss coverage is, how long since the last cleaned the deck, the timber it's constructed from (normally Red Wood), and how much exposure to sunlight you have. A deck that doesn't dry out always is the first to get hit with Algae and mould! So for example, if you had all of the problem listed here, I'm probably going to point you toward the Smartseal Deck Cleaner as that is seriously strong stuff but does have it's pitfalls being so strong!
Fun fact – clean your deck regularly and you'll get much longer between the times you need to stain and preserve it! Yep, as with all maintenance it reduces the need for a big service and invariably saves you money whilst looking at your pretty deck.
How to actually use the best deck cleaner to make my decking perfectly clean?
Before you get into the main body of work it's worth doing a little tester with your chosen compound to ensure you're happy with the result. First off the bat clear an area of any loose debris, and any growth you can remove with a stiff brush or pressure washer is a bonus. Let that area dry out. Now, apply your deck cleaner in an area tucked out the way to make sure it doesn't react badly to the chemicals you've chosen.
Some of the techniques to clean your decking vary. Let's pick the strongest chemical so you'll know the most cautious route to take – The Cuprinol decking cleaner. As above clear your area and apply the deck cleaner. Follow the instructions for maximum application time, in the case of CUPRNOL decking cleaner that's 30 minutes. Make sure you pressure wash off or scrub off your boards before moving onto the next batch. Remember, don't let the deck cleaner spill onto boards already cleaned or it'll fade them further until your new stain or wood oil brings the decking back to life. Here's a cracking little ten minute video you can skip through to show you what can be done!
Talking of which, once you've pressure washed off the area its now time to let your decking dry. At this point you want to seal in with lacquer or stain your decking as soon as possible to stop dirt getting into the grain of the wood directly again.
FAQs for buying decking cleaner
Who would have thought deck cleaner could be so complicated. Who much to dilute? What does it kill? Will it lift oil? Do I brush it on? How do I clean it off? How long do I apply it for before washing off? Does it work with a pressure washer? There are actually a fair few variables as you can see from the quick questions I just fired off above. So the key is to do a fair bit of research first and make the time to read this review thoroughly so you know what you're getting yourself into and what is the best deck cleaner for you.
How much deck cleaner should I use?
Picking how much to dilute your chosen deck cleaner by is down to how severe the Algae and mould on your decking. If you have decking in poor condition you may chose not to dilute at all and will possibly need to repeat the process. Much of this though is down to how much growth you can remove with a stiff broom prior to application of your decking solution.
What will my deck cleaner remove?
Interestingly some deck cleaners are specifically an anti-fungal and do not remove dirt or grease like the Buysmart Products 2.5L Green Gone Decking. This is a common misconception. If you're looking for an all round solution then you ned to go for the Cuprinol decking cleaner or Ronseal deck cleaner options. You can of course use a combination of these but if you're looking for good value for money the best way to handle this is a Fungicide and then use washing up liquid and a scrubber to pull up any stuck in dirt and grease. Then of course pull out the pressure washer to finish the job if you have one.
Is there any pet friendly deck cleaner?
Most deck cleaners become inactive once dried much like pet friendly weed killers. The best thing you can do is check the manufacturers guidelines to be sure. Remember before most have dried that are extremely harmful and should be handled and use with care.
---