Garden Tool Box » Best children's electric bikes [UK]: Electric motorbikes for kids aged 3 to 12 reviewed and compared
Written by Terry Smith
Our site is reader supported so when you click a link to Amazon we may earn an affiliate commission.
Best children's electric bikes [UK]: Electric motorbikes for kids aged 3 to 12 reviewed and compared
This article was last updated on April 23rd, 2022 at 4:52 am
Choose from the 7 Best Children's Electric Bike Reviewed in the UK
It doesn't matter if your kid is obsessed with motorcycles and points them out every time they pass, or you just want an original gift idea that is sure to make every child, boy or girl, smile from ear to ear, you can't go wrong with a kid's electric bike (or perhaps a kids electric scooter or a kids go-kart too 😀 )
You probably didn't know there are so many overlapping age ranges that it's hard to pick the perfect electric motorbike for your child, so we've tried to break them down by age range as much as is possible based on our experiences:
Our pick of the top best kids electric motorbikes by age groups:
Best electric kids bike for 6 to 8 years olds: INJUSA – Motorbike Blue Fighter 24V
Motorbike alternative: best quad – Leopard 36V 1000W Battery Powered Kids Mini ATV Quad Bike
Best motorbike for 3 year old: Peg Perego Ducati GP Kids Electric Motorbike
Alternative best electric kids bike for 4 to 8 years olds:  HOMCOM Kids Police Motorbike
Best motorbike for 5 year olds: HOMCOM Kids Electric Motocross Bike
Best electric bike for 6 year olds: INJUSA – Motorbike Blue Fighter 24V
Best electric kids bike for 10 years olds: INJUSA – Motorbike Blue Fighter 24V
Best electric kids bike for 12 years olds: INJUSA – Motorbike Blue Fighter 24V
What to look for when buying a children's electric motorbike
Feeling a bit overwhelmed by the sheer number of different kid's electric bikes to choose from? We understand what that's like and is why we've put together this short buyer's guide for you.
It covers the main things you should be concerned with when buying a kid's electric bike and gives some information and tips on each sub topic. Hopefully it'll help you choose the electric bike that will have your kids beaming from ear to ear, especially with some of them looking so cool 🙂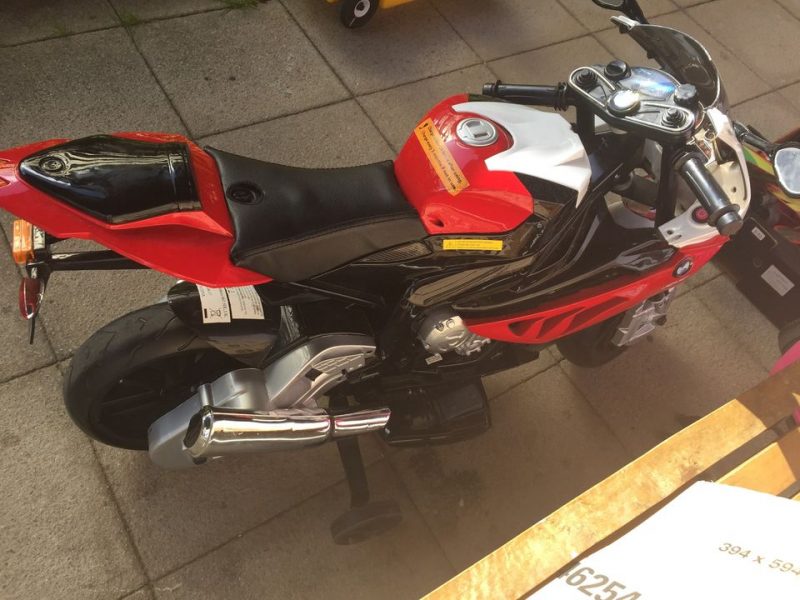 When you're thinking about buying a child's electric motorbike, a few things instantly pop to mind. Is the bike suitable for your child's age? Is it safe? Will they fall off easily? Is it too fast? Those are the easy questions. Below we look at those and some of the more practical arguments and thought processes you may go through when selecting for your child.
Age range and size
All kid's electric bikes will have a recommended age range but often the makers overestimate that range. For example, you will see a bike that has an age range of 4-8 but actually it would be better suited to kids between 3-6 and anyone older will be very cramped up sitting on it.
This isn't always the case, but it is more common than you would imagine, so our advice is to check the recommended age range against the dimensions of the bike itself, plus look at some of the customer feedback comments to get a true idea about the size of the product.
Battery and motor
Batteries come in different sizes such as 6V, 12V, 24V, etc. Sometimes a bike that is advertised as 24V is actually two 12V batteries working together, and the same goes for other high voltage models. Generally speaking, a bigger battery will provide a longer running time and more potential power for the bike, but there are other factors which affect these things too.
One of those things is the electric motor. These motors are what power the wheels and provide speed. Electric motors are measured in watts, and the higher the wattage, the more speed it can produce.
Most toddler's electric bikes will have a 6V battery and small motor as they are not intended to go fast, but if your kids are over the age of 6, I would definitely look to get something with both a bigger battery and more powerful motor.
What about something safer like a quad bike?
Kids might benefit from the safety of four wheels. Look how happy this little chap is below. We think there might be some mileage in exploring the option if you haven't already.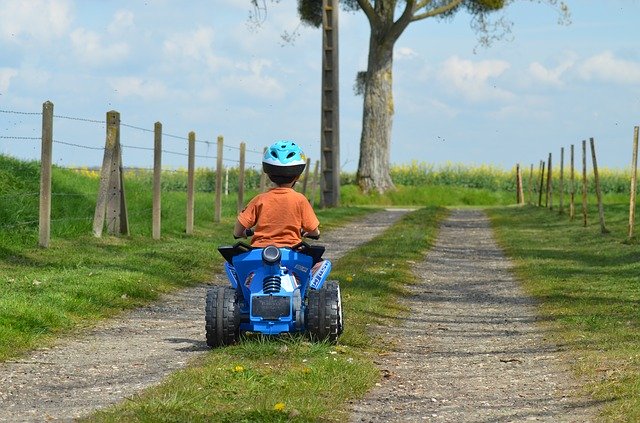 Wheels and tyres
The wheels and tyres are some of the most important features on any electric kid's bike, especially as the child gets older and their bikes become more powerful.
For really young kids, plastic wheels are fine as they will only be travelling very short distances at very slow speeds. On electric bikes for kids aged 4-6, rubber tyres might be a good choice as they offer a good balance between durability and traction. Electric bikes for older kids should ideally have pneumatic tyres due to the comfort and grip they provide.
Other features to look out for
If you're looking to buy an electric bike for someone around 3-6, you might be interested in things like sound effects such as horns and engine noises Models like our last review above, even have USB slots so you can play your own music.
Electric bikes with higher performance will need good stopping power, so look out for disc brakes or drum brakes, and good suspension or shocks are also nice features to have.
There are so many options available these days too, from replica police bikes, scooters, dirt bikes, and sports bikes, kids go karts, to kid's quads and balance bikes. This wide array of designs means that there is almost definitely something out there that your child would go crazy for.
There has never been a better time to buy a kid's electric bike either. In recent years battery technology has really improved and this has led to both a reduction in charging times, and an increase in the length of time you can actually use the electric bike.
Most kid's electric bikes are designed for younger children, aged between three and six and so they are hardly the fastest moving things on the planet and are built to be safe. There are some other models that can go a bit faster but these will have a higher recommended age for the rider.
In this article we have tried to review a good selection of the different types of kid's electric bikes, as well as point out a few handy tips in our buyer's guide, so that you will have an easier time finding the best kid's electric bike for your son or daughter. An electric bike for your child should be easy to ride, put safety above all else, be well priced, hold charge for a good length of playtime, have a reliable motor, and wheels that offer solid traction. We have rated our reviews on these criteria.
1. INJUSA - Motorbike Blue Fighter 24V
Continuing with the trend of kid's electric bikes for bigger boys and girls, we now present you with the Injusa blue fighter.
Make no mistake, this is not a toy for your toddlers and does not come with any training wheels or sound effects to play with. No sir, this is a good first step towards eventually getting your child a small petrol bike and would suit any adventurous kid from the age of 6 up to 12.
It features not one, but two 12V batteries working together to propel this kid's electric bike forward at speeds of up to 12kph, the fastest of all the electric bikes we tested.
If you're going faster, you need to stop faster too right? Injusa have thought of this and fitted a large drum brake on the rear wheel so that your kids can control the speed of the bike with an easy squeeze of the brake lever.
This bike is solid and sturdy, thanks to the reinforced metal chassis, and metal forks and handlebars, so you don't have to worry about it crumbling under the kind of abuse that only a 6 year old can wreak on a toy.
Unlike most of our other reviews that have either plastic or rubber tyres, this kid's electric motocross bike features proper pneumatic tyres for the most comfortable ride available, and also to provide the highest level of traction, no matter what the surface.
This bike looks fantastic, and has a properly shaped motocross style seat and handlebars, front and rear shocks, and cool decals. The large tread on the tyres, and metal spokes and rims also add to the overall aesthetic, as does the mock, plastic engine.
Standing 112 x 73.5 x 59.5 cm, and weighing 11.3kg, it is small and light enough for your kids to handle and push around, yet it has a high maximum load weight of 50kg, allowing bigger kids to play on it.
At half the price of the Ducati replica kid's electric bike, this is definitely a product to have a closer look at, especially if your kids are bit older, or just more confident and adventurous.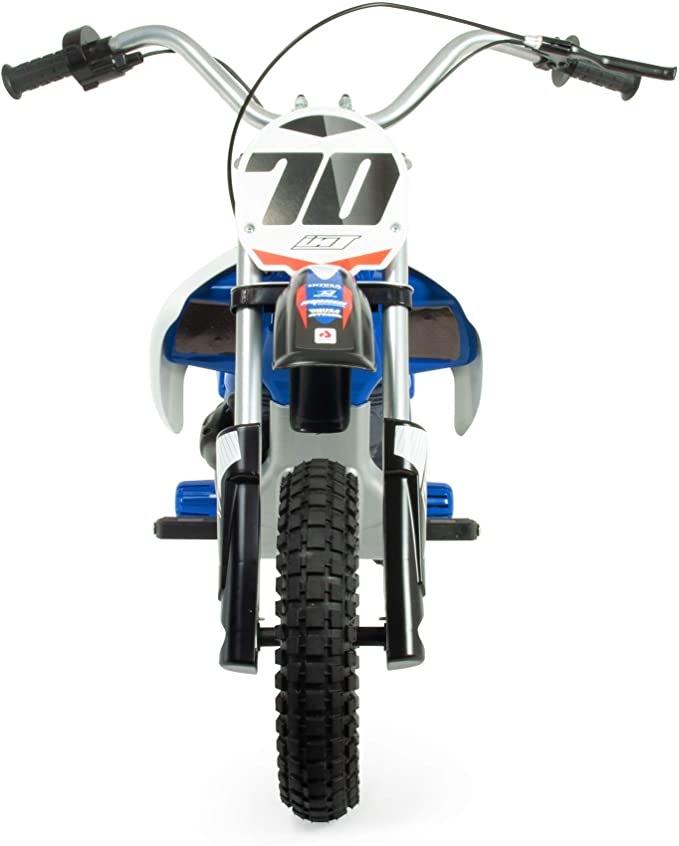 2. Leopard 36V 1000W Battery Powered Kids Mini ATV Quad Bike
As a slight alternative to a bike I threw in this quad. Why? Safety – my kids have never hurt themselves in one!
Without a doubt the best electric quad for kids over the age of 10 is this mini ATV from the Leopard brand.
It has a high maximum load weight of 65kg so even teenagers can have fun on it, as long as the rider can sit on the 97x54x70cm frame comfortably.
And they won't be underwhelmed by the power of this little beauty either. With 36V of battery powering the substantial 1000W electric motor, this kid's quad can certainly shift! There are 3 speed modes to choose from with the slowest producing an easily manageable 7kph, the second gear stepping things up a bit at 13kph, and the third an fastest setting of 24kph being perfect for an exciting ride. In the fastest gear, you can even pull off 'donuts' and power slides with a bit of practice. There is also a reverse gear which comes in very handy on a quad that weighs about 50kg.
The brakes on this kid's electric bike are pretty impressive too, and this quad features a total of three disc brakes-two at the front and one in the rear, that provide excellent stopping performance. On the right footrest there is a safety footbrake and two brake levers on the handlebars which will slow and stop the quad very quickly if needed.
Four 6 inch diameter pneumatic tyres with off road treads provide outstanding handling, even on soft, muddy terrain, and your kids will soon build the confidence to thrash this awesome little toy around.
The 36V of power come from 3x12V batteries that take about 10 hours to charge up and then your kids are free to seek those outdoor thrills for between 1-3 hours, depending on how fast they ride and how much they use the lights and horn. One very cool feature is that on the right handlebar there is a digital screen showing the battery level, so you'll know when it's getting close to recharging time.
There are six different colour schemes to choose from when you order from Amazon and whether you order the blue, black, green, red, orange, or pink, you won't be disappointed as they all look really cool thanks to a graffiti/camouflage design.
There is some assembly needed to put this electric kid's quad together, but it shouldn't take you more than an hour to do so and the instructions are easy enough to follow.
This is an outstanding product, high quality, great battery running time, and in top gear will provide your kids with all the fun in the world.
With this kid's electric bike, your child can really live out their policeman fantasies in style.
Powered by a 6V battery, this kid's police bike has a very safe, pedal operated, top speed of 2.5kph, so it can be used indoors or outside without you having to worry about your child crashing it.
Measuring 80 (L) x 43 (W)x 54.5cm(H), weighing just under 7.5kg, and having a maximum load of 25kg, this electric kid's bike is ideally suited to riders who are 4-7 years old. Unless your child is particularly small for their age, I don' think it would be ok for anyone older.
This Homcom kid's electric bike features three plastic wheels, all of which are both large and wide and provide enough grip to see your kids happily whizzing around on a wide range of surfaces and terrains.
The body of this bike is constructed out of a combination of strong polypropylene plastic sat on an iron frame, making it incredibly sturdy. The level of workmanship on all the parts is of a high standard, and the overall build quality is very good for a toy aimed at toddlers.
There are various switches for kids to play with such as the forward, backwards, and stop switch that controls direction, and the switch that operates the LED headlights and sound effects. All the controls are easy to see, reach, and operate, even for very young children.
The sound effects include an engine revving, a car/motorcycle horn beeping noise, and of course a police siren. A word of warning on this, these sounds are more than a little bit loud which your kids will love, but you? Maybe not so much after 10 minutes indoors, haha.
Battery charging time is around average at 8-12 hours, but on a full charge your kid can ride around for about 45 minutes continuously which is pretty good, and the battery and charger are included in the price.
This is a very highly rated kid's electric bike and I can see why. It's well made, gives a good length of play time on a full battery, and has the kinds of features that little kids love- lights and loud sounds. I'm sure any kid would absolutely love it.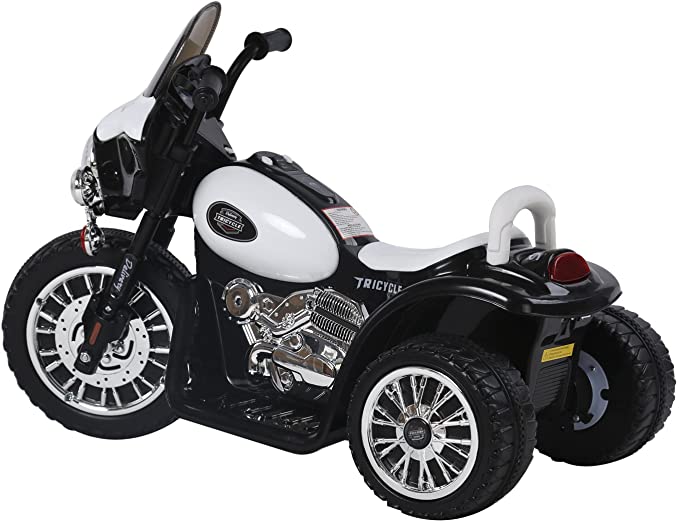 New to the list and well deserving is the Ricco Kids 3 Wheel Chopper Trike Motorcycle. This electric ride on motorbike has been receiving attention for all the right reasons and the reviews online definitely warrant the inclusion! 
And probably one of the best things about this particular line is the fact it's available in white, pink, orange, and blue so whatever your child's preferred colour, they pretty much have you covered!
Being a 6 volt battery it's not the most powerful at all and so most suitable for the 3 year old range. The manufacturer says it's designed for kids of up to about 4 stone so well beyond the age range for most kids. A top speed of 4kmh brings in line too with the other listings and overall there's not much to dislike about this chopper…but I'll try 😀
Being plastic you're going to find the odd bit of trim breaks or cracks over time. If you're really unlucky it may arrive this way and so if ordering for a special occasion I would highly recommend giving yourself enough time to organise a return or a replacement part to be posted. Nothing worse than messing up the kids birthday or Christmas because of poor planning! You've been warned 😀
A couple of reviews I hears online complained it stopped working and most likely a battery related fault. Unfortunately this is the trade off when buying mass produced at such incredibly low prices! And this really is a cracker for value. Your son or daughter will not be dissapointed!
5. HOMCOM Kids Electric Motocross Bike
If your son or daughter isn't into playing cops and robbers, maybe they would prefer this kid's electric motocross, bike.
Actually we should clarify, this is only an imitation motocross bike for little kids and while it is fine for your 3-5 years old to ride in the garden, its 6V battery, 25W electric motor, and 2.5kph top speed won't be enough to get it up anything more than the smallest of slopes, so don't think of taking it on a proper off road track.
It does, however, look the part with plastic shocks, large wheels and tyres, and motocross style plastic fairing, and your child will certainly love being seen riding it.
The tyres are plastic but they are strong, and being plastic means no chance of flat tyres and the tears that go along with that. The tread on the tyres has been designed to offer good traction even on hard, flat surfaces like tiles and they do their job well.
Having the same battery as Homcom's police motorcycle for kids, it has the same charging and running times, so you'll get 45 minutes of continuous use before you need to recharge.
This model also shares a few other features with its sibling such as a 25kg max load weight, LED headlights, and (very loud) sound effects. However, there is no reverse gear on this model like there is on the police trike.
This kid's electric bike comes with sturdy, metal framed, stabilisers to help young kids find their balance, but once they build confidence you can remove these very quickly and easily, or you can simply choose not to put them on in the first place for older children. Saying that, the low speed might make it difficult for the bike to balance without the stabilisers.
Homcom give this kid's electric bike an age range of 3-6 years but at 102cm long, 53cm wide, and 66cm high, I would argue that it might be a bit small and slow for a 6 year old, but certainly a great buy for 3-4 year old and even some 5 year olds.
6. BMW Official Licensed Electric Ride-On Motorbike for Kids
If you don't mind paying a bit more, you can get your kid their very own, fully licensed, BMW electric kid's bike.
This thing looks great! The sporty styling combined with the red, black, and silver colour scheme, will really help your kid to stand out from the crowd, and the famous BMW logo badges on the side fairing will let everyone know that this is no ordinary toy.
This really is a great looking little replica, and has cool little details like a good sized exhaust, reg-plate, a comfortable upholstered seat, and headlights which actually work: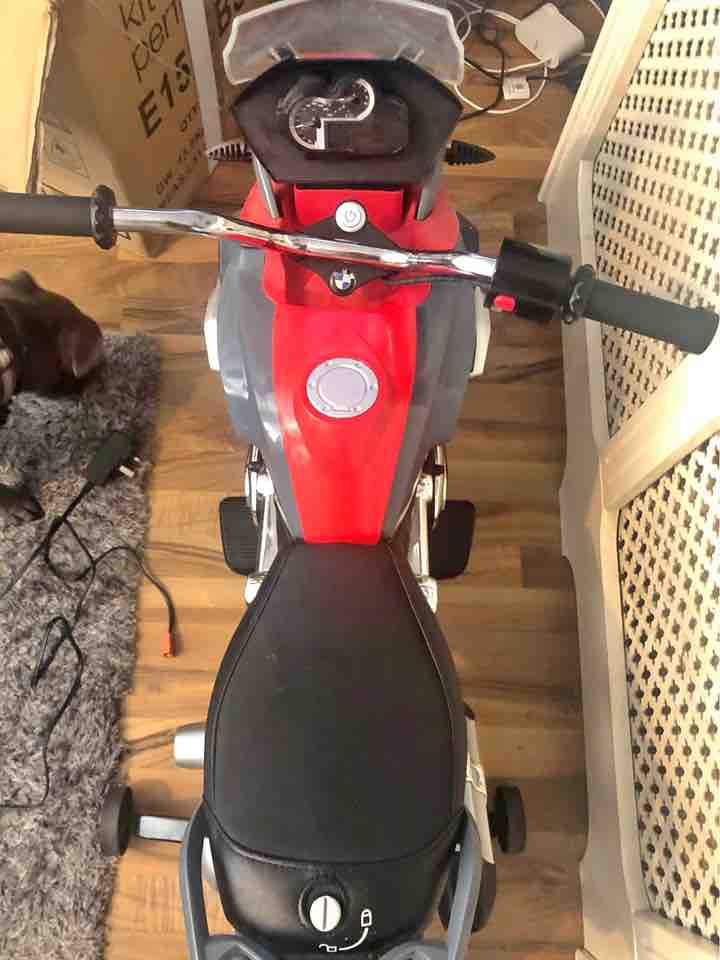 The icing on the cake for me though, is something that will really make your child feel like that are riding a real motorbike, are the keys. My friend's son tested this electric bike for us and he never got bored of inserting the keys into the ignition and turning them to start up the bike and hearing the sound effects.
Other sound effects include the engine revving and it is very realistic. I would guess that it has been recorded from the actual big bike that this kid's electric bike is based on. There is also a horn sound and even a music player and all three buttons are situated in the same conveniently placed position on the replica fuel tank.
The easy to twist throttle on this kid's electric bike, and the 6V battery helps to produce a top speed of 4kph, which is just enough to give any 3-5 year old a thrill while still being very safe. There are removable stabilisers included in the packaging too.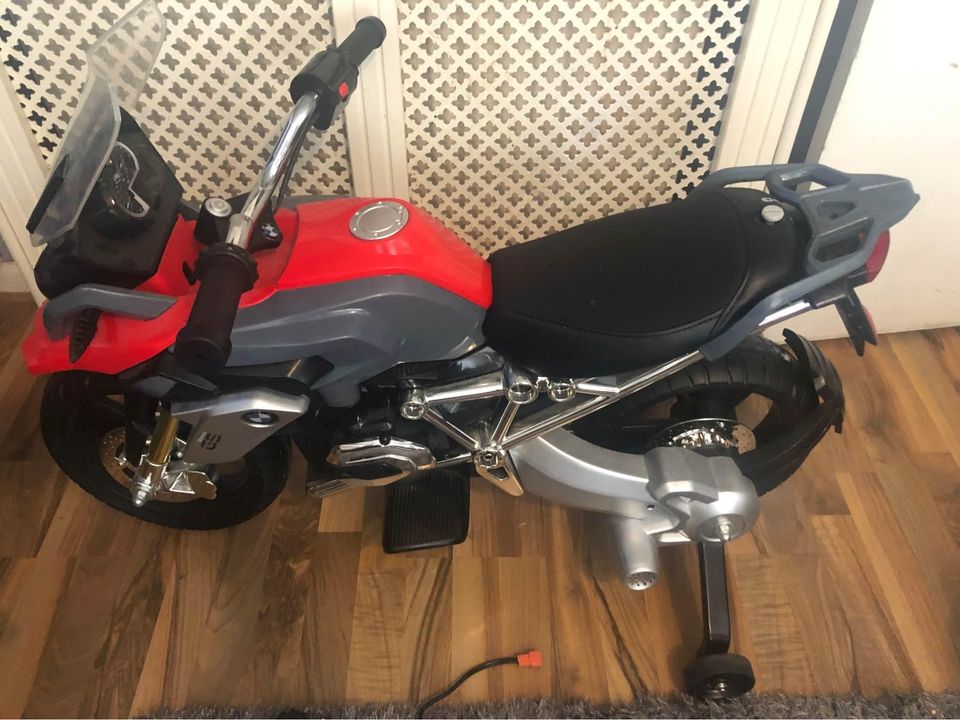 This battery has a nice charge to running time ratio and a 9 or 10 hour charge will allow your little biker to play for well over an hour but obviously, the more they play with the sound effects and lights, the faster the battery will run out.
Talking of the battery, there is something that needs to be addressed by the makers and it is a problem with the instructions. When the bike arrives, the battery is disconnected (for transport purposes) and needs you to unscrew the back and reconnect it, but there is no mention of this in the instructions themselves.
Apart from this, I can't find fault with this awesome little sports tour replica bike and it is something I would have loved when I was in the 3-5 age group that this product is aimed at with a weight limit sensibly placed at 30kg most kids will fit…
For the bad parts now 😀 There's a fair few complaints with regards to the actual battery and electronics. Given this is a legitimate licensed BMW you can be pretty confident of decent customer service backup. Most common problem you'll find is the battery – so long as that lasts the motor works very well and you'll have no problems – the kids will certainly thank you for being such a generous parent 🙂
7. Peg Perego Ducati GP Kids Electric Motorbike
While all our previous reviews are excellent kid's electric bikes for children up to the age of around 5-7, if your son or daughter is older than that, you might get complaints of those bikes being 'too small/slow' or that they are, in their 'wise' opinion, 'baby bikes'.
With small petrol engine motorcycles like mini motos maybe being a bit too powerful for a lot of 5-6 year olds, it can be hard to find something that sits somewhere in the middle, and that's where a product like this one comes in.
Like the BMW model we just reviewed this is a licensed replica of a real sports bike, only this time it is of a Ducati GP bike. The makers have done an excellent job of recreating the sports bike curves, angles, and lines of the fully faired body that make these kinds of bikes so popular with adults and kids alike, and the red and white paint job is polished off nicely with decal stickers. Here's a look at the real thing: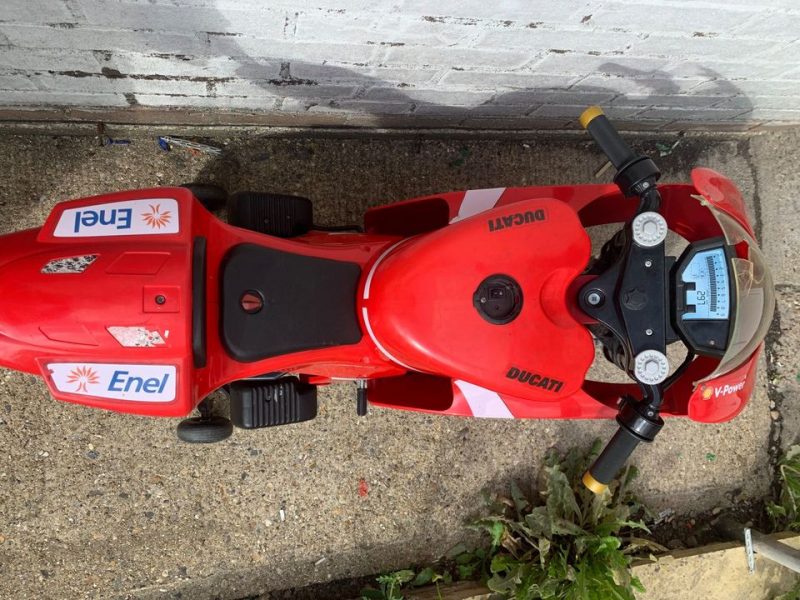 And another: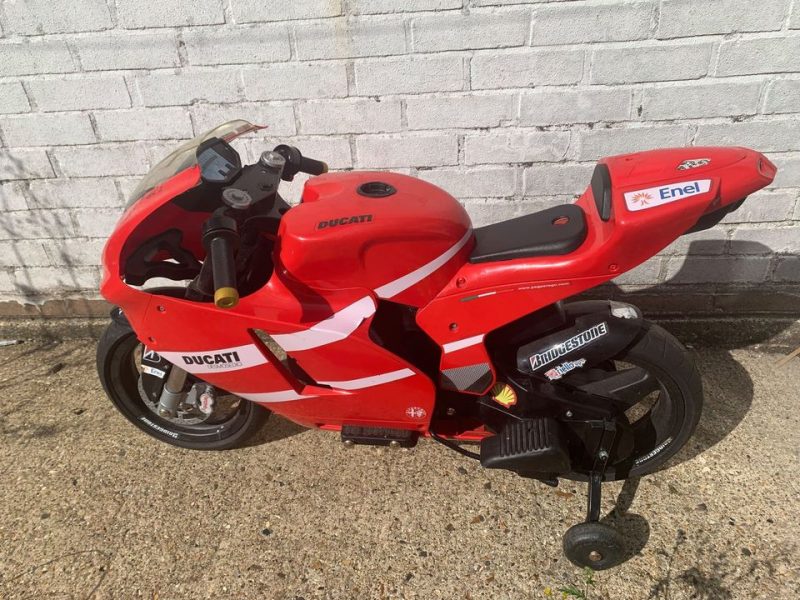 But it's not just the looks that will keep your 3-6 year old happy, it is the fact that the 12V battery powers an electric motor that is capable of producing speeds of 4- 8kph depending which of the two gears you select, and while this is still very safe, it makes this kid's electric bike much faster than most of its competitors.
Another thing that motorbike obsessed kids will absolutely love about this particular product, is that you twist the throttle to make it go which is far more realistic than using a foot pedal.
The shiny metal forks lead down to the large wheels that have been dressed with EVA rubber tyres. These tyres have a sports bike tread for extra traction and are extremely durable while still providing comfort and a smooth ride.
Now, no kid's electric bike would be complete without a few sound effects and this Ducati GP replica is no exception, featuring a horn and engine revving sound. The horn is pretty standard, but the engine noise really sounds good.
Other nice features include a kickstand for keeping the bike upright when the stabilisers are removed, and a pedal brake that allows for quick stops in case a dog or cat runs out in front of you unexpectedly.
This is without a doubt one of the best kid's electric bikes out there for children who are obsessed with sports bikes. It looks great, provides an excellent ride on the rubber tyres, and is faster than a lot of other models. While the price tag might be a little too steep for some, if you can afford it, this is sure to put a smile on your kid's face.
---