Written by Terry Smith
Our site is reader supported so when you click a link to Amazon we may earn an affiliate commission.
UK's best garden incinerators large and small with heavy duty options for your garden
This article was last updated on April 23rd, 2022 at 5:59 am
So, you've just been to war armed clearing your garden – with your chainsaw (in my case my cordless chainsaw), hedge trimmer, garden pruning saw etc. and you've finally got the garden looking halfway respectable. Thing is, you've now got a huge pile of garden waste to get rid of. Your options are either spend a lifetime queuing in your car at the local waste disposal (and now I have to make an appointment too!), or burning it right there at home. If you opt for the latter, as many people tend to do, your best bet is to purchase a special bin made specifically for just that purpose; a.k.a. a garden incinerator ( but I do save the bigger bits for my fire pit or chiminea). Owning and using the best garden incinerator will give you a safe and efficient way of disposing of all your garden waste, and best of all; they won't have to cost a lot of money to do so and used correctly are very safe, even in confined areas. I've looked at a dozen of these and cut the list down, mainly because so many are duplicates I don't want to force you to read the same review twice, though I've included some personal tests for good measure: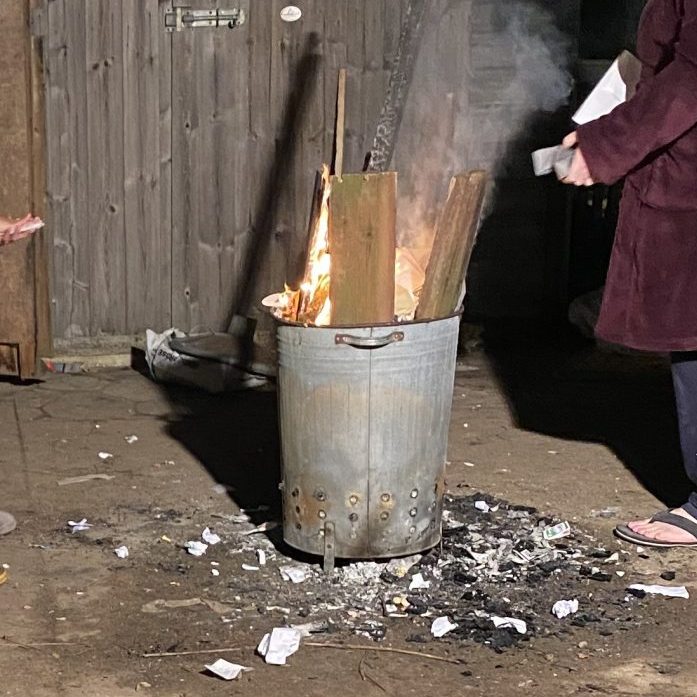 On this page you will find our reviews of the best garden incinerator products, in addition to a short, but informative, garden incinerator buyers guide and how to use a garden incinerator safely. Let's begin with the best top rated garden incinerators out there:
Best garden incinerator – editor picks for top fire bins:
Best garden incinerator: Denny International FIRE INCINERATOR 90L – personally used this for at least 100, probably 120 evenings with no signs of damage
Alternative to the Denny if unavailable: CrazyGadget Galvanised Metal Incinerator – well priced, and comes in sizes ranging 15-120 Litres
Heavy duty garden incinerator: SAIT Garden incinerator bin – extra large and well made
Small garden incinerator pick: Mini Garden Incinerator Small Fire Bin – just 15 litres, if you want a different small size take a look at the CrazyGadget line(15, 18, 40, 60 Litre options)
Complete solution: Metal Galvanised Garden Incinerator Fire Bin – Ash shovel and poker included. Ideal if you need a full set.
Budget pick: Denny International FIRE INCINERATOR 90L – rarely is the best also the budget but sometimes we get lucky as buyers 🙂
Best garden incinerators buyer's guide
Before you buy, here are a few things we think you should know about buying and using a garden incinerator. There's the obvious safety factor, then how much you can burn? Remember incinerators are different sizes so if you want something heavy duty to clear loads of material you want to be looking at the SAIT. Conversely a small space wants a small incinerator so you're going to be looking at the Mini Garden Incinerator most likely.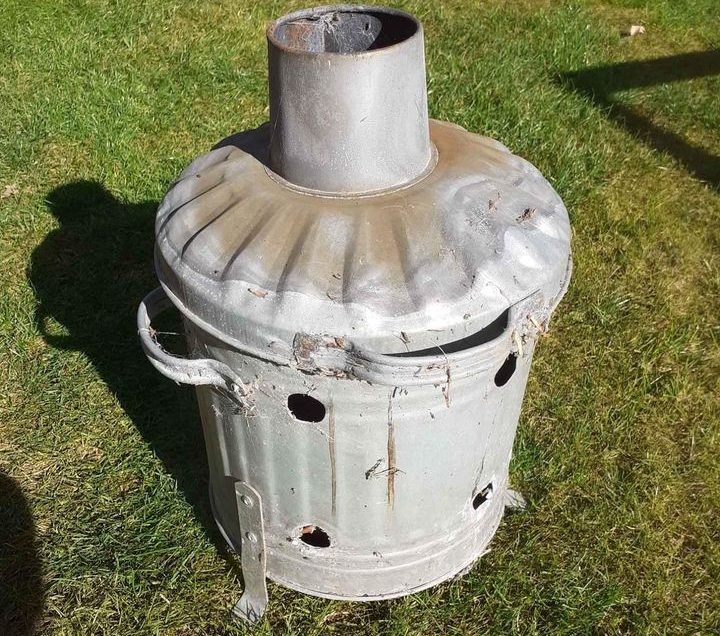 Always keep safety in mind
Whenever you are dealing with open flames, you need to be extra careful, as it is so easy to cause injury to yourself and others, or damage to property. Get yourself a good pair of gloves, thick ones like what welders use, and safety goggles too, as ash and other things can blow out of the incinerator. Always make sure that you are using the incinerator away from anything else that can catch fire easily, and keep taking a look around while using the fire bin to check that nothing has caught fire.
Bricks can come in handy – airflow
Most of these products come with legs and so are raised off the ground. This is important because they have holes in the bottom for proper airflow. However, some larger products like the 20-litre bin, don't have legs, so for best results, you should set it up so that it stands on bricks or something similar – the Denny International FIRE INCINERATOR comes with legs and so do other models so keep an eye out for that.
Take your time
It can be tempting to throw all your waste in your new incinerator all at once, but this is not a great idea. Doing so will probably just result in your fire becoming smothered and therefore will be counterproductive. It will take a while for you to get used to your new garden incinerator and know what the optimum amount of waste to burn is, so just take it easy at first. Also, make sure the fire is burning well and that there is a good heat in the bin before adding any waste. We had mountains of green waste and you will get there over the course of a few long evenings safely: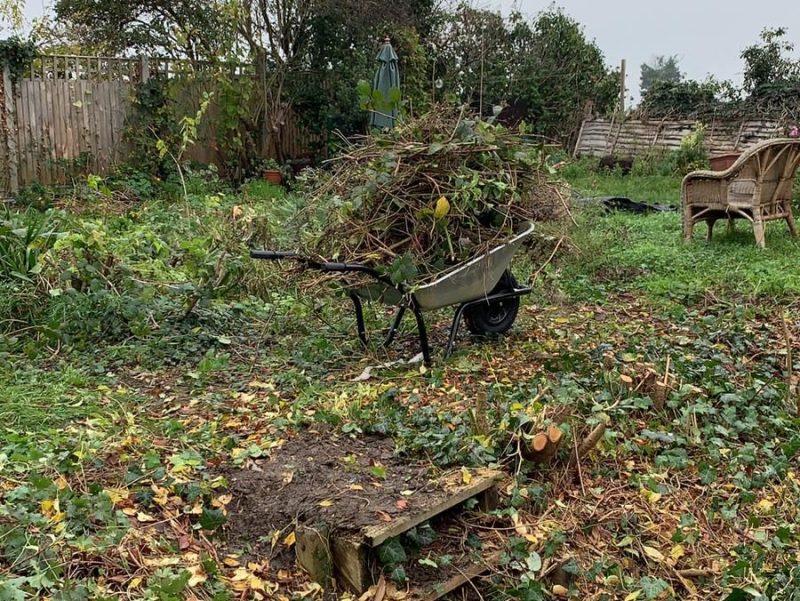 However, if you're looking to really up the pace then you'll want a bigger option like the SAIT. This is 200 Litres and twice the size of my top pick -a real heavy duty number.
How to use a garden incinerator safely
So it got me thinking (and expanding on the buyers guide with some useful tips to follow), I was using the incinerator with the kids, burning our way through paper, some green waste and various bits of wood (we just bought a house that had been neglected) and I wasn't really adhering to safety carefully enough – it's something we take for granted but I just want to recap (as a result of not doing as I should have) what is and isn't safe when using a garden incinerator:
Do:
Give yourself enough space, that even if the fire bin falls over, the contents cannot get anywhere near material that is flammable
Keep a hosepipe or bucket or water handy – my automatic hose reel is never far away.
Wear gloves – gardeners gloves (the thick leather finger tipped kind) are ideal. Whilst not designed just for heat, they will give you protection when lifting the lid (from my personal experience)
Use paper and small kindling to start – this will get the fire going hot and reduce smoke
Check the wind direction – do your neighbours have a chicken coop near your boundary that has hay etc?
Use your common sense – if you feel the rules above contravene common sense in any way – keep yourself safe and use due diligence
Do Not:
Leave the incinerator unattended because it looks safe – biggest no no
Don't overfill your incinerator, not only is this the most common way of making it fall over, the material at the bottom struggles to burn as it can't breathe
Let pets anywhere near – although most dogs can cats know it's dangerous, any spitting embers will get their paws
The same applies to kids – like me, if you have them about (we all love a burn up) make sure they know the boundaries and stick to them

Garden incinerator – the kids kept creeping closer and I should have been paying more attention to it

Burn wet garden waste until the fire is really going – it'll just smoke you out.
Burn anywhere near a building that can catch fire – I don't mind using the incinerator next to my breeze block wall for example:
Following those simple rules will keep your kids, pets, neighbours, and house safe. I know they seem ridiculously simply but I broke some of those last time and it's a fresh reminder to me of the dangers of fire.
With that in mind, let's take a look at the best garden incinerators:
That concludes our reviews of the best garden incinerators. There are plenty to choose from and with the prices being so favourable it makes sense to grab ourselves one. If you feel like we've missed any garden incinerators then please do pop us a quick message and we will be glad to add them to the list for you.
---