Written by Terry Smith
Our site is reader supported so when you click a link to Amazon we may earn an affiliate commission.
UK's best trampolines for kids and adults
This article was last updated on May 24th, 2022 at 10:12 am
Kids, both young and old, love bouncing on things and there's nothing better to bounce on than a good outdoor trampoline, well other than a bouncy castle maybe 🙂 If you have more than a couple of children and the space to spare, you could go with a large outdoor trampoline so that the kids aren't fighting over who gets to play on it first, and you can even join in the fun with them while getting fitter in the process. So I've tested the best trampolines available and I have to say the 8ft Kanga trampoline I tested that's designed for kids comes up great – I even caught the wife on our trampoline through our security camera 😀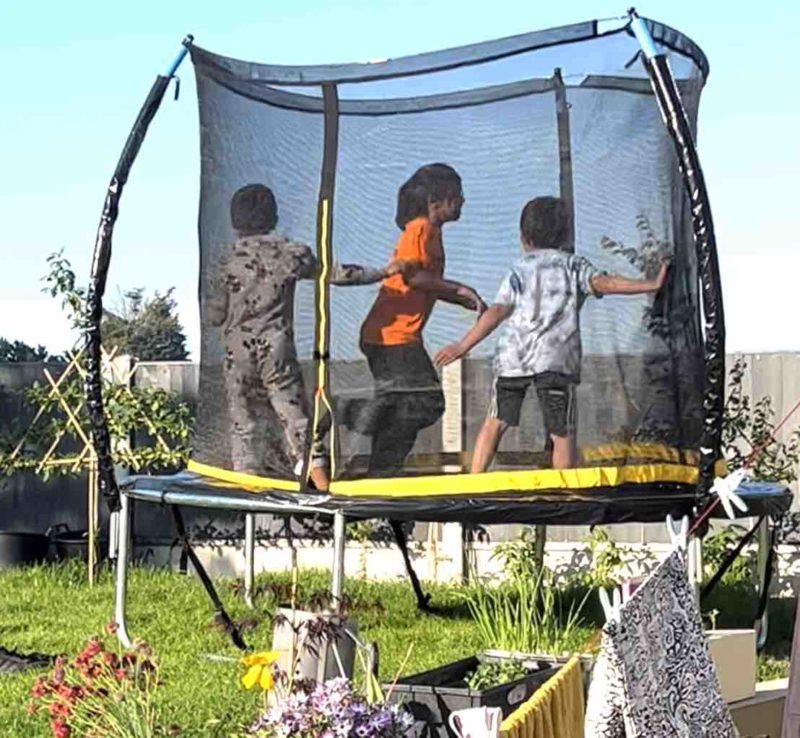 As you can see they absolutely loved it. But when I did my testing of trampolines – which was by and large the setup I did have some trouble so it's worth watching my quick video – I really have trimmed it down as much as I can, so you can get a feel for what you'll need tool wise and what setup actually entails.
Top Tip: After testing and setting up numerous trampolines it was apparently clear that a decent impact driver or cordless drill made life all that much easier. Almost all sets absolutely relied on a socket bit – normally 10mm and you need a decent posi drive screwdriver as well. 
Best trampolines – editor picks
Best trampoline overall: TecTake trampoline is currently out of stock so as a result the best alternative is the Kanga Trampoline. If they don't come back in stock next time I update this review they will be removed!
Budget pick: ZERO GRAVITY High Spec Trampoline – nice for kids, one adult is possible too on the 14ft I've reviewed
Best trampoline for adults: TecTake Outdoor trampoline
Best alternative for adults: ZERO GRAVITY Ultima Rectangular Barrel Trampoline
Best trampoline for kids: Charles Bentley Monster Children's 12ft Trampoline
Best alternative for kids: Beyondfashion 55″ 4.5FT Trampoline
We have taken a closer look at the best-selling trampolines available in the UK at the present time to see if they live up to expectations and have written up our thoughts regarding things like quality, size, and safety in our product reviews below. We hope that they will help you with your decision when it comes to buying the best outdoor trampoline for you and your family but if you're still unsure please take a look at our best trampoline buyer's guide to give you a better little nudge.
Best trampoline buyer's guide
This buyer's guide is here to point out a few factors you may want to think about before handing over your money for a trampoline. Things such as size, price, quality, shape, and other things are all highlighted here in some way in the hope that we can guide you towards the right purchase and leave you happy with your choice. Let's begin with size.
What size is right for you?
When choosing the right size of trampoline there are others to consider that could limit what is practical. The main one is the size of your garden. Many people underestimate just how much space a large trampoline takes up after its been fully assembled and it can sometimes look like a bit of an eyesore if it is jammed into a garden that just isn't big enough to house it properly.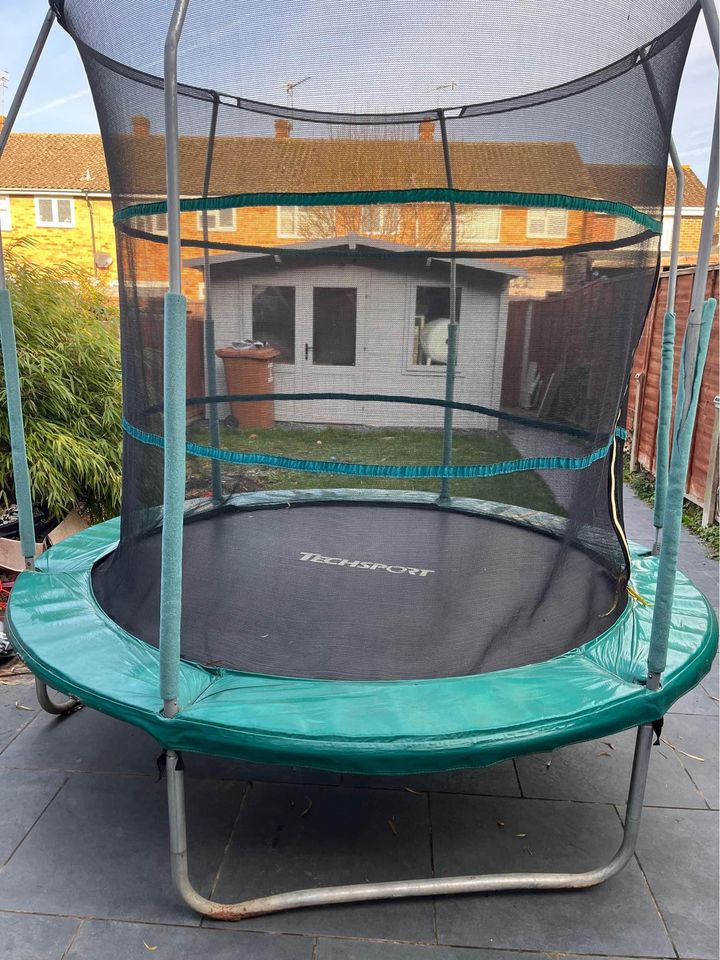 As you can see, even a 10ft trampoline over powers a narrow long garden!
Another thing that will affect the size of the trampoline that you should buy is the age, size, and number of children that will be using it. If you have a toddler or a child under 5 years old, there's no point in buying a full size trampoline, probably you want to look at the Beyondfashion for them to bounce on when there are specific models that are more compact, not to mention cheaper, available.
Of course, older kids and teenagers will more than likely require the largest one you can afford and fit in your garden as smaller models just won't take the battering that comes from teenagers.
What shape?
Trampolines can be round, oval, hexagonal, or rectangular shaped. The first three of these shapes are very little different in the quality of the bounce they provide and the shapes tend to be just for aesthetic reasons.
Rectangular trampolines are generally more bouncy and this is why they are used for gymnastics and people more experienced using a trampoline. They are usually more expensive than the other shapes too – however I found you a right bargain with the ZERO GRAVITY Ultima Rectangular Barrel Trampoline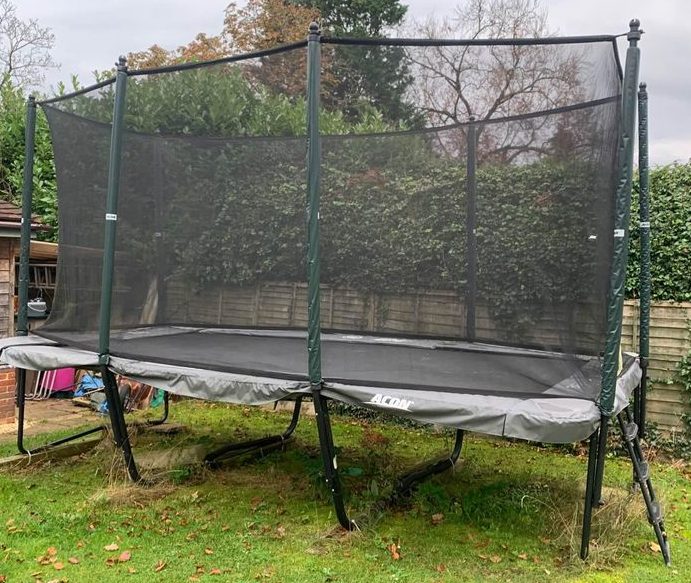 Do you need a safety net?
In my opinion, unless your kids are very experienced with trampolines and over the age of 10, you are better off with a model that has a good quality safety net around it. The net should be made of a tear-proof material and supported by a strong frame, and if the kids who will be using it are very young, a net that is enclosed on the inside of the spring area is much safer.
If you are not impressed with the quality of your safety net when it arrives, you can always buy a better replacement online relatively inexpensively.
How much should you spend on a trampoline?
It all depends on the size and quality of the trampoline. As a general idea though, I wouldn't want to spend less than 300- 400 pounds on a large (4-5 metres) round or hexagonal trampoline as I just wouldn't trust the quality of anything cheaper unless it was heavily discounted in a sale. The bottom end is the ZERO GRAVITY and at the top is the best TecTake.
Trampolines for little kids can cost as little as £80 pounds but for a good toddler's model with an enclosure that will last you a while, expect to pay at least a hundred pounds and the Beyondfashion which is a nice pick is more still.
If you're serious about getting a very high quality trampoline, you should look for a rectangular one that will cost you over a thousand pounds at least.
Other features
For longevity you should look for trampolines that have stainless steel, or galvanised steel legs and frames that will not rust up at the first hint of rain. If there is a ladder to get into the trampoline, that should also be weather protected.
Padded areas to cover the springs are important for trampolines for smaller kids, as are padded support bars around the safety net.
Ground anchors and guy straps included in the packaging are also things to look out for or you'll have to buy them separately.
Conclusion
If space is limited in your garden, can't really afford a large model, or you have younger kids that don't need a huge trampoline to play on, there are more compact options available and even really small trampolines with handles to hold on to for your youngest children.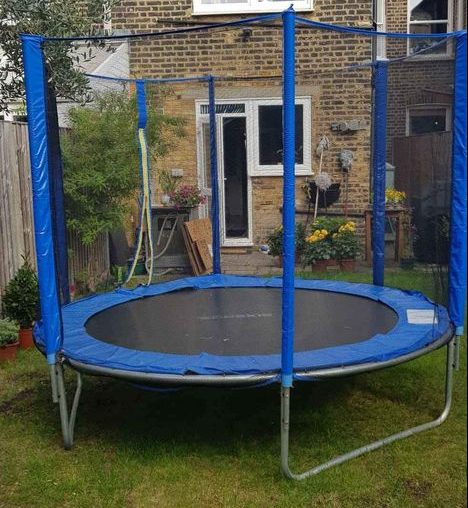 ---