Garden Tool Box » UK's best chainsaws: petrol, electric, and cordless chainsaws with heavy duty options
Written by Terry Smith
Our site is reader supported so when you click a link to Amazon we may earn an affiliate commission.
UK's best chainsaws: petrol, electric, and cordless chainsaws with heavy duty options
This article was last updated on January 19th, 2023 at 4:37 am
When a hand saw isn't up to the task, you instantly think 'chainsaw'. In this article you will learn how to buy the safest, cheapest, easiest to use, and pure raw power chainsaws available for the UK. That's how we've based our decisions for the best chainsaws: simple to understand metrics and there's no shortage of quality tools in this segment – I managed to whittle the list down from 30 contenders to just 14, picking the best of the best from some of my own personal testing. If you've spent any time at all on my site you'll know I am a total fan of the Makita cordless chainsaw – (quick demo of me using that below) as well as the super well priced petrol chainsaw: the Hyundai petrol chainsaw which I've been using for years since writing this article and I can't recommend it enough if you don't want to pay Stihl money. Given it has a 3 year warranty for me it's the diamond of picks if you need decent power. I ranked it second last time but it's getting top spot overall best chainsaw this year because it's been so reliable for me.
It doesn't matter what you need a chainsaw for, it's one of the most unique and diverse items that will save huge amounts of time in the garden. There's nothing like trying to chop through a log that takes at least 5 minutes with a hand saw, but just 10 seconds flat with a sharp chainsaw! A chainsaw should be strong, reliable, easy to use, and most of all safe. It doesn't really matter if you're looking for an electric chainsaw, petrol chainsaw, or cordless chainsaw, we are certain to have reviewed them to save you time and effort based on the criteria that makes the best chainsaws.
Before we really get into the review much further I would like to highlight one important thing – chainsaw safety. If you don't have appropriate clothing then chainsaw boots and chainsaw trousers will really make a difference!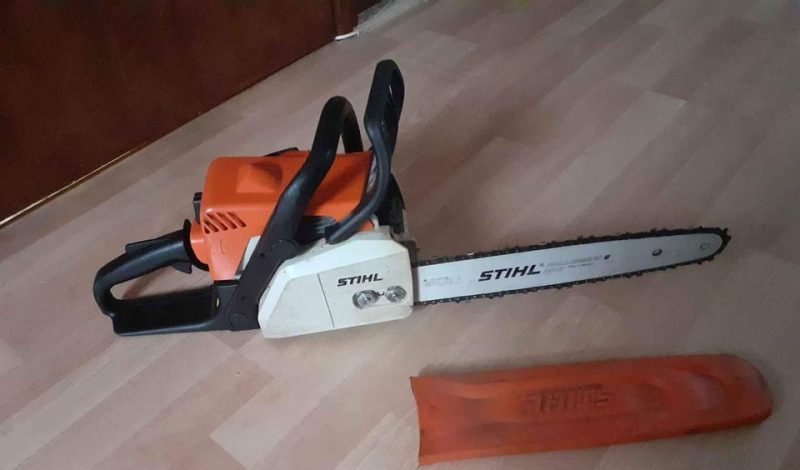 Before we get started I am going to provide a list of the most useful and best chainsaws in this article. If you haven't got the time to have a full read and you're just looking to quickly buy one then here's our top picks that we thoroughly researched. These are best value for money as of November 17th, 2021 and the overall best performance in terms of your personal use. We highlight a wide variety of features such as power, safety, usability, bar length, does it self lubricate, and things like fuel type.
If you're a commercial landscape specialist you're going to want the very best. If you're just a budding home gardener then of course it makes no sense to spend out massively on an item that you may not use all that often. We look for the best value and all between for all of our readers in the UK:
Best chainsaws – editor top picks in the UK
Best chainsaw overall: Professional most powerful pick: Hyundai Petrol Chainsaw, 62cc engine and as alternative the Parker 62cc Petrol Chainsaw is very well priced [personally tested and used the Hyundai for a few years trouble free now – can't recommend this enough]
Best chainsaw for a small garden: Hyundai Powerful Electric Chainsaw or Makita DUC355Z [I personally really like the electric Hyundai too and given they've held prices steady it is better value than ever since my last update on this article so it's getting best budget overall below]
Best budget overall: Hyundai Powerful Electric Chainsaw
Best petrol:
Best petrol chainsaw: Husqvarna HUSQ120-14 120 II 14″ 38.2cc Petrol Chainsaw
Cheapest petrol chainsaw pick: Petrol Chainsaw Chain or maybe look at the Parker 62cc Petrol Chainsaw
Best battery cordless:
Best battery powered cordless chainsaw: Makita DUC355Z Cordless Chainsaw [personally tested and can tell you this is superb]
Alternative pick for cordless chainsaw: Ryobi OCS1830 Cordless Brushless Chain Saw
Best corded electric:
Best electric chainsaw: Makita UC3551A/2 240V 35cm Electric Chainsaw
Alternative electric chainsaw pick that's powerful too: OREGON CS1400 2400 W Electric Chainsaw – definitely worth a look if you want cheaper than the Makita UC3551A/2
Budget electric chainsaw: Hyundai Powerful Electric Chainsaw
Help picking the best chainsaw for you
There's loads of factors to consider when picking a chainsaw. You've got price, safety, range of use, build quality, fuel type, bar length, and then putting these together in combination to get the best value for you and that's what we've done in this article:
Price
Price is a difficult one – you can get a cheap petrol chainsaw like the Petrol Chainsaw Chain for the same money as the OREGON Electric Chainsaw. Obviously petrol is higher quality but is it more useable? I would personally rather be making the cut with the Oregon – it can take an absolute beating and therefore in my mind the cheaper of the two. Oregon really can work hard for the money: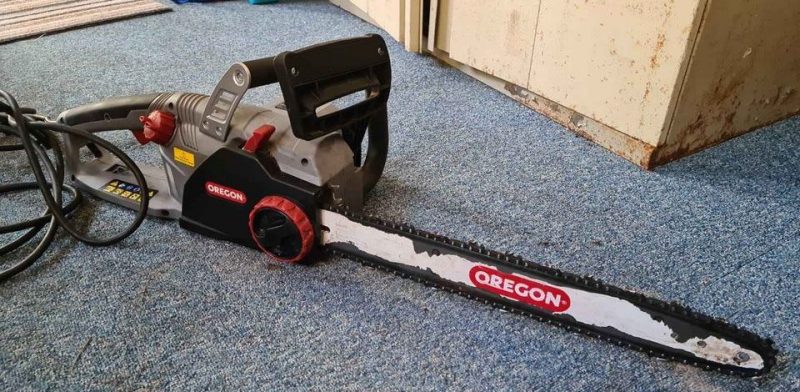 If you're looking for a quality tool with freedom of use in the garden it probably has to be the Makita DUC355Z – but this requires batteries and if you don't have them it starts to add up.
If you want raw power you're going to go with a Stihl or on a budget the Hyundai Petrol Chainsaw, 62cc engine is a cracker. If you're looking for a balance of power and quality and don't need a huge cut then all day long it'll be the Husqvarna HUSQ120-14.
Safety
Whenever you say safety with a chainsaw the first thing that springs to mind is protective clothing: chainsaw boots and chainsaw trousers. Then it's anti kick back. If you've ever wondered what those prongs are on the front of a chainsaw wonder no more – this stops a kick (in my opinion the Makita Electric Chainsaw is excellent for this on a budget) and reduces the likelihood of an injury: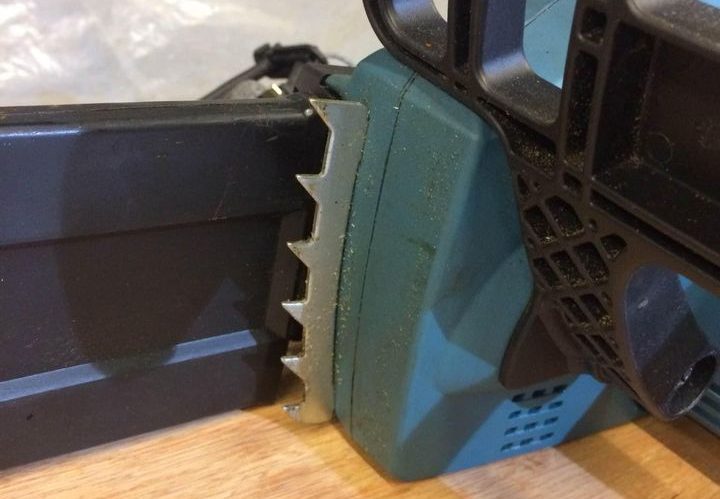 Notice I say reduce – the protective clothing should just about get you out of a tight spot if you check the links you'll see they stand up to a hit, not that you should want to lull yourself into any sense of security – a chainsaw is a seriously dangerous tool when misused and still has dangers used properly.
Build Quality
Nothing beats the quality of Stihl but the problem is you pay a fortune for the privilege. A sensible balance (if you don't need a chainsaw too big) is the Husqvarna HUSQ120-14 or Makita DUC355Z if you want battery cordless. This is remarkably well built and offers a super warranty – talking of warranties – you can never rule out the Hyundai petrol or the Hyundai electric chainsaw as both come with an astonishing 3 year warranty. If you feel you want better value for money and don't mind a bit of a compromise here then I would direct you to the Parker Petrol Chainsaw as that balances price too – very cheap for what it is with Hyundai engine, power, and a quality 2 year warranty.
Power
The bottom line is – cordless chainsaws offer the least power but are easily the best for smallish trees and gardens – just take a look at my cut video on the Makita DUC355Z. The next power rating is the electric corded and this is a considerably big jump up in power when compared to the cordless models. I'd draw your attention to the Makita Electric Chainsaw or the OREGON. But for absolute power you want a petrol chainsaw:
Petrol chainsaws for power
Nothing beats the freedom of a petrol chainsaw. It doesn't matter whether it's your garden, a customer, or your own little bit of woodside, a petrol chainsaw gets the job done. A petrol chainsaw has a huge advantage over an electric chainsaw in that you can use it almost anywhere, take it with you in the back of the truck, just pick it up and get going. I hardly need to go into the benefits of petrol chainsaws so let's just look at the prices and compare the performance as well as features of them.
I intend to take a look at the bottom, middle, and top of the market. And let's just see if we can find a bargain in there somewhere. Nine times out of ten you get what you pay for but that doesn't mean that there isn't some kind of deal to be had here, After all we came across an incredible unknown brand petrol leaf blower vacuum in a previous article that saved literally 70% on the price of a branded one. It also had very similar capabilities, and to my knowledge lasts well too.
Bar length – what your chainsaw can actually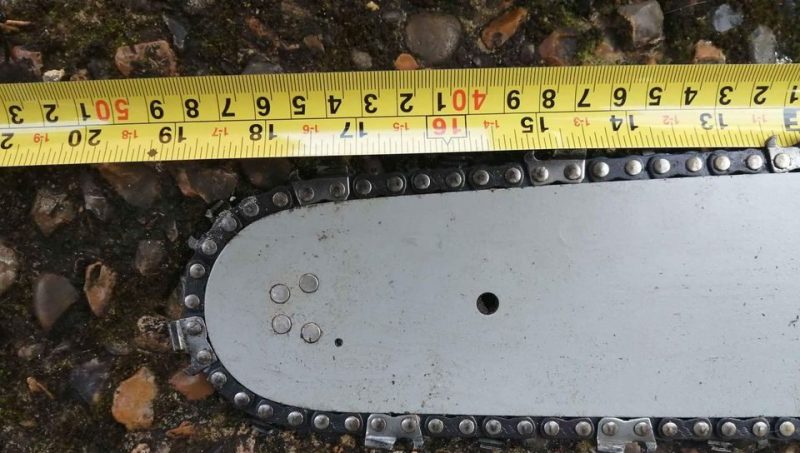 Bar length is a big deal because I feel much safer felling a tree that's smaller than my bar – yes you can easily cut a tree larger than the bar if you want – this is just a safety thing in my mind and the longest bar for the money is the OREGON Electric Chainsaw if we are talking back garden stuff that is nasty and dirty – believe me it'll take a bruising 😀 or if you need more freedom then we start looking at the Hyundai petrol as these all have 20 inch bars. If you're doing smaller work – I would definitely check out the Hyundai Powerful Electric Chainsaw. This is one of the cheapest quality chainsaws in the UK and although smaller – its still a 35 cm bar which matches the Makita picks in this review and considerably cheaper!
Chainsaws for a small garden.
If you have a small garden and you're just looking to cut back a few fairly chunky trees here and there, then you're almost certainly going to be better off with an electric chainsaw such as the Makita or the OREGON as they are considerably cheaper as well as requiring considerably less maintenance. The alternative would be a cordless chainsaw if you want more freedom and then you'll want to consider looking at the Makita DUC355Z. If you carefully think about petrol chainsaws requiring maintenance and then there's storage of flammable fuel, that's needed on hand. There's a lot of good reasons not to bother with a petrol chainsaw in this situation, ownership is probably too much work for light use, especially when you consider the cost of chainsaw clothing as well. It all adds up…
We're going to compare electric chainsaws for you in this section. We are going to look at the cheapest available online and another one that I believe to be the best value for money. The best value for money is almost certainly the right pick but it still makes sense to take a look at the cheapest anyway. Having a comparison between the two is going to be useful helping you decide which one to select.
---