Written by Terry Smith
Our site is reader supported so when you click a link to Amazon we may earn an affiliate commission.
Top 6 best garden spades (UK)
This article was last updated on August 7th, 2021 at 8:11 am
The spade. The absolute granddaddy of garden tools along with a decent fork and you can simply not be without. Humans have been using spades for countless years and in ancient times the shoulder blades of animals were often used in the same fashion. As time has gone on, there have been some innovation in spade design and there are now variations for tackling specific jobs such as digging into stony ground, however the basic concept and design still remains.
Some people confuse shovels and spades, or simply count them in the same category, but while they appear similar and share some characteristics, they are used differently. For example, a shovel is more suited to lifting and shifting soil and other such materials. They can be used to dig into the ground, but I would only do so with very soft terrains unless the shovel was a very heavy duty model.
Spades on the other hand have a flatter and sharper blade that makes them perfect for digging straight down into the ground and digging edges around your lawn. Spades usually have a larger 'step' on top of the blade so that you can use your foot to help break the surface you are digging into.
So, now with that little introduction into the world of spades out of the way, how about we get on with the reviews for the best garden spades in the UK?
We have tested the top rated spades available here in good old blighty, and given a short write up of our experiences with them. Please enjoy!
Comparison table: Top 6 best garden spades (UK)

Product
What We Think
Price

Compact version of a full size digging spade weighing only 1.10kg
Good quality stainless steel head with Ash Wood handle
Ideal for gardeners who might struggle with heavier tools
ideal for tighter spaces and beds and border gardening for digging
15-year guarantee

Pointed gardener's spade (total length: 117 cm) for digging in hard
Effortless working thanks to ergonomic shape
The shape and the height of the shaft allows for a back-friendly working posture...
High durability thanks to high-quality steel blade and plastic handle
Contents: 1x Fiskars Solid pointed garden spade

Ideal for digging and turning over soil
Mirror polished stainless steel head
Integral ergonomic forward tilting handle
Manufactured to exceed BS3388 load tests
Rust resistant and minimal soil adhesion

Spear & Jackson Traditional Stainless Steel Border Spade with 712mm Wooden Handle

Traditional border spade
Mirror polished stainless steel head
Rust resistant with minimal soil adhesion
Weather proofed hardwood shaft for durability
One-piece hardwood shaft, split to form a wishbone handle

Wilkinson Sword Unknown Stainless Steel Digging Spade

Stainless steel digging range
Ash handle
Ideal for digging in unprepared large areas
Larger than traditional spades
10 year guarantee

Heat treated (hardened) carbon steel head for strength and durability
Hammer finish epoxy coated head for improved resistance to rust
Weather proofed (clear lacquered) ashwood shaft for greater durability
Integral ergonomic forward tilted handle for comfortable use at the ideal digging angle...
Polypropylene D handle
1. Spear & Jackson Select Stainless Digging Spade
Our list of the UK's best garden spades contains no less than three Spear & Jackson products, so that should tell you something about the company and their reputation for outstanding gardening tools, especially their hand trowel set.
This particular model is without a doubt one of the best out there in its price range, currently on sale for under 30 pounds, offering great quality and some innovative ideas.
This digging spade measures 102cm long and weighs 2.18kg. A big reason the weight is on the lower side for garden spades is that the shaft and handle are made out of polypropylene, a very hard wearing and strong plastic, which is lighter than both steel and wood.
The handle and shaft on this Spear & Jackson garden spade isn't the usual straight up and down design, and instead has an ergonomic curved shape, with a forward tilting handle, which is meant to make digging all that much easier on your body.
The blade has been made out of stainless steel, not only for the shiny aesthetic, but because it helps to ward off rust and also has a hand in reducing the amount of soil that gets stuck to the blade. The top of the blade has been folded in order to make it easy to step on when you need a bit of extra force to dig into some stubborn ground.
The overall look of this garden spade is quite eye catching, with a modern colour scheme, curved shaft, and large round handle contrasting nicely with the shiny, mirror polished, stainless steel head.
The Spear & Jackson stainless steel digging spade has been manufactured to exceed BS3388 British Standard load tests, and even though I didn't get to test it to its limits myself, it did feel strong and sturdy in my hands as I turned over fairly large chunks of soil. I've got to say that this product is very good value and it is pleasing the vast majority of customers with its combination of striking looks and solid dependability.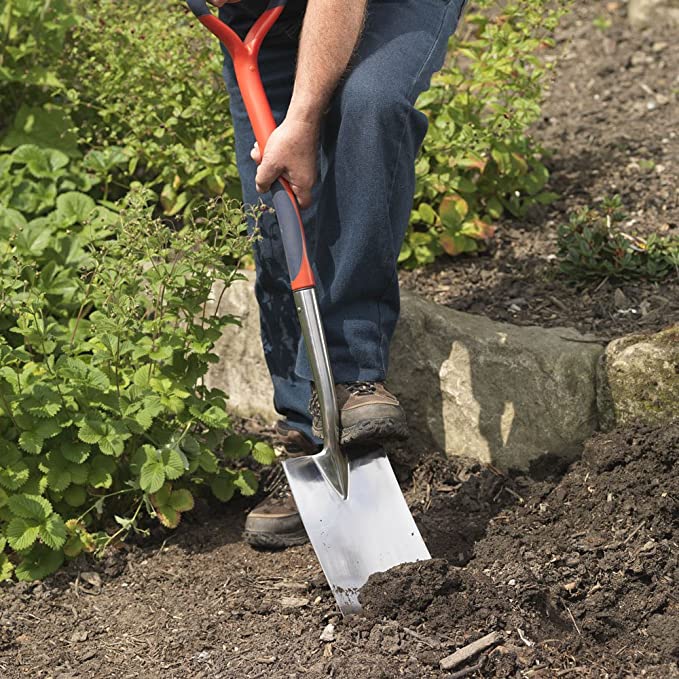 2. Fiskars Gardener's Pointed Spade for Hard, Stony Soils
If you're unfortunate to have garden soil that contains more stones than the Great Wall of China, or your lawn sits on a bed of tough clay, you're probably going to need a garden spade that was made to tackle just that kind of terrain, and here it is, courtesy of Fiskars.
The Fiskars Gardener's pointed spade is the perfect tool for breaking tough ground thanks to the unique blade shape. I used this to dig out some medium sized roots and it really did make the task much easier than I expected.
Whenever I hit a particularly large or strong root, the strength and sturdiness of this garden spade allowed me to confidently jump up and use my body weight on the top of the blade to get the power I needed to break through them.
I was initially a bit skeptical about the plastic handle, but only closer inspection, and after using it for a while, I realised that Fiskars have done themselves proud with this very strong and robust garden spade, and I can't see anything on this model breaking anytime soon.
The pointed blade on this model is made out of high quality steel which has been coated to prevent rusting and corrosion. It is both sharp and solid, and is set off on a slight angle from the shaft so as to give you a more ergonomic digging position, and it works very well.
At 117cm, this is quite a long garden spade and would suit people who are average height to tall. Shorter folks might find it a little too big, although at only 1.75kg it is hardly heavy and certainly won't be tiring your arms out. Personally, I'm around 5ft 10" and I found that the extra length meant that I didn't need to stoop as much as I normally do with other garden spades.
Priced at just over 23 quid at the moment on Amazon, I would definitely recommend this garden spade to anyone who intends to dig up some tough clay. It's great for breaking ground. However, I would use it for just that and not shifting heavy loads, and use a good quality shovel for that instead.
3. Spear & Jackson 4190NB Elements Digging Spade, Brown
Our third review, is our second product from Spear & Jackson, and this one is priced a little lower down on the range.
Despite its lower price, this garden spade has been made to very high standards and the first time I held it, and used it, I was impressed with the build quality and materials used in its construction.
The shaft of the Elements garden spade is made out of ash wood, which has been coated with a clear lacquer to make it resistant to the elements. It not only gives this spade a beautiful, traditional look, but also ensures that this is a very durable tool.
On top of the shaft is the D-shaped handle constructed out of polypropylene, making it very hard wearing, just like the shaft. The top part of the handle has been given a soft rubber coating to help with grip and make the spade more comfortable in the hands which comes in handy for long digging sessions.
The quality continues with a large head on the Elements garden spade. First of all I like the fact that the 'neck' of the spade head goes halfway up the shaft where it is riveted. It just gives the tool a very sturdy feel and inspires confidence.
Equally as strong feeling is the blade itself. Made out of high carbon steel, heat treated to increase the hardness and durability, then epoxy coated to make it more resilient when it comes to rust, corrosion from soil alkalines, and even scratches.
I found this blade did a great job of breaking hard soil and slicing up decent sized roots and at just over 2kg, the spade is not heavy and can be wielded by pretty much anyone able bodied.
The overall length of the Elements garden spade is the same as its stainless steel sibling at around 102cm, so it is shorter than the Fiskars model we just reviewed and may suit shorter people better.
For such a low price you would be hard pressed to find something that matches the overall quality of this garden spade, and I think it is well worth a closer look.
4. Kent & Stowe Garden Life Stainless Steel Digging Spade
Kent & Stowe have brought us this excellent, compact garden spade that is ideal for people with smaller builds, whether it is the elderly, children, or women, or just for someone looking for a lightweight spade for certain specific tasks.
Sporting a very nice, traditional design, the pure ash wood shaft and 'YD' shaped handle contrast beautifully against the gleaming stainless steel head and neck. Like the Spear & Jackson Elements spade, the metal neck climbs halfway up the wooden shaft for extra strength and support while digging and lifting heavy loads.
What makes this product different to our other reviews is that this garden spade was designed for smaller built people. It measures 91cm long, eight inches of that is the blade itself, which is noticeably shorter than all our previous products reviewed on this page.
It is also much lighter, weighing in at just over a kilo, so it's a great tool for getting your kids to help you around the garden and away from their mobile phones or tablets for 30 minutes. At only a kilogram, they have no excuses not to give you a hand.
One thing that isn't small or compact is the tread on top of the blade. This is actually comparatively large and makes using your foot for extra leverage or power much easier.
The blade is sharp and slices into the ground with ease and the reduced weight of the tool had me digging at a faster pace for longer than usual, although I did have to stoop down a little more due to the reduced length.
I would have no qualms about recommending this compact, lightweight, yet high quality garden spade to not only people who are shorter in stature, but anyone who would like a lightweight garden tool that they can rely on.
5. Spear & Jackson Traditional Stainless Steel Border Spade with 712mm Wooden Handle
Next up for review is our third and final Spear & Jackson garden spade, priced at under 25 pounds on Amazon at the time of writing this article.
Good gardening is all about knowing which tool is best for the right job, and when it comes to separating the different areas of your garden and creating clearly defined borders, you need a spade like this one.
A border spade is usually smaller than a digging spade or general garden spade with a narrower, and perfectly flat blade. Instead of the head being angled out from the shaft, border spades go straight down.
The first thing that struck me about this model was the shaft. It is made out of a single piece of hardwood that has been split to give it a wishbone style handle. Both the shaft and handle are incredibly solid and I think neither will be giving you any problems for the foreseeable future. To further improve longevity, the hardwood has been treated to make it waterproof.
The mirror polished stainless steel blade measures 23cm long and just 14.5cm wide, the narrow blade making it perfect for its designed purpose.
Stainless steel brings with it the benefits of being resistant to corrosion and rust, and also reducing soil adhesion, as well as giving the garden spade a striking overall appearance.
At 96cm long and tipping the scales at 1.5 kilograms, you could call this border spade compact and relatively lightweight and would be a great tool for digging in confined spaces. It would also make a good gardening tool for anyone who struggles with heavier garden spades.
Like most Spear & Jackson products, the build quality is top drawer, and everything seemed solidly put together and connected. The only thing I would say let this down was that the finish on the wooden handle wasn't great and I could see splinters becoming a possible problem after a while. Saying that, it would be an easy job to wrap some rubber around it if it did become problematic. All being said, this is yet another quality garden spade for a good price.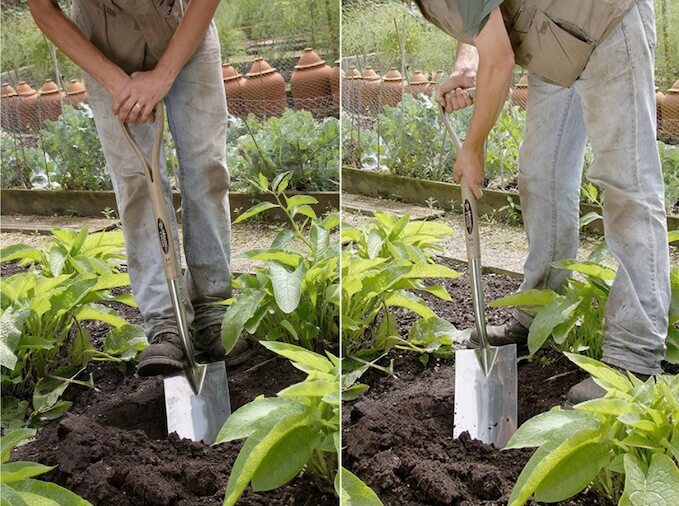 6. Wilkinson Sword Unknown Stainless Steel Digging Spade
If you've never heard of Wilkinson Sword, you've probably been living under a rock. The company has been making quality products not just for years, but for centuries.
This long standing expertise ensures that when you buy a Wilkinson Sword garden tool, you can be pretty sure it's going to be well made and durable, and this garden spade is no exception.
With an overall length of 96cm, it is neither exceptionally long nor on the short side. Likewise, its weight would place it somewhere in the lower middle if you were sorting all of our reviews from heaviest to lightest.
The blade on the other hand is larger than some of its competitors measuring 23cm in length and 14cm wide. The blade and neck are made up of a single piece of stainless steel, so rust won't be a problem you have to contend with, and the length of the neck is about half of the shaft. The tread edges on either side of the top of the spade's head are thick enough so that your foot shouldn't be slipping off.
Like some of our other reviewed products like the Spear & Jackson Elements garden spade, weatherproofed ash wood has been chosen as the material for the shaft and handle and they are both capable of withstanding some hard usage without fear of breaking.
One thing I will say though, is that the D-shaped handle was a little small for my liking and people with larger than normal hands might find it uncomfortable to use. Conversely, it would be great for gardeners with smaller mitts.
Wilkinson Sword are confident in the build quality of their products and this garden spade comes with a 10 year guarantee. While the quality didn't jump out at me as vastly superior to any other of our reviewed garden spades, it certainly wasn't inferior in any way, and I would be happy to have it sitting in my tool shed.
Best Garden Spade Buyer's Guide
Looking to buy a new garden spade?
Well, here are a few tips that should help you make a choice that you will be happy with, and get you a tool that will do what it's supposed to. Let's begin.
Spade type
There are different spades for different purposes. Although you could use a digging spade to do your borders and edges, it just wouldn't do as god a job as a proper border spade due to the difference in the blade.
Have a good think about what job you intend to tackle with your new spade and buy appropriately.
Spade length
The length of the spade you use can either make your digging far less taxing, or can make it a miserable experience.
It's quite simple really, if you are 6ft tall or above, you should be looking for a spade that is at least 100cm or more. Fiskars pointed spade that we reviewed above would be a good choice.
On the other hand, shorter folks would benefit from a more compact tool like the Kent & Stowe stainless steel garden spade.
Weight
If you are a generally fit person with average body strength, the difference in weight between garden spade models shouldn't bother you too much.
For people with chronic injuries, the inform, or people lacking that required strength, there are smaller and lighter garden spades out there for you, so I would advise checking how much the tool weighs and try to get something closer to 1 kilogram or under.
Even if you are strong enough to wield a heavier garden spade with no bother, you still might benefit from a lightweight model if you are going to be doing long digging sessions as it'll cut down on fatigue.
Shaft Materials
The main materials used for garden spade shafts are wood (commonly ash wood, although hardwood is used sometimes too), steel, and plastic (usually polypropylene).
Steel is the strongest but also the heaviest and can be probe to rusting. Wooden shafts have a great traditional look and are very durable, but if not weatherproofed properly they might rot. Also, if a wooden handle isn't finished properly, it can cause splinters in the hand or blisters due to roughness.
Plastic shafts can be very strong too but only if they are good quality polypropylene, and they are usually lighter than the other materials. Plastic won't rust but will degrade over time though.
Blade/head material
Most garden spade blades/heads are either made out of stainless steel or carbon steel.
Stainless steel is good for gardening tools because it is highly resistant to rust and also can reduce the amount of soil that sticks to the blade.
Carbon steel is stronger and harder than stainless steel and can hold a sharper edge, and this makes it better for cutting through thick roots.
However, it needs to be coated with some special material to make it weatherproof and corrosion and rust resistant.
So, there you have it, our top tips for finding that top garden spade that will have you digging away for many years to come.
We hope you have found this article useful and informative and would like to invite you to take a look at our other ages on this site where we have reviewed a wide selection of products and also included buyer's guides on many of them.
Also, we would like to inform you that we intend to keep these review pages updated and will add new products if we deem them to be worthy of a mention on our site.
---