Written by Terry Smith
Our site is reader supported so when you click a link to Amazon we may earn an affiliate commission.
UK's Best cordless garden leaf blowers that are heavy duty: Bosch and Makita tested
This article was last updated on December 13th, 2022 at 1:49 am
After testing the heavy duty cordless leaf blowers (and budget). I've come to the conclusion that they are now absolutely superb if you want to push piles of leaves or evergreen leave like foliage around (even set and stuck down leaves), but definitely have their limits. For example. If you want a leaf vacuum then don't expect standard corded or petrol leaf vacuum performance. And likewise, don't expect corded electric leaf blower prices, or anywhere near the raw power of a petrol leaf blower. But, as a means to blow leaves into a pile cordless leaf blowers are light weight and pack plenty of punch. They'll even most wet and stuck down leaves as you can see from my testing later in the article. It's worth having a look at my what you need to know about cordless leaf blower section too. I worked out a lot from testing these cordless leaf blowers that I wouldn't have otherwise known.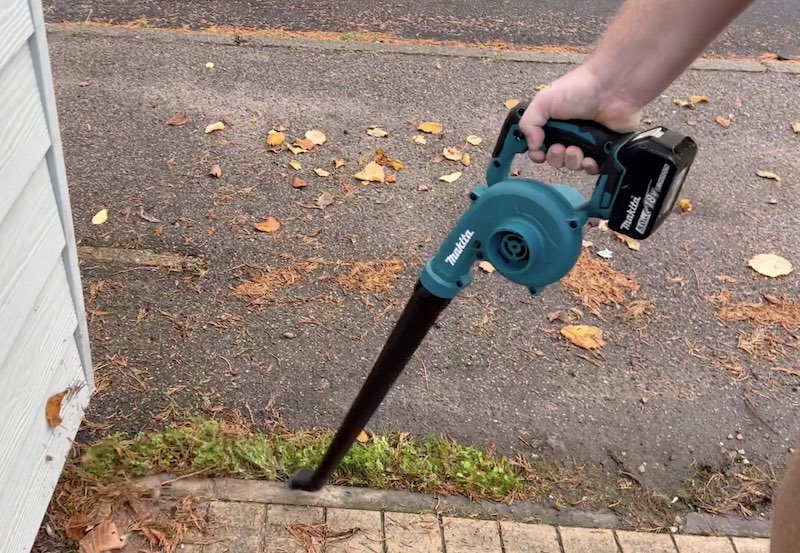 However, if you're just looking to push a few piles of leaves about then a cordless leaf blower is absolutely spot on as you can see from my test of the Makita DUB186Z 18V Li-ion LXT Blower which once again proved to me Makita are well up there outside of power tools and excellent value too. Out the box, I was up and running in literally 30 seconds. Hard to believe the way tools come these days so here's a quick rundown video:
I tested theses cordless leaf blowers based on weight to power, value, heavy duty build, and of course, how long batteries will last. And talking of batteries:
Some of you might not want to invest in heavy battery tech, and if that's the case, an all in one solution with batteries included that performed great is the Einhell GE-CL 18 Li E Power X-Change 18V cordless leaf blower and one of the reasons it's getting a shout out as a quality solution is because I absolutely loved the heavier duty Einhell GP-LB model has a leaf blower gutter cleaner set that fits on it.
Before we get deep into the review, let's have a look at what made it to my review.
Best cordless leaf blowers picked after testing:
Makita DUB186Z 18V Li-ion LXT Blower – Easily replaced the previous top pick after testing – [personally tested and proven]
Einhell GE-CL 18 Li E Power X-Change 18V cordless leaf blower – best value for money because their overall tool range is super, but definitely worth taking a look at the LawnMaster 24V Cordless Leaf Blower with Battery too
Bosch ALB 36 LI Always reliable Bosch is a decent alternative if you don't like the Makita [personally tested and proven]
Makita DUB184Z 18V Li-ion LXT Brushless Blower – heavy duty pick or the EGO Power+ leaf blower – Not a bad budget tool for heavy duty use as an alternative.
Worth a mention:
Worx Leafjet – Decent value alternative if you don't like the Einhell
Greenworks Axial cordless leaf blower
Ryobi ONE+ leaf blower – Easy pick if you already have these batteries, performs well
Terratek cordless leaf blower – cheapest cordless leaf blower (note I didn't say best value!)
What you need to know about cordless garden leaf blowers
Before we get into the reviews let's take a look at what you need to know about cordless leaf blowers that may sway you in picking the best leaf blower for you. After testing multiple cordless leaf blowers I soon realised some features for example are cool (like easy to assemble tubing), but others, like variable power switches are pretty much useless because you always want full power!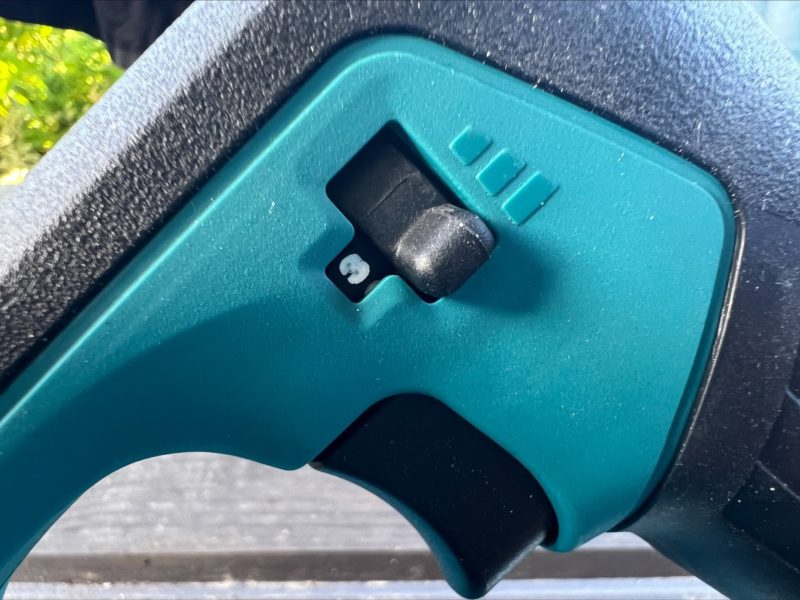 Can cordless leaf blowers be heavy duty?
This is the most important question that needs answering because it is also the most complex. Let's start with a simple yes. The reason is they can perform very powerfully however the problem is value for money. A heavy duty petrol leaf blower like the Makita BHX2501 24.5 cc 4-Stroke Petrol Handheld Leaf Blower tested and used will blow away and cost considerably less money. So when you are looking for raw power, I would personally say from testing there are better options. This is just my opinion. Though I would add to that I have literally used 3 dozen leaf blowers over the last twenty years 🙂
Can cordless leaf blowers clear gutters?
I have to tell you I was both shocked and pleased to say absolutely yes and even the budget range Einhell have got a quality solution for this. if you read my work frequently you'll know I no longer need these as I use gutter guards everywhere in my house now, but if you haven't yet got around to that, then cordless leaf blowers will work.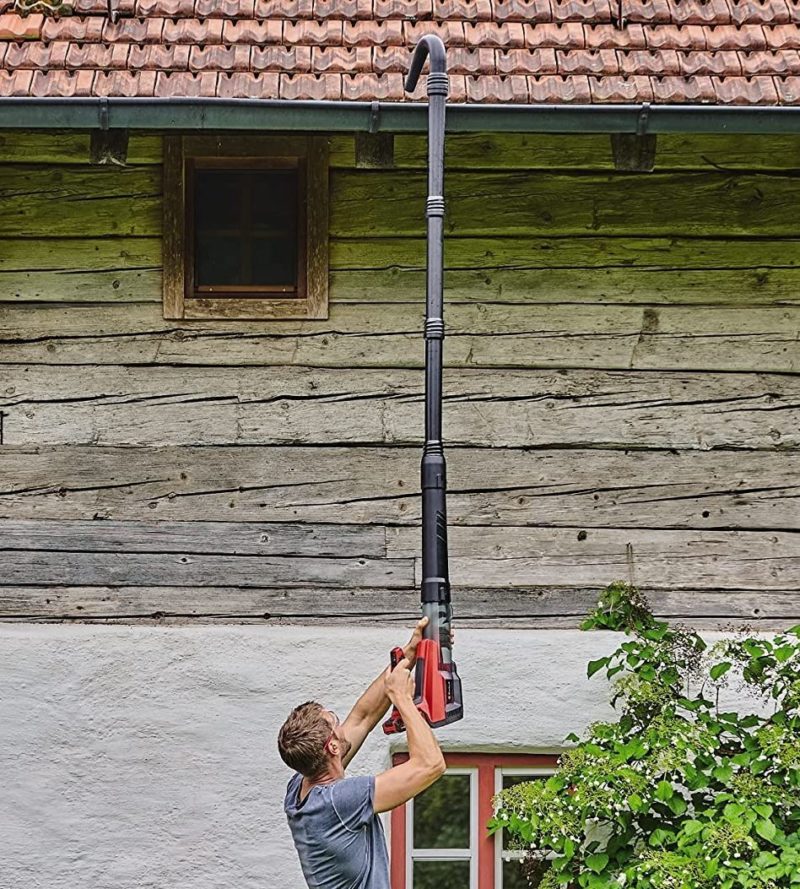 However, what I noticed was if the gutter has been left so long it's literally full of beautiful soil, it won't budge an inch. You'll still have to clean your gutters the old fashion way (in my case I use a petrol pressure washer) 😀
Power – is cordless enough or do I need a petrol leaf blower?
Power is an interesting question. Since I used the Makita petrol leaf blower as example above it seems fair to compare their petrol and cordless versions together. The petrol produces an equivalent of 810 Watts!! Now the makita cordless is 18V and I use a 5 amp battery so has a max power rating of 90 Watts. I happen to know it's more like 50 Watts from actually checking the rating personally at max power! (Sad I know) 😀
Amazingly this doesn't make the petrol ten times more powerful though. The electric corded version is far more efficient and blows at a staggering 220mph which is actually more than the petrol leaf blowers! (albeit a considerably smaller tube). But the point is for smaller jobs a cordless leaf blower isn't that much behind a petrol. (Larger jobs the petrol is a no brainer.)
Weight
Cordless leaf blowers are lightweight by nature, but some more so than others – my top pick from testing is the Makita and it literally weighs less than a bag of sugar but remember a battery adds considerable weight, especially if a heavy duty 5 or 6 amp lithium battery. By contrast petrols are about 4.5kg (4 times heavier when battery factored).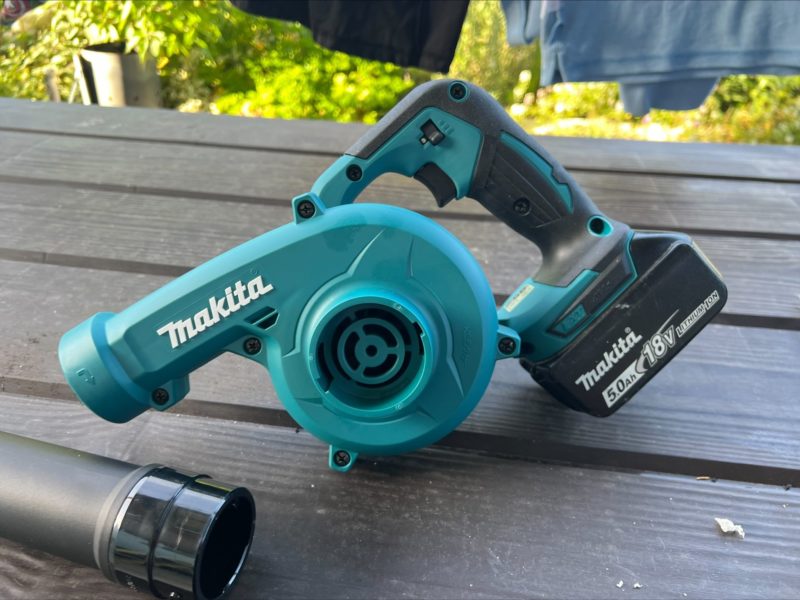 If I was picking a cordless leaf blower on weight alone I would not look at the weight of the blower itself. But instead look to but down the battery size. For example I'd pick a 2 amp battery instead of 6 amp. This is the best weight saving rather than compromise on machine.
Variable speed
The idea of variable speed is to avoid pushing pebbles about or damaging flowers in around around bedding areas. I have to tell you there was not one single point in all the trials that I really thought it was worth turning down the power. This has to be the most useless of all features on a cordless leaf blower. However, feel free to email in and let me know if you come up with some use – I'll gladly change my stance!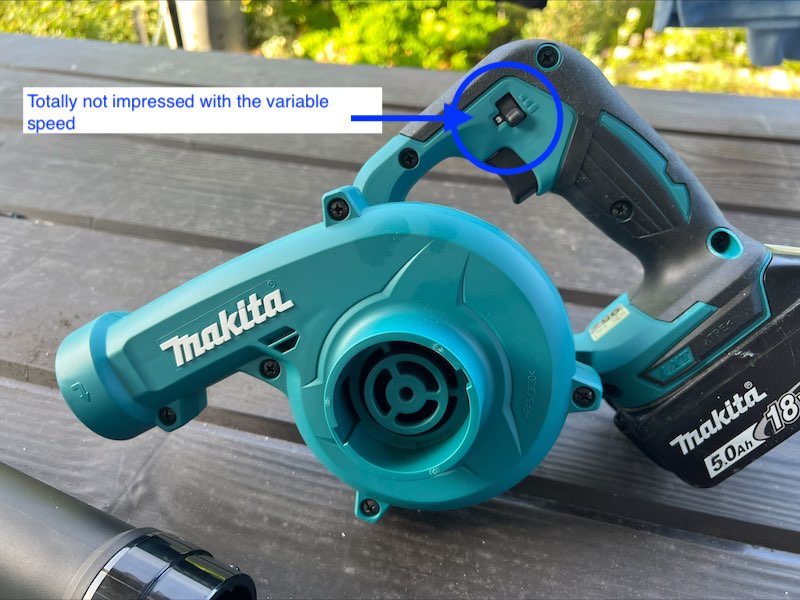 Noise
Yes, most cordless tools come with the benefit of being extremely quiet compared to petrol. And whilst cordless leaf blowers are definitely quieter, the noise is really annoying still and I definitely opt for ear covers because I really really dislike the sound they make. It's almost like a whining noise, not too dissimilar to that of the misses when I haven't loaded the dishwasher at the agreed hour 😀 All jokes aside. Have a listen to the video in the intro!
Is the battery included – value for money?
I will always point out if my recommended tool needs a battery and charger separately. They are almost always the larger expense unless it's a seriously heavy duty leaf blower. The reason being, that the lithium ion batteries that power these kinds of tools are not exactly what you'd call cheap and it'd rare to find a good one with charger for under a hundred pounds though the Einhell impresses me.
However there are some benefits once you get started with batteries – most brands that have special ranges of products that allow the owners to use the same battery for all – Makita for example have over 200 tools that fit the batteries you'll buy in this review for example!
So with that covered let's get going on these reviews:
So here is my review of the best cordless garden leaf blowers
Cordless garden leaf blowers are a real asset these days, they make getting around the garden super easy as well as being pretty powerful. We have taken a look at the best cordless garden leaf blowers and thrown in a couple of corded versions just so that you can see how much cheaper they are when compared. A cordless leaf blower should be well built and have a battery that lasts long enough to get round a normal sized garden. They need enough power to suck up leaves that are stuck to the ground and generally make the job of a hand leaf collector redundant!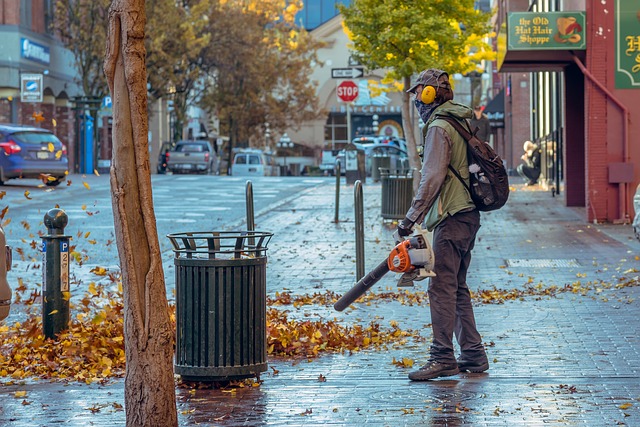 I hope you enjoyed our review of the best cordless garden leaf blowers. We have many more leaf blowers if you didn't find anything you like here. If you think we missed any of the best cordless garden leaf blowers then please feel free to drop us a note and we will look at it for you.
Best cordless leaf blowers FAQ
Are there any cordless leaf blowers that will last as long as a petrol leaf blower?
Not as far as I know, and I would be very surprised to hear that there is one available. Deciding whether or not to go with a cordless leaf blower usually comes down to not wanting to deal with the noise and smells that come with petrol tools, and also for the reduction in weight. There is also the fact that they are better for the environment and easer to use, unfortunately, a shorter running time is just part of the deal.
When it comes to blowing leaves, especially wet leaves, you need to have a pretty powerful cordless leaf blower. Have a good look at the specifications of the models you are interested in to see the air speed/velocity and also the air volume output. You want your leaf blower to be able to produce at least 170kmph and if you have really stubborn leaves, a blower with power to blast out 220kmph or more is better.
Can I use any lithium-ion battery in any cordless leaf blower?
Some brands design their batteries and products so that they can only be sued together, but there are third party battery makers who design their products to fit into certain well-known brands' products. Usually, these batteries aren't as good quality as the official brand-named ones, but they are generally much cheaper. You can always do a search on Google to see what batteries can be sued with which products before you buy.
Are cordless leaf blowers as powerful as corded electric and petrol machines?
The best cordless leaf blowers can be said to be as powerful as their corded counterparts, but they can't really compare in power to petrol leaf blowers. This is normal for power tools though, and it doesn't matter if you are talking about leaf blowers, leaf vacuums, lawnmowers, or hedge trimmers; petrol will always be the most powerful. However, there are plenty of not-so-enticing things that come along with petrol machines, as we have already mentioned.
How can I extend my cordless leaf blower's running time?
The only real way to extend the running time of a cordless leaf blower, is to have a second battery charged and ready to go. Turning down the power of the leaf blower, if that's an option, can prolong battery life, but often that makes the tool not suited for most jobs due to a lack of airflow speed. So, your best option is to shell out for a spare battery and remember to keep it charged.
Well, that's all for today guys, but I think we have offered up a good selection of information for you here today that should help you make the right buying choice. See you next time.
Conclusion
The best cordless garden leaf blowers perfectly bridge the gap between electric leaf blowers and also give you all the versatility and manoeuvrability that you get with petrol leaf blowers, but without any of the faffing around mixing fuel, the extra noise and vibration, nor the fumes. They are also much lighter and so reduce the risk of any strains or aches from working with them for long tidying sessions.
Prices for these handy gardening tools are getting lower and lower all the time too, and it is now quite possible to get a budget model for well under a hundred pounds, with some priced as low as fifty quid!
As they say in game of Thrones 'winter is coming' but before that we have Autumn to deal with and the leafy apocalypse that comes with it. Make sure you're armed with the right tools to see you through it by reading our in-depth product reviews, and be sure that you're making the right decision when it comes to finding the best cordless leaf blowers in the UK.
Possible problems with cordless leaf blowers
I've said many times that the greatest attribute of cordless gardening tools is also their weakest link. I am, of course, talking about the fact that they are powered by batteries, and while that gives you freedom of movement, it limits how long you can use the tools.
Cordless leaf blowers are no different. In fact, because they are producing so much power, the batteries can drain very quickly and then you'll have to wait for them to recharge, which usually takes about an hour, but it varies from product to product.
Don't worry if that doesn't sound great, as there are ways to increase the time you can use these tools. Unfortunately, they all involve spending more money. The main options available are buying spare batteries, or buying larger batteries. Li-ion batteries come in different sizes and usually, the ones that are supplied, if they are supplied at all, are on the smaller side. So, it is a good idea to buy a 5ah size battery and use that for your cordless leaf blower instead.
If you've never used a leaf blower before, you might be surprised by how much noise they can make. Cordless versions are generally the least loud, but they are hardly what you would call quiet, and you will still have to invest in a pair of ear defenders if you don't want a headache.
As well as the noise, there is some vibration to deal with too, but again, cordless machines tend to produce far less vibration than their petrol fuelled cousins. The level of vibration will not be the same across all brands and products, so if that is something that concerns you, make sure you check out the products' specs before buying.
Although cordless leaf blowers are designed to be lightweight, they can still feel a little heavy after using them for a while, especially if you have a larger batter installed. For most people, it won't be anything that bothers them too much, but if you are elderly, injured, disabled, etc. using a shoulder strap would be a good idea.
As you can see, there are a few minor flaws with cordless leaf blowers, but nothing that can't be fixed or overcome easily, and the pros of using these tools far outweigh the cons.
What is a cordless leaf blower?
Leaf blowers are power tools used by gardeners to move fallen leaves and other garden debris into neat piles so as to make tidying up faster and easier. They are quite simple machines, and basically consist of a motor, a fan, and a long chute to channel the airflow in the right direction.
The three types of leaf blower to choose from are petrol powered, corded electric, and cordless, and there are also leaf blower/vacuum combo tools that we have pages dedicated too. Today though, we will be focusing on cordless blowers.
Cordless leaf blowers get their name from the fact that they don't need to be plugged into your mains electricity supply, and therefore, have no power cord. So, how do they get their power? Just like every other cordless tool these days: from lithium-ion batteries.
Having no power cord makes these tools much more agile, manoeuvrable, and some would say safer, as there is no chance of tripping over any power cable. They also give you more range if you compare them to corded electric leaf blowers, and there's no need to use a cable reel to work at the bottom of a large garden.
10 years ago, I wouldn't have recommended any of the cordless leaf blowers available, as the price were higher back then, and the products weren't as good as they are today. These days, you are spoilt for choice when it comes to powerful, cordless leaf blowers, and many can produce airspeeds over 200mph.
As everyone knows, there is no such thing as a perfect product or tool and of course, cordless leaf blowers have their own quirks that you'll have to get used to. In the following section will take a look at some of the things that can be problematic with cordless leaf blowers.
Example of using a cordless leaf blower
Although everyone's first thoughts when it comes to cordless leaf blower usage is for clearing leaves from the ground, once you own one, you start finding all sorts of jobs that you can take care of with these tools.
I would say that I spend almost as much time up on my tripod ladder, clearing my shed and garage gutters, as I do the decking when Autumn rolls around. Cordless leaf blowers are great for this purpose as there is no cable to get tangled up or snagged on anything.
Winter inevitably follows Autumn, and snow is always a possibility. More often than not, we actually only get a small amount of snow falling, but enough to put a thin layer on the car or garden path. Leaf blowers can be used to quickly shift this layer and you won't have to freeze your fingers off with a plastic scraper.
I've even used my leaf blower in spring, when there were no leaves around to gather. What did I use it for? Well, as silly as it may sound for some, I used it to 'blow dry' my decking after giving it a fresh coat of stain, just to speed up the process, and it worked great.
Other uses for leaf blowers I have heard from friends and customers include blowing grass clippings instead of raking them, moving pebbles off the paving and back where they belong, and even scaring off a local cat that was using that person's garden as a toilet on a daily basis. They said it was more the combination of noise and the wind blast than wind alone, but still very effective.
So, I think I've made it clear that leaf blowers don't just have to be for leaves, and are actually really handy tools to have around. What's more, they aren't as expensive as you would think, especially lesser-known brands, although I would usually recommend going with a trusted name, just to be on the safe side.
---