Best cordless garden leaf blowers updated for Autumn 2020
This article was last updated on June 22nd, 2020 at 10:28 am
The best cordless garden leaf blowers perfectly bridge the gap between electric leaf blowers and also give you all the versatility and manoeuvrability that you get with petrol leaf blowers, but without any of the faffing around mixing fuel, the extra noise and vibration, nor the fumes. They are also much lighter and so reduce the risk of any strains or aches from working with them for long tidying sessions.
With advancements in battery technology, cordless leaf blowers are now more powerful than ever and we've reviewed them based on blow power, ease of use, price, build quality, battery life, and how fast they can be charged. Based on those criteria, I would have to say the Greenworks 40V Leaf Dust Blower Cordless is the standout for Autumn 2020.
Prices for these handy gardening tools are getting lower and lower all the time too, and it is now quite possible to get a budget model for well under a hundred pounds, with some priced as low as fifty quid!
As they say in game of Thrones 'winter is coming' but before that we have Autumn to deal with and the leafy apocalypse that comes with it. Make sure you're armed with the right tools to see you through it by reading our in-depth product reviews, and be sure that you're making the right decision when it comes to finding the best cordless leaf blowers in the UK.
So here is my review of the best cordless garden leaf blowers
Comparison table: Best cordless garden leaf blowers updated for Autumn 2020

Product
What We Think
Rating
Price

Comfortable and well balanced the G40AB weighs in at only 1.5kg without the battery...
Cushioned over mould grip.
Run time on the G40B2 2ah Battery: 30mins (Battery not Included)...
Approved by the EPA and Energy Star Approved
Requires G40uc Charger and either G40B2 (2ah) or G40B4 (4ah) Battery (sold Separately)....

Ideal for hard surface sweeping
High speed nozzle provides airflow of 245 km/h
Lightweight design with ultimate cordless convenience makes quick work of clearing jobs...
Overmould for comfort over extended use
Includes high speed nozzle

Maximum air pressure 5.4 kPa
Maximum air volume 2.3 cubic m/minutes
Ergonomically designed handle with rubberised soft grip fits your hand perfectly to provide maximum control and comfort...
Anti-static electricity for comfortable operation
Three air volume settings: Low

Wireless Blower Garden Farm Leaves Electric Rechargeable Lithium Hair Dryer

Compact, lightweight and easy to use the 18V
orange colourways, the leaf blower is fully compatible with all other products in the 18V Range....
Electric rechargeable lithium hair dryer car computer dust collector soot blower blowing high power wireless blower....
The cordless, ergonomic design with soft grip rubber handle offers complete mobility and comfortable operation...
Lightweight with a 1 hour charge time

Not enough reviews to accurately rate this product.
1. Greenworks 40V Leaf Dust Blower Cordless
When you fist see the super-low price tag on this Greenworks 40V cordless leaf blower, you might be tempted to hit the buy button straight away, but there is something to consider before you do.
At this price, the tool doesn't come with the battery or charger and so they will have to be purchased separately and this raises the cost quite significantly.
However, if you already own a Greenworks cordless lawn mower, cordless pressure washer, cordless brush cutter, or any of their many other tools that uses the same kind of battery, you can simply use the battery from those instead, saving you a lot of money and making this cordless leaf blower a very enticing prospect.
With a fully charged Greenworks G40B2 2ah lithium ion Battery, this little beast can produce air speeds of up to 110 mph/1777kph and an air volume output of 680m2/hr. That's some serious performance for a leaf blower that only weighs in at 1.5 kilograms before the battery is plugged in.
Working at this power will eat up that battery life though, but you'll still get a solid 30 minutes of continuous use out of it before you'll need to recharge, or you can use a 4ah battery for longer sessions.
Greenworks have done their usual, good work with the build quality on this cordless leaf blower, ensuring that the weight is kept down to a minimum but without sacrificing durability or robustness. It's a fine line to tread but Greenworks seem to have a knack for it and produce great products again and again. They aren't the cheapest garden power tools, but you do get what you pay for.
One of the biggest complaints I hear about high powered leaf blowers is the noise they make. With this Greenworks model, I was really surprised at how much quieter it was than a lot of other blowers that I've tried over the years. You still need to wear ear protectors, but it is noticeably less than a petrol leaf blower.
There are 6 speed settings to choose from that are selected with a roll of your thumb over the dial located on the rubberised handle, and the built in axial fan on this model gives you a good level of airflow and velocity throughout.
This is a very user friendly cordless leaf blower, with minimal controls, and an easy to attach / detach blowing tube. This makes it both easy to set up, and makes storage a whole lot easier.
The handle and overall design is both ergonomic and eye catching, and if you can excuse the lime green and black colour scheme, I think you'd have to say that this is a nice looking piece of kit.
If you buy this with the battery and charger, it'll cost around 150 pounds and while that is quite reasonable for a cordless leaf blower of this quality, you can make this much better value for money if you already own a Greenworks gardening tool, or you intend to buy one.
2. Bosch ALB 36 LI Cordless Leaf Blower with 36 V 2.0 Ah Lithium-Ion Battery
The Bosch Alb 36 LI cordless leaf blower is a part of their 'Power for All' range of products that can all be powered by the same kind of battery, much like a lot of other brands these days such as Makita or Greenworks.
This has both advantages and also some disadvantages for the customer. On the downside, it tends to make the batteries quite expensive, even more than the actual tools themselves in many cases.
The upside to this idea is that you can buy a quality garden power tool without the battery or charger for much cheaper (about half price with this particular model) if you already own a product from that same range and use the battery you already have.
If you decide to pay the full price and goo with the whole package, you'll get a 36V 2ah lithium ion battery that'll take about 70-90 minutes to charge and give you around 20-30 minutes of continuous use before it runs out.
Like a lot of new Bosch products, this one includes their Syneon chip. This chip's job is to control the interactions between the motor, gearbox, and the battery to make it the most power efficient tool it can be.
The Brand have done tip top job with the noise and vibration levels on this cordless leaf blower, and I'd even say that although you should always wear protective gear, you could probably get away without the ear muffs if you're only have a quick 15 minute tidy up.
Weighing 1.9kg, this model is unlikely to give you any problems moving it around, even when carried in one hand, and what weight there is, is well balanced.
The variable speed function gives you a decent level of control over the power output. With air velocity ranging from 170 to 250 kmph, all changeable on the go with just a small hand movement, you can always find the right setting for the job at hand.
We tried this cordless leaf blower out on both dry and wet leaves, on pavement, and on grass, and it worked great in all circumstances, shifting various garden debris without ever struggling, even with larger twigs.
As you would expect from Bosch, the body, tube, and just about everything else feels well-made. The plastic is high quality and robust, and the motor feels smooth and powerful. Even the way the blow tube clicks into the main unit gives you a sense of things being engineered to a good standard.
Lightweight, easy to set up and use, and plenty of power. The Bosch ALB 36LI cordless blower is a fine product that I think justifies it's two hundred pounds price tag. And if you are in the market for a chainsaw, hedge trimmer, etc. you could get a good deal on one from the same line and save few quid.
3. BLACK+DECKER 18V CORDLESS BLOWER
This is a versatile instrument which can be operated throughout the year to extract waste from courtyards, decks, sidewalks, drives and carriages.
Driven with 18V2.0Ah Lithium-Ions Battery, it allows user to manoeuvre without complaining about extensions and reach all corners of the park.
It provides maximum speeds of 209 km/h and offers the Speed boost, which allows you to readily remove stubborn waste.
The versatile and compact structure guarantees the convenience, control and capacity of the user to manoeuvre the hose without impacting the arms and shoulders.
A smooth handle also offers additional convenience during operation.
It could also be operated to clean grass cuts or dropped flowers and to clear rinses and light snow.
With the power enhancement button, reducing more stubborn waste can then be performed faster.
4. VONHAUS 3 IN 1 LEAF BLOWER
NOTE: this is a corded leaf blower and for cost comparison purposes so that you can see just what an amazing deal it is.
Its strong 3000W engine blows, hovers and paws make it a recycling material.
Its compact design puts this leaf blower in a large, zipped 35-litre bag of shredded capacities of 10:1, which implies less time to empty your sack and a longer time to clean and maintain your garden.
It provides optimal effectiveness and guarantees that your garden looks clean and clean in no moment.
This involves the armrest and gears for long periods of convenience, a 10 m power cord and a heat pull-out safe function.
2 Annual Warranty included Manufacturer
Very strong, yet simple to perform machine! Blower operates very well; the suction hose unbelievably nice, in the variable garden operates very well.
5. Compact Cordless Dust Leaf Blower
This storage-ion battery and quick charger Cordless Leaf Blower has already produced its reputation one of today's best charging leaf blowers.
Without sound, fumes and rhythms, you will achieve all the output of a petrol leaf blower in this leaf blower.
With a weight of just 2.6 kg, you won't be tired of using the blower for a long time.
This is an excellent choice for house owners to decrease their carbon footprint and prevent messy motors from fiddling
Innovative design guarantees maximum airflow and effectiveness
It removes stubborn debris and leaves the back garden clean and keeps your property in a fantastic condition easily.
This is the adequate size for gardens of various sizes and if you have storage problems at your place, you shouldn't be concerned because the this Leaf Blower can be stuck safely, taking too little space
This also requires much less maintenance, which is that kind of news everybody wants to receive
6. Ryobi OBL1820S ONE+ Cordless Blower
This leaf blower is perfect on decks, yards and driveway for sweeping difficult surfaces
It comes with a high-speed pump that is suitable for removing leaves and garden waste, with a 245 km / h airflow
The compact, ultimately cordless structure allows fast clearing of employment and also its 'over mould' handle offers comfort for long-lasting applications.
Ideal for sweeping difficult surfaces like decks, yards and entrances
Lightweight structure with ultimate cable comfort which completes clearing job fast
Its battery is suitable with all cordless home and garden instruments
It's an absolute deal for less than £ 40 too as the leaves and acorns are cleared through easily.
Vacuuming and blowing; both features for easy collection of the blades
In the same moment, you can decrease a lot of trouble with a big scrap bag which is exclusively added with this blower.
This is an ideal companion for you while travelling as this comes with a full wound rotor, the excellent heat dissipation, the powerful energy and it also ensures the safety of elevated temperatures
This leaf blower is indeed a proficient choice as this is equipped with a porous technology for heat dissipation
Can be utilised in distinct settings (yards or gardens…) by separate consumers (professional or amateur gardeners…) for various uses.
8. Makita DUB182Z 18V Body only Cordless Li-ion Blower
The leaf blower can be used as a vacuum which comes with a dust bag equipped with low and high air density settings.
It also features a low-static power mechanism for convenient use.
Ergonomic handle with rubberised smooth grip that perfectly suits your grip to ensure maximum command and comfort.
Its engine speed generates 80 m / s (180 mph) of peak air velocity.
Zero emissions containing less concentrations of noise, perfect usage in delicate working and home settings
9. WORX WG505E 3000W Trivac Garden Blower
NOTE: this is a corded leaf blower and for cost comparison purposes so that you can see just what an amazing deal it is. There are many more electric garden leaf blowers at the link provided if this interests you.
With only the tilt of a switch, this blade is versatile in changing between employments and thus is an all-rounder portable device.
This power engine operates at approximately 70 decibels, which considerably reduces sound pollution and does not have any of the gasoline-powered emissions.
The changeable air control system reduces air density when operating with sensitive plants and also does prevent pollution
The adjustable air control system enables you to decrease air flow in sensitive crops and prevent dust spills.
This product is also equipped with an efficient power consumption feature which will help the user to relax over the charging issue of the leaf blower.
This blower vacuums your external waste so that your leaves and grass can be quickly cleaned.
The mulching function reduces even your garden residual by 16:1
Now built using a unique metal impeller which makes the lightweight machine more robust.
10. Wireless Blower Garden Farm Leaves Electric Rechargeable Lithium Hair Dryer
This 18V model is compact, light and user friendly. This cordless Blower removes the leaves and scrap quickly
The leaf blower is completely compliant with all other goods of the 18V range, with orange colours.
The ergonomic, cordless design with smooth handle provides full mobility and convenient operation.
Compact for easy storage and also, the blower tube can be removed.
Speed control is also available, making the job method simple to control.
Cordless garden leaf blowers are a real asset these days, they make getting around the garden super easy as well as being pretty powerful. We have taken a look at the best cordless garden leaf blowers and thrown in a couple of corded versions just so that you can see how much cheaper they are when compared. A cordless leaf blower should be well built and have a battery that lasts long enough to get round a normal sized garden. They need enough power to suck up leaves that are stuck to the ground and generally make the job of a hand leaf collector redundant!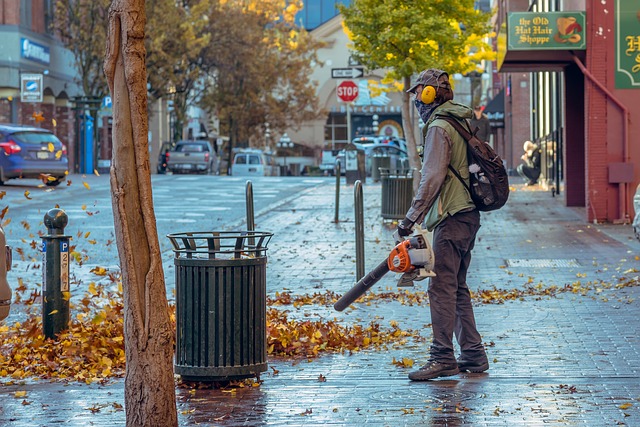 I hope you enjoyed our review of the best cordless garden leaf blowers. We have many more leaf blowers if you didn't find anything you like here. If you think we missed any of the best cordless garden leaf blowers then please feel free to drop us a note and we will look at it for you.
What you need to know about cordless garden leaf blowers
Still not sure about which model is worth your hard-earned cash?
Have no fear, we are here to help. Take a look through this buyer's guide and hopefully you'll feel better equipped to make that purchase you've been stewing over.
Power
When it comes to blowing leaves, especially wet leaves, you need to have a pretty powerful cordless leaf blower. Have a good look at the specifications of the models you are interested in to see the air speed/velocity and also the air volume output. You want your leaf blower to be able to produce at least 170kmph and if you have really stubborn leaves, a blower with power to blast out 220kmph or more is better.
Weight
Cordless leaf blowers are lightweight by nature, but some more so than others. Any product that is over 5-6kg is probably going to start to feel heavy after a while so try to get one around the 3-4kg mark once the battery is inserted.
Variable speed
If the leaf blower you're looking at doesn't have variable speed, you might want to look elsewhere or you'll be limiting the use of the tool. Being able to change the speed settings quickly and easily is important or you'll end up blowing pebbles all over, or damaging flower beds if the tool is set too powerful.
Is the battery included?
Some cordless leaf blowers may seem like an amazing deal but if you look closely you may find that the battery and charger are not included and this is very important. The reason being, that the lithium ion batteries that power these kinds of tools are not exactly what you'd call cheap and it'd rare to find a good one with charger for under a hundred pounds.
There are some brands that have special ranges of products that allow the owners to use the same battery for all, and this can save you money if you're looking to expand your garden toolbox.
---