Written by Terry Smith
Our site is reader supported so when you click a link to Amazon we may earn an affiliate commission.
UK's best kids go karts: top pedal go karts tested for two years!
This article was last updated on September 21st, 2022 at 9:25 am
My kids are quickly growing up and we've tested a fair few of these go karts now and one thing that is for sure – they are rough with their toys. The one that seems to have lasted the best and this is moving on a couple of years since we first started looking at go karts. Well – a picture speaks a thousand words 🙂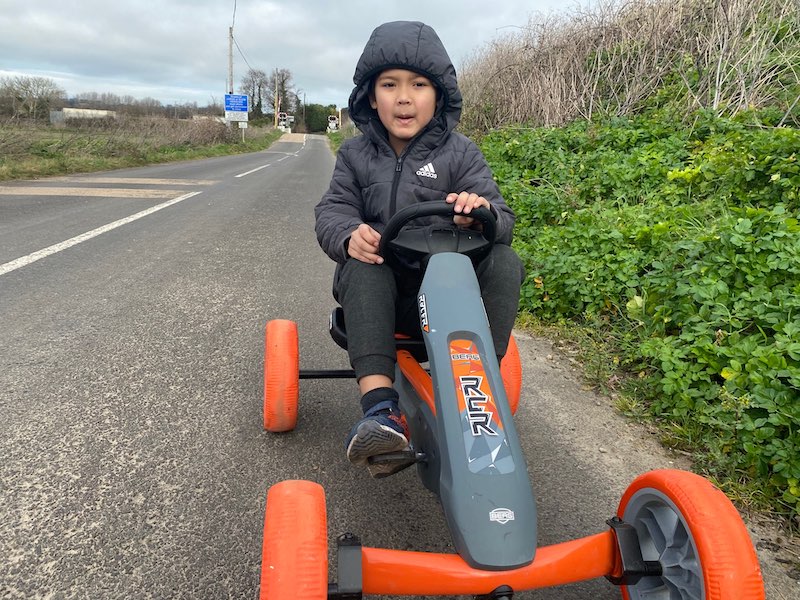 Rated best before, and rated best still it the BERG – but with the cost of living crisis in full swing this year it's going to be tight. And so I am always on the lookout for bargains. Especially when I know as a parent it's going to be hard. With that in mind I have the HOMCOM Kids Children Pedal Go Kart in my cross hairs this year. It's proven itself for a couple of years. And whilst my top pick represents superb value – we've been using it and putting it to the test with 3 kids now for two years!! My budget go kart pick is will leave your young kids over the MOON. And before we go any further something of importance that need covering from a road safety aspect is the braking.
Top tip from years of testing: If you intend to let them out the house and on public areas: you need to teach your kids how to slow down with the pedal/chain as there are generally no brakes on kids go karts. By locking their legs and slowing the pedal, they directly slow the go kart. This is the intended idea of braking on a kids go kart 🙂 and once they get the hang of it they have plenty of control.
Best kids go kart top picks
What is a kids go kart and how to you get the most fun from one
My first 'go kart' experience was flying down a hill near my grandmother's house on a wooden contraption that had a thin and frayed piece of rope as a steering mechanism and four pram wheels to run on. As you can imagine, that ended in disaster as there weren't any brakes and I crashed into a nearby fence. Fortunately these days kids have a far better chance of coming our on top with the new models being comparatively much safer 🙂
After this, my parents bought me a proper pedal go kart with big, plastic wheels and, most importantly, a handbrake (finally). Even though it was far more years ago than I would like to admit, I can still remember going everywhere on that go kart and can even remember the black and yellow colour scheme. I practically spent every spare moment flying around the block while my mates timed my laps, before letting them try to beat it. Great fun.
And why not? We had not invented kids electric scooters or electric bikes then and the typical push bike was a bit 'too normal'. One thing that hasn't changed however is the competitiveness of kids. It doesn't matter if it's the Nintendo or Minecraft, they want to win. Getting the kids a go kart will get them competitive over something active – a real boost given the amount of time they've spent at home not exercising properly recently.
A few things to consider when picking the best go kart for kids. Firstly. Without question safety. With that said, after my research I bought my youngsters the BERG Pedal Car Reppy Racer. I had a little bit of a wobble with assembly but my own fault. Once it was together though the kids had a great time on it and I've not had to do anything since. The wheels are solid rubber so no inner tubes or whatnot to replace, the chain is covered so your kids can't catch themselves on it and the steering is really sturdy and even this long on, doesn't even look close to breaking!
Memories like these are there to be cherished, and I believe everyone should have some similar ones. With all the great go karts on the market today, it shouldn't be too hard to find one for your own children and give them the same kind of adventurous fun that we had growing up.
Open their eyes to driving for themselves without the use of a PlayStation controller and, who knows, you could end up inspiring them to make a full time hobby or career out of it later in life.
To help you with your decision, we have reviewed the best kid's go karts for you and your little Lewis Hamiltons so you can be sure that you are buying the safest, best made, and best value for money go karts out there and if you're still not sure then checkout our Best Kid's Go Karts Buyer's Guide.
Best kids go kart for concrete an paving
Best Kid's Go Karts Buyer's Guide
Go karts bring timeless fun to kids of all ages so it's hardly surprising that there are so many different models to choose from. This brings both pros and cons with. On one hand it gives us so many options and also helps to bring prices down due to competition between brands.
On the other hand, it means it's harder to pick out the go karts that are worth the money and which ones will fall apart after a week.
With this short buyer's guide we aim to help you separate the features that matter from the ones that don't so you can get your hands on the best go karts in the UK.
Compare safety
Safety isn't equal on all kids go karts in the UK. Yes they are all of a standard but when I researched then subsequently bought the BERG Pedal Car Reppy Racer | Pedal Go Kart for my kids I can tell you I am super happy with the control they have. They almost have their own breaking by slowing the peddling as it's directly chain linked to the rear wheels. The adjustable seat put them in a comfortable position for balance and by comparison despite being a top pick I didn't feel they were all that good.
Size and weight
Despite what you want to believe lads, size is important. Well, when it comes to go karts it is anyway. Choosing a model like the TecTake go kart that we reviewed earlier is all well and good if the person it is intended for has enough leg power to shift 40 kilograms from a dead start, but won't be much fun if they can't.
Also, taller kids might find it uncomfortable to squeeze into a compact go kart and bang their knees on the steering wheel, so check out the dimensions of the product before you decide what to do with your money.
Age Range
The age of your kids will limit which go kart models you can realistically think about buying for them for many of the same reasons we just highlighted above. When it comes to really young children, you also have to take into consideration the safety factor and look for things like covered chain guards and the absence of handles and other places where their fingers could get trapped.
There will also be a maximum weight load for each go kart and this tends to be lower the younger the age range of the product.
Tyres
Do you want to go with plastic, rubber, or pneumatic tyres? Each has benefits and drawbacks.
Pneumatic tyres are filled with air and give the most comfortable ride. They are also good for grip and handling in all kinds of environments and terrains. However, they can be punctured and you'll end up fixing flat tyres fairly often.
Plastic wheels can't go flat so you don't have to worry about that, but they are usually noisier than pneumatic ones and don't give as good a grip on the ground. They can be particularly hard to get traction with on hard, flat, surfaces.
Rubber tyres can be a good choice if they are high quality, but cheaper models will see the rubber wear away quickly and you'll end up disappointed.
Price and quality
Usually the quality of a go kart will go hand in hand with how much it costs due to the materials used in its construction and also the workmanship.
That doesn't mean that there aren't good deals to be had though. In fact there are some products out there that have most of the things that high end go karts have but for half the price. You just need to keep an eye out for the good deals and know about which features matter and which ones don't. For example, is a padded chair really worth shelling out an extra 50 pounds for? Probably not, but a superior frame and tyres? That could be.
---