Written by Terry Smith
Our site is reader supported so when you click a link to Amazon we may earn an affiliate commission.
UK's best fox deterrent and repellents that actually work
This article was last updated on April 23rd, 2022 at 5:44 am
I love nature and wildlife, but sometimes it seems they don't quite love me back in the same way! Though I am partially to blame since I back onto a farm, I suppose I should accept the odd unwanted guest – but enough was enough when he went looking for my chicken coop around the corner – sometimes they used to pass through harmlessly field to field but other times not so innocently, and listening to the cry of your chickens isn't a nice sound ;( it doesn't help the neighbours keep chooks too luring them in – here's one I caught sniffing about on my security cameras but don't worry a combination of the products in this review fixed my fox problem and I'm confident it'll do the same for you:
I get birds swooping down and eating my berries, cats have been coming and going as they please (or at least until recently as I found the best cat repellent) and often used to leave me a little 'present' on their way out, and one of the worst culprits are foxes, so what better way to deal with them than a purpose designed fox deterrent or repellent that catches cats too and heres what you need to know about buying a fox deterrent and repellant! Let's take a look how I fixed this problem: here are my best picks for fox deterrents and repellers:
Best fox deterrent and repellers – editor picks:
Best fox repeller and deterrent overall Pestbye® Waterproof Cat Repellent Ultrasonic Repeller Cat Scarer with Ground Stake – absolute golden bonus it scares cats too
Best alternative to Pestbyte: VOLADOR Animal Repellent, Waterproof Ultrasonic Cat Fox Repeller
Best physical deterrent: Defenders Prickle Strip Dig Stopper
Best scent based repeller: Scoot 50g Fox Repellent Sachets – worked a treat in combination with the Pestbyte.
These beautiful creatures can be an absolute pain in the neck at times, almost on par with a rat problem I once had. If you're looking for humane rat traps I've covered them too. Raking through the dustbin and leaving half of it on the floor, stealing dog food, digging up flower beds (it's not just mole traps you need here), leaving good sized piles of poo on your freshly cut lawn. The list goes on and on.
And if you keep chickens like i do, or other kinds of birds, you have a whole other set of problems to deal with when it comes to these crafty little hounds but I must say since I put the floodlights up as you can see from the video that seems to help some too. I don't think anything is quite as enraging as losing a hen to a fox or dog. Most of us who keep them sadly know.
So what is the best way to deal with them?
The best fox deterrent and repellents
There are a number of options available, from ultrasound deterrents to simple spike matts, and with each possible fox deterrent or repellant there are pros and cons, not to mention a selection of different brands and products to wade through to find those hidden gems.
The best rated fox deterrent and fox repellents should actually work, be humane, safe for the family, and safe for pets. We rated the best rated fox deterrent and repellents on these criteria.
Don't forget to check out our buyer's guide too for more hints and tips on the subject.
The Pestbye ultrasound animal deterrent is available on Amazon for £23.99, and that to me spells out great value for money.
What you need to know about buying a fox deterrent and repellant
With the different types of products out there all vying for your money and promising to get rid of your fox problem, it's tempting to buy them all and carry out an all-out assault on that craft critter.
Often though, just a single product used correctly can be enough to solve the problem, but from my experience these deterrents do have to be used in the correct way for them to be anywhere near effective.
Here are a few tips about fox repellants and deterrents to steer you in the right direction.
Types of Fox deterrents and repellants
The main types of fox deterrents / repellants are: the ultrasonic noise emitters, the automatic water sprayers, fox repellent granules or sprays, and prickle strips.
Each works in a different way, and with varying levels of success for different people, so no single product can really be seen as being superior.
Ultrasonic fox deterrents are very convenient as they are easy to set up and then only need you to keep an eye on the battery level. However, they do have a limited field of operation and can take up to two weeks before you see any change. You often have to adjust the settings and try different frequencies too find one that works too.
If you're tempted to buy one of these, be sure to set it up with a clear field of view that is unobstructed, and go for a model that has infrared sensors over just motion sensors.
Automatic water sprayers work a little bit like the ultrasonic fox deterrents. When the sensors on the product detect motion, they let of a stream of water in that direction designed to scare the animal away. We tested multiple versions of these and found only one to work properly, but unfortunately it is no longer available due to covid-19 so we didn't include it in our reviews.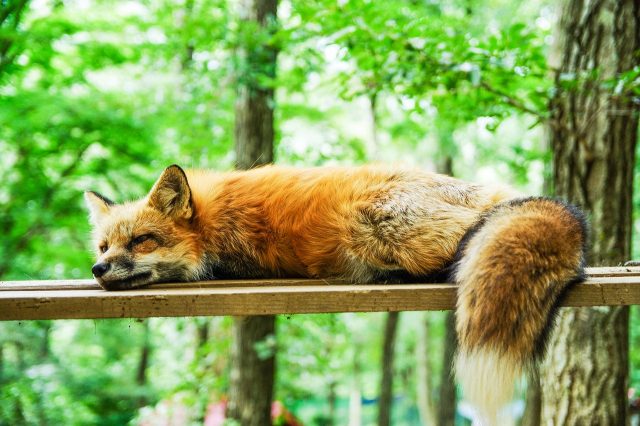 Scent based fox repellants
Scent based fox repellants like the Scoot can come as granules you lay on the ground or in a liquid form that you need to spray around the garden – Scoot is a spray version you mix up yourself. The best of these was the Scoot sachets, but even then, we had to keep respraying the area every night to get the desired effects and result. To do this might end up being a tad expensive.
Prickle strips
Prickle strips are easy to install and actually work really well. The only downside is that they only stop digging, and maybe climbing with a little modification, but won't scare the fox away from the property so you'll still have to contend with any other mischief they get up to – they are great around the back of a chicken coop (use them strategically to stop them digging the sides) you don't walk on and I like the Plai as well as the Defenders. They need to be tight as foxes are nimble – every little helps if they really are a problem.
Also, make sure you don't leave any gaps between the strips, and secure the edges down well or they won't be as effective.
---