Written by Terry Smith
Our site is reader supported so when you click a link to Amazon we may earn an affiliate commission.
UK's best electric pressure washers: Karcher, Makita, Bosh, Wilks-USA rated on price and power
This article was last updated on April 23rd, 2022 at 5:38 am
If you read my reviews and tests, it's a well known fact I absolutely love my Wilks-USA petrol pressure washer and my WORX cordless pressure washer but you might need something in the middle of these. The cordless washer is great for gutters and blasting off a bit of mud, but a compact pressure washer blows it away performance wise, and still not ideal for cleaning grime off patios. So that's where an electric pressure washer makes sense – for the small sacrifice of being connected to mains electric, you nearly get the power of a petrol but for much, much less money (not to mention much quieter as well). The best thing is – in this category there are an abundance of quality washers to pick from – it is by far the most manufactured unit – as a result, the most competitive and best value for money too!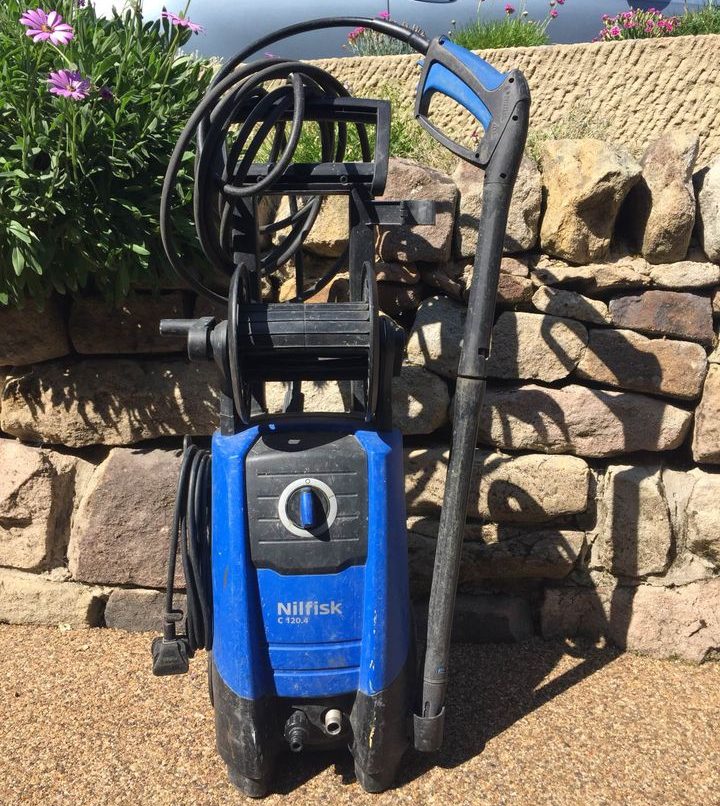 To bring the best of the best to the forefront, I use certain quality guidelines and criteria to ensure I deliver the top picks and I've cut this list down from 25 units I've looked at to just 9 (and to the manufacturers, sorry if you feel I've missed you please feel free to send one in with return packaging and I'll consider it). With electric pressure washers we are looking for BAR or PSI (water pressure), motor quality, pump quality, what accessories come included, water flow rate, and price to find the best value units and if you need any more info on this please take a look at the buyers guide to electric pressure washers. This is all pretty basic and understandable, but then again, electric pressure washers are pretty simple and so not too much goes wrong with them – try getting a flooded 4 stroke going without the use of expletives 😀 Let's take a look at the best electric pressure washers available in the UK at the moment:
Best electric pressure washers – editors pick:
Best electric pressure washer overall: Norse SK155 High Power Pressure Washer 255 Bar / 3700 PSI
Best value budget pick: Makita HW101 Compact Pressure Washer
Most powerful: Wilks-USA RX550i Powerful Electric Pressure Washer
Commercial choice: Kärcher K4 Full Control Pressure Washer – can't beat the reliable pressure, reliability, and flow rate when you're on site making money.
Best compact pressure washer: Makita HW101 Compact Pressure Washer
We have also included a buyer's guide that seeks to clarify things for new buyers and help them to make the right decision, when it comes time to buy. It's certainly a minefield out there.
Buyer's guide to electric pressure washers
If you're new to the world of pressure washers, you might be feeling a little confused about some of the terms used in the reviews or product advertising.
To give you a bit of assistance, we have covered the main things that you need to know before making that final decision on your own electric pressure washer.
Motor size
Electric motors in pressure washers can vary somewhat in quality and power. The most powerful electric pressure washers will have a motor that is over 1500 watts, with some going quite a bit higher – the Wilks-USA RX550i being 3000 Watts. This can be a problem as you'll need a cable reel extension that's IP rated for water and 13 amp to carry the power. Make sure you unwind the power lead fully or you'll heat the wires and it'll best case trip, worst case melt the wires. However, try to avoid anything with a motor smaller than 1500 Watts because you're then down to compact pressure washer size.
Motor quality
The best kind of motors are the ones that are going to last long enough for you to get your money's worth. If you see terms like 'brushless motor' or induction motor', they are good signs that it is a decent mechanism powering the product. Brushless certainly lasts much longer than one with brushes. If you don't understand the difference let me help. The brushed versions use Carbon which naturally wears as theres friction. The Brushless version uses magnets for the electricity and as a result less friction and lasts much longer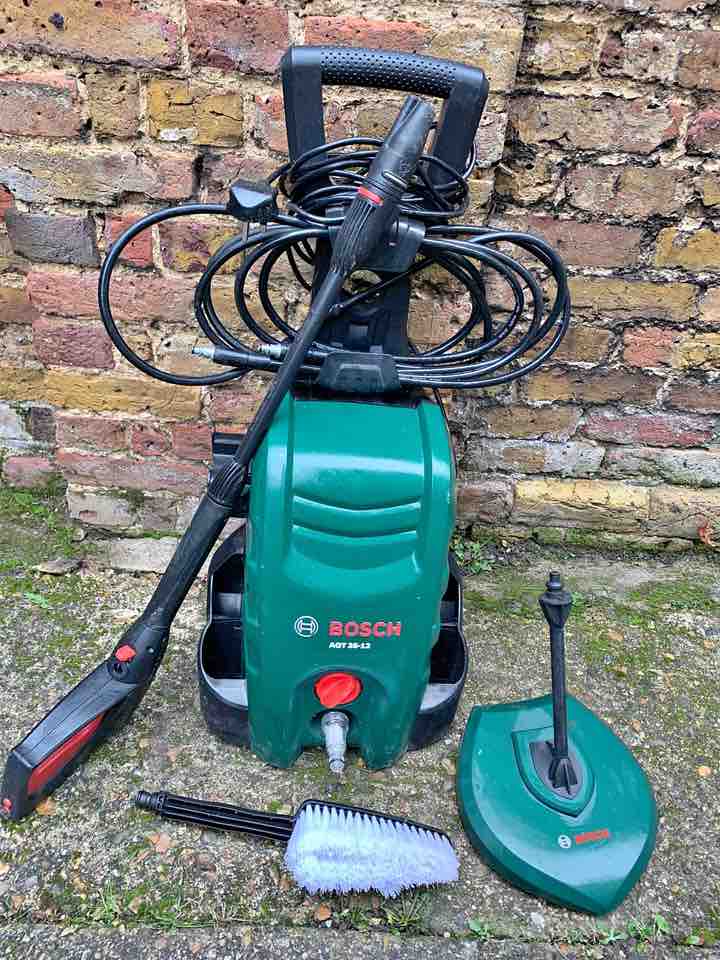 Pump quality
Another component that you want to be as durable as possible is the pump because without it working, you don't have a pressure washer. Pumps with aluminium heads are usually a better choice than the cheaper variety and will ensure a longer working life. These tend to be much more expensive though and depending on how much work you're doing, might not be worth the additional expense.
Pressure – BAR/PSI
Pressure is measured in BAR or PSI, and products will have a maximum pressure and a working pressure. These two numbers won't be the same, with the working pressure inevitably lower, sometimes significantly so and the better number to judge your average performance from.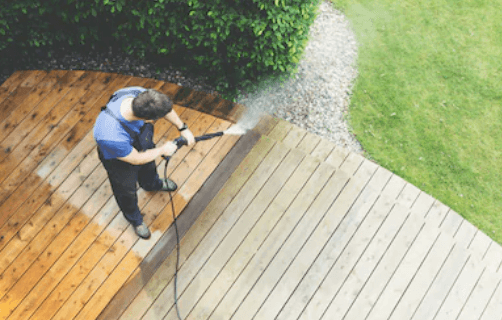 Be sure to find out what the actual working pressure is on a model, and not just the advertised higher, max pressure number. Ideally it should be over 90 bar for any type of decent performance. You won't shred a deck clean as per the picture above unless you have 200 bar minimum. If you're looking to blast mud off tyres, generally lower powered pressure washers can get the job done.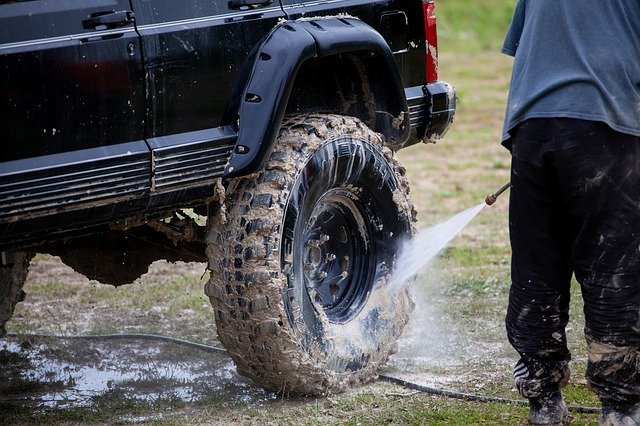 Water flow rate
This is another big factor. Without a decent water flow rate, measured in litres per hour, all the power and pressure in the world won't improve the cleaning performance well. A good water flow rate will be over 300 litres per hour with anything higher being preferable.
Attachments
You will often see free attachments that come with electric pressure washers such as detergent bottles and patio cleaners. While this may tempt some people into buying that product, it may not be the great deal that it first appears. Have a look in the comments section of Amazon pages to see what people say about these attachments as they can be lower quality than the ones you buy separately and therefore not worth it.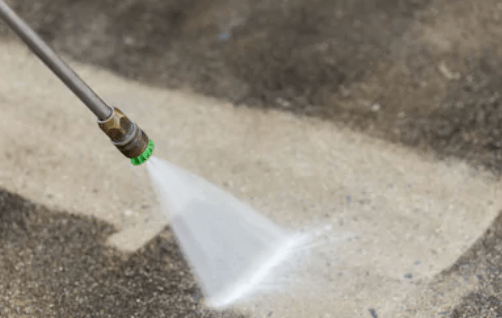 We will of course update this, and all our other pages when new products are released that top the ones we've got featured here, so please remember to pop back from time to time for a look. A quality attachment can intensify and concentrate the power of your pressure washer, which will make it easier to remove the nastiest gunk. Likewise, it can fan the pressure making it safe for washing down conservatories and the likes.
We finish off our best electric pressure washer reviews with a product that is perfect for people on a tighter budget who don't necessarily need the high power that our other reviewed products have…
Where to use an electric pressure washer and why?
The perfect time for sprucing up that driveway or patio is now – don't put it off any longer, you'll thank yourself later, and that's not something I would ever tackle without a pressure washer again. Not to mention cleaning all the kid's bikes, the car, and anything else that needs a good wash before it's fit for the world to see.
Now, I've absolutely no problem with a good old bit of elbow grease and scrubbing stuff clean, using the best patio cleaners and algae removers, but when there's a quicker, more efficient way of doing things, I'd be silly to ignore it.
This is why, at this time of year, I always break out my electric or petrol pressure washer and seriously cut down the time it takes to get everything looking spic and span. I'f I'm going at my decking, I bust out the Wilks 750, and believe me, I know I am the envy of my neighbours when they hear that thing literally peeling stain off the decking. For lighter tasks though, I have a Wilks-USA RX545 Pressure Washer. If you're looking for mid range work, that is a cracking tool by the way and so well priced it's insane for the power. If you're looking for something like bike cleaning, or even the car, you can get away with a good cordless pressure washer these days, especially if you're savvy about what pressure washer detergent to use.
With the best electric pressure washers, you can blast away even the hardest grime and old dried up dirt in a matter of minutes, giving you the opportunity to spend the time you just saved doing something more 'productive' like sitting back with a cold drink and enjoying the weather.
---