Best electric pressure washers for value and quality [Summer 2021
This article was last updated on August 7th, 2021 at 6:39 am
With Spring well under way, and the weather turning for the better, it's the perfect time for sprucing up that driveway or patio, and that's not something I would ever tackle without a pressure washer again. Not to mention cleaning all the kid's bikes, the car, and anything else that needs a good wash before its fit for the world to see.
Now, I've absolutely no problem with a good old bit of elbow grease and scrubbing stuff clean, using the best patio cleaners and algae removers, but when there's a quicker, more efficient way of doing things, I'd be silly to ignore it.
This is why, at this time of year, I always break out my electric or petrol pressure washer and seriously cut down the time it takes to get everything looking spic and span. I'f I'm going at my decking, I bust out the Wilks 750, and believe me, I know I am the envy of my neighbours when they hear that thing literally peeling stain off the decking. For lighter tasks though, I have a Wilks-USA RX545 Pressure Washer. If you're looking for mid range work, that is a cracking tool by the way and so well priced it's insane for the power. If you're looking for something like bike cleaning, or even the car, you can get away with a good cordless pressure washer these days, especially if you're savvy about what pressure washer detergent to use.
With the best electric pressure washers, you can blast away even the hardest grime and old dried up dirt in a matter of minutes, giving you the opportunity to spend the time you just saved doing something more 'productive' like sitting back with a cold drink and enjoying the weather.
To give you an idea of what the best electric pressure washers are, and not just me bragging about my tools (sorry I love tools), we have tested and reviewed the top products for you. We put them through their paces to see which ones come out on top, and have included our findings in the reviews section you will find below.
We have also included a buyer's guide that seeks to clarify things for new buyers and help them to make the right decision, when it comes time to buy. It's certainly a minefield out there.
Comparison table: Best electric pressure washers for value and quality [Summer 2021

Product
What We Think
Price

24 month warranty and free to call UK based technical support line
The highest pressure electric washer on the market
Heavy duty but easy to move with wheels
Powerful air cooled, copper wound 3000W motor
All accessories included - lance

24 month warranty and free to call UK based technical support line
The highest pressure heavy-weight electric washer
Lightweight and easy to move with wheels
Powerful air cooled, copper wound 2400W motor
All accessories included - lance

Hardworking 1600W pressure washer with quick connect spray gun and attachable detergent bottle for great cleaning power...
Distinctive with its grey
Fully adjustable nozzle allows you to spray from a soft to high pressure spray with its easy-to-use on/off trigger....
Lightweight at 5.8kg, the pressure sprayer measures: L31 X W24 X H45cm...
Manufacturer 2 Year Warranty Included

▲2000W copper motor and two strong special spraying Wands
▲PA66 High pressure outlet pipe and quick inserting copper joint
▲Full control of trigger spray gun and TTS automatic shutdown system (full stop system)...
▲Humanized design - High-pressure washer built-in Soap dispenser
▲ 100% quality assurance and complete accessories

LED display trigger gun
Extendable handle making transportation of your pressure washer simple
The high-pressure hose is stored at the back of the unit
3 years manufacturer's warranty
Flow rate (l/h) - max

Nilfisk C135.1i High Pressure Washer
The handy all-round high pressure washer with a powerful & tough 1700W induction motor for long life...
A full portable pressure washer with high flexibility
High quality metal jetwash pump delivering 135 bar max and 115 bar operating pressures...
440 L/H low & 380 L/h high water flow rates for extra power cleaning...

High power motor and heavy duty nozzles provide maximum cleaning power
Height adjustable fold down handle for easy manoeuvrability and compact storage
Integrated accessory storage - quick access compartments and in-use lance rest
Quick-connect SDS fittings, ready to go straight out of the box
Metal water filter for easy maintenance and additional pump protection

Makita HW101 Compact Pressure Washer

Maximum pressure 100 bar
Maximum flow 360 Litres per hour
Total-stop-system
Universal electric motor with wobble plate pump
Aluminium pump head
Best electric pressure washer
Let's start our reviews with this excellent product from American brand Wilks-
1. Wilks-USA RX550i Powerful Compact Pressure Washer
Wilks happens to be one of the most popular pressure washer brands out there. They are mainly known for manufacturing high-performance pressure washers at affordable prices.
This model is no exception to that and is another example of their excellent quality.
This is a portable pressure washer which has been designed to outperform the other pressure washers in it class, and it is certainly up there with the likes of Karcher pressure washers. Wilks have given this machine a nice mix of solid workmanship, high cleaning performance, and loaded it with features making it all the more worthy of your money
Boasting a powerful 3000 watt electric motor that kicks out 3800 psi at 262 bar, It is being marketed as the most powerful electric pressure washer available today. It has certainly got more than enough grunt to handle any home based cleaning jobs you aim it at.
Pressure alone doesn't necessarily add up to good cleaning performance though. For that you also need a good water flow rate, and again the WIlks RX550i delivers with 510 litres per hour which is not that far off some petrol pressure washers
When it comes to accessories, the Wilks RX550i has got you covered. There is the extended spray gun, a straight lance, curved lance for getting into gutters and such, a rotary brush, fixed brush, and even a patio cleaner attachment.
There are also five nozzles with varying angles of spray to suit whatever jobs you have in mind. The nozzles are easily attached using what Wilks calls 'click and go', and the lance and other attachments make use of this rapid connecting system too.
The Wilks RX550i electric pressure washer sports an integrated detergent tank that is nicely concealed on the main body of the machine but can still be easily accessed via the capped filler tube.
To keep the pup operating at its optimum level, Wilks have built in a filter inlet to keep all the nasty stuff out and also included an auto-shut off feature so that the pump is only working when you need it. This reduces the risk of overheating.
Another excellent feature is that it comes with a 16 metre hose and another 8 metres to attach should you need it. With 24 metres of hose and a 6 metre power cord, you won't have any problems reaching the far end of your driveway or garden path.
Even better than that, this electric pressure washer has an integrated hose reel to store it all.
The only downside that I can see with the Wilks RX550i is that the wheels are a bit on the small side, but they still seem to do their job well so it's not a deal breaker.
Also the instructions weren't the most helpful but that's common these days as most brands know that there are videos and articles all over the net for that kind of thing.
Wilks-USA RX550i Powerful Compact Pressure Washer Review

Best Wilks-USA RX550i Powerful Compact Pressure Washer Features

What needs work on the Wilks-USA RX550i Powerful Compact Pressure Washer

Powerful 3000W air cooled copper wound motor
Wheels are on the small side
3800 psi at 262 bar
Instructions aren't the clearest
Very quiet
Excellent water flow rate of 510 litres per hour
2 different lances, rotary brush, fixed brush, and patio cleaner attachments
Five different angled nozzles with quick fit attachments
Integrated detergent tank
Auto shut off system and filter inlet to protect the pump
24 metres of hose
2. Wilks-USA RX545 Very High Powered Pressure Washer - 210 Bar
Why am I reviewing Wilks again? Simple. Good value for money, UK support network, and pound for pound hard to beat. The Wilks-USA RX545 Very High Powered Pressure Washer is no exception. It's basically the smaller model of the Wilks-USA RX550i. If you don't need quite so much power then this will do nicely and at 210 bar with a 2400 Watt motor it is still a seriously powerful electric pressure washer. The first thing I noticed when I put a Wilks pressure washer in my hand was just how well built these are. The best bit about this model is it's actually pretty light too. It weighs a little over 10kg which is easy for anyone to move about. The big wheels make the thing as mobile as you could possible ask for. It's a very nice machine and with lockdown on at the moment, Summer 2020 is the time to own one of these and get all those chores done.
I really like the pressure washer detergent compartment. This will trickle and spray detergent to give extra cleaning power. Absolutely perfect for patio and deck cleaning duties. One thing to mention is if you have a big long drive or patio. The total extension is around 17-18 metres so you might want an expandable hose if you don't already have an automatic hose reel (this will keep the hoses as today and easy to use as possible) but apart from that you are golden.
This model comes with all kinds of goodies including a set of different nozzles, a rotary brush, patio cleaner, and a car washer brush. Wilks-USA were kind enough to include a lance to clear your gutters too. This will do all the tasks at home, with no additional purchases. It sets up in about 15 minutes. Very straight forward. It's mainly click and connect components.
I really am A Wilks-USA fan. The bottom line is for the power to pound out the pocket, it's a great piece of kit. Other top brands are double the money and don't do double the work. It's as simple as that. There's been a few clients over the years that have had issues but this goes for all products. These guys have sold ten of thousands of these units with a handful of disgruntled customers and UK support, it's an easy choice for me.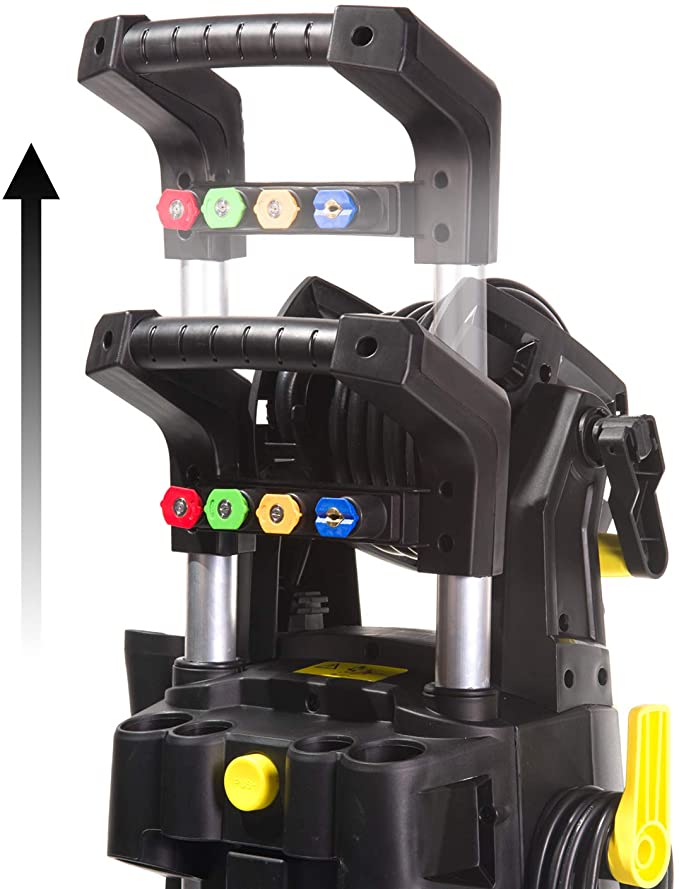 If you want something for cleaning the car, the odd block paving purge, the conservatory and small to medium sized decking setups then this is not a bad shout. It has 160 bar from a 2000 Watt reliable engine. Tacklife have built a pretty solid reputation for themselves in recent years and at a hundred and fifty quid currently this is almost certain to be more expensive this time next year. When it says 160 bar, it really means it. A solid bit of kit.
You'll blast algae and moss off your decking with no hassle at all. The before and after will be remarkable. All too often power delivery is the issue with these pressure washers but definitely not the case on the Tacklife offering.
If you have anything over 6 metres then you'll need to have a hosepipe at the ready. The range is medium, as you would expect from a mid sized electric pressure washer. It comes with most of the gadgets you need but you'll need a brush attachment to clean the car or bike.
You have a variable jet so if anything is really stuck, turn the setting to intensify the spray. There isn't much that'll stick after this little electric pressure washer gets at it, I can assure you :). I often struggled to clean my sandstone with mid powered washers, this however, steps up to the plate. So if it's the general light use your looking for then I wouldn't be inclined to spend on a bigger model unless you want a longer hose then opt for a bigger model for sure.
Overall, on a budget that wants as much power as possible. This has to be a good choice.

4. VonHaus 1600W Pressure Washer with Accessories
I tell you why I slid this in at number 4. Peak output of 135 bar, flow rate of 330 litres/hour, a tonne of accessories and its £80 quid. We could all do with a bargain this Summer with lockdown restricting incomes.
VonHaus are an established name in the gardening tool industry with many of their products featuring in our review pages.
From lawnmowers to hedge trimmers, and everything else you can think of, Vonhaus probably has a low cost, but comparable product to go toe to toe with the other big names like Bosch and Makita.
Compact, inexpensive, but still powerful, this 1600W electric pressure washer can proudly stand up on our podium with the big boys, and its lightweight design makes it accessible to everyone.
When to electric pressure washer performance, the main things to consider are the size of the motor, the operating pressure, and the water flow rate, and the VonHaus doesn't struggle in any of those categories.
With a maximum pressure of 135 bar, but working at 90 bar, and a flow rate of 330litres per hour, it would be hard to think of a home cleaning project that this electric pressure washer couldn't handle.
For more delicate tasks, like spraying near bearings in bike wheels, there is the option to twist the nozzle and adjust the spray to a softer and wider setting, and if you need a more focused stream, just twist the nozzle back.
These simple controls are a theme found throughout this pressure washer, with a simple trigger on the quick connect spray gun, and a single on/off switch on the main unit. There is only one port for the hose to connect to, and so the Vonhaus could be set up and operated by anyone.
There is nothing more annoying with any kind of power tools, whether it is a power drill, chainsaw, lawnmower, or pressure washer, than an overly short power cable.
Thankfully, VonHaus seem to have recognised this and have made both the power cable, and the hose a decent 5 metres long. Combined, they give you a lot of range and mobility without having to shift the main unit around.
The VonHaus electric pressure washer comes with a free detergent bottle attachment that is made from strong plastic like the rest of the components, and is certainly on par with accessories that you get free with more expensive pressure washers.
A two year warranty is given by the manufacturers, but I think if treated right, the VonHaus electric pressure washer will last a while anyway, and at under eighty pounds, it's certainly a deal worth taking a second look at.
Next up is the Karcher K4, which is one of the best-selling and most reviewed products in its respective range.
5. Kärcher K4 Full Control Pressure Washer
Karcher have been on top of the pressure washer industry for a very long time, and are often the first name people think of when these types of tools are mentioned.
The Karcher K4 is another best-selling product from this well-known brand that is pleasing its fair share of customers. the Kärcher K4 Full Control Pressure Washer needs little introduction and we reviewed the Karcher K4 with full kit it in detail at the link provided too. It made it onto our best pressure washer page as a main contender!
Although not as powerful as the Wilks RX550i, the K4 still capable of 130 bar of pressure and has a good maximum water flow rate of 420 litres per hour. Karcher say this allows the K4 to clean about 30 square metres per hour.
The K4 electric pressure washer has a sleek modern design and is certainly pleasing to the eye. On the practical side, it has places to store your hose and power cable, and also has a 'plug and clean' detergent system neatly tucked into the main unit.
The plug and clean system is probably one of the better detergent application features I've seen on an electric pressure washer and it is definitely quick and easy to use.
The K4 'full control' gets its name from the spray gun and lances that come with it. The trigger gun has a LED display (two AAA batteries required) to show you what current pressure setting you have the pressure washer on.
Included with the main unit are 2 hoses, a dirt blaster spray lance, whose name should be self-explanatory, and the vario-lance which alters the water pressure as you rotate it. All of the attachments make use of quick connect fittings to speed things up.
Durability improving features include a 1800W water cooled motor aimed at preventing damage from overheating, a rust and corrosion resistant aluminium telescopic handle, and an integrated water filter to keep unwanted stuff out of the pump.
This electric pressure washer comes with a 6 metre high pressure hose that although is good quality, I have to admit that I found to be too small for my liking and if I was going to buy this model I'd probably invest in a longer one.
Kärcher K4 Premium Full Control Pressure Washer Review

Best Kärcher K4 Premium Full Control Pressure Washer Features

What needs work on the Kärcher K4 Premium Full Control Pressure Washer

1800W water cooled motor
6 metres of hose may be too short for some
Trigger gun with LED display
Storage for hose doesn't seem secure enough
Dirt blaster lance and vario lances
420 litres per hour water flow
Plug and clean detergent system is easy to use
Telescopic handle
Quick connect fittings for easy attachment changes
6. Nilfisk C135 bar High Pressure Washer with Induction Motor
Some electric pressure washers are built to a higher standard than the majority, and thus are better choices for the customer who needs a product they can use very frequently and still rely to perform well after hundreds of washes.
Enter the Nilfisk C135.1i high power pressure washer. This model has been fitted with an induction motor rather than the more common DC and synchronous motor types. The result, long lasting power rating that actually produces what it claims. A novel thing in the pressure washer world.
Now, there are a long list of reasons why induction motors are better for industrial products that I don't have time to go into, but let's just say that they are more robust and handle varying loads and speeds better.
This induction motor is a 1700W beast that provides the user with 115 bar of working pressure, and a max of 135. AND With 440 litres per hour flowing through, you're getting some serious cleaning power.
The motor is not the only component built to last in the C135.1i. To make sure that that high water flow rate keeps on coming for years to come, Nilfisk have given this particular electric pressure washer with an aluminium headed jet wash pump, another incredibly durable feature.
Having an induction motor does have its downside, and that comes in the guise of extra weight. The C135.1i tips the scales at around 17 kilograms, but you wouldn't ever know it because the two plastic wheels on the bottom rear. Once you've tilted the machine back, it's actually really easy to push or pull around.
Not that you should need to move the main unit too much unless you have a huge garden as the Nilfisk has a six metre long hose and good sized lance and power cable to boot.
The lance itself keeps up the trend of feeling robust and durable, and has an anti-twist swivel function that keeps the hose feed and water flow unobstructed while working and moving around.
For easy storage, the main unit has a built in hose reel and compartments for the spray gun, lance, nozzles, and even the detergent attachment.
If you are into saving water, then this Nilfisk product might scratch that itch. It can use other sources of water apart from the mains, such as a water butt or similar, and doesn't lose too much performance when doing so.
I could sing this little beauty's praises all day long, but I'm going to bring this review to a close by saying that this is a super solid bit of kit that is worth every penny of the price tag. And, has luck would have it, at the time of writing this review (29th May 2020), it is on sale with a massive reduction, saving you over eighty quid.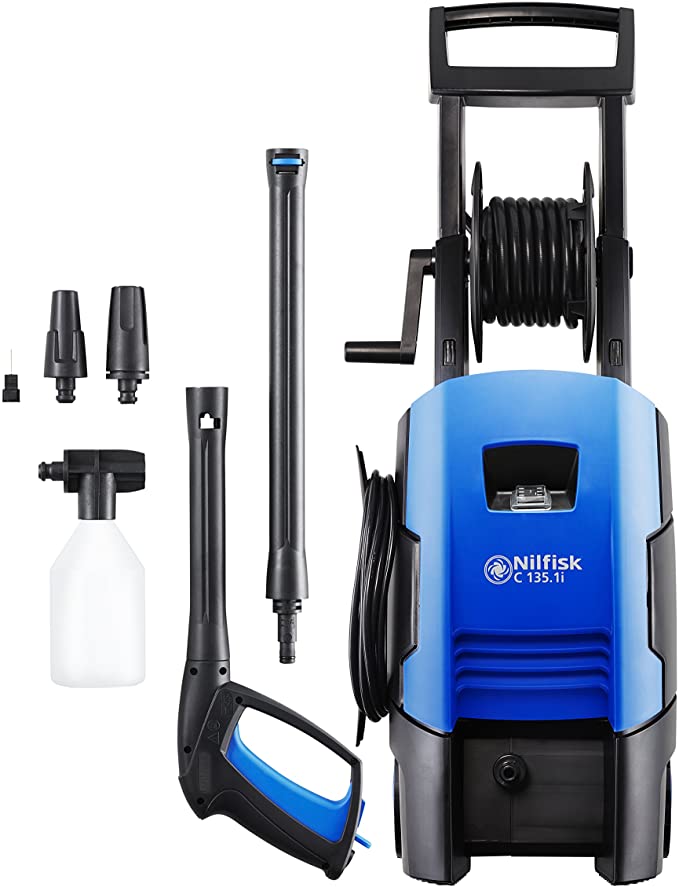 7. Bosch AQT 45-14 X High-Pressure Washer
This is a fine example of a robust, powerful and efficient pressure washer. This machine is ideal for cleaning all types of dirty surfaces. If you are looking for an efficient pressure washer, this could be the perfect option for you if you don't mind the slightly high price.
It is equipped with a powerful 2100W motor, 140 bar working pressure and a 450 litres per hour water flow rate that allows efficient and fast cleaning of you patios, driveways, bins, and anything else you choose.
A Great thing about this Bosch electric pressure washer is that it includes a wide range of accessories including a fixed fan jet nozzle, a deluxe patio cleaner, a variable fan jet nozzle, and a 90 degree nozzle for getting right under those wheel arches of your car.
The Bosch AQT 45-14 is a solidly built and robust machine and comes with a 2 year extendable warranty, so you shouldn't be accidentally breaking off parts or suffering from leaks springing up left right and centre like with some cheap electric pressure washers.
With heavy duty parts comes more weight though, and the Bosch AQT 45-14 is heavier than a lot of its competitors.
Also to prolong the working life of this model, Bosch have fitted a good quality metal water filter to protect the pump, and an auto stop function that cuts out the pressure when you release the trigger.
Like the Karcher K4, this Bosch model has a telescopic handle to make storage less of a hassle, and also a place to hold the spare spray lance.
On top of that, Bosch have included an integrated hose reel for storing the 8 metre hose on top of the machine.
This electric pressure washer arrives pretty much fully assembles and only need you to screw one part in to complete the set up. This takes literally seconds and then you are good to go.
What don't I like about this Bosch electric pressure washer?
It's the wheels. They just look a bit small and flimsy to carry the extra weight that the AQT 45-14 has.
Bosch AQT 45-14 X High-Pressure Washer Review

Best Bosch AQT 45-14 X High-Pressure Washer Features

What needs work on the Bosch AQT 45-14 X High-Pressure Washer

2100W electric motor
Wheels need to be bigger to handle the extra weight
140 bar working pressure
Price is a little high
450 litres per hour water flow rate
8 metre hose is ok, but can't compare with the cheaper Wilks RX 550i
Solidly built and durable
90 degree nozzle for hard to reach places
Patio cleaner
Hose reel to store the 8 metre hose
Pre-assembled
We finish off our best electric pressure washer reviews with a product that is perfect for people on a tighter budget who don't necessarily need the high power that our other reviewed products have…
8. Makita HW101 Compact Pressure Washer
The Makita HW101 is the cheapest of our reviewed electric pressure washers, being priced at just over 70 pounds on Amazon at the moment.
It is the lowest powered of all the models on our list, but what do you expect for less than half the price? We reviewed the Makita HW101 Compact Pressure Washer is our best pressure washer UK page as it is an absolute steal at this money.
However saying it is less powered doesn't mean it's any kind of slouch. It still has a 1300w motor that produces 100 bar of pressure which is more than enough for most day to day cleaning jobs, such as blasting decking and patios or cleaning the wheelie bin. The water flow rate isn't bad either and it will get through 360 litres per hour.
Makita are a brand that has become synonymous with hard wearing, durable products that you can rely on. To keep in line with that, they have fitted this electric pressure washer with a wobble plate pump that has an aluminium pump head to prevent any rusting. The pressure will shut off automatically when you release the trigger as part of the tool's 'total stop' system.
The plastic casing feels solid and robust, as does the thick, plastic washing lance. The Lance has an adjustable spray so you can find the right spray to suit the job at hand.
The Makita HW101 is a very compact model, and also the lightest electric pressure washers out there. Its dimensions of 24 x 24 x 47cm and its lightweight of just over 6 kilograms means even the smallest people have no problem getting out of the garage and moving it around.
This electric pressure washer offers great value for money and decent cleaning prowess for home use. However it is let down by very poor instructions, but thankfully there are youtube videos that can help.
Also using detergent isn't as straight forward as our other reviews, and requires you to remove the front lance and attach the detergent bottle.
Makita HW101 Compact Pressure Washer Review

Best Makita HW101 Compact Pressure Washer Features

What needs work on the Makita HW101 Compact Pressure Washer

Very affordable little machine
Poor instructions
1300w motor
Using detergent is fiddly
100 bar of pressure
360 litres per hour water flow rate
Very compact and weighs only 6.3 kilograms
Powerful enough to tackle home cleaning tasks
Aluminium pump head
Good build quality for the price
There you have it, our top 4 picks for the best electric pressure washers you can buy in the UK at the moment.
Buyer's guide to electric pressure washers
If you're new to the world of pressure washers, you might be feeling a little confused about some of the terms used in the reviews or product advertising.
To give you a bit of assistance, we have covered the main things that you need to know before making that final decision on your own electric pressure washer.
Motor size
Electric motors in pressure washers can vary somewhat in quality and power. The most powerful electric pressure washers will have a motor that is over 1500 watts, with some going quite a bit higher. Try to avoid anything with a smaller motor because with pressure washers, power is important.
Motor quality
The best kind of motors are the ones that are going to last long enough for you to get your money's worth. If you see terms like 'brushless motor' or induction motor', they are good signs that it is a decent mechanism powering the product.
Pump quality
Another component that you want to be as durable as possible is the pump because without it working, you don't have a pressure washer.
Pumps with aluminium heads are usually a better choice than the cheaper variety and will ensure a longer working life.
Pressure
Pressure is measured in bar, and products will have a maximum pressure and a working pressure. These two numbers won't be the same, with the working pressure inevitably lower, sometimes significantly so.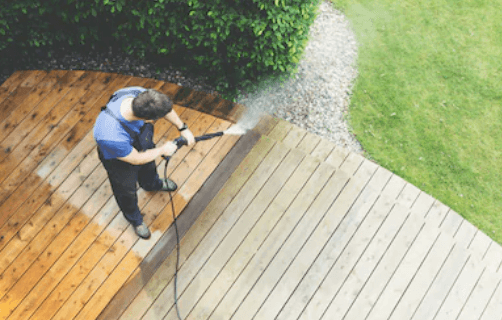 Be sure to find out what the actual working pressure is on a model, and not just the advertised higher, max pressure number. Ideally it should be over 90 bar for any type of decent performance. You won't shred a deck clean as per the picture above unless you have 200 bar minimum. If you're looking to blast mud off tyres, generally lower powered pressure washers can get the job done.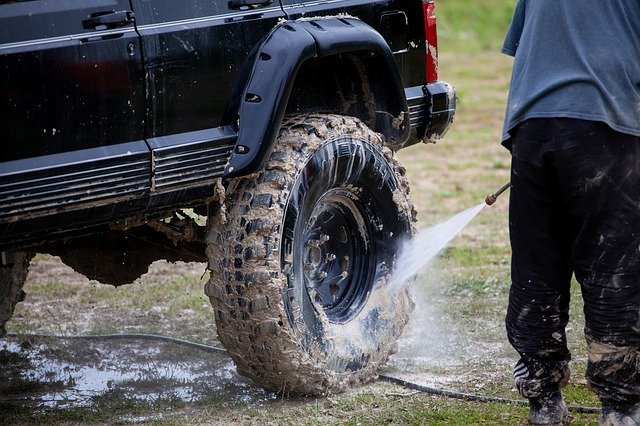 Water flow rate
This is another big factor. Without a decent water flow rate, measured in litres per hour, all the power and pressure in the world won't improve the cleaning performance well.
A good water flow rate will be over 300 litres per hour with anything higher being preferable.
Attachments
You will often see free attachments that come with electric pressure washers such as detergent bottles and patio cleaners.
While this may tempt some people into buying that product, it may not be the great deal that it first appears. Have a look in the comments section of Amazon pages to see what people say about these attachments as they can be lower quality than the ones you buy separately and therefore not worth it.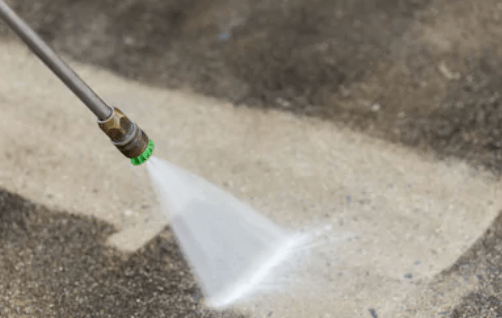 We will of course update this, and all our other pages when new products are released that top the ones we've got featured here, so please remember to pop back from time to time for a look. A quality attachment can intensify and concentrate the power of your pressure washer, which will make it easier to remove the nastiest gunk. Likewise, it can fan the pressure making it safe for washing down conservatories and the likes.
---