Garden Tool Box » Best algae remover [UK]: Top pool, pond, patio, and aquarium algae remover reviewed
Written by Terry Smith
Our site is reader supported so when you click a link to Amazon we may earn an affiliate commission.
Best algae remover [UK]: Top pool, pond, patio, and aquarium algae remover reviewed
This article was last updated on April 23rd, 2022 at 4:59 am
Since writing this review a couple of years ago, a whole myriad of super products have hit the market making Algae, mould, and moss killers individual niche products so I've updated the article accordingly and taken aim at the best algae removers for pools, ponds, patios, aquariums, and fences – pretty much anything with a wood or stone surface that can be attacked by algae and Lichen. The great news is, with the right algae remover, there surfaces can literally be restored to near new condition 🙂 And I apologise for the length of the review. I appreciate you may be looking for an algae remover for just wood, but this article encompasses all surfaces and conditions so is pretty lengthy but you can short cut by checking the best picks for algae removers specific to your requirement.
It seems we humans love to have small bodies of water at home. From goldfish bowls and aquariums, to ponds of all sizes and swimming pools, the country's gardens and homes are filled aquatic features.
Anyone who has ever owned any of the above, or any other water feature like a fountain, will tell you that there is an ongoing battle between you and algae, and you'd better be ready to go to war or your clear looking pond will soon be looking like a toxic pea soup, your aquarium will be cloudy, and your swimming pool or hot tube will be a lot less inviting, to say the least.
And it's not just your pond or pool that can suffer an algae invasion. Different kinds of algae can be found all over the garden, and it can be a particularly ugly sight on your patio and decking.
But fear not, for you don't have to walk into battle empty handed, and there are a ton of effective algae removers to choose from. Some are general purpose herbicides that will get rid of pretty much anything of any surface, while others are designed for a specific use, be it aquariums, patios, or water fountains.
Today, we will go into detail about the types of algae you might come across and how to identify it, how to reduce the risk of algae build up, review the best algae removers for pool, pond, patio, and aquariums, and much more. So, let's get started by taking a closer look at the enemy.
Our picks for the best algae removers and treatments in the UK:
Before we get into the best algae removers and which one is suitable for your surface, here's a look at genuine before and afters:
What are algae?
You might have a specific image in your mind when you hear the term algae, and for many, it is the sight of the dreaded 'pond scum' laying on top of the water and looking menacing. But actually, the word 'algae' is an umbrella term used to describe a very wide variety of plants that conduct photosynthesis, but don't have the roots, stems, and other features that are normally found on plants.
From the tiny Picoplankton, too much larger plants like seaweed, the variation of algae found in both fresh and sea water environments is actually quite staggering, but you will also find multiple forms of algae on dry land too. See that green tinge on your neighbour's wooden fence? Yup, that's also algae, as is that stuff that made you slip on your decking last week.
Common types of algae you find in aquariums and ponds
Knowing which type of algae that you are up against is the first step to fighting it, so we thought we'd highlight the most common algae found in aquariums and ponds-
Blue-green algae
Common in freshwater aquariums and garden ponds, blue-green algae are not something you want to let get out of control. Why not? Because, when they bloom, they can not only cover the surface in a slimy layer, but also create toxins that can harm your fish.
Blue-green algae can also cause skin irritation, and other more serious health problems, in humans. Admittedly, this isn't always the case, but it is potentially a problem, so getting rid of blue-green algae early should be a priority.
Funnily enough, blue-green algae are not actually algae at all, but a type of cyanobacteria, but their appearance and the fact they are found in the same areas where algae are commonly found, means they are usually grouped with them.
Algae eating creatures won't touch blue-green algae, so your best bet is to change the water and clean it out by hand, then treat with antibiotics. You can also try the blackout method where you remove the fish and then use plastic covers of some kind, like bin liners, to block out all light. This will eventually kill the bacteria off, but it's not the fastest way to do things.
Green water
Another widespread algae problem in aquariums and ponds is green water. This super-fast replicating phytoplankton can quickly turn your crystal-clear water into that much talked about 'pea soup' colour. While this isn't dangerous for your fish, it certainly isn't the look most people are going for.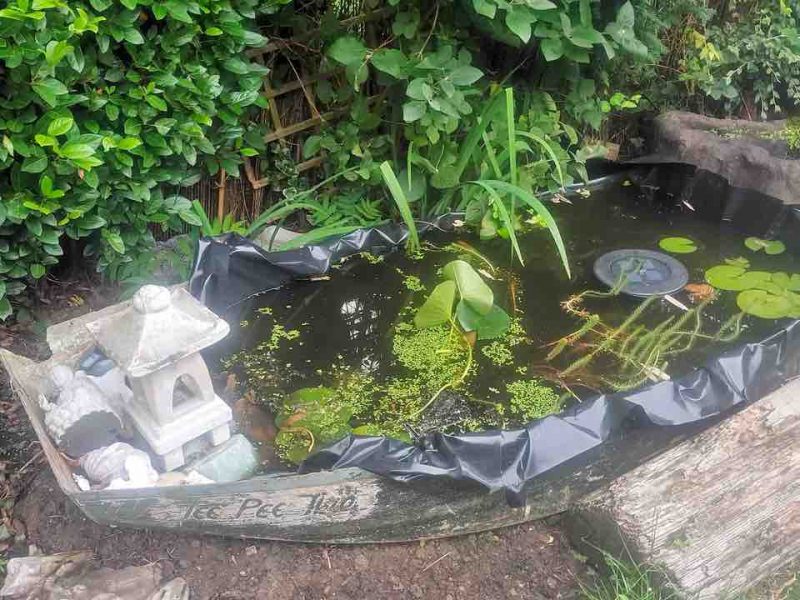 Green water blooms are usually triggered by an excessive amount of light, whether that is natural sunlight or artificial, or an excessive amount of nutrients in the water. So, keeping the right balance of light and food is a good preventative action to avoid green water, as are all the usual maintenance jobs that we'll talk about in a different section of this article.
If you have a problem with green water, you can use an algae remover designed for aquariums like some of the products in our reviews section, try the blackout method we described above, or use a UV steriliser.
In ponds, you should make sure that the GH value of the water is 12, at a minimum, and also make sure there's enough bottom substrate. Having water lilies and other plants that float on the water can help with the problem too.
Green hair algae
Green hair algae (GHA) problems are caused by an imbalance of light and nutrients, and excess nitrate which the algae feed on. The nitrate is a result of your pump converting ammonia, so overfeeding can be a primary cause but excessive lighting can be equally to blame.
Named after its appearance, which resembles strands or clumps of wet hair, GHA is not toxic or particularly dangerous but it will use the oxygen in the water when you switch off the lights, and this can cause problems in a few different ways.
It can be incredibly difficult to eradicate green hair algae as a small number of cells can attach themselves to your fish and other items in your aquarium, and even after changing the water and cleaning the tank, those cells multiply and before you know it you have those tell-tale green hairs everywhere again.
While UV sterilisers can be great for keeping green hair algae in check, it will not really remove it, and the best way that I can recommend is to just do it by hand. Obviously, the location of the algae will determine exactly how you will remove it, from scrubbing with a toothbrush on aquarium decorations to gently rubbing down leaves on plants. Using a good algae remover is always a good option too.
String algae (filamentous algae)
Starting off on the bottom of your pond, usually on rocks and substrate, these algae soon grow into long strands that interconnect, and if left unchecked, will cover the top of your pond in a type of naturally woven mat.
This mat can block out sunlight, cause problems with filters and pumps, and generate ammonia; none of which are something you want, so keeping string algae contained is important. In small qualities, there is no problem, and the fish actually use it as a food source.
There are plenty of other types of algae that are found in aquariums and ponds, and writing about them all would take a very long article on its own. However, if you want to look into this in more detail, here's a list of the most common types to get you started-
Staghorn algae
Green dust algae
Green spot algae
Euglena algae
Chara algae
Black brush algae
Brown Algae
Chara/ muskgrass
Golden algae
Green algae in your garden
The type of slimy algae that you see on wooden fences, decking, and paving stones, is generally just called green algae, and is not only unattractive in appearance, but can cause quite a few problems too.
The main one, at least for decking and patios, is that this stuff is very slippery and leaving it lying around is just an accident waiting to happen. I learned this the hard way, many years ago, and I can tell you that your feet go from under you faster than you would think. I ended up with a bruised shoulder for about a week, and I think I was lucky!
Green algae is not only a slippery hazard, but will also damage the wooden surfaces that it grows on, eventually causing it to split and splinter, and it will stain paving stones if left for too long.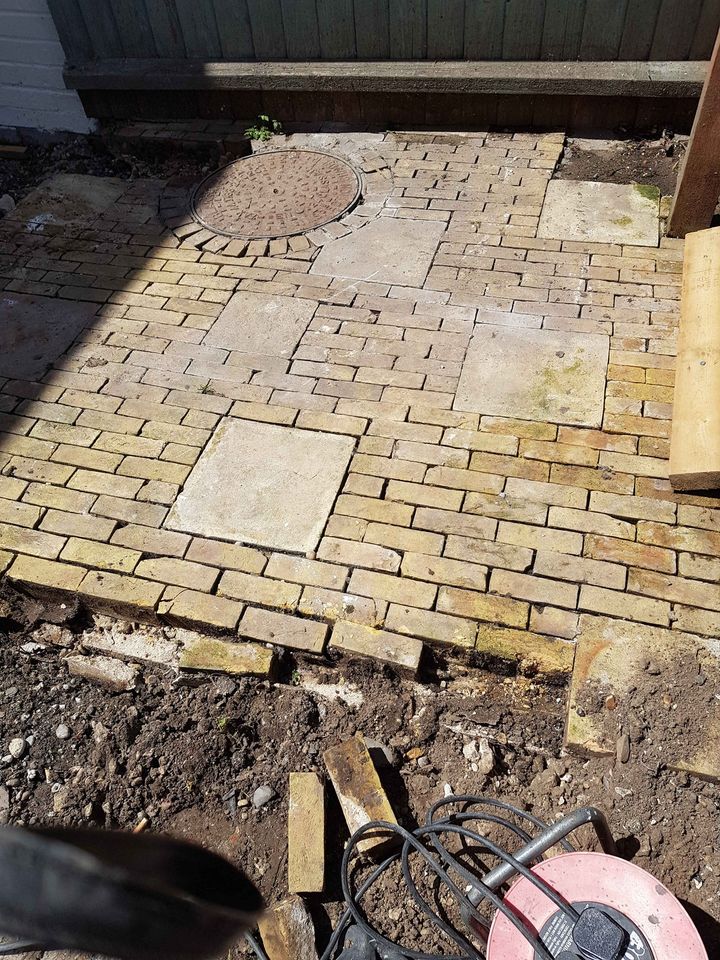 You can quickly get rid of green algae on these surfaces by using a good algae remover, and then blasting it away with a pressure washer. There are also steps you can take to prevent the buildup of algae, as we'll explore in the following section of this article.
How to prevent algae problems in your pond, pool, aquarium, decking, and patio
Most of the time prevention is better than cure, and so it's always good to know what you can do to stop algae becoming a problem in the first place. Below you'll find a few tips on this very subject that, if followed, should put a stop to any green invasion.
Pond
Regular use of water treatments can go a long way to keeping algae at bay, and there are a lot of products on the market that do a great job. These water treatments are effective against both green water and string algae, and shouldn't cost you too much, especially if you buy in bulk.
Planting things like water lilies and other floating plants, and also various plants that live submerged, can really help in the fight against algae. If you don't have enough plants in your pond, there will be too many nutrients, and this encourages the growth of the green scourge we call algae.
Pool
Chlorine does a great job of killing off algae spores, so keeping those levels up is a very good idea. You can do this by using a floating chlorinator and also by shocking the pool with an appropriate product.
On top of this, you need to assure that the circulation system, including the skimmer and pool filter, is working optimally. use appropriate products to ensure that you're cleaning the filter to the best of your ability, and keep up regular maintenance and checks on the whole circulation system.
Other useful things to try are scrubbing the walls of your pool with a brush, using an automatic pool cleaner to deal with debris, and the use of algaecides to keep any blooms at bay.
Aquarium
One of the best ways to prevent algae build up is to control how much light your aquarium is getting. This applies to sunlight and artificial lighting, but sunlight will cause more growth. Artificial lighting isn't completely harmless though, especially if it is strong light, and even softer lighting should be limited to around 8 hours a day.
An excess of nutrients in the water is a sure way to invite an algae bloom in your aquarium. The most effective ways to avoid this are to feed your fish less, and to change the water often. The combination of these two simple tasks will help more than you would expect.
Introducing algae eating creatures such as Siamese algae eaters, twig catfish, Nerite snails, and others, is a wonderful and natural way to fight off the green, slimy, pest growing in your aquarium.
Decking and patio
Algae are living organisms, and as such they need food to survive and grow. They aren't picking eaters either, and will make a meal out of any type of dirt and debris you have lying around, so keep your patio cleaned.
The other thing algae needs is water, and as a lot of patios have bad drainage, they are very susceptible to small pools of water forming, and this encourages the algae to grow there. If you have sprinklers set up in areas where the water splashes onto the patio, you should relocate them.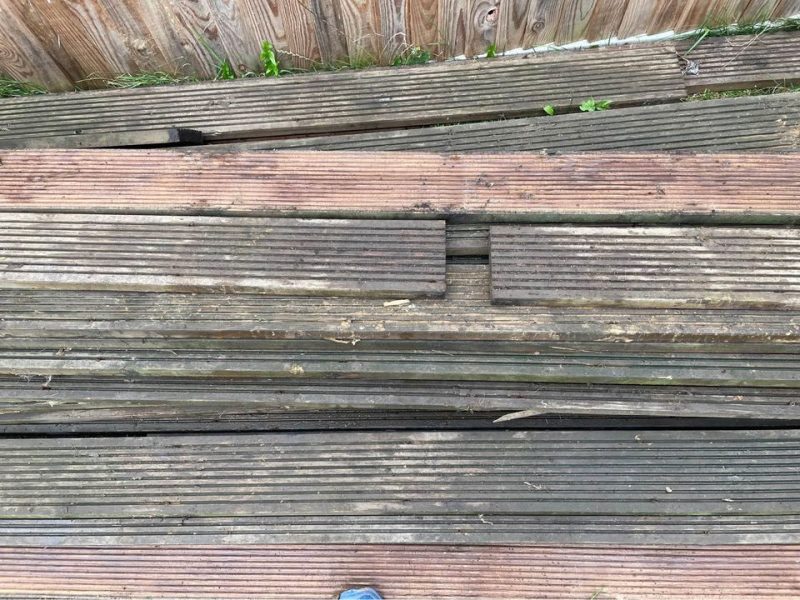 The best way to keep algae off your patio and decking, is simply to use an algaecide product that has been tested and proven to do the job. Make sure you apply it to the area regularly, and keep an eye out for the start of any blooms. Copper sulphate crystals are a good alternative, and you can make a solution with them and apply it to your patio or decking.
Algae comes in many forms and shapes:
Before deciding on which algae, moss, or mould remover to buy, please spend a minute or two looking at our short buyers guide. Here's a few things to consider-
Ready to use or concentrate.
These products usually come in either ready to use form or concentrate. If you are a person who enjoys convenience, then I would suggest going for a ready to use solution that is already mixed for you. 
Concentrates are a little messier and need you to measure out amounts and mix yourself, but they offer better value for money and also allow you to dilute the solution differently to suit various jobs, which can come in handy.
Liquid solution or Foam.
Liquid solutions, either ready to use or concentrate are more common, but there are foam products out there, particularly with mould removers.
Foams can be less messy than liquids and the foam will stay in contact with the mould for longer which could help with removing it faster.
Liquids tend to be cheaper and you get more for your money. This could be important if you have to treat a large area.
Bleach.
Some algae, moss or mould removers contain strong bleaches, giving them a not so pleasant odour that can cause headaches. These products can also stain and discolour surfaces if you are not careful. However, these products are often the most affective at shifting growth, but not always so. If you're worried about damaging your surfaces, go for a bleach free solution.
Know what your product is meant for.
Some products are all-in-one and can remove algae, moss, mould, and more, but others are more specialised and only mean to tackle a particular problem. Make sure you read up on a product before you buy it as it may not be the best option for your needs.
Follow the instructions.
To get the most out of any algae, moss, or mould remover, you need to follow the manufacturer's instructions to the letter. Failure to do so will more than likely give you less dramatic results or even stop the product working.
In general, you want to spray when the weather is bright and dry. Spray in the late afternoon as direct or strong sunlight can cause the solution to evaporate. 
If it rains within a few hours of applying the solution, you will probably have to wait for the area to dry and then spray again.
Also, give the product time to work. Often the advertisers will tell you a product shows results after 2-3 days, but in my experience it usually takes longer to see a noticeable difference.
Why buy the best Algae remover – what can it really clean?
Patios, garden paths, decking, and stepping stones are all very common features in gardens across the UK, and for good reason. There is nothing quite like sitting out there on a summer's day, relaxing on your garden furniture, while the barbecue cooks a spot of lunch.
Now, I know I'm being idealistic here and the reality is somewhat different. Usually, the truth is, you go outside after months of winter weather to see your patio has been slowly colonised by algae, lichens, and moss, leaving an ugly patchy green layer covering your normally beautiful paving or the deck is slippery and desperately needs a quality deck cleaner! This layer isn't just an eyesore, it can also be potentially dangerous as it is usually very slippery and you don't want your kids running around on it. It's not just the decking either, this will work on wooden table and chair sets too.
There is also the problem of mould growing on your garden furniture, especially if it has been stored in a dark and damp place like a shed for a while.
So what to do about these problems? Well, it depends on the severity of the growth and a few other factors.
Some people like to use a pressure washer to blast out moss from between paving stones, and this can be quite effective, especially on wooden garden furniture. However it is also very messy and some of the excess water could get trapped in certain areas and make the problem worse.
You could also scrub the algae, moss, etc. off by hand using a hard brush of some kind but this is quite labour intensive.
Then there are specialised chemicals that are designed to make the removal of algae and other similar growths much easier especially patio cleaners which can have ultra stubborn growths. It is these products that we will be reviewing today to find the best algae, moss and mould remover.
Best Algae Remover reviews:
There you have it folks, a fantastic selection of the best algae removers for pools, ponds, aquariums, decking, and patios, for you to choose from. Whichever you decide suits your purposes, please read the instructions carefully, and follow the directions to a tee for best results.
---