Garden Tool Box » UK's best cat scarer and repellers for outdoors: Ultrasonic and solar cat repellers reviewed and compared
Written by Terry Smith
Our site is reader supported so when you click a link to Amazon we may earn an affiliate commission.
UK's best cat scarer and repellers for outdoors: Ultrasonic and solar cat repellers reviewed and compared
This article was last updated on April 23rd, 2022 at 5:26 am
Let's get straight to the point, you need a cat scarer because stray cats, (or worse) your neighbours aren't considerate enough to keep tabs on their felines. Yes, harsh, but true. Cats, as cute as they are, are a law unto themselves and if you have neighbours that let theirs wander around freely, there is a good chance that your garden will become its playground for all -(some have the same problem with foxes too so I'd recommend taking a look at the fox repellants) as they can normally slow down both! Look at how this cat just walks about my garden leaving wonderful deposits sometimes – I caught this on my trusty security camera:
My new, beautifully crafted lawn soon became a mass public toilet for every cat within miles – at the time of the video I didn't mind as it wasn't finished but I soon got fed up once my lawn was sorted (or so it felt at the time) and having to go out and deal with the mess, not to mention the strong smell of cat urine on a daily basis was enough to drive me round the bend. Our feline friends can be a nuisance in a number of ways, from chasing the birds away from the feeder or bird bath, to just straight out taking a number two right on your freshly mowed lawn so time we found the best cat scarer or repellant to deal with such nasties!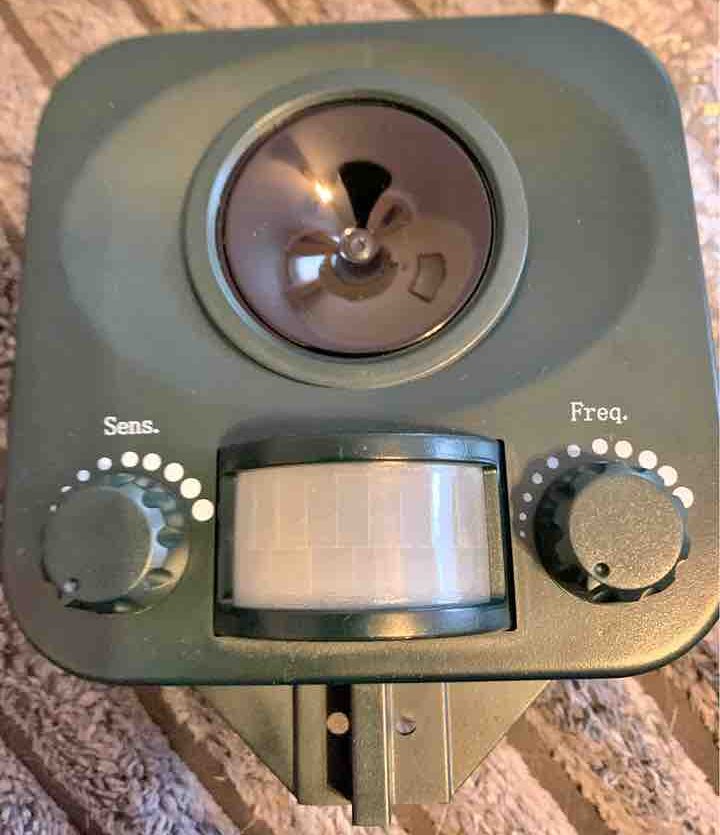 I'm going to be honest here, I'm definitely not what you would call a 'cat person' so I feel perfectly placed and equipped to tell you about the best cat scarers and repellants in the UK and if you want detailed info about the types available and costs then please take a look at my cat scarer buyers guide.
Best cat scarers and repellants in the UK- Editors picks
Best Jet Spray Cat Scarer and Repellant: Jet Spray Battery Operated Motion Activated Cat Scarer & Repellent
Best Ultrasonic Cat Repeller: Pestbye® Waterproof Cat Repellent Ultrasonic Repeller Cat Scarer with Ground Stake
Best overall cat scarer and repellant: Pestbye® Battery Operated Motion Activated Waterproof Cat Repellent
Best alternative cat scarer: zonpor Cat Repellent, Ultrasonic Animal Repeller
Best prickle strips to deter cats: Your's Bath 6 Pcs Cat Scat Mat with Spikes, Cat Repellent Mat prickle strips
Budget pick: Pestbye® Battery Operated Cat Repellent V2
A little bit more about why I need the best cat scarers – granules failed me.
Back in the day, if you'd have asked me if I preferred cats or dogs I would have honestly replied that I didn't really have a preference and would go out of my way to stroke or play with any felines or canines I came across.
This all changed for me when I moved to live in France for a while. I knew that there was a problem with the number of stray dogs lurking around over there, so I found myself a nice house to rent down a closed off private road next to the beach where there weren't any stray dogs to come and dig up my flower beds.
What I hadn't realised, was that the absence of stray dogs produced another problem – a stray cat mass invasion!
If you are having frequent problems with cats, and believe me I know how frustrating it can be, it could be time to spend a few quid on a cat scarer to let the cats know they are not welcome.
I tried out some cat repellent granules that a friend suggested but they had little to no effect, nor orange skin peels, or lemon for that matter, so I was left to running outside to scare the cats off with the hose pipe whenever I saw one coming to use my garden as a public toilet. It was hardly ideal.
That was a fair old while ago, and well before the internet became a thing in our daily lives so my options were very limited. These days, there are some incredible products out there that really do what they say they will – scare off cats and other animal intruders without causing them any physical harm, and I have taken advantage of this and my garden here in good Old Blighty has a system set up that I'm very happy with.
Cat Scarer Buyer's Guide
There are a few options available to you when it comes to scaring away unwanted guests from the animal kingdom, and it can be hard to know what to go for. To make things a little easier we have put together this little buyer's guide for you.
Cat scarers are devices that are designed to keep cats, and other unwanted animal visitors such as foxes, rabbits, etc. away from your garden. There are a few different designs out there, but the main ones use either ultrasonic waves, or a good old squirt of water, to scare the animals away.
Both types of cat scarer are usually staked into the ground in your chosen spot, and will have some kind of motion sensor on them. The quality of this sensor will vary from product to product, but the best cat scarers have pretty decent infrared sensors on them that reduces the number of 'false calls' and this saves power.
Once the sensor has detected movement, heat or both, the device is triggered. In the case of ultrasonic cat scarers, a sound that is barely audible to humans but very annoying to animals is sent out over a wide area to scare your little intruders away. The sounds frequencies are beautifully demonstrated in this video:
The other type of cat scarer will release a spray of water for a few seconds once the sensor is triggered.
What are the most effective types of cat scarer?
Different people have differing opinions on this, but for me, I'd say that a jet spray type of cat scarer is the one most likely to do the job each and every time. The simple fact is cats hate water, and a good blast of it when they aren't expecting is going to make them feel very unwelcome.
Prickle strips are really effective, but they do take a bit of setting up in the right places, and if you get it wrong, you just find that the cats have changed their route of entry and are still using your garden as a communal toilet.
Ultrasonic cat scarers take time to work, and this can put some people off, especially if they're not the most patient human beings out there. However, I have had success with them, as have friends of mine, so I would have to say that they are effective too.
Still, if I had to choose just one type of cat scarer, I'd go with the ones that squirt water, or maybe an ultrasonic one that also has flashing lights and an optional alarm feature.
Ultrasonic cat scarers
These models use high frequency sound waves that cats and other animals find shocking or uncomfortable to be around and thus they act as a deterrent to them.
The pros of these devices are that they are easy to set up and operate and are relatively inexpensive. The best ones are Pestbye® Waterproof Cat Repellent Ultrasonic Repeller and probably zonpor Cat Repellent, Ultrasonic Animal Repeller
Cons are that there are some animals that won't be affected by the noise and also that the effects aren't instant and make take weeks to become noticeable.
Water jet spray cat scarers
Water spraying cat scarers do offer the user instantly seeable results. The animal gets squirted with a water jet, and it runs away. I'd try the Jet Spray Battery Operated Motion Activated Cat Scarer & Repellent if that idea works for you.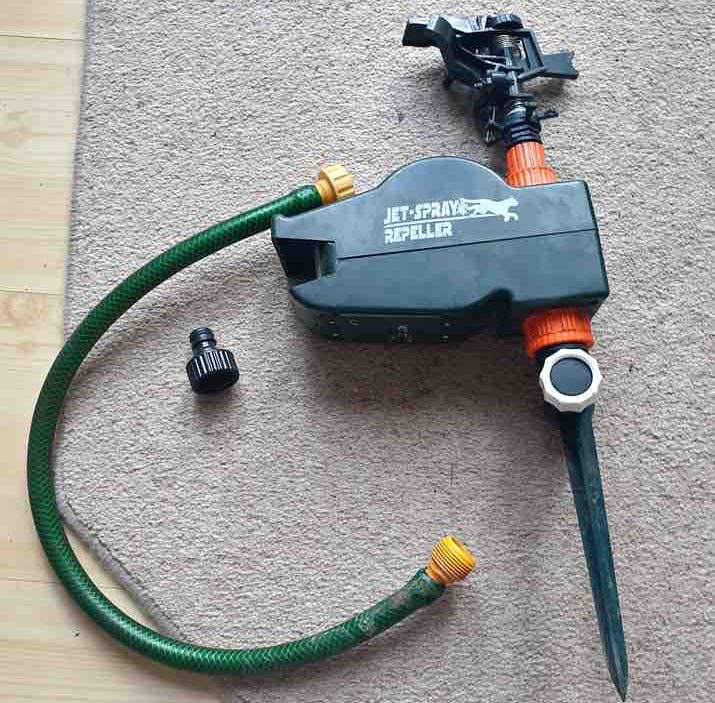 However, effectiveness is usually reliant on your home's water pressure, and often the hose connectors that come with these devices aren't the best and need to be changed.
There is also the problem of their plastics cracking in cold weather and leaving the machine useless.
Cat repellent gels, pellets, etc.
These products used to be very popular back in the day, but these days most people prefer to use an ultrasonic or water squirting cat scarer instead.
The problem with these repellants is that they are a bit hit and miss and may only work on some cats while others are not bothered by them at all.
Prickle strips
Prickle strips can be a good way of stopping dogs digging up your flower beds and can work on cats too. Although they have spikes on them, they are designed to only be uncomfortable for dogs and cats to jump or walk on and won't cause them pain and the best choice for these are the Your's Bath 6 Pcs Cat Scat Mat with Spike.
Of course these strips won't stop cats leaving fecal matter on your lawn, but they can protect your prize botanic areas.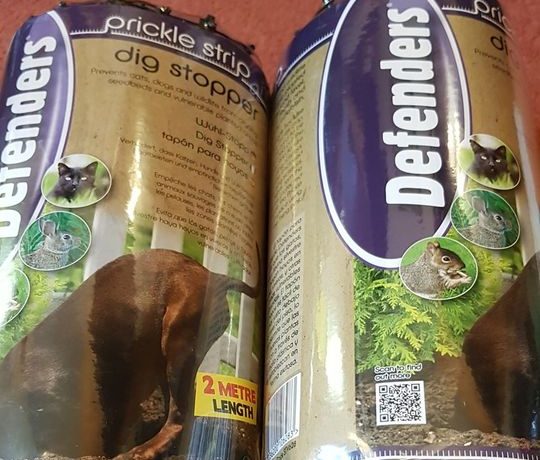 Those four types of cat scarers are the main ones available on the UK market, and each has their own positives and negatives. We hope this guide and reviews will help you to make a more informed decision on the right type for you.
Examples uses of cat scarers
I used to live abroad, and the street I called home had a ridiculous number of stray cats roaming around it, so you can imagine my 'joy' of coming out each day to the sight and smell of cat urine and excrement.
After looking into the issue, I decided to get a cat scarer but couldn't decide on which type. In the end, I decided to get both as I had quite a large garden and the cats were coming over the walls from every direction.
I placed the ultrasonic cat scarer at the back of the garden and the water sprayer in the front and waited to see what would happen. After a day or two, I noticed that weren't any 'presents' left in the front area, but around where I placed the ultrasonic one still had one or two.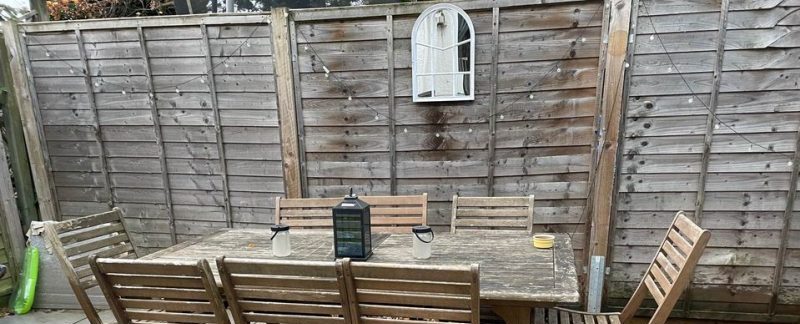 At first, I thought the device was faulty but after giving the instructions another read through, I realised I needed to tweak the settings, and after doing so, I did get the results I was looking for, however, it does take a while to work due to animal behaviour and habits not being changed instantly.
So, from my own personal experience, I can say that I have used both the ultrasonic and water spray types of cat scarer, and they did what they were meant to. However, neither of them was perfect and, like most things, they had their flaws. I'll explain more in the next section.
Problems with cat scarers
So, the main issues that I have encountered while using cat scarers are usually connected to the sensors in one way or another.
If the sensor on your cat scarer is cheap and not sensitive enough, even on the higher settings, the device will not even trigger and it is relatively useless. On the other hand, an oversensitive sensor will get triggered by all kinds of things, such as trees and plants blowing in the wind. This just leads to the batteries in your device running out prematurely, and a waste of water in the case of some type of cat scarer.
Other issues you might come across with ultrasonic cat scarers are that they might need some adjusting of the settings to get things working effectively, and also the incorrect placement of the machine can affect its performance. Then there is the fact that different machines use different types of frequencies, and this too affects performance. The biggest problem is when a cat is actually able adjust to the frequency (not all cats can) and it stops bothering them – this is where most negative reviews are coming from:
These machines don't work instantly either, and it can take around 2 weeks before the cat's habits change and they stop coming around. Some people have also reported that after a long period of about a year, the cats got used to the sound and started coming back.
Although ultrasonic cat scarers are usually advertised as inaudible to the human ear, it really depends on the person. Some people will not hear anything when the scarer is activated, some will detect a very quiet hum, while some younger people are occasionally bothered by the sound. Dogs can be upset by the frequencies, so if you own a canine, it might be better to go for a different type of cat scarer.
Cat scarers that release a jet water can sometimes end up getting clogged with dust and dirt, and this will stop the spray from working properly. In addition to that, this type of scarer isn't that effective on windy days and nights, as the water spray will be blown all over the place by strong gusts.
These products can also leak from the joints, so a good idea is to grab some plumbers tape and wrap them up well before using. This will not only stop the leaks but should improve the performance of the sprayer too.
How much should I pay for my cat scarer?
I would be happy paying between twenty-five and thirty-five pounds for a decent device, with the water jet cat scarers usually costing a little more. Ultrasonic scarers can usually be bought as a pack of two for under 30 quid, but some of the newer models with extra features such as solar cells can cost that for just a single unit.
Prickle strips are the cheapest option, and you can get a 4 metre roll for around twenty pounds. However, as I explained earlier if you buy a roll, you'll probably have to do some bending back into shape before you can use it, and it's better to spend a little more and buy the flat strips that connect together.
Are there any hose free water cat scarers?
As there are some sprinkler systems out there that are hose free? I'm sometimes asked if there are similar products when it comes to cat scarers. Unfortunately, at least as far as I know, there aren't any water squirting cat scarers that don't require any connection to a garden hose or mains supply. Now, I could be wrong, so feel free to trawl the depths of the internet looking for one, but I haven't come across one myself.
That last question concludes this article on the best cat scarers currently available, but we will of course update this page as newer products and promotions become available, so be sure to check back from time to time if you haven't seen anything to your liking today.
I know this is a common problem for keen gardeners, so I thought it would be a good idea to review the best cat scarers that money can buy in the UK for you. Let's crack on shall we?
---