UK's best head torches review and test [Summer 2021]
Best Head Torches Reviewed
There are loads of occasions when you need a portable light source that still allows both your hands to be free to carry out tasks. An
LED torch
is fine but you need to hold it.
Work lights
are great too but they cast a shadow. The best head torches solve both these problems and bring the best of both worlds.
Most of these tend to be outdoor activities, just take things like cycling at night where you need to have both hands on the handlebars but still see where you're going. Then there's hiking, rock climbing, camping, caving, and night fishing to name a few.
While there are some excellent LED torches available these days, most of them require you to use one of your hands to hold and operate them and this isn't always ideal. For a truly hands free experience, you should consider a head torch.
Head torches aren't just for the great outdoors though, and can come in handy when working in darkened areas, or when you have to inspect the fuse box if there's a power cut. Even activities such as night gardening can be improved by wearing one of the best head torches, and with some models going for as little as a few pounds, there's really not much excuse not to own one, is there?
So, what are the best head torches you can buy? It all depends on how you look at it. For us, the best head torches have to tick a few boxes such as value for money, affordability, battery life, brightness, comfort, how well it fits, and extra functions.
We have taken a handful of the products we thought would accomplish this and given them their own detailed reviews that you can read below.
You can also find a buyer's guide to help guide your decisions in the right direction, right here on this page.
First, we will dive right into the reviews for best head torches with the Aennon USB rechargeable head torch.
Comparison table: UK's best head torches review and test [Summer 2021]

Product
What We Think
Price

✅ &nbspINSTANTLY IMPROVE YOUR VISIBILITY WITH HANDSFREE
✅ &nbspCLOSE-UP DETAILED WORK AND LONG-DISTANCE VIEWING IS NOW A BREEZE
✅ &nbspDON'T BE FOOLED BY CHEAP CHINESE KNOCK-OFFS
✅ &nbspNEVER BUY BATTERIES AGAIN
✅ &nbsp100% MONEY BACK GUARANTEE

【COB Advanced technology】Super bright COB head torch with almost 180° wide beam produces bright...
【Free Your Hands】60° adjustable headlamp base allows you focus light on where you need it...
【Lightweight & Comfortable】Only 0.18lbs weight
【Ideal Head Torch for Safety】IPX4 Waterproof headlamp is ideal for adults & kids -can use it for night reading...
【24 Months Warranty】If you are not 100% satisfied with our head torch

USB Rechargeable Headlamp:With built-in 1000mAh rechargeable lithium battery
5 Adjustable Lighting Modes:Simply press left button to switch from White/Red Floodlight/SOS Flash modes for wide near illumination.Besides you...
User-Friendly Headlight:200 Lumens brightness offers up to 100 meters of visibility
60° Adjustable Beam:The headlight beam angle could adjust up to 60 degrees with an easy up or down movement...
IPX5 Waterproof: IPX5 waterproof head torch can protect against splashing water from all directions.Besides its elastic and anti-slip band...

RECHARGEABLE: The headlamp is built in rechargeable 1200mAh Battery
8 LIGHTING MODES WITH 2 COLORS: White Light provides high(400lm)
MOTION SENSOR SWITCH: The rechargeable headlamp could be turned on/off by waving your hand under the motion sensor mode....
LIGHTWEIGHT AND COMFORTABLE: Less than 2.5oz weight
SATISFACTION GUARANTEED: Full refund and return in 60 DAYS with NO-QUESTIONS-ASKED and LIFETIME technical support for our headlamp flashlight....

Usb rechargeable. Charging via the provided USB cable
Lightweight & Adjustable. Weighing only 68g and with its easily adjustable
5 lighting modes. 3 White light modes (full brightness
Super bright. Light your way up to 150m with this 150 lumens bright LED headlamp....
Adjustable Angle. Can be rotated at 45 degree up and down
Without a doubt, the top rated head torch we came across online was this little beauty from Aennon. This product has been getting rave reviews and feedback from thousands of verified customers and after spending a bit of time with it, I can easily see why.
First of all it is lightweight, in fact I'd say very lightweight, as in only 70 grams, and this makes it an excellent choice for all kinds of purposes such as jogging early in the morning or at night, mountaineering, or for working on building sites.
The elasticated strap is nice and comfortable and doesn't irritate your head in any way, even after a few hours, and the adjustable nature of it means that you can wear it cover a hard hat on site, a cycling helmet, or a just a baseball cap.
You could even use it as a belt light if you wanted and still have the light shine upwards towards your eye line thanks to this head torch's ability to tilt at angles up to sixty degrees. You'd have to wear the light upside down, but it wouldn't make much of difference to you in terms of comfort.
Of course this also comes in handy when worn on the head while hiking as you can angle it down towards the ground to see any possible obstructions clearer.
You can turn the head torch on and off, and also cycle through the four light modes by pressing a single button, and I really liked the simplicity of this.
The four modes are high and low beams, a red light, and a flashing strobe. The high beam mode is very bright at 220 lumens and will give you visibility up to 100-150 metres, and a decent quality of light at that.
Unlike some of the lower quality red LED lights that are often found in low cost torches, the one in this model is actually really good and gives a constant light instead of a blinking one. The strobe function is also very bright and would be good for attracting attention in an emergency.
There is no need to carry around spare batteries with the Aennon head torch as it has an integrated rechargeable battery, and included in the box is a USB charger cable.
The battery takes about 5-6 hours to be fully charged, but then you good to go for up to 30 hours of usage before the next charge. That should be enough to finish whatever activity you have in mind.
The light unit is solidly built, resistant to shock, and has an IPX4 rating meaning it is resistant to water splashes and will be fine to use in the rain. Aennon are so confident in the durability and quality of this head torch that they offer a money back guarantee!
This is an outstanding head torch available at a very accessible price point, and I have joined the thousands of people that rate it very highly indeed. A must have for early morning joggers like myself.
The Omeril LED head torch is another excellent performing, lightweight product that's available for just over 10 pounds. That's outstanding value for money.
While on paper, this model isn't quite as lightweight as the Aennon LED head torch, in reality you could never notice the 10 grams or so difference between them, and wearing this for hours at a time is no problem whatsoever.
The actual light unit on the Omeril is larger than the Aennon we just reviewed, but they produce about the same amount of light on the brightest setting, which is around 200 lumen. At 100 metres, the maximum range is pretty close too.
Where this Omeril model differs is on the control side of things and also light modes. While the Aennon only had a single button, this one has two. One you press to cycle the spotlight modes between high and low beam, and the other to select between the three different COB floodlight modes of white light, red light, and flashing red and white distress signal mode.
The floodlight functions are really handy for doing things while camping as they light up a good area around where you look, and make activities like fire building and cooking a lot easier and safer. The red floodlight is great for reading in the tent as the light is less intense.
This head torch comes with a USB charger cable and charges really quickly. A small red light on the side of the main light will turn green when the 1000mah lithium ion battery is fully charged, and at our estimation it only took about 3 hours.
How long between charges will depend on how you use the head torch, and brighter modes will drain the battery faster. We used it for hours during a camping trip, switching between modes, and was still left with charge the next day.
If you are planning on being away for a few days and want to use it continuously, that can be easily achieved with the help of a power bank, or simply buy more than one unit as they are so inexpensive.
Other features include a 60 degree tilting light, IPX5 water resistance, and a very comfortable and adjustable headband. Again, this is another bargain head torch and one I would seriously recommend.
If you need a super bright head torch for your planned task or activity, this LED headlamp from Backture could be right up your street.
It's CREE T6 LED chip helps to produce a whopping 800 lumen, that's four times the brightness of the Omeril head torch above, and would be just the thing for doing DIY jobs in dark areas like the loft or shed.
For this amount of power you need more than one battery, and Backture have generously included two 18650 Lithium-ion rechargeable batteries. They can be charged from a wall socket, power bank, laptop, or car cigarette lighter using the USB cable provided.
With a four to five hour charging time and around 30 hours actual light time on the lower light settings, this head torch offers a good charge to play ratio for something so powerful.
Backture's LED head torch doesn't just have a single elasticated headband running horizontally, it actually has a second one that runs from the front to the back, holding the torch securely in place, no matter how active you get while wearing it.
However, at least with the model we tested, I did notice a little bit too much 'play' in the actual light at the front due to the tilting function, and this made the angle of the light beam shift slightly while wearing it for running.
It was more than fine for all over activities that we tried, but the constant rhythmic bounce and impact of the running motion seemed to affect it little. It wasn't a lot, but it was noticeable after a while. Perhaps tightening a screw here and there might help, or maybe we just got one that wasn't calibrated properly.
The light beam on this head torch can be zoomed in or out by pulling or pushing the front of the light, much like a telescopic camera, so you can choose to have the light just how you want it.
As mentioned, the light can also be tilted through a 90 degree angle from pointing straight in front, to straight down at your feet. I personally couldn't think of a reason for having it shining on my shoes, but it might come in handy for some people.
The four light modes that you can choose from on this head torch are super bright, bright, flashing strobe, and SOS. There is also an induction lamp feature that works through sensors on the front of the torch that react to movement to turn the mode on or off.
There is only one button to worry about on this head torch and it is used for everything from switching the power on and off, to selecting the lighting mode by simply pressing the button multiple times to cycle through, or by holding it for some functions. It's very simple, and works well.
Priced at under fifteen pounds on amazon, this is yet another great option if you're in the market for a new head torch, particularly if you want something with a very powerful light.
Lighting Ever (LE) have produced some excellent lighting products and have featured quite prominently in our reviews on work lights and LED torches, so it should come as no surprise that they're knocking it out of the park with their head torch too.
The LE head torch can produce 150 lumens, which might be a lower base measurement than some other products, but the quality of the LEDs that Lighting Ever use actually end up producing a brightness and range that is equal or better.
On high mode, you can expect to have a maximum range of about 150 metres in perfect conditions, and around 100 metres as an average.
There is no need to go out and buy batteries as this head torch comes fitted with a fast charging mAh 1200 unit that will give you about 4 continuous hours on the brightest setting, 25 hours on low brightness, and up to 30 hours on red light mode.
There is, of course, a USB charger included in the box so you have all the normal charging options such as power bank and wall socket.
This model is proving to be very popular with star gazers and amateur astronomers due to the quality of the red light, and the fact that the switches for this mode are separate to the white light. This makes it easier to avoid turning on the bright white light by accident and ruining their night vision.
All together there are five light modes to choose from, the white light button can be pressed to switch from full brightness to half brightness, and then to flashing, while the second switch activates the red light in full mode or flashing mode.
You can adjust the angle of the light through 45 degrees vertically but there is no zoom feature like with the Backture head torch. LE have designed this model with a reflection cup design that widens the lighting range really well without losing too much light intensity, which I really liked.
The headband is nice and soft and incredibly comfortable to wear, and with the light only weighing 68 grams you can almost forget that you are wearing it, ideal for joggers.
Wearing this head torch in the rain shouldn't present any problems as the product has been tested and certified to IPX4, meaning that it can resist splashes and sprays of water from all angles. It is also shock resistant.
Both the headband and the light are made to a high quality and should last a fair old while with proper use and a little care taken, and with this model currently on sale at a discount price, what's not to like?
When it comes to getting more for your money, you can't beat two for the price of one offers like this one. Apunol are offering two of these excellent head torches for 15.99 on Amazon at the time I wrote this, an absolute steal.
These head torches aren't low quality, throw away products either, they're actually very good, with plenty of light options and sharing many of the features found in products twice their price.
Let's start with the light modes. This model gives you the choice of four white light modes, the high setting which is a very bright 400 lumen, middle (150lm), and low light mode (40lm). There is also a white light strobe function too. The red LED light has both a constant light mode and a flashing setting.
These Apunol head torches feature a sensor mode that ids becoming more and more common in these products these days. The sensor mode makes it easy to switch the torch on and off by waving your hand in front of the sensors, which I guess could come in handy in some situations, but for me it was just a novelty thing. Still fun to pay with though.
Powered by a built in 1200mAh battery that fully charges in four to five hours, you can get about half that amount of actual usage out of it if used on high mode continuously. Obviously lower light modes will extend the battery time, with red light giving the longest of somewhere around 30 hours on a single charge.
Charging is done via USB like most things in today's era so you shouldn't have to look or think too hard to find a charging spot, and the cables are included with the head torches.
If you're a jogger or cyclist, you might be interested in the 45 degree tilting light head, and the fact that it is quite stable when set at the desired angle. You might also be happy to know that these torches are comfortable to wear and hardly tip the scales at 68 grams each.
Certified to IPX4 water resistance, and being designed to withstand shock, these lightweight torches would be ideal for rock climbers and cavers alike, and with their being two units, your friend or partner has no excuse not to come and join in too.
Powerful, lightweight, good lighting options, and two units for the price of one. Do yourself and your wallet a favour and invest in these if you need more than one head torch.
6. OMERIL LED Head Torch, Lightweight COB Headlamp
All of our other reviews today have been of heat porches that have both spotlight and floodlight functions.
Now, this is a great thing if you need that versatility, and having to lose a little light quality so you can have the choice of both seems like a fair trade off to most people, myself included.
However, if you only intend on using your head torch for activites where a floodlight mode is what's best suited, such as jogging, working in the shed or garage, or other close range tasks, you would get a better quality torch if you buy one that is designed for just that.
Enter the COB LED head torch from Omeril which is exactly that, product designed to offer a wide angle of high quality light at close to medium range.
COB (circuit on board) LEDs are much better suited floodlight style head torches because their design allows for more of them to packed close together and at a higher density.
What this means for you is that you will get a much more intense light that is far more uniform and with less dark spots or shadows.
COB head torches also have the added advantage of low power consumption and this not only extend battery life, but also the working life of the LEDs themselves which should last about 100,000 hours.
This Omeril head torch runs off three rechargeable AAA batteries which come in the box. These batteries will give you a solid night's work if used continuously on the high mode of 150 lumen and can really improve those fishing trips.
There is no red light on this torch but there are two other white light modes, a low light mode for power saving, and a strobe for emergencies. The light head can be rotated to tilt down through a 60 degree arc.
At approximately 80 grams in weight, it is as lighweight as our other top product picks, and the build quality of the headband and main lighting unit is equally on par with them, if not a little better. And on top of that Omeril are offering a 24 month warranty just to put your mind at ease.
So, if you want a head torch with a 180 degree wide floodlight that is exceptional quality both in build and performance, look no further.
***If you hurry and buy, you can take advantage of the super low sale price on Amazon too, but I don't know how long that will last. Even at full price, this is still a great buy.
What you need to know about buying a head torch
Before you dive right in and secure your purchase, it might be helpful to have a quick browse of this buyer's guide.
Here we will go over a few things that we think are worth keeping in mind when choosing a head torch and making sure you get one of the best ones.
Battery type
Nearly all head torches are rechargeable these days, but that doesn't make them all the same. Some models will come with a preinstalled battery, while others will have a battery compartment that has to be filled with multiple smaller rechargeable batteries, such as AAAs.
Convenience wise, I find the built in single batteries to be better and they also tend to have a longer working life. The best type of these batteries are lithium ion units and you should get one that has a high number like 1200 followed by 'mAh' as this tells you the battery is a decent size and therefore should have a long run time.
How long does the battery take to charge against the runtime?
This is very important. You don't want something that takes eight hours to charge up but then is done after only a couple of hours.
Thankfully, battery tech has really come quite far in recent years and it's not hard to find a head torch that charges in just a few hours but can last for up to thirty on a low light mode.
Most head torches will have their charging time and run time clearly shown in their advertising, but if they don't, it might be a red flag.
Brightness, beam range, and beam width
Brightness is measured in lumen, so wehnyou see a number followed by that word, it is referring to how bright the light produced is. For a head torch, 150 lumen is good enough, especially if there are other features involved like high quality LEDs and good lens technology.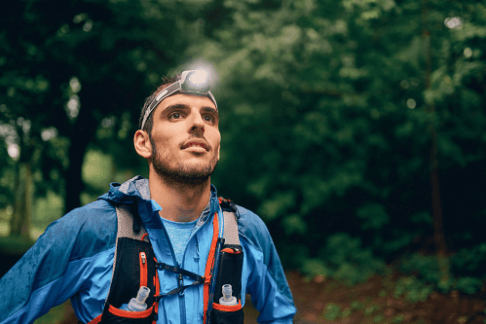 Anything over 150 is obviously going to be brighter, and there are some models that are 800+lumen. Having a high lumen rating doesn't ensure that the light quality is necessarily that good though, so it is important to check that out too.
Another important factor is the beam range which tells you how far the light beam can go and still be visible. On modern head torches 100-200 metres is not uncommon, if not completely necessary for all tasks.
Some torches specialise in the beam width rather than range, and this will probably be measured in degrees of the arc of light. A good floodlight head torch can be excellent for close range tasks and they will usually have a 180 degree light arc.
IP rating
When you see that a head torch has an IPX4 rating or IPX5, it means that it has been tested and certified to that level of waterproofing. If you're going to be using your head torch outside, the minimum you want is IPX4 because this will allow you to use it in the rain.
Build quality
You don't have to spend a fortune to get your hands on a great head torch, as our reviews have proved, but not all models will have the same build quality.
Look for products that are advertised as shock proof and waterproof, and read customer feedback about how robust and durable the torch you are interested in really is.
The ones featured in our reviews were picked because one of their outstanding features was that they are able to take a bit of punishment and keep on ticking.
A good warranty of a year or more is another way you can be sure of a products quality, or at least have some back up if anything goes wrong.
Size and weight
If you're going to be wearing something on your head for any length of time, you don't want it to be big, bulky, and to weigh a ton.
Most head torches are very lightweight, even being under 100 grams, so you shouldn't have to look too hard, but some battery packs can be bulkier than others and this might put some people off, so have a good look at the product photos and maybe check out youtube videos to see if anything is mentioned about this.
Do the controls suit your needs?
The controls on head torches vary quite a bit, and while these might not bother some people, there are functions that would put certain users off.
For example, people who want to use a constant red light for stargazing will want the controls to operate that function to be separate from the white light. This is because if they use a single button to cycle through the options to get to red, the white light will destroy their night vision.
Of course, there are others who love the simplicity of only having one easy to access button for all controls, so it's a personal preference.
There are some models that have zoom features, but these again can vary somewhat, as can the angle of the tilt on the light head. Make sure you know how a head torch works before parting ways with your cash, by doing a little bit of research beforehand.
Extras
You'll almost definitely get a USB charger cable with your head torch, but not that many come with a three pin plug for a wall socket so if that's how you intend to charge yours, you'll need to buy one separately in most cases.
Some of the more expensive models might come with their own carry case, but I've always seen that as a little bit pointless seeing as though you'll be wearing them on your head 99% of the time. Then again, I suppose for storage purposes, a specific case could come in handy.
---