Written by Terry Smith
Our site is reader supported so when you click a link to Amazon we may earn an affiliate commission.
Best head torches[UK]: Most powerful and rechargeable head torches reviewed
This article was last updated on April 23rd, 2022 at 1:57 am
Head torches are one of the only pieces of equipment that I know have just kept dropping in price over the last 20 years (I've been buying them for fishing, baiting, and gardening). It's a bit of a bitter pill to swallow actually. Hard as it may be to believe, something the same quality as the top pick Aennon, which by the way would not have been USB and would have also needed a massive 6v battery (that you tied on you somewhere, normally the pocket) and would have cost over £100. Fast forward two decades and I can charge my head torch on my laptop with a generic USB lead and they aren't even a tenner in some cases 😀
You now have so many options that it'll come down to what you want – power, battery longevity, reliability, waterproofing, and how well they fit on the head. We've compared these crucial points for you:
Top head torches in the UK: editor picks:
Best head torch overall: Aennon USB Rechargeable LED Head Torch
Most powerful head torch: Cobiz Head Torch Light Rechargeable -5000 Lumen – suitable for professionals working on rail tracks / fishing vessels etc
Budget head torch: APUNOL 2Packs Head Torch
Alternative head torch: LE Head Torch
How to choose the best head torch for you?
Before you dive right in and secure your purchase, it might be helpful to have a quick browse through my list of features worth comparing.
Here we will go over a few things that we think are worth keeping in mind when choosing a head torch and making sure you get one of the best ones.
Battery type
Nearly all head torches are rechargeable these days, but that doesn't make them all the same. Some models will come with a preinstalled battery, while others will have a battery compartment that has to be filled with multiple smaller rechargeable batteries, such as AAAs.
Convenience wise, I find the built in single batteries to be better and they also tend to have a longer working life (and it's very handy that they charge with a generic USB point). The best type of these batteries are lithium ion units and you should get one that is over 1200 'mAh' as this tells you the battery is a decent size (for a head torch) and therefore will have a long run time, even on 400-800 Lumens you can expect 2-30 hours depending on the battery and lumen setting. The highest setting really rips the battery, whilst eco mode has the polar effect.
How long does the battery take to charge against the runtime?
This is very important. You don't want something that takes eight hours to charge up but then is done after only a couple of hours.
Thankfully, battery tech has really come quite far in recent years and it's not hard to find a head torch that charges in just a few hours but can last for up to thirty on a low light mode.
Most head torches will have their charging time and run time clearly shown in their advertising, but if they don't, it might be a red flag.
Brightness, beam range, and beam width
Brightness is measured in lumen, so when you see a number followed by that word, it is referring to how bright the light produced is. For a head torch, 150 lumen is good enough, especially if there are other features involved like high quality LEDs and good lens technology. The torch in this video is 200 Lumen to give you a decent idea of what you get:
Anything over 150 is obviously going to be brighter, and there are some models that are 800+lumen. Having a high lumen rating doesn't ensure that the light quality is necessarily that good though, so it is important to check that out too.
Another important factor is the beam range which tells you how far the light beam can go and still be visible. On modern head torches 100-200 metres is not uncommon, if not completely necessary for all tasks.
Some torches specialise in the beam width rather than range, and this will probably be measured in degrees of the arc of light. A good floodlight head torch can be excellent for close range tasks and they will usually have a 180 degree light arc.
IP rating
When you see that a head torch has an IPX4 rating or IPX5, it means that it has been tested and certified to that level of waterproofing. If you're going to be using your head torch outside, the minimum you want is IPX4 because this will allow you to use it in the rain, an example of a head torch in this review with that rating is the LE Head Torch.
Build quality
You don't have to spend a fortune to get your hands on a great head torch, as our reviews have proved, but not all models will have the same build quality.
Look for products that are advertised as shock proof and waterproof, and read customer feedback about how robust and durable the torch you are interested in really is. Most are shock proof but one I would draw your attention to is the APUNOL 2Packs Head Torch. The ones featured in our reviews were picked because one of their outstanding features was that they are able to take a bit of punishment and keep on ticking. A good warranty of a year or more is another way you can be sure of a products quality, or at least have some back up if anything goes wrong.
Size and weight
If you're going to be wearing something on your head for any length of time, you don't want it to be big, bulky, and to weigh a ton. And if it is any of those, it should be because it's seriously brighter than the average head torch, like the Cobiz Head Torch rated at 5000 Lumens 😀 That thing literally turns night into day as I allude to in my review.
Most head torches are very lightweight, even being under 100 grams, so you shouldn't have to look too hard, but some battery packs can be bulkier than others and this might put some people off, so have a good look at the product photos and maybe check out youtube videos to see if anything is mentioned about this. Anything bigger than a cigarette packet is not necessary these days – look at this in a women's hand: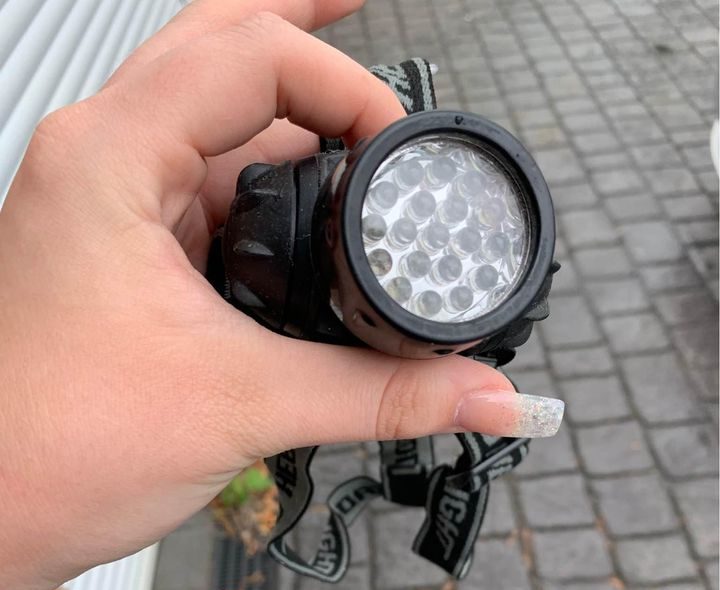 Do the controls suit your needs?
The controls on head torches vary quite a bit, and while these might not bother some people, there are functions that would put certain users off.
For example, people who want to use a constant red light for stargazing will want the controls to operate that function to be separate from the white light. This is because if they use a single button to cycle through the options to get to red, the white light will destroy their night vision. Of course, there are others who love the simplicity of only having one easy to access button for all controls, so it's a personal preference.
There are some models that have zoom features, but these again can vary somewhat, as can the angle of the tilt on the light head. Make sure you know how a head torch works before parting ways with your cash, by doing a little bit of research beforehand. For me though I just prefer a simple big button that runs through the pre-sets: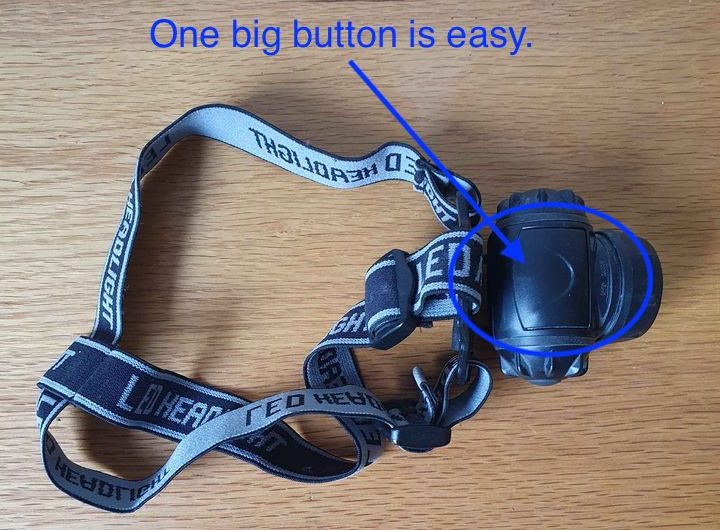 Extras
You'll almost definitely get a USB charger cable with your head torch, but not that many come with a three pin plug for a wall socket so if that's how you intend to charge yours, you'll need to buy one separately in most cases.
Some of the more expensive models might come with their own carry case, but I've always seen that as a little bit pointless seeing as though you'll be wearing them on your head 99% of the time. Then again, I suppose for storage purposes, a specific case could come in handy.
Best head torches picked and reviewed for performance and power:
First, we will dive right into the reviews for best head torches with the Aennon USB rechargeable head torch.
Why buy a head torch?
There are loads of occasions when you need a portable light source that still allows both your hands to be free to carry out tasks. An LED torch is fine but you need to hold it. Work lights are great too but they cast a shadow. The best head torches solve both these problems and bring the best of both worlds.
Most of these tend to be outdoor activities, just take things like cycling at night where you need to have both hands on the handlebars but still see where you're going. Then there's hiking, rock climbing, camping, caving, and night fishing to name a few.
While there are some excellent LED torches available these days, most of them require you to use one of your hands to hold and operate them and this isn't always ideal. For a truly hands free experience, you should consider a head torch.
Head torches aren't just for the great outdoors though, and can come in handy when working in darkened areas, or when you have to inspect the fuse box if there's a power cut. Even activities such as night gardening can be improved by wearing one of the best head torches, and with some models going for as little as a few pounds, there's really not much excuse not to own one, is there?
So, what are the best head torches you can buy? It all depends on how you look at it. For us, the best head torches have to tick a few boxes such as value for money, affordability, battery life, brightness, comfort, how well it fits, and extra functions.
We have taken a handful of the products we thought would accomplish this and given them their own detailed reviews that you can read below.
You can also find a buyer's guide to help guide your decisions in the right direction, right here on this page.
---