Garden Tool Box » Uk's best wall mounted garden heaters: Top waterproof and outdoor wall mounted patio heater buyers guide
Written by Terry Smith
Our site is reader supported so when you click a link to Amazon we may earn an affiliate commission.
Uk's best wall mounted garden heaters: Top waterproof and outdoor wall mounted patio heater buyers guide
This article was last updated on April 23rd, 2022 at 5:30 am
Wall mounted garden heaters are much like a patio heater with the simple comparison that they are 'wall hung' and very similar in pricing to the table top heaters . But when you compare all three, what really sets them apart is the fact that a wall mounted heater works from a distance (like infrared heaters), just doing its job of keeping you warm. By contrast patio heaters, table top heaters fire pits, and chimineas are the focal point of the space you're in. So if you're looking for a heater that'll do it's job in the background, not be in the way, and inconspicuous then we have the best best wall mounted garden heaters for you to pick from.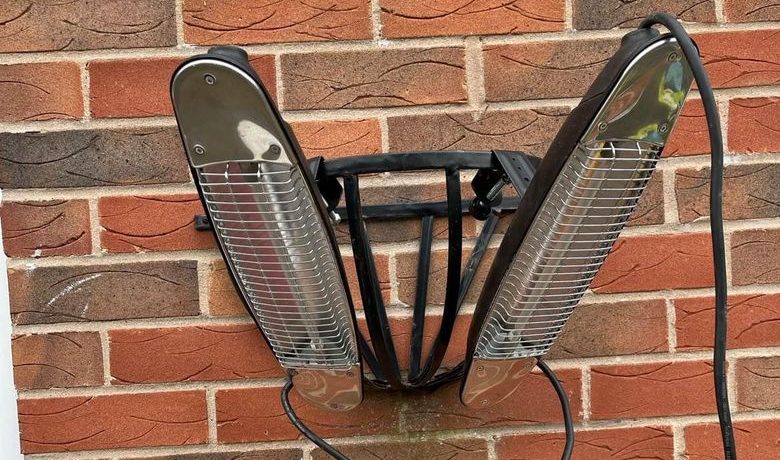 Best wall mounted garden heaters in the UK: Editor picks
Best wall mounted garden heater: FUTURA Deluxe Wall Mounted Electric Infrared Outdoor Garden Patio, Bathroom Heater 2000W, Waterproof, Remote Control Included Best wall mounted garden heater can cost just 20p an hour to keep you warm!!!
Professional use: MYLEK Wall Heater 3000W – Gardens, Cafes, Restaurants 3KW
Most powerful wall mounted garden heater: Devola Electric Infrared Patio Heater Wall Mounted Garden Heater must have if you want the best of the best at home
Best value for money by far: Oypla Electrical 2kW Quartz Wall Mounted Outdoor Electric Garden Patio Heater – lovely deal this.
Most economical to use: COSTWAY Wall Mounted Infrared Patio Heater with Remote Control, LED Display, 3 Heat Settings & 24-Hour Timer, Angle Adjustable Indoor Outdoor Electric Warmer, IP34 Waterproof – just 500 Watts on lowest setting
Another economical model: Firefly 1.8kW Wall Mounted Quartz Outdoor Indoor Patio Heater with 3 Power Settings – Set of 2 (White)
If there are two things that I really love to do, they are… 1. Creating a beautiful, well-tended and furnished garden. 2. Entertaining friends and family in that same garden. Now, because I live in the UK, in the North to be more accurate, the opportunity to entertain in my garden is often nullified by the cold weather. Even in summer, the night time drops in temperature can make it quite uncomfortable to sit outside without wearing seventeen layers of clothing, which kind of defeats the point. So, what to do about this all too common problem? There are a few solutions, but the best of them is to install some kind of outdoor heating to tackle the chill. You could go for a table top heater if you want something that is small and portable, or maybe invest in a larger standing patio heater that will give off more heat – still though, take some time to look at my wall mounted garden heaters – I think you'll find them very useful when compared and if you would like to understand in depth knowledge about how they work then read our best wall mounted garden heater buyers guide.
Best wall mounted garden heater buyers guide
If you are in the market for a wall mounted garden heater, there are a few things you should know. This guide is here to highlight them for you so that you can make a better informed decision on the type of product you require.
Power
The power of a wall mounted garden heater is measured in watts which is often abbreviated as a 'w'. Most models range from 1500w to 3000w, with the higher wattage indicating more heating power – the MYLEK being the professionals choice. They are generally 1500,1800,2000,2400 watts will be written as 1.5kW (kilowatts) and 2000 watts as 2kW and so on but the meaning is the same. The most powerful models like the Devola Electric Infrared Patio Heater Wall Mounted Garden Heater, when compare to the lower Watt ratings do not put out anywhere near as much heat.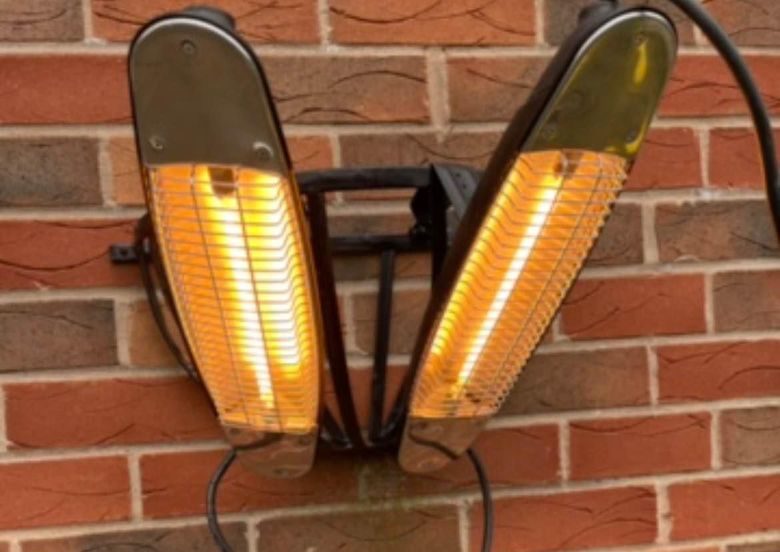 You also have to consider that wall heaters have multiple settings. This means that the Devola can be set to mid power to achieve the same warmth at the Firefly 1.8kW Wall Mounted Quartz Outdoor Indoor Patio Heater for example. The result will be a much longer lasting wall heater as it is not working at full capacity all the time.
Build Quality
Not all heaters are created equal, and you might find that some budget models are not the most sturdy or durable available . This is not always the case though and there are some good deals to be found out there, especially the Oypla which is definitely the best budget pick, but as a rule of thumb, the more you pay, the better the build quality. Casing made of steel, or aluminium alloy are much better than models that have a lot of plastic, and good quality heating tubes made from quartz (like the Firefly) carbon fibre should get you more working life out of your heater.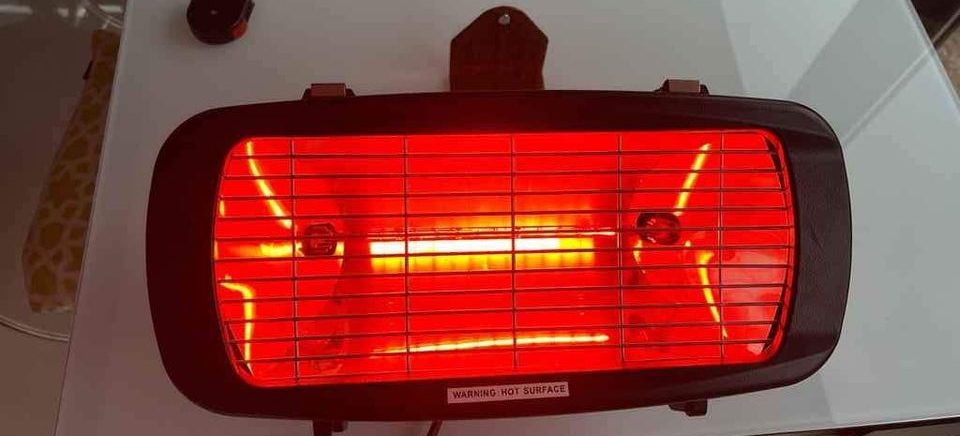 Features
Different models have different features. Some have remote controls and LCD displays with multiple input functions, while other, low cost products just have a pull cord to select power settings.
 As well as a remote, handy functions to look out for are adjustable angle, timer (COSTWAY has a 24 hour timer), overheat protection, multiple power settings, and safety tested ratings such as IP65 and even better IP66 – in case you're wondering what that is please read below.
 The more of these features you can find in one wall mounted heater, the happier you should be.
IP Rating?
IP rating refers to where you can install the heater. For example, when you have an IP44 this means it can be stored outside under cover and cannot come into direct contact with rain, by comparison, IP66 rating means you can have your heater exposed to water and hoses. An example of an IP66 rated wall heater is the Vonhaus. Whilst there's no problem with being exposed, it does still make a lot of sense to cover electrical heating elements at any opportunity, and an enclosed area is always far more effective at keeping you warm anyway!
Aesthetics
Wall mounted garden heaters come in a variety of shapes, sizes, and designs, so have a look at the space you intend to install the heaters in and think about what style would suit it best. I prefer the COSTWAY myself. Do you want something light or dark coloured? Painted or stainless steel? Rectangular or oval? 
In the end it is down to personal taste, but it also might come down to a choice between function over looks as some attractive models might not have the features you want. Here's a pretty unobtrusive style: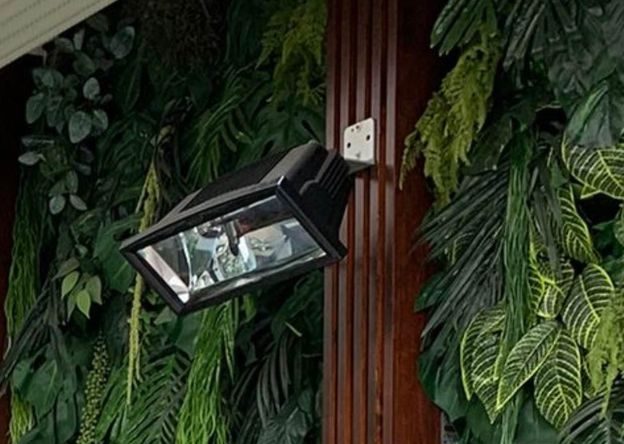 Best wall mounted garden heaters in the UK reviewed and compared for power, price, reliability, safety, and how warm they actually make you feel in the garden:
In this article we have put together some reviews of the best wall mounted garden heaters you can buy in the UK. If you are interested in purchasing any of the featured products simply click on the links provided for you.
Why buy a wall mounted garden heater?
Another option is to install wall mounted garden heaters. These are my favourite because they are fixed up on the wall and out of harm's way. There is less likelihood of someone tripping over hoses and cables like with patio heaters, or knocking the heater over which can sometimes happen with the table top variety, especially If you have small children or pets running around. All wall mounted garden heaters that I've encountered have been electric powered and so don't emit fumes like some propane heaters can and this makes them great for smaller, enclosed areas, this is especially true of greenhouse heaters. It used to be that electric heaters would seriously raise your electric bill, but with technological advances, nearly all newer models are extremely energy efficient and this means that it is not only easier on your wallet, but also the environment. If you have a slightly larger room, I would probably look at space heaters in general though central heating is far more efficient overall.
---