Written by Terry Smith
Our site is reader supported so when you click a link to Amazon we may earn an affiliate commission.
UK's best garden badminton sets compared on price and quality
This article was last updated on December 8th, 2021 at 4:49 am
Garden badminton sets are getting so good now they should afford you the luxury of enjoying badminton from your garden without the need for a trip to the local badminton courts – they really do compare with these best badminton sets – what is more, some of my best picks literally cost less than a sinner for two – so the pricing is on point too. You've got two main options really – buy the best badminton net alone or as a package with a few useable rackets and shuttle cocks.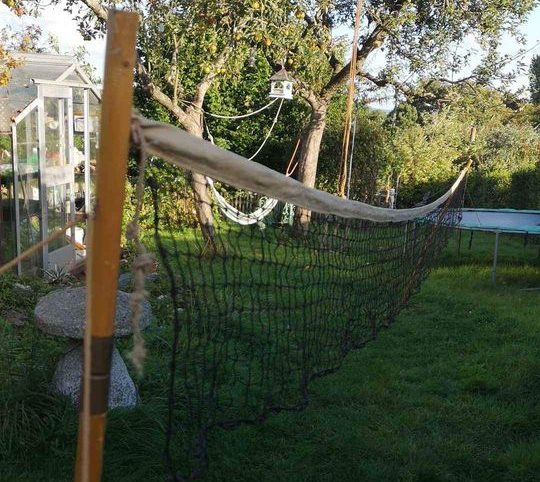 Best badminton net overall: SONGMICS 5m Tennis Badminton Net brilliant combination of value and quality 
Best net and set combo: Urban Pop Up Badminton Set Lovely set – perfect for messing about with the kids and quick to put up / take down
Best net and set alternative: Fineway Badminton Set Nice alternative if the above is out of stock or unavailable.
Best heavy duty badminton net: Vermont ProCourt Mini Tennis & Badminton Combi Net if you want the best of the best this is it. Bit pricier than the Songmics though.
Budget pick: ADEPTNA – so cheap, don't know how they do it let alone deliver it at this money! 4 racquets!!
Top tip for families: A top tip is to buy a complete set rather than a net, when you compare the offers, you'll see a complete packages works out much better value for money. With that in mind, I've made a list of my favourite and the best garden badminton sets that will allow you to enjoy countless hours of fun from the comfort of your own home with family in the garden!
With people wanting to stay at home more, right now presents an excellent opportunity to fine tune your skills and really get to grips with your well being and health as well as fitness as you will be playing your friends again in no time or showing off your healthier physique!.
What you need to know about buying a badminton net
There are a few very interesting differences between a quality and cheap net. But did you know some of the mid range nets now setup just as quickly and efficiently as the more expensive versions – some are pretty sturdy too, while others not so. The same applies to the quality of the net and how long it'll hold together for, so let's look at a few of these key factors before we jump into the buying part! and seeing as badminton grows in popularity every year – there's never a better time to jump in with many kids socialising this way too now.
Net or net and set
So the biggest question is what you're looking for – if it's a bit of a muck around with the kids in the garden then there's no question you want to be looking at the Fineway Badminton Se or the BADMINTON SET 4 PLAYER RACKET – this is ideal for beginners, inexpensive, and an all round great entry point to find out how your kids take to it. However, I wouldn't expect this set to hold up to two serious teens playing long and hard -a cautionary word of warning on that! If you want something a bit more mid range for kids that'll play rough, I'd be looking at the Urban Pop Up Badminton Set.
Price vs quality
There's some real bargains to be had as far as badminton nets go in the UK – for a start the Fineway Badminton Set. If you're looking for something to keep the kids entertained as well as dabble a bit yourself then this is for you.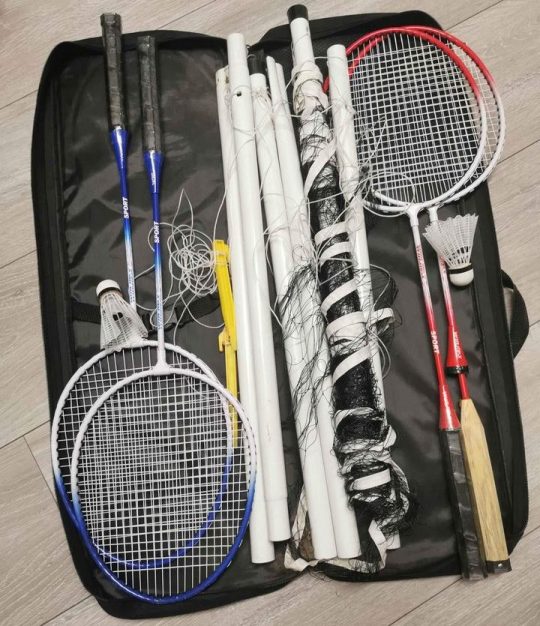 The net setup is a breeze too (surprising for such a bargain). Up the top end of the market you've got the SONGMICS 5m Tennis Badminton Net. Now this really is a cracking net for not much money – granted the netting is nothing nearly as strong as golf nets, but it really doesn't need to be. You're not smacking a hard ball at it aimlessly all day long 😀 Beyond that you can get a Vermont ProCourt which really is a complete professional setup – you really are buying professional court standard nets from these guys – a few issues but nothing major!
Assembly and siting
One of the most important aspects of buying a net is the ease of assembly. Before we get to that though, you'll need to measure out if you want a game that is vaguely professional. You can find out more about that at the useful resource at Porch: how to setup a badminton court. Some key takeaways are you'll need something to fix your net to the ground and stop it blowing away – most sets will come with anchors, just like those you find on pop up tents and pop up gazebos: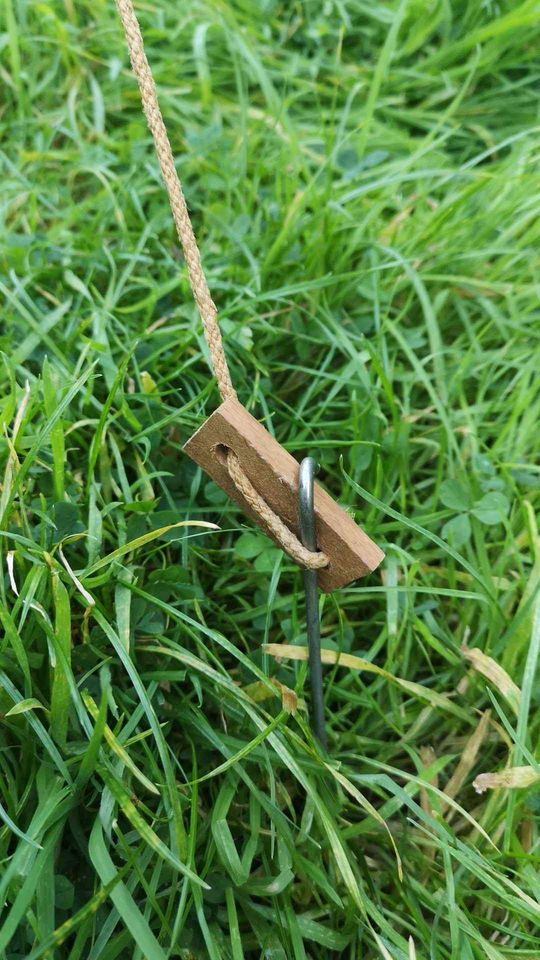 Try to pick an even field – if you have a slope, run the direction with least slope for both players, as the person on the lower side will have a massive disadvantage. This is true of almost any net sport but particularly badminton
Think about trees and shade – you may find it hard to see the shuttlecock if you position in such a way that the gaps in the trees dazzle and blur the movement of the shuttle cock. Net's are tied at the top and bottom to ensure they are reasonably taunt and don't blow loosely in the wind. You'll normally be supplied with some string that is connected to the net – if not, no bother to source yourself: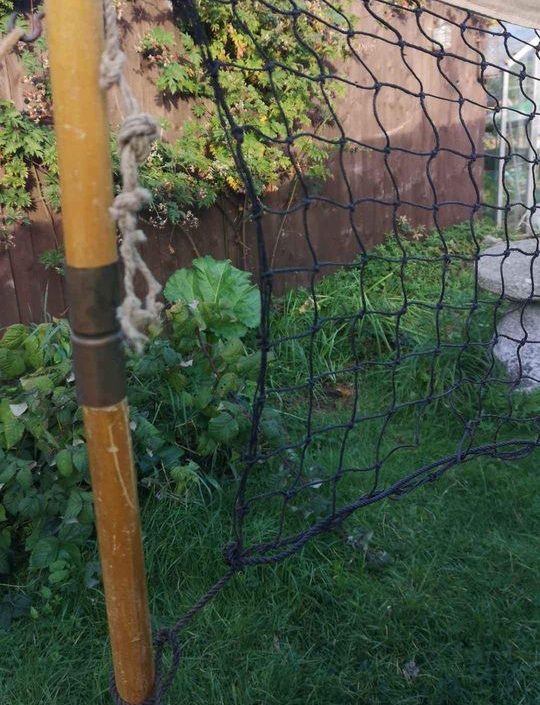 What is a badminton set and where did it come from?
The game of badminton, in its modern form was developed in the middle of the 19th century and is named after the Duke of Beaufort's home. There are numerous theories to when and where the game come from, but the exact details are not known.
 What we do know, however, is that it has since become a sport and pastime familiar to millions of people, in every corner of the globe. 
Its popularity probably comes from versatility, as it can be played with varying numbers of people, and also as a fast paced competitive sport or simply as a relaxing bit of exercise depending on what the players desire.
Badminton is also a relatively safe game that is suitable for all ages. Having your own badminton set for your garden is very handy for the summer season, especially if you have kids on their school holidays (as well as some cool inflatable toys for the garden in a nice garden swimming pool). Most modern garden badminton sets are inexpensive, easy to set up, and include everything you need to play, but some people prefer to buy the net separately to the racquets and shuttlecocks so that they have more control of the quality of the individual products.
 It is our aim with this article, to shine some light on the best badminton sets and nets for your garden that you can buy in the UK.
You can read our reviews below but before you go out and buy any of these products, make sure your lawn is cut nicely first and for that I would recommend one of these best selling lawn mowers.
Here is my list of best garden badminton sets
There you have it, 8 garden badminton sets/nets to choose from. We tried our best to vary the products we reviewed as best as we could, and to offer things in different price ranges.
 If you would like to see more images of any of these products you can click on the links we have provided for you and if you didn't find this all that appealing then why not take a look at our golf nets write up, perhaps that'll help you keep the kids occupied this summer as well as a trampoline for the garden! They are getting popular too.
We've also written about Kid's play houses and football nets since updating the article. since the kids can't get out yet, this is the perfect time to stock up on garden fun for the family.
These links will also provide you with pricing and shipping information, more specifications and some customer reviews too.
If you have a spare moment or two, please take the time to view some of our other pages that are similar to this one, complete with product reviews. We have pages on a huge range of products so we're sure you'll find something to peak your interest.
---