Written by Terry Smith
Our site is reader supported so when you click a link to Amazon we may earn an affiliate commission.
Pick from the best scroll saws in the UK [Summer 2021]
This article was last updated on August 7th, 2021 at 4:57 am
5 best scroll saws
A scroll saw is similar to a band saw and jig saw, but gives you far more freedom to cut than both these tools. A coping saw does similar but will take serious effort and time. Unlike, a hand saw or circular saw, the best scrolls saws will give you the ability to cut interesting and intricate shapes, as well as dovetails.
When you first start out working on DIY woodwork projects, you probably won't need to worry about having all of those, but one very handy piece of kit is a scroll saw.
Scroll saws are the best tools you can buy for doing more intricate work and designs with wood, as they have a thin blade that makes it easy for the user to create curved and angled cuts accurately.
Armed with one of the best scroll saws you'll be able to carve out things like letters and numbers for making signs, creating beautiful pieces of art like mosaics, or creating intricate patterns on pieces of furniture.
If you're not feeling that creative, no problem. The internet is full of patterns that you can download for free, and this can be a good way to practice when you first get your scroll saw set up.
Looking to upgrade your scroll saw?
If you're more experienced using these tools, and are looking to upgrade, don't worry we have products on this page that will be of interest to you too.
Below you find our reviews section where we have taken the top 5 scroll saws available in the UK, tested them, and wrote up our findings so you can find out if the product lives up to the claims made in the advertising or not.
Looking for more information about the various aspects concerning scroll saws? Then 'scroll' (pun intended) to the bottom of this article and read our short buyer's guide.
Comparison table: Pick from the best scroll saws in the UK [Summer 2021]

Product
What We Think
Price

Variable speed
Flexible work light
Table tilts from 0 to 45 degree
Quick and easy change blade
Dust extraction outlet

Proxxon Micromot DSH 2-Speed Scroll Saw

EAN 4006274280922
Proxxon 28092
power tool

Easy-to-use table saw
Dual functioning scroll saw and fret saw
Precise straight and curved cuts
Bench saw with reduced vibration with low sound power: 88.3 dB
Match speed to project at hand with this electric power saw

Solid base for stable placing
Metal work table adjustable up to 45 degrees
Quick-release clamp makes it easy to change the saw blade
Work piece hold-down. Connection for dust extractor
The unit can be affixed directly to the workbench
1. Record Power SS16V Scroll Saw 16-inch
We'll start off with the model that we think is a great choice for a first scroll saw- the Record Power SS16V.
This scroll saw has all the fundamental features that you'll need to make beautifully crafted pieces of woodwork while still keeping things simple enough for the first time user.
Blade changes have been designed to be quick and hassle free, and you can use both pinned and non-pinned blades.
Thanks to variable speed settings on the SS16V scroll saw, it is not only wood that you can work with. In fact you could choose to craft things out of plastic, copper, mother of pearl, or other non-ferrous materials. If you do stick with wood, the higher speed settings give you the opportunity to work with wood up to 50mm thick.
When using a scroll saw it is important to be able to see what you are doing, and that is why most models have integrated work lights. This one is no different and is mounted on a flexible rod so it is easier to find the right angle to illuminate your work and keep those cuts accurate.
One versatile feature of the SS16V scroll saw is the tilting cutting table. Being able to tilt it through a 0 to 45 degree arc really opens up new possibilities for your woodwork projects and allows you to try new techniques such as bevel cuts.
The hold down clamp is another nice feature that raises the safety level of this scroll saw, and the level of vibration is so low that you don't really notice it. There is also a dust extractor but for some strange reason it has been designed to blow towards you while you work so you'll need to wear a mask if using it.
Overall build quality of the Record Power SS16V is very good, especially when you consider the more than reasonable price that it is currently going for and the extra-long warranty that the makers are offering.
This scroll saw is easy to use yet still versatile enough to handle some varied projects, and would see a beginner happy for some time to come before they decide to upgrade. Available at this low price, it is a definite contender for the title of best scroll saw for new DIY enthusiasts.
2. Proxxon Micromot DSH 2-Speed Scroll Saw
The Proxxon Micromot DSH is another viable option for first time buyers as it has a very simplified design that makes it easy to operate.
The lack of advanced features on this model might turn off some of the more experienced of you, but for a complete beginner, I think it is actually a good thing as there is less to get confused about and you can dive right in.
One big feature that you can't help but notice immediately, is that the table isn't the usual tear drop shape. Instead Proxxon have decided to give their scroll saw a large rectangular table which personally I liked because of the extra working space it gave.
Pinned and non-pinned blades can be fitted and used with the micromot, giving you the choice to work with different materials and thicknesses.
Keeping up with the simple theme, this scroll saw only has two available seed settings but the faster of the two can handle some fairly thick materials as long as you work with patience and make sure you've got a high quality blade fitted. The blades provided are ok, but you'd be better off changing them for something better.
Changing blades is done by using an Allen key and is not a tool free action like with a lot of modern scroll saws and this has pros and cons. On one hand it means you can tighten it up more, but on the other, it is more messing around, and therefore slower to change blades.
Noise and vibration while idling is at a minimum and even while in operation it is still tolerable, but using an anti-vibration mat is always a good idea with any of these products.
There are some things that let this product down though. For a start, there is no clamp to hold the wood down while you work and I thought this was an odd design choice from Proxxon. As already mentioned the blades that come with the saw aren't really up to much and will blunt quite easily too. I know these are small things, but for a tool that costs twice as much as the record power SS16V model, I expected more.
On the plus side, this saw is easy to set up, a doddle to operate, and has a nice, strong motor backing it up. The tool feels very well put together and solid, if a little on the heavy side, and with a few adjustments it can be a great scroll saw.
3. Einhell TC-SS 405E 120 W Scroll Saw
You know, I am really warming to Einhell after I reviewed and tested their cordless brush cutter the other day. What a cracking tool that offers the best value for money and this scroll saw they've manufactured is of similar ilk.
The cheapest scroll saw in our list is this Einhell TC-SS model and it's a genuine bargain as far as I am concerned.
For such a low price you would be expecting this tool to be pretty bare bones when it comes to features, but it is actually a very good product for the money.
For a start there is the variable speed controls that are quite precise, the tilting table that can go from 0-45 degrees, and a down holder for securing your work piece to the 408x250mm work table.
On top of all that, there is the option to work with pin end or plain end blades, and switching between them can be done without the need for any tools thanks to the quick release clamp that is easily located, like the rest of the controls, on the front of the machine.
One of the best features of this scroll saw is also found at the front, and that is the blade tensioner. It is so easy to use and allows even beginners to get the perfect blade tension every time without any messing around.
The Einhell has only a 120W motor, but the makers have still decided to fit it with a soft start so that the power comes on gradually. This is usually a feature in more powerful tools but it is still nice to have on this one.
Noise and vibration levels with the Einhell TC-SS are not problematic although they both increase as you use the tool at higher speeds, but this is normal for any scroll saw and adding rubber feet or a mat to the base can help.
The biggest fault I found with this model is that when changing the blades, you need to remove the side panel to reach the bottom clamp. And while this can be done without the use of tools, it is still annoying, not to mention potentially dangerous as this is where the motor shaft can be found spinning.
This is not the most powerful tool out there, but for the low price, it is surprisingly good and has some handy features.
4. Dremel Moto-Saw MS20 2-in-1 Electric Compact Scroll Saw Set
If you're into crafting models or just looking for a portable scroll saw for some light woodwork tasks, this product from Dremel might peak your interest.
This dual function tool can be used as either a hand held fret saw, or clipped into the base and used as a table top scroll saw. We only tested it as a portable scroll saw and had mostly positive feelings towards it.
The first thing you notice with this scroll saw, is that it is very lightweight and compact, weighing only 4 kilograms and having dimensions of 47.5 x 37.5 x 13 cm when inserted into the cutting table. This makes moving it from workspace to workspace much less of a hassle than with a larger unit that weighs closer to 20kg.
There is some trade of for the portability though and it comes in the way of vibration. Because this scroll saw has to be clamped down onto a normal bench or table to be made stable, it doesn't have a heavy metal base and so there is a higher level of vibration which can be seen by the movement in the pieces of wood when you place them on the saw.
Now, once you've secured the workpiece in place and with the help of your hands, the vibration doesn't really affect the cut too much, so it's not a huge problem.
The Dremel scroll saw has six speed settings to choose from, although only the fastest two are really any good for cutting and the rest would be best suited for fine edging.
Using speeds 5 and 6, you can actually get a nice smooth cutting action and it is not difficult to make nice curved shapes and sharp angles with a little practice.
Three different types of blades are included in this set, 2x general purpose wood cutting blades, 2x fine cutting blades, and a metal cutting saw blade. Changing the blades can be done without any tools but it is quite a fiddly affair trying to get the bottom of the blade to hook up properly. The top of the blade is much easier to manage though.
There is also a parallel guide and guide rails included and they work well to give you very precise straight line cuts.
The dust extractor on this scroll saw works incredibly well once attached to a vacuum cleaner, so much so that you won't even realise that you are creating any dust as it is instantly sucked away. Without a doubt the best we've seen.
As we said, for small woodwork tasks and crafting hobbyists this is worth considering but don't expect it to cut through thick pieces of wood like a more heavy duty model would.
The price is ok, but I would have guessed maybe ten pounds or so less if I didn't know. It is still a good deal though considering the extra things in the set and the dual nature of the product.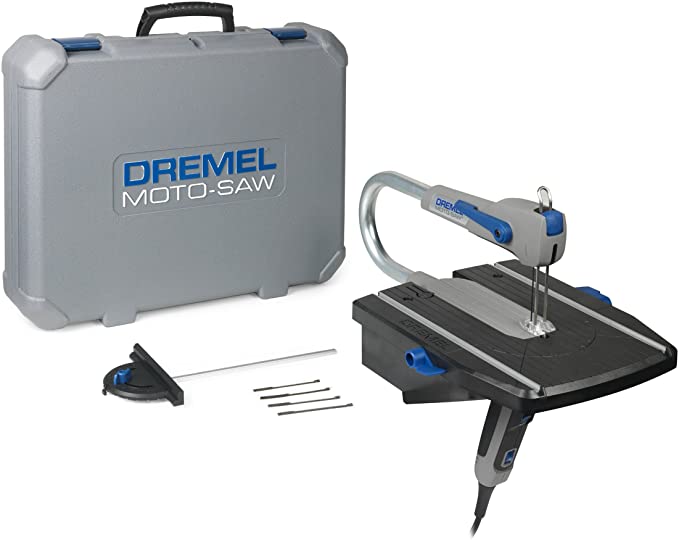 5. FERM Scroll Saw - Fret Saw - 90W
Our final review of this article is another possibility if you don't want to spend too much on your scroll saw and comes to us courtesy of FERM.
Now, before you go thinking that low cost equates to flimsy and not well put together, think again. Armed with a cast iron housing, this scroll saw is a robust little tool, if a little heavy at around 14 kilograms.
Then again if portability isn't a factor, which t often isn't with this kind of tool, then more weight means more stability, and the cast iron does a great job at reducing vibrations, giving a much neater and smoother cut than what you get with most lightweight models.
A nice feature is the addition of a mitre guide which is puzzling absent on some scroll saw models. Mitre guides are so valuable when it comes to doing the most accurately angled pieces of work, so it was nice to see this feature.
Like many other of our reviews, this saw has a 45 degree tilting table controlled by a simple mechanism on the front of the tool, and it also shares the quick blade changing style of most modern scroll saws.
The FERM scroll saw runs as quietly as any of the other models we tested, well it does after tightening a few screws that hadn't been done properly at the factory and were causing a bit too much vibration. It was a simple fix though so I can't complain too much.
With 1440 saw movements per minute, this will cut through plywood up to 40mm thick smoothly in any direction you want to take it, and the cutting area is kept clean by the flexible dust blower which is adequate even if it isn't the best I've ever seen.
As an added bonus the FERM scroll saw comes with 10 blades to get started with. I think this is great for beginners as it is easy to break blades through excess pressure when first starting out.
What else can I say? This is a solid bit of kit with all the basic features you need to do some model making, crafting, or light to medium DIY tasks, and best of all, it's available at a bargain price.
What you need too know about buying a scroll saw
If you've looked through our reviews, or shopped around online, you've probably seen various terms coming up again and again, and you might not fully understand the meanings of them.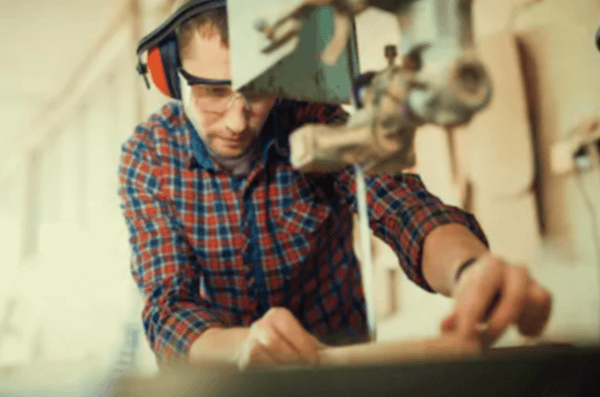 To help out with this, we've put this little guide together that highlights a few of them and explains what they are and why they are important factors when buying the best scroll saws available.
Types of blade
Apart from the common plain blades, there are a number of other types that can be used with certain scroll saws. These blades include pinned blades that are not as good for intricate cutting but have their uses for certain types of work, metal cutting blades, precision blades, skip tooth blades, any many more.
Ideally you want a scroll saw model that is universal or at least able to accommodate as many different types as possible for versatility.
Variable speed
Having the ability to control the speed of the blade is very important when putting the finer points on a piece of woodwork so this is a feature to look out for. Not all model's variable speed systems work the same though and some are really not that precise and therefore not that useful.
Reading reviews like the ones above, and also customer feedback is a good way to find out just how well the speed controls work.
Throat size
When you see the term throat size, what it's actually referring to is the measurement of the amount of space between the back of the saw and the rear side of the cutting blade. Throat sizes vary from saw to saw and will affect the length it is possible to cut, so it's a good thing to know before buying.
Tilting table
A 45 degree tilting table is a desirable feature to have in a scroll saw, and thankfully most models you see these days have one. Tilting tables can allow you to create more varied pieces of work without the need of tilting and holding the wood at an angle.
Table size
Think about the types of jobs that you will be using the saw for and how big the pieces of wood that you'll want to use on it, and that will give you a better idea of how big you need the cutting table to be. Also, bear in mind that you'll have to spin the wood around as you cut it so you need enough room in all directions.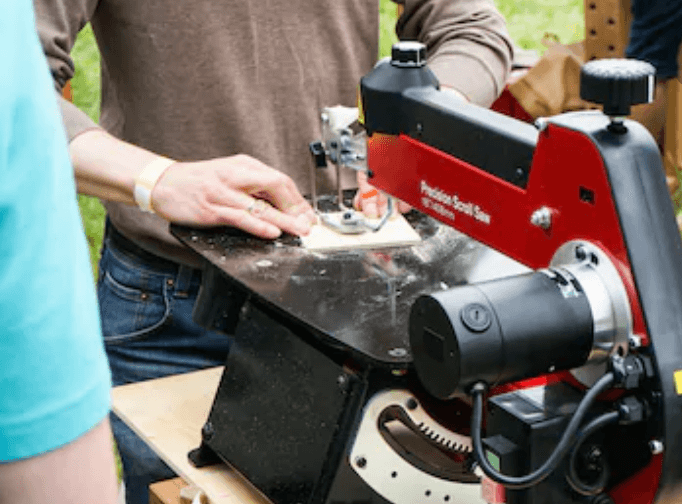 Blade tensioning and changing
To make a scroll saw blade work at its optimum level, you need to have the tension of the blade set right. A blade that is either too loose or too tight will have different, but equally negative effects. If you're not experienced at this, I would suggest getting a model that has an easy blade tensioning set up.
How easy it is to change the blades should also be high on the list of factors when looking for one of the best scroll saws. You want to be able to change quickly and easily without having to use or remove parts of the tool to do so. Even when there are no tools involved in the blade changing , some scroll saws can still be a bit fiddly and a pain in the neck, so have a look at our reviews if this is something that would bother you.
Dust extraction and removal
Pretty much all scroll saws will have a dust remover of some kind, but like everything, some are better than others. Again, the best thing to do is research a little into customer feedback on forums, Amazon, and review sites like this one to find out which are the best dust removing scroll saws.
---