Garden Tool Box » The best lawn rollers [UK] that really level ground reviewed 2021
The best lawn rollers [UK] that really level ground reviewed 2021
This article was last updated on August 7th, 2021 at 3:31 am
There is some conflicting information concerning using a lawn roller out there on the internet, so who do you trust? Anonymous reviews, or me, an ordinary bloke that shows you how to level a lawn step by step and includes his best lawn roller that so happens to be one of the cheapest options as well as an alternative opinion.
Get the most out of the best lawn roller
There are still many of us experienced gardeners who see the benefits of using such a tool. Using one of the best lawn rollers, one that isn't too heavy or light, and using it at the right time and for the right purposes (especially when levelling the final stages with a bit of sand), is the key and will lead to your lawn looking absolutely fantastic. Trust me, I have documented why rolling the seed into your ground is so important and wouldn't have produced the same results without one. It's the best way to compact soil in my mind.
How to use a lawn roller
Let me first say that you don't want to be going out there and rolling over your lawn every day for long periods of time as it can cause the soil to become too compact and this leads to a lack of aeration. You should also avoid using a lawn roller on very wet soil for the same reason. Slightly damp or moist soil is perfect, but not overly so.
One of the best times to use a lawn roller is when you are establishing a new lawn, or laying down some new seed/overseeding. I recently did this very thing, so I thought I'd spend a minute or two telling you how I did it here, and even shared a couple of photos with you. Before I even showed any seed, I used my trusty Garden Gear Heavy Duty galvanised steel roller to go over the area to get rid of troughs and ensure it was as level as possible. I've had this roller for a few years as you can tell by the wear and tear, scratches and such, but this is only superficial and that tool still does an amazing job. Being big, strong, and green, I've nicknamed it 'the hulk' (Unfortunately, due to covid-19, this product is unavailable on amazon at the moment, but there are some pretty good alternatives in our reviews section of this page).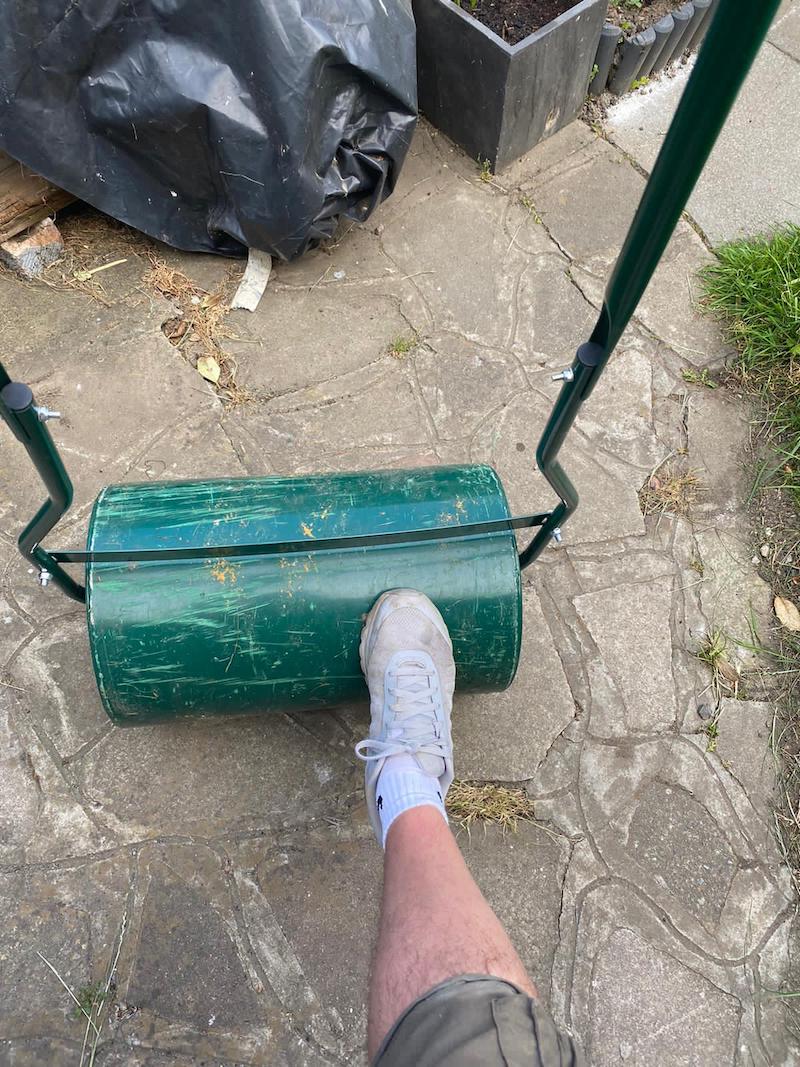 Once I was happy with the lay of the land, so to speak, I sowed my grass seed using a seed spreader to get an accurate 250g per square metre, raked the soil over, and then used my lawn roller again to go over the whole area. Doing this will encourage improved germination of the seeds by giving them all better contact with the soil.
You can see what the lawn looked like after this in this picture: –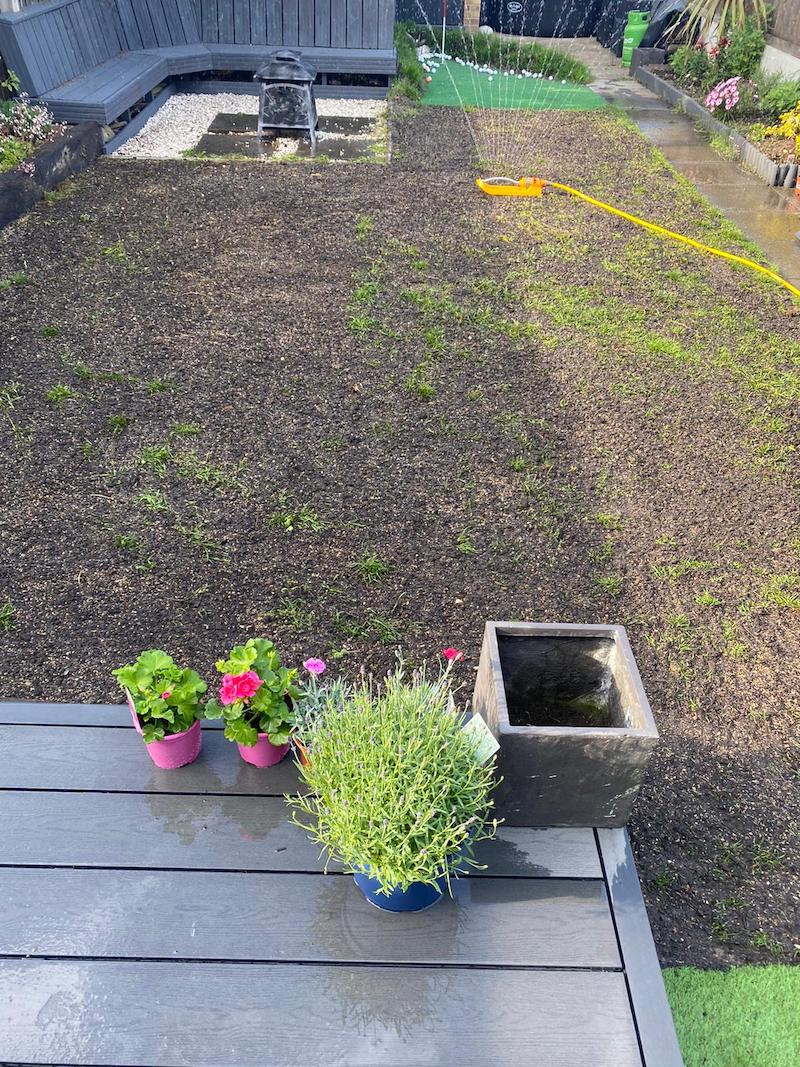 Now, you won't really be able to tell from the photo, but despite my best efforts to level the garden beforehand, I still noticed some high spots afterwards when some of the grass had started to grow.
To rectify this, I simply laid down some sand in those areas that needed bringing level, and grabbed 'the Hulk' once more to roll over everything until I was happy with the results. Here you can see what I'm talking about: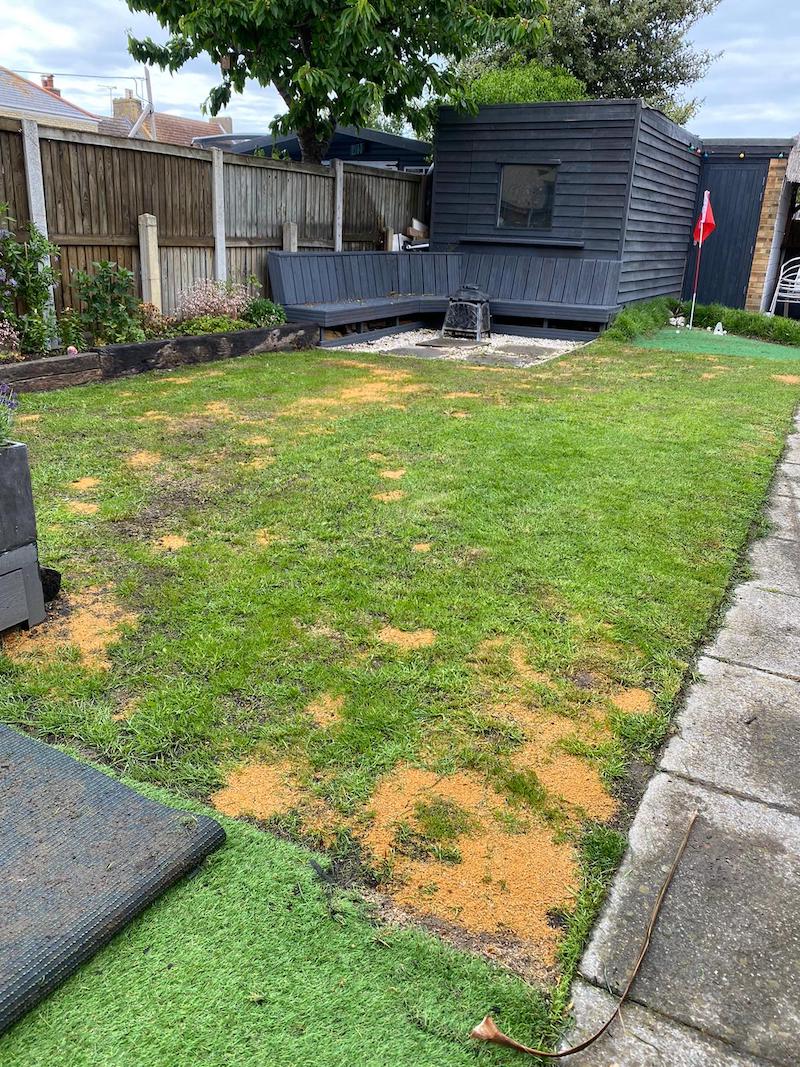 I'm lucky enough not to really suffer from pests such as moles digging up my lawn, but if you do have a problem with this, a good lawn roller can help you repair the damage caused and have your garden looking nice again in no time. Even if you don't have pests, the winter frost can cause your previously perfect lawn to accumulate a few bumps and lumps, so It's a good idea to have a lawn roller hanging around in the shed.
The best lawn rollers are excellent for getting the ground flat and uniform before laying down seed, and also afterwards to get rid of any air that may be trapped. Just like with grass seed, rolling over the soil will help it to establish itself properly by giving it a better connection to the soil.
The Best Lawn Rollers Reviewed UK
So, now you know what the best lawn rollers are used for, and how to use them correctly, I think it's about time that we had a closer look at the best lawn rollers available to us gardeners in the UK at the moment. Covid-19 has seriously limited our choices, but there are still a couple of gems you can get your hands on. We will, of course, update this page with other products once they become available again.
Comparison table: The best lawn rollers [UK] that really level ground reviewed 2021

Product
What We Think
Price

Coated metal roller
Side filler (for water and sand) with cap
Dirt wiper which helps produce a neat result
46 litre maximum fill capacity
57 cm roller width

50cm (20") Working width
42cm (16") Diameter one piece drum c/w drain plug
Weight 72kg when filled with water
Weight 120kg when filled with sand
Soft grip folding handles

Large capacity; 30 litre capacity that can be filled with water or sand...
Durable; Made from high quality galvanised steel
Extra wide; 42cm wide roller
Easy to store; Removal handle ensures easy storage
12-month guarantee

Useful garden helpers
The ideal tools for a perfect green lawn
To solidify the soil before sowing and pressing seeds in after sowing...
The Working width of the lawn roller is 50 cm
AL-KO provides a 2 year warranty

Painted steel garden roller
Fills with sand or water
Steel drum 30cm diameter and 42cm wide
Comfortable hand grip
Scraper Bar. White outer carton with full colour POS

Brinly PRC-24BH 270-Pound Combination Push/Tow Poly Lawn Roller

Push/pull combination: convenient push or tow-behind design provides versatility for rolling tight areas or larger open spaces...
28 gallon capacity: sturdy Roller holds up to 28 gallons (270 lbs.) of water or sand is both light...
Durable construction: Sturdy poly roller drum won't dent or rust
Faster filling: includes fill opening with extra-large diameter to expedite filling and emptying of the drum...
No-hassle storage: when you're finished rolling your lawn
1. Brinly PRC-24BH 270-Pound Combination Push/Tow Poly Lawn Roller
If you have the money to spare, you can't really go wrong with our number one pick for best lawn roller: the Brinly PRC-24BH push/tow poly roller. Unlike most lawn rollers that are made of metal, Briny's exceptional product is constructed of the highest quality polyethylene; a very robust type of plastic. What this means for you, is that your lawn roller won't be getting dented from impacts, and will never rust. In short, this is a very durable tool, and sure to have a long working life.
This lawn roller, like most of these products, can be filled with either water or sand to give it the weight you require, and this particular model can be filled with up to 28 gallons, which equates to about 120kg if filled with sand, and that's a lot of weight.
Of course, you won't need to fill it to the limit for most home gardening tasks, and it is actually very easy to push around thanks to a robust set of handlebars and a smooth rolling action. If you have a large garden, you can attach the Brinley lawn roller to a small tractor or ATV tow bar, fill her to the maximum weight and go for it. The solid steel frame will keep the roller stable, and the extra weight will make sure those lumps and bumps get eradicated.
I have to say, I was impressed with the short time I had hands on with this lawn roller. It just feels like a quality product, and I think it is worth paying the extra for if you can. It was really easy to assemble, is top notch when it comes to build quality, and really does what it's supposed to. Even the scraper bar seemed to work better than most products I've used or tested, and really did clear debris the way the maker intended. It's little details like this why I give top marks from me for this combination push/tow lawn roller.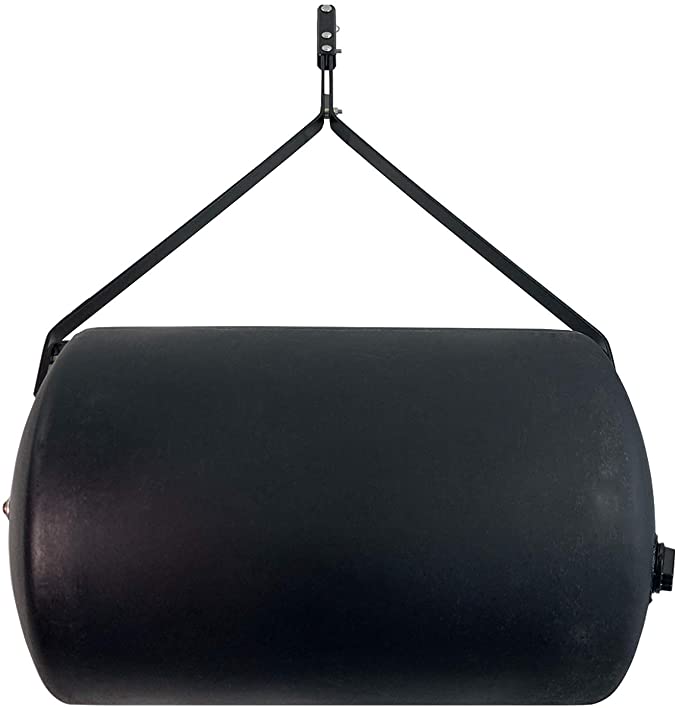 2. Einhell GC-GR 57 Garden Roller, Red
For those of you on a tighter budget, there are still a few good options available to you, and one of them is this lawn roller from Einhell. The main roller is made from coated metal, 1.5mm thick, so it certainly isn't what you'd call flimsy. It is also a decent size, measuring 32cm in diameter and being 57cm wide, allowing you to cover a medium sized lawn in a short time. I was actually surprised at how light this lawn roller felt when it arrived when compared to some of the others that I've used before, and after checking it on the scales I realised I'd guessed right as it only weighed around 10 kilograms when empty. 
With a maximum capacity of 46 litres, you can soon add the weight you require through adding sand or water, and the closeable opening located on the side of the roller does make it easy, especially if you use a hose like I did. This opening also has the added benefit of making emptying the tool out afterwards for an easier walk back to the garage.
In the product description, it says that there is a dirt wiper than can be adjusted on either or both sides, and while there certainly is a dirt wiper, and it works well for the most part, I could not for the life of me work out how to adjust it, and the instructions that came with the product were far from helpful in this regard.
Another minor gripe that I have is that the handle was a little too short for me and I felt like I had to lean over while pushing the tool. I'm around average height at 5ft 10" so the taller of you might want to consider looking somewhere else.
Apart from these little complaints, I have to say that this is a decent lawn roller for the price and it will suit people with small to medium sized gardens, but don't expect it to flatten out very large lumps or tackle big jobs. For most ordinary folks though, it'll do just fine once it's filled with water.
3. The Handy Garden Roller
Available for the same sub-sixty pounds price tag as the Einhell, is the Handy lawn roller. Also, like the Einhell, it has one or two minor flaws, yet overall is still a pretty good budget choice. But first, the positives. Out of the box, it is pretty easy to assemble, and weighs around 13kg empty, so you're not breaking your back moving it around. If filled to the max with water, you can expect it to weigh around 72kg, and that increases to 102kg when maxed out with sand.
The drum has a diameter of 42cm, which is larger than that of the Einhell lawn roller, however, it is 7cm shorter in length at 50cm. I have to say I liked the feel of the handles on this product. The soft rubber grip feels nice in the hands, certainly more so than cold steel in the winter, and I also like the fact that the handles are foldable for storage purposes. I still felt a little stooped over when using the Handy lawn roller, but not as much as when using the Einhell.
On the side of the main drum is where you find the hole for filling and draining the roller, and it comes with a drain plug that doesn't require any tools to remove or seal. Now, this has its pros and cons. On one hand it makes things easier when you're filling or emptying, but I found that it didn't seal 100% and allowed water to leak out. It wasn't a lot, at least not on the item I tried out, but it was something I noticed. I didn't see anything when it was filled with sand though.
The full-length rubber scraper was probably the hardest part of the assembly process, but I got it on in the end, and it does work as intended, so I can't complain there. Performance-wise, it is about what you would expect for the price. It will take care of all general gardening duties as intended, and even a few bigger high spots as long as you go over that area a few times in quick succession.
To sum it up, the Handy lawn roller is about what I would expect for the price. Sure, it isn't perfect but will keep most people happy for general use.
4. AL-KO Hobby GW50 50cm Lawn Roller
A little bit further up on the price scale than both the Einhell and the Handy products, the AL-KO hobby lawn roller is available for around 85 pounds at the time if writing, but is it worth shelling out the extra 25 quid over the aforementioned competitors? Well, in a nutshell, I'd have to say yes. Does it have parts or features that the others don't? I'd have to say no. Is it particularly larger? Again, I'd have to answer in the negative. 
The reason I would spend the extra pennies for this one over the other two, is simply down to build quality. It just looks, and feels, better made. Everything from the solidity of the handles and frame, down to the cap on the drainage hole, has a more robust feel and gives you more confidence in the product and its expected longevity.
The 44cm diameter and 50cm long drum is big enough to handle usage in most average sized gardens in the UK, and once filled with sand it has more than enough weight behind it to flatten out common lumps and bumps. Empty, this lawn roller was so light that I was worried it wouldn't be up to the task even when filled, but I am happy to say that this wasn't the case and the tool performs its intended tasks well.
I do have to say that although my product arrived in very good condition and had no issues, there have been one or two complaints from other customers, so it might be a quality control issue or maybe just depends on the supplier. Overall though, most feedback has been positive, and like I said, the model I tested had no issues whatsoever.
5. Greenkey Lawn Roller
At just over 50 pounds, the Greenkey lawn roller is the cheapest of our featured products, but I'd say it holds its own against most of its competitors. There are a few places that you can see where the costs have been cut, for example the drum diameter is the smallest amongst this group of lawn rollers at only 30cm. It is also the smallest in width, measuring 42cm. I did find the handles a little short too, just like the Einhell, but I was grateful for the rubber grips, and the fact they can be folded over when storing the tool away.
The filling hole is only around an inch or so in diameter, so you'll need to use a funnel to fill it with sand, but this is quite common for lawn rollers in this price range. There is a rubber stopper to prevent the water or sand leaking out, and I had no issues with it the entire time I was testing the product.
I filled the Greenkey lawn roller with a couple of bags of dry kiln to speed up the process, and once filled I found that it had enough weight to handle the job at hand. I had to roll over the same spot from different angles a few times to get any high spots out that were anything but small, but for the price that was to be expected, I suppose.
The metal material used for the drum did seem a little on the thin side to me, and I wouldn't be surprised if dents would start to appear after a bit more use, but again, you get what you pay for.
The Greenkey lawn roller would suit someone with a small garden, who will not be using the tool that often, maybe just after the winter to get rid of a few bumps, to seed a new lawn, or to lay down some sod. It's not a bad product at all, but it isn't the best out there.
4. Garden Gear Heavy Duty Galvanised Steel Lawn Roller
What can I say, I've left the best till last in my mind. Price point it wins hands down. I personally fill mine with sand. Nice dry sand that'll make the process a breeze. Be sure to top it right up. You don't want it slapping about in your hand.
The simple truth of this product is that it's under priced. With 42cm width, galvanised steel, and a 12 month guarantee, it's not hard to see why this sells very well indeed. It did the job nicely for me and on top of that when I was using it I found the grip to be pretty good too.
If you want me to be picky for a bit of balance, I would probably tell you the assembly was a little longer than I'd like but well within the range of normal for assembling a lawn roller. Buy with confidence.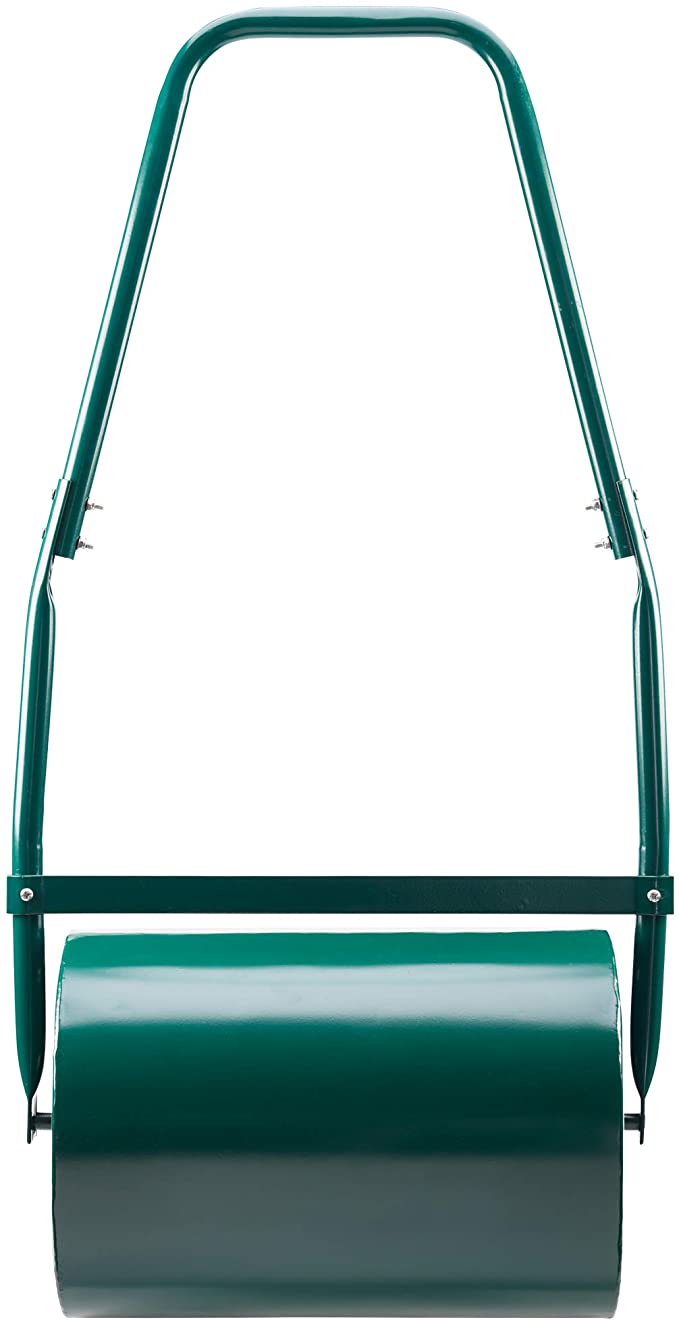 As you can see, even with covid-19 limiting our options, there are still some products out there for you, no matter what your budget allows for. To be honest, any of the cheaper products here would be just fine for smaller gardens, and the more expensive Brinley model is an excellent choice for larger properties or people who will get more regular use out of their lawn roller.
---