Garden Tool Box » UK's best lawn rollers that are heavy duty 👷‍♂️ *actually tested to level a lawn from scratch*
Written by Terry Smith
Our site is reader supported so when you click a link to Amazon we may earn an affiliate commission.
UK's best lawn rollers that are heavy duty 👷‍♂️ *actually tested to level a lawn from scratch*
This article was last updated on April 23rd, 2022 at 6:14 am
There is some conflicting information concerning using a lawn roller out there on the internet, so who do you trust? Anonymous reviews, or me, an ordinary bloke that shows you how to level a lawn step by step (in fact I literally show you how to restart a lawn 🙂 ) and includes the best heavy duty lawn roller, and that so happens to be one of the cheapest options as well! Sadly mines out of stock – you bought it right out following my recommendations last year 🙂 but I learn't a thing or two on some other rollers whilst landscaping and there's a couple even better than mine that I used – one being the AL-KO Hobby GW50 50cm Lawn Roller though too pricey for single use (don't worry I have some bargains in here)! I'm tired of the hard sell rubbish, I only do facts. Let's face it, we are all bored of a list of products with no proof of doing or using. I'd hazard a guess knowing the few genuine garden reviewers like me, only a handful have actually picked up a lawn roller (or tried to move a 72 Litre monster). Yeah, worrying! Describing them as heavy, durable, flattens lawns easily. With 0 experience 😀 and no idea of how much work it takes to push one. Oh well, no worries of that in my review. Here's me with the old beastie that I've tested and given a real working over: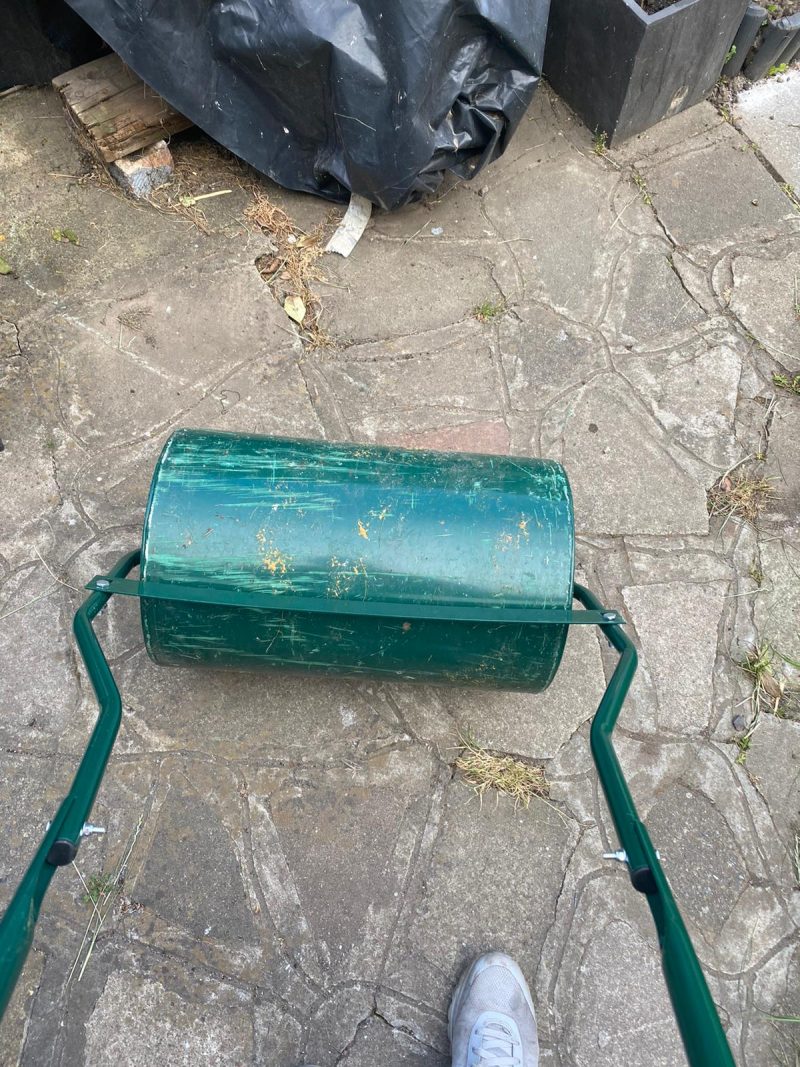 Not only the buying do I have in mind, I'm going to show you how to use a lawn roller as well if you're interested or new to the game 🙂 And show you the differences between a heavy duty lawn roller and one more suitable for occasional home use.
Best lawn rollers – editor picks:
Best lawn roller for home and occasional use: Einhell GC-GR 57 Garden Roller
Best lawn roller that's towable and commercial quality: Brinly PRC-24BH 270-Pound Combination Push/Tow Poly Lawn Roller – currently out of stock but if you want the best of the best this is definitely it.
Sensible alternative to the Einhell: Coopers of Stortford Lawn Roller
Budget pick: Lawn Roller By Garden Gear
Heavy duty pick: AL-KO Hobby GW50 50cm Lawn Roller – or the larger Brinly used daily in commercial setups to great effect!
If the AL-KO IS unavailable: The Handy THGR Push or Pull Behind Steel Lawn Roller
Decent mid range pick: Greenkey Lawn Roller currently out of stock but very similar to the Coopers for much less money so we will give this a chance to come back
Get the most out of the best lawn roller
There are still many of us experienced gardeners who see the benefits of using such a tool. Using one of the best lawn rollers, one that isn't too heavy or light, and using it at the right time and for the right purposes (especially when levelling the final stages with a bit of sand), is the key and will lead to your lawn looking absolutely fantastic. Trust me, I have documented why rolling the seed into your ground is so important and wouldn't have produced the same results without one. It's the best way to compact soil in my mind.
How to use a lawn roller
Let me first say that you don't want to be going out there and rolling over your lawn every day for long periods of time as it can cause the soil to become too compact and this leads to a lack of aeration. You should also avoid using a lawn roller on very wet soil for the same reason. Slightly damp or moist soil is perfect, but not overly so.
One of the best times to use a lawn roller is when you are establishing a new lawn, or laying down some new seed/overseeding. I recently did this very thing, so I thought I'd spend a minute or two telling you how I did it here, and even shared a couple of photos with you. Before I even showed any seed, I used my trusty Garden Gear Heavy Duty galvanised steel roller to go over the area to get rid of troughs and ensure it was as level as possible. I've had this roller for a few years as you can tell by the wear and tear, scratches and such, but this is only superficial and that tool still does an amazing job. Being big, strong, and green, I've nicknamed it 'the hulk' (Unfortunately, due to covid-19, this product is unavailable on amazon at the moment, but there are some pretty good alternatives in our reviews section of this page which I've tested).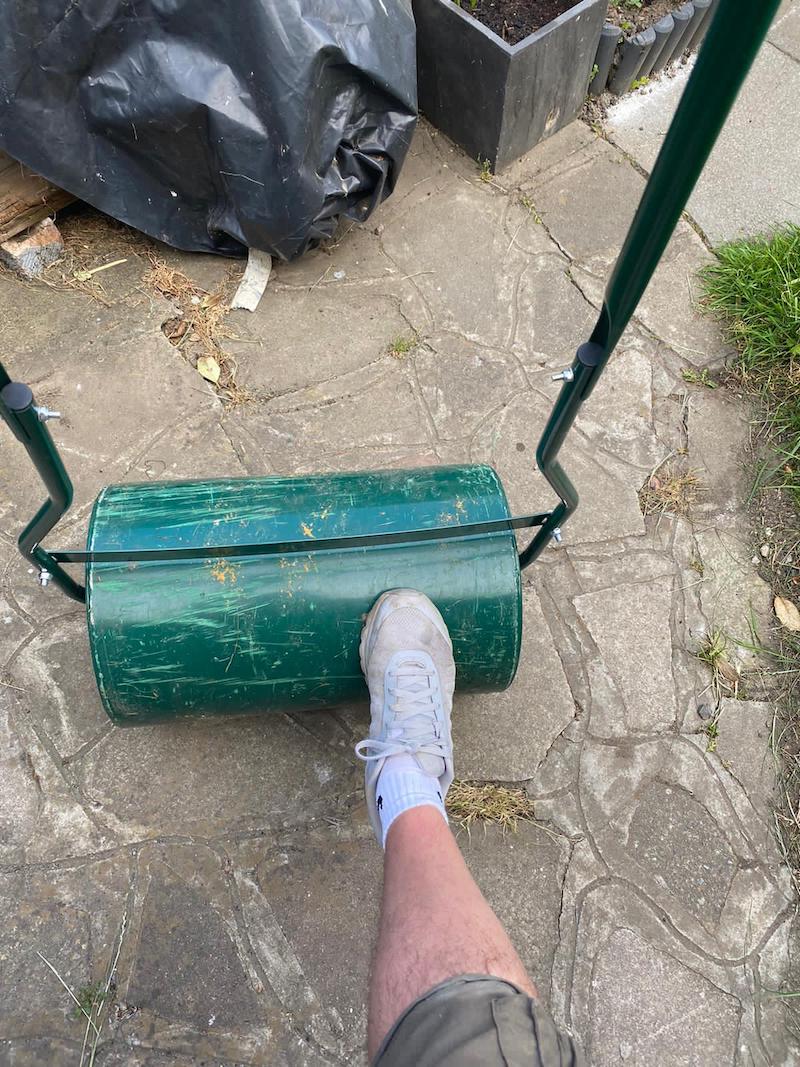 Once I was happy with the lay of the land, so to speak, I sowed my grass seed using a seed spreader to get an accurate 250g per square metre, raked the soil over, and then used my lawn roller again to go over the whole area. Doing this will encourage improved germination of the seeds by giving them all better contact with the soil.
You can see what the lawn looked like after this in this picture: –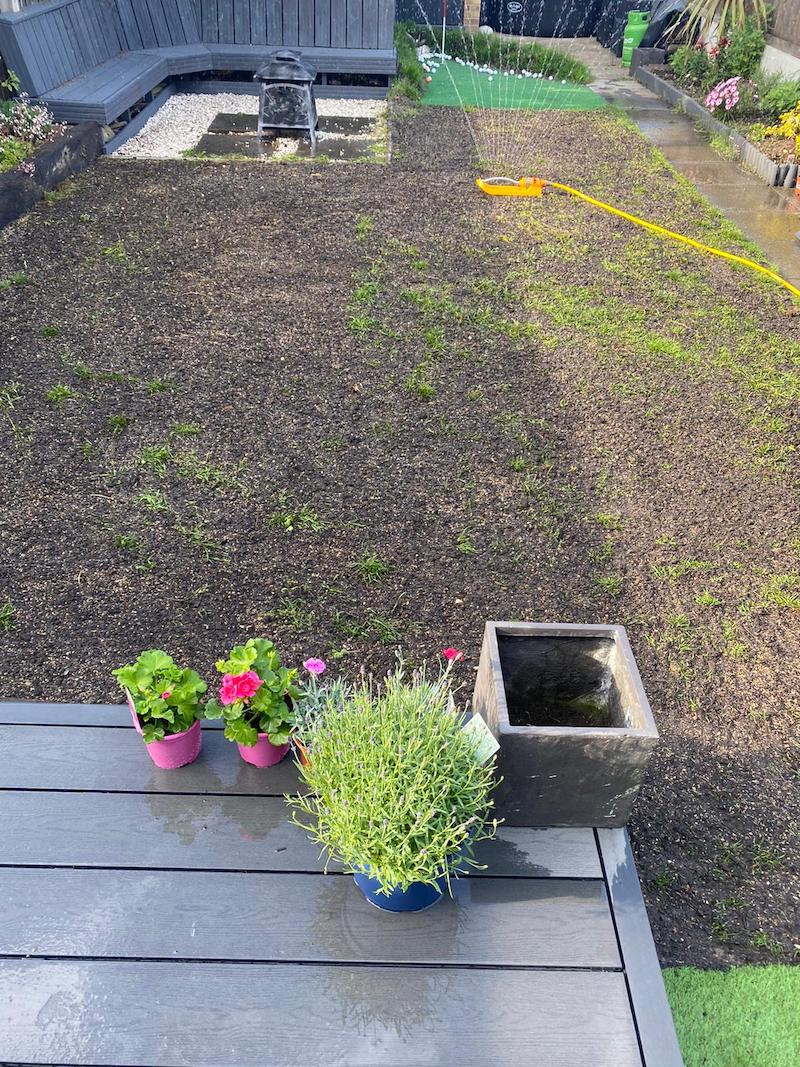 Now, you won't really be able to tell from the photo, but despite my best efforts to level the garden beforehand, I still noticed some high spots afterwards when some of the grass had started to grow.
To rectify this, I simply laid down some lawn sand in those areas that needed bringing level, and grabbed 'the Hulk' once more to roll over everything until I was happy with the results. Here you can see what I'm talking about: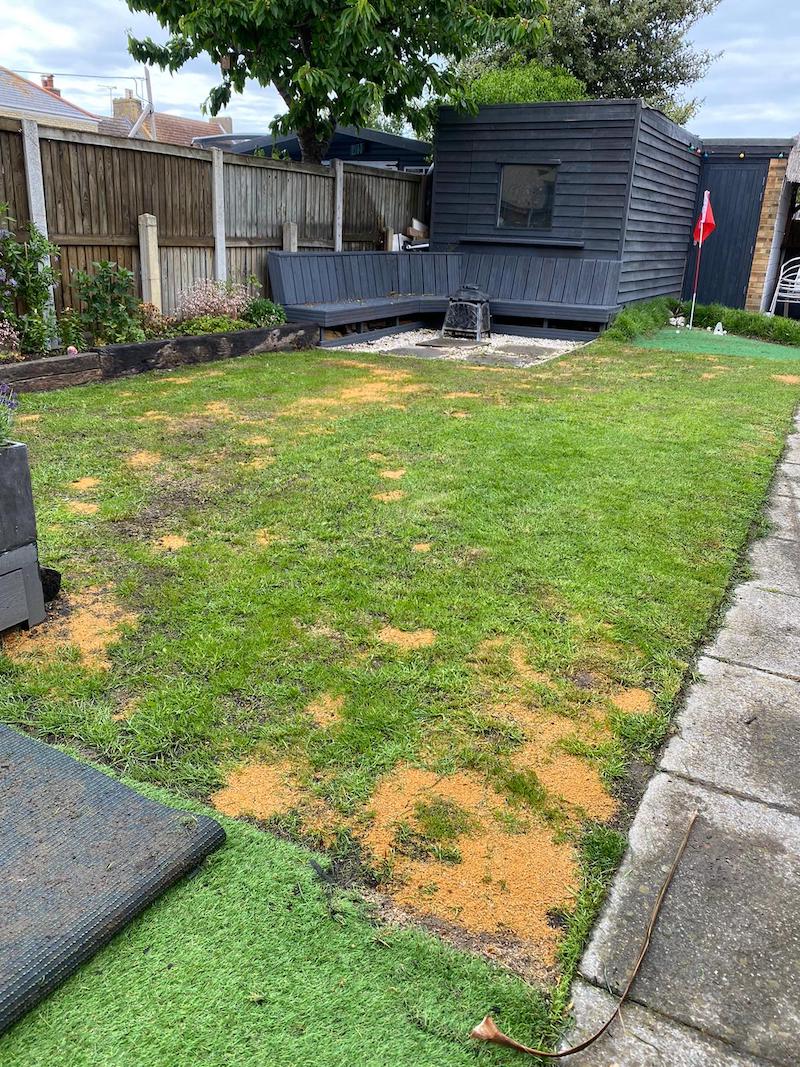 I'm lucky enough not to really suffer from pests such as moles digging up my lawn, but if you do have a problem with this(here's the best mole traps), a good lawn roller can help you repair the damage caused and have your garden looking nice again in no time. Even if you don't have pests, the winter frost can cause your previously perfect lawn to accumulate a few bumps and lumps, so It's a good idea to have a lawn roller hanging around in the shed. I often use HSS for all sorts – diggers, ladders, you name it so I thought I'd give them a mention – not the best video but the content is bang on and re-iterates much of what I've explained you here:
The best lawn rollers are excellent for getting the ground flat and uniform before laying down seed, and also afterwards to get rid of any air that may be trapped. Just like with grass seed, rolling over the soil will help it to establish itself properly by giving it a better connection to the soil.
What you should know about a lawn roller
There's some seriously important things to consider when buying a lawn roller. Firstly did you know the smallest and largest are so far apart that the larger is three times the size? And did you know said monster roller takes a big strong person to use? Did you know some are metal drums but others plastic? But, but, lets say you knew that, did you know a 72 litre roller may not be as effective as a 50 litre version due to the width and therefore weight ratios and force applied to the ground? 🙂 I can go on all day. I know it's pretty sad but humour me 😀 Not all lawn rollers will work for everyone and so it's important to understand the differences and what makes a quality lawn roller vs a cheap nasty one that won't last five minutes. It's all in the detail so let's take a look:
What is a scraper bar and do I need one?
A scraper bar is designed primarily to stop dirt and soil that sticks to the roller coming back onto your lawn. You definitely want one as I know from when I started my lawn from scratch. The dirt will annoy you as it sticks. If on the other hand you're rolling something like sand that isn't going to grab the roller you might not want one. Personally, I wouldn't use a roller without and I don't want you to either so all the rollers in my review will have one 🙂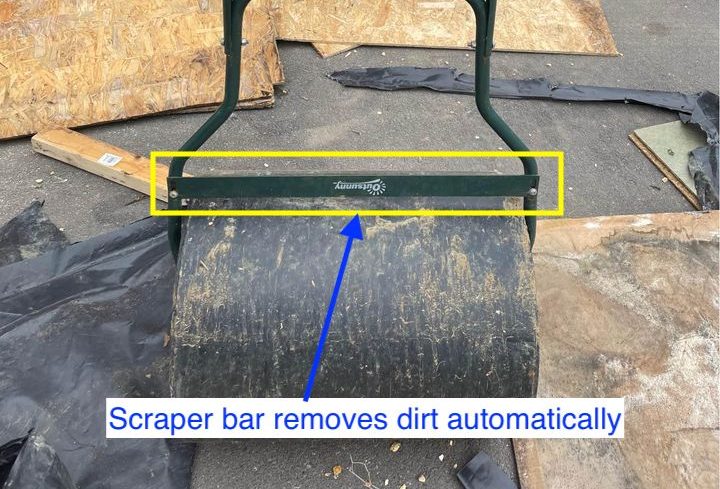 However some work better than others like the Brinly and another quality option with regards to this is the AL-KO. Some are fitted closer and therefore remove more material. The Coopers being an example of this but being as close as it is, sometimes it'll snag – there are certainly drawbacks – the better the clean, the more likely a problem! Some scrapers are adjustable too, like the AL-KO and the Handy
Plastic or metal drum
Interestingly metal isn't necessarily a sign of quality. Te best roller on this entire review for quality, size, and built well enough to be towed is the Brinly. The heavy duty thick plastic won't be punctured by sharp stones, despite the huge weight involved. The even more interesting thing is the metal drums are more likely to leak. Now there's an easy solution to that – use sand. I have some issues with that though – first is sand is heavier density, so it means that, great you'll have a heavier roller, but you won't be able to empty it meaning manoeuvrability when not in use is out the window, and sand also costs money! Water is nearly free!
Size and weight ratio
Following on from the sand debate. It should be known that sand is about 1.5 times more dense when measured by volume. So let's assume you make the budget pick Lawn Roller By Garden Gear. This will take 30 litres of water. Actually you can really ramp up performance filling this with sand and this will give about 45kg of weight. I know, we always think water is heavy 🙂 and it is, but sand is far heavier still including gaps.
If you're trying to level ground and it really needs compacting I would take advantage of a unit (aside from the massive Brinly) that has a wide diameter like the AL-KO Hobby GW50 50cm Lawn Roller or Coopers. The reason being is quite straight forward – more pressure per square inch down means more compacting – it's really that simple.
The Best Lawn Rollers Reviewed UK
So, now you know what the best lawn rollers are used for, and how to use them correctly, I think it's about time that we had a closer look at the best lawn rollers available to us gardeners in the UK at the moment. Covid-19 has seriously limited our choices, but there are still a couple of gems you can get your hands on. We will, of course, update this page with other products once they become available again.
As you can see, even with covid-19 limiting our options, there are still some products out there for you, no matter what your budget allows for. To be honest, any of the cheaper products here would be just fine for smaller gardens, and the more expensive Brinley model is an excellent choice for larger properties or people who will get more regular use out of their lawn roller.
---