Written by Terry Smith
Our site is reader supported so when you click a link to Amazon we may earn an affiliate commission.
Best propane heater [UK]: Top indoor and outdoor propane heaters compared with house, garage, and patio options
This article was last updated on April 23rd, 2022 at 2:53 am
Although there are a ton of excellent garden heater products to choose from, Propane heaters are not just for keeping your family and guests warm on the patio. No sir, these tools can come in just as handy indoors, such as heating a shed, garage, or workshop.
Want to keep yourself warm when you're away from the home? Maybe you're sick of the workshop feeling like a freezer, or you want to make your camping or caravanning trips more comfortable? Well, there are some fantastic, compact, propane heaters available too.
So, let's dive in to this in-depth article on everything you need to know about the best propane heaters, and see our pick for the best of them below-
We think the best propane heaters in the UK are:
Best propane heater: Glow warm patio heater – perfect for patios
Best alternative pick for a propane heater: Bu-Ko patio heater
Best portable propane heater: Mr. heater portable buddy – must have for any camping setup.
Best small propane heater: Mr. heater portable buddy
Best small propane heater alternative: Kingfisher table top heater
Best large propane heater pick: Sealey LP401 space heater
What you need to know buying a propane heater
Before you dive in and make your purchase, you might want to give the following things a bit consideration-
Indoor and outdoor propane heaters
You might hear some people saying that you should never use a propane heater inside and instead use an electric heater, but that's not really true.
There are some propane heaters that are designed to only be used outdoors, and for various reasons such as the fumes and other safety factors, they shouldn't be considered for indoor use.
On the other hand, you can get propane heaters, especially smaller models, that have been tested and even designed to be used indoors. Now, I don't recommend that you have a large propane heater in a very small shed and stay in it for 18 hours per day, but in a well-ventilated indoor area, they can be used effectively.
The best indoor propane heaters will have built in safety features like oxygen depletion sensors that will cause the heater to automatically shut down if the levels of oxygen in the air gets low. Outdoor patio heaters don't have this feature, so please don't ever use one indoors.
Having a compact propane heater that is designed for indoor use can come in really handy when there are power cuts. Yes, a good torch will provide you with light, but will it also keep you warm in winter? A mobile propane heater will do both, so keeping one ready for emergencies is a pretty good idea.
So, despite what some might say, you just have to make sure the one you buy is suitable, and also use a bit of common sense like not placing it on a flammable surface, and you'll be fine.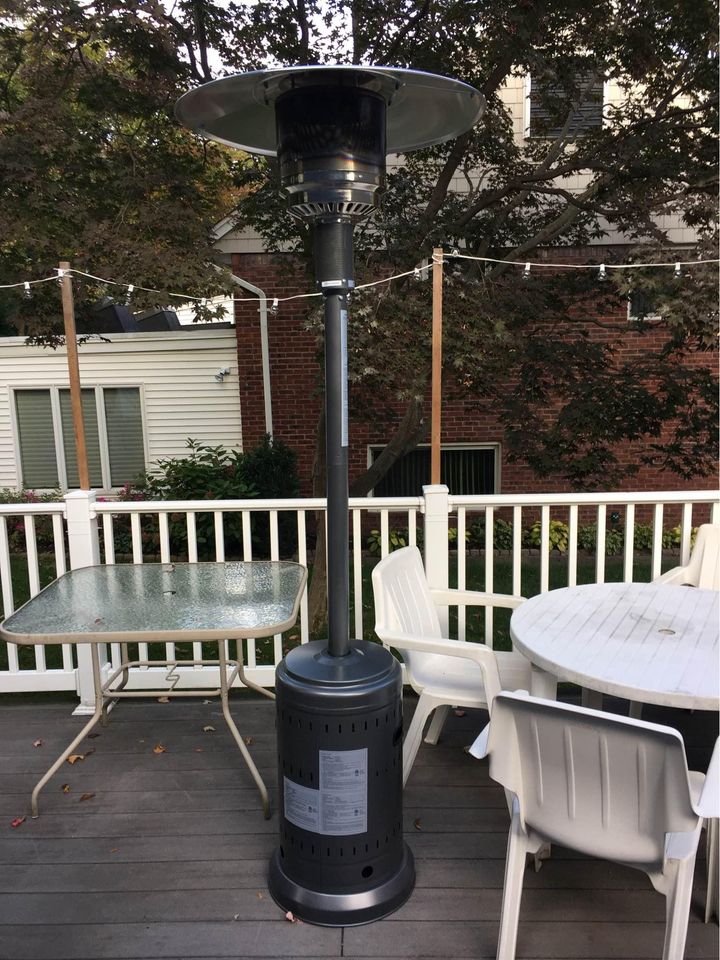 Propane vs butane
While both propane and butane are hydrocarbon gases, and both are very good fuel sources for heaters, cooking, appliances, etc. there are a couple of differences you might want to know about.
The main one is at what temperatures they can still remain as a gas, and I is quite a big difference. You see, butane has a boiling point of -2 degrees Celsius, which is far higher than that of propane at -42C.
In real life, this means that propane heaters are more reliable in winter when temperatures drop, especially for heaters that are going to be housed and used outside, or in colder buildings like garages and sheds.
Propane is a little more expensive than butane, but the difference isn't going to leave you in tears, and the fact that propane stores better over long periods of time, is enough for me to favour it, overall.
What size propane heater should I get?
First, work out where you're going to be using the heater, and then factor in things like furniture, nearby surfaces that might not react too well to having something hot near them, how much heat you need for that area, and general things like that, and it should help you choose the right kind of propane heater.
For example, you might like the look of a beautiful pyramid shaped patio heater like the Bu-Ko we review a little later in this article. However, unless you have the space to house it, along with your patio furniture, it just isn't practical. You can't have something that size, and producing that much heat, squeezed right up against places were people sit.
It's not just outdoor areas either. People looking for a good shed heater also need to think about how much space they have and how much heat will be required. Propane space heaters come in a wide range of sizes, from very small models that you would have on a surface fairly close to you like the Kingfisher table top heater, too much larger heaters that will easily warm up a large shed or garage and workshop such as the Sealey LP401 space heater.
Then there are tabletop propane heaters. These are a good compromise for people who want patio heaters but don't quite have the room for the larger products. Tabletop propane heaters are available in all kinds of styles, and some of them are stunning. Not only that, but having the heat source on the table and therefore in the centre of everyone sitting around it, can give you an equal distribution of heat, and a very cosy feeling for all.
If you want something to provide a bit of warmth while camping, then a mobile propane heater like the fantastic Mr. heater portable buddy is perfect for you. These heaters are compact, lightweight, can be fuelled with small propane tanks, and give off a generous amount of heat for their size.
Think about safety when buying a propane heater
No matter where you are using your propane heater, you need to have safety in mind. Of course, there is the issue with fumes if you are indoors but that's not the only thing that can go wrong.
For instance, do you have pets? Dogs and cats are inquisitive animals and will no doubt be drawn to the warmth of your propane heater. This could result in the heater being knocked over if the heater isn't stable, or your pet burning itself on hot parts if they are low down and at easy reach. There are standing heaters that have auto cut off features that will turn the product off if it is tilted past a certain angle, so that's maybe something to look out for.
If your patio is covered, then you really need to take into account how tall a heater you can have under there without it being a fire hazard, and what level of fumes are released by that heater as some will get trapped under the canopy. As long as the sides are open and ventilated though, you'll be fine.
For decoration and style purposes some ornamental type propane heaters have flames, and while these can look amazing, you do have to be extra careful with those heaters due to the extra fire risk.
On the plus side, you don't have to worry about ash and cinders being blown around from a propane heater like you do with a fire pit. They are quick and easy to switch off too if you think things are getting a little too hot for something, or someone, nearby.
Don't neglect maintenance of your heaters. Check for rusted parts and any other kind of damage, and definitely check that your regulator is working properly and not leaking. This can be done with a bit of soapy water. Most modern propane heaters don't require much maintenance at all, but still keep an eye out for potential problems caused by wear and tear.
Material
Most propane heaters are going to be made out of some kind of metal, but there might be plastic parts on there too. The most common metals are steel, stainless steel, and aluminium.
When it comes to fighting off rust, aluminium is king, but sometimes the quality of the aluminium used on cheaper propane heaters isn't great, and this can make it easy for the casing to be dented or warped out of shape.
Stainless steel has better rust-resistant properties than normal steel, and is stronger than aluminium, but again, the quality of the steel, its thickness, etc. can vary from product to product. If you are going for a standard steel heater, it should have a coat of good quality, heatproof paint.
The following video is short but goes into aluminium's rust resistant properties-
Best propane heater reviews in the UK
Time to take a closer look at some of the best propane heaters currently available to buy online and have shipped straight to your door. Don't worry, we won't hide any of the negative aspects of these products either. We'll serve up the pros and cons of each one for you.
---