Written by Terry Smith
Our site is reader supported so when you click a link to Amazon we may earn an affiliate commission.
Best kid's playhouses[UK]: Top children's playhouses compared: Smoby reviewed
This article was last updated on April 23rd, 2022 at 1:52 am
We've all seen it. You spend hours shopping for the perfect toy to really make your kid's Christmas one to remember, find that perfect wrapping paper, and slide it under the tree, and wait to see their faces light up on Christmas day.
And what happens? They take the toy out of the packaging and then spend the rest of the day playing with the box!
This can be a little frustrating for some parents but it is just a natural, and very important part of a child's development, for them to engage in imaginary play. I'm no spring chicken, but I can still remember building dens with my friends in nearby bushes and playing make-believe games such as soldiers, pirates, and astronauts, and just how much fun it was.
So, why not take advantage of their beautiful imaginations and even give a helping hand by giving your children a kid's playhouse for the garden for them to play in?
These playhouses and tents are available in lots of different themes so it shouldn't be too hard to find something that is sure to peak your kid's interests. And to make your choices a little easier, we took the time to take a closer look at the best-rated kid's playhouses and reviewed them for you below.
As an added bonus, we have also included our Best Kid's Playhouses Buyer's Guide for you to read and get better acquainted with these kinds of products.
What is a kid's playhouse?
A children's playhouse can be similar to a climbing frame but has the distinct advantage of being smaller and generally useable indoors too.
Traditionally, kid's playhouses were made of wood and resembled a house or cottage. As time has gone on, and technological advancements have been made in materials and manufacturing techniques, playhouses can now be made of various types of plastic, fabric, and even cardboard. They are no longer only shaped like houses either.
These days you can find playhouses shaped like castles, buses, Igloos, and just about anything else you can think of. generally speaking though, a kid's playhouse is a structure that your children can enter and play inside, and that is true for all of our featured products.
Best kid's playhouse- our top picks
Comparison table: Best kid's playhouses[UK]: Top children's playhouses compared: Smoby reviewed

Product
What We Think
Price
One of the best teepee playhouses out there, this product from Haus Project uses comparatively higher quality wood and fabric than what is found on cheaper models, and so is more likely to last in the long run. On top of that, the IHaus Project Indian Teepee Playhouse is available in three colours, and they all look fantastic, and to top it all there are some nice little features such as the roll down widows and storage pockets.
LittleTom children's Playhouse has a level of quality comparable with the excellent Smoby Prett House product. It is made from high quality, durable plastic, and features things like picnic benches, and moveable plastic gears on the inner walls. Just like the Smoby product, this is another one that you don't have to panic about if a storm is brewing on the horizon as it is weatherproof and very sturdy.
The Smoby Kids Pretty House Playhouse and Kitchen pick for the best overall playhouse can't be beaten on build quality and durability, the other featured playhouses just don't compare. This is a product you can leave outside and not have to worry about the weather damaging it, and it will still look as good in a year as it does on day one, unless your child is King Kong. The extra features such as the sink, cooker, and utensils are something that children will love, and the small touches like engraved butterflies in the walls make this playhouse a winner.
The wonderfully decorated IHaus Project Indian Teepee Playhouse with pictures of ice creams and lollies, not to mention pictures of wheels and a windscreen, this ice-cream van-themed playhouse is a huge hit with younger children. It is extremely easy to assemble and pack away, and also very easy to clean, and this is another reason why it's a good buy if you have young kids. For children older than five, you should probably look at other products that are more durable.
The ImpiriLux Dragon and Knight Castle Playhouse is a fantastic-looking product that is sure to please kids of all ages. It is a good size and will accommodate a couple of children playing inside at the same time, and the roll-down door can add a feeling of privacy while your little knights hatch their plans to tackle those dragons. It is beautifully decorated inside and out, and will not break the bank to buy either.
A playhouse for toddlers that features a detachable ball pool, and has good ventilation and visibility for the parents, the Nice2you Pop up Kids Play Tent Portable Playhouse offers buyers very good value for money. Its ability to be simply popped up in seconds, and also to be packed down back into its storage and carry bag, have earned it a place on our list as the best playhouse for toddlers.
A playhouse that combines kids' imagination and exploration with creativity, Ricco Kids 3D cardboard Playhouse can provide so much fun for your kids. Its eco-friendly design will make it popular with those of you who are trying their best to save the planet, and the fact you can colour or paint the playhouse yourself is just the icing on the cake.
Specification: Material: Plastic, Weather-resistant: Yes, Size: 145 x 110 x 127 cm, Suitable for: 2+ years
The Smoby Kid's playhouse stands out from the crowd for a few good reasons, and is definitely a product you should consider if you have more than one child under the age of 8.
You will need a fair bit of space in your garden though as this is a good-sized kid's playhouse and measures 145 x 110 x 127 cm. This extra size is not wasted though and there are lots of cool features that your children and their friends will love.
For a start, there is the main playhouse itself which has a total of six windows; two small ones in the front, two slatted, and two sliding windows, so it is very well ventilated and won't get too hot in summer. There is also a half-sized swing door on the front entrance and moulded shapes of plants and butterflies in the walls that just give it a look of next-level quality.
On the outside of the playhouse, there is a kitchen area, well detailed with an imitation sink and tap, a hotplate for some imaginary cooking, and places to store the utensils and cutlery. What's more this kid's playhouse comes with your child's very own plates, cooking pot, cutlery, drinking glasses, spatula, and two plastic sausages. Everything they could need to play chef.
You don't have to worry about the durability of this product. It is made in France and constructed out of top-quality plastic, making this playhouse robust, sturdy, and very stable once assembled. The plastic is weatherproof and also resistant to UV damage so leaving it outside shouldn't be a problem, and compared to polyester playhouses, this is just on another level when it comes to robustness.
Putting this thing together is no big chore and all it takes is an hour or so to get it built.
There's no need for any tools either, you can simply do it with your bare hands. If you ever want to disassemble the playhouse, it is just as easy.
At the time of writing this article, the Smoby kid's playhouse is on sale for around 210 pounds, and although that is quite a lot when compared to some of the other products, the quality of the materials, and robustness of this playhouse make it worth paying the extra for.
Specification: Material: Cotton, Weather-resistant: No, Size: 120 x 120 x 160 cm, Suitable for: 3+ years
Native American teepees are a very popular and common style of kid's playhouse for garden use, and there are loads of options to choose from, but we think that this one from Haus Project is the cream of the crop. Sure, you could say that it is a little more expensive when compared to some of the other teepee playhouses, but it's not a great deal more and I think the overall quality of this product speaks for itself.
For a start, let's talk about the main materials. The wooden support poles are made of good quality, New Zealand pine which not only makes them very strong but also looks beautiful. The poles have a nice finish to them and there are no splinters or rough edges to be seen.
Now onto the fabric. Haus Project has chosen 100% cotton for the main cover, making it super soft and breathable, and also very tough, tear-resistant, and can be washed in the washing machine. In comparison, cheaper models use a lot of synthetic materials that are just inferior, and will not last anywhere near as long.
No matter which of the three colour schemes you go for, you will get a free set of fairy lights to decorate with, and also roll down windows. We chose the grey, and the striped pattern on the outside of the teepeee looked great and was really appreciated by the kids who were playing with it.
When your kids have finished playing, or you see dark clouds approaching, you can quickly take this teepee playhouse down and pack it away in its own soft carry bag. This also makes it portable so you can take it anywhere you like. The carry bag even has a nice comfortable handle to make carrying the playhouse around a piece of cake.
Standing 160 x 120 x 120cm once fully erected, there is more than ample space for more than one child to play inside comfortably, and you could have some toys in there with them too. Another nice little touch are the large pockets in the inside of the teepee to keep your child's favourite books or teddy bears in.
So, to sum up, if your kid has their heart set on a teepee style playhouse, my advice would be to spend that little extra, save yourself the headache of explaining to your child why their playhouse is broken in a months' time, and get a far superior product in the form of this one from Haus Project.
You won't regret it.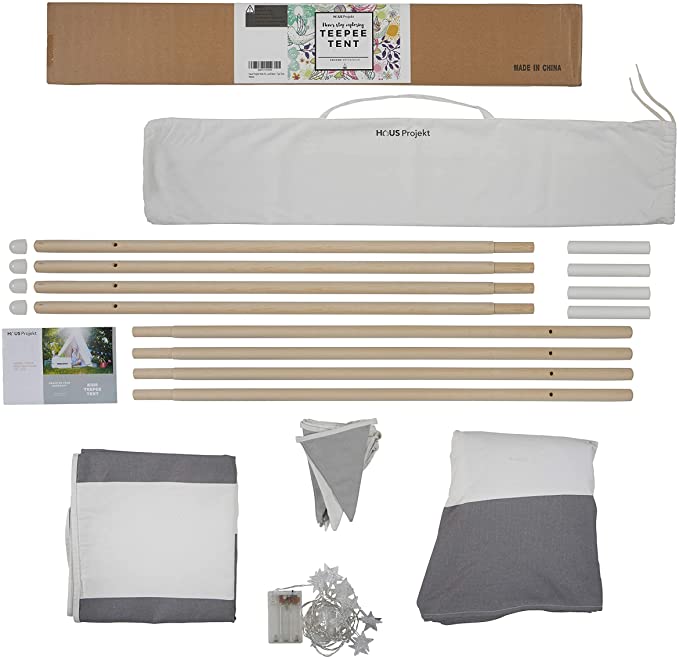 3. Nice2you Pop up Kids Play Tent Portable Playhouse
Specification: Material: Polyester, Weather-resistant: No, Size: Tent 31.5″ x 31.5″ x 35.4″ / Ball pit 47″ x 23.5″ x 15.25″ ,Suitable for: 3+ years
Nice2you pop-up playhouses are available in four different styles from fairy castles to bakery shops, all for around the same price give or take a couple of pounds.
The model that we looked at was the blue underwater-themed kid's playhouse and we thought it was something that any children between two and four years old would love.
There are two parts to this version of the Nice2you kid's playhouse, the play tent itself and the detachable ball pit, and when combined they measure 152cm long, 104cm high, and 38cm wide, so there's definitely enough space for one or two young children to play inside.
The playhouse features two circular openings, one on the front and back, and this creates a fun tunnel for them to crawl through right into the ball pit. When children are playing inside the playhouse, it's easy to keep an eye on them through the mesh sides and 'windows' in the sloped roof.
On the outside of the playhouse, above one of the circular entranceways, you will find a small basketball-style net that your young kids use to help them develop hand-eye coordination while having fun. Just to note, the balls aren't included with the playhouse and need to be bought separately.
This is a pop-up kid's playhouse and works in much the same way as a pop-up tent or football net. It arrives in its carry bag, you take it out and the playhouse will unfold itself into shape. There's absolutely no assembly required and your kids can be happily playing away in seconds.
Folding it away again is a little trickier, but once you get the hang of it, packing away becomes a much easier and faster affair and this makes this playhouse totally portable, so you won't have to deal with tears when your child wants to take their playhouse to their friend's house or when visiting grandma.
The material used by Nice2you is a non-toxic polyester that feels pretty durable while remaining soft and breathable too, especially the mesh netted areas. Would it withstand kids older than three or four roughhousing in it? Not very long, but for toddlers and very young children, it is a really nice playhouse for the garden or the bedroom.
Specification: Material: Polyester, Weather-resistant: No, Size: 51 x 40 x 40 inches , Suitable for: 3+ years
Kids love magic and fantasy. Are there any of us that haven't been forced to sit through Disney's Frozen for the 500th time recently?
Makers of kid's playhouses for gardens know this and that's why there are so many wizard or Princess castle-themed products out there.
This one from ImpirLux is available for under forty pounds at the time of writing and features some wonderful images of dragons, just perfect for stirring up the imagination of your little Knights and Princesses.
This is a portable kid's playhouse and so it can be folded up into and placed into a carry bag for transportation. Assembly is very easy and just needs you to fit some poles into slots in the bottom of the tent to give the playhouse its shape and stability, and I would say you can have it up within 10 minutes.
Once assembled the round-shaped kid's playhouse stands 50 x 40 x inches and has a large doorway that can be covered by rolling down the curtain that is stored above it. There are also two circular mesh windows to provide ventilation.
We tested this product with some children of close friends, and I have to say that once it was up, it looked really good and the kid's couldn't wait to get in there and start playing. The pointed roof, emblazoned with a large red dragon, is especially eye-catching.
Now for the downside of this kid's playhouse. This is a low-budget product and because of the low price tag, the thickness or quality of the material might not be up to the standards of more expensive models. This also might affect the longevity of it, but this is to be expected of low-cost products of any kind I guess.
This can be a great kid's playhouse for your garden if you're on a tighter budget and should last a while if smaller kids are using it and they are told not to play too roughly inside it.
Specification: Material: Polyester, Weather-resistant: No, Size: 112 x 70 x 70 cm , Suitable for: 3+ years
To call this product a play 'house' wouldn't be strictly accurate as this product isn't actually house-shaped.
This playhouse is styled like a pink ice cream van. It features a rectangular shape with curved edges just like a modern van and has images such as a windscreen, wheels, and other specific things to help with your kid's imagination. A good example is a serving shelf that has several images of ice cream and lollies.
As you probably guessed by the name, this is a pop-up product which brings with it its own pros and cons. On the plus side, there is no assembly, not even any messing around with poles. The playhouse will simply spring into shape once it's unfolded, and this is a lifesaver for those of us who aren't really the most technically minded.
The downside to pop-up playhouses is that they are not as durable as, say, plastic models like the ones we just reviewed, and this limits their longevity. Then again, they are usually available at a tenth of the price of the plastic playhouses so you expect too much.
That's not to say this is flimsy in any way. The polyester material is of decent quality and has been double sewn at the seam to prevent premature tearing. The material is also washable so you can scrub off the ice cream and chocolate stains and keep it looking like new.
The polyester hangs off a flexible but strong steel frame, and all of it folds up neatly, with a little practice and patience, into the compact carry bag.
When the playhouse has unfolded it is surprisingly large and roomy with dimensions of 112cm long, 70cm wide, and 70cm high, so your kids won't have any trouble crawling through the entranceway in the back and popping their heads out of the holes in the top.
Whether your kid wants to be a customer, or just to provide everyone with refreshments, they can live out their fantasies with this low-cost pop-up playhouse for under twenty-five pounds. That's pretty good value.
6. Ricco Kids 3D cardboard Playhouse
Specification: Material: Cardboard, Weather-resistant: No, Size: 100 x 110 x 86 cm , Suitable for: 3+ years
I know, when you see the words 'cardboard' and 'playhouse' in the same title you just think of your kids crying next to their broken toy, but this is actually quite sturdy and durable, and as long as you can make your kids understand that they can't play too rough with it, it should last a while.
The best thing about these playhouses though is that there's a good selection of shapes and themes to choose from. So, whether your kid is fairy tale castle mad, or they prefer the circus, you can find something that they will love.
Another great feature of these playhouses is that your child gets to colour it in themselves, making it completely personal to them. All you'll need to do is give them some colored pens, and let them colour to their heart's content. This adds another dimension to their play and helps with creative development.
if you're always trying to do what's best for the planet and your child's future which most of us are these days, then you'll be happy to hear that this playhouse is made from 100% biodegradable and recyclable materials, and will not harm the environment in any way when you dispose of it in the future. This is a much more eco-friendly option when compared to anything made of plastic.
The main flaw of this product is that it can't really be used outside unless you are ready to pick it up and run it inside when the dark clouds start forming overhead. Either that or place it under some kind of canopy to keep the playhouse dry.
Due to covid, there has been a lot of price hikes going on, especially with online products, and a year ago, this playhouse was available for around half of what it costs now. I would say that the old price was fair, with the new one being a little pricey for something made out of cardboard, but these products do look great, and your kids will love colouring or painting them, so I guess it just comes down to personal opinion as to whether or not it is worth it.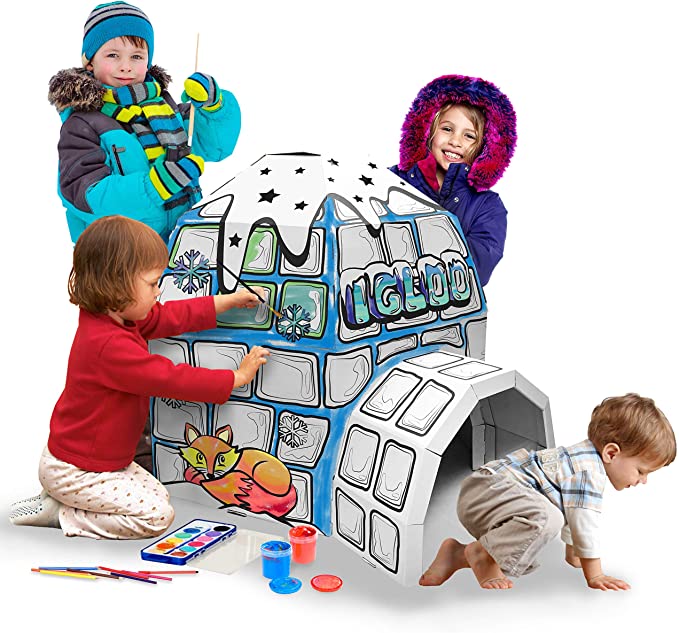 Specification: Material: Plastic, Weather-resistant: Yes, Size: 104 x 95 x 118 cm , Suitable for: 2 – 4 years
Looking for a kid's playhouse that is a bit more durable than the usual tent-style products? Well, then take a look at this excellent product from Little Tom.
Unlike a lot of other playhouses for your garden, this one can be left outside without worrying that the weather will ruin it, even if there's a particularly heavy downpour. The Little Tom children's playhouse arrives in pieces, but most of those pieces are quite large, so there aren't too many of them, and putting them together is very easy. You won't even need any tools as the plastic screws can be inserted by hand or with the use of a coin or butter knife.
All the pieces are made of high quality, thick and strong plastic, and there is no way that your children will be breaking this playhouse any time soon. For safety reasons there are no sharp edges as Little tom has seen to round them all, so even toddlers can play in it without any danger.
The theme of this playhouse is a little cottage and the plastic has faux stone and woodwork on the walls, and a pretend tile pattern on the roof. There are good-sized windows on two sides, one with shutters that can be opened or closed, and a full-size doorway with a half-sized gate.
Probably the best feature of the kid's garden playhouse is the picnic table and benches. Not only do they look great, but they are also very well built and sturdy and can take loads of up to 25 kilograms. If the weather looks to be changing, you can simply fit the table and benches inside the main playhouse instead.
On the inside of the playhouse, your kids will find that one wall has been fitted with some moveable plastic gears that they can play with, and with overall dimensions of 104 x 95 x 118 cm, your children don't have to play alone as there is plenty of room for a friend or two to join them.
Solid, sturdy, and high quality are all words that spring to mind to describe this product, and if you are looking for a kid's playhouse for your garden that is built to last, then this would be the one.
Best Kid's Playhouses Buyer's Guide
Should you go for a budget playhouse or one that costs hundreds of pounds? Wood, plastic, or fabric? What size is best? What style?
These are just some of the many questions you are probably asking yourself if you are considering buying a kid's playhouse for your garden. So, to help you find answers to them, we put together this short little buyer's guide with some hints and tips.
Comparing the different types of Kid's Playhouses
There are a number of different types of kid's playhouses, but for the sake of simplicity, we will separate them into plastic playhouses, teepee playhouses, pop-up playhouses, and cardboard playhouses.
When you compare all the different types, the hard plastic models like the Smoby Kids Pretty House Playhouse and Kitchen are easily the most durable, and if you're planning on leaving the playhouse outside, these are the type to go for. You have to be aware though, that these are most often much more expensive than other types of playhouses.
Teepee playhouses like the IHaus Project Indian Teepee Playhouse are very popular, and comparatively easy to set up and assemble. They are better suited to good weather, or indoor use though.
Pop-up playhouses are the easiest type to assemble and can be ready to be used in just seconds. By design though, they are not as stable and sturdy as plastic playhouses, and so are usually best suited for younger children.
Cardboard playhouses are a fairly new thing when compared to the other types. Of course, they can not be left outside in case it rains, but they are usually fairly inexpensive and the fact that your kids get to decorate them as they wish is a big bonus.
Playhouse theme/style
These days there is so much choice available to us when we are shopping that it can actually be a hindrance when trying to make a final decision. A good way to narrow your options down is to think about what your child is crazy about and go with that theme, be it army, princesses, racing cars, or their favourite cartoon.
Another to keep in mind when choosing a style is just how long you think your kid will be into that theme. There's no point spending hundreds of pounds for a top of the range racing car themed playhouse for your garden if they will move onto some other craze or fad within a few months. Then again, if it's something that they've been into for a while, it might be worth the investment.
Size of the playhouse
How many kids have you got who are at the age to use the playhouse? Will your kid be playing alone most of the time or with friends? How much space do you have in your garden?
Ask yourself these questions before you buy your kid's playhouse as they are very important factors. If your children are close in age and will both be playing in the playhouse, you are going to need something big like the Smoby or Little Tom's playhouse. Smaller playhouses or tents will probably be fine for really young kids who tend to play on their own.
Going out with a tape measure and seeing just how much space that playhouse you've had your eye on will take is also a very good idea, to avoid shocks later on.
Price
The price range for kid's playhouses for gardens is vast, starting from as little as ten pounds and going up into the hundreds. As we already mentioned, you need to be sure that your kid isn't going to go off the idea or theme of the playhouse or grow out of it before you buy it.
There is also the issue of quality to consider too. Very cheap products of this kind tend not to be the most durable and long-lasting, and paying a little extra can often get you a far superior product. The type of playhouse you want to buy will also play a huge part in the price you should expect to pay. Large plastic models with opening doors, picnic benches, and all sorts of other features are going to cost you hundreds of pounds. That being said, they will last for years and are generally much higher quality.
Play tents are cheaper and vary in price a lot, but this is where forking out an extra twenty to thirty pounds usually pays off, quality-wise, due to the materials used.
Assembly
How are your DIY skills?
If they're not up to much, you could find yourself getting very frustrated trying to assemble the more complex playhouses on the market, and you might be better off with a pop-up model like the Nice2you model we reviewed earlier.
There are also folding tents which still require some assembly, but it is kept to a minimum and usually only involves clicking a few poles together. Plastic or wooden playhouses will require more time to put together if you compare them with pop-up products, but most modern plastic models can be assembled without the need for any tools. Wooden ones on the other hand will definitely require some working knowledge of DIY and basic tools.
---