Written by Terry Smith
Our site is reader supported so when you click a link to Amazon we may earn an affiliate commission.
UK's best garden weeders: weed pullers with long and short handles to remove stubborn Dandelions and thistles reviewed
This article was last updated on April 23rd, 2022 at 5:32 am
Any tool that saves me bother, especially the bending over part is fine by me. That's why I love my long handled Fiskars garden weed puller. It's not just a weed puller though, my litter picker and long handled leaf grabber are a godsend too, but they don't come with the added benefit or being a seriously durable tool that can uproot the most annoying dandelions and thistles grabbing to the base of roots – as deep as 4 inches no less, but there are other types of garden weeder, or weed puller if you prefer too in this review so don't just stick with My trusty Fiskars I've been using for the last three years, please take the time to familiarise yourself with the other weed pullers – they may be more suited, and old Grandpa will be sad 😀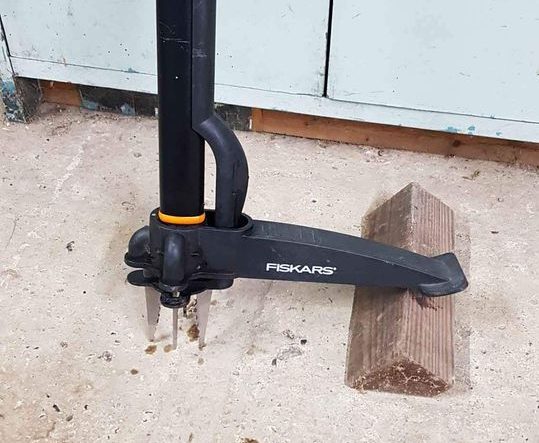 There a two main types of garden weeders or weed pullers. Both are manual, but one is a small hand weeder without extension, the other is a stand-up weeder. Both are good tools and both useful in their own way. Kneeling might not always be an option , so stand-up weed pullers would better suited. If not, you might need something a little cheaper that does the job equally well. So, for those reasons we have decided to review both. Firstly, check out our best stand-up garden weeders, followed by our best hand weeders being sold in the UK right now. If you decide on a short handle, you may feel free to take a look at my gardening knee pads or garden kneelers which are a life saver when weeding on ones knees!
Best garden weeders: top editor picks for weed pullers in the UK:
Best long handled weed puller: Fiskars Xact Weed Puller
Alternative long handled garden weeder: Spear and Jackson 4854WP Mechanical Weed Puller
Best short handled weed puller: Spear & Jackson 3048EL Select Stainless Weeder and Fulcrum
Best telescopic garden weed puller: Fiskars SmartFit Weed Puller Telescopic – very very useful extension for taller people or those who want to keep a straight back.
Best garden weeders buyers guide:
Weed pullers are designed to be placed over the weeds and dug into the ground and finally levered up pulling the weed out with the device. Weed pullers are favoured by the professional gardeners and landscapes because the weed is pulled out completely with the root attached and leaves minimal damage, if any to the lawn.
But did you know you get crevice tools as well as long handled – and many more useful features like fulcrums and pedal operation:
What's a fulcrum?
A fulcrum is basically a rod that comes out of the back of the point with which you leverage, and it gives you amplified purchase and leverage which is really handy for deep rooted weeds. Here's a look at a fulcrum on a long handled weed puller: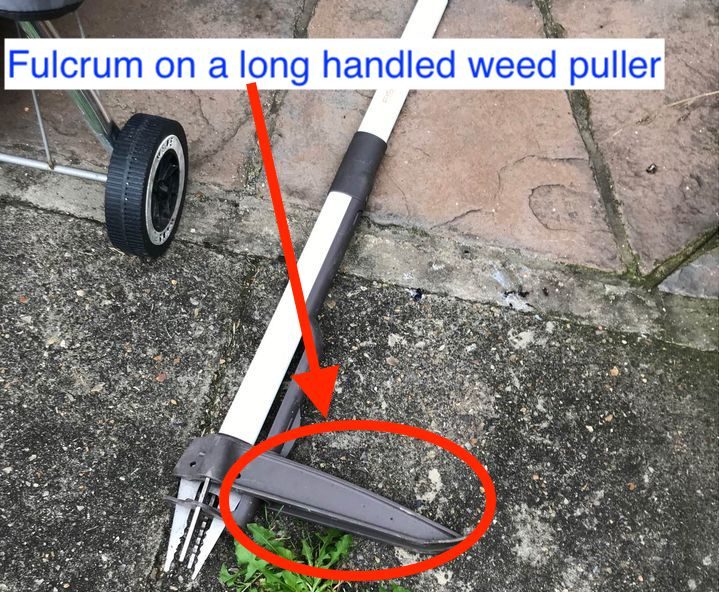 On a short handled weed puller you'll find a less aggressive fulcrum – it's normally curved metal to give that little bit extra pull and take the pressure off the hands a little: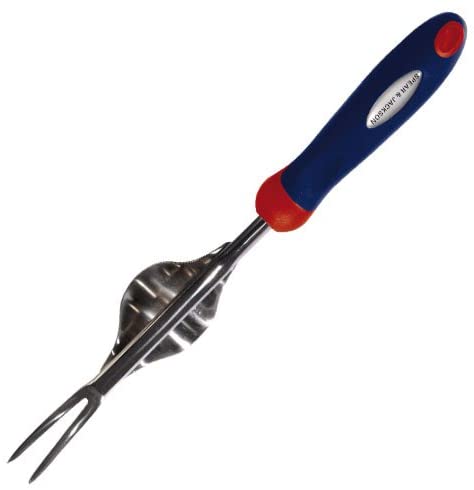 Without this leverage you wouldn't pull the weed size this tool is designed for.
Depth of extraction
This is really important – if you go for the Fiskars Xact Weed Puller, Spear and Jackson 4854WP Mechanical Weed Puller, or the Fiskars SmartFit Weed Puller Telescopic then you're going to get about 4 inches of depth penetration into the ground. By contrast the Orientools which is a good tool in it's own right will only get you three inches.
Then if you're talking hand weed pullers then less still. Basically, you want one of the top models for weeds like Dandelion and Thistles. If it's smaller plants in grass like daises then you definitely want to opt for the Wilkinson Sword.
Best short handled weed puller: Spear & Jackson 3048EL Select Stainless Weeder and Fulcrum
Long vs short handle
Almost everyone wants a long handled weed puller – this is because you have additional leverage, and can take advantage of the fact you use your legs, not just hands and wrist – which is what you're limited to when using a hand grubber. The best long handled weed puller in my opinion is the Fiskars Xact Weed Puller. This is so much easier than hand weeding that I would dare to call it addictive. So what use do you actually have for a hand weeder?
Well for a start the smaller weeds are a problem – if you haven't got a little hand weeder then you're not going to get them. The very best weeder for the small stuff is without question the Wilkinson Sword 1111126W Steel Hand Weeder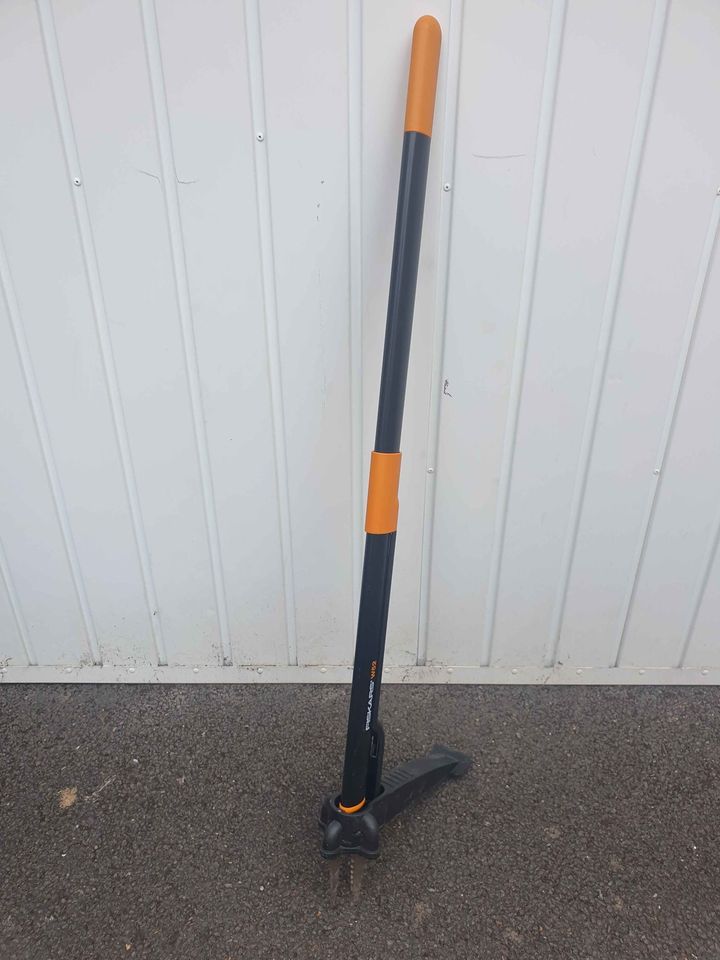 Foot pedal vs push and twist
Most of the main long handled weeders work with a foot pedal – some have a twist and pull mechanism. They both work in completely different ways exerting pressure on different parts of the body. For example, my trusty Fiskars is great if I am looking to use my legs and keep as much of the pressure off my hands as possible. This is because thee pedal is the point of pressure to dig into the Earth. By contrast, if you have a problem with your feet or knees then you may prefer the weight and pressure to run through your hands and arms – if this is the case then you want to take a look at the Orientools review – this is perfect for such a scenario.
Stones stop a weed puller working properly
It doesn't matter what weed puller – if you hit stones it'll bend and break the tines. If you get stones caught in between the tines as you try to pull a weed out it'll stop the mechanism engaging. Most people says the Fiskars handles this best but I have to tell you from years of use it really still catches and can be annoying. This is definitely a personal problem – the tool relies on pull back to lock – as you pull back, if a stone is caught inside, it simply can't lock – there's no way you can blame the tool for that limitation but you can certainly say lawns and rock free soil are far more favourable for a garden weeder.
Why buy a garden weed: conclusion
Garden weeders save you pulling your hair out, there's nothing worse than having spent hours working on creating and shaping your professional looking garden and seeing the lawn, boarders or flower beds sprouting irritating weeds. Just pulling out the weeds by hand or with a grubber might be your first port of call. However, this will just become an endless cycle of pulling weeds far too regularly. A garden weeder should feel good in the hand and be made from quality steel while having no problems cutting through soil. With that in mind, I have reviewed the best garden weeders to save you time.
If it's the gaps in your patio, you might even think that you need to start using expensive weed killer and that this is the only way to tackle such pesky reoccurring weeds, nettles or thistles. Weed killer is not only expensive but toxic and extremely harmful, not only to humans but to the environment too. Being such a dangerous product can it really be the only way to kill weeds? I prefer a garden knife, with a good patio cleaner and a cordless pressure washer I can carry about the garden with me to
Simply pulling them up only for them to return can take its toll. Maybe, digging huge holes out of your lawn would work, you could try to be a bit careful with a trowel and hand fork I suppose. But who wants to take the time or effort while leaving the lawn in a state?
Well the best way and most eco-friendly way of removing weeds for good is by using a garden weeder or weed puller as some like to call them. You might even be pleased next time you spot a weed in the garden because these devices make such light work of weeding you will be happy to get out your weed puller.
---