Written by Terry Smith
Our site is reader supported so when you click a link to Amazon we may earn an affiliate commission.
Best garden hammocks reviewed for Summer 2021 in the UK
This article was last updated on August 7th, 2021 at 6:49 am
When you think of pure relaxation, the image of swinging in a hammock that's suspended between two palm trees with the ocean washing in only a few feet away is never far from most people's minds. The thing is, you don't need the beach, ocean, or palm trees to enjoy the relaxation that comes with swinging in a hammock, you can still get the benefit while in your own back garden, on your balcony, or even indoors.
If you enjoy camping, a nice lightweight travel hammock can really bring an extra level of enjoyment to being in the great outdoors, and if you're thinking of going backpacking through some countries with hot weather, having your own compact garden hammock to sling up wherever you like is always a bonus. They can also be a nice addition to your garden furniture, and can be a fun alternative to sun loungers or chair swings.
Garden hammocks are available in a range of designs, sizes, and colours, and can vary in price quite a lot too. To help you along with your choices, we have reviewed the top selling products in the UK, to see if they are really worth your time and money.
You can read our opinions in the write ups below-
Comparison table: Best garden hammocks reviewed for Summer 2021 in the UK

Product
What We Think
Price

Includes double hammock space-saving steel stand and carrying case
Hammock bed is 63 x 94-inch with a total length of 130-inch accommodates two adults 450-pound capacity...
Don't have 20 years To wait for those trees
Easily adjustable hammock hooks allow you to decide how low or high you want to lay...
Rubber end caps allow you to safely assemble this stand indoors They said it couldn't be done a hammock...

Comfortable Hammock: Constructed of tightly woven colorfast cotton
Durable With Great Capacity: Crafted from cotton with rope hangers on either side...
Easy Setup: It takes seconds to set up the hammock
Compact & Portable:The hammock could be easily folded into a compact size and stuffed into its own drawstring bag...
Outdoor & Indoor Use: A hammock is used for swinging

STRENGTH and TREE PROTECTION-- Constructed of Wrinkle-resistant Corrosion-resistant fabric with triple-needle stitching and specially designed ultra-strong nylon straps.Its breaking...
SUPER LIGHTWEIGHT & COMPACT -- Storage bag is conveniently sewn right into the hammock so you never lose it....
EASY TO SET UP -- This portable hammock redefines camping
OFFICIAL CERTIFICATION--Naturefun Hammocks have been tested the capable of holding up to 300+ kg by TÜV.Meanwhile...
LIFETIME AFTER-SALES SERVICE-- Being a professional outdoors brand

GET SUMMER IN FULL SWING – relax in the sun all day long with this comfortable and stylish hammock....
100% COTTON – in an orange
ASSEMBLY REQUIRED – comes with full instructions on how to assemble the stand and position the hammock correctly...
DIMENSIONS – L290 X W91 X H114cm with a weight capacity of 120kg...
MANUFACTURER 2 YEAR WARRANTY INCLUDED

HIGH QUALITY MATERIAL: Made of 70 % cotton + 30% polyester
ROBUST AND GOOD RESILIENCE: Beautiful and stable with hand rolled fishtail braids at the ends...
LARGE SPACE DESIGN: Enjoy the books or sunshine with your friend together with large bed size: 240 x 150...
MLUTIFUNCTIONAL USE: With two pillows and can be put anywhere you like...
EASY TO CARRY: Easy to hang and remove
1. Vivere Double Cotton Hammock with Space-Saving Steel Stand
Probably the most popular garden hammock in the Uk at the moment is the Vivere double cotton hammock. Don't have any trees in your garden? That's no problem with this hammock as it comes with its own stand to hang it on. The stand is made from heavy gauge steel that has been powder coated with either a charcoal or oil rubbed bronze colour finish.
Now, if you have had powder coated steel products before you will know that when the paint gets scratched off, they are prone to rusting, but Vivere have thought this through and given the stand a zinc coating which will prevent this from happening, extending the longevity of this garden hammock stand.
The hammock itself is made from high quality cotton fabric that has been double woven for extra strength and durability. It is an extremely soft and comfortable material that you will instantly sink into and let your worries blow away in the breeze. You want a choice of colours? Vivere has gone the extra mile here and is offering this excellent garden hammock in 20 different colour schemes! If you can't find one you like out of all those, I'd be shocked. Well, unless you were my wife, anyway haha.
At 94×63 inches, the Vivere garden hammock is easily big enough for two people to enjoy at the same time, although with comfort like this, you might not feel like sharing and just like sprawling out on your own. Still, the option is there should your other half or kids get jealous. Setting this hammock up was a doddle and can easily be accomplished by a single person in no time at all, and once it's up, you can adjust the height just as easily thanks to the hammock hooks on the stand, and the polyester end strings.
If you want to set this model up indoors, no problem, the legs on the stand have been given rubber capped feet by Vivere so it won't scratch your floors, and they also give you more grip on smooth surfaces like decking and tiles so the stand won't slip.
If you are lucky enough to have a couple of trees in the right position, you can always leave the stand to one side and attach it to the trees instead. Vivere has a selection of extras that you can buy separately such as tree hooks, hanging chains, and even a wheel set for making the frame more mobile.
I can't think of anything negative to say about this garden hammock. It is an incredible product that does everything it should, and does it all well. It is well built with good materials, and has a simple but practical design.
10/10 from me for the Vivere garden hammock.
If for some reason the Vivere garden hammock didn't tickle your fancy, maybe this equally excellent product from Songmics will do the trick?
The first thing I noticed about how the Songmics differs from the Vivere, apart from the absence of a frame, was that when hung up, it offers a much more 'flat out' lying position. While lying in the Vivere hammock, I was sunk deep into it with the sides coming up quite high, encasing me within it. With this Songmics garden hammock, this doesn't really happen because at either end there are wooden bow bars, and these keep the hammock fairly open in comparison.
This design makes it easier for a person to get in and out of the hammock, but doesn't give you the same 'sunken in' feeling that you get with the Vivere. Which is better? Honestly, it is down to your own preference, and I personally liked them both.
Along with the support bars, the Songmics offers two soft pillows that raise the level of comfort just a little bit higher. They are not fixed in place either so you can remove them if you wish. The usable part of this garden hammock measures 210cm long by 150cm wide (in the middle) and can comfortably fit two people in it. It can also withstand loads of up to a staggering 300 kilograms thanks to the super strong material which is comprised of 70% cotton and 30% polyester. This combination gives us a fabric that is not only strong, but also soft, absorbent, and breathable.
To add to the robustness of this already outstanding garden hammock, Songmics have given this hand rolled, interlocking fishtail braids on the ends which not only look wonderful, they really do a good job of spreading weight and adding to the overall support and sturdiness of the hammock.
This is a portable hammock and comes with its own carrying bag, made out of the same high quality material that the hammock itself is made from. It packs away easily in minutes and is lightweight enough to take it wherever you like. There's even a shoulder strap on the carry bag to make things even easier.
With four colour schemes to choose from, and a ridiculously low price for something of such high quality, I can't see any reason not to fully recommend this amazing garden hammock to you all.
The Songmics hammock we just reviewed showed that you don't have to break the bank to get a top notch product, and this Anyoo outdoor garden hammock reinforces that with a low price of its own, backed up with excellent quality.
This 210x150cm hammock is super soft, lightweight, and offers great comfort, thanks to the tightly woven cotton fabric that really allows you to sink in with a big smile on your face. It is also a very strong fabric, and together with the thick knotted rope hangers on each end, provide enough support for up to 200 kilograms.
Everything you need to set up this garden hammock is included in the low price. There are wide straps that are made from the same material as car seat belts so you know they can be trusted for strength, 2 high quality metal carabiners, and metal rings on the straps to make sure there are no weak links.
There is also a handy, drawstring carry bag for transportation, and the hammock folds up tightly without any real bother at all to fit in it. At only 1.7 kilograms in weight, you should have no excuses for not taking this garden hammock with you everywhere you go, and would be perfect for slipping into your backpack when you go camping or even hiking.
The only thing that would make me suspect this product is the stitching. On the model we tested, there were a couple of places where it was starting to fray. Then again, this is a very low cost hammock so I suppose you can expect a few minor flaws like that. It could also just be we were unlucky to get a model like that. There are eight different colours to choose from- blue, brown, red, white, and then four colour schemes that are a striped combination of those base colours.
All this together makes this a very good product, and despite a little flaw here and there, I would still feel safe recommending it.
The Naturefun Ultra-light travel hammock would be a great choice for those of you who want something to take camping or travelling. As the name suggests this is extremely lightweight at only 520 grams, and that includes all the extras that come with it! Not only this, but it is actually very strong and can withstand a lot of weight loaded onto it, easily enough for two adults.
Included with this garden hammock are 2 heavy carabiners and some nylon straps that have been specially designed to make them extremely strong. The strap system has been thought through well by Naturefun so you don't need to tie endless knots, and setting up this hammock is a piece of cake. They have also been made so that they don't slide down or around the tree and therefore not cause damage to it. Something to think about for all you nature lovers.
One great feature of this Naturefun portable garden hammock is that the carry bag is actually sewn into the hammock itself and so there is no chance of misplacing or losing it. As a person who is constantly losing things, I really liked this practical idea. This bag also acts as a pocket on the side of the hammock once it is set up and is a great place to keep your bottle of water, powerbank, or other essentials in so they are close at hand.
The material of the hammock is parachute nylon and is corrosion and tear resistant, as well as comfortable and breathable. Although it is not quite up to the same standard as the Vivere garden hammock, for a product that costs around 15 pounds, it is very good value for money.
There are also a whopping 22 different colours to choose from if you decide to go with the Naturefun travel hammock so you should be able to find something that you find suitable and to your tastes.
The only thing I can downgrade a point for when it comes to this product is that the straps could do with being made a bit longer. After wrapping them around trees for support, it doesn't leave you a great deal of length left.
Apart from that, this garden hammock is outstanding for the price and would definitely be something I would like to take on a camping trip with me due to the lightweight design and ease of set up.
If there's something that can be used in the garden, you can bet your life that Vonhaus will have one of those products with their name on it. From lawnmowers to sun loungers and everything in between, Vonhaus gardening products and tools often grace the top 10 lists online, and so it is with our best garden hammocks list too.
This model comes with its own support frame on which to string it up on, so you can set this hammock anywhere you like without the need for any drilling of holes or tying to trees or fences. It arrives as a flat pack but there aren't many individual pieces and getting it all assembled is as easy as they come. This also should mean that taking it apart for storage will be straightforward too, so I tested it and it was.
The frame is constructed out of powder coated steel and feels more than solid enough to do what it's supposed to. The shape of it also looks really cool, with curved edges rather than sharp ones giving it a nice aesthetic. The hammock is made from 100% cotton making it extremely comfortable and really good for hot, sticky weather as it breathes really well and prevents you sweating excessively.
We tested the single person model and it had a wooden spreader bar at either end of the hammock, but the cotton material still sunk in nicely, so it was a good balance between being cocooned in and still having space inside to move around. The double person model doesn't have these wooden bars though so please keep that in mind.
With measurements of 290cm long, 91cm wide, and 114cm high, there is loads of room for a single person to lay back and enjoy the day in, and with a maximum weight capacity of 120 kilograms it should be strong enough for 99.9% of the population.
This Vonhaus garden hammock is available in two different colours and comes with a two year warranty just in case there are any issues with the product. It is priced very reasonably and has a great overall level of quality to it that makes it outshine many other models in its range. Extremely sturdy, and well worth the money.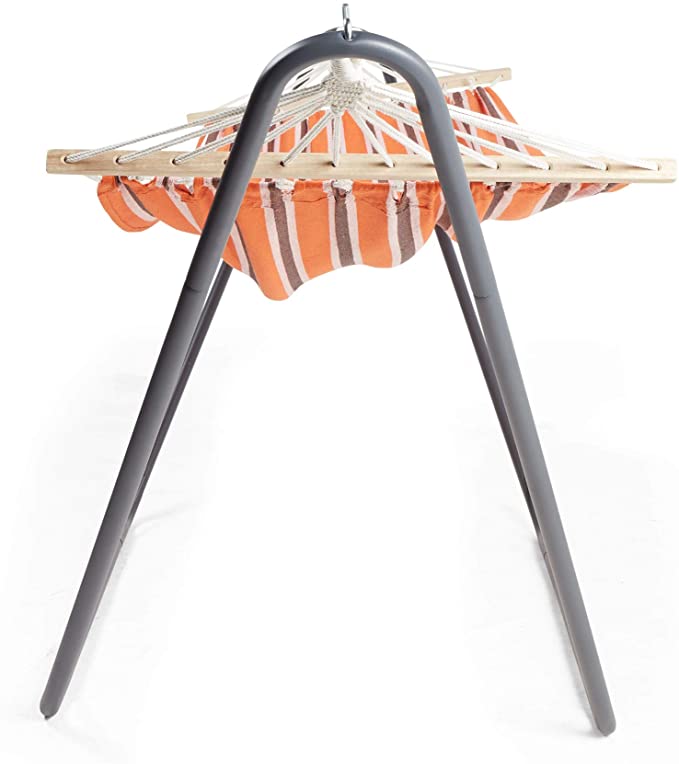 Best Garden Hammock Buyer's Guide
If you choose the right hammock, you will be treated to endless hours of perfect relaxation as you gently sway to and fro. Picking the wrong product on the other hand could lead to frustration, a waste of money, and even injury in some cases.
To help you make the right decisions we have put this little guide together for you, we hope it helps.
Size of your garden hammock
The two most common sizes of hammock are single and double, which refer to how many people are supposed to be able to fit in them comfortably. There are also king size models that are not as common and these can be large enough to accommodate 3 large adults. Usually, the length of the hammock isn't really affected by being single or double sized hammocks but the width is where the difference is.
You should also think about what you want the hammock for. For example if you intend to take it camping with you or on hiking trips, you might want to look for a compact and lightweight hammock that is designed specifically for that purpose.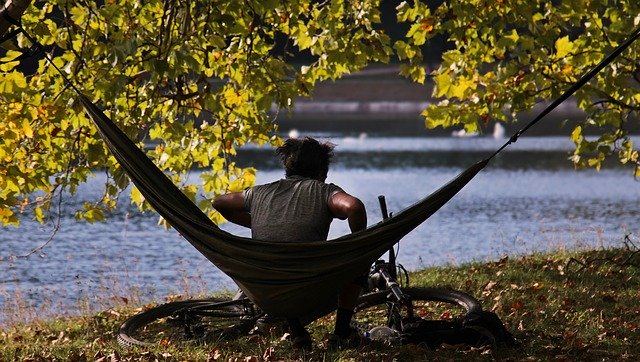 Type of hammock
It might surprise you to hear that there are quite a few different types of hammock. However the main ones that are sold in the UK are either the Brazilian/mayan type that you sink deep into and let the fabric envelop you in a kind of cocoon, or the American type.
American style hammocks have spreader bars, often made of wood, and these keep the sides from closing in on the person in the hammock. These hammocks are better for people who want to sunbathe as they are more open and will allow the sunlight in.
On top of this, there are now hammocks that come with their own specially designed frame so that you don't need trees to hang the hammock up. These can be very convenient and can be used both indoors and out.
Hammock material
Your hammock could be made out of cotton, polyester, or some combination of the two plus other materials. 100% cotton is the softest and most natural looking /feeling material to get but it will fade over time and isn't as resistant to weather damage as some other types of fabric. Polyester used to be far behind cotton in the comfort stakes, but with advances in material technologies, some polyester fabrics are right up there with the best. Polyester is also more hardwearing than cotton. Here's what a polyester hammock looks like: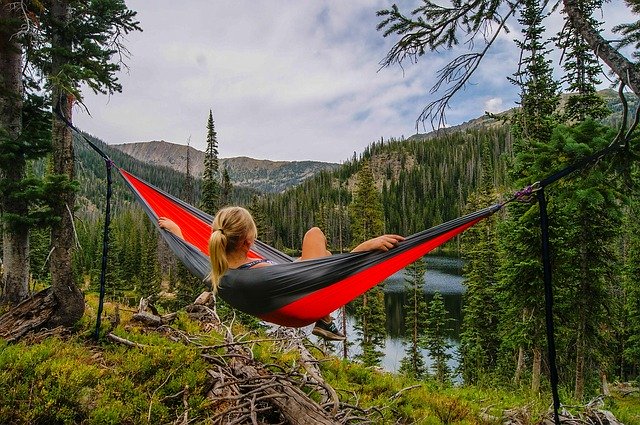 These days it is not uncommon to see hammocks made from a mix of the two materials in varying percentages, but 70% cotton with 30% polyester is often chosen by manufacturers.
Setting up the hammock
How easy is it to set up the hammock you've got your eye on? Some come pretty much fully assembled, while others require you to spend a fair bit of time with a screwdriver in hand to get it ready. You should also check to see if the hammock comes with the things you need to hang it up such as carabiners and straps. If they're not included you will have to buy them separately and that might increase the cost by more than you think.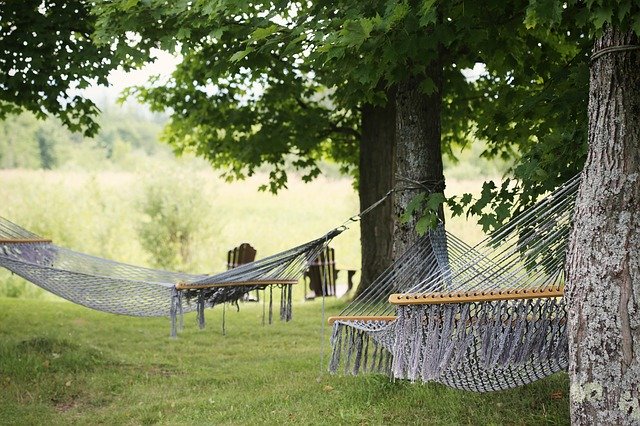 Hammocks with their own frames will almost definitely need some sort of assembly, but how much work is needed will differ from product to product. I prefer the type that can be hung from tree to tree, or even under your pergola if you have one for a little shade. You could always use a shade sail in conjunction too if you want. a bit of cover.
Also, another thing to consider is how difficult it will be to take the hammock down and get out of the bad weather, and how much space it will take up in storage.
---