Written by Terry Smith
Our site is reader supported so when you click a link to Amazon we may earn an affiliate commission.
UK's best bbq starter chimneys that start charcoal easily
This article was last updated on April 23rd, 2022 at 6:47 am
Did you know there's a new way to start charcoal on your bbq without too much smoke and absolutely zero hassle – and I actually mean that! You need a few scraps of paper or a couple of eco firelighters in combination with the best bbq starter chimneys in this article. I used to just use paper so as you read some of my articles you may notice that, but now I incorporate the eco firelighters as there's 'generally' less smoke too. If you've ever struggled to start your charcoal, you'll be thinking this is almost unbelievable that it can be this easy – hold me to those words. Like me, you'll wish you had a bbq starter years ago.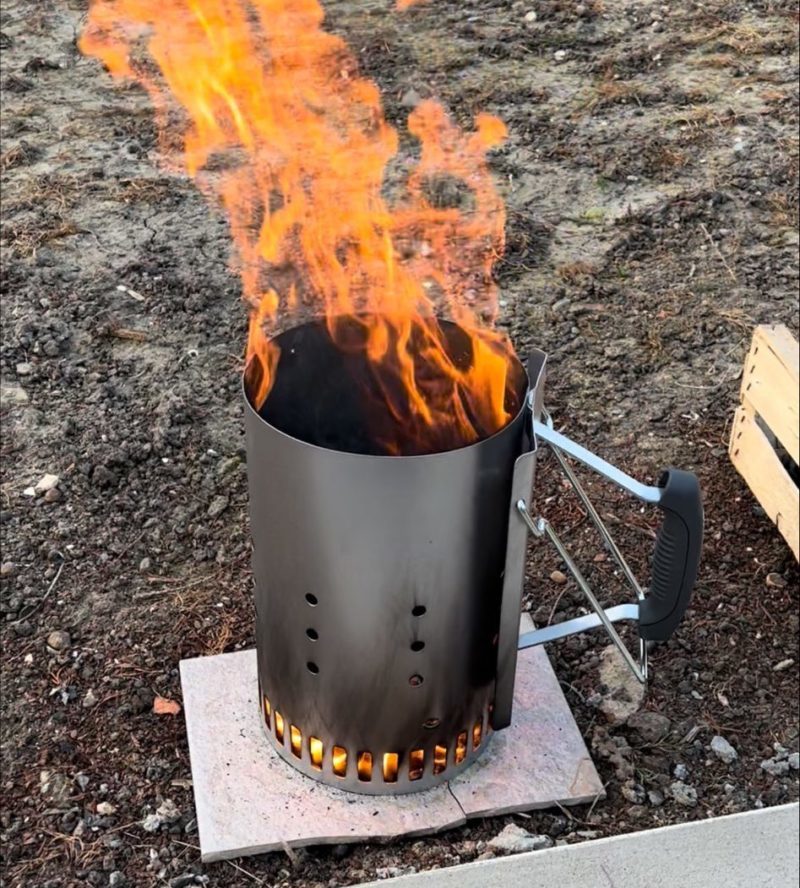 The best thing about a bbq starter is just how quickly you'll have charcoal at the right temperature for more difficult to cook meat like chicken. It's a total game changer I can tell you from personal use, testing, and a couple of years experience now. In fact I don't think I'd ever starter charcoal another way. You just want some fire lighters too and away you go – charcoal ready in less than 10-15 mins hassle free.
Have a read of how a bbq starter works or if you prefer a video, here's a look at just how easy I get a bbq going with this bbq starter:
For most of us, a barbecue just isn't a barbecue unless it's charcoal on a charcoal bbq or food smoker. Words won't let you compare how much better a charcoal bbq is for taste than gas – (but I try :D). Playing around aside, the biggest problem we face though, is the amount of time it takes to get charcoal fully alight and started without the use of copious fire starter fluid or firelighters, so sadly some of us do resort to using gas grills for convenience and that's where the best bbq starter or bbq chimney starter as it's otherwise known comes in to get things going and bridge the gap of convenience vs quality food taste (gas vs charcoal bbq's).
Our top picks for the best bbq starter chimneys in the UK:
Best bbq starter in the UK: Weber Chimney Starter
Best value bbq chimney starter: Woodside Outdoor Charcoal Chimney Starter
Biggest bbq starter: Denmay BBQ Charcoal Chimney Starter
Professionals choice for a charcoal bbq starter: Weber Chimney Starter
Best compact bbq starter chimney: Weber 7447 Chimney Starter, Compact
What you get in this article:
How to pick the best bbq starter chimney in the UK?
Best bbq starter chimneys reviewed
Best bbq starter chimney buying FAQ's
What is a bbq starter chimney and how does it work to catch charcoal on fire? (And why you need one)
A bbq starter is designed with the simple and singular aim of starting charcoal as easily and efficiently as possible. Charcoal has always been notoriously difficult for your average person that doesn't bbq frequently to get going. So how does it work? It's so simple you won't actually believe it! A typical chimney starter is a cylindrical gadget that usually has three sections – a grate, portion below the grate which is the source of fire, and the portion above the grate where you put the charcoal.
Simply scrunch up a load of newspaper and jamb it in from the bottom, you then fill up with charcoal, and preferably lumpwood charcoal. Place it on the centre of the bbq and watch the magic happen when you light the paper. You can substitute newspaper for eco firelighters which is more effective still and that's what I personally do as it's so so easy, and if you're like me using a charcoal that's damp sometimes where water gets through under the bbq doors for example (thanks to the British weather of course – somehow we still get rubbish Summers in the UK despite all promises :D), you'll really appreciate having a natural fire starter to hand. Here's a look I normally just use a few: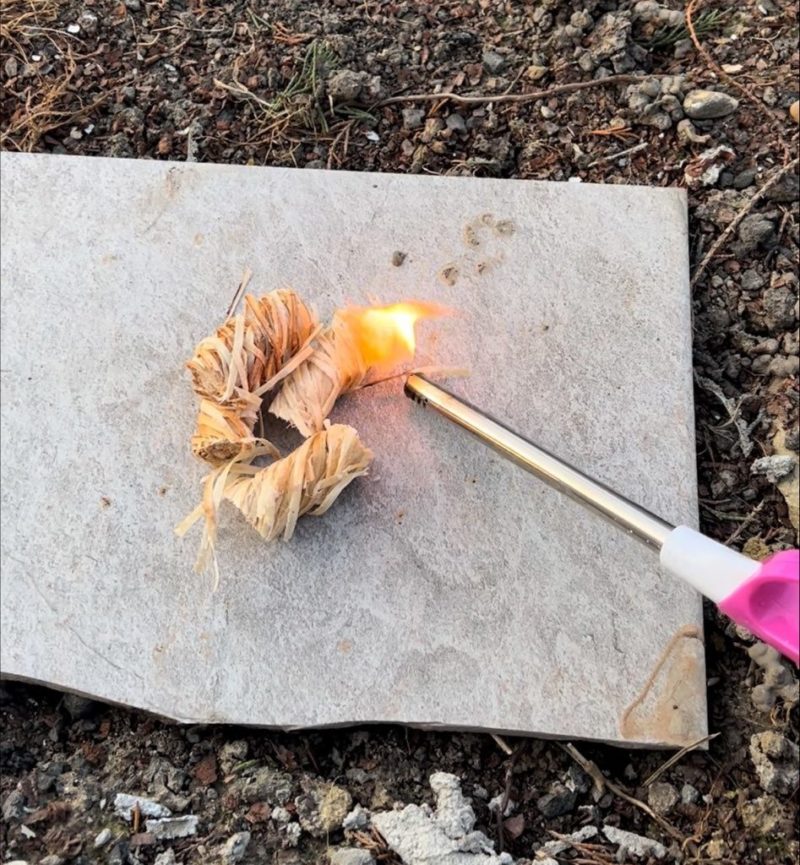 Notice I use a tile or stone normally – don't do this on any surface you can't afford to get hot – grass will scorch – ideally on concrete or earth somewhere. All you do is place your bbq starter over the lit firelighters and wait: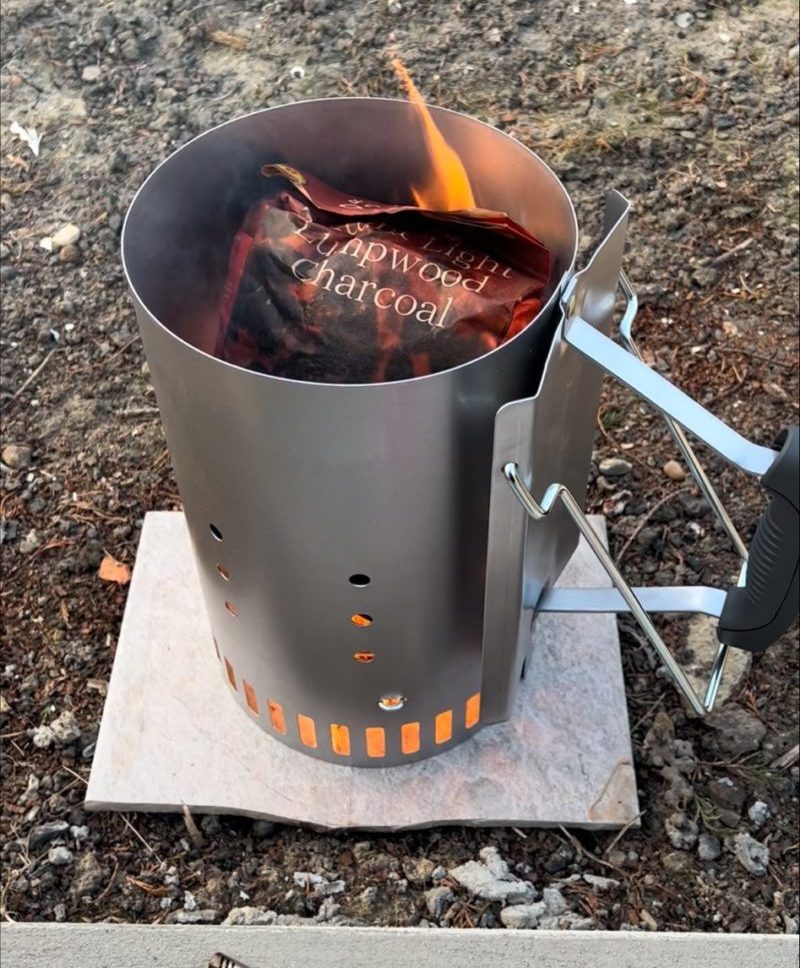 Five minutes later and you're ready to pour your charcoal into your bbq. It really is that straight forward. Here's a look at that: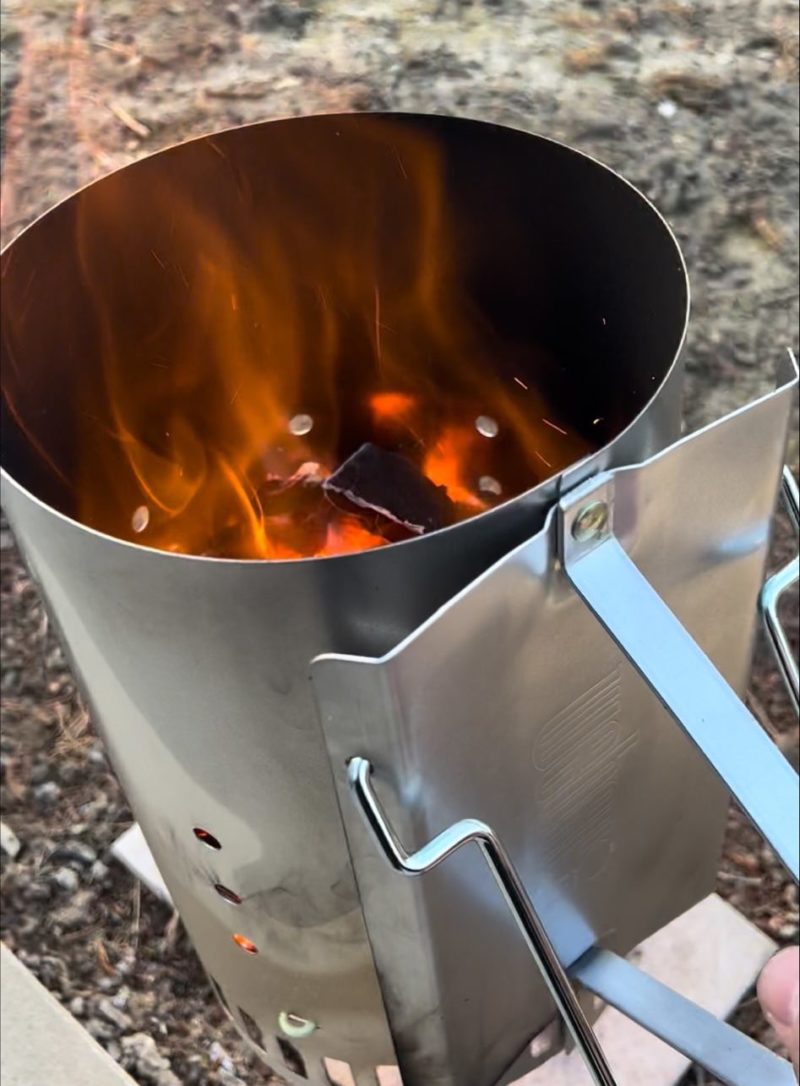 If you are using damp charcoal there's also another option. You can place the bbq starter on top of a gas ring and hit it with flames that way. Rather than o this in the kitchen which could potentially be dangerous, a little camping stove is almost tailor made for the job. Whatever way you go about this, the process will take about 4-5 minutes before you can empty the contents onto your bed of charcoal in the grill. That's it, it'll all take nicely and here's a diagram of that: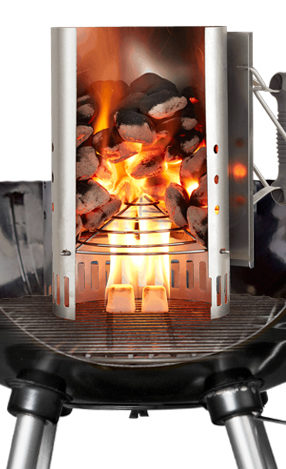 What I've found from my testing it that the size of holes on these bbq starters makes very little difference, they are all super effective so long as the ventilation is there. They basically work by increasing the amount of surface area of coal that is exposed to flame, it's really that simple and ingenious. What's more they don't cost a fortune either!
The very very best thing about these is the smoke. I bet you've searched for how to start a charcoal bbq without it smoking? Well The bbq starters can be moved to a suitable part of the garden of your choosing so that it minimises the smoke to neighbours. It's a very friendly piece of equipment just make sure you don't place it on decking pretty obviously. It needs a stone, concrete, or Earth base to avoid damage to surrounding areas.
What you'll notice is the shiny new look disappears instantly and it becomes a rather nasty looking tin pot – don't worry it works just fine and it's only aesthetics, much like when you buy a garden incinerator for the first time and it looks nice but quickly turns burn't and tired looking.
I've honestly never started charcoal so easily myself personally.
None of us particularly like the idea of starting our charcoal barbecue with chemicals and so a charcoal starter(otherwise known as a charcoal chimney or chimney starter) is the perfect solution and the perfect accompaniment to eco firelighters. A charcoal chimney starter should be safe to use and quick to set our briquettes to a nice white glow. The method in which the hot embers are transferred must be safe, secure, and practical so based on these criteria I have reviewed the best charcoal chimneys for you and collated the info into a table for comparison to help you make a choice. The best BBQ starters aren't particularly expensive but you still want to make sure you get the right one for you!
How to pick the best bbq starter chimney in the UK?
You need to decide what you want, and how many people you're cooking for. The larger the bbq chimney the better has been my experience as we always get through the coal. There is normally at least 5 of us though. You want to factor that into your selection. If I wanted a small one for a couple of people I would probably pick the Weber 7447 Chimney Starter, Compact, however for large families and to get the job done fast I would go for Weber Chimney Starter. Not only that, experience tells me two is better than one so I use two all the time now!
There's a bit more to it than that though. Some are built better than others. Take the Weber linked above. Very very rarely is a product rated so highly. This particular bbq starter is very well built, and designed equally as well too.
Best bbq starter chimneys reviewed
Best bbq starter chimney buying FAQ's
People ask me all sorts of questions commonly so I thought it best to answer a few here such as best ways to start charcoal quickly and the best value for money. I also decided to help you solve that age old problem of starting damp charcoal too 😀 What a real handy tip if you live in the UK.
What is the fastest way to set alight charcoal in a bbq starter chimney?
Without any question at all the to get the best out of a bbq starter chimney you want to start the charcoal on a gas ring. It doesn't matter if it's the gas ring from your gas bbq, indoor cooker, or portable camping stove, as long as it's safe to do so.
Using this method you can expect to be cooking anywhere from five to ten minutes and so drastically reduces the overall time when compared to using fire lighters, and even further reduces the time when compared to newspaper again which is the slowest method of all. Personally I think a good balance for reliability is fire lighters and an absolute must if you're charcoal is wet.
Which is the cheapest bbq starter chimney?
After spending days researching bbq starter chimneys I came to the conclusion that the cheapest in terms of value for money was the Woodside Outdoor Charcoal Chimney Starter. Now there were some other good choices such as the Simpa Chimney Charcoal Coal Fast Starter Kit but they didn't get anywhere near as close price wise being as much as 40% more. The interesting thing about the Woodside was the fact it was actually one of the better bbq starters in the range. Hence it making to the best value and if you're a bargain hunter then pay close attention to that product.
How much charcoal can you fit in a large bbq chimney?
You've probably read me rattle on about the fact that you need two chimneys to make a serious dent on a large bbq. That doesn't quantify it though does it? Normally in the Weber Chimney Starter you can carry about 2.8kg of charcoal whereas the largest in my opinion from testing was the Denmay BBQ Charcoal Chimney Starter which without question clearly held over 3kg of charcoal. The smaller ones will be enough for a portable charcoal bbq or a little Weber Kettle.
---