Garden Tool Box » Best Charcoal [UK]: Pick Top Lumpwood and Restaurant Charcoal Reviewed
Best Charcoal [UK]: Pick Top Lumpwood and Restaurant Charcoal Reviewed
This article was last updated on September 18th, 2021 at 2:22 am
When the weather's nice and you're hosting family and friends in the garden for the first time in months and it doesn't matter if you're into a bbq charcoal or more specialist cooking on the bbq smoker, it's great not to have to worry about the small things going wrong… Like making sure your barbecuing goes well but rest assured no two charcoals are the same when compared. There's the charcoal you get up the garage loaded full of paraffin and then there's the good stuff. The restaurant grade charcoal that we are going to set you up with in this article (and lumpwood too).
So we've found the top lump wood and restaurant charcoal to keep your grilling or fire pit smooth and successful, tried and tested so you don't have to.
What is charcoal? Restaurant and lumpwood explained
The interesting thing about charcoal is that lumpwood high quality bbq charcoal is so easily set apart from it's rivals, you can breathe in the smoke and notice the difference…literally. Restaurant grade charcoal will give you a lovely natural smoke just the same as you get from bbq smoker wood chips. By comparison, the nasty charcoal filled with easy fire lighter fluid and paraffin smells horrible when it's first set alight. Have no fear with our article though. We only select the very best and cleanest charcoal to ensure the best possible bbq experience.
With a range of brands and prices, we've got a great selection of quality charcoal for your home or restaurant BBQ's that are long lasting and quick and easy to get going. Because for me, the worst part is always waiting for the coals to heat up – always seems to take much longer than expected. And there's nothing worse than a hungry guest.
I love that these products are all made from natural and sustainable materials which is great for the environment, limits waste and leaves out the bad chemical smells.
For an important note on buying your charcoal, go ahead to the buyer's guide to top lumpwood and restaurant charcoal at the bottom.
Time to get grilling so let's look at our list of the best lumpwood charcoal for bbq's in the UK:
Best bbq charcoal: our top picks
24KG of Premium Grade Large Lumpwood Restaurant Cooking Charcoal- Comes with The Log Hut Woven Sack – best charcoal for UK bbq's.
Big K Instant Light Lumpwood Charcoal, 4x1kg Bags Instant BBQ Charcoal best lumpwood charcoal for speed
Drumbecue Big K 15Kg Restaurant Grade Lumbwood Charcoal – best price restaurant grade charcoal in the UK.
Alderline Natural Restaurant Grade Lumpwood BBQ Charcoal for Barbecues, BBQ Coal, 30L best and biggest lumpwood charcoal for professional use
Kamado Joe KJCHAR Hardwood Extra Large Lump Charcoal
1. 24KG of Premium Grade Large Lumpwood Restaurant Cooking Charcoal- Comes with The Log Hut Woven Sack
Specification: Weight: 12, 24, 36, 48 kg , Easy to light: yes , Uniformly shaped pieces: yes (Large lumps)
The best thing ever is the bag. It really is practically impossible to make a mess in terms of it splitting. It just won't: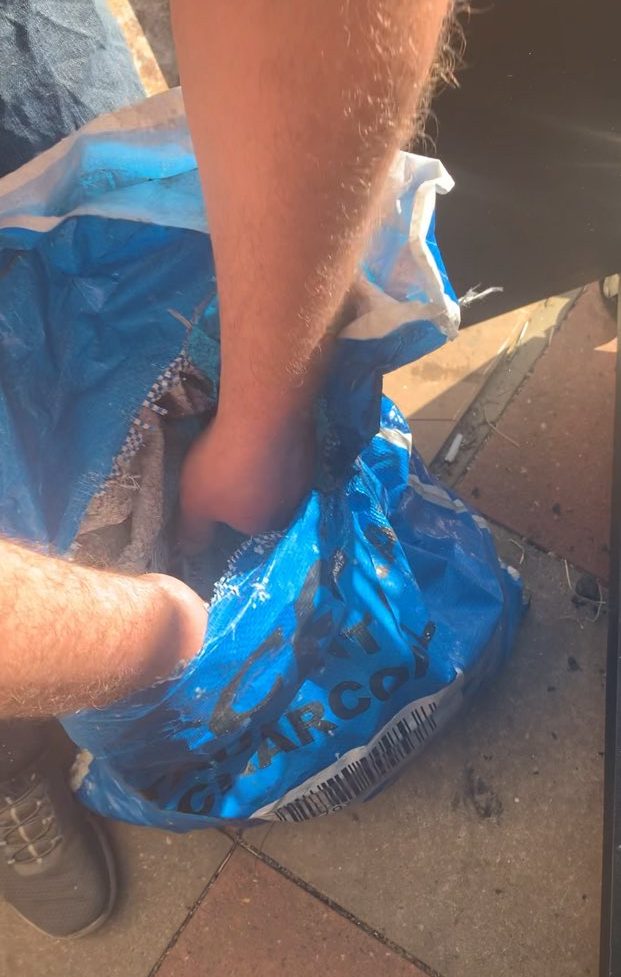 With the 24KG of Premium Grade Large Lumpwood Restaurant Cooking Charcoal, you get 4 buying options which are 4 different sizes, meaning you save money the larger amount you go for. At £23.99 for 12kg, this product is reasonably priced being one of the cheaper out of this selection. This is serious charcoal for serious bbq's.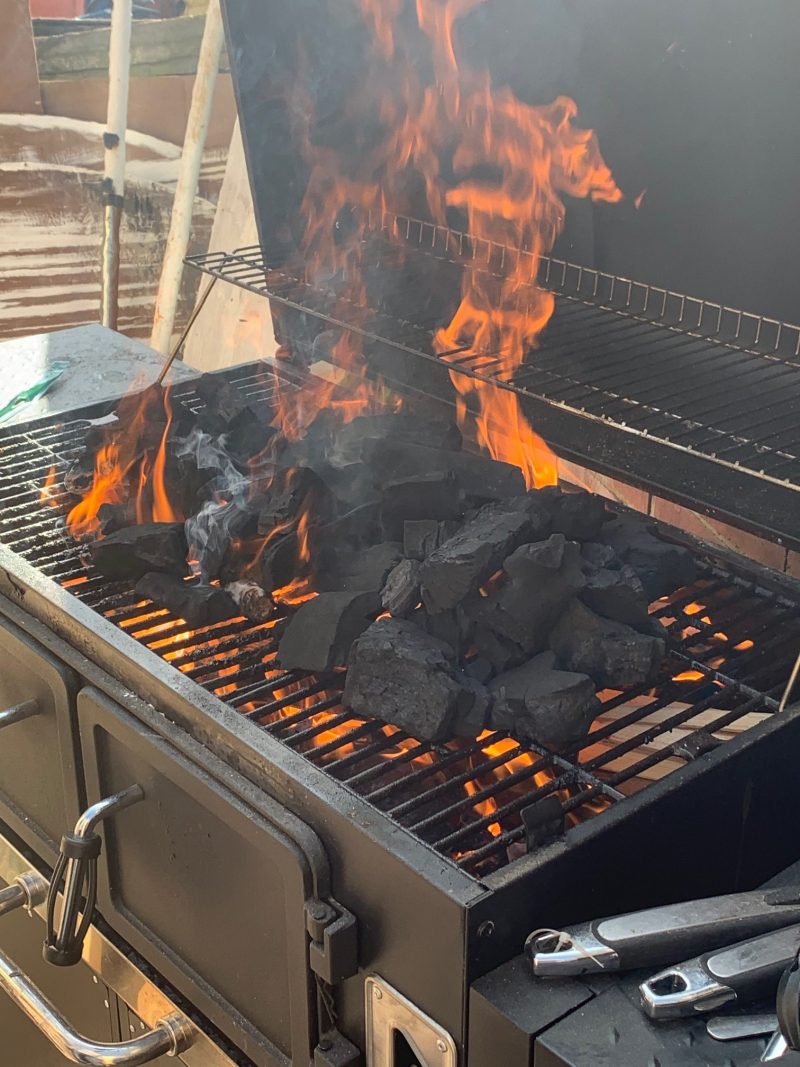 The charcoal comes in large chunks which is great if you're after a long and stable burn. And makes them suitable for large, reusable BBQ's which is ideal if you've got a lot of people to feed. The coals stay hot for ages which gives you lots of time to cook, especially slow cooking foods. The bag also has some medium sized coals which gives you some cooking flexibility.
It doesn't spit out or smoke too much when you light it. And because of the natural materials, there's no grim or chemical smells which is great. There's no dust or small chunks left at the bottom of the bag so no worries about any of it going to waste or making any mess.
The only thing I'd say is that these pieces aren't too easy to break and make smaller without them shattering into tiny pieces. This isn't an issue because of the advantages of larger chunks, and you do have some medium sized ones. Just be aware if you want to avoid a mess!
2. Big K Instant Light Lumpwood Charcoal, 4x1kg Bags Instant BBQ Charcoal
Specification: Weight: 4 kg , Easy to light: yes , Uniformly shaped pieces: yes
We're coming in at slightly cheaper with the Big K Instant Light Lumpwood Charcoal, priced at about a tenner for 4kg (so approximately £22 compared to the last product). A best seller, this product is another very popular one with a lot of customers but it's not my favourite. It's just great for a fast bbq.
This one comes in 4 separate bags which is handy for measuring out your charcoal – I'd say one bag would do you fine for a small BBQ and one or two bags does you plenty for a large BBQ. And this means you can store the unopened bags easily.
These bags are very easy to light, just light the four corners of the bag and leave it to do its thing. No hassle required, which is great. And they get the fire going quickly so you don't have to wait ages to start cooking your food – something which is a bit of a lifesaver because we all know that feeling when you realise you should've got the BBQ going hours ago…
Once lit, they stayed hot for a very long time and the temperature was even throughout so you can put on a lot of different foods to cook and it holds up. Suitable for longer cooking times. The food cooked really well and kept that authentic BBQ smoky flavour that we love.
Definitely worth the money.
3. Drumbecue Big K 15Kg Restaurant Grade Lumbwood Charcoal
Specification: Weight: 15 kg , Easy to light: yes , Uniformly shaped pieces: yes (Large lumps)
At sensible money, the Drumbecue Big K 15kg Restaurant Grade Lumbwood Charcoal is a much cheaper option as you get 15kg for the price. So this one's a good option if you're to get more for your money in terms of quantity.
First off, the actual bag is great quality and won't rip or anything which is great as you don't have to worry about where you store it or anything.
There's loads of charcoal and all of a decent size. As is understandable though, the charcoal does come in different sizes so some are a bit on the small side which means they do burn a bit quicker. This isn't an issue as most of the charcoal is of a decent size so when combined you still get a nice, long burn. And you don't need a lot of pieces to create a good BBQ.
Because of the nature of lump wood coal, this coal burns really hot so you can still cook things like pizzas and steaks. Usually the downside to this is that you don't get long burns but because there are also very big chunks of this coal, you can also get along, and cooler burn for slow meats. Especially as you can sort of pick and choose which sized coal you need depending on how long and hot you want your burn to be.
What's great about lump coal as well is that it creates very little ash. This makes cooking a lot nicer as you don't breathe in lots of ash. It also makes cleaning up really easy because there's very little mess created.
Cooking with this charcoal was nice and easy and there was no spitting or excess smoke which makes cooking really pleasant.
4. Alderline Natural Restaurant Grade Lumpwood BBQ Charcoal for Barbecues, BBQ Coal, 30L
Specification: Weight: 30 Litres or 4 kg (equivalent other charcoal brand 5 kg) , Easy to light: yes (no smoke) , Uniformly shaped pieces: yes (Large lumps)
We're back up the price scale with Alderline Natural Restaurant Grade Lumpwood BBQ Charcoal for Barbecues at £17.95 for 30L/3.79kg. You get 4 different buying options with this one so you can pick different quantities of the 30L bags. It's worth saying that the more bags you buy, the more you save in terms of price per bag if you're after a good bargain!
This charcoal is completely natural and organic made from white alder trees. This is always a great feature as it's great for the environment, and doesn't contain any chemicals so doesn't produce any smoke or weird smells. Having tested it, I can say this is all definitely true.
All the pieces are nice and large, but still light, which means they give a long lasting and good burn. It didn't take too long to heat up, around 20 minutes, and the heat was very well spread which was great so you can cook multiple foods without worrying about uneven cooks.
The pieces can be broken as well so you do have the option of having smaller pieces for a quicker, hotter burn. The food all tasted really good with that nice smokey flavour.
I'm impressed with the quality and there were no small bits or residue. Although there is some ash that blows when you're cooking but it really wasn't too bad and the ash is very fine!
5. Lumpwood Charcoal 10kg by Big K Products
Specification: Weight: 10 kg , Easy to light: yes , Uniformly shaped pieces: no (Large and small)
With the Lumpwood Charcoal, you get the best value for money in terms of price per quantity. For £18.38 you get 10kg of natural charcoal. So this is the one to consider if you're looking for a cheaper option.
The packaging is great quality and very strong so it won't rip or get damaged easily. Just a good point for when you need to store your coals.
Again, we have a mixture of large and small pieces in the bag. I think this can be a good thing though as it gives you some choice with how you want to build your BBQ as you can use the small chunks for hot and quick burns and the large for longer burns. And there's no dust or tiny bits which is great because you can use everything from the bag.
They're really easy to light and burn very well and evenly. And they give the food a nice smokey flavour, too.
Considering the price, I'm really impressed! The quality is definitely not compromised upon.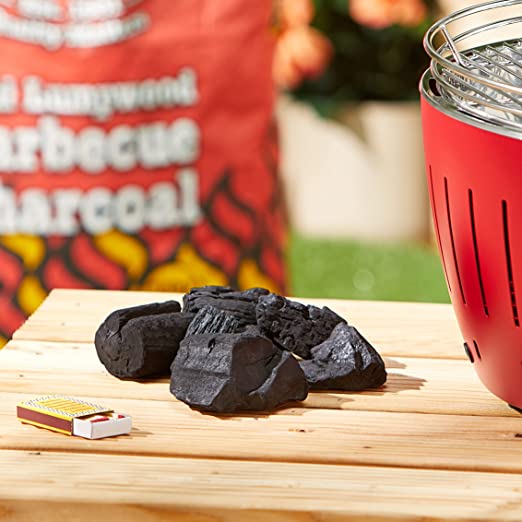 6. Kamado Joe KJCHAR Hardwood Extra Large Lump Charcoal
Here we've got a very popular choice from lots of our customers. At around 27 quid for 9kg, the Kamado Joe KJCHAR Hardwood Extra Large Lump Charcoal is also the most expensive from our selection.
On first glance after opening the packet, the pieces are really large (and there's plenty of them)! This is great as big chunks give you a really long, even burn. And let's be clear this really is top quality. Bigger lumps means longer steady burn. Just what you need for controlled bbq cooking.
After testing them, I'm so impressed. They were really easy to light and get started and they really do burn for hours without burning out too quickly. The actual burn is a good slow and clean burn which was very even so you don't have to worry about any small bits still being black. The length is great as it means you can cook slow meats like brisket without having to worry about the coals temperature going down. But they still produce enough heat for foods like pizza or for searing meats.
The actual cook was so good – the charcoal gave the meats that great authentic smoky BBQ flavour without being overpowering.
Overall, although this is the most expensive, the price is really reflected in the quality, and a lot better than other cheaper brands of charcoal out there.
Buyer's Guide To Best Charcoal
So overall, we've had a great selection in these charcoals. Even with the cheaper options, the quality is still great. Perhaps where the price is reflected is in the size control…
Restaurant grade charcoal compared to standard charcoal
Don't get mixed up between nasty briquettes and decent lumpwood restaurant grade charcoal. You also have some in the middle which is quick start fire lighting lumpwood like the Big K Instant Light Lumpwood Charcoal, 4x1kg Bags Instant BBQ Charcoal. This isn't my favourite though. The best charcoal is the natural no chemical stuff like the Premium Grade Large Lumpwood Restaurant Cooking Charcoal and this is the type of charcoal you'll get your steaks cooked perfectly on if you go to a restaurant event.
Small or large
As we've discussed above, there is a difference between cooking with large pieces and smaller pieces, the Alderline Natural Restaurant Grade Lumpwood BBQ Charcoal for example is as large as 20cm. Both have different advantages and it's completely up to cooking preference and, mainly, what foods you're cooking that determine which option to go for. Large pieces tend to create a long lasting burn, suitable for slow meats etc. Smaller pieces tend to inspire a shorter and hotter burn which I absolutely love for pizzas, especially when using a pizza stone.
Just keep a look out for what sizes generally come in the charcoal bags so you can get what you're looking for. Out of our selection we've got bags that contain small, medium, and large, and some which have a mixture so there's something for everyone!
Chemicals and no chemicals compared for getting charcoal alight fast
As I mentioned the briqeuttes from the garages are normally loaded up with paraffin and sure they go up in flames great but they give off a terrible smell. You just dont need that, you can use an eco fire lighter and get your charcoal started easily if you know how and follow the instructions in the guides linked. You can also use a bbq chimney starter. There's absolutely no reason quality lumpwood charcoal has to be a problem.
---